At their first big online event of the year, Apple made more than just a few substantial announcements, lifting the lid on several new products across various categories. As per the Apple 2022 line-up announcement, we're getting a powerful new Apple iPad Air with the blazingly fast M1 Chip and 5G support, as well as the long-rumoured, budget-friendly iPhone SE 3, a new 27″ 5K monitor, a green colourway for the iPhone 13 line-up, and the Mac Studio – what looks to be the beastly offspring of the Mac mini and Mac Pro – with the company's powerful new M1 Ultra chip.
It's always a bit of work getting your head around Apple's announcements seeing as the company tends to announce new devices in bursts so here's a breakdown of each of the three major new products coming from Apple in 2022.
---
Apple Mac Studio & Studio Display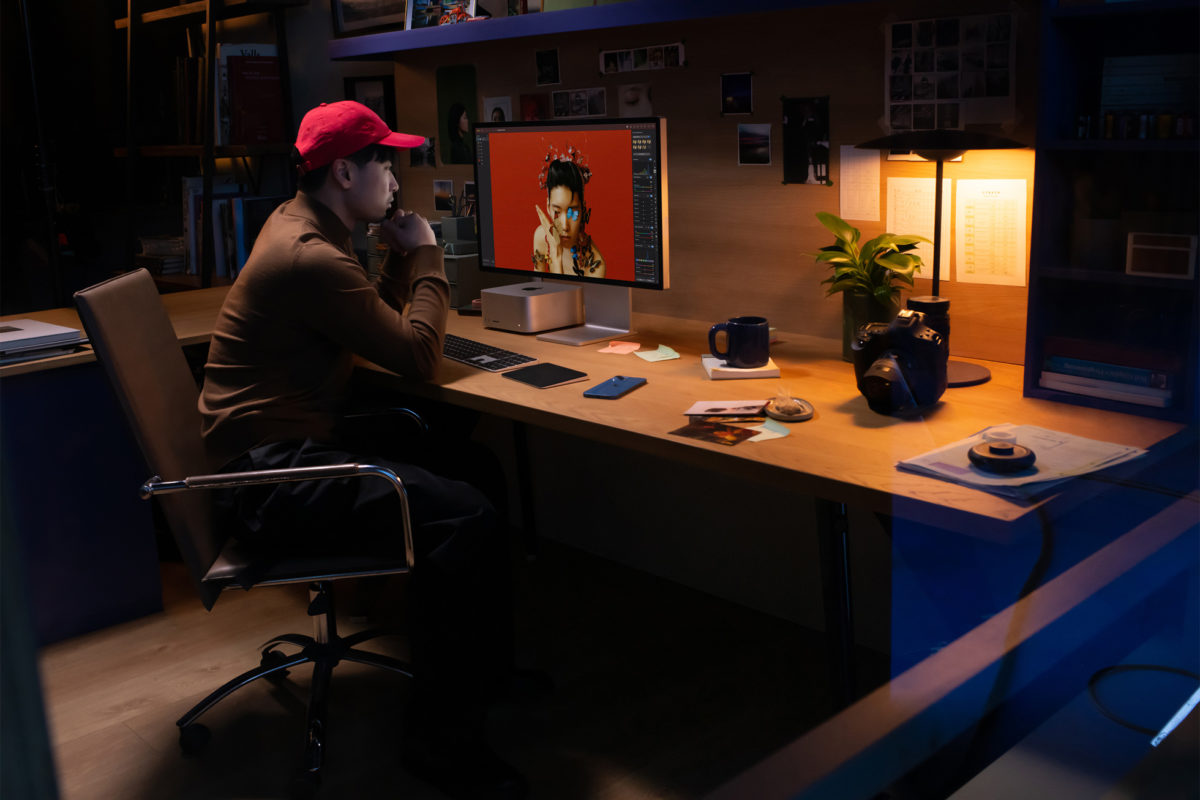 Let's get the most significant announcement out of the way first, given the Mac Studio is the first Mac model Apple has made in years. This new desktop device from Apple will be available with the M1 Max or "game-changing" M1 Ultra chip, the latter said to be the world's most powerful chip for a personal computer.
---
---
With unprecedented performance and power efficiency, the high-performance desktop doesn't look like it could be nearly as powerful as it is. The computer's square footprint is just 19.7 cm, which can fit snugly under most displays and makes it look like a small container rather than a super-charged computer.
Apple's design team have apparently finessed every feature of the Mac Studio to maximise the account for the uptick in M1 Ultra's performance, from the 4,000 perforations on the back and bottom of the shell to help guide air through the internal components, to precision airflow channels. This bad boy is going to be a workhorse when it comes to specs, so no doubt it needs the extra ventilation.
In terms of specs, here are the fundamental differences between a Mac Studio with with M1 Max chip, and a Mac Studio with the M1 Ultra chip.
Mac Studio Powered by M1 Max:
Up to 2.5x faster CPU performance than the fastest 27-inch iMac with 10-core processor.
Up to 50 per cent faster CPU performance than Mac Pro with a 16-core Xeon processor.
Up to 3.4x faster graphics performance than the 27-inch iMac, and over 3x faster than Mac Pro with its most popular graphics card.
Up to 7.5x faster than the 27-inch iMac, and up to 3.7x faster than 16-core Mac Pro when transcoding video.
Mac Studio Powered by M1 Ultra:
Up to 3.8x faster CPU performance than the fastest 27-inch iMac with 10-core processor.
Up to 90 per cent faster CPU performance than Mac Pro with 16-core Xeon processor.
Up to 60 per cent faster CPU performance than 28-core Mac Pro.
Up to 4.5x faster graphics performance than the 27-inch iMac, and up to 80 per cent faster than the fastest Mac graphics card available today.
Up to 12x faster than the 27-inch iMac, and up to 5.6x faster than 28-core Mac Pro when transcoding video.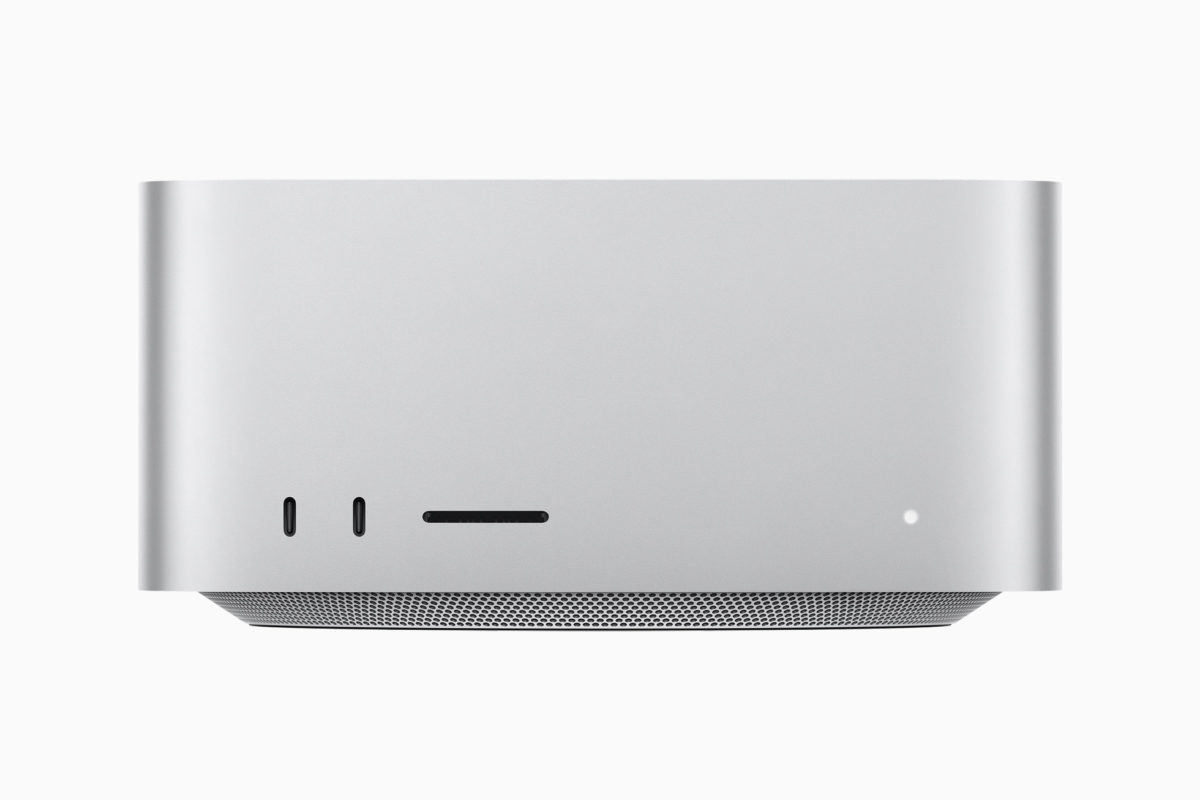 As you can see, the M1 Ultra makes a massive difference and should bring creatives the type of power they need to muscle through memory-intensive processes like video editing.
The other piece of the puzzle here is the Studio Display, newly designed to pair with any Mac with a 27″ 5K Retina screen slimmed down by narrow borders and a super-thin all-aluminium enclosure. A tilt and height-adjustable stand will be available as an option, or you could go with the VESA mount adapter to fit the display into many other different work set-ups.
---
---
Speed and precision seem to be the main considerations for both the Mac Studio and the Studio Display, geared towards power users and workers who need more intensive processes like musicians, producers, 3D artists, app developers, photographers, and videographers. Power efficiency is also a major focus this time around, with Apple promising that the Mac Studio uses "far less" energy than competitors despite the uptick in performance.
Mac Studio & Studio Display Australian Price
Now for the price. It's punchy, but nothing unexpected. The Mac Studio starts at $3,099 while the Studio Display starts at $2,499.
Mac Studio & Studio Display Australian Release Date
Both the Mac Studio and the Studio Display are now available to order online from the Apple Store and they will begin shipping to selected Apple Store locations and authorised retailers in Australia beginning Friday, March 18.
---
iPhone SE 3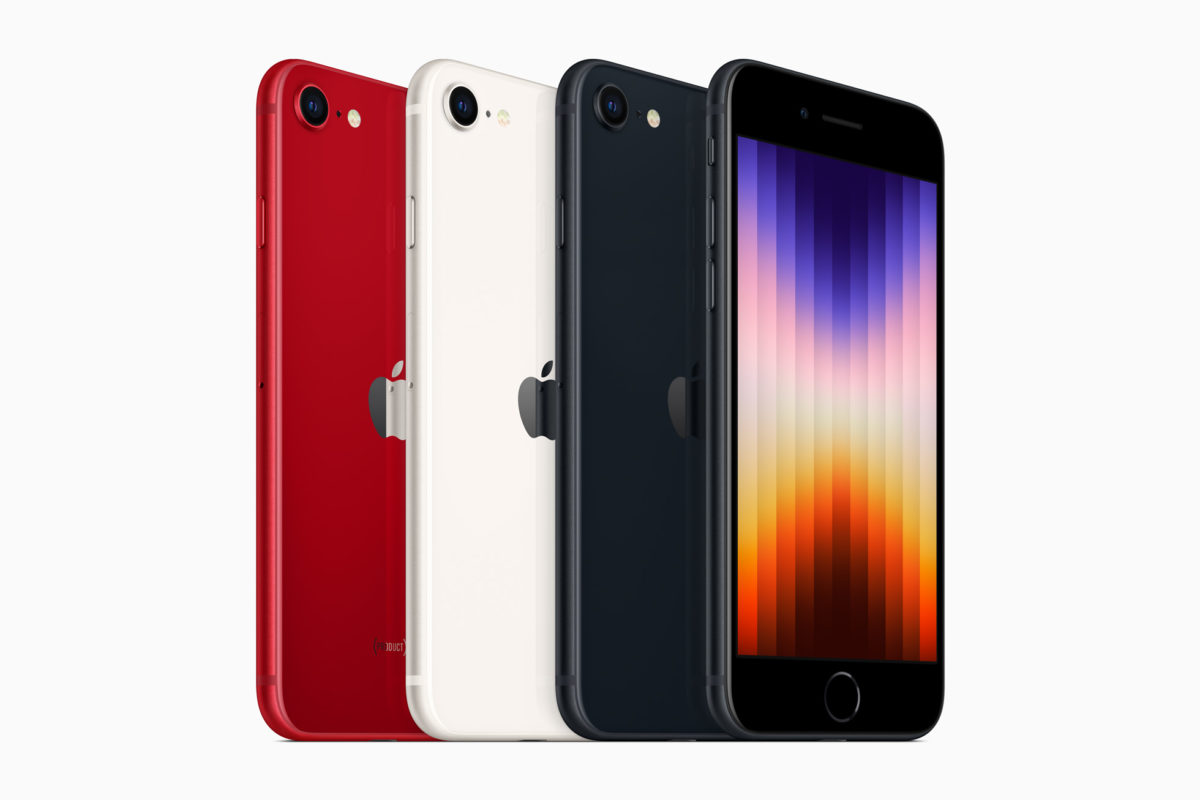 Although this was the most unsurprising announcement from the Apple 2022 event, it's still nice to see that the iPhone 13 line-up that launched last year doesn't mean the company is taking a break in that department. the iPhone SE 3 is slightly more expensive than SE fans are used to, with a starting price of $719, but still seems like a smart choice for those who are trying to balance budget with performance.
Available in 64GB, 128GB and 256GB models in three different colours – Midnight, Starlight, Red – the most affordable iPhone has now been finessed with an A15 bionic chip, 5G connectivity, vastly improved battery life, better durability, and a new camera system that's headlined by optimisation software including Smart HDR 4, Photographic Styles, and Deep Fusion.
Given that the A15 Bionic has proven to be a winner with the iPhone 13 line-up, its inclusion in the new iPhone SE should be very well-received considering the lower price point. This also means that a new design is possible, so the iPhone SE comes in a more compact form than previous SE models.
---
---
The new affordable iPhone features a single 12 MP Wide camera on the back, which continues what is probably the biggest compromise when choosing an SE model. Still, it seems like it can handle plenty of work on its own with the assistance of the new software which will do things like ensure faces are accurately exposed in lower lighting scenarios and adjust for skin tone, as well as use machine learning to do pixel-by-pixel processing while optimising for texture, details, and noise in every part of an image.
Apple speculators were hoping the 2022 iPhone SE would have Face ID but it looks like Apple weren't concerned with adding the additional biometric. Instead, you've still got Touch ID, but surprisingly it's not included in the sensor. Instead, the physical home button is back, which should be a nice win for fans of vintage Apple models who aren't a fan of exclusively using gestures to navigate their iPhone.
iPhone SE 3 Australian Price
As mentioned above, the iPhone SE 3 still holds onto its budget-minded price range but is slightly more expensive than previous models were upon launch. You're looking at a starting price of $719. Still, that ain't bad for an entry-level iPhone with 5G.
iPhone SE 3 Australian Release Date
The iPhone SE 3 will be available for pre-order from midnight on Saturday, March 12 with local shipping slated to begin on Friday, March 18.
RELATED: Apple iPhone 14 Australia – Release Date, Price, Leaks, Rumours, Features & More
---
Apple iPad Air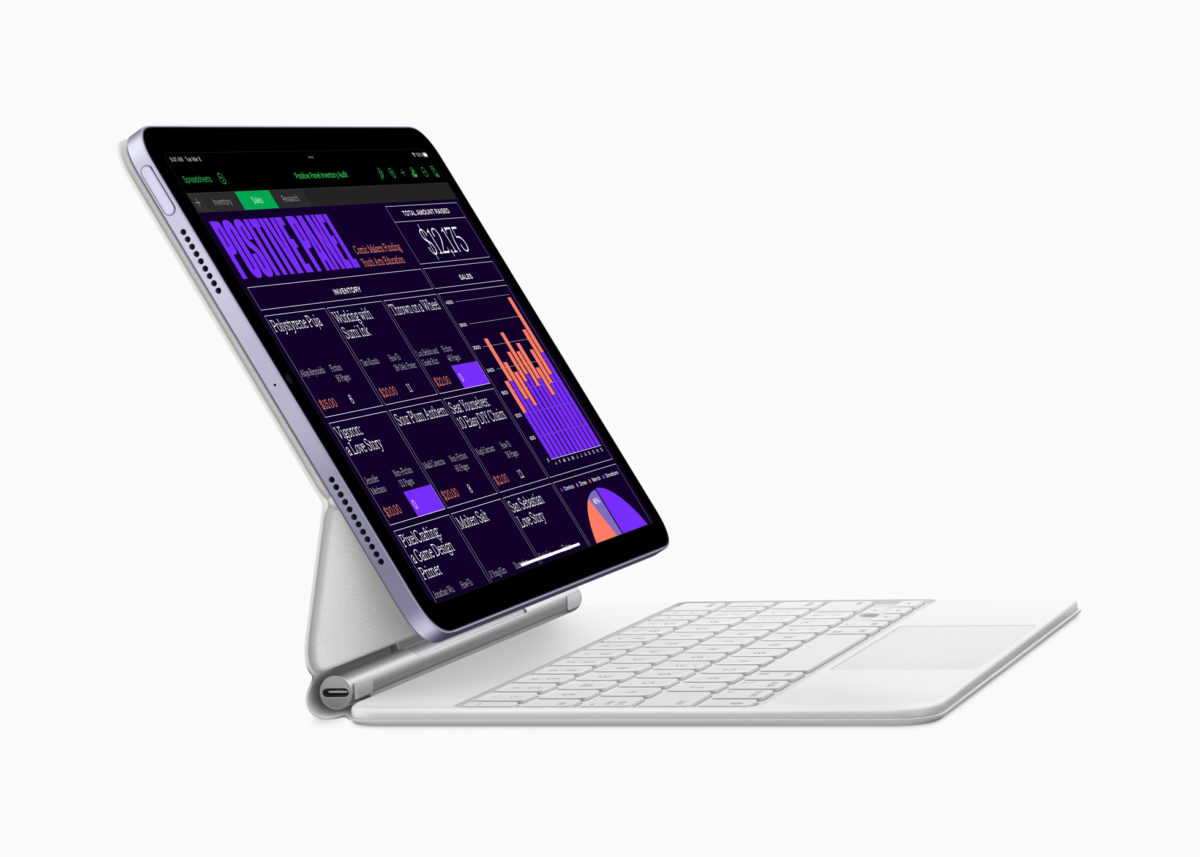 The final big announcement from the Apple March 2022 event was for the Apple iPad Air which ships with the M1 chip, representing a big leap in performance over previous models. Aside from an all-new Ultra Wide front camera with Centre Stage for more natural video, you've also got a USB-C port with up to 2x faster transfer speeds when compared when the previous model, and 5G connectivity on cellular models.
---
---
Apple promises up to 60% faster performance with the iPad Air when compared with the previous generation, enabled by the more powerful M1 which also allows for more reliable all-day battery life and faster graphics performance across all processes. Storage is either 64GB or 256GB – there's no in-between.
In addition to the Ultra Wide 12MP shooter on the front, the rear of the device also gets a 12MP Wide camera which should make the iPad Air much more adept at capturing 4K video and scanning documents more efficiently.
But really, the biggest change here is 5G connectivity. Cellular models should benefit greatly from the boost in wireless connectivity, with Apple claiming peak speeds of up to 3.5 Gbps in ideal conditions.
As far as the display goes, you're looking at a 10.9″ Liquid Retina with 3.8 million pixels that's slimmed down enough to make space for landscape stereo speakers and a top button that has Touch ID.
There's also a round of new accessories coming for the iPad Air, the most notable of which is the Apple Pencil Gen. 2, which includes wireless charging and pairing as well as what Apple claim is "pixel-perfect precision" and "imperceptible lag." The Magic Keyboard is of course compatible with the iPad Air, and there are also a bunch of new colourways for the Smart Keyboard Folio to complement the wide range of new iPad Air finishes.
iPad Air Australian Pricing
Apple's iPad Air starts at $929 in Australia for Wi-Fi only models, and $1,159 for Wi-Fi + Cellular models.
iPad Air Australian Availability
---
---
The new iPad Air will be available for Aussies to order from Saturday, March 12 from the Apple Store with shipping beginning Friday, March 18.