Sony has sat comfortably at the top of the market for wireless earbuds over the past few years. The WF-1000X series has fast become one of the company's most anticipated product lines, iterated every two years between updates to Sony's over-ear headphones.
Given the WF-1000XM3 and WF-1000XM4 earbuds were both best-in-class in their respective release years, there's no reason to assume the XM5 will be any less successful. But are the iterative upgrades enough or have the designers been a bit lazy with this evolution? I'll discuss this in the below Sony WF-1000XM5 review.
First off, I hate Sony's naming conventions. The earbuds are titled WF-1000X while the headphones are WH-1000X. It's great for consistency, but it just looks odd. Second, if you were expecting much of a change to the sound quality, you'd be disappointed. That said, Sony didn't really need to improve its signature sound from the previous generation, given the WF-1000XM4 was already well ahead of its time.
Sony WF-1000XM5
PROS
Superb sound
Speak-to-chat is no longer excessively sensitive
Improved spatial audio
Slim design case
Solid 30 hour battery life
CONS
Head-tracking can be a bit spotty at times
Gestures work well but are awkward to use
Surface is too glossy
Very expensive
Doesn't work as well with iOS
---
---
Sony WF-1000XM5 Review
Design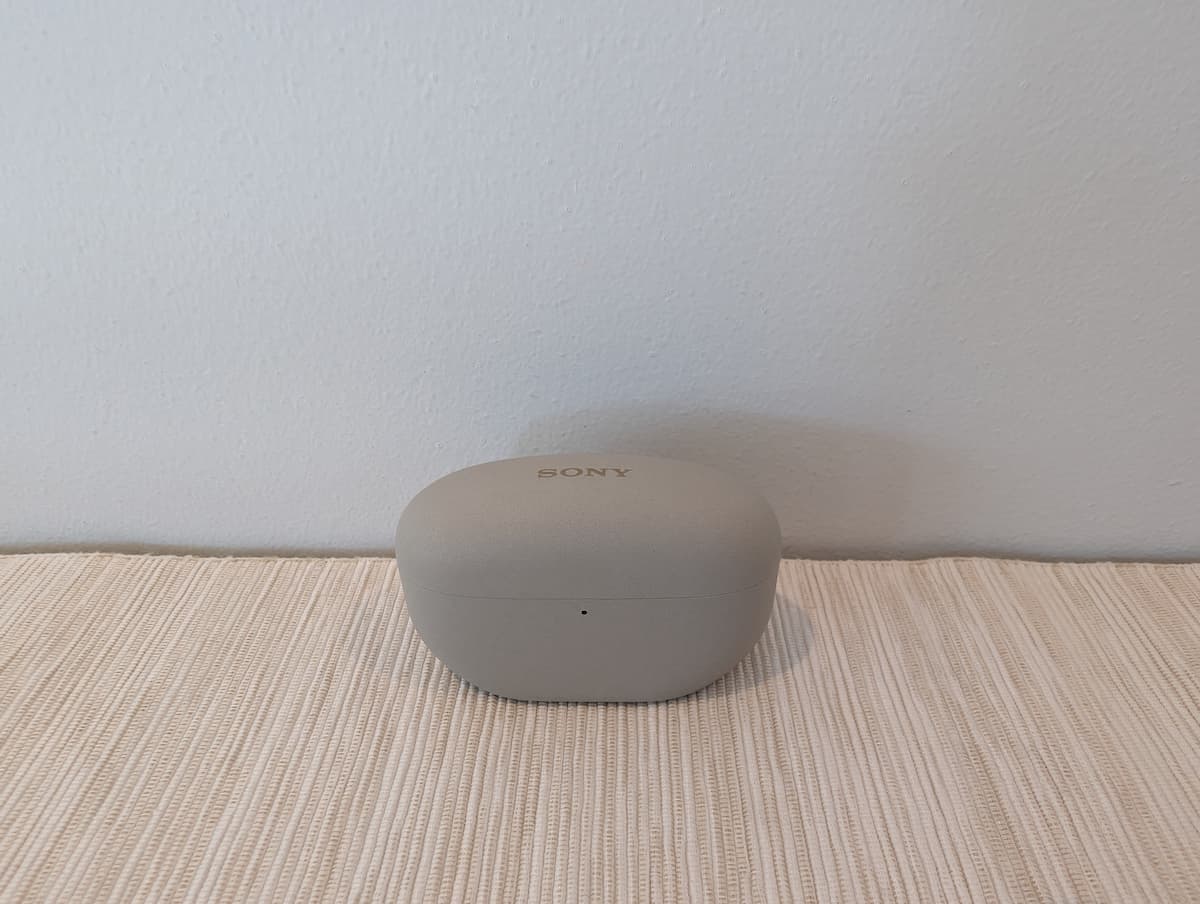 The biggest change is the design. Smaller, glossier and harder to grip. These are slippery, fingerprint magnets with reduced surface area so the touch controls feel a bit awkward to use. Yet the benefit of smaller buds is a slimmer charging case. The previous generation's charge case was chunky, and the one before it was even thicker. Sony has finally caught up to the competition with a case that doesn't feel strange in the pocket.
The Sony WF-1000XM4 weighed 7.3 g for each earpiece. The XM5 weighs 5.9 g each earpiece. Obviously, it doesn't make too much of a difference; you don't exactly need to be benching 100 kg to be able to wield the XM4. But it helps with comfort over longer sessions.
And the XM5s are very comfortable. I barely notice the weight in my ears when I pop them in, yet somehow they feel stable despite not having any wing tips. I do think this is because Sony has provided a wider range of ear tip sizes; find the right size for your ears, and these things will create a comfortable seal that won't jostle around when you're on the move.
Another thing about the smaller design is the slimmer case. Sony has never got the charging case right but I think they've really hit the nail on the head here. It's slim but not awkwardly tiny, slipping neatly into my pocket and not leaving a massive bulge (as opposed to the charging case for the XM4s).
More importantly, there are now more microphones in each piece and the array is cleverly designed towards reducing wind noise. Sony has always fallen behind when it comes to call quality, but now I can speak when outdoors on a windy day and my voice will be crisp, clear and forward in the mix. Given ANC performance can also be compromised by excessive wind, the new array also improves the all-important noise cancelling.
As above, the small surface also means there's more room for error with the touch controls. I've had more than one occasion where I've gone to adjust the left bud and ended up turning noise cancelling off. This is why I prefer physical buttons like the ones on the Jabra Elite 10.
Still, I appreciate that there's now clearer feedback when you do engage any of the touch controls. Having stronger haptics is always more satisfying.
Another big feature is machine learning. The earbuds can now detect location so can put together a profile of your daily commute and adjust the level of noise cancellation accordingly. This goes further in establishing an entirely hands-free experience and it works quite well. But personally, I'd still rather have the function turned off and make my own decisions on the fly.
---
Features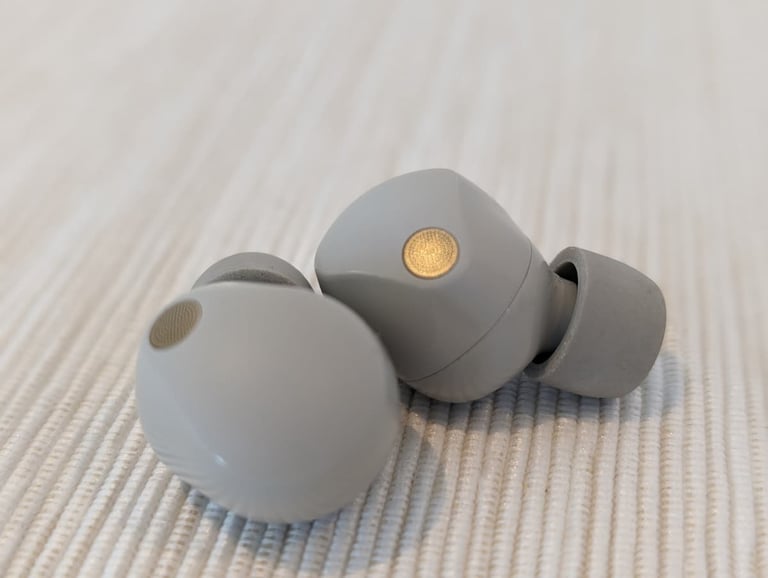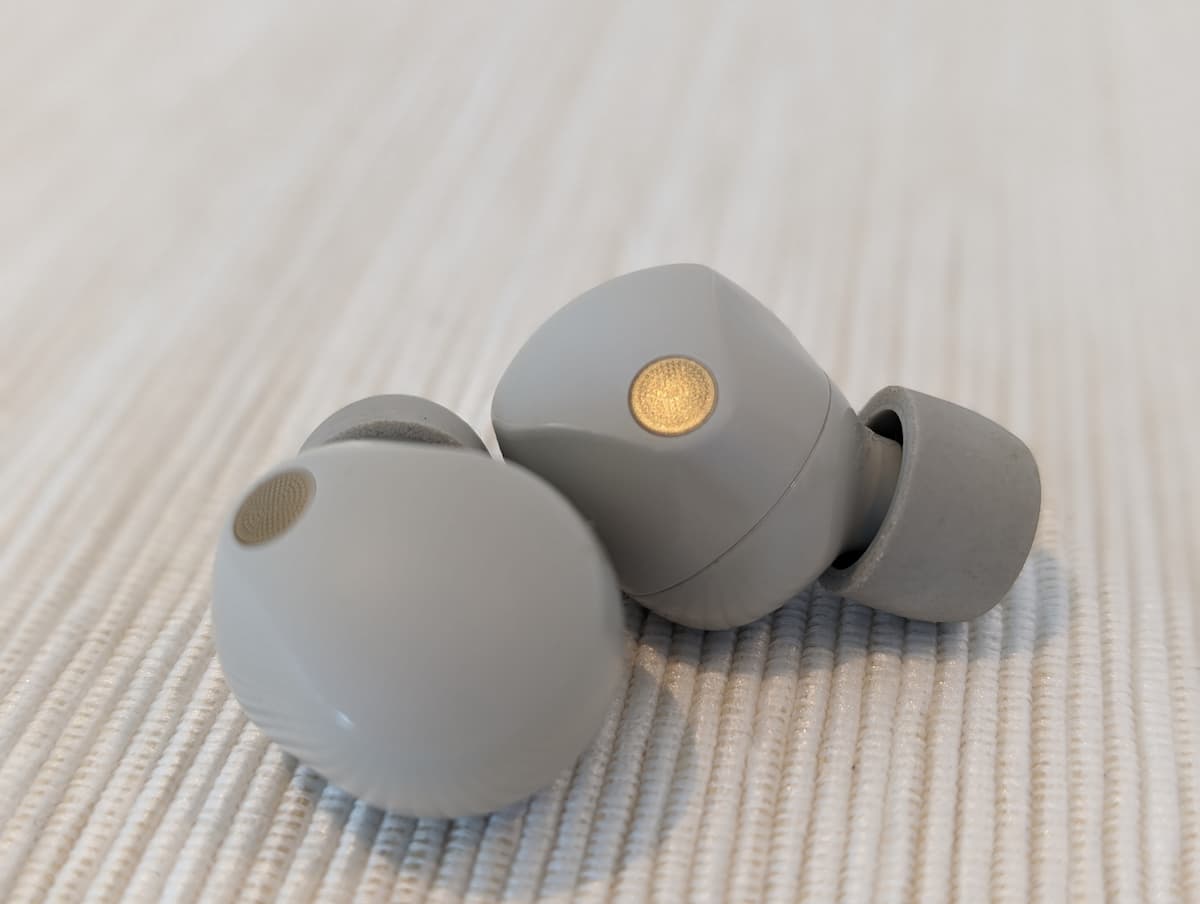 A few years ago, having best-in-class sound quality and impressive noise cancelling was enough to stick out in this competitive market. It's helped Sony move a lot of units but it's also helped companies like Sennheiser, Bose, Samsung and Jabra in similar ways. It's no longer unique to have really good sound earbuds and great noise cancelling.
That's why you'll find a lot of these tech giants are now focusing on refining other features like spatial sound, gestures, head-tracking and machine learning. Sony is obviously keen on exploring more of these areas, which is why the XM5s can do quite a lot for something so small.
Head-tracking now actually makes sense. When it was a nascent technology and little more than a "cool idea," the ability for your earbuds to sense your head movements and seamlessly adjust the soundstage accordingly sounded like magic. For the most part, it still does. Sony's head-tracking has clearly improved and works much better with Android phones but I have noticed some very small stutters in playback when I'm turning my head too often.
Not to worry, you can turn this function off in the intuitive Sony Headphones app.
You can toggle pretty much all features via the app. Including Sony's attempt at introducing more gesture-based controls. For example, you can answer a phone call by nodding your head and reject it by shaking it. This is simply called Head Gesture and it actually works quite well. It can, however, get a bit annoying and feel overly sensitive like Sony's speak-to-chat function (where the buds detect your voice and pause accordingly so you can have a conversation) used to when it was first introduced. Again, you can toggle these off.
And in mentioning speak-to-chat, I'm glad to note that it's no longer annoyingly sensitive. With previous models, coughing too loud would pause the music. Now, when I have the function on, the music only pauses when I'm genuinely speaking to someone and it returns just as fast when it detects that the conversation has finished.
Being able to customise the functions of each individual gesture would have been a great inclusion for Sony. Unfortunately, the company has decided to strip a bit of the customisation that some competitors offer.
Again, Android users get the better deal here. Sony has worked in high-quality Bluetooth codecs like LDAC and LC3 audio formats, along with the standards of SBC and AAC. LC3 isn't widely compatible with most phones yet; this new Bluetooth codec allows for even lower latency and better streaming quality. In that case, Sony has done well to future-proof the XM5s.
In case you need a reminder, codecs basically dictate how data is compressed from the source to the earbuds over a Bluetooth connection. The reason why, in terms of quality, a wired connection is still preferred over a Bluetooth connection is that the codecs aren't quite there yet. LC3 audio appears to be one of the most advanced audio codecs to date, so it's nice to see Sony anticipate its adoption.
---
Sound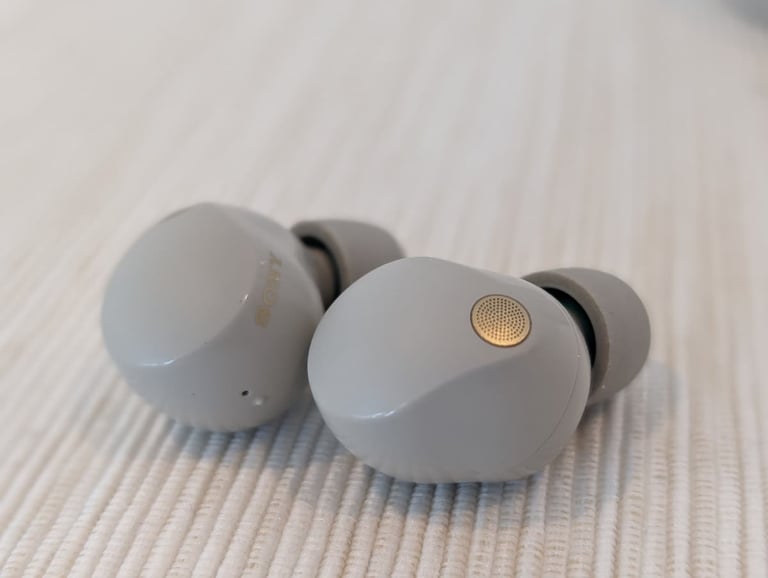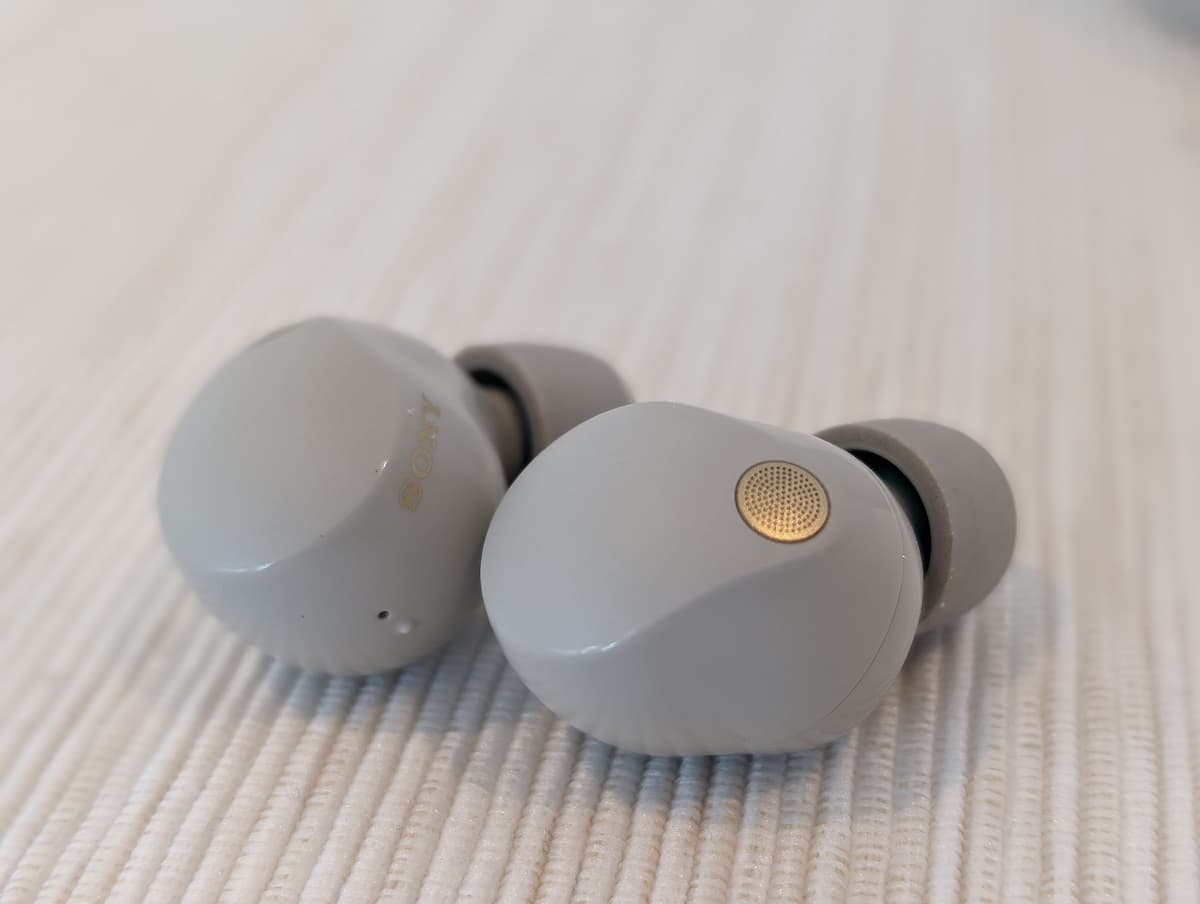 The hardest part about reviewing the Sony WF-1000XM5 earbuds is being able to discern any boost in sound quality. The XM4s still sound better than most current flagships from competitors.
But if there's one thing I notice it's clearer instrumental separation so I can pick up on those subtle details in with more dense content like jazz and rock. I load up "Song for the Dead" by Queens of Stone Age on my iPhone 15 Pro and am immediately blown away by just how fantastic Josh Homme's sinister guitar riff sounds; bright, textural and heavy.
Spatial Audio, which Sony calls 360 Reality Audio, has clearly improved. The buds analyse your ears and optimise the soundstage so that you feel wrapped in the music. Object-based sound is more apparent and there are moments where you'd feel like you're at a live concert. This works especially well with, again, those more dense tracks like Ahmad Jamal Trio's 'I Love Music.'
But much like those high-end Bluetooth codecs, uptake is the issue here. It's like having an 8K TV and limited access to 8K content. Spotify doesn't offer spatial audio yet, but Tidal Premium does. Factor in the extra outlay if you really want to maximise how good these buds sound.
---
Verdict & Value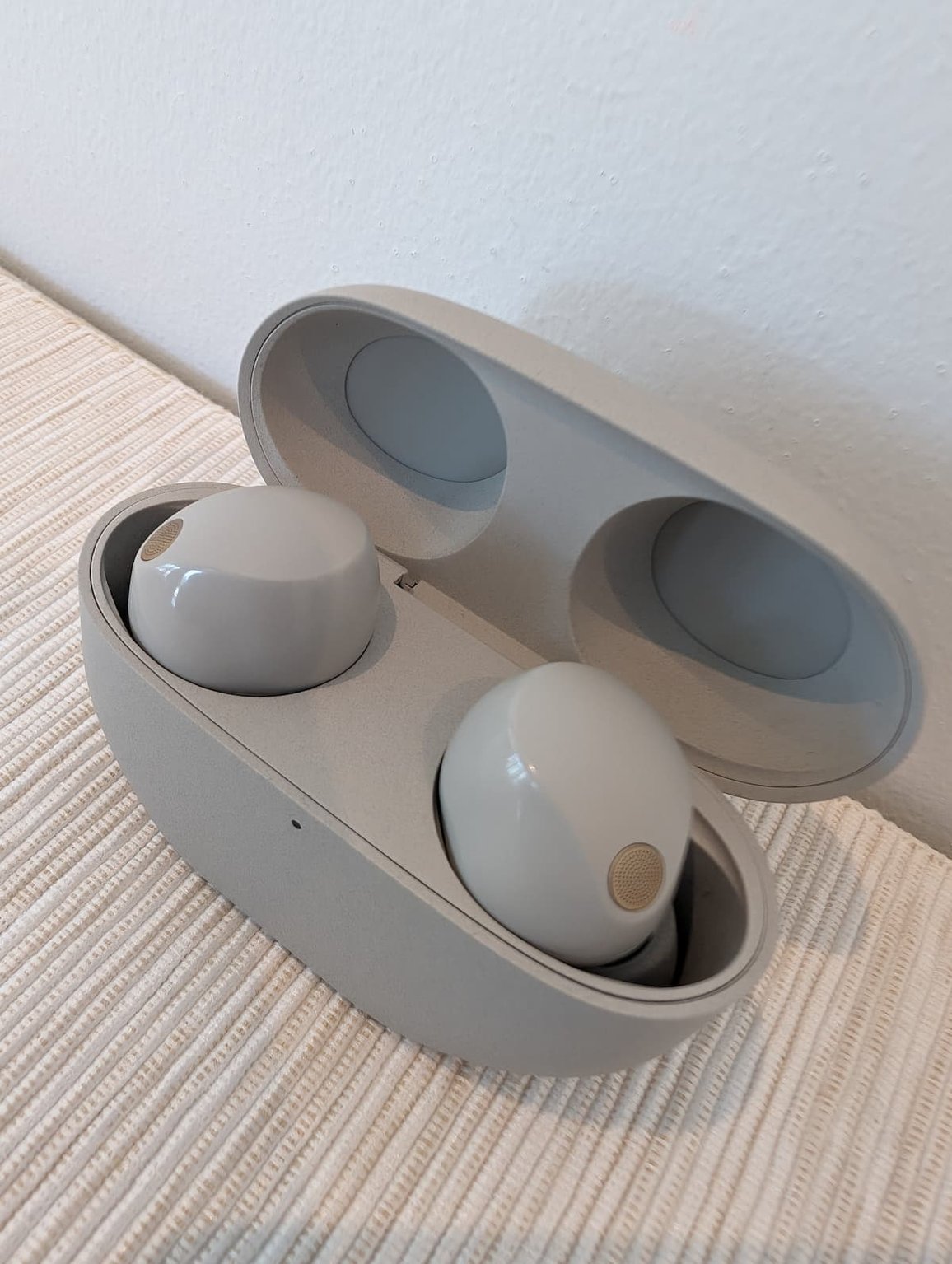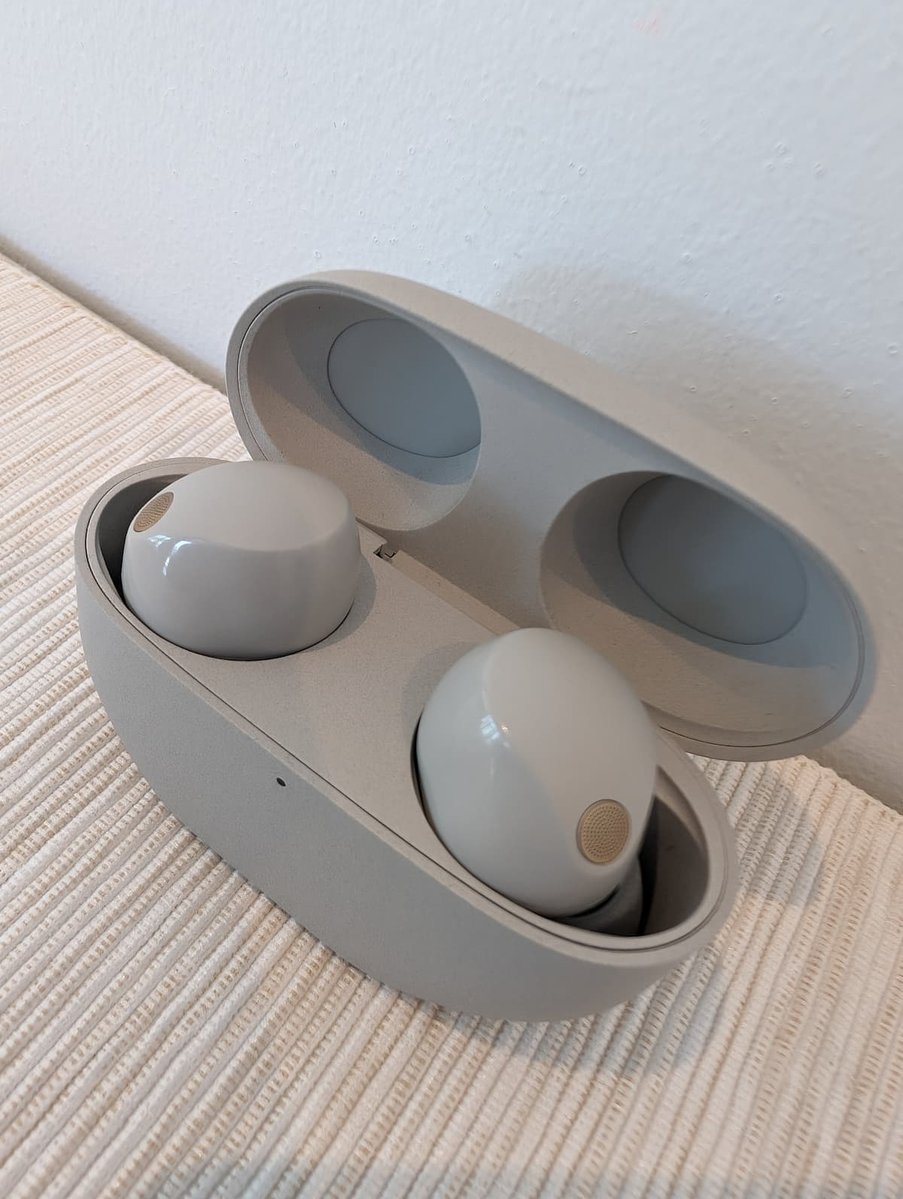 Right now, the Sony WF-100XM4 earbuds are priced at $439 from JB Hi-Fi. This is odd because the XM5s retail for $419. The XM4s are too chunky and not as comfortable as the current generation. Sony has presented an excellent refinement with this new flagship so there's absolutely no reason to pay more for less.
The smart play for Sony would be to drop the XM4 retail price to help move more units before they become outdated.
Regardless, $419 is pretty punchy for a pair of earbuds but I do think Sony has done a lot to justify the price tag. You'd typically expect to pay at least $350 for a flagship, so saving some extra and going for the year's best wireless earbuds isn't a bad idea at all.
That said, I don't like where this market is going. It's become more about compatibility than anything else. These buds, for example, work much better with Android and Microsoft than they would anything using iOS. So if you're an Apple user, the newly released AirPods Pro (2nd Generation) is probably a better buy.
The issue of compatibility also means it's going to be harder to choose the best earbuds further down the line. Sometimes they'll be the best, but only for certain users.
Sony WF-1000XM5 is now available in Australia. The writer, Chris Singh, received this product from the company for the purpose of this Sony WF-1000XM5 review.
---
Did you find this Sony WF-1000XM5 review helpful? Check out some of our other audio content.
---
Frequently Asked Questions
How much are the Sony WF-1000XM5 earbuds in Australia?
You can buy the Sony WF-1000XM5 earbuds for $419 in Australia.
Are the Sony WF-1000XM5 earbuds better than The XM4s?
Yes. The new flagship Sony earbuds are smaller, more comfortable and offer more functionality when it comes to machine-learning and smart features.