They say clothes make the man – so it's worth doing everything you can to take care of them. The Samsung AirDresser takes garment storage to the next level, helping you keep your threads – and you – looking fine.
No matter how well you treat your clothes, there are just some things you can't control, especially if you're prone to asthma or allergies. All manner of nasties – dust, mould, bacteria, viruses, odours and more, lay poised to ambush your favourite suit. At the pub with a mate who smokes? Bam – tobacco odour's going home with you. A slightly warmer day than expected? Not all of that sweat is coming out in your regular wash. Just got off public transport and headed to an important meeting? Samsung's AirDresser has got you covered.
The innovative new clothing care system is designed to take on these unseen clothes-killers that until now may have slipped you by – it'll leave your clothes feeling crisp and clean while extending their wearability.
---
---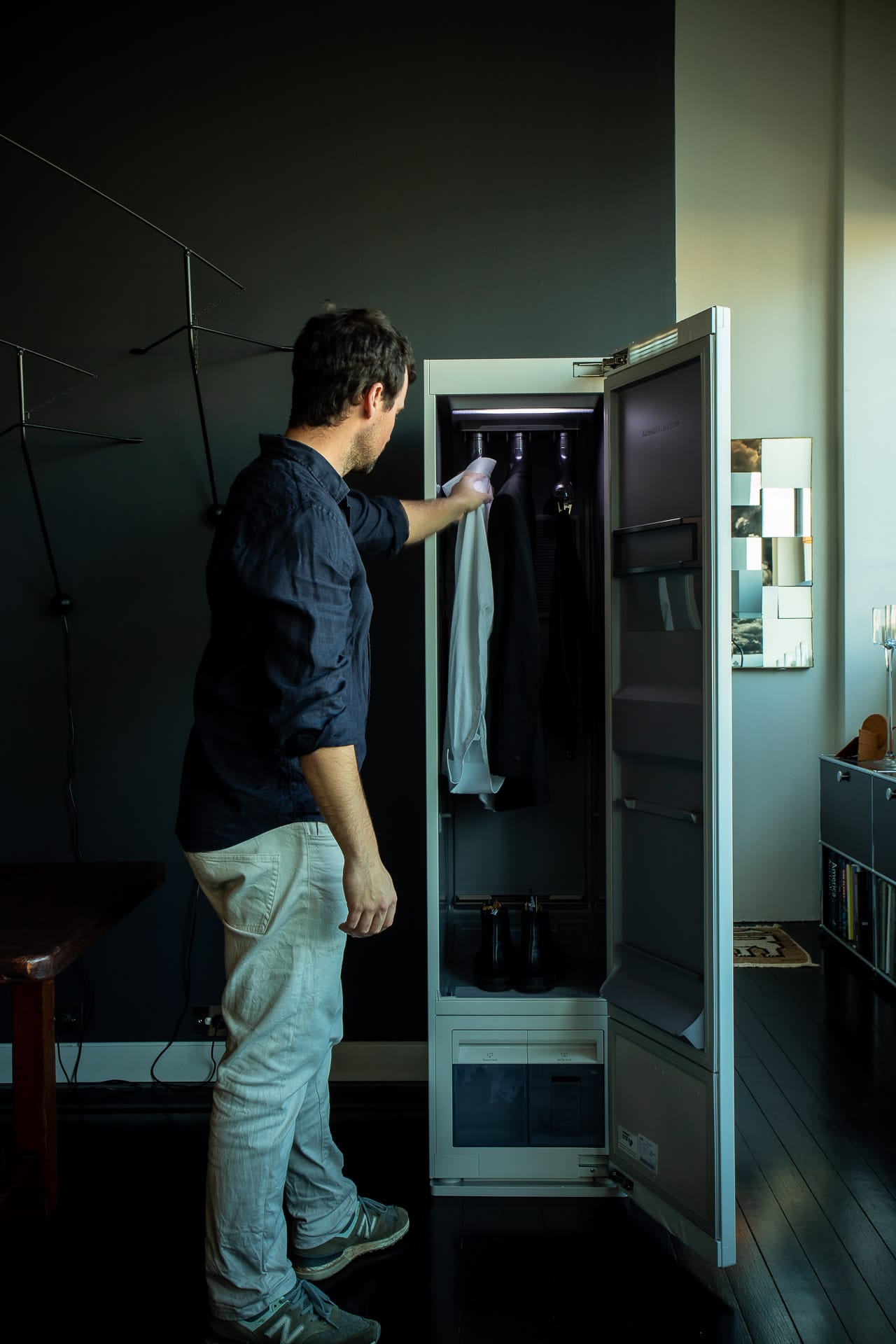 Built to refresh clothes between washes, the AirDresser sets a new standard in clothing care that's centred around a four-step process using Jet Air technology. Clothes (including pants) are hung in the AirDresser using any one of three Air Hangers that come with the unit. Inside the door, you'll also find a rack for hanging scarves and ties, as well as a shelf for things you can't hang like hats or shoes.
The AirDresser's interface includes a selection of cycles suited to different fabrics which you can manage through WiFi via the Samsung SmartThings app. The app suggests the best cycle for each item and there's also the option to download additional specialist cycles if needed. Once you've loaded the AirDresser and picked your cycle, just sit back and let four steps of magic happen.
Step 1 – Jet Air
First up – Samsung's Jet Air technology blasts your clothes with powerful jets of air from above and below inside the unit. No surface of your clothing – inside or out – is safe from Jet Air, as it loosens dust and is designed to remove odours. It's so capable at this job that it's been given the tick of approval by the National Asthma Council Australia's Sensitive Choice program for its dust and allergen removing qualities, as well as the British Allergy Foundation's Seal of Approval.
Step 2 – JetSteam
Who doesn't like a shvitz? Turns out your clothes do too and steam is the ultimate weapon when it comes to sanitisation. The AirDresser's JetSteam treatment infuses deep into the fabric of your clothing, providing a thorough cleanse. Its high heat helps eliminate most common viruses and bacteria, dust mites, as well as lingering odours from cooking, exercising, smoking etc. – keeping your fabric healthy and odour free1.
Step 3 – HeatPump
When it comes to drying clothes – too much exposure to hot, dry air gradually damages your clothing leaving it looking a little lifeless. AirDresser's HeatPump uses an innovative low heat process and is designed to remove moisture from your clothes, while also dehumidifying the space inside the closed unit. In fact, the dehumidifying technology is so good that Samsung legitimately suggests running it with the unit door open to dehumidify the whole room.
Step 4 – Freshen
The last of the AirDresser's four steps involve another blast of air that'll leave your clothes feeling crispy-fresh. Clothes come out smelling great too – the unit's Deodorising Filter and UV LED system are designed to capture the odours removed from your items, ensuring they don't build up in the unit over time. Don't like ironing? The AirDresser can help you with that as well – the steam and air technologies remove all wrinkles from wool clothing and also up to 80% of wrinkles from rayon.2
So whether you're looking to give your outfits an edge, you are prone to allergies or just have a bit of neat-freak in you, you should definitely give this unit a once over. The Samsung AirDresser retails for $3,499 at select retail outlets and the Samsung Online Store.
---
---
Until September 30th, Boss Hunting readers can take 10% off and enjoy free delivery of the Samsung AirDresser with code BHU-SSNT-0862-020S.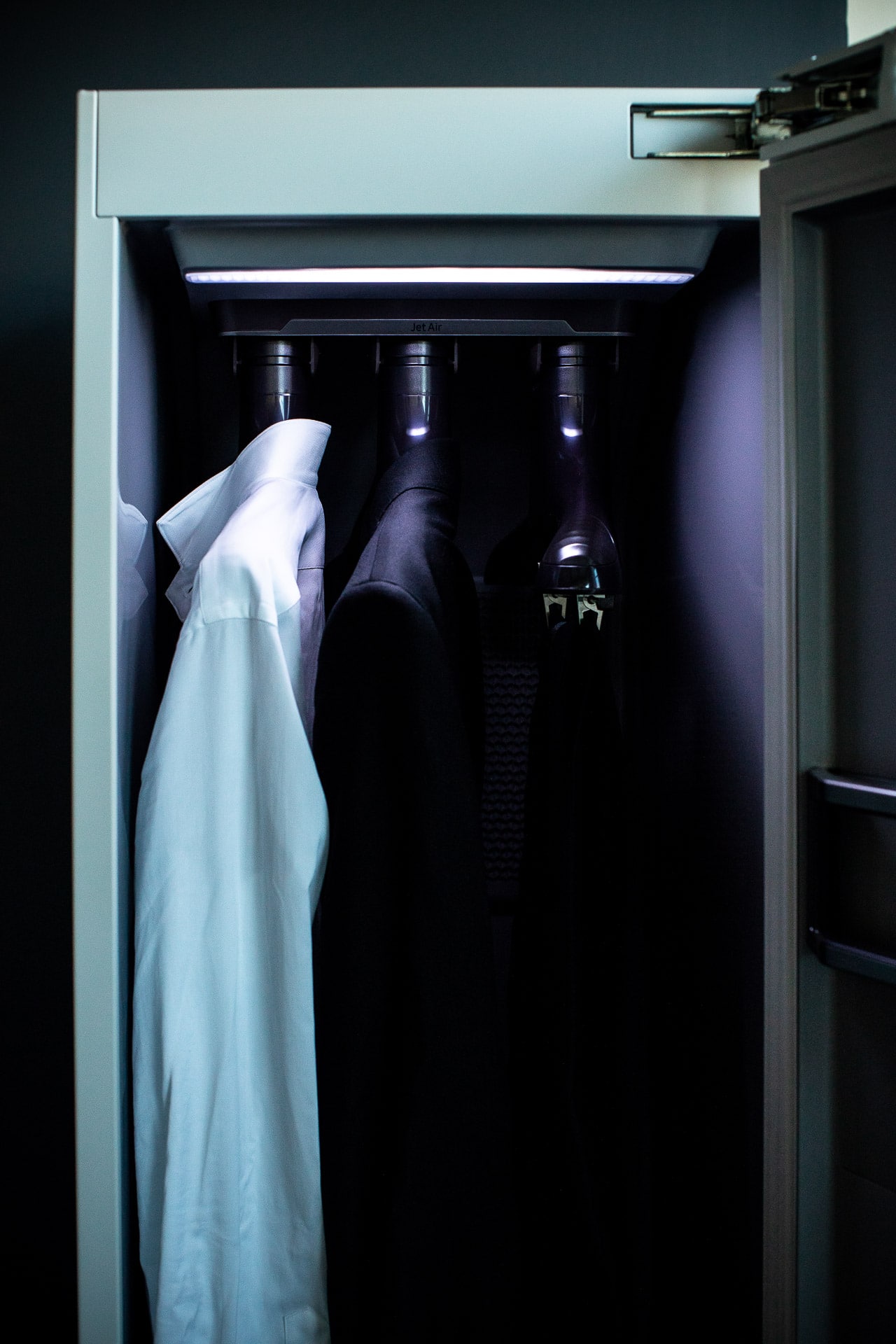 Disclaimers: 1 – 99.9% of selected viruses (Adenovirus, Influenza and Herpesvirus) based on testing by the Korea Univ. lab B) 100% of house mites, based on testing by Intertek/BAF certification testing using a Sterilisation course for 112 minutes C) 99% of odour causing gases (Iso-Valeric acid: sweat, 4-Ethenyl pyridine: tobacco, Valeraldehyde: food e.g. from grilled meat, and Tetrachloroethylene: dry cleaning) based on testing by Intertek using a normal Course D) 99% of harmful substances (Perchloroethylene) based on testing by Intertek using a Normal course. Odour removal based on testing by Intertek using a Normal course: Iso-Valeric acid: sweat, 4-Ethenyl pyridine: tobacco, Valeraldehyde: roasting meat, and Tetrachloroethylene: dry cleaning. Testing for Iso-Valeric acid and 4-Ethenyl pyridine based on KS K0891 Standard. Individual results may vary depending on the actual usage situation.2 – Based on independent testing by Intertek, using a normal course according to KS K 0891 and ISO 9867. Wool fabric wrinkle recovery efficiency was 100 % and rayon fabric wrinkle recovery efficiency was 80 % after using the AirDresser.
This article is proudly presented in partnership with Samsung. Thank you for supporting the brands who support Boss Hunting.