A relatively new name has been making waves in the world of mixed martial arts lately. Making waves is actually an understatement. This new name is sending 129,161 units shockwaves. And not just in the metaphorical sense.
As of December 3rd, Francis Ngannou became the UFC's top ranked heavyweight. Here's why you best familiarise yourself with him.
Humble beginnings
The Cameroonian fighter was born into poverty. Instead of formal education, Ngannou worked the sand quarries. His father had a negative reputation as a street fighter, and several gangs in the village would approach the younger Ngannou to join them. With hopes to escape this world, he opted to pursue profession boxing. When he decided it was time to take things to the next level, he did what many would regard as a gamble. Ngannou moved to Paris with no money and no support network. Practically homeless and low on hope, he trained his way into a living.
Devastating build, even more devastating technique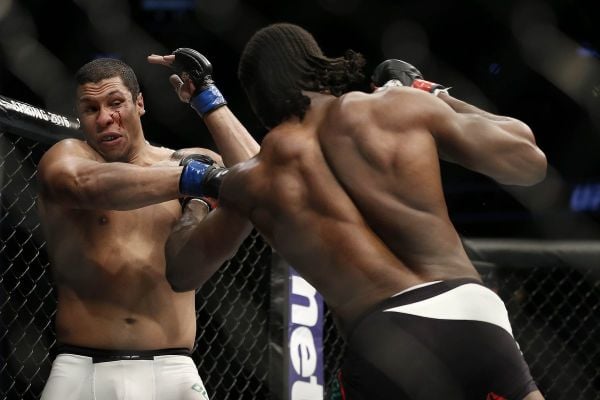 If you asked anyone who knew Ngannou to describe him, two things would immediately come to mind. His imposing build, and the sheer destruction his hands cause. Standing at 1.96m, and weighing 120kg, this is not a man to be trifled with. Additionally, his massive wing span has given him a reach advantage in practically every fight. Sometimes up to 10 inches of it. In contrast to the majority of heavyweights, his bulk is not a liability. Nor is it really bulk, for that matter.
Ngannou has been blessed with genetics that has endowed him with a naturally lean, muscular physique, and what has been demonstrated to be extremely fast twitch muscle fibres. Essentially, the man is agile as well as having weight to throw around. Weight that you definitely don't want to be on the receiving end of.
Due to the combination of muscle elasticity, a yet-to-be contested reach advantage, and strength, every hit is able to wind up, and gain that extra bit of momentum. Think of this as being given extra runway for a car to accelerate on. Every punch has the chance to hit top speed.
https://www.youtube.com/watch?v=FklIEO-95zI
Furthermore, Ngannou has proven his talents as a striker. And not just offensively, either. In crucial moments of fights, he has demonstrated rather robust fight IQ, in adapting to the situation. While it may not be the quickest in the UFC, nor the most outstanding, it's certainly up there. Ngannou has made reads of body language in past fights, arguably as instrumental if not more so than his physicality to the ensuing victory. Although he has submitted opponents on the ground before, his grappling game still leaves a lot to be desired. It is one aspect of his capabilities yet to be refined. Once more work has been put into that half of his combative arsenal, however, it's game over.
That being said, Ngannou is already on the right track. With a UFC record of 11-1, 7 of the wins by knockout, and the other 4 by submission, he truly does finish what he starts.
World's strongest punch
No, this isn't hyperbole. This is world record fact, and a noteworthy one at that. Ngannou holds the title for the strongest recorded impact via punch. At 129,161 units, he shattered the previous record set by kickboxing champion Tyrone Spong who clocked in at 114,000 units. No small feat. This is to be expected. Watching footage of Ngannou's knockouts, you can see entire bodies shutting down when they face his full force. In his most recent fight with Alistair Overeem, he literally lifted him off the ground with an uppercut from Hell. Overeem was unconscious mid-air, before he hit the canvas! That's some Street Fighter 2 type shit.
https://www.youtube.com/watch?v=M83UeY7G1iI
Philanthropy
Ngannou has some wholesome ideals at heart. Ideals to give those who face the same obstacles as he did a chance, and build communities up. Consequently, these ideals have influenced his intentions with his paycheck.
"When I started, I had nothing. Nothing. I needed everything. But when you start [to earn money], you starting collecting things: I want this… I want that. The purpose is not collecting things, though. The purpose is to do something great. Finish the dream you started…
I want to give opportunity to children in my country like me who have a dream to become a doctor or something… I want to give some opportunity for children like me who dream of this sport and don't have an opportunity like me. The last time I was in Cameroon, I brought a lot of materials for boxing and MMA to open a gym…
They are thinking that something is possible. Even when they are so poor, something is possible in life."