A man who rarely needs an introduction, Ernest Kim founded Kicksology.net back in 2000, the go-to sneaker blog for in-depth reviews of basketball footwear and sneakers in general. Affectionately known across the scene as Professor K, his style of content pioneered not only the way sneaker sites operate today but elevated the process and delivery of giving product reviews. If you were obsessed with shoes back in the early 2000's you more than likely stumbled upon his sneaker reviews, such was his influence across those who reviewed footwear, gadgets, cars and other consumer goods after the turn of the millennium.
By late 2004, after amassing some 1,500 pairs of shoes, Kim decided his sneaker obsession was taking over and he sought to wind down Kicksology.net to focus on a career in the industry. That meant taking a job at Sole Collector, where he spent several years before eventually moving on to Nike in a role as product manager in mid-2007.
Fast forward to today and Kim is Nike's Director of Advanced Footwear Innovation, having co-designed Nike's brand new REACT cushioning platform and been the brains behind the Swoosh's all-new Epic REACT, Beaverton's biggest tech innovation since the Nike Free. He also revived Kicksology.net again back in 2014, maintaining it as a general blog with the occasional review and somewhat of an homage to his early days as one of the forebears of the sneaker scene.
---
---
I sat down with him after checking out Nike's sensorial House of Go activation in Seoul during the launch of the Epic REACT. Here's what went down: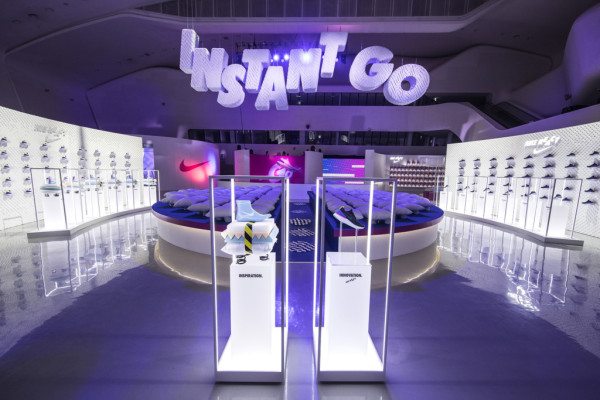 TK: Talk me through your passion for sneakers and how Kicksology.net started?
EK: It's funny because I've tried over the years to come up with some kind of intellectual rationale for my love of sneakers and I still haven't managed it, it doesn't make any sense (laughs). I remember when it started, I was just a kid living in Queens, New York. The crazy thing back then was, I didn't even watch basketball – I didn't even know who Michael Jordan was! Anyway, I went to this sneaker store and saw a pair of Air Jordan V's on the shelf and I was just like, "I have to have them!" (laughs). It was the first time a product ever captured me in that way.
They were very expensive so I had to work a bunch of odd jobs over the summer to afford them and as happens, by the time I'd saved up enough, the colour I wanted wasn't available. I still managed to get my hands on the grape colourway and I just loved those things to bits. Every time I wore them I'd take the toothbrush and clean them off straight after (laughs), and that's just where it started for me – I was so captivated by this product that had this artistic expression but also this functional aspect to it. Over the years that's evolved into a big interest in cars as well because they're another thing that involves aspects of visual design and performance, but it all started with the Jordan V.
"I was so captivated by this product that had this artistic expression but also this functional aspect to it."
TK: You pretty much wrote the book on sneaker reviews and had a major hand in kickstarting where the culture is today. Can you talk to me a little bit about that?
EK: It definitely wasn't my intent! Honestly, part of it was I wanted an excuse to buy more sneakers, and getting that by my wife (pauses to speak intermittently through laughter). So that was part of it but actually, the trigger was at the time I was living in Chicago and a friend and I would often to go Niketown in the city to check out what's new. We were both into basketball and sneakers and we saw the first Flightposite. We both automatically thought, "oh my god, this is the ugliest shoe! Why would people buy these in this iridescent gold colourway?"
Then basically my friend dared me to try them on, so I did and it blew my mind. How can a shoe feel like this? They were pretty expensive, about $165 USD back in 2000, so surely there'll be reviews online, right? That would make sense before I spend all this money. So I went home and looked online and was really shocked that there wasn't anything… I found it crazy! So I went ahead and bought them and I loved them, and I kept making me think – how many other people are out there who wouldn't even try these shoes on because the design is so "out there?" They're missing out on this amazing experience!
---
---
That was the big trigger and that was the first sneaker I reviewed on Kicksology.net, the Flightposite, because I really wanted to get people to try some of these things that maybe they wouldn't have tried otherwise.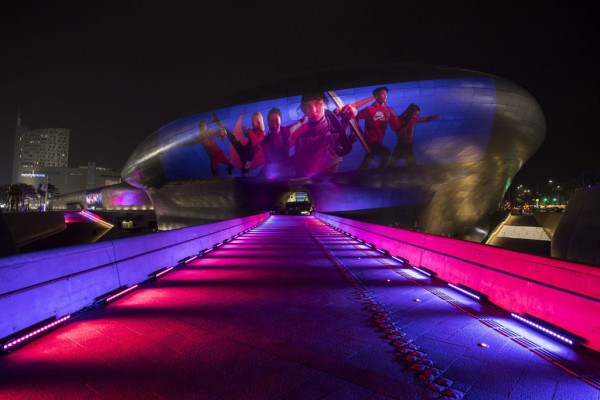 TK: Your path to working at Nike is somewhat unconventional, but that can often be the norm in Beaverton. How did you land the job and what do you think attracted the Swoosh to hire you?
EK: I think it was just that I was honest. I came in without any direct industry experience and not as someone who was an elite runner. I still remember my interview with the person who was then the Footwear Product Director, a guy named Phil McCartney who is now our senior VP of Footwear, and he interviewed me right after I had done a running shoe round-up for Sole Collector. I kind of trashed a couple of Nike shoes, the Air Max 180 and the Air Zoom Moire which was one of the first Nike+ shoes, but I also had the Zoom Hayward in there which was a version of the Skylon—I loved those—and I basically wrote how I wished Nike would do more of this (the Hayward) and less of the other stuff.
I met with Phil and told him honestly what I thought about these things and I was fortunate enough that he wanted someone who would bring that honesty to the team and also that outsider's perspective of someone who wasn't ingrained in the existing running culture. I was very lucky that Phil had that vision!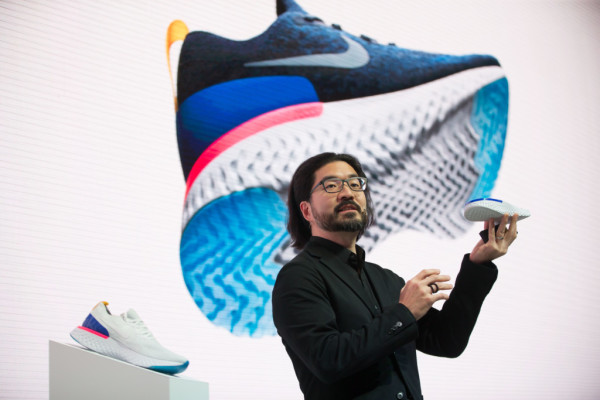 TK: You're the Director of Advanced Footwear Innovation for one of the world's most innovative companies. What's that like?
EK: It's fantastic! (laughs). We are so lucky in that, 1 – we have this incredible pool of people who are the best in the world at what they do that we get to work with on a daily basis, and 2 – we have the best toys in the world, the best equipment!
Another important point is that we have the best manufacturing base in the world, because we couldn't make something like Nike REACT happen without that manufacturing capability as well. To be able to do this at scale right out of the gates is something I think only Nike could do so to have access to that machinery, as someone who is so heavily involved in product, there's no other place to be than Nike.
"You need to capture that nugget of truth, translate it into a brief and get a team of people excited about creating that product and turning the brief into a reality."
TK: Nike has no doubt pioneered the process of listening to the athlete over the years, but how much is athlete feedback really utilised in the design process? Can you discuss a little bit about how dealing with different athletes can affect design?
---
---
EK: It's vital. I know we talk a lot about it all the time but honestly if you look back at our history, any of the good shoes we've done are always a result of listening and being true to the voice of the athlete. When we go wrong is when we let the market or a specific retailer decide what we're trying to do, but when we're true to the athlete we always produce the best of the brand – that's always at the foundation of what we do and all of our briefs, that original athlete insight.
Really, whether you're looking a single elite athlete or a convoy of runners, the mechanics of it are maybe a little bit different but fundamentally it's still the same – you need to capture that nugget of truth, translate it into a brief and get a team of people excited about creating that product and turning the brief into a reality.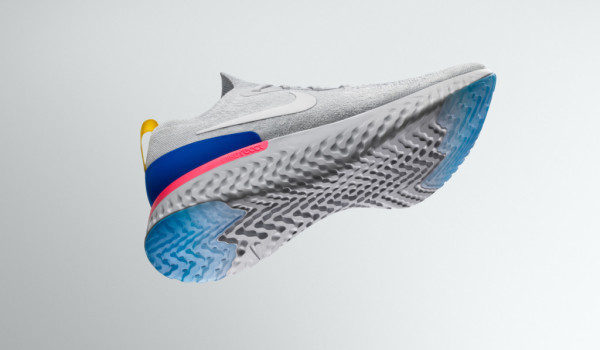 TK: Last question, what's you fave Nike release ever? Old and new.
EK: Well, the Jordan V Low is special to me because that was kind of what got me started. The original Air Revolution BB—the mid with the velcro strap—that was another one I took to with the toothbrush everyday! (laughs). In terms of running the shoe that literally changed my life was the Nike Free – I had been more of a basketball guy before that and had tried to run but I'd often get injured because I didn't know anything about run shoes. Free was the first shoe that enabled me to run consistently and that basically made me a runner, and that was before I even came to Nike! So that's a shoe that I'll always love because that concept is something only Nike would do – this crazy idea of a shoe that's like a barefoot shoe. Plus a special mention to the Flightposite, where it all started with Kicksology.net.