Happiness lies in spending money where you spend your time – just ask Drake – the proud owner of a Grand Vividus bed from Hästens, with a price tag of US$400,000. While you won't be eyeing those prices while scanning this list of Australian bed linen brands, you'll get a similar sense that luxury is the way to go when you're living horizontally.
To those who don't value a good night's rest, it may seem absurd but when you stop for a moment and think about it, and compare it to acquiring another Richard Mille or Lamborghini Aventador SV, it actually makes perfect sense – not just for Drake.
Purchases that improve your everyday existence, are always wise and when it comes to sweet dreams, it starts with a quality set of sheets, preferably, from one of these Australian brands. Investing in your first set of quality sheets will awaken a seventh sense of pure satisfaction and have you embark on a lifelong journey of sheet snobbery, and a good night's sleep. You spend a third of your life sleeping, so why not make the most of it?
Dive into our best Aussie bed linen brands selection kicking off with our top picks for linen and organic cotton (with pricing), before analysing why linen, and linen thread count, then comparing linen and cotton.
Here are Boss Hunting's top picks for the best Aussie bed linen brands:
---
Dri-Glo – $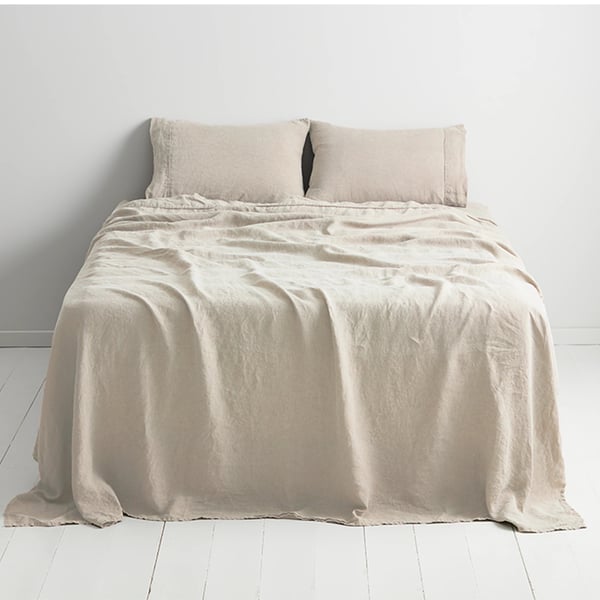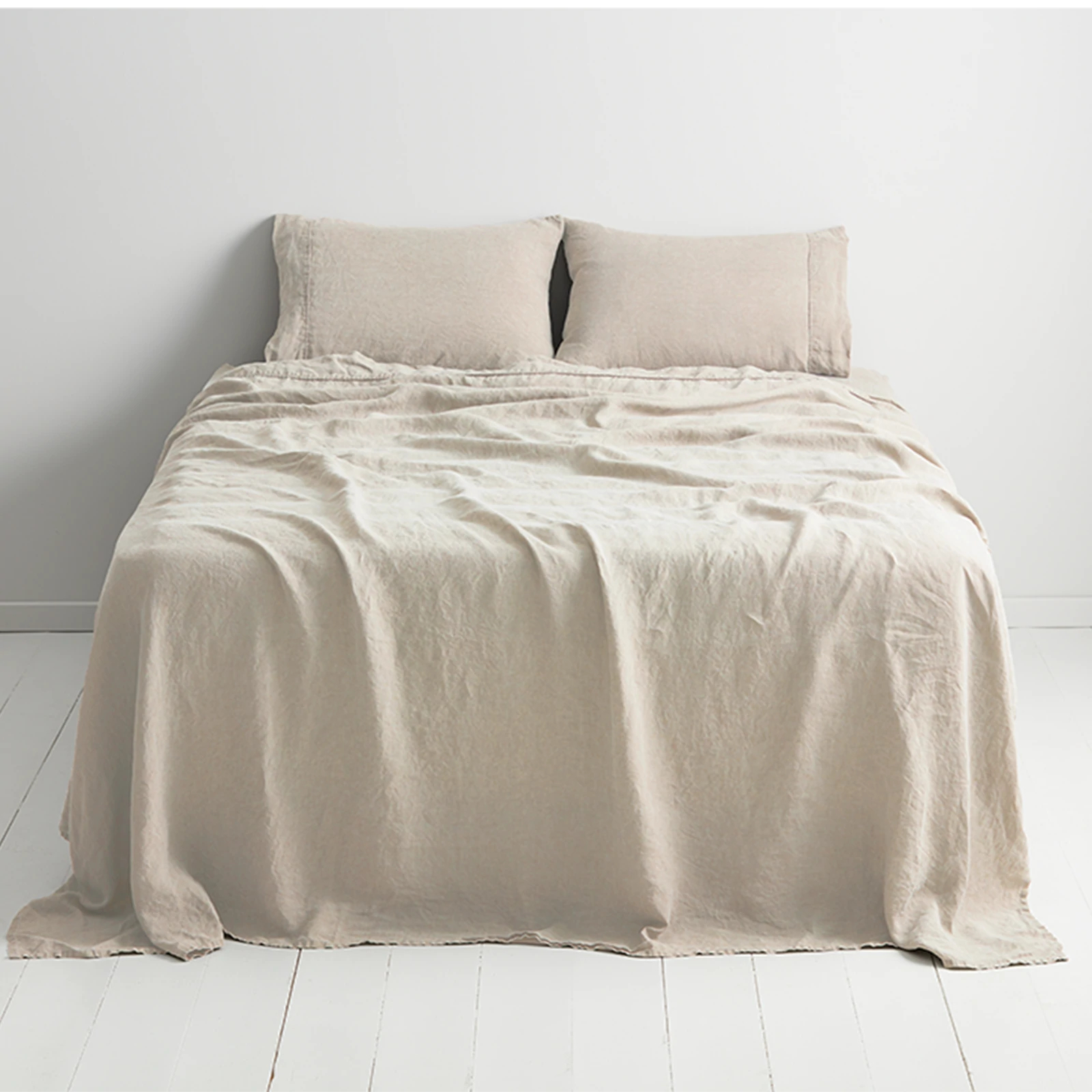 Made from Australian-grown premium cotton
Linen sheets available
Melbourne company Dri-Glo has been around since 1930, but the brand didn't really slide into prominence until it was chosen as the athletics towel of choice for the 1956 Melbourne Olympics. Although it's never been more accessible since Dri-Glo responded to the massive uptick in digital sales during the initial wave of the COVID-19 pandemic by finally going direct-to-consumer with an e-commerce website.
Now the Australian-made Dri-Glo is one of the best options if you're looking online for a more affordable entry into great quality linen sheets. A linen sheet set from Dri-Glo is currently going for $250 (Queen) with two standard pillowcases, and both a fitted sheet and a flat sheet. Considering the quality of the linen, that's some of the better value around.

King Set (two pillowcases, one fitted sheet, one flat sheet): $279
---
Sheet Society – $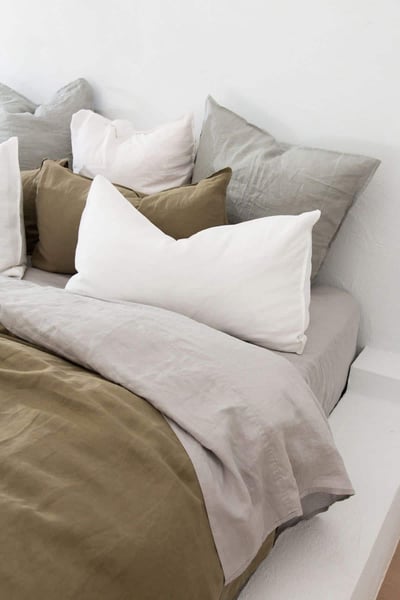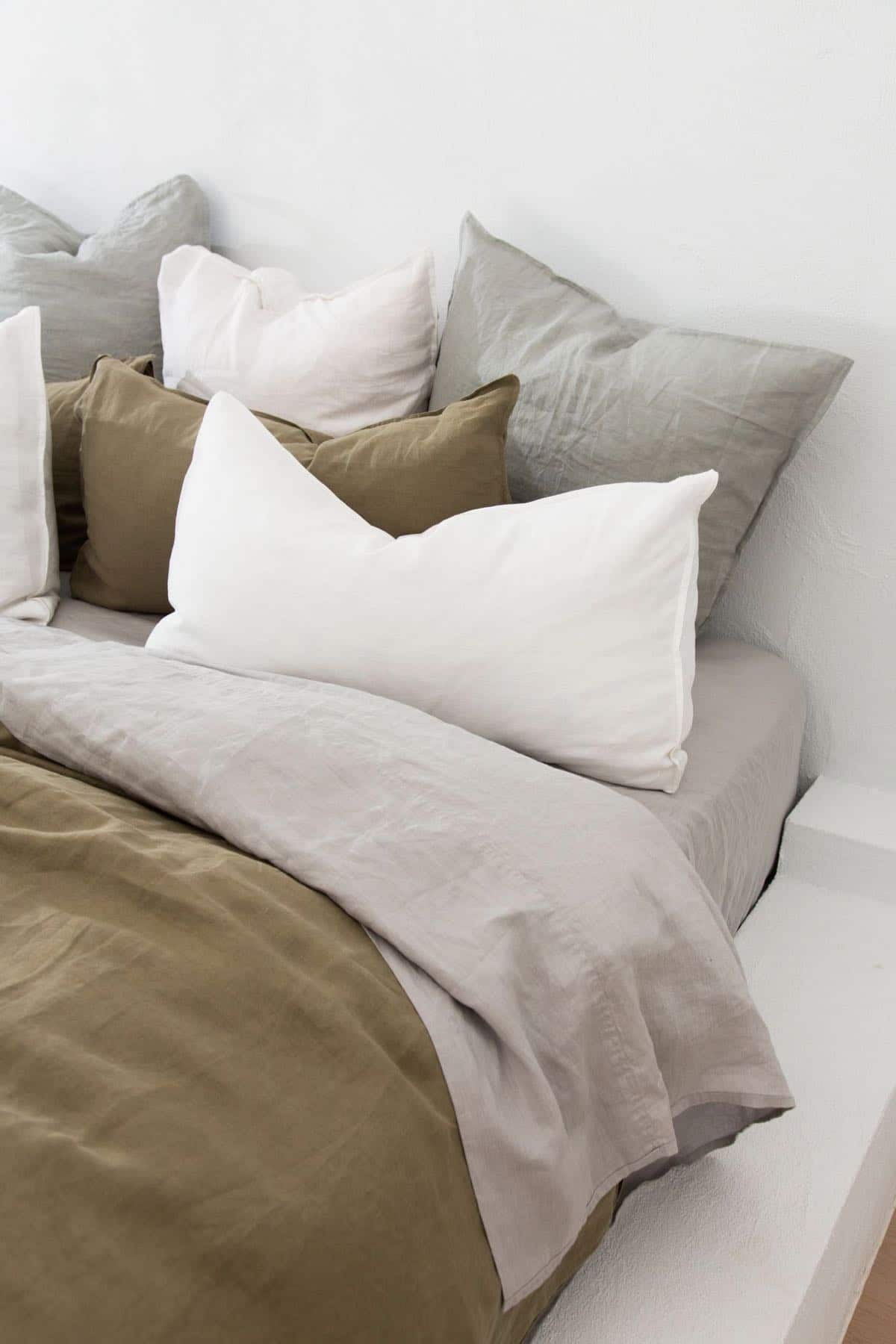 Full customisation
Made in China
This list features the best bed linen brands Australia has to offer, but Sheet Society is the only one offering absolute customisation, made easy with their innovative Bed Builder, which will soon add the power of AR, to allow customers to view their choices on their own bed before purchasing.
Not only will Sheet Society let you select different sizes and colours for your set, but you can also choose from the largest range of materials on this list, including organic cotton, linen, waffle, corduroy, quilted and subtle printed and striped styles. As an owner of linen sets from both Bed Threads and I Love Linen, I mixed it up with organic cotton from Sheet Society – opting for a blend of Moss & White.
The silky cotton arrives pre-washed, in premium individual packages and boasts the best-fitted bed sheets I've ever used, wrapping right under the mattress, which is important for lovers of firm beds that are typically thinner. In my opinion, organic cotton feels more luxurious than timeless linen bed sheets, especially when paired with a flat sheet – recreating that sumptuous hotel vibe. Suffice to say you won't be disappointed.
Lockdown treated Hayley and Andy Worley's company extremely well, recording their biggest month ever in May 2020, on their way to turning over $4.4 million last financial year, in only their third year of business. Since then, the brand has added plant-based pillows and quilts to their range made from 100% natural corn fibre.

Linen King Set (2 pillowcases, quilt cover, fitted & flat sheet): $620
Cotton 400TC King Set: $390
---
Bed Threads – $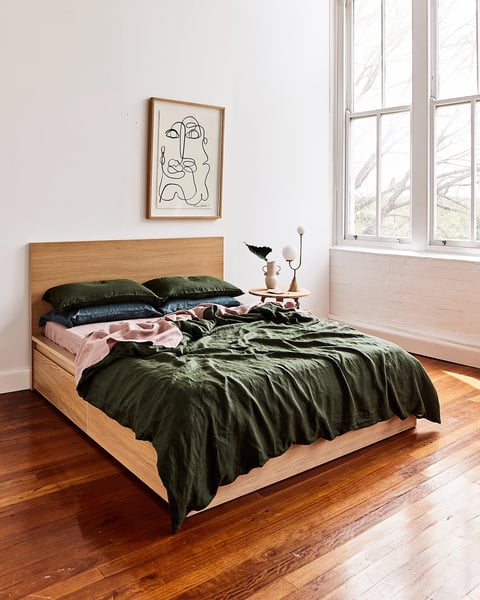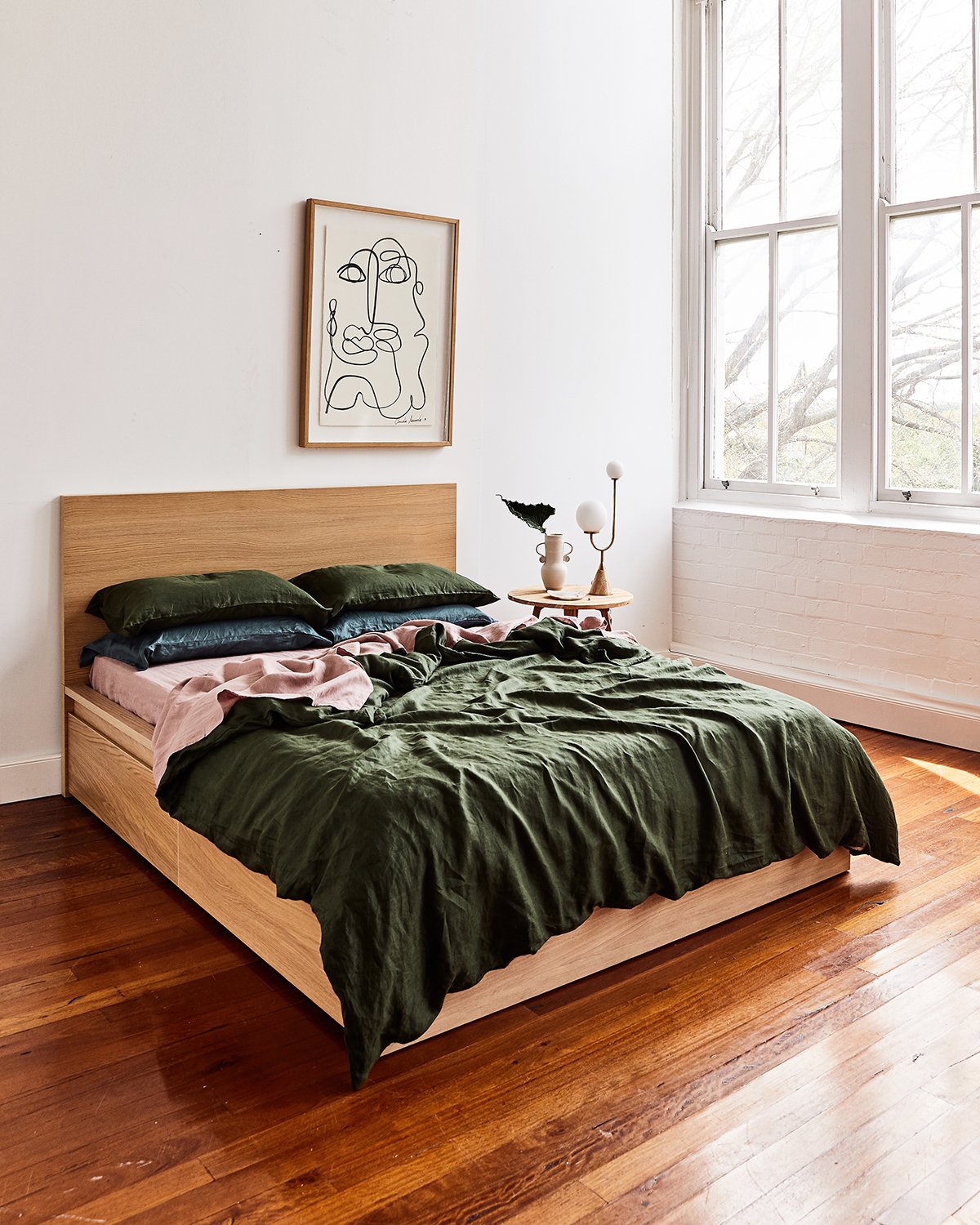 100% Flax linen grown in France and assembled in China
Linen sheets available
Bed Threads founders Genevieve and Alan began their business to prioritise high quality, pure, 100 per cent French flax linen at a price point you won't lose sleepover – and they delivered. BT is a great starting point for those interested in getting into quality bed linen due to their accessible price point and their 'Special' sets – being able to buy combinations with a larger flat sheet or doona cover.
Interestingly, the quality of their Flax linen, grown in France and assembled in China, is on par with my last linen set from I Love Linen, which costs quite a bit more. Like The Sheet Society, Bed Threads have the option to build your own bundle from their excellent range of colours, although it's far more primitive.

King Set (2 pillowcases, quilt cover, fitted & flat sheet): $430
---
Mr. Draper – $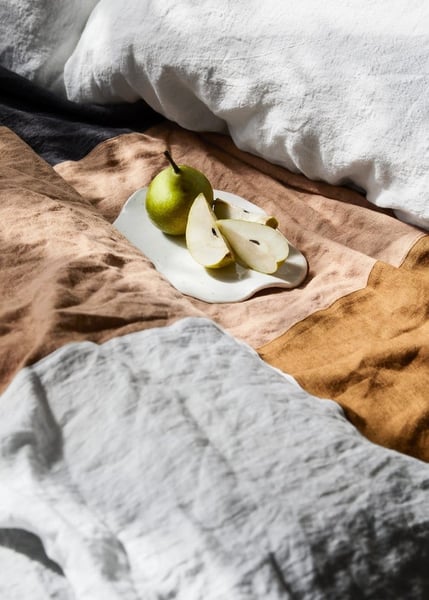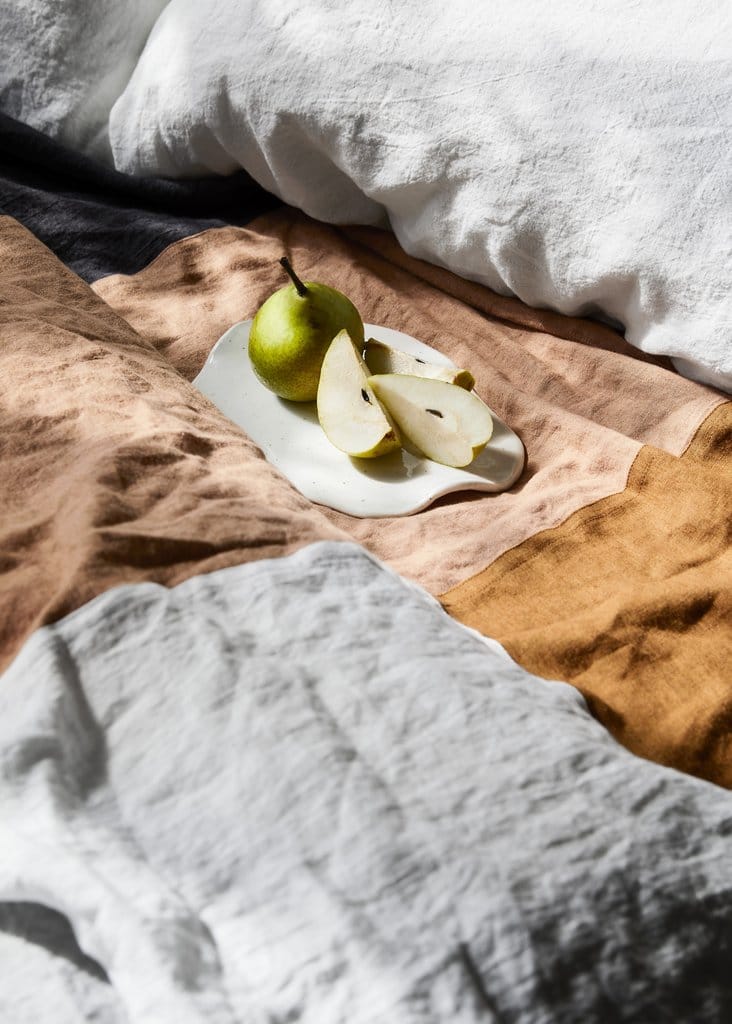 Made in Melbourne & Lithuania
Linen sheets available
Mr. Draper was established in 2014 in response to the 'fast fashion' movement, with an aim to create beautiful Mr. Draper was established in 2014 in response to the 'fast fashion' movement, with an aim to create beautiful products that were hardwearing and functional. Based out of regional Victoria, with additional manufacturing in Melbourne & Lithuania – at the country's oldest flax mill – their ethical approach to both producing and sustainability is reason enough to invest in their products. They take transparency a step further than MAJOR-MINOR and actually list their supplier, much like Kelly Slater's Outerknown.
Alongside retailing-conscious products, Mr. Draper offers features unique to this list including their 'Order Book', rewarding mailing list members with discounts, and a repurpose and trade program, whereby you trade your handmade items for theirs. The stock sells out regularly, but it's always re-stocked just as fast, keeping up with demand for what is easily one of Australia's favourite linen brands.

Sets from approx $505.
---
I Love Linen – $$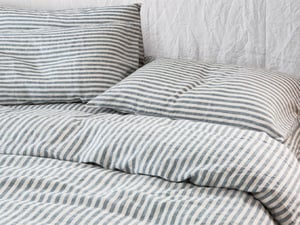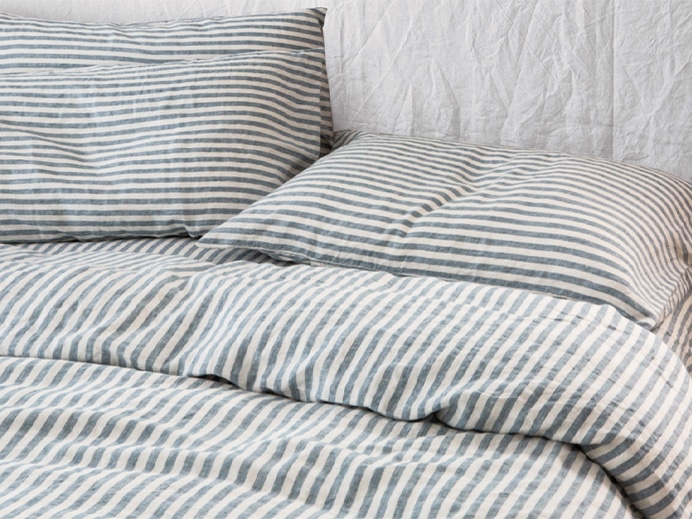 Made primarily in China
French flax linen and organic bamboo sheeting
I Love Linen was created by Lauren Roe in 2013 and specialising in French flax linen and organic bamboo sheeting as well as bedding accessories and homewares, with one of the largest colour ranges online. I Love Linen produces its products across the globe, with the core of its sheet range in Shenzen China.
Inspired by her travels, Lauren has introduced a Hotel Cloud Collection featuring luxurious mattress toppers, doonas and 'sleep easy' pillows, which promises to elevate their products one step further. She also makes cot sheets for that little person in your life. If you're feeling overwhelmed with choice, I Love Linen's signature colour bundles are a great place to start.
Linen King Set (2 pillowcases, quilt cover set, fitted & flat sheet): $774
Bamboo King Set: $399.99
---
IN BED – $$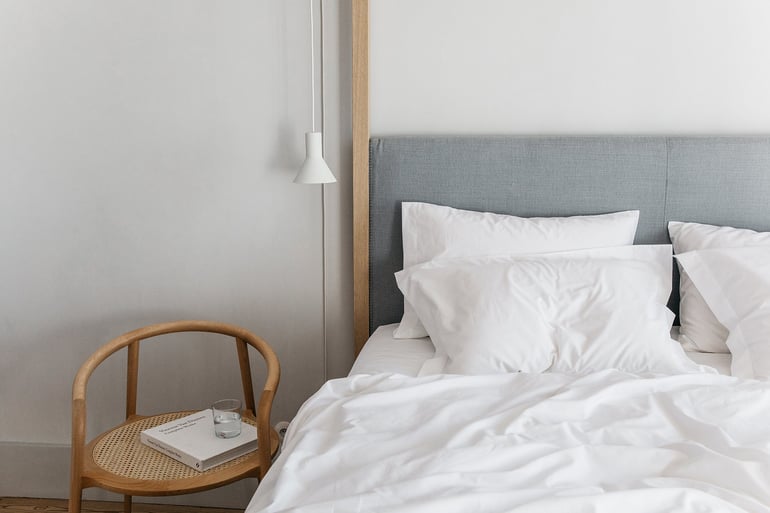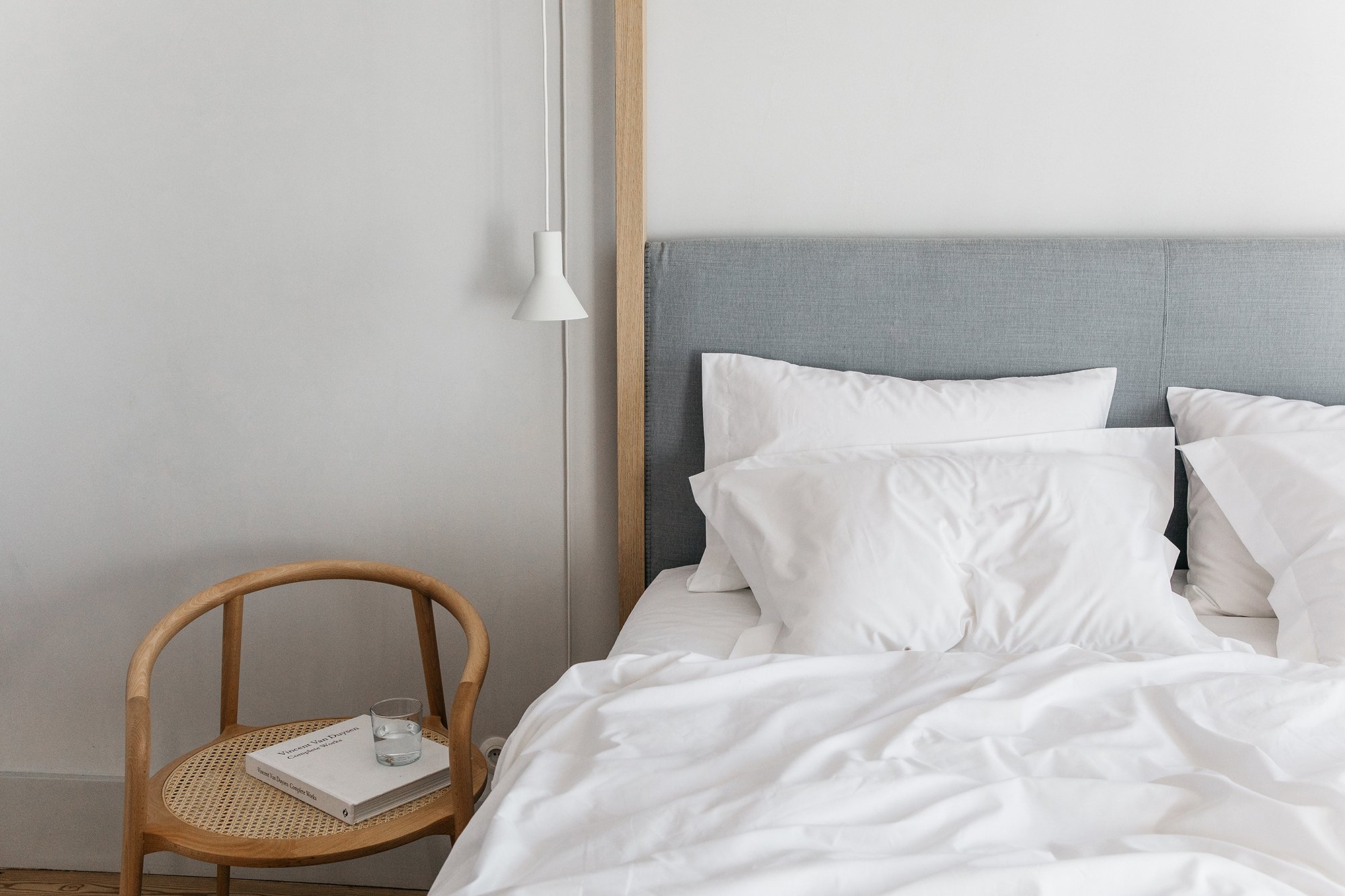 Made in Portugal
Linen sheets available
Like I Love Linen, IN BED helped pave the way for bed linen brands, bursting onto the market in 2013 and quickly becoming a favourite by producing timeless, utilitarian and beautiful products.
IN BED is one of the most transparent operators on this list when it comes to where and how their products are made, with both their linen and cotton bedding being produced in a family-run factory in Guimarães, Portugal, while sustainable packaging adds to the brand's conscious approach. Unlike other brands on this list, they don't offer sheet sets which results in a very manual and rather clunky user experience while onsite.

Linen King Set (2 pillowcases, quilt cover, fitted & flat sheet): $900
Cotton 400TC King Set: $625
---
CULTIVER – $$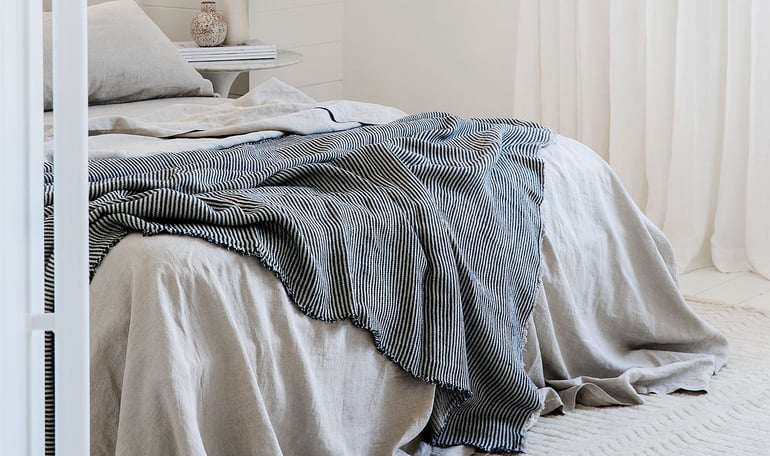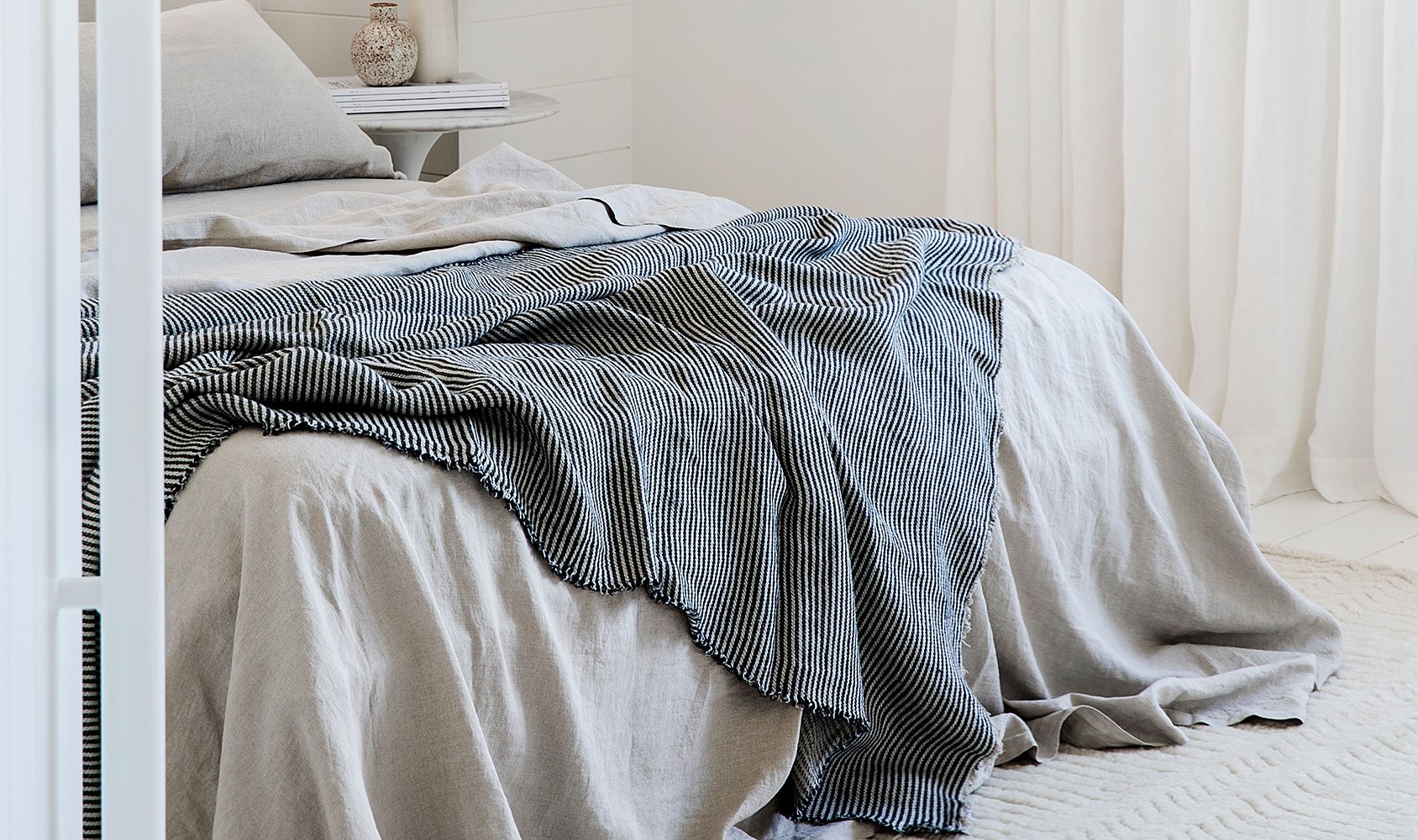 Grown across Belgium & France, made in China
Linen sheets available
Founder Nicolle Sullivan's vision for CULTIVER was to offer a curated collection of the best items for homes that elevate every day. CULTIVER produces linen designed to showcase the best of what the textile has to offer, incorporating an enzyme wash to accelerate the softening process that naturally occurs with each wash as linen ages.
CULTIVER flax originates from Belgium and France before being woven and manufactured in China, delivering accessible prices and a diverse range to their clearly very happy customers. Their swatch booklet is a great option for those struggling to decide on colour, or who want to feel the product before committing to an order.
Click below to claim a $50 voucher before you make your purchase.

Linen King Set (2 pillowcases, quilt cover, fitted & flat sheet): $760
---
EVA Hemp – $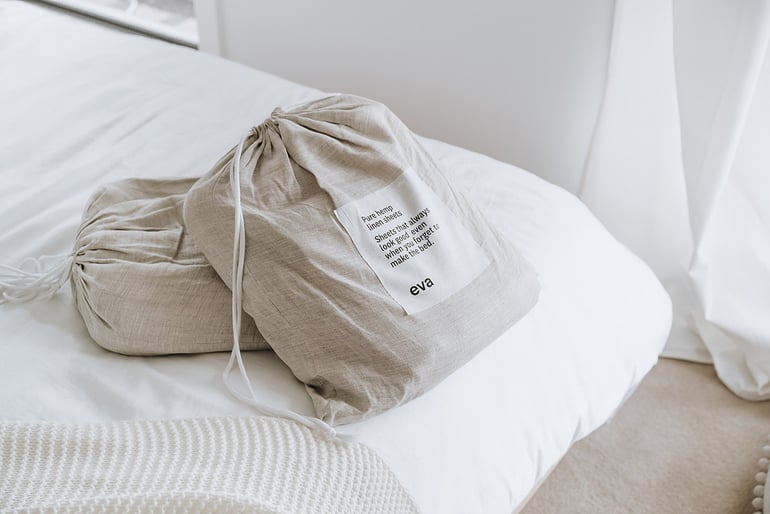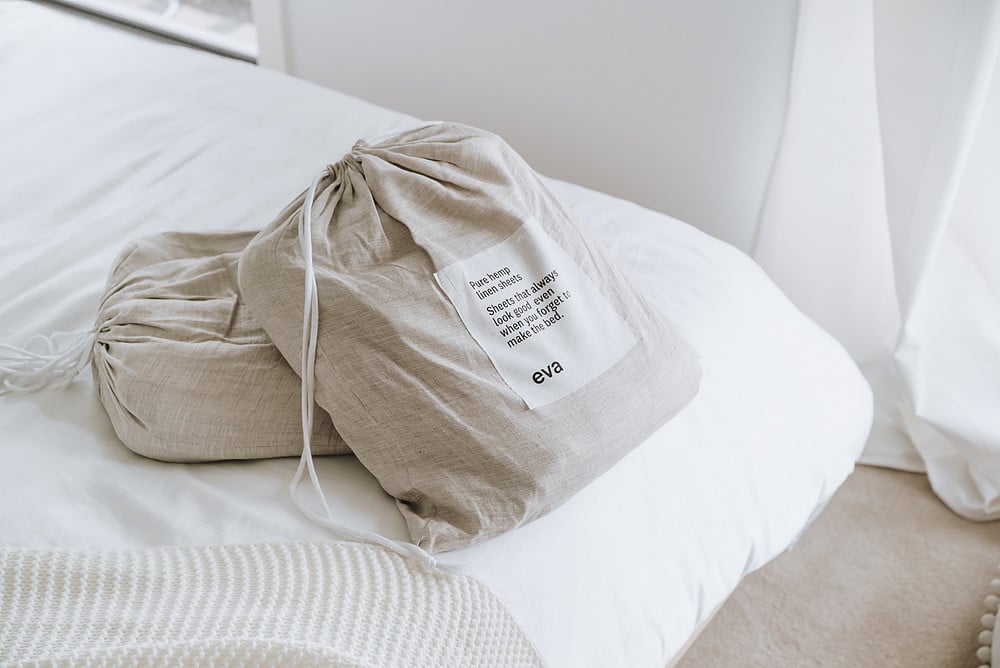 Made in China
Linen sheets available
120-night free trial
Not content with being one of the best mattress-in-a-box brands in Australia, EVA has also taken to producing some of the best value bed linen sheets in the country. The difference here is that EVA uses high-quality, sustainable hemp linen to put together their sets, since hemp linen is also naturally thermoregulating so will keep you at the ideal body temperature despite how hot or cold it is outside.
EVA typically opts for neutral tones in almost everything they do, so it's mostly grey and white you'll be playing around with here, but the more earthy tones like terracotta and mustard look infinitely more attractive and help the brand stand out a bit better, from their duvet covers to their sheet set. Then you've got the generous 120-night free trial EVA's bedding selection, and given this Melbourne brand is often cited as having some of the best and most efficient customer service of all of Australia's many boxed mattress brands, that's something worth factoring in.

Linen King Set (2 pillowcases, 1 flat sheet, 1 fitted sheet): $590
---
Loop Home – $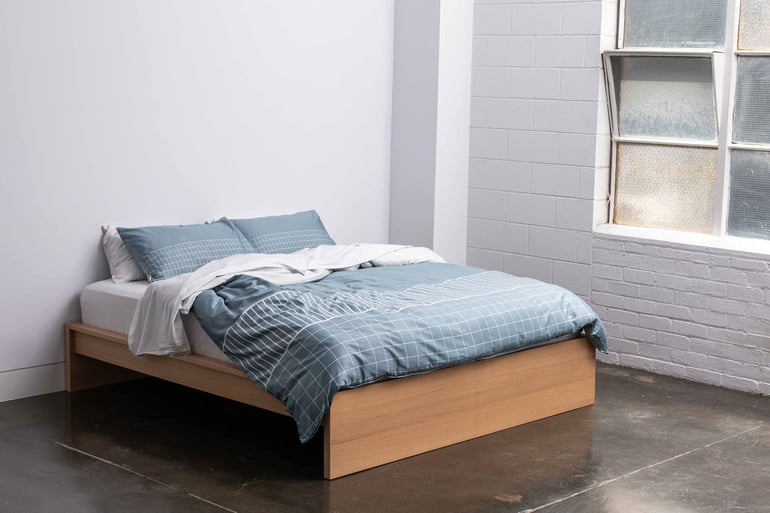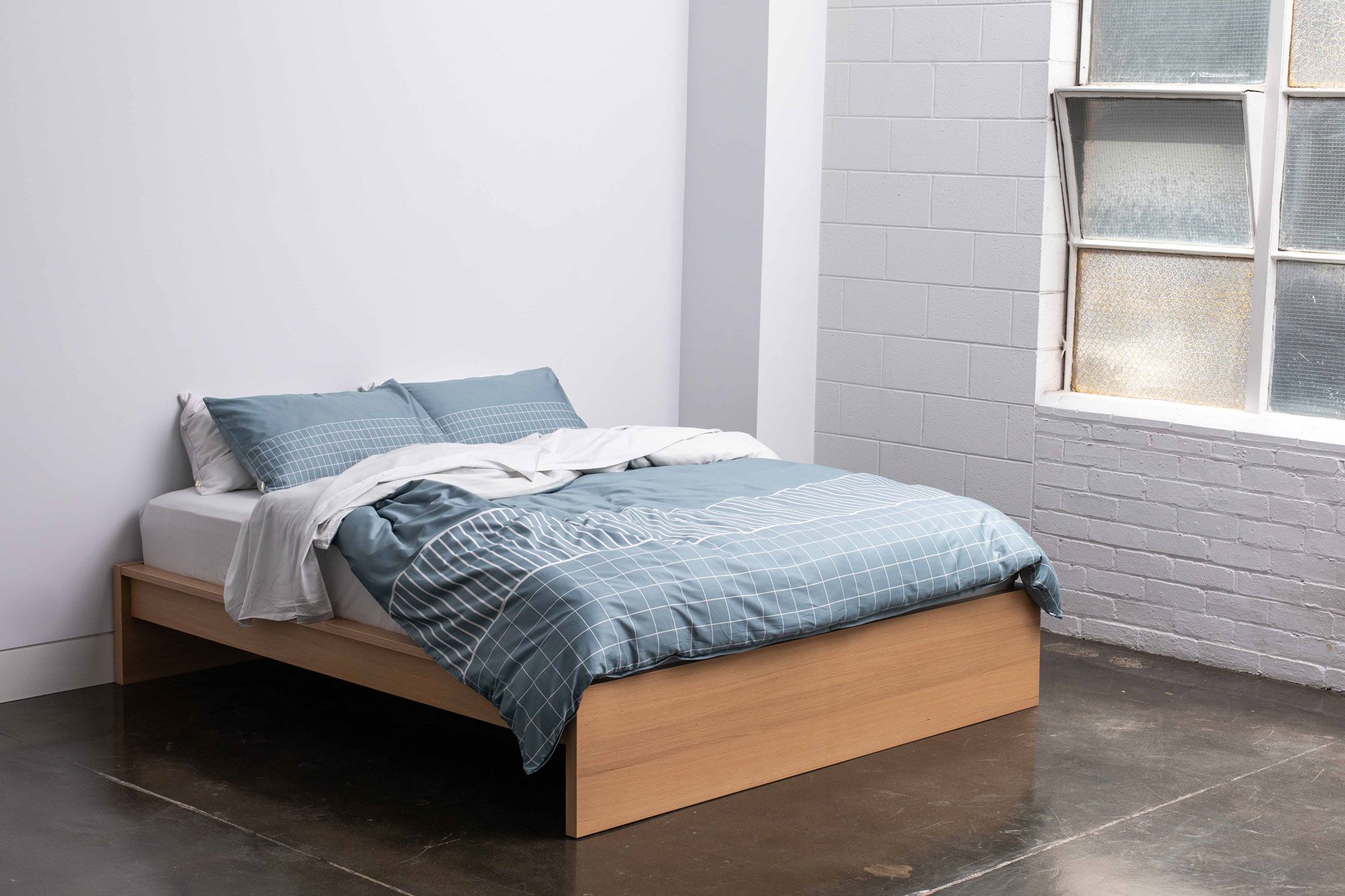 Specifications
100% certified GOTS Aegean cotton sheets
Made in Turkey
Loop Home, based out of Melbourne, specialises in contemporary organic Aegean cotton bed and bath linen with minimal designs. The simplistic and clean look of their products is incredibly attractive at this price point. All of its products are farmed and woven along the Aegean coast of Turkey, produced to a very high quality in accordance with the Global Organic Textiles Standard, which is the leading international standard for organic farming and labour protection in the fashion and textile industry.
The entire business is based on circularity – hence the name – so a strong reason to go with Loop Home is the numerous reversible designs to maximise each product's value, as well as a closed-loop recycling solution called Re-Loop where you can return goods for credit. They are then upcycled into new products.

King Set (two pillowcases, one fitted sheet, one flat sheet): $279
---
MAJOR-MINOR – $$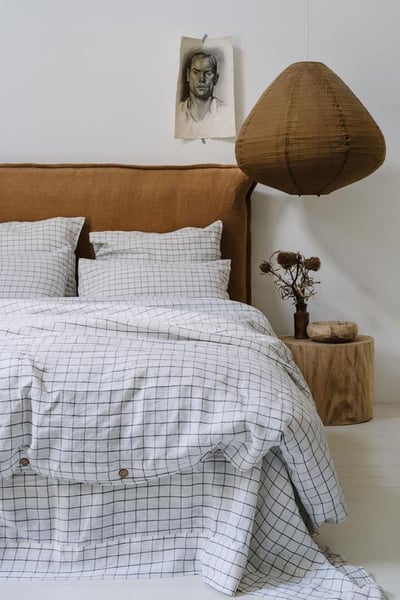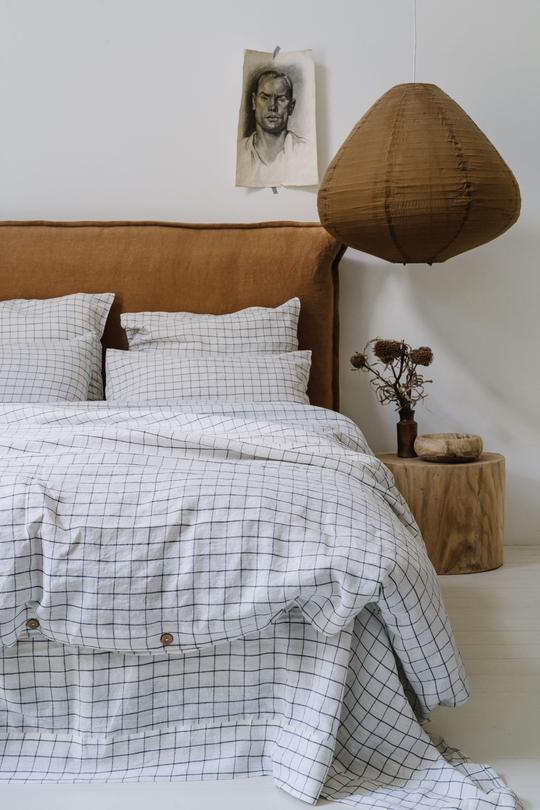 Made in Europe
Linen sheets available
MAJOR-MINOR was created by mother and daughter team Anne and Hannah, based in Berry, NSW with a focus on simple design, thoughtful construction and consumption, and responsible sourcing. They're also one of the most transparent brands in the space.
MAJOR-MINOR's OEKO-TEX-certified linen is grown, woven and sewn in Europe with flax sourced from France, Belgium and the Baltics. Rustic colours contribute to a coastal meets country aesthetic, reflecting the town from which the brand originates and their detailed manufacturing information page shows they've got nothing to hide.

King Set (2 pillowcases, quilt cover, fitted & flat sheet): $992
---
bedouin SOCIETE – $$$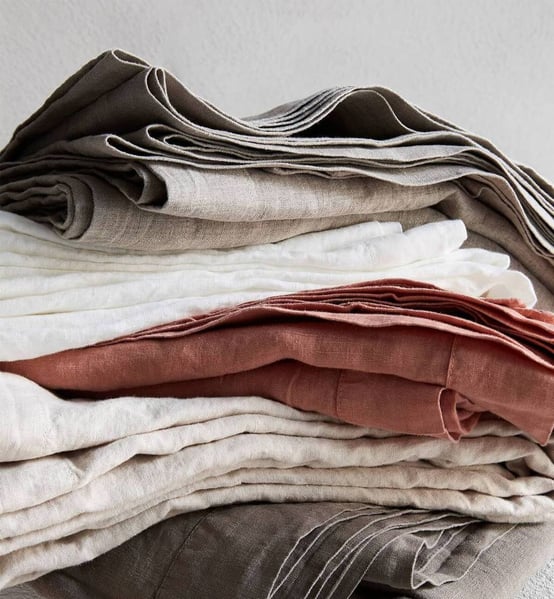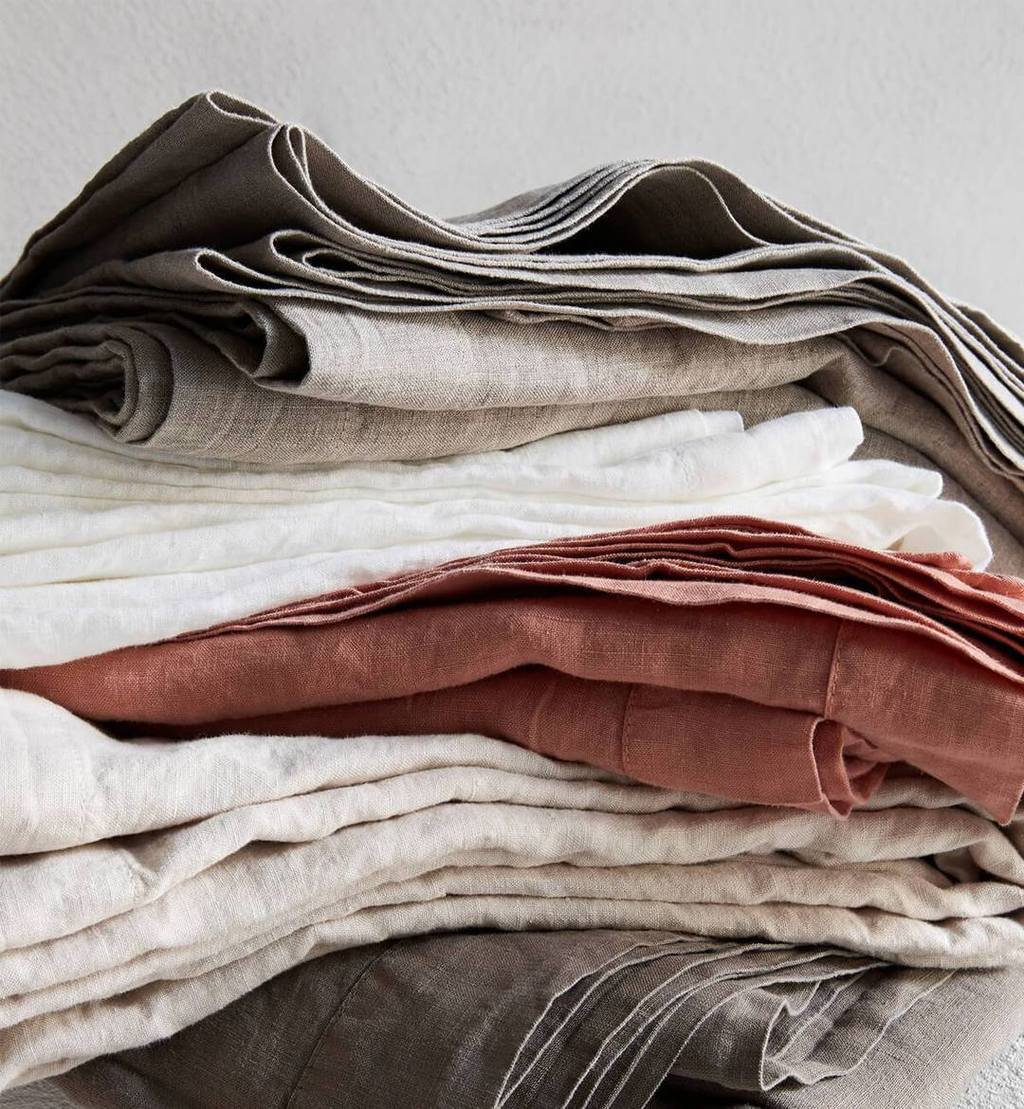 Made in Turkey
French linen textiles
Linen sheets available
Virginia Fledtman founded bedouin SOCIETE in 2011 with a focus on making refined, simple, sustainable and genuine products that provide a sense of revelation and intimacy, in tune with our everyday lives.
The aesthetic is timeless, understated elegance, in muted tones, with the brand's eco-friendly textiles produced by quality, accredited, ethical and sustainable manufacturers – although their website isn't clear where the products are produced. Unlike the rest of the list, bedouin SOCIETE isn't direct to the consumer. They are, instead, represented in unique and premium homeware boutiques globally.

King Set (2 pillowcases, quilt cover, fitted & flat sheet): $1,210
---
Cleverly Laundry – $$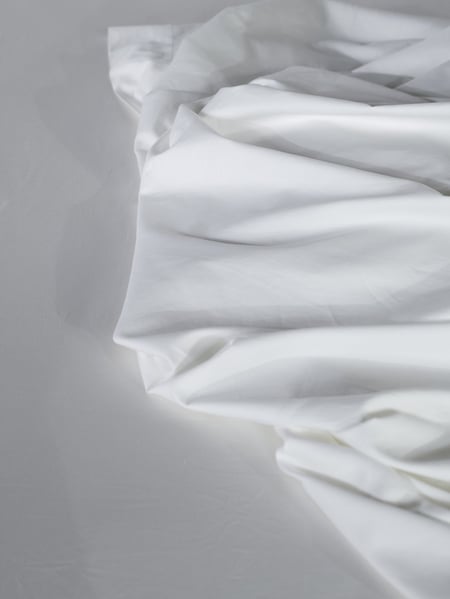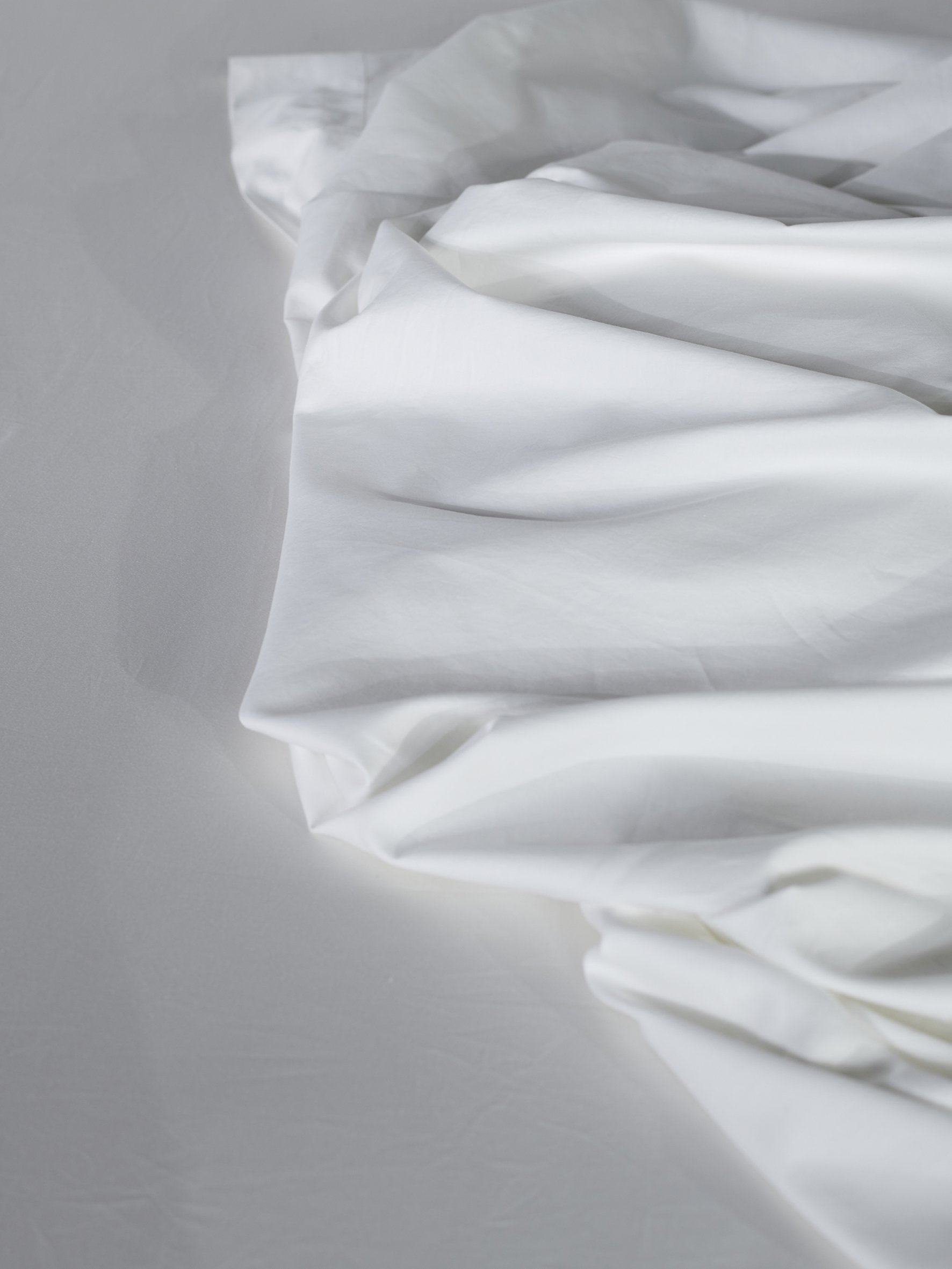 Made in Portugal
Cotton sheets available
Plain white only
Cleverly Laundry is well regarded for its loungewear, although its linen bedding deserves a closer look and certainly earns the brand a place on this list. Amelia McPhee and Roshana Lewis founded Cleverly Laundry out of Perth, but their products are manufactured out of Portugal.
It's about 100% superfine cotton with their generously priced sheet sets, which come with 7 pieces and include 4 pillowcases, while the standard is usually 1 or 2. That makes Cleverly Laundry a great one-stop shop if you're looking for cotton bedding during those cooler months. The only problem is that it's either plain white or nothing here, which doesn't leave you with many options if you want something a bit more design-focused.

King Set (4 pillowcases, 1 fitted sheet, 1 flat sheet, 1 duvet cover): $776
---
Sheridan – $$$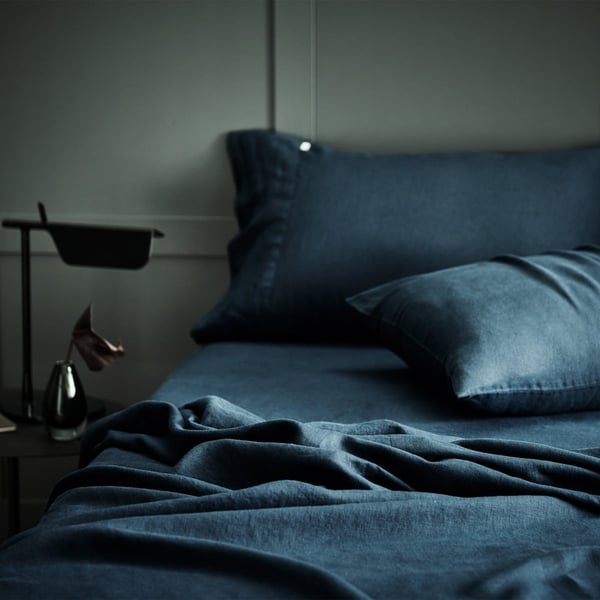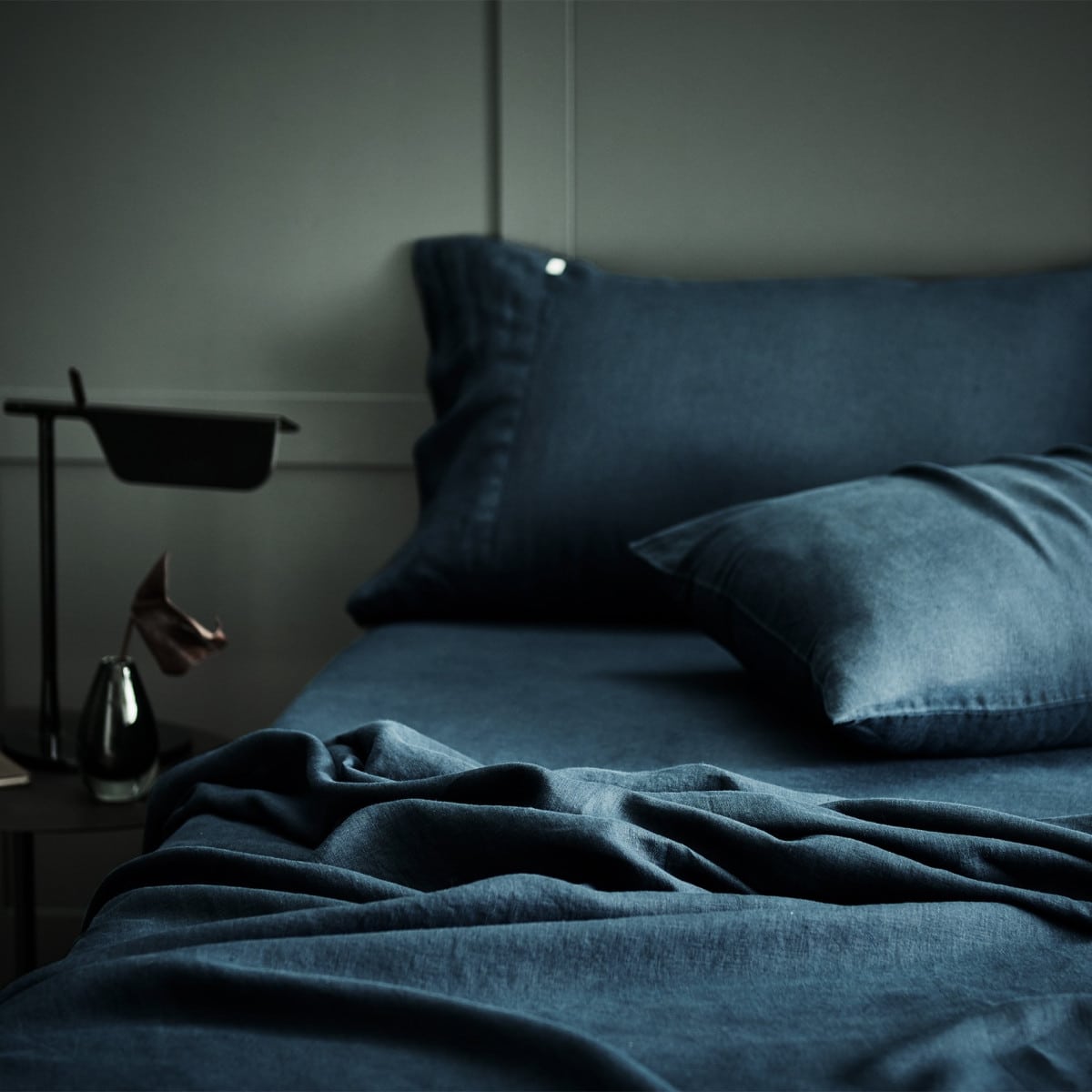 Gown in Belgium, made in China
Linen sheets available
Cotton, flannel, chambray, tencel and silk sheets available
Finally, Sheridan has been creating premium quality home and lifestyle products for over 50 years, founded in 1967 by Italian migrant and visionary entrepreneur Claudio Alcorso, making them a natural inclusion on this list.
Devoted to quality, craftsmanship and sustainability every piece has been crafted and tested to the highest quality standards by Sheridan's in-house team. Their Abbotson Linen is produced from 100% Belgian linen flax and manufactured in China, which is interesting given the high cost of a set. There are plenty of material and style options at Sheridan although one must question the perceived value of the brand with so many great brands to choose from today.

Linen King Set (2 pillowcases, quilt cover, fitted & flat sheet): $1,269.75
---
Hale Mercantile Co – $$$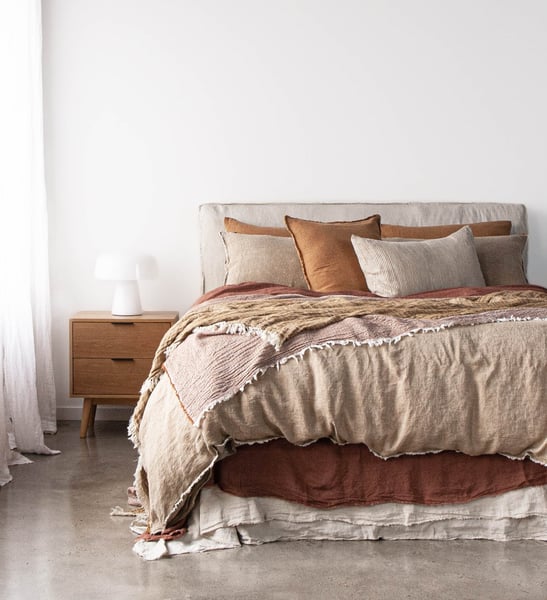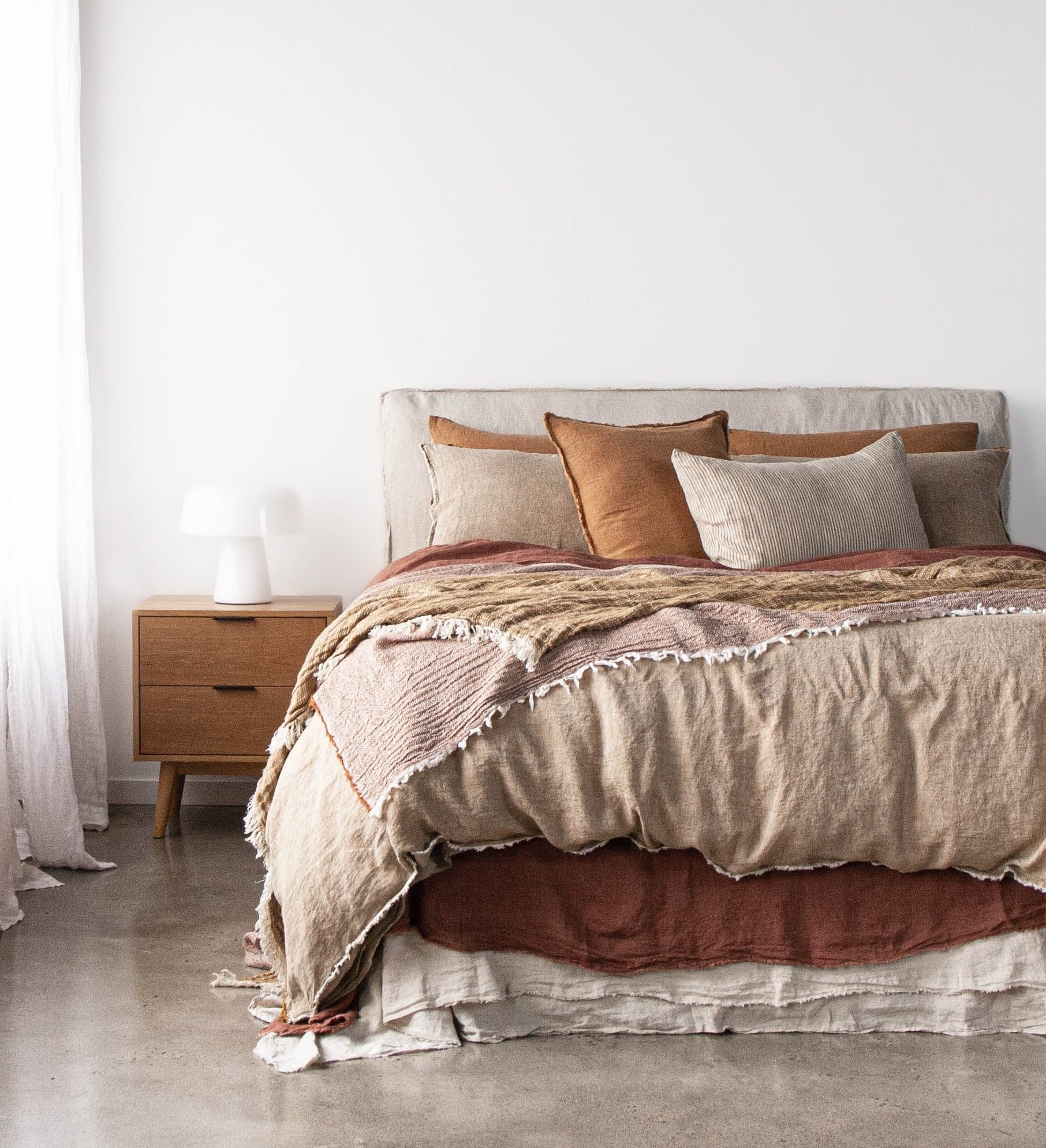 Made in Europe
Linen sheets available
Melbourne's Hale Mercantile Co is committed to providing lasting quality and supporting the European region in linen production. HMCo yarns are individually yarn dyed and spun from premium grade flax sourced from France and Belgium, unlike Bed Threads, handmade by Europe's finest, and you pay a serious premium for the pleasure.
I for one am intrigued as to what benefits superior linen that is grown, spun, dyed, woven and sewn in Europe, has on my sleep, especially in winter. Assumedly, the source of flax holds little relevance if is not spun and woven by equally premium craftsmen and this is where HMCo promises to deliver. However, even as a self-proclaimed bedding enthusiast, I doubt my ability to ever spend the money HMCo are asking for their products, as lavish as they do look.

Linen King Set (2 pillowcases, quilt cover, fitted & flat sheet): $1,583
Why Linen?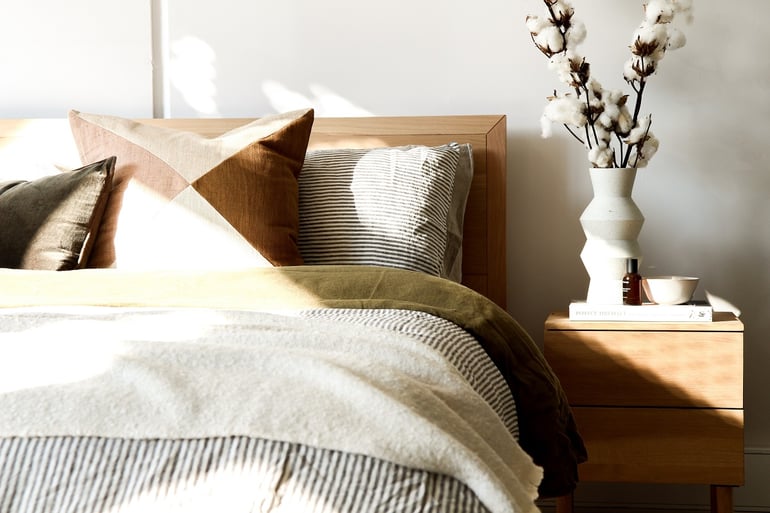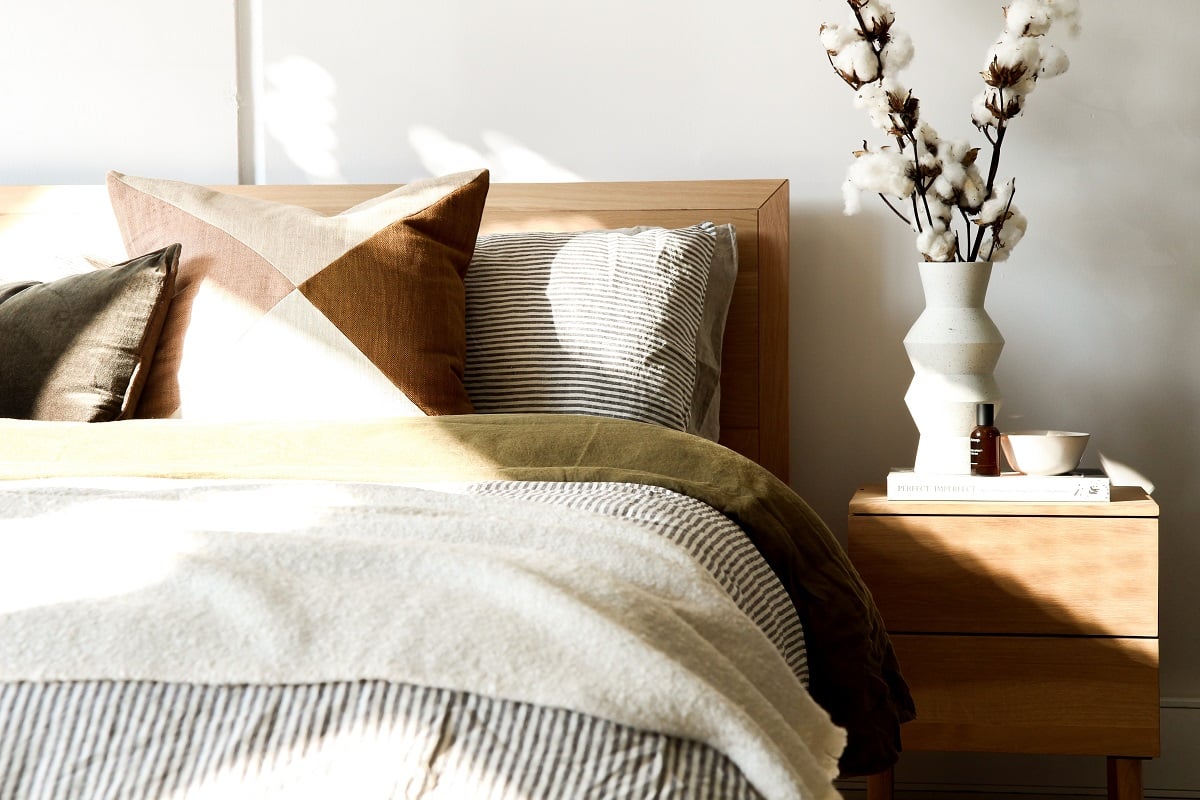 Linen is a natural fibre made from the stalk and root of the flax plant, an eco-friendly, resilient and sustainable crop that amongst other outputs, produces the strong fibres that are woven into luxury linen fabric.
The best linen flax is grown in cool gentle climates, most notably in Western Europe, specifically France, Belgium and the Netherlands as well as Lithuania and India. In many cases, the plant is grown and harvested before being shipped to manufacturers in China.
The quality of flax, weaving, the dyeing process, sewing and stone washing will all have an effect on the quality of the finished product. Flax that is grown, spun, dyed, woven and sewn in Europe, naturally, comes at a higher price.
Aside from the environmental benefits relating to growing and harvesting, linen offers sleepers positive benefits in all seasons. Linen is highly breathable and naturally absorbent meaning it is comfortable in hot and humid climates. It is also an extremely textural fabric meaning that softens with each wash meaning it is cosy and warm in winter. Finally, its rustic weave and aesthetic means it can come straight out of the dryer, or off the line, onto your bed, without looking like it needs an iron.
---
Where To Buy Good Australian Linen?
Well, first off, you should buy direct from the brands. Retailers like Bed Bath N' Table will always have a decent selection, but the brands these places stock aren't usually as good as the independents. You can buy your bed linen online from a local linen house. But before you go ahead with your bed linen order, take a careful look at the below options we've curated for you.
---
Does Linen Have A Thread Count?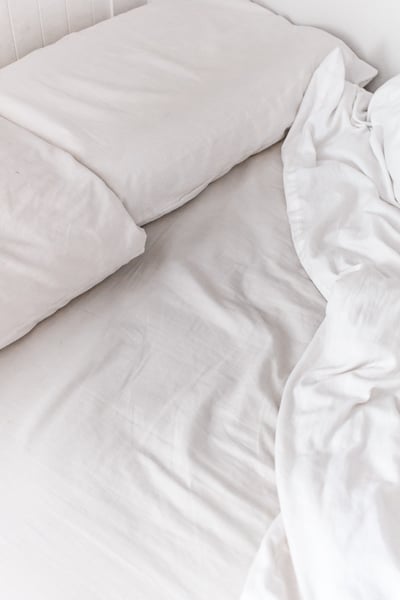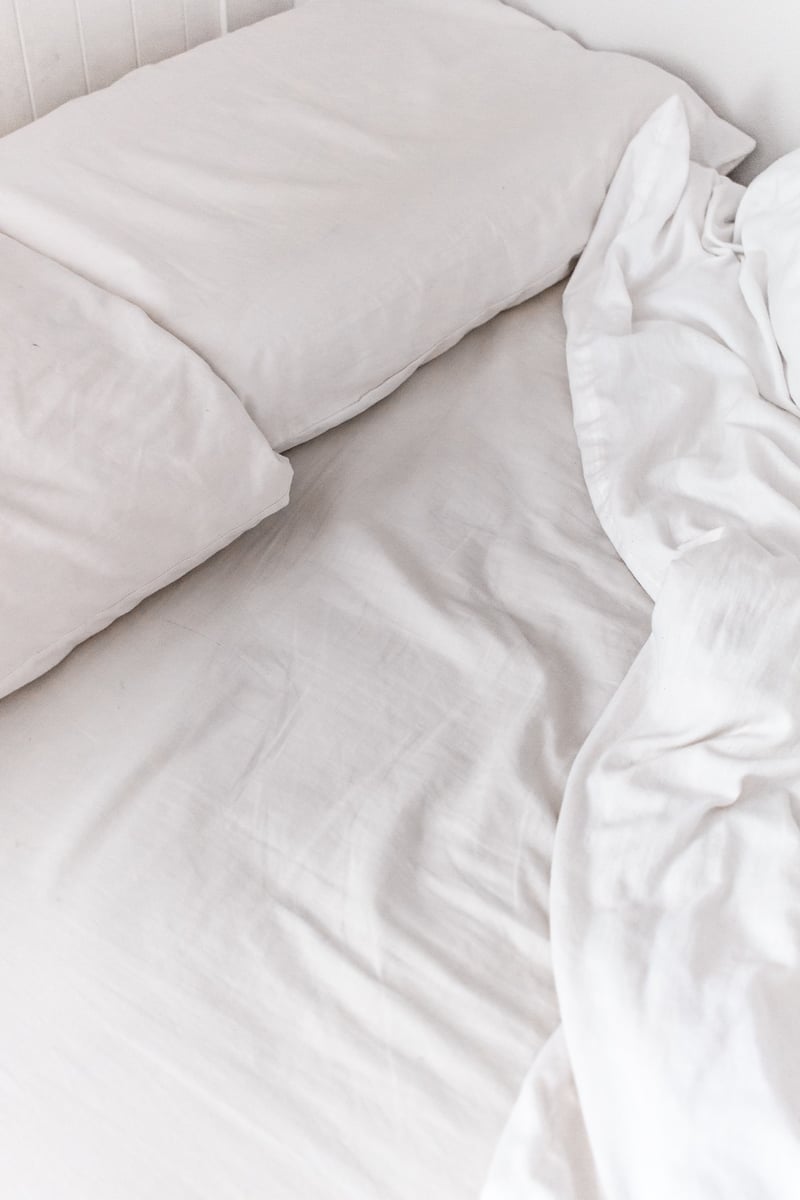 There's a common myth that a high thread count guarantees high quality, but thread count is simply a measure of sheet weight. The higher the thread count, the heavier the sheet. The quality is actually defined by the choice of cotton, the quality of the spun yarn, the weave and the finishing.
Linen quality is not measured in thread count but rather like paper – by 'GSM' – grams per square metre, which indicates the weight of the fabric.

Most linen bedding will sit between 140 and 220GSM, with a higher GSM number representing a thicker fabric.
---
Is Linen Better Than Cotton?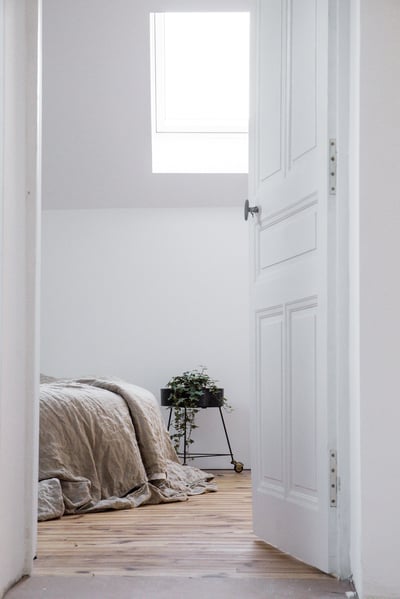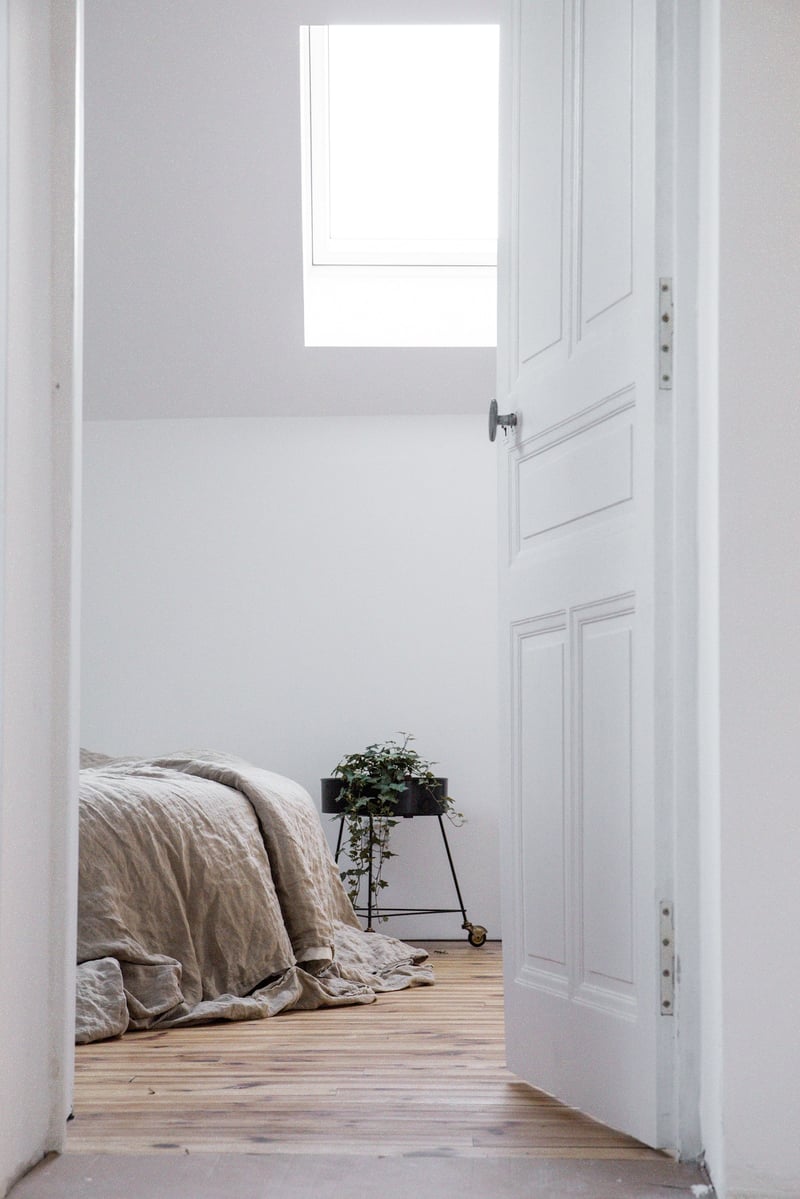 While I will always agree with someone new to linen sheets that they are a game-changer, today my opinion has shifted somewhat. They have been a huge trend and to be honest, don't offer a significantly better sleep than cotton, in fact, I've shifted back to cotton recently and I'm sleeping far better – that may be due to the reintroduction of a flat sheet which I think is a must in winter.
Linen is very textural, even after a year of washing so it doesn't have the same luscious feeling as a soft set of premium cotton fitted sheets does. I prefer sleeping in linen during summer and Egyptian cotton in winter – I don't think it's the every-season solution all these brands hype it to be – although I'm told the best linens have an almost flannel texture so can be perfect winter companions.
Which Bed Linen Brand Should You Buy?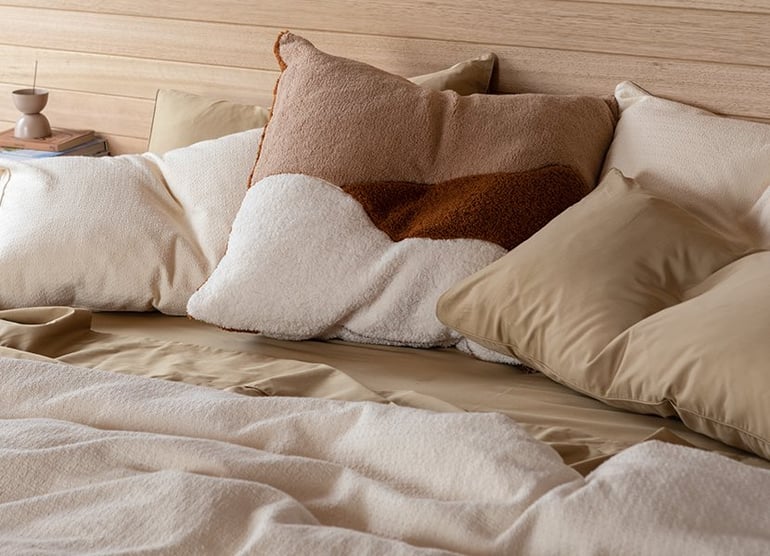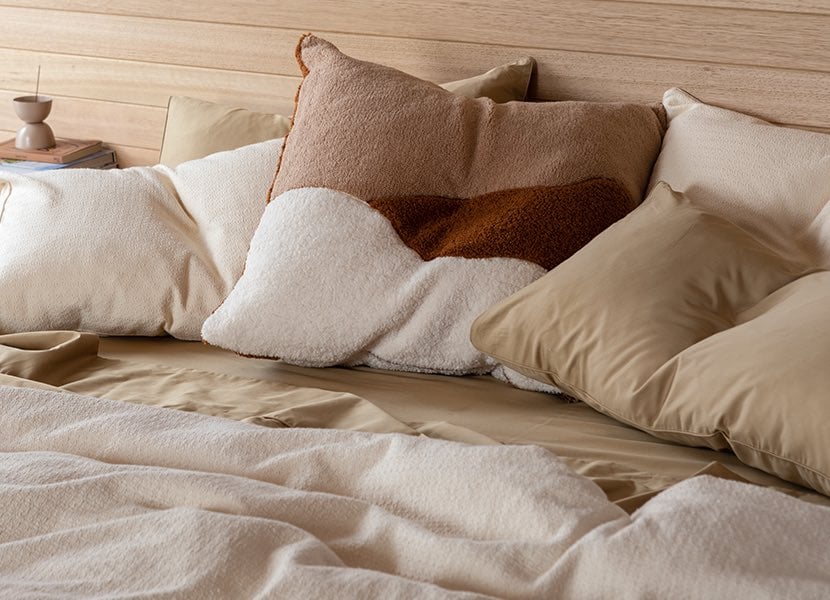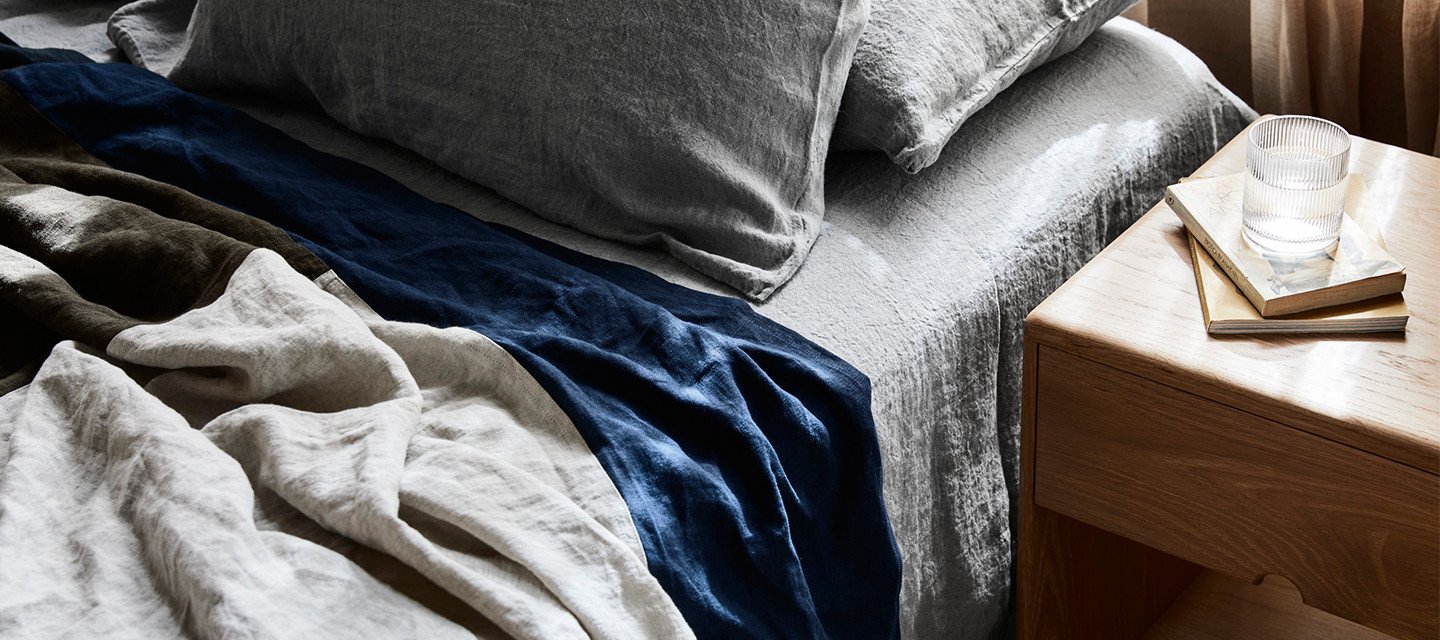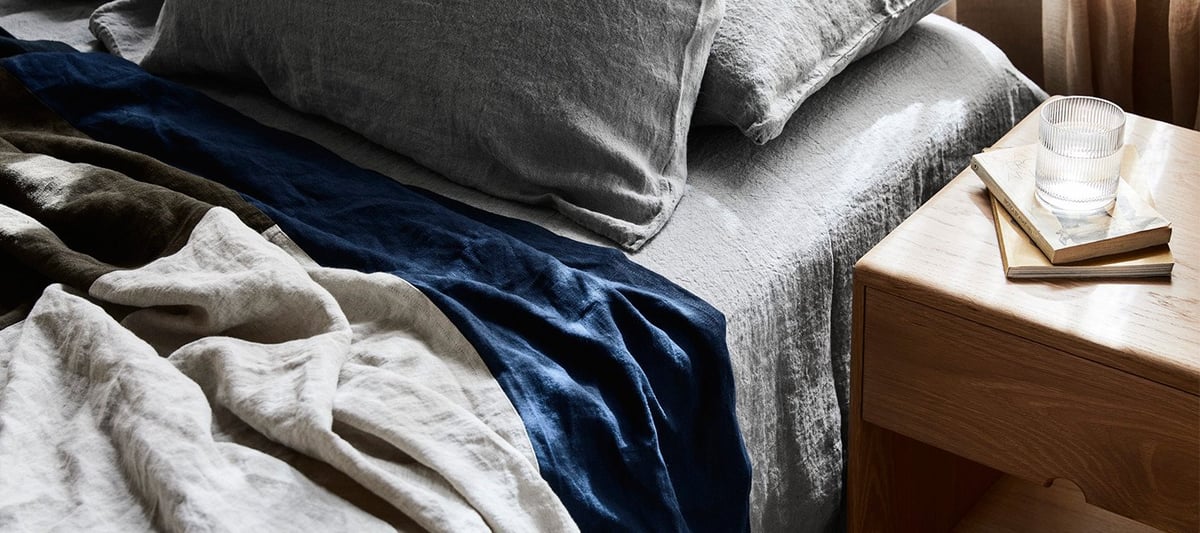 Brand pricing is heavily dependent on origin, apart from Sheridan's product which I'd avoid – clearly, you are just paying for a brand name. I've owned sheets from three of these brands and I couldn't tell you the difference between the quality of I Love Linen or Bed Threads linen – so if you're conscious of budget they're worth a go.
I cannot speak highly enough of The Sheet Society's cotton, they will not be the last set I acquire, and the set is a steal at $390. Their bed builder has also changed the innovation game, being able to mix and match materials, colours and sizes. I think the best combo would be a cotton fitted and flat sheet with a linen doona cover and linen pillowcases.
Unfortunately, I can't share personal experiences of any European-manufactured linen but will probably opt for a set from Mr. Draper once stock returns – the brand's honest and sustainable approach is something I want to support.
Despite being one of the earliest players in the space I'm not drawn to bedouin SOCIETE – the lack of transparency and e-commerce probably means you're paying too much, especially when the mid-tier operators IN BED, CULTIVER and MAJOR-MINOR all have a comprehensive breakdown of their manufacturing operation and are more affordable. Finally, even if I had all the money world, I think I'd have a hard time justifying Hale Mercantile Co's kit – who knows, maybe it's absolutely mindblowing.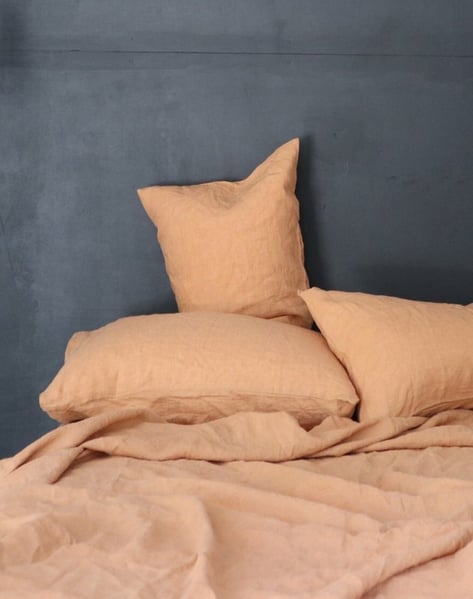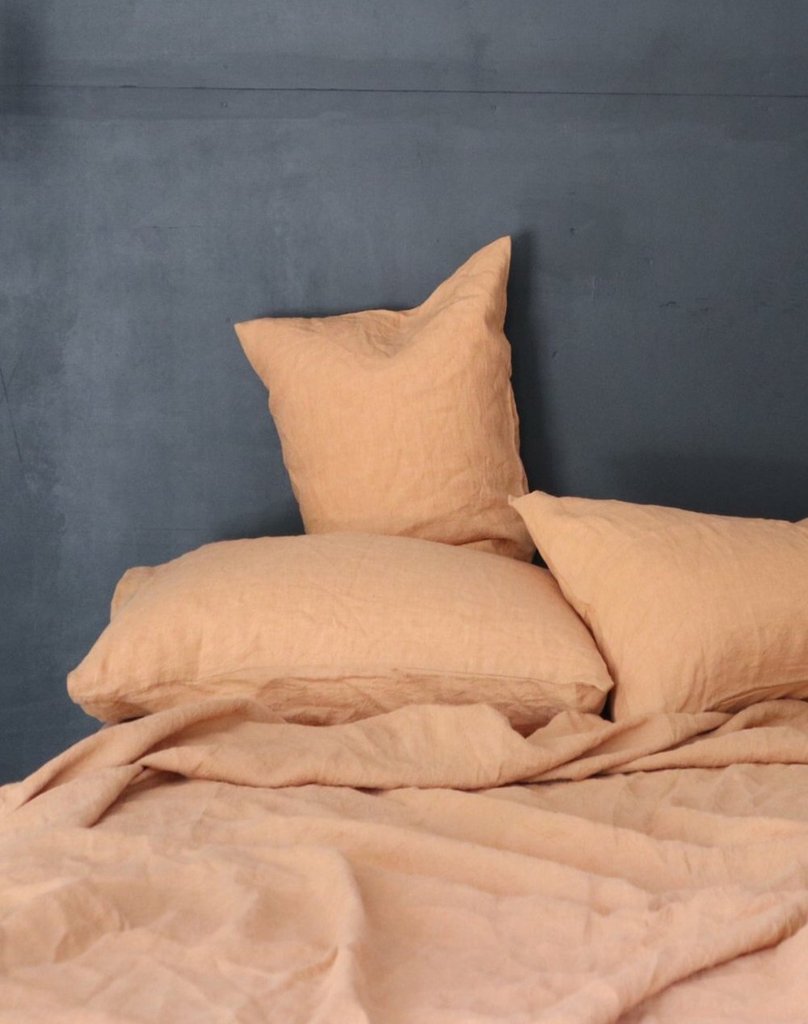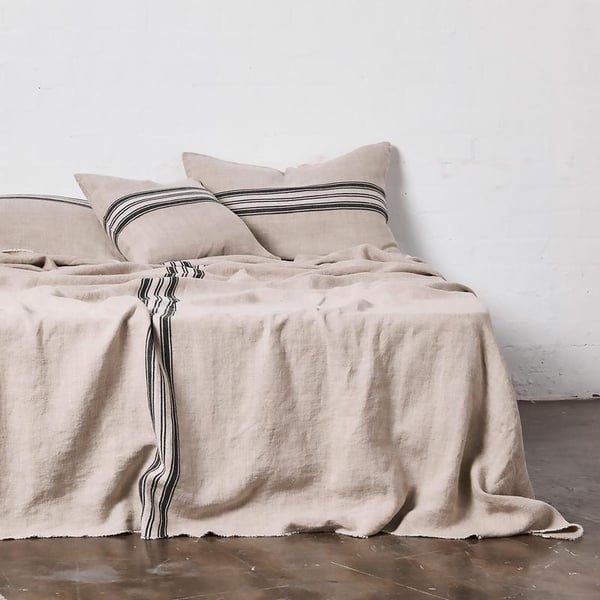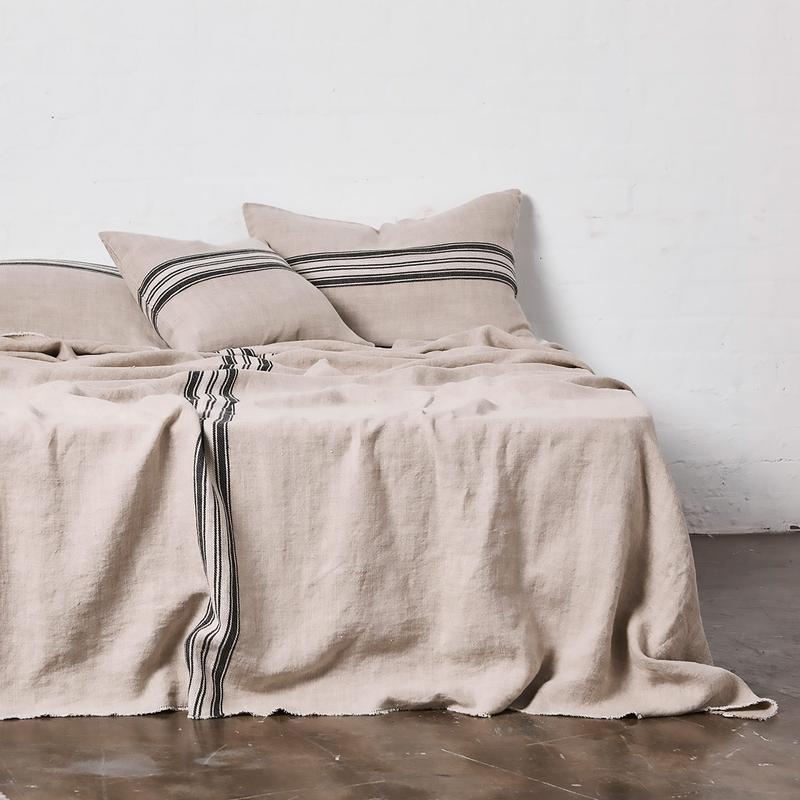 ---
Australian Bed Linen Brands – Frequently Asked Questions
What is the most affordable bed linen brand in Australia?
If you're looking for value with your bed linen, it's tough to beat the balance between price and quality with Mr. Draper. It's no surprise that their bed linen sets often sell out quality, striking a sweet spot for customers who want to save money on luxury bedding.
What are some of the best quilt covers to buy?
If you're looking for some great quality quilt covers that look good and feel luxurious, hit up Bed Threads, Cultiver or Mr. Draper.