Where are the best country pubs in Australia? That's a debate that really has no end, and there's no clear winner when it comes to historic venues filled with charm, good food and even better drink. These are the hubs of hospitality any good country road trip is made of, after all, so you better believe there's more than enough to go around each state. Although some of the country's finest can be found when scanning the best country pubs in Victoria.
Why? It mostly has to do with the produce Victoria is so renowned for, making many of these pubs as much dining destinations as they are convivial local watering holes. That means many of them have been modernised, built on a local history that respects nostalgia but also competes rather fiercely with the city's finest restaurants – often with luxury accommodations on top to encourage visitors to really get out and explore the locales.
Take note of the following 17 best country pubs in Victoria for your next drive around the state. However, if you want to stick closer to the capital, check out the best pubs Melbourne has to offer.
---
---
Best 17 Country Pubs Victoria Has To Offer
---
Wye Beach Hotel, Wye River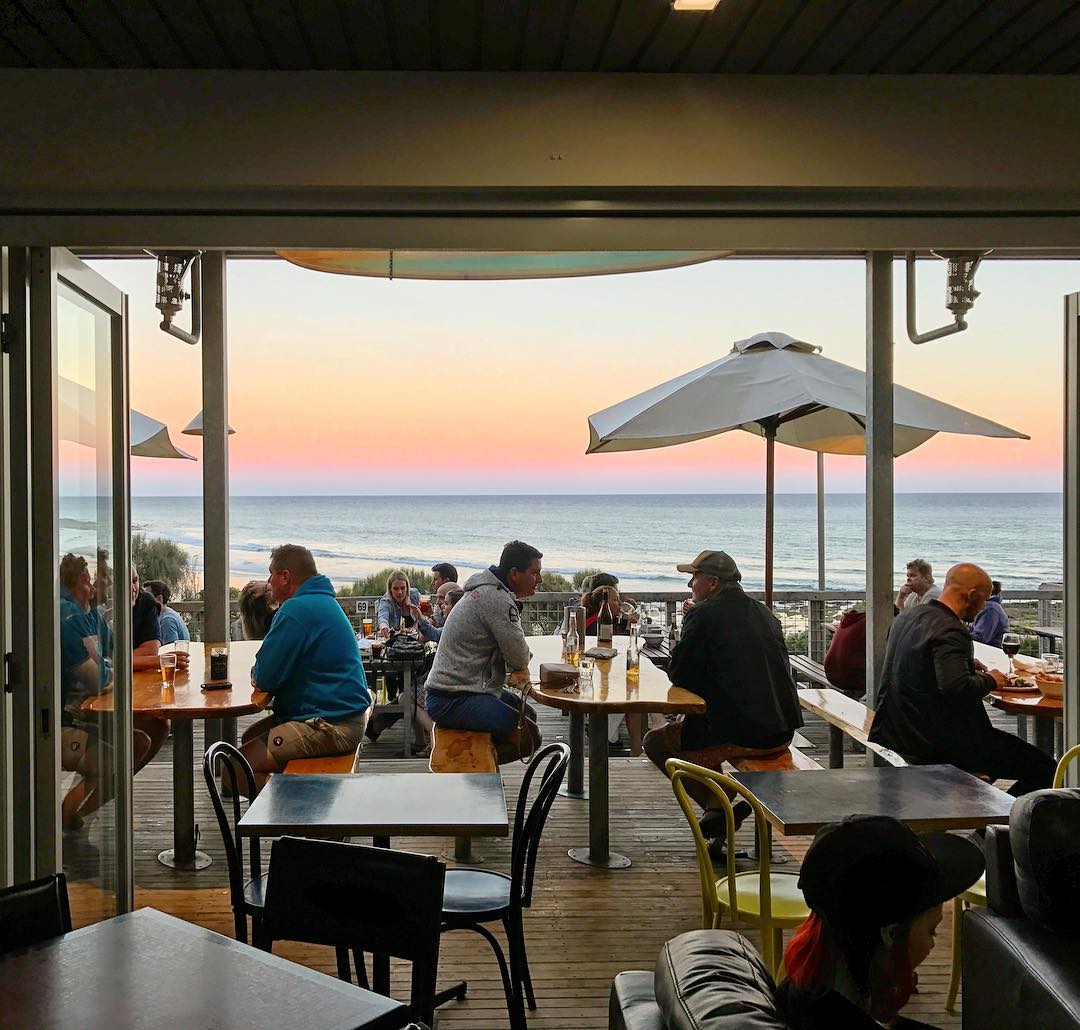 Sometimes all you need is a big, glorious balcony and an even bigger, even more glorious view. Wye Beach Hotel offers both and is a prime spot to sit back with some classic pub grub and watch the waves tussle in the distance. Relaxation is the main trade at this incredibly laid-back regional pub, although the beer and food are equally fantastic.
You're in one of the best spots along the Great Ocean Road if you've had the good sense to pull off and spend the night in this relatively quiet, small coastal town. Having the Wye Beach Hotel is the cultural epicentre here ain't a bad shout at all.
Address: 19-21 Great Ocean Rd, Wye River VIC 3221
Contact: 0492 843 273
---
Red Hill Hotel, Chewton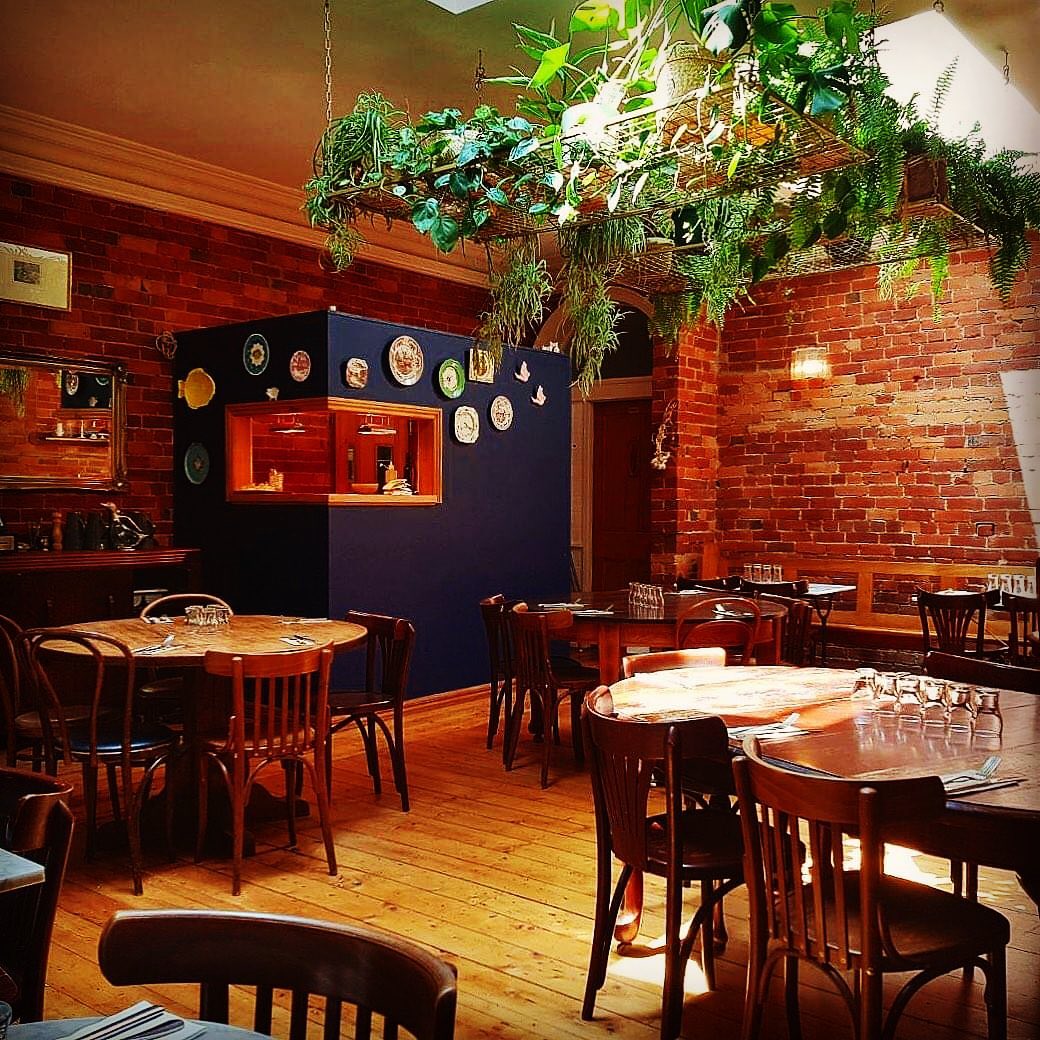 This former gold mining town in Central Victoria is nothing if not charming and brimming with classic Australiana. The 165-year old Red Hill Hotel embodies all of that, playing off Chewton's Aussie traditionalism with reasonably great food and a stacked beer list. You'll want to be laid out in the Red Hill Beer Garden on most nights of the week, where local live music is frequent on the dedicated Mulberry Tree Stage. Although hanging out by the pool tables at the front bar is the best place to start the night, with a great sense of community.
Address: 163 Main Rd, Chewton VIC 3451
Contact: (03) 5416 1133
Opening Hours: Thursday (5am – 10pm); Friday (5pm – 11pm); Saturday (12pm – 11pm); Sunday (12p – 6pm)
---
Craig's Royal Hotel, Ballarat East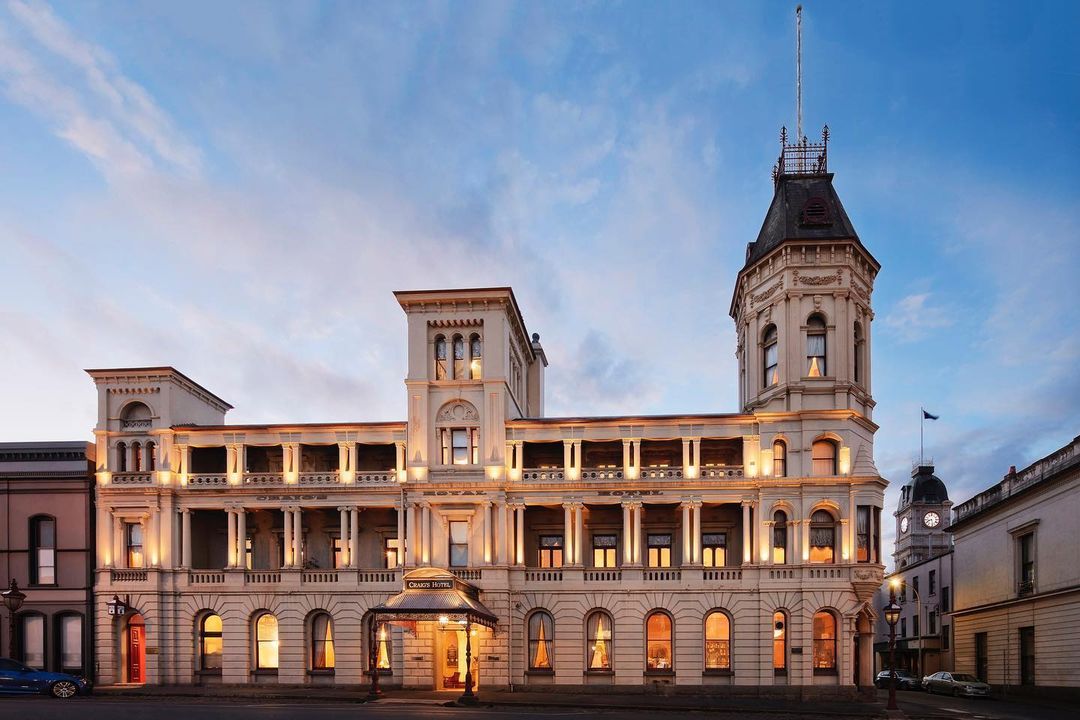 You're in prime wine country out in Ballarat East, known as one of the coolest regions along the Great Grape Road. Make a pit stop at the charming Craig's Royal Hotel and head straight for the main dining room (there's 3).
The pub food and extensive wine list mirror the hotel's fascinating, old-world interior. Even if you aren't planning to, it's worth spending a night in Ballarat East just so you can stay in the hotel's elegant old-fashioned rooms and maybe fit in some brunch at the relaxed Cafe and Larder space.
---
---
Address: 10 Lydiard St S, Ballarat East VIC 3350
Contact: (03) 5331 1377
---
Mountain View Hotel, Whitfield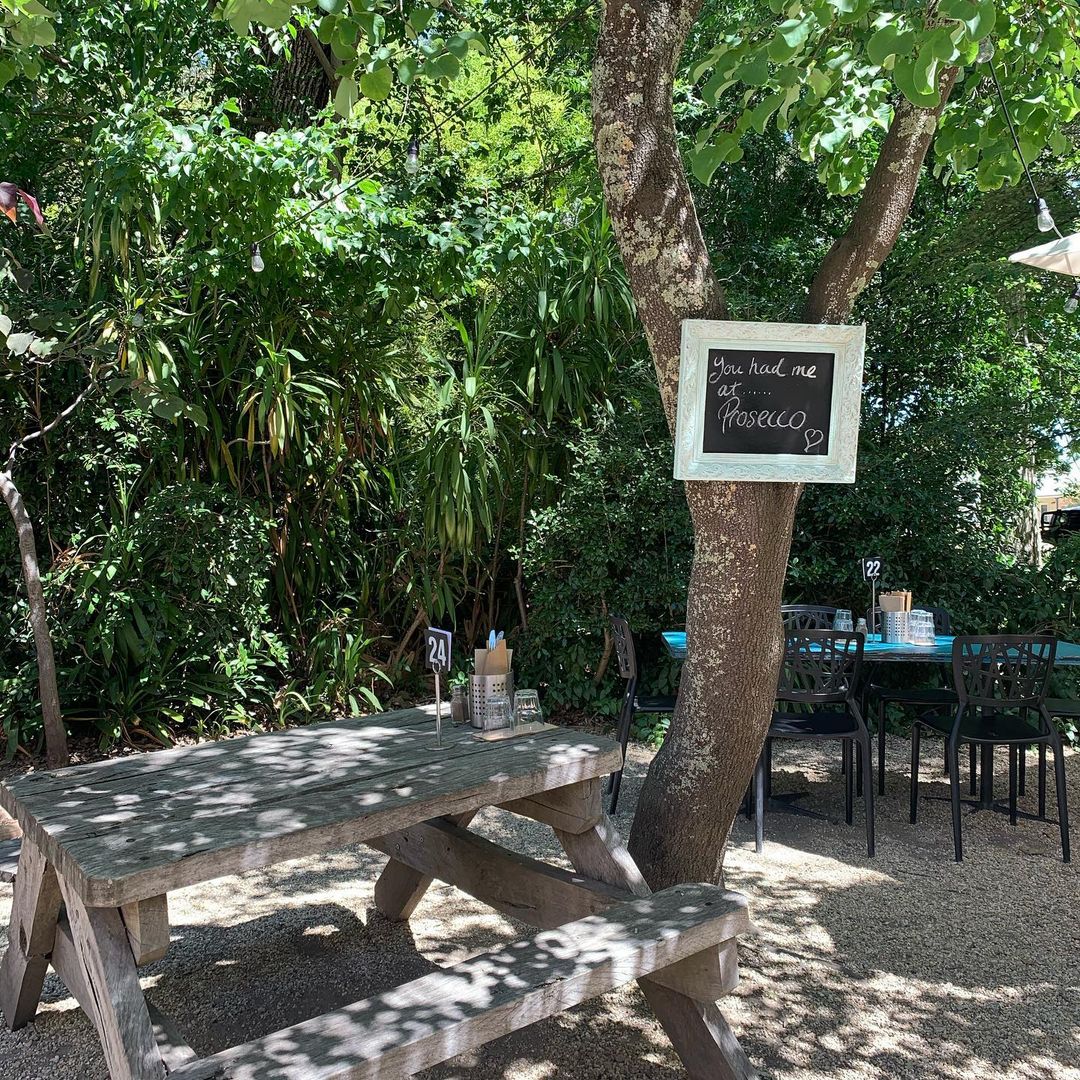 About 2km from Pizzini Wines is where you'll find Mountain View Hotel, sharing the same owners – the Pizzini family – and making the most of the King Valley wine region. This is a gastropub with a serious hold on both food and wine, skewing up-market without the air of pretentiousness.
The Mountain View Hotel's bucolic setting – think a large flowing creek, grand trees, and well-kept gardens – feels like a true tear-away from city life, so there's rarely such thing as "just a few hours" when people stop here. This is somewhere you'll really want the savour.
Address: 4 King Valley Rd, Whitfield VIC 3733
Contact: (03) 5729 8270
---
Portsea Hotel, Portsea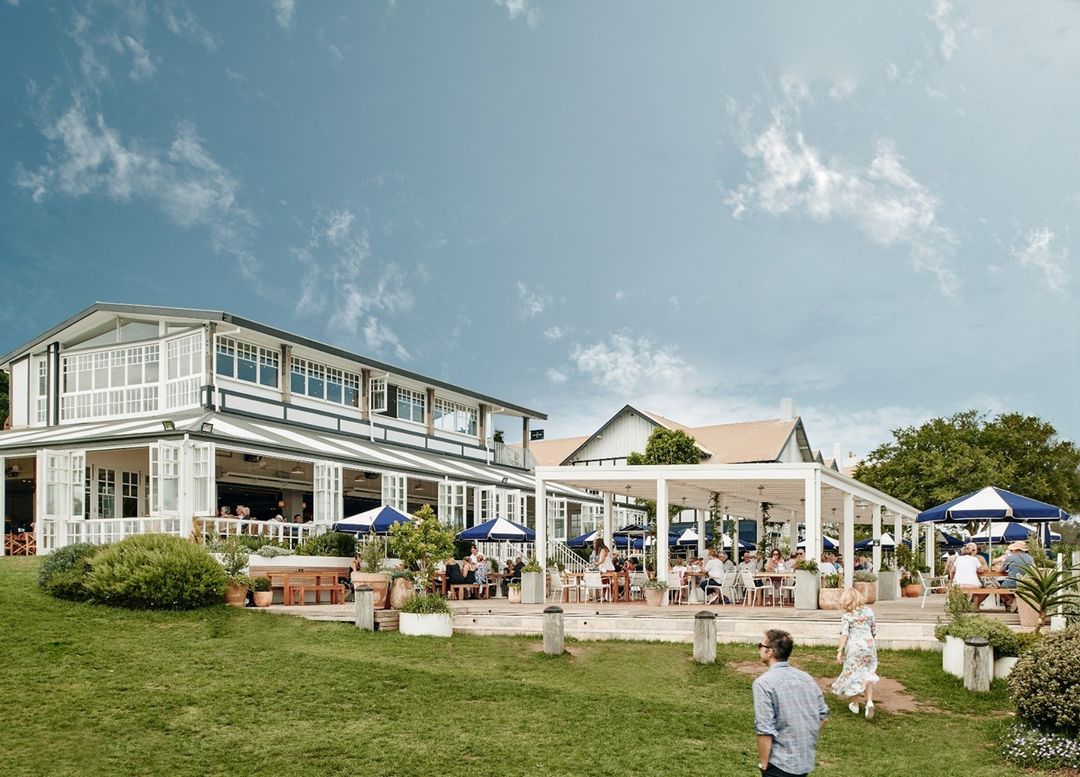 The Tudor-style Portsea Hotel is a local icon and absolutely where you want to be hanging out if you're heading towards Point Nepean National Park. The Portsea pub runs the edge of the Port Phillip Bay Coastline and is one of the most picturesque and relaxed in all of the Mornington Peninsula. Pristine views help those cold craft beers go down well, as does a food menu stacked with pub favourites.
If you're on the lookout for great country pubs, this should be one of the first on your list. Hanging out in the leafy beer garden after a long slog on the road is unrivalled in the area. Although the cosy front bar is worth a visit too.
Address: 3746 Point Nepean Rd, Portsea VIC 3944
Contact: (03) 5984 2213
Opening Hours: Thursday – Sunday (11:30am – 12am)
---
The Lorne Hotel
With dramatic views of Victoria's coastline, The Lorne Hotel is one of the most essential stops along the iconic Great Ocean Road. Whether you're popping in to dine at MoVida, take advantage of the extensive drinks list, or soak up some live entertainment, there's little doubt that you've just found what is perhaps the single best country pub in the state.
---
---
Recently the historic hotel, which has been around since 1876, was purchased by Sydney hospitality giant Merivale and owner Justin Hemmes. Plans for the historic pub remain to be seen, but the keys will switch hands from the current owners to Merivale later this year.
Address: 176 Mountjoy Parade, Lorne
Contact: (03) 5289 1409
---
Royal Mail Hotel, Dunkeld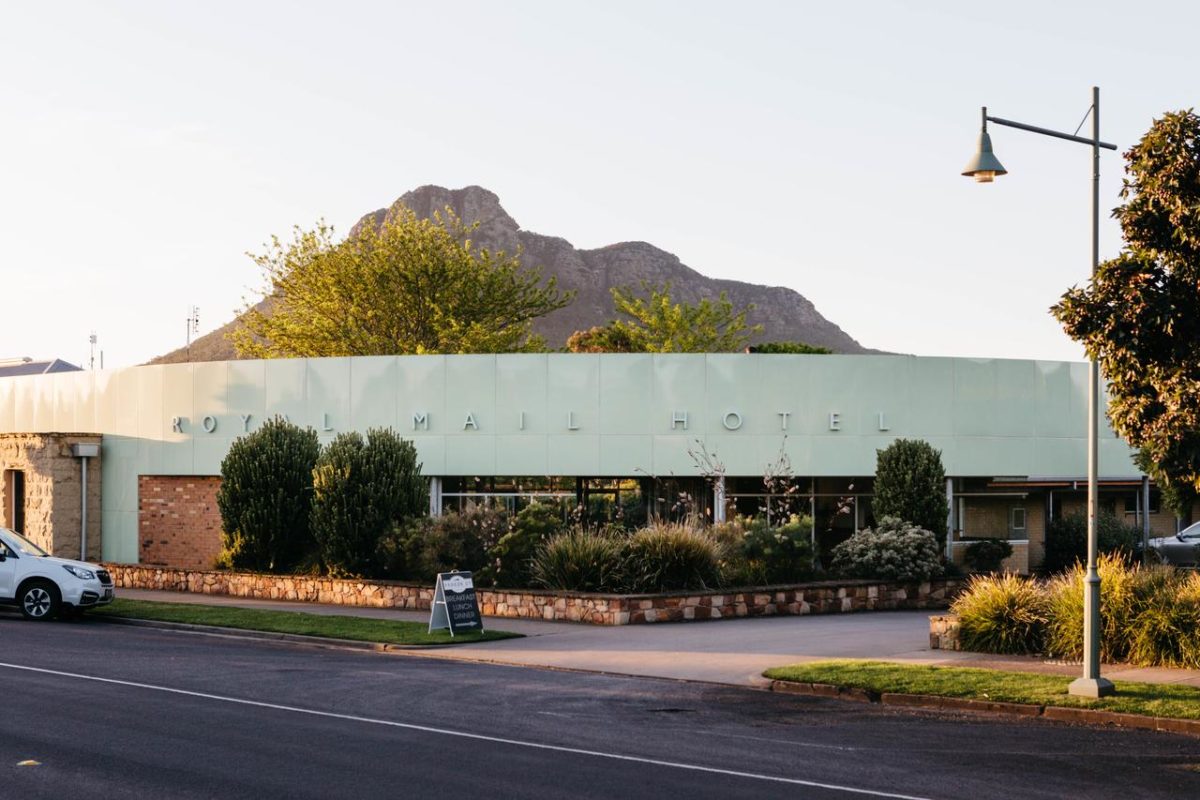 Fit snugly into the foothills of the Grampians National Park, Dunkeld simply wouldn't be as frequent as it is without The Royal Mail Hotel. The iconic dining destination is undoubtedly one of the best country pubs in Victoria – no, the entire country. It's resident higher-end dining restaurant Wickens is a constant shoo-in for Chef's Hats, with fine food lovers regularly pinpointing the dining destination for the kitchen's firm grasp on local produce, best experienced through a seven-course degustation.
Although the fine-dining aspect is definitely what Royal Mail is best known for, the three ingredients for a high-quality country pub is still key to the experience here – location, atmosphere, and a drinks list that puts many city restaurants to shame (expect a cellar with around 28,000 different wines). No surprise that this is also the best local accommodation, with 17 rooms designed to the idea of understated elegance.
Address: 98 Parker St, Dunkeld
Contact: (03) 5577 2241
---
The Cosmopolitan Hotel, Trentham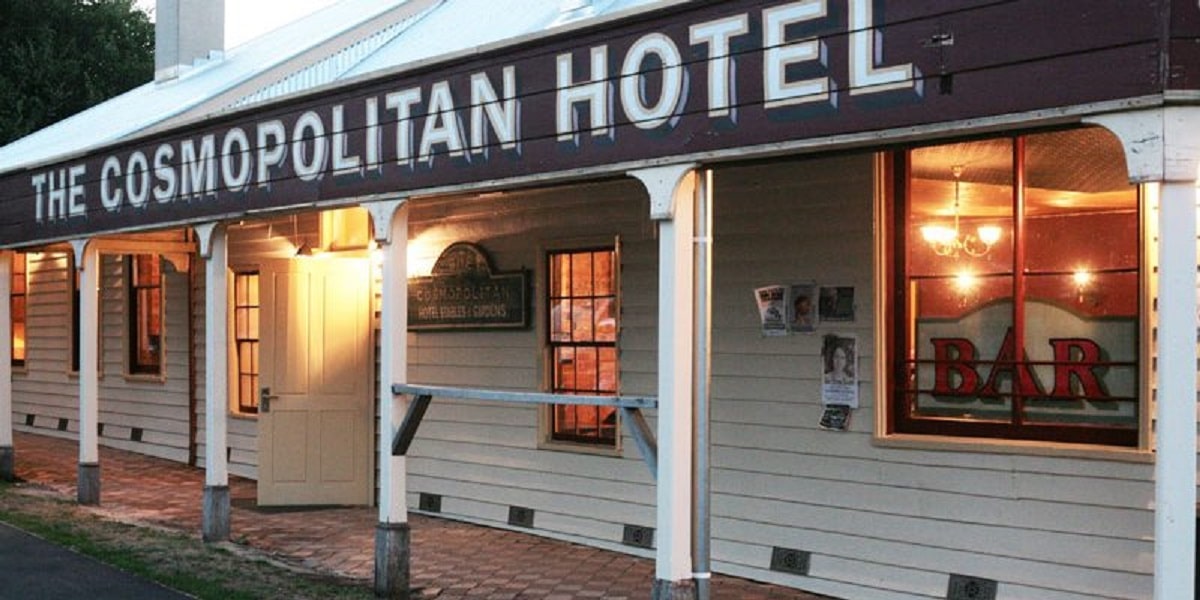 Drive about 87km north-west of Melbourne and you'll end up in the small, boutique town of Trentham, fiercely focused on regionality and proud of Victoria's abundant produce. That pride is perfectly echoed at the treasured Cosmopolitan Hotel, which puts just as much focus on its top-quality wines as it does exceptional food. Grab a spot in the large, shady beer garden for prime position – you've just found one of the best country pubs in Victoria.
Address: Crnr High Street and Cosmo Road, Trentham
Contact: (03) 5424 1516
---
Farmers Arms Hotel, Daylesford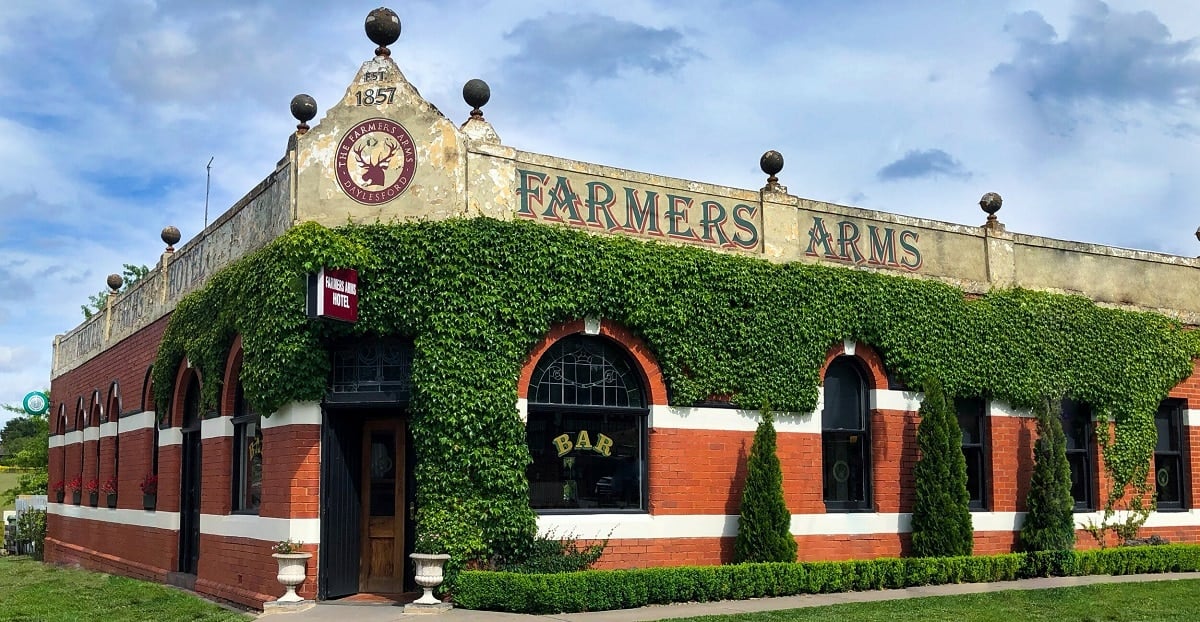 It's impossible to have a weekend away in Daylesford and not end up at the town's oldest pub, covered in red-brick and greenery with a history dating back to 1857.
---
---
Country charm is embedded in the very bones of this building, stamped alongside a sophisticated, contemporary menu, and extensive offerings for both beer and wine lovers. The charming motel-style accommodation seals Farmers Arms Hotel as one of the best country pubs in Victoria.
Address: 1 East St, Daylesford
Contact: (03) 5348 2091
---
Tinamba Hotel, Tinamba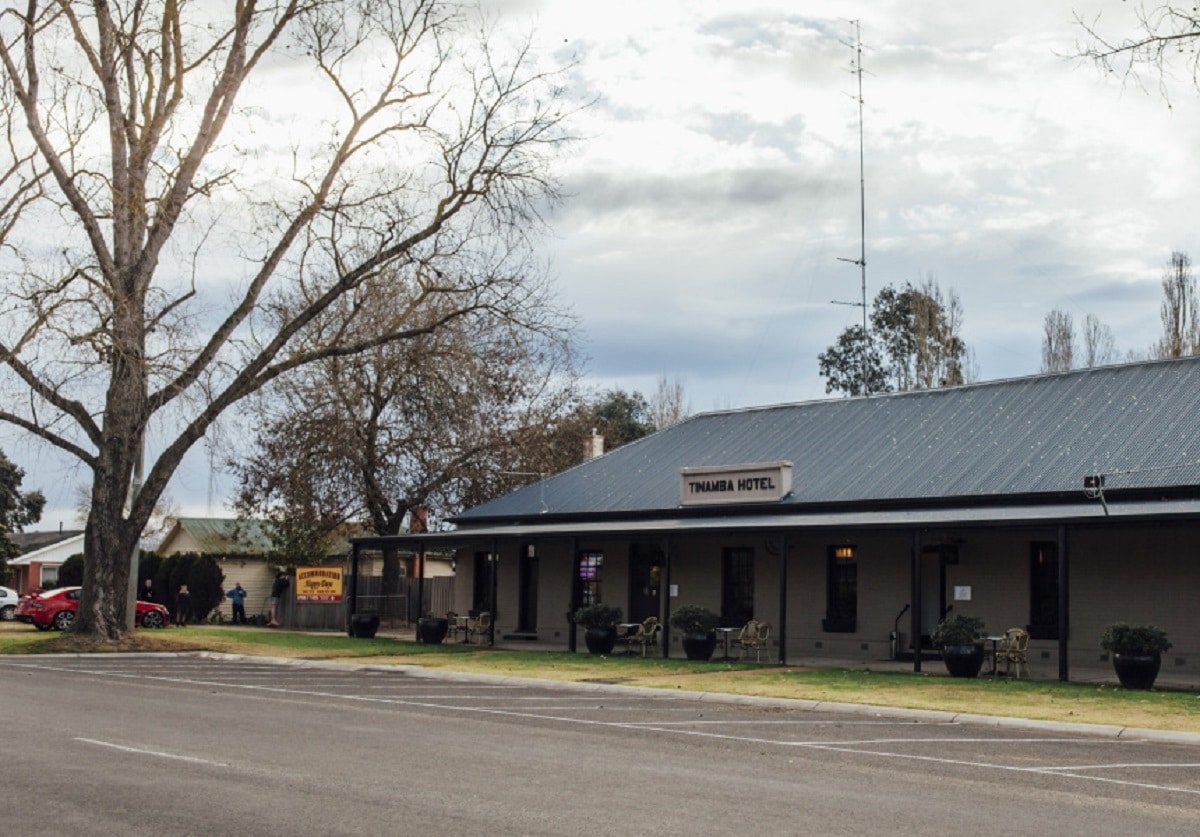 If you're heading on over to Gippsland, a stop at the European-styled Tinamba Hotel is a no-brainer. The venue has been standing since the 1870s, most recently refining its focus on dining using as much local produce as possible.
With a family farm nearby, the large 120-seat on-site restaurant has redefined the pub as a bit of a destination dining venue, although the public bar is still a heavy drawcard for locals and the visitors who want to truly soak up a night out in Tinamba.
Address: 4-6 Tinamba-Seaton Rd, Tinamba
Contact: (03) 5145 1484
---
Radio Springs Hotel, Lyonville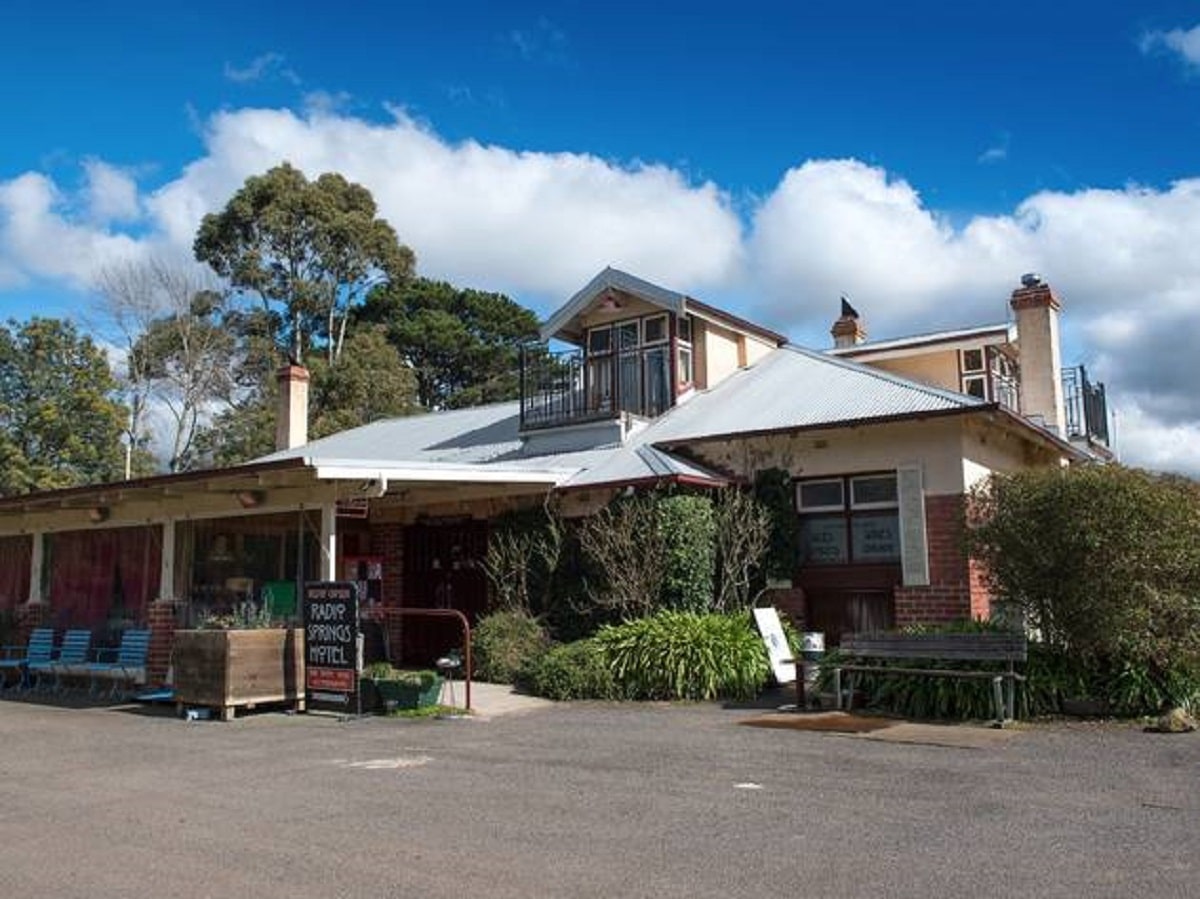 Head north-west from Melbourne and it won't take long before you trip up on Lyonville, not a frequented destination for sure, but one that just might change your plans entirely. If you have the good sense to end up at the Radio Springs Hotel then any structured road trip will be thrown right out the window.
Eccentric and homely, it's a hub of fancied pub classics, convivial drinking, and even rowdy film nights in the pub's very own indie cinema. It's unexpected and absolutely one of the best country pubs in Victoria.
Address: 1 High St, Lyonville
Contact: (03) 5348 5562
Opening Hours: Tuesday (5pm – 11pm); Thursday – Friday (4pm – 11pm); Saturday – Sunday (11am – 11pm)
---
---
---
Fish Creek Hotel, Fish Creek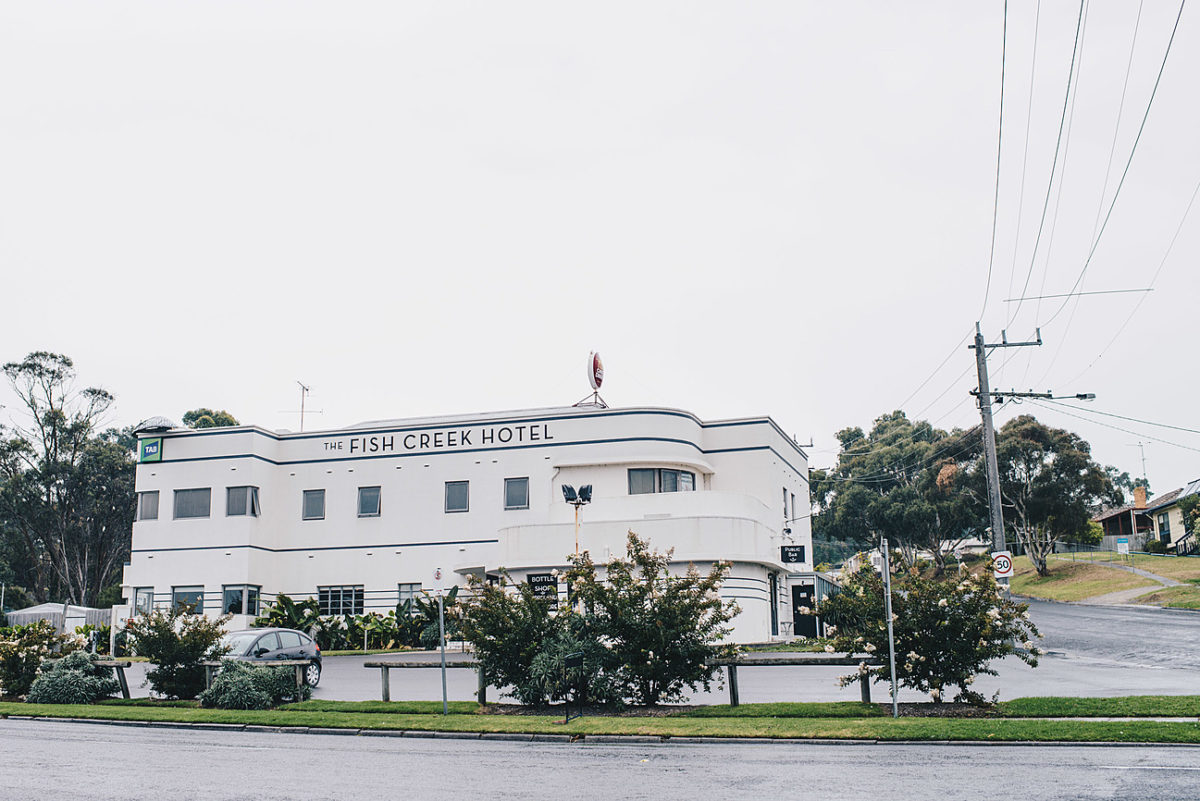 You'll find this perfectly postured Art Deco building in the heart of laid-back Fish Creek. Built in 1939, the Fish Creek Hotel is the ideal spot for a pub lunch if you're on your way to or from Wilson's Promontory National Park.
Given the historic patina that defines this gorgeous building, you might be expecting a fresh pint and some classic pub grub. Yeah, you can still get that, but to make the most of Fish Creek Hotel you should be hitting up the kitchen for their handmade pasta and coastal cheese platters, paired up with a decent selection of local wines by the glass.
Address: 1 Old Waratah Rd, Fish Creek VIC 3959
Contact: (03) 5683 2404
Opening Hours: Monday – Sunday (11am – 1am)
---
Tanswell's Commercial Hotel, Beechworth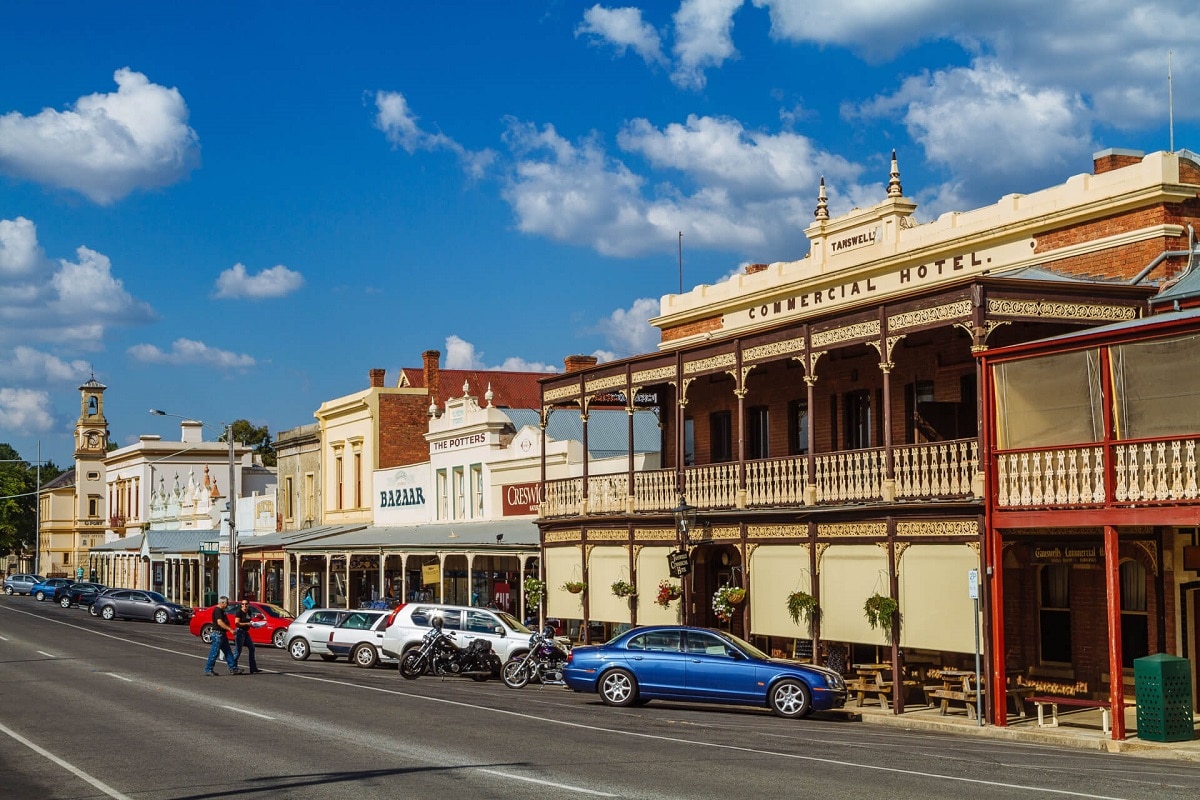 With a history dating back to 1853, this gorgeous double-storey pub is exactly what makes country pubs in Victoria so special. The décor here feels like it was ripped straight from a movie set, with moulded metal poles in the main bar and a charming old fireplace that's the ideal spot for those ice cold beers.
The likes of John dory and baked gnocchi should easily take care of those hunger pangs, while the no-fuss, proudly Australian drinks list is best paired with some of the regular live music that stomps through here. A decent but small offering of local accommodation is worth it when you can wake up to a venue this glorious.
Address: 50 Ford St, Beechworth
Contact: (03) 5728 1480
---
The Wandiligong Hotel, Wandiligong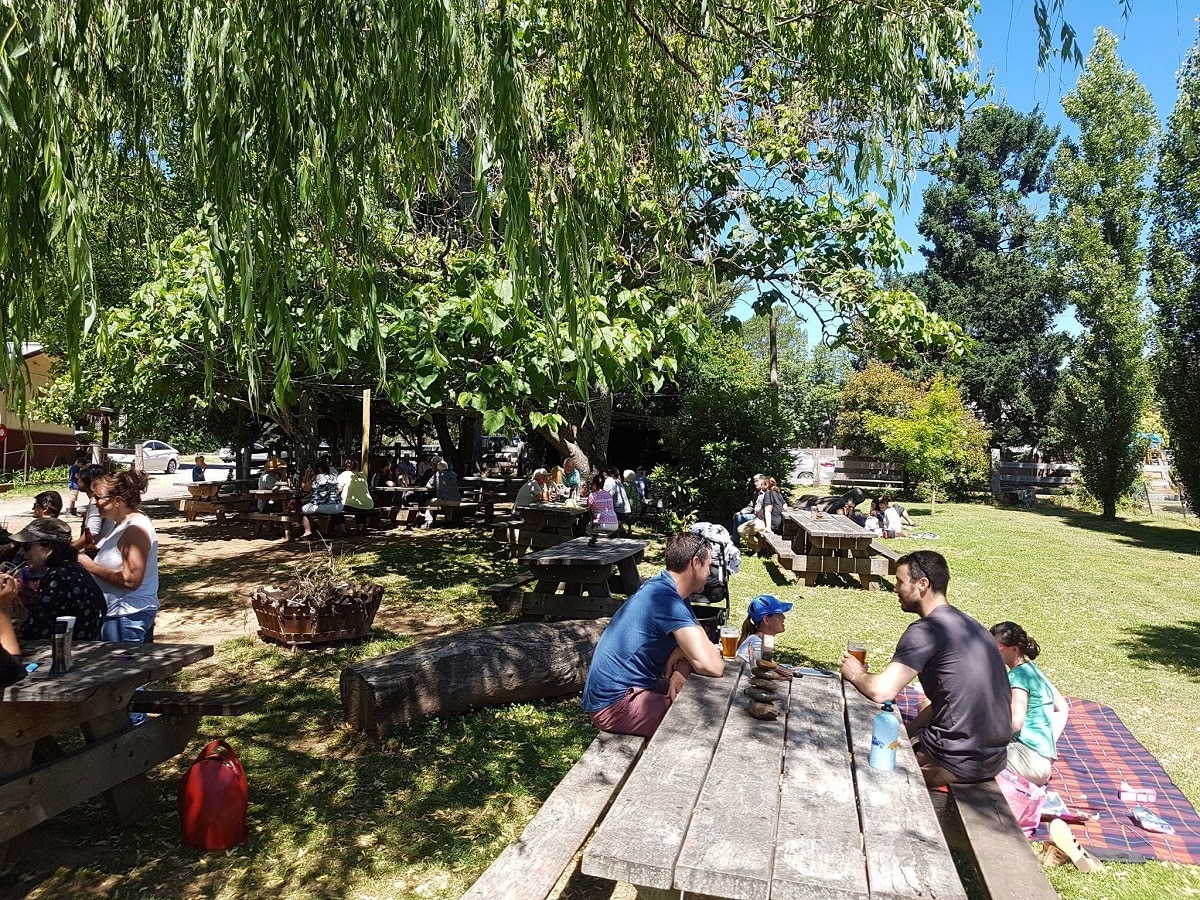 The Wandi Pub has been standing proudly since 1864, in a town of less than 500 residents. The intimacy here is incomparable, even when considering the many country pubs that are valued for their small-scale and communal atmosphere.
The Wandi Pub redefines the standards of a country pub, bringing it back to a time when drinking holes weren't all about the modern renovations and modern dining options. To make the most of it, grab a seat outside of a Sunday afternoon to watch local bands test out their latest material while you sink back some of the beer (or wine) in the region.
---
---
Address: 580 Morses Creek Rd, Wandiligong
Contact: (03) 5750 1050
Opening Hours: Friday – Monday (12pm – 11pm); Thursday (4pm – 11pm)
---
The Metung Hotel, Metung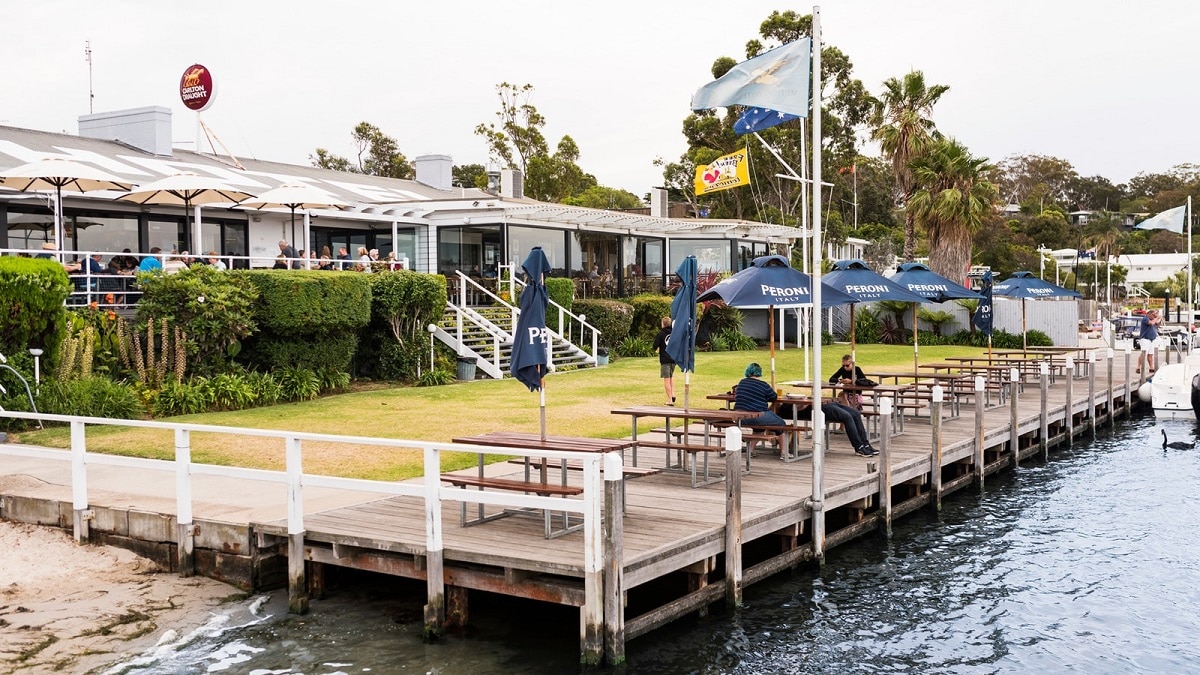 It's all about drinking by the water here and enjoying some of the best seafood in the area. The Metung Hotel has the benefit of siding right up to the town's breezy waterfront, and uses the location to its complete location with tables set up on the edge by all the boats that bob up and down at the marina.
The town is exactly the kind of restorative city-escape the Gippsland region is known for, so if you end up here consider checking out the well-appointed accommodation which the pub also offers.
Address: Kurnai Ave, Metung
Contact: (03) 5156 2206
Opening Hours: Monday – Sunday (11am – 1am)
---
The Bunyip Hotel, Cavendish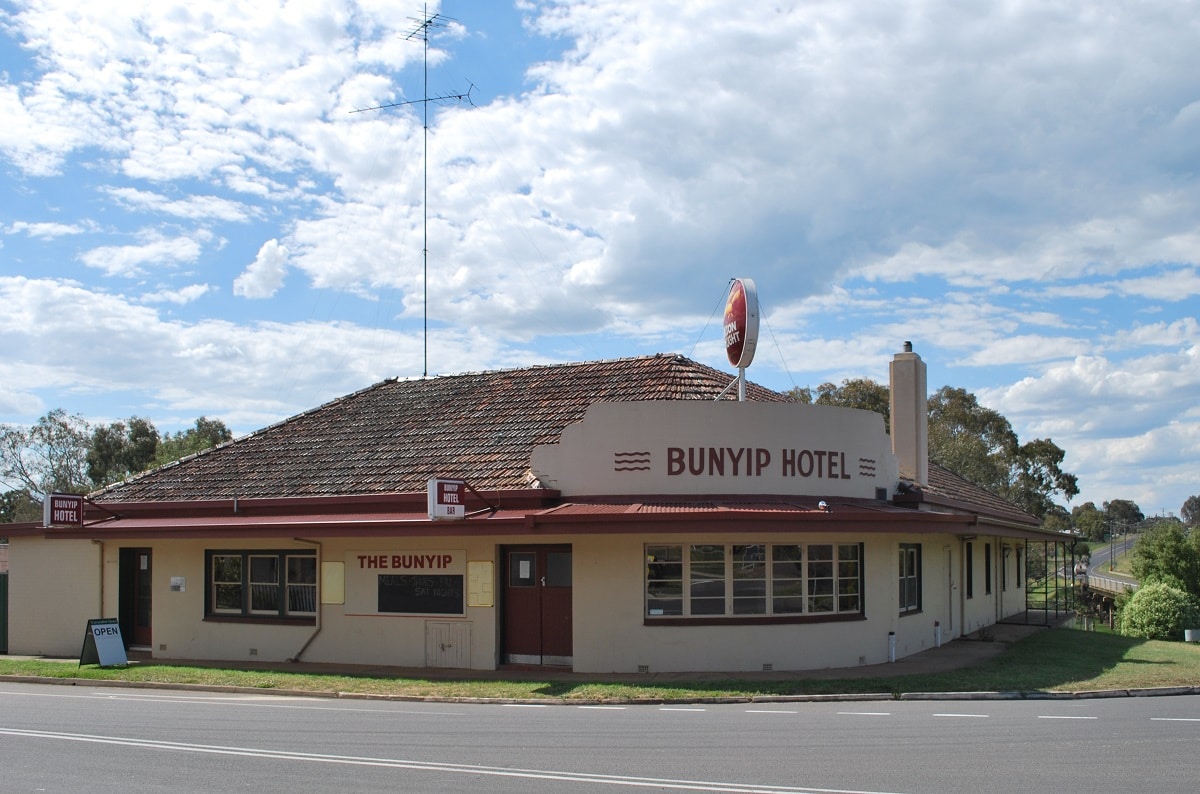 The heart of Cavendish since the 1840s, positioned just four hours west of Melbourne and owing much of its relaxed atmosphere to the surrounding Wannon River.
Like many of the best country pubs in Victoria, it's just as much about dining here as it is about drinking, with a loving approach to local produce that celebrates the state and is dedicated to showing off only the best parts. To double down on the dining focus, there's even a chef's table offering for those that are serious about sampling what makes the region so consistently delicious.
Address: 17-25 Scott St, Cavendish
Contact: (03) 5574 2205
Opening Hours: Thursday – Friday (3pm – 11pm); Saturday (11:30am – 11pm); Sunday (11am – 6pm)
---
Gunbower Family Hotel, Gunbower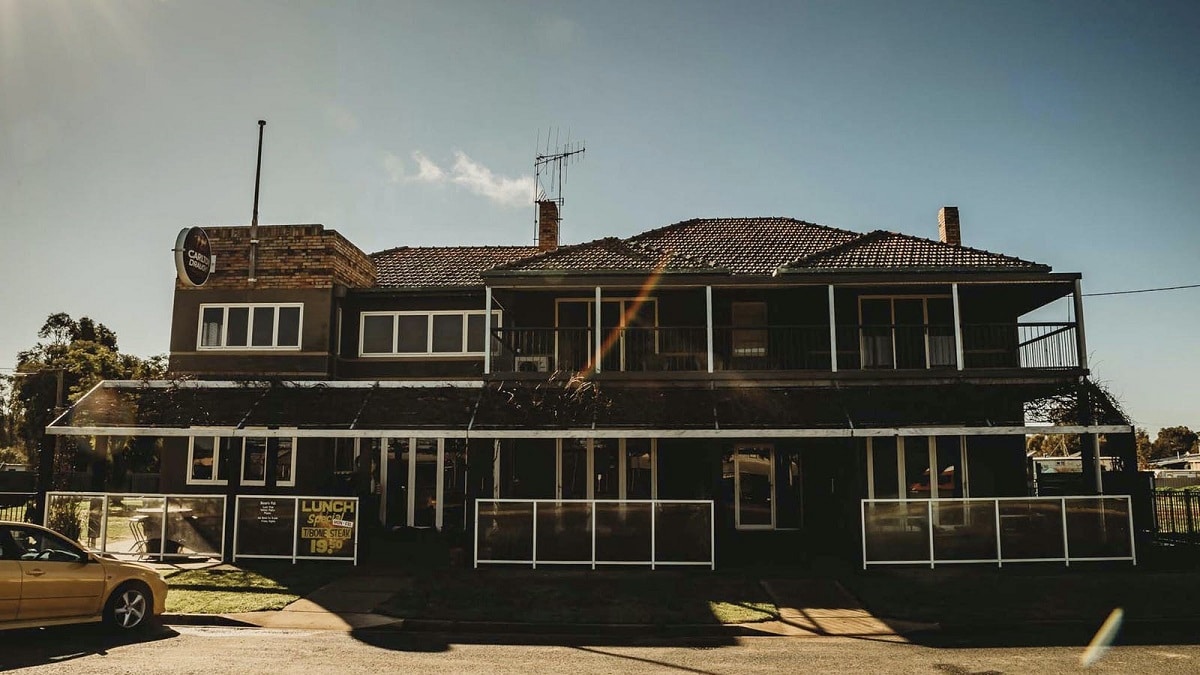 Follow the Murray downstream and you'll eventually stumble across the town of Gunbower, a town with a little over 550 residents.
The village is at its liveliest when the locals gather at the historic Gunbower Family Hotel, envied by rural pubs in neighbouring towns for the simple fact that it's considered one of the best places in the entire country for a good, hearty steak. That'd be thanks to publican Richard McGillivray, who owns a nearby cattle farm and knows the cuts back to front. If you're looking for an unforgettable steak and beer, it's hard to pass by this treasured local.
Address: 18-20 Murray Valley Highway, Gunbower
Contact: (03) 5487 1214
---
Looking for more Victoria content? Check out the best new restaurants in Melbourne.
---
Best Country Pubs Victoria – Frequently Asked Questions
what is the best country pub in Victoria?
If you're out driving around the bountiful regions of Victoria, you'll happen across many equally exceptional and historic country pubs. The best ones, however, are The Lorne Hotel, Craig's Royal Hotel, Portsea Hotel, Royal Mail Hotel, and Farmers Arms Hotel.
What is the best pub in Lorne?
The best pub in Lorne is The Lorne Hotel.
Where is the best pub food in Victoria?
You can't go past Craig's Royal Hotel for some of the best pub food in Victoria. Also on the list should be Farmers Arms Hotel, Royal Mail Hotel, and The Metgung Hotel.