Continental Europe is home to some of the most regal, lavish and sophisticated hotels in the entire world. From Dublin to Istanbul, there are few regions on this earth, if any, with a higher density of premium lodgings to be found in one place than in Europe.
American Express' Fine Hotels & Resorts program already flaunts a strong collection of these otherworldly stays. We're talking about the unicorns here; the bucket-list toppers and once-in-a-lifetime digs worthy of honeymoons and royal delegations alike.
But this article will take things one step further. We've curated a selection of the selection. The best hotels across Europe – each meticulously handpicked for their particular relevance to you – according to Boss Hunting.
---
---
So What Is American Express Fine Hotels & Resorts?
Fine Hotels & Resorts1 is a unique American Express program that offers eligible Platinum Card Members access to over 1,300 premium hotels and lodgings around the world. As part of the program, the hotels offer special perks exclusive to guests of American Express and give Card Members the ability to earn Membership Rewards Points2 when paying with their American Express Card.
What Are Some Of The Fine Hotels & Resorts Benefits And How Can I Access Them?
Benefits vary across participating hotels, but the majority of Fine Hotels & Resorts properties offer a suite of tasty perks including a complimentary room upgrade if available, breakfast for two, early check-in when available, guaranteed late check-out at 4PM, and a unique amenity specific to the property, such as a hotel credit to spend on dining, beverages, or spa treatments.
Fine Hotels & Resorts benefits are exclusively for American Express Platinum Card Members. Let's dive into our favourite Fine Hotels & Resorts properties in Europe bookable with the Platinum Card below.
---
The 31 Best Fine Hotels & Resort Properties In Europe
1. Airelles Gordes, La Bastide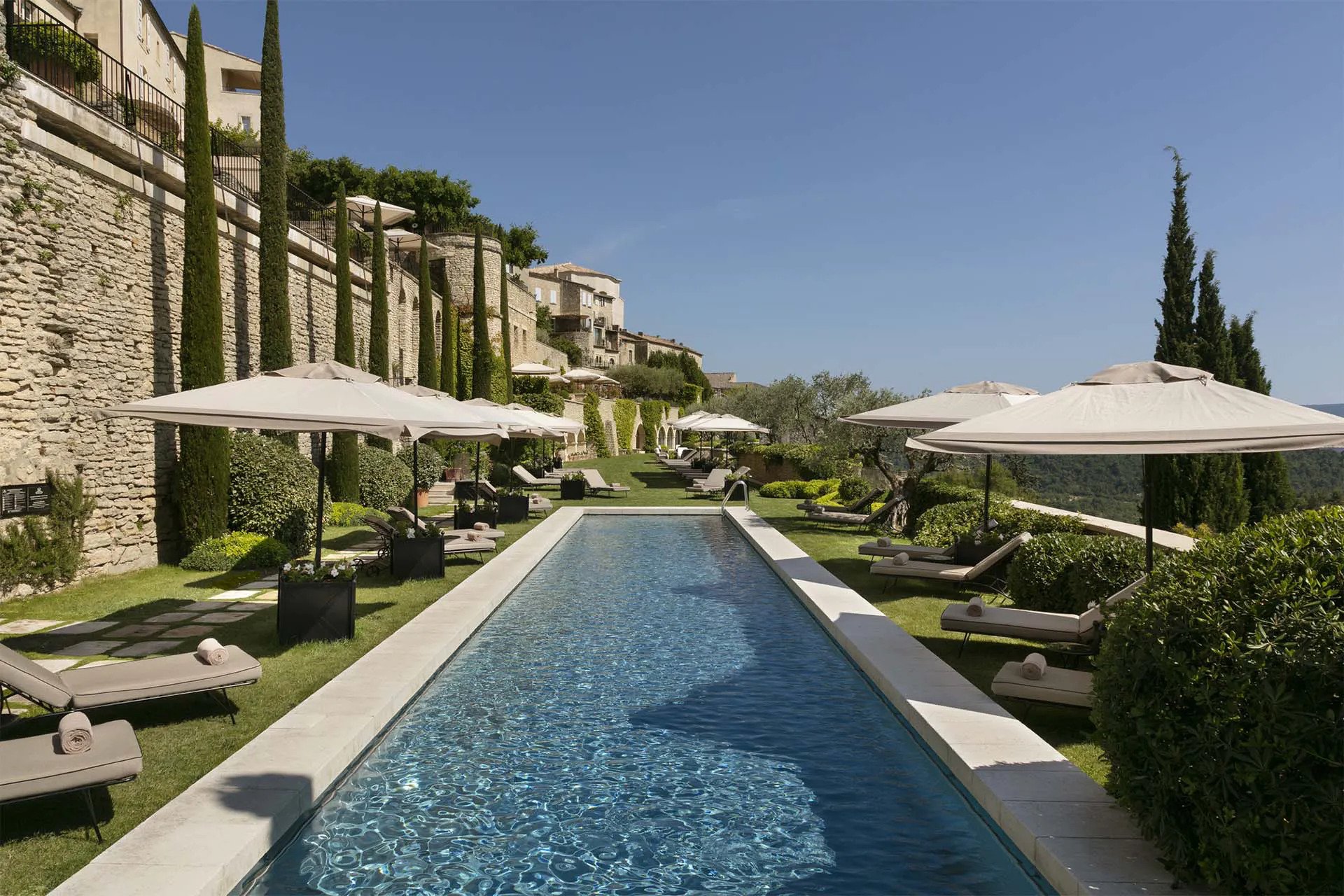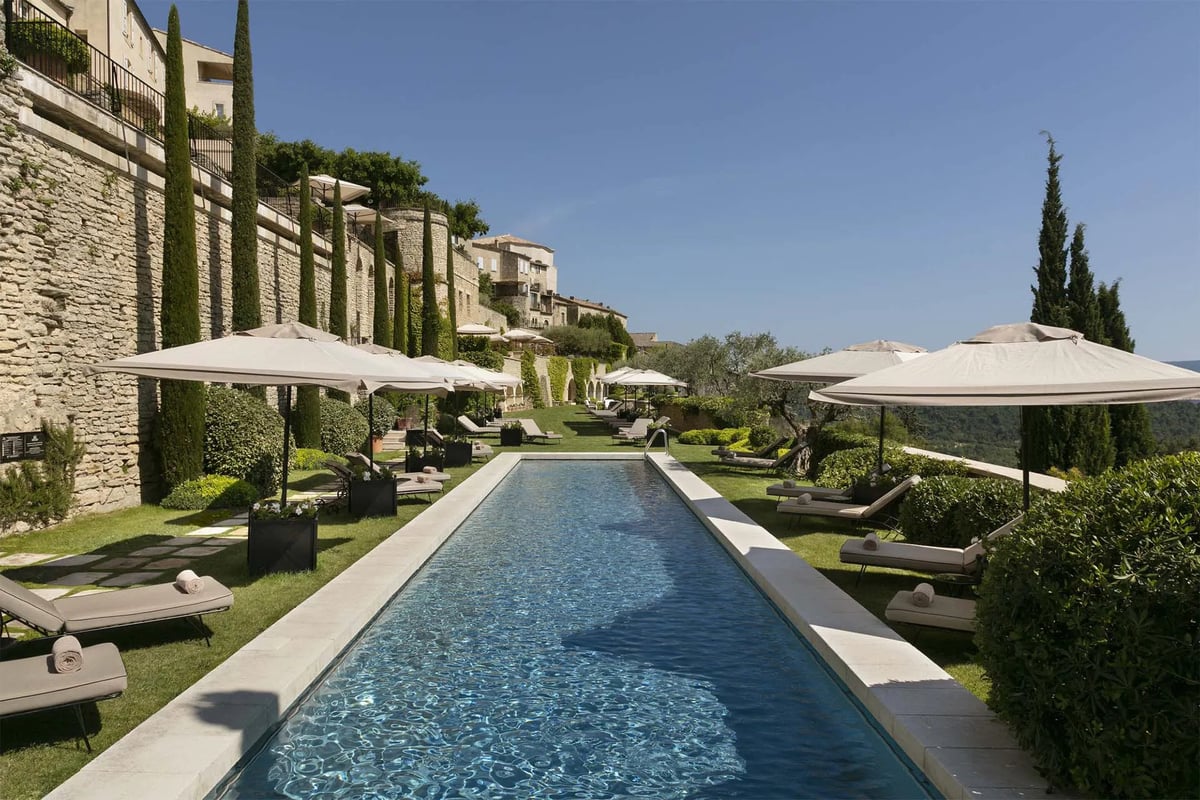 Location: Gordes, France
Contact: +33 4 90 72 12 12
Unique Amenity: US$100 Spa services credit to be used during your stay
A total of 34 rooms and 6 suites at Airelles Gordes lean heavily on the classical French aesthetic. It's a luxurious time capsule with an impactful sense of place. The renovated 18th-century castle perched on a rocky hillside in Gordes offers postcard-perfect views over the Luberon Valley, capturing the unspoilt beauty of provincial France with all the food, art and charm to match. An outdoor treatment at the Sisley spa is a must, followed by an al fresco feast at L'Orangerie.
---
2. Le Meurice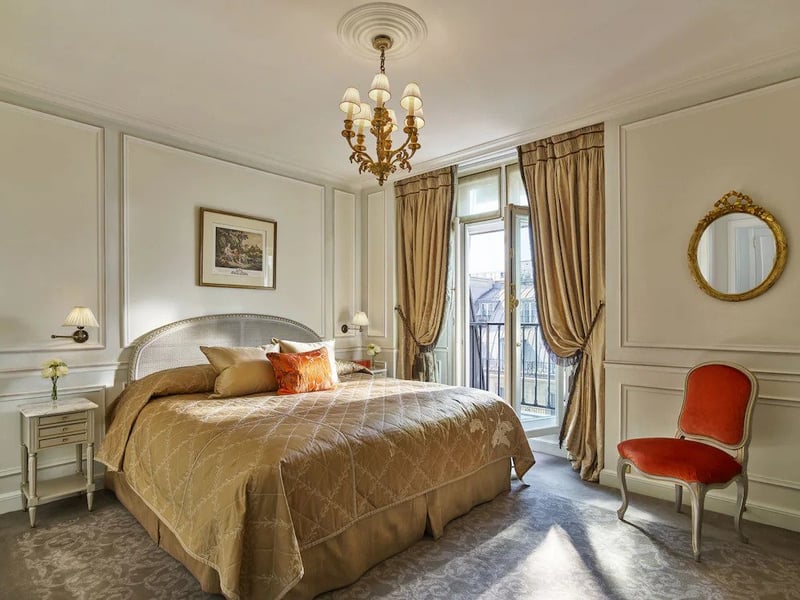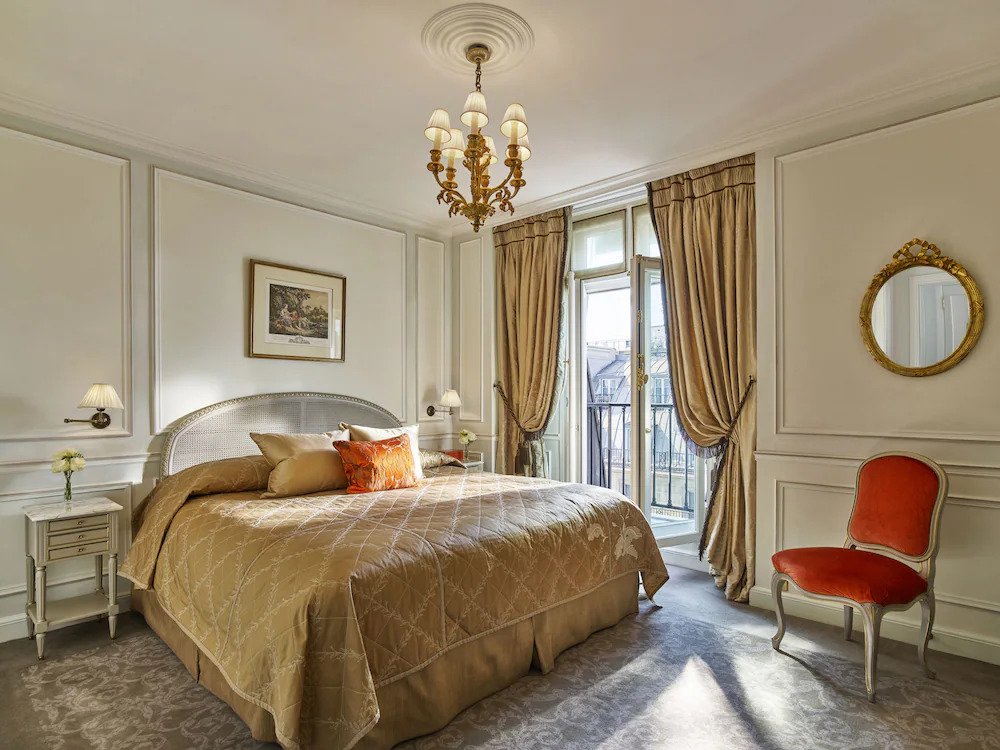 Location: Paris, France
Contact: +33 1 44 58 10 10
Unique Amenity: US$100 property credit to be used during your stay
A similarly classic 18th-century French aesthetic brings plenty of charisma and splendour to Le Meurice, which pierces the very heart of Paris on Rue de Rivoli. Billion-dollar views scanning the Tuileries Garden, the Louvre and the Palace de la Concorde are most valuable while you sink into the lap of luxury at any of the hotel's 160 rooms and suites, each decked with a great sense of Parisian elegance. Don't miss dinner at the award-winning Restaurant Le Meurice Alain Ducasse or the chance to just relax in the hotel's zen-like private courtyard.
---
3. The Maybourne Riviera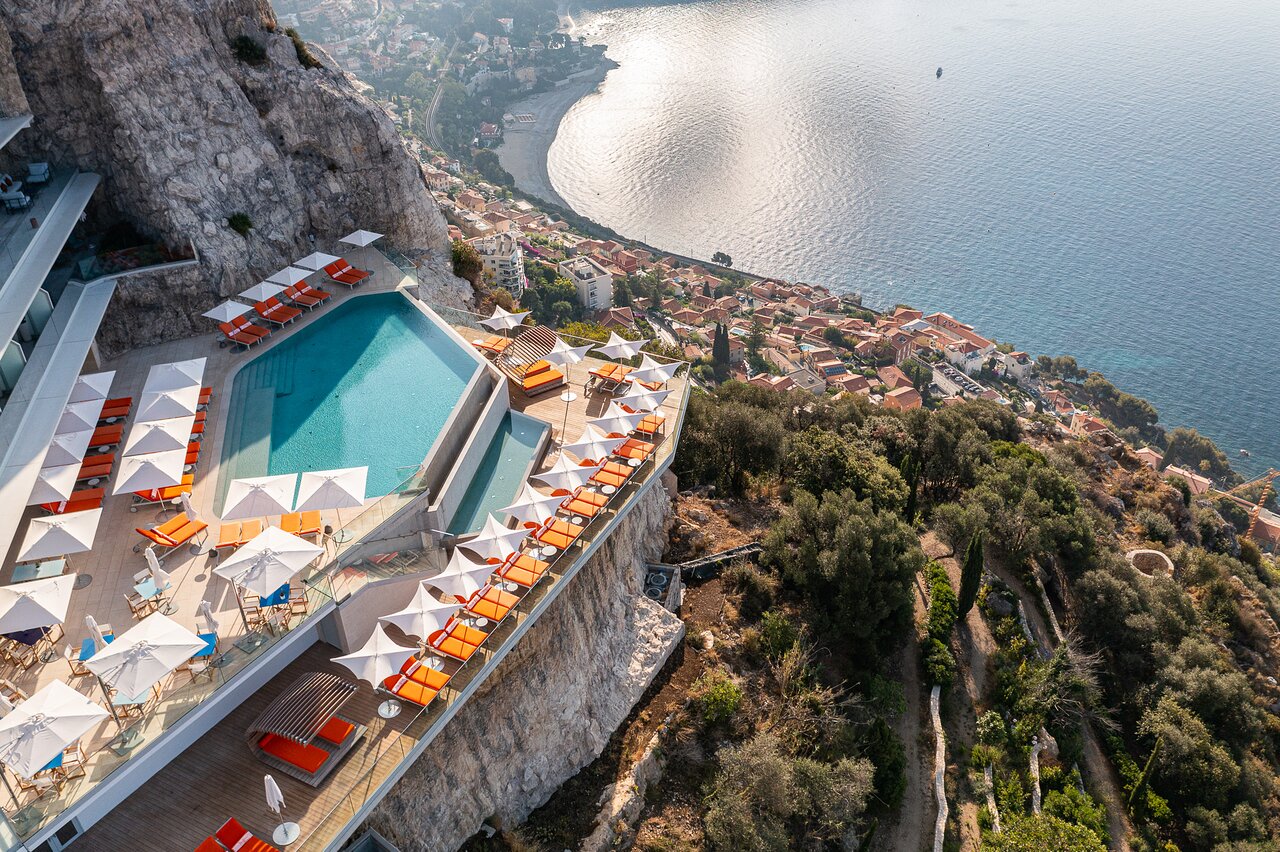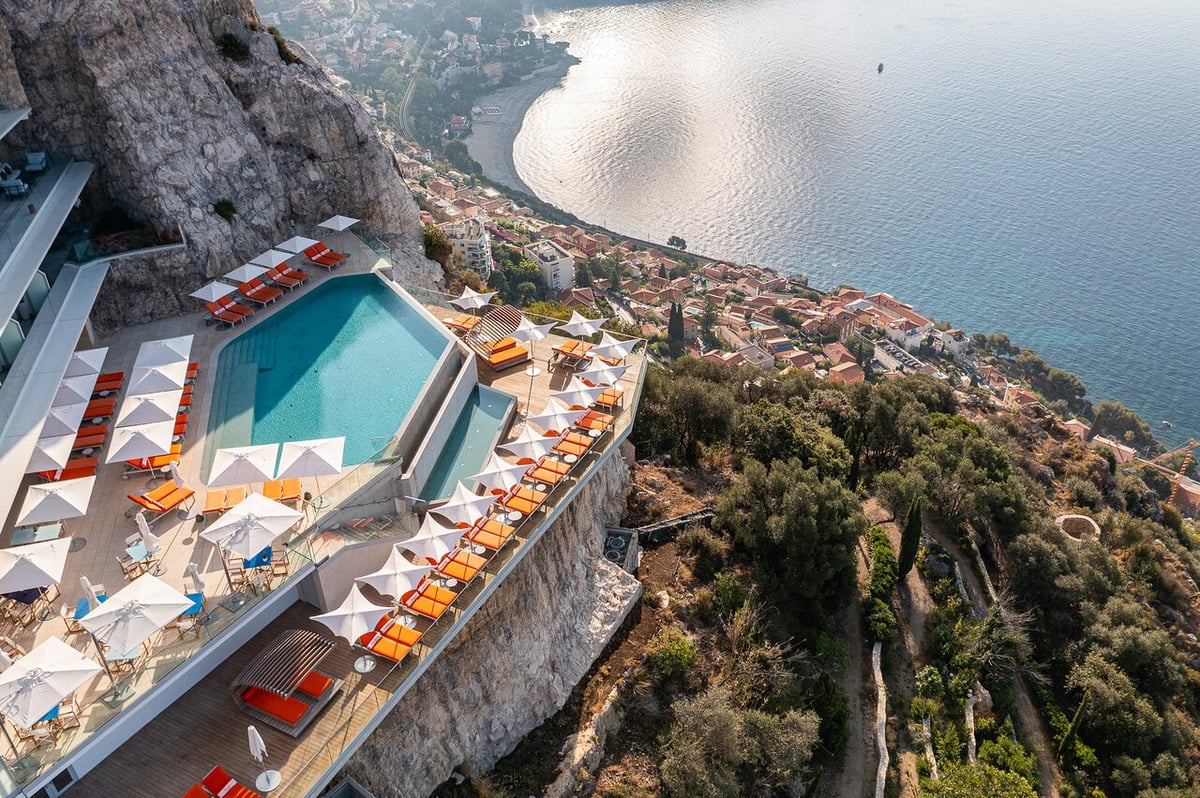 Location: Roquebrune-Cap-Martin, France
Contact: +33 4 93 37 50 00
Unique Amenity: US$100 property credit to be used during your stay
You'll find The Maybourne Rivieria along the dramatic rocky peninsula of Roquebruen-Cap-Martin in Southeastern France, pulling inspiration from the glistening Mediterranean Sea lapping at its feet. Maximising big-money views of the Cote d'Azur, the floor-to-ceiling windows in each of the 69 rooms and suites use the iconic surrounds to really immerse guests in one of the world's most exclusive destinations. You're not making the most of your time here if you don't explore the extensive Patisserie Collection and cobble together your own picnic before heading out to see a show at the lauded Opera de Monte-Carlo, a 19th-century performance hall that's embedded deep in the history books.
---
4. Grand Hotel Tremezzo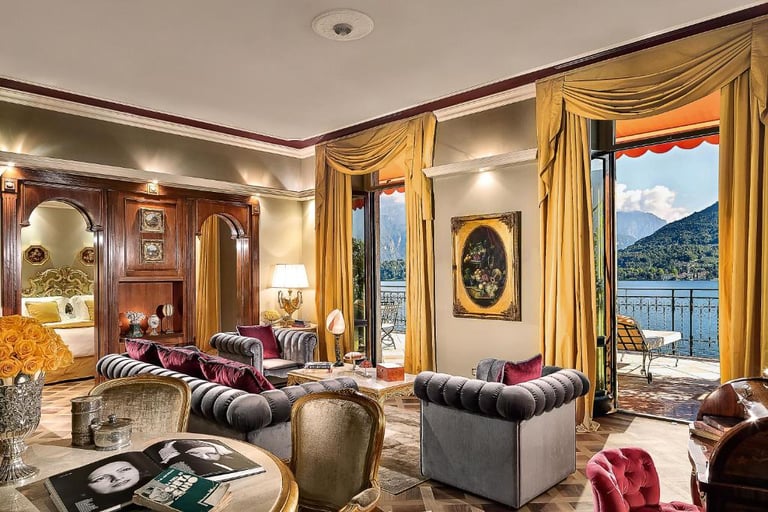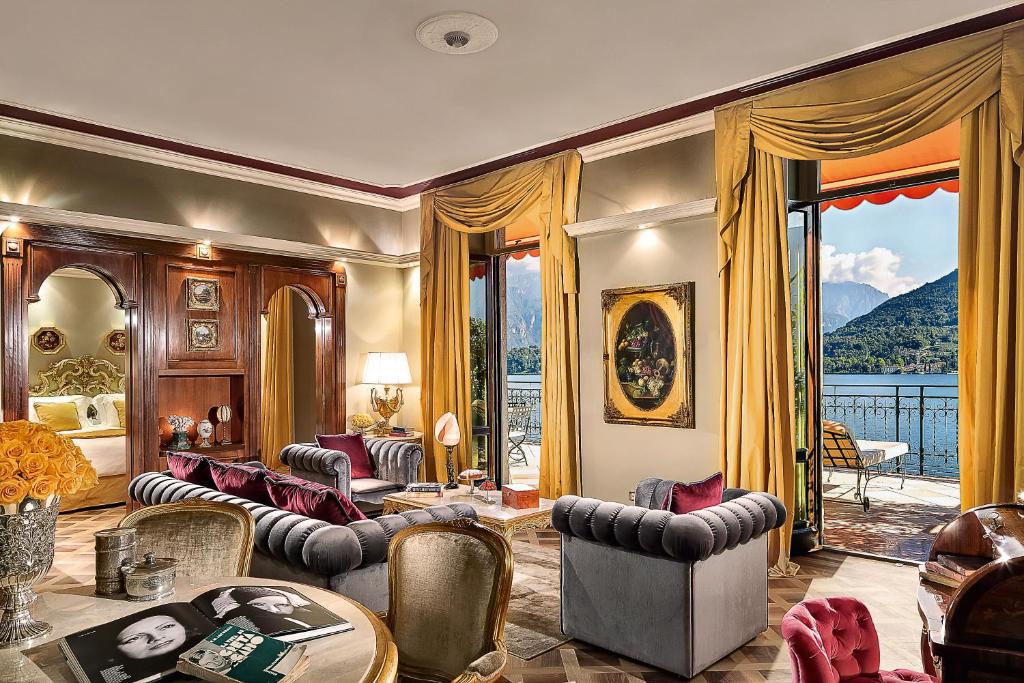 Location: Lake Como, Italy
Contact: +39 0344 42491
Unique Amenity: US$100 property credit to be used during your stay
Built in 1910, the dramatic Grand Hotel Tremezzo serves as a timeless icon of Lake Como and has been drawing luxury travellers from all over the world ever since. Positioned at the junction of the lake's two branches, this enormous property encompasses immaculate gardens, several different villas, numerous highly-regarded restaurants and the signature T Spa with its large infinity pool, head-turning mosaics and hyperlocal treatments. The property has inspired many high-profile guests for decades but in order to make the most of it, get reception to set you up on board one of the hotel's lush Venetian motor boats to explore Lake Como in all its glory.
---
5. Splendido Mare, A Belmond Hotel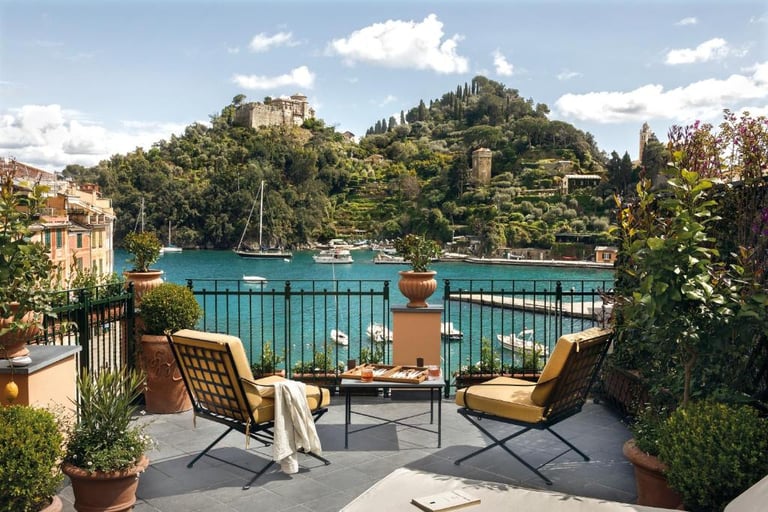 Location: Portofino, Italy
Contact: +39 0185 267802
Unique Amenity: US$100 food & beverage credit to be used during your stay
A distillation of everything that makes the Italian Riviera such a compelling destination, Splendido Mare, A Belmond Hotel, earns its reputation as one of Europe's most storied properties summer after summer. Across the boutique hotel's 64 rooms and suites, you'll find lavish touches of Italian decadence from dramatic traditional archways and terracotta floors to natural materials paying homage to the sea. Relax on your room's private balcony or charter the hotel's private luxury boat to discover the stunning Gulf of Tigullio. Just don't miss the farmhouse experience, which sets you up on a nearby farm for the most picturesque cooking class you'll ever take.
---
6. The Savoy London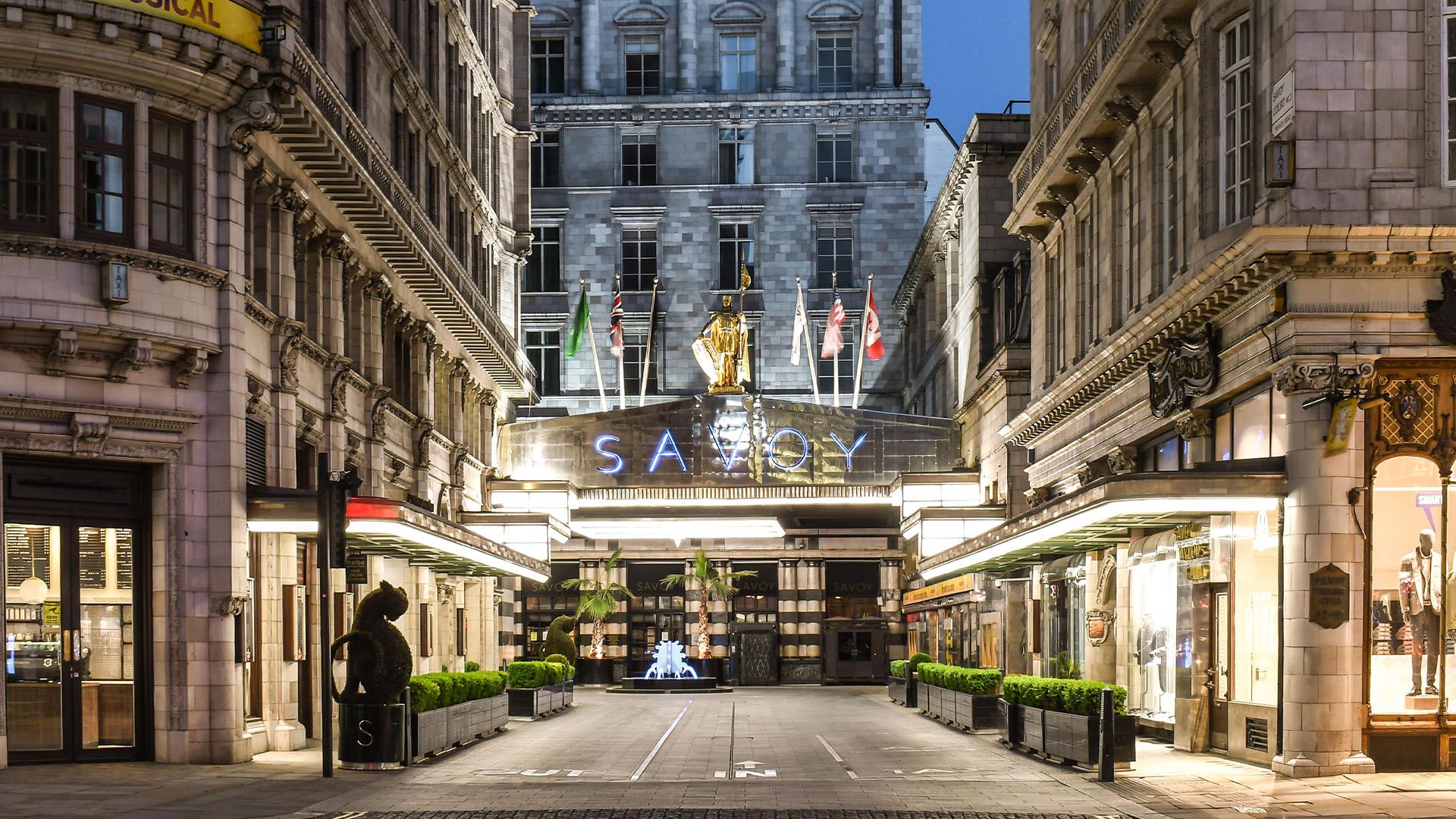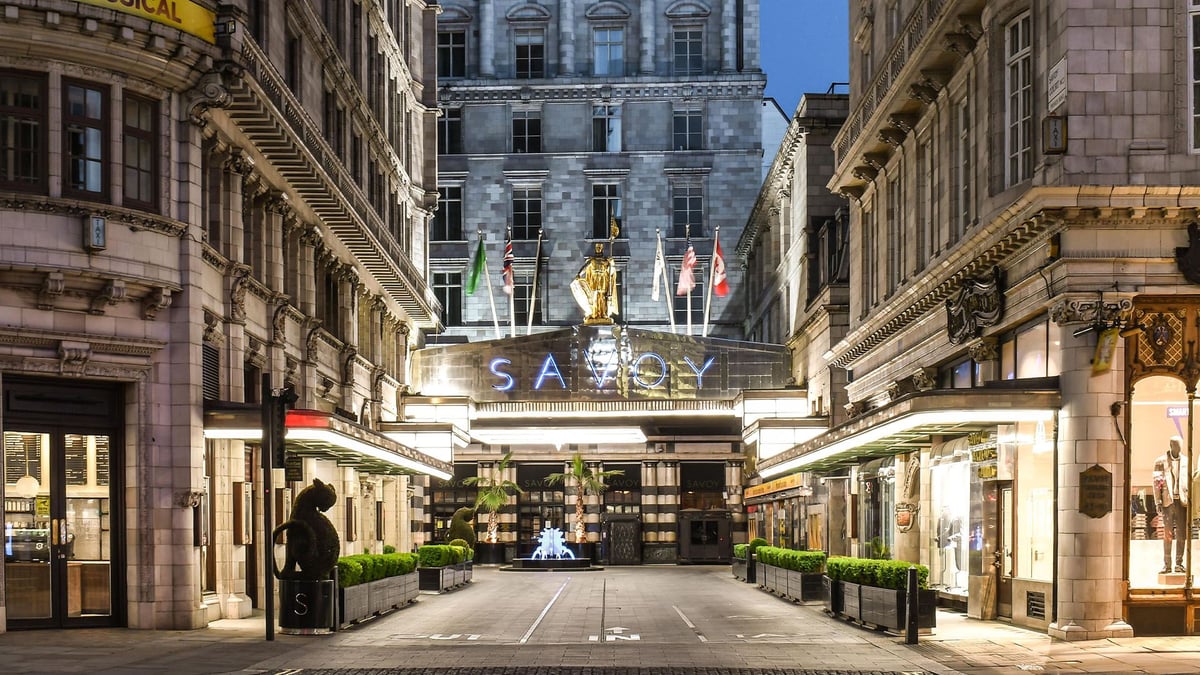 Location: London, UK
Contact: +44 20 7836 4343
Unique Amenity: US$100 food & beverage credit to be used during your stay
Originally opened in 1889, The Savoy is one of the most renowned luxury hotels in the world and embodies the quintessential London experience on the banks of the Thames. Romanticising the city's deeply-rooted history, the Fairmont-operated property soaks up and expresses old-world opulence so beautifully that many travel from all over the world just to spend a night in one of the hotel's 267 rooms and suites. When you're done admiring the Art-Deco masterpiece, don't miss dinner at Gordon Ramsay's extravagant Savoy Grill followed by live entertainment from world-class musicians in the Thames Foyer.
---
7. Mandarin Oriental Hyde Park London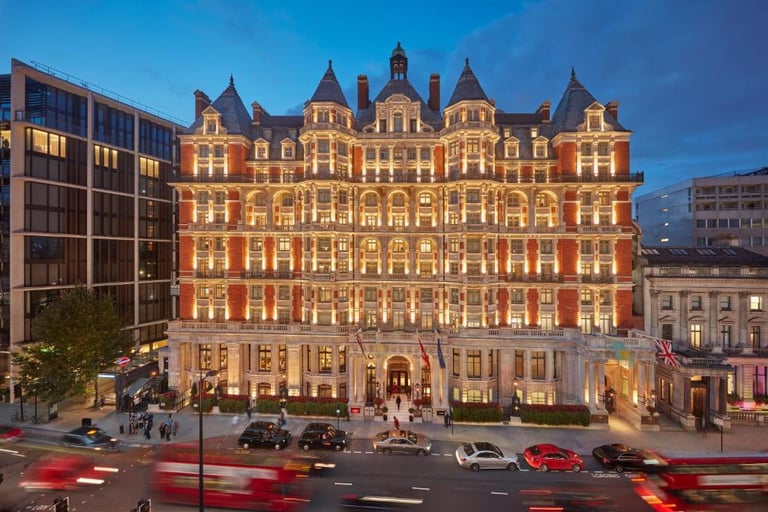 Location: London, UK
Contact: +44 20 7235 2000
Unique Amenity: US$100 property credit to be used during your stay
Located in the ritzy neighbourhood of Knightsbridge, the iconic Mandarin Oriental Hyde Park London deftly illustrates the irresistible regality of Britain's upper class. Backed onto, as per the name, Hyde Park, you'll find no finer example of tranquillity when starting the day on the massive balcony of a signature Hyde Park Suite. By night, choose between Heston Blumenthal's legendary eponymous restaurant or The Aubrey, a sophisticated take on the traditional Japanese izakaya. Don't leave without taking a stroll through the luxury boutiques of nearby Sloane Street.
---
8. The Old Course Hotel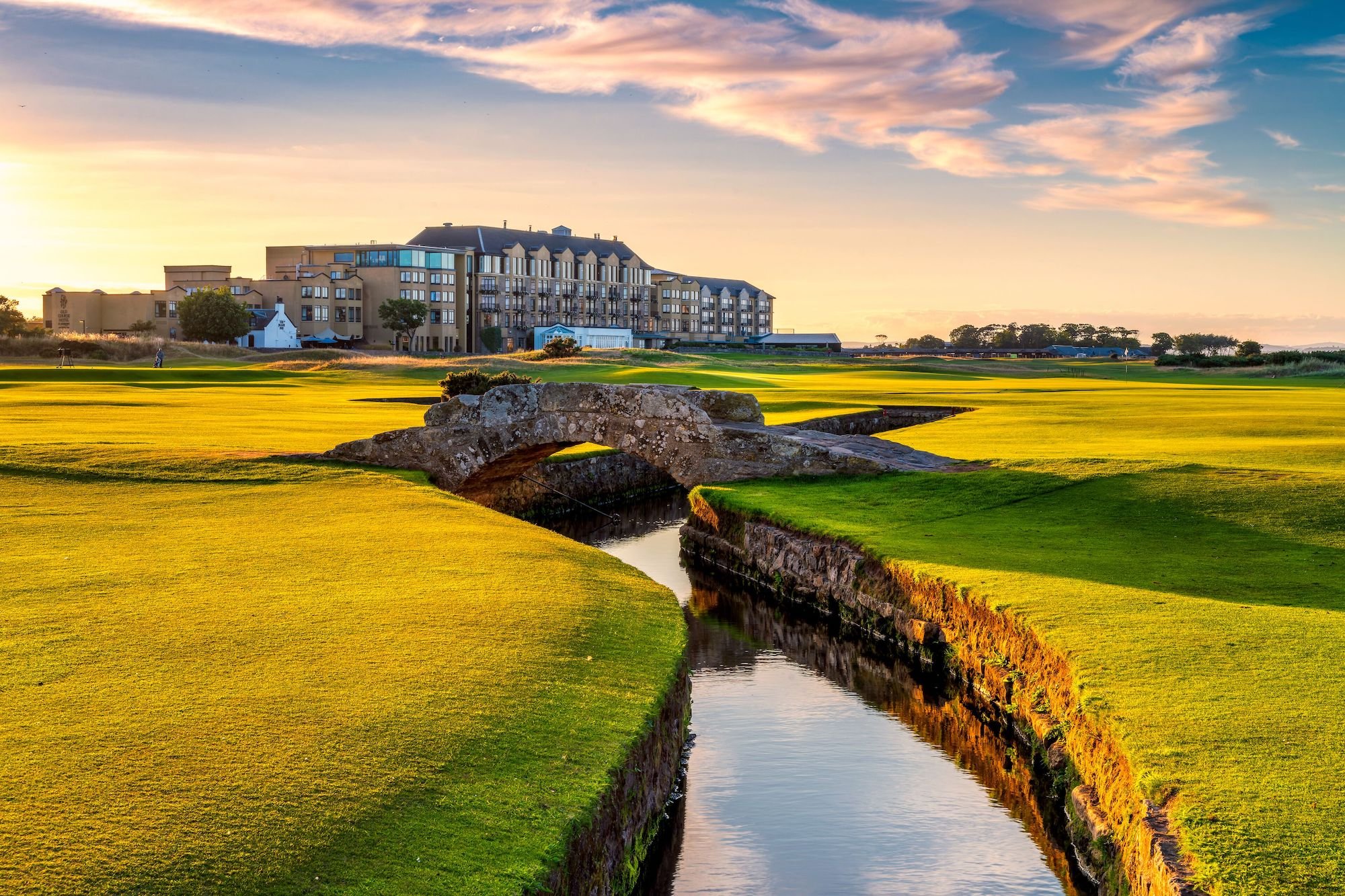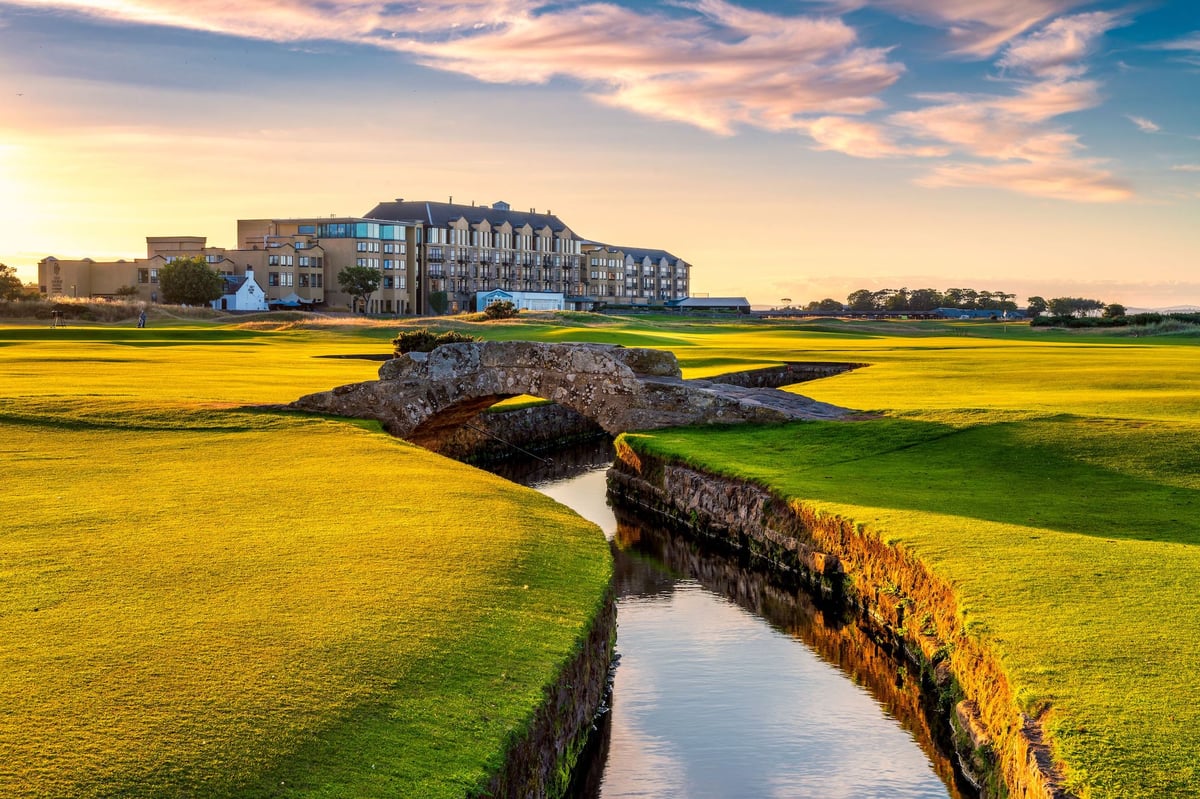 Location: St Andrews, Scotland
Contact: +44 1334 260300
Unique Amenity: US$100 property credit to be used during your stay
If you're making the pilgrimage to the home of golf, St Andrews, there really is only one option for luxury lodging to complete the experience, and that's the Old Course Hotel. Overlooking the most coveted 18 holes in the world, The Old Course Hotel. We booked and stayed through Fine Hotels & Resorts for our recent American Express Platinum Card Challenge – check out the experience here.
---
9. Adare Manor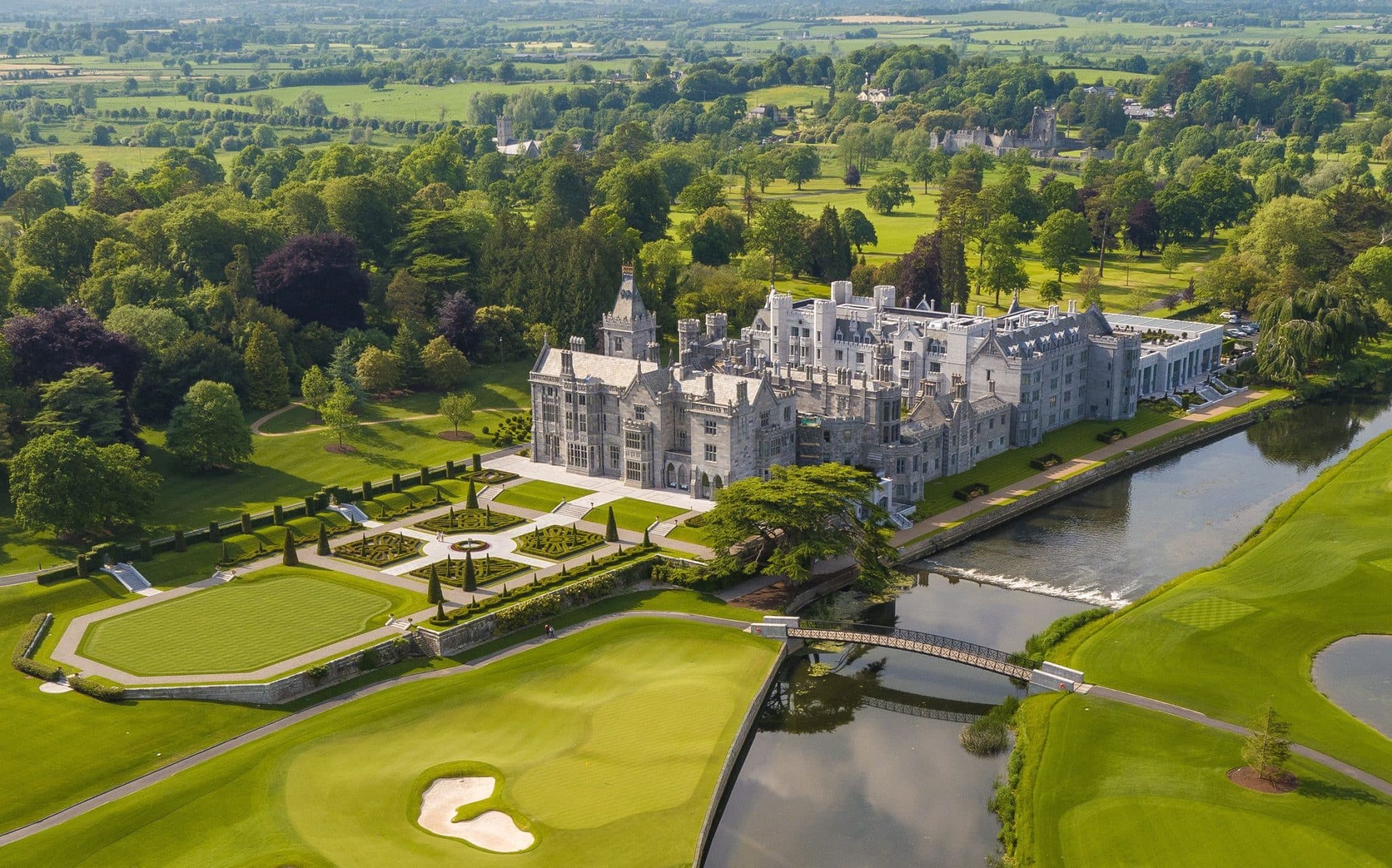 Location: Adare, Ireland
Contact: +353 61 605 200
Unique Amenity: US$100 food & beverage credit to be used during your stay
Set on 84 acres of verdant parklands and gardens, the 19th-century Adare Manor is an idyllic portrait of Irish countryside living. The historic property, adorned with gargoyles, heraldry and decorative wood carvings, makes the most of its estate by offering guests numerous activities such as falconry, archery and game shooting, along with sports simulation games and even bare classes. With 104 elegant guest rooms, no less than 52 ornate chimneys, 7 stone pillars and 4 towers, the iconic manor blends bucolic Ireland with modern luxury in a way no other hotel can.
---
10. The Merrion Dublin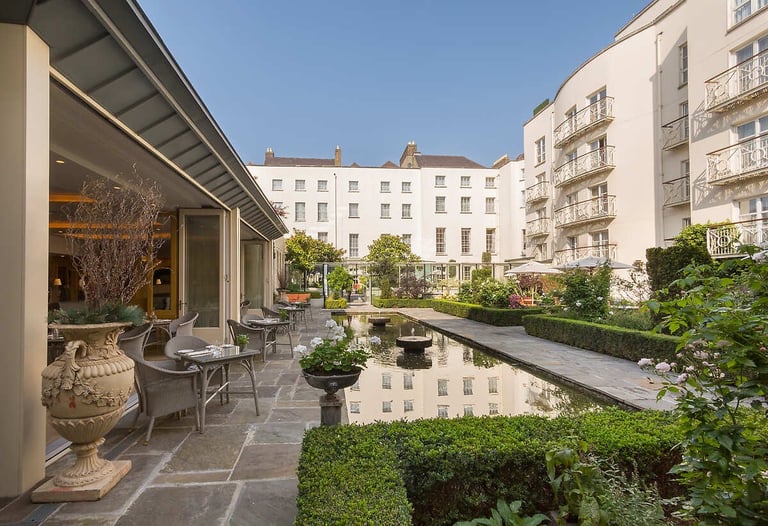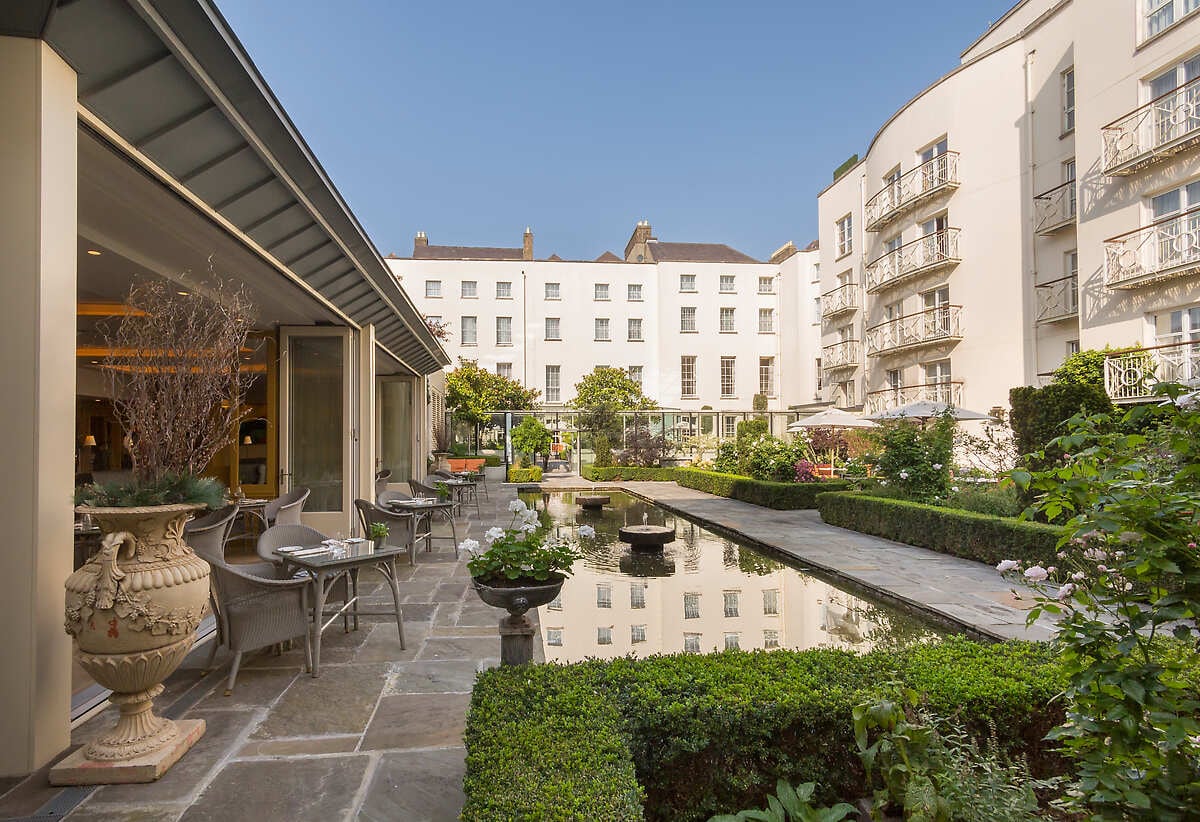 Location: Dublin, Ireland
Contact: +353 1 603 0600
Unique Amenity: A complimentary one-way Sedan transfer from hotel to airport for two people
Located in the heart of Dublin, The Merrion is a charming 142-bedroom hotel with a large private collection of Irish art and a distinct love of antique furnishings. The old-world charm reflects the restored Georgian building's heritage, best expressed down in the Cellar Bar where contemporary Irish fare is framed by an illustrious former wine bar. Yet it'd be hard to pull yourself away from fine dining Restaurant Patrick Guilbaud, with its unique blend of traditional Irish and French cuisine.
---
11. Abadia Retuerta LeDomaine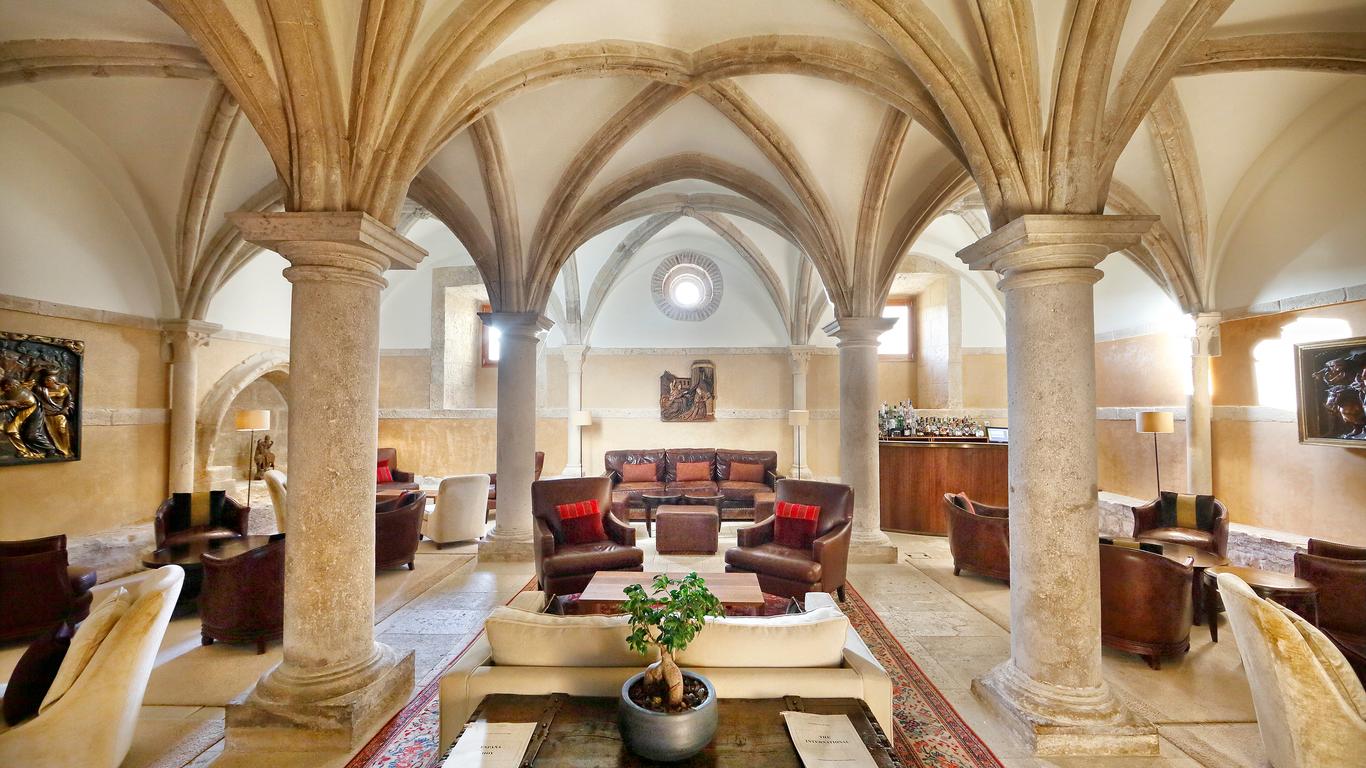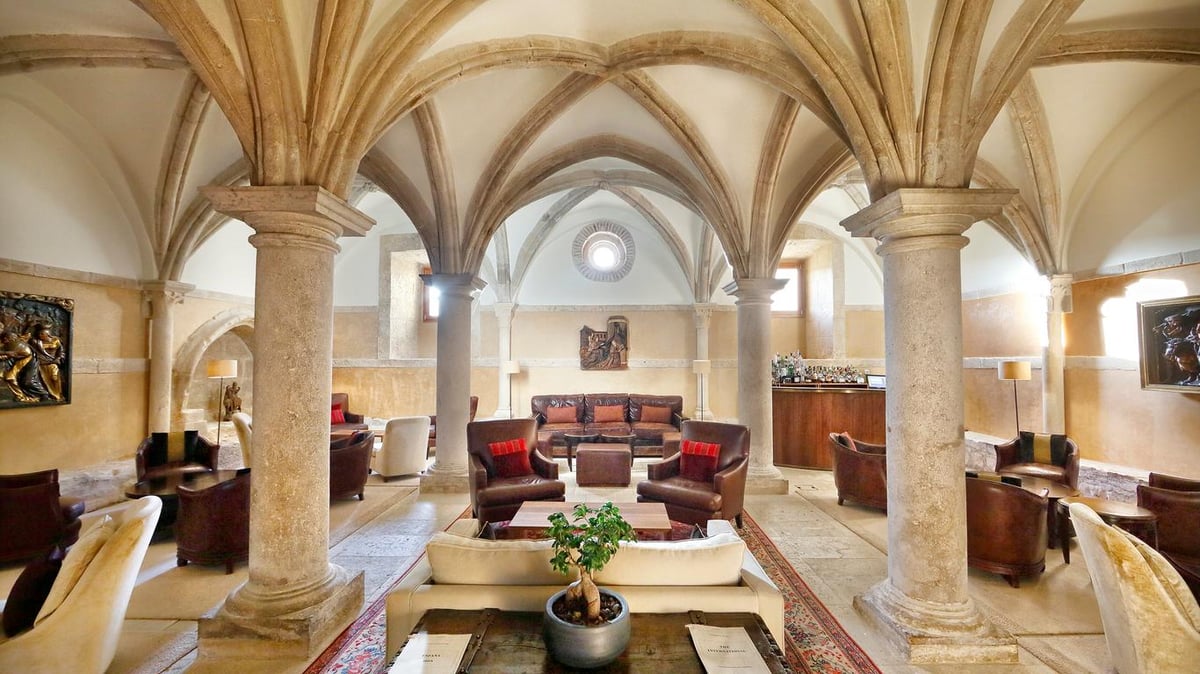 Location: Sardon de Duero, Spain
Contact: +34 983 68 76 00
Unique Amenity: US$100 spa services credit to be used during your stay
You'll find Abadia Retuerta just a two-hour drive from Madrid in a restored 12th-century abbey, set on 1,700 acres of vineyards in the iconic Douro Valley. Those dreamy vistas of the Spanish countryside are inspiring enough, but when framed by such an elegant property as this the entire experience just hits harder and resonates deeper. Guests love the Tibetan Singing Bowls experience at the on-site spa, which, like everything else at this 30-room property, is designed to take fully rejuvenate guests and offer them an experience that's impossible to forget.
---
12. Finca Serena Mallorca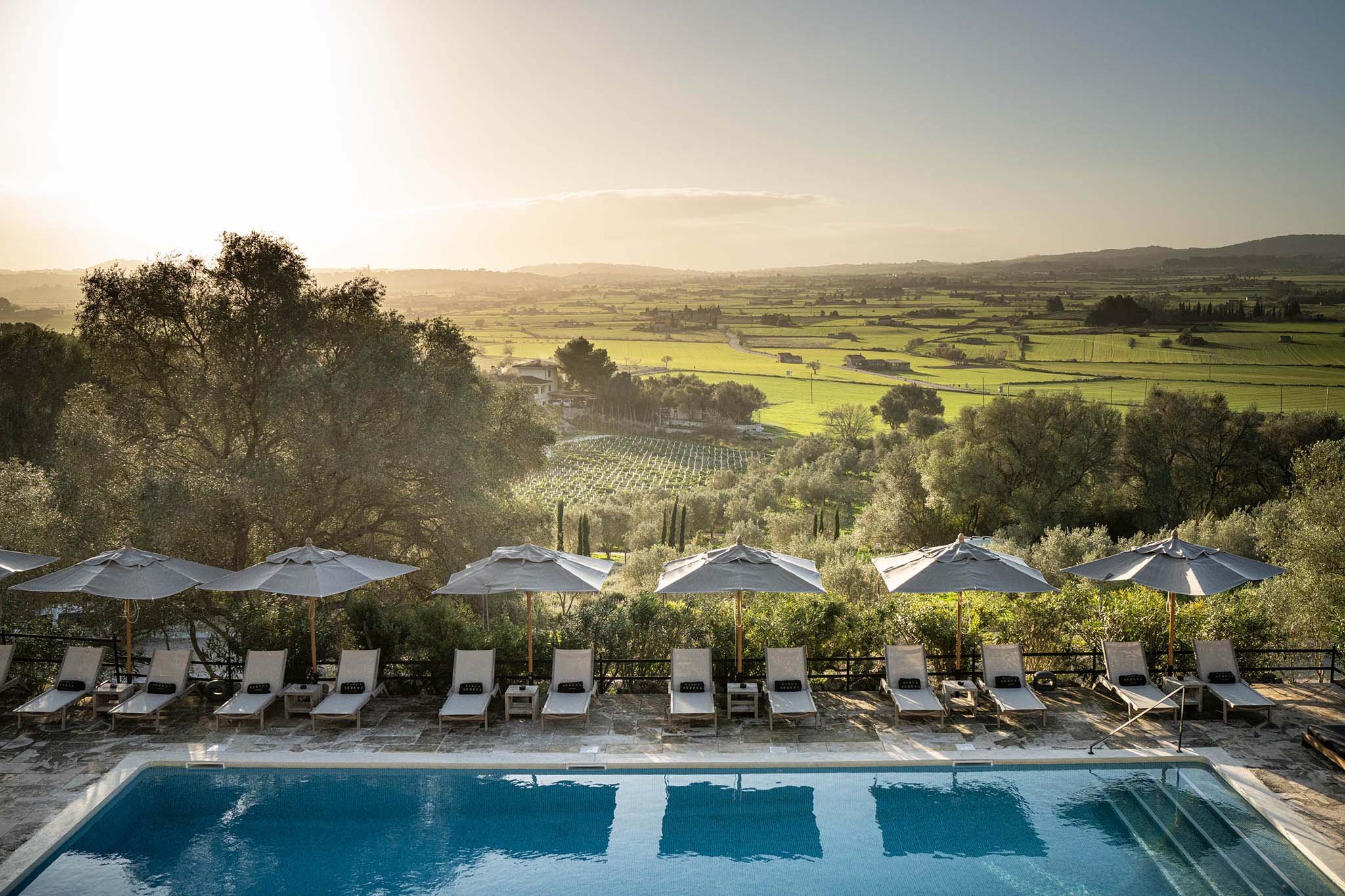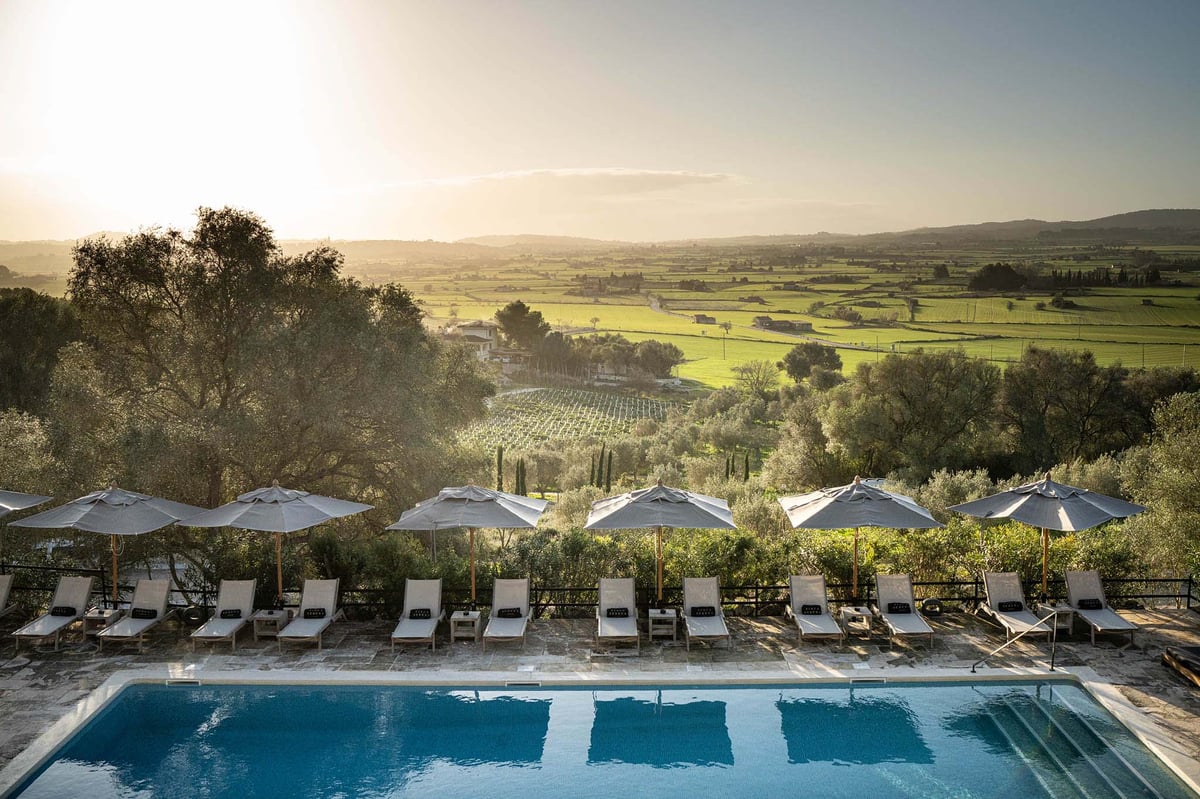 Location: Montuiri, Spain
Contact: +34 971 18 17 58
Unique Amenity: US$100 food & beverage credit to be used during your stay
Renowned worldwide as the quintessential Mallorcan treasure, Finca Serena is an arcadian experience offering the best of rural Spain smack bang in the centre of the iconic island. Surrounded by palm trees and olive groves, the small 25-room hotel is the very definition of hidden paradise, really dipping deep into the magic of the Balearic Islands with farm-fresh produce and a comprehensive wellness program that includes yoga, meditation and the highly regarded Unico Spa.
---
13. Hotel Alfonso XIII, A Luxury Collection Hotel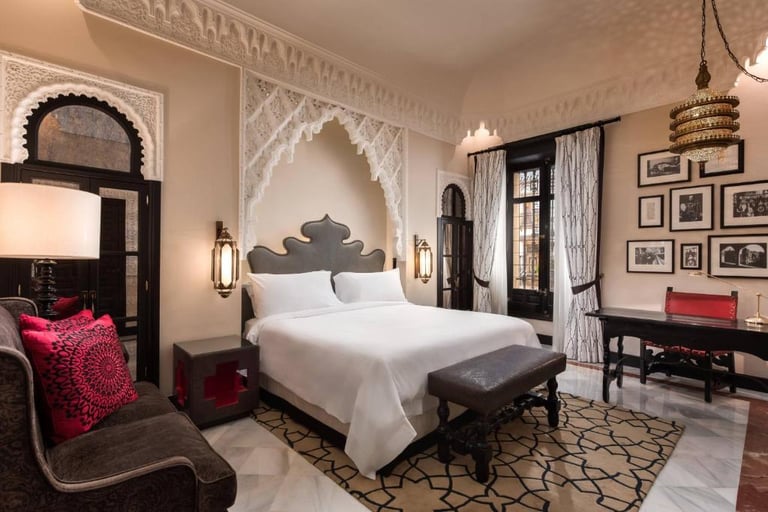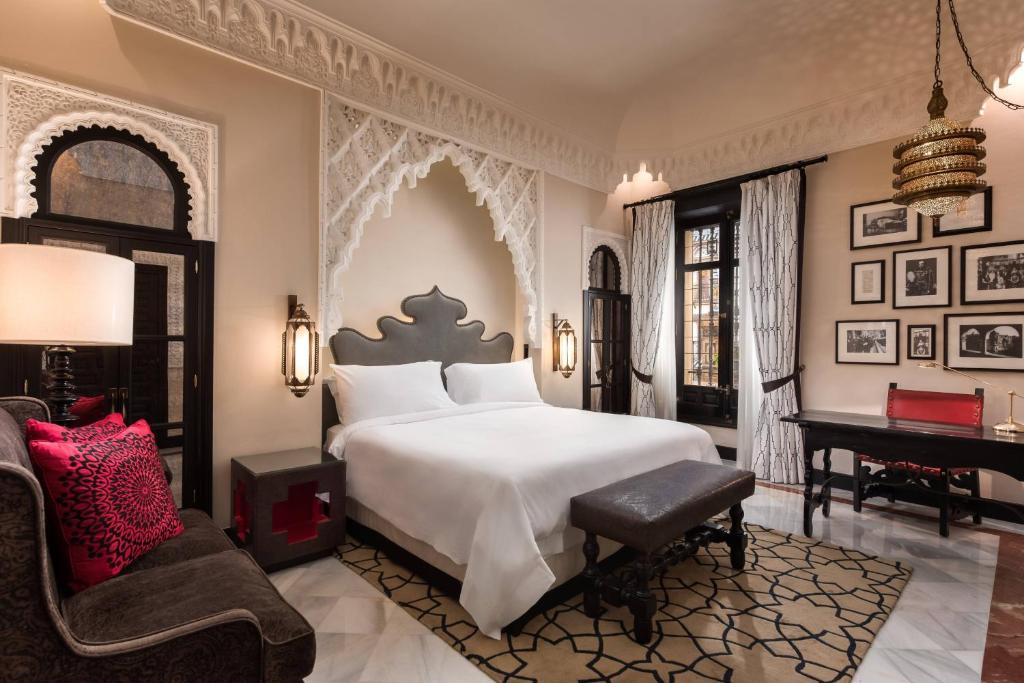 Location: Seville, Spain
Contact: +34 954 91 70 00
Unique Amenity: US$100 food & beverage credit to be used during your stay
When the King of Spain commissioned this build back in 1929 to host international dignitaries, he gave rise to what is now one of the most famous properties in Western Europe. Hotel Alfonso XIII, part of Marriott International's Luxury Collection, is located in the historic quarter of Seville and is known around the world for its first-class service, delectable cuisine and the iconic art deco-style bar Americano. A hidden secrets hotel tour is offered to guests to help their stay in one of Spain's most attractive cities resonate much deeper.
---
14. Six Senses Douro Valley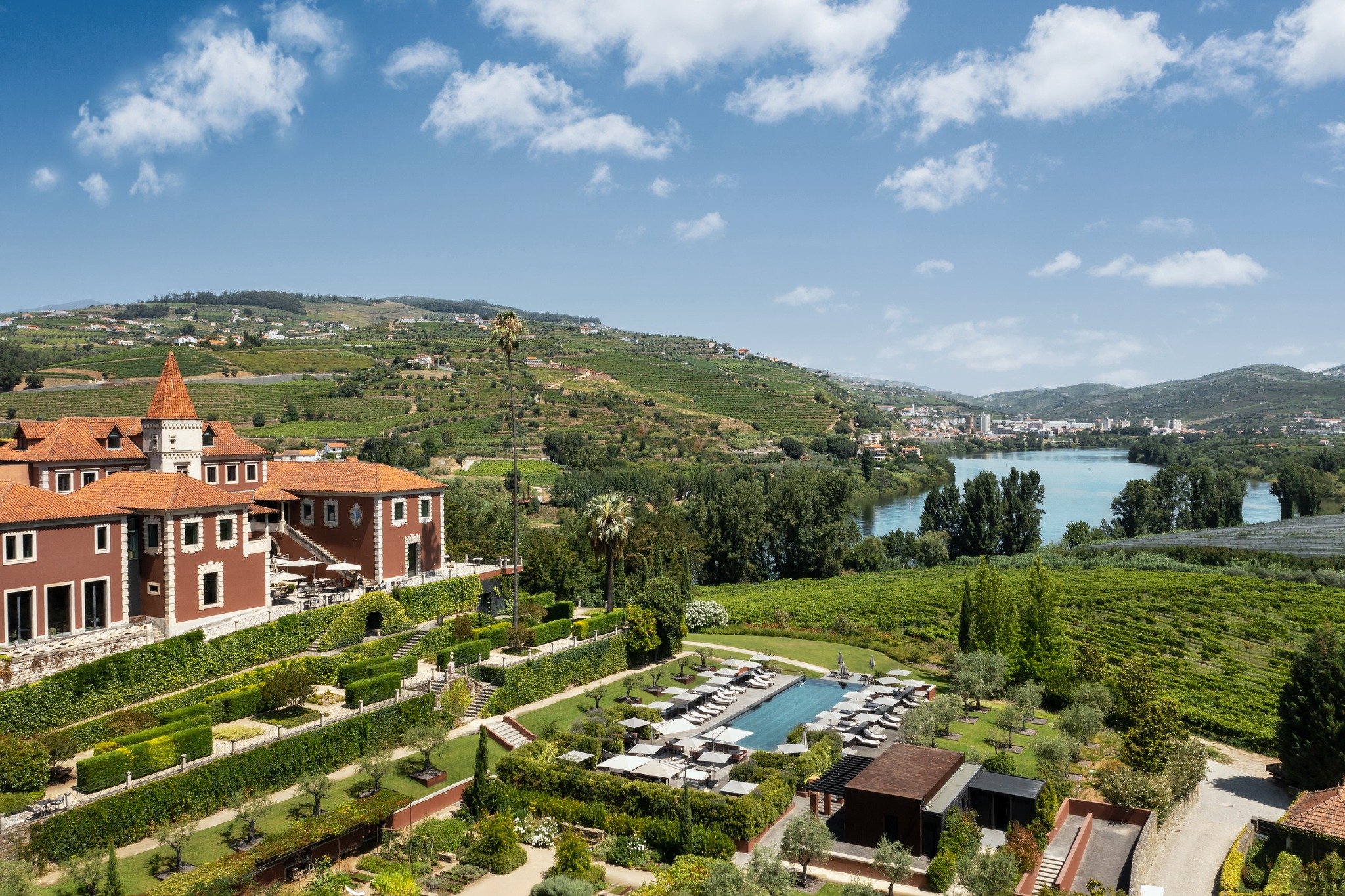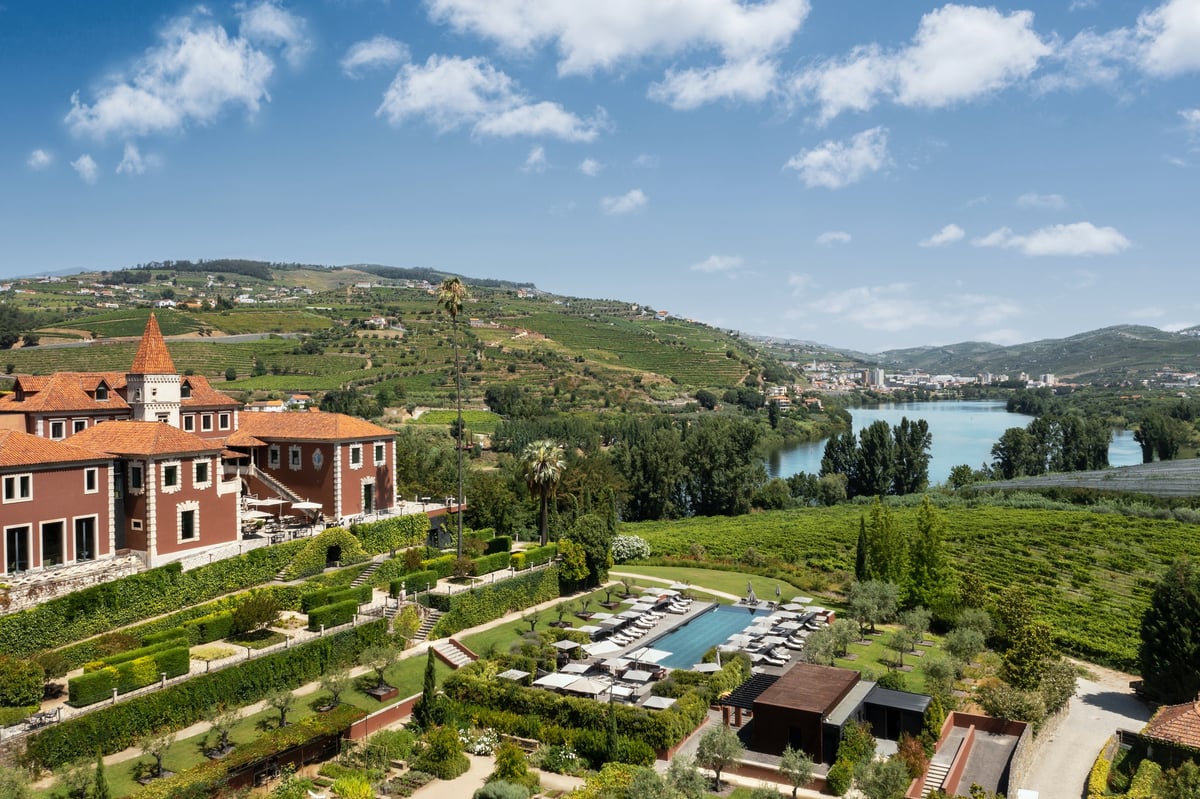 Location: Lamego, Portugal
Contact: +351 254 660 600
Unique Amenity: US$100 property credit to be used during your stay
Plastered across the vine-covered hills of Portugal, Six Senses Douro Valley is a masterclass in stoic luxury. The sense of stillness and peace that brushes through this 19th-century manor embodies the Six Senses brand perfectly, embracing a slow lifestyle across 71 guest rooms and villa apartments, the elegant Quinta Bar & Lounge and the workhorse Six Senses Spa. Make sure you visit the latter for a hot stone massage before taking a dip in the picturesque outdoor pool.
---
15. Bela Vista Hotel & Spa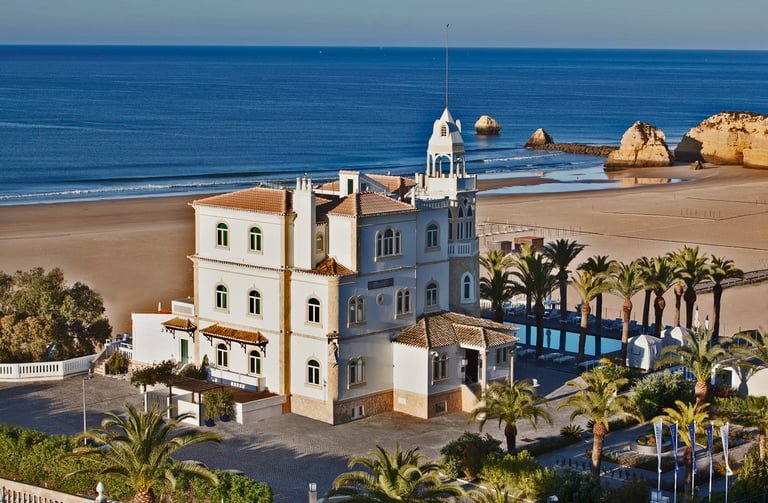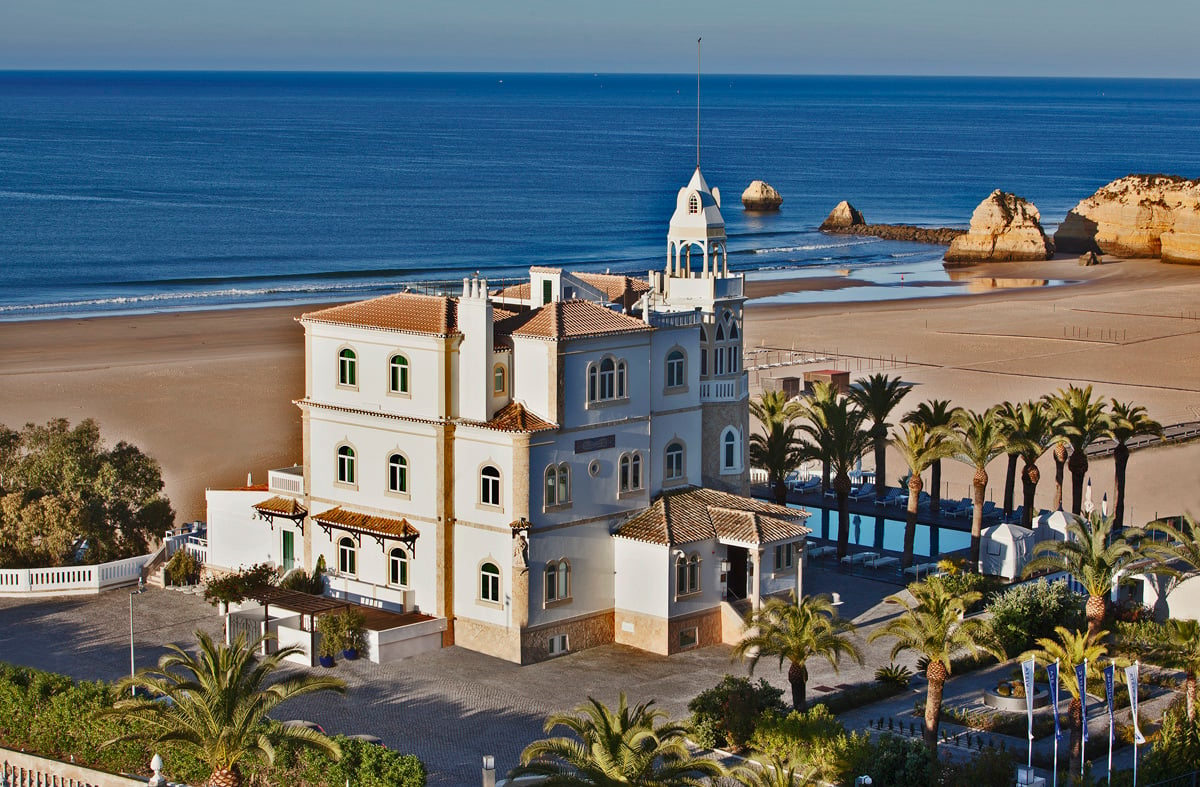 Location: Portimao, Portugal
Contact: +351 282 460 280
Unique Amenity: US$100 food & beverage credit to be used during your stay
With a bold design and direct access to a private beach, Bela Vista Hotel & Spa is a prime example of just why Portimao is renowned as one of the foremost luxury destinations on the Algarve. Join the hotel's chef for an excursion to a nearby oyster farm or explore the small fishing village of Alvor. A stay here is as much a culinary experience as it is one of unparalleled pampering.
---
16. Amanzoe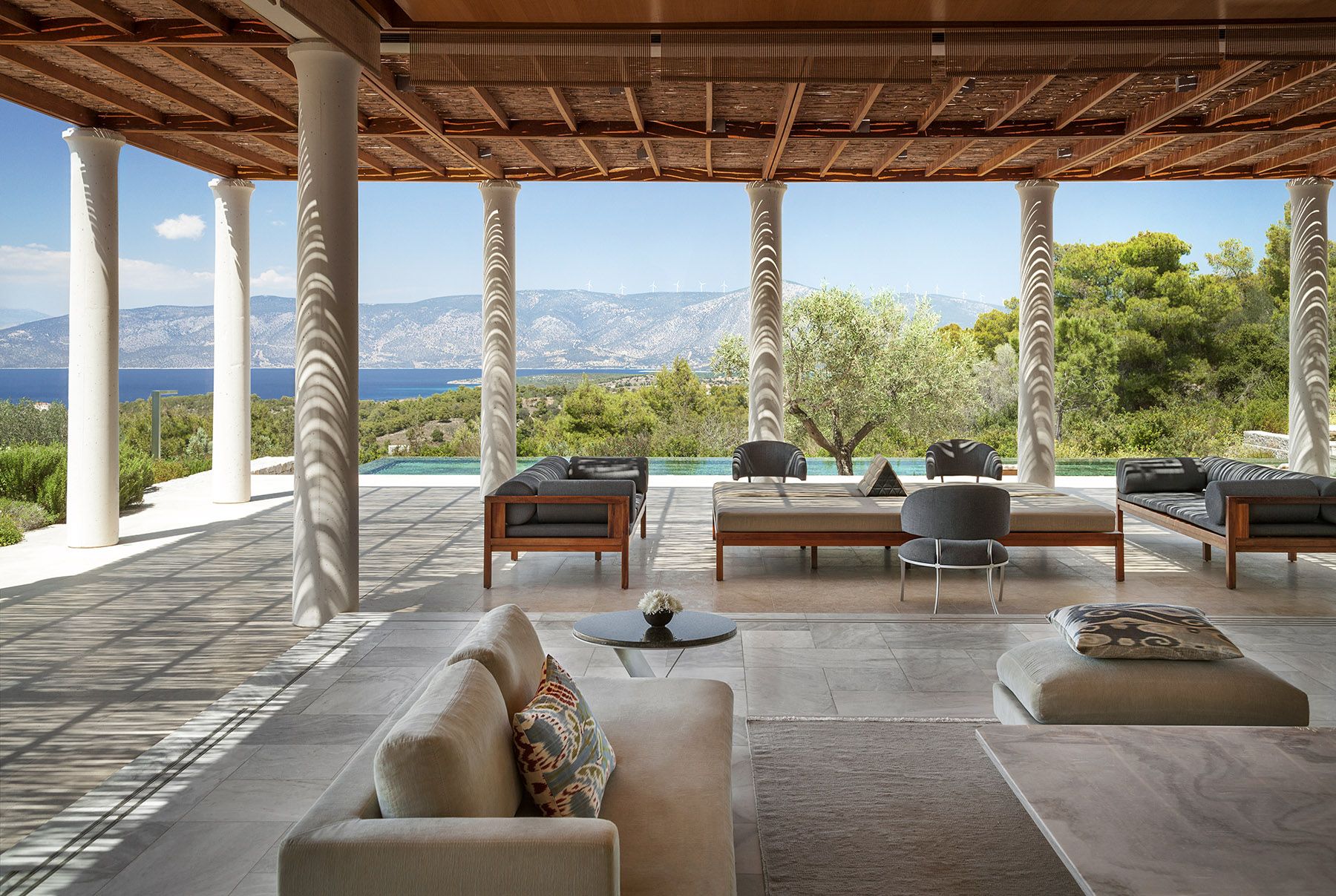 Location: Argolida, Greece
Contact: +30 2754 772888
Unique Amenity: US$100 property credit to be used during your stay
You might not get to the historic amphitheatres and monasteries that sit close by the iconic Amanzoe. It'd be hard to leave such a heavenly property, which is framed by classic Greek architecture overlooking the immaculate stillness of the Aegean Sea. Resting on the east coast of the Peloponnese, this modern acropolis has 52 suites and villas, peppered between stone-walled courtyards and beach cabanas. It's the idyllic Greek holiday, firmly planted in the upper echelon of the world's most sought-after accommodations.
---
17. Danai Beach Resort & Villas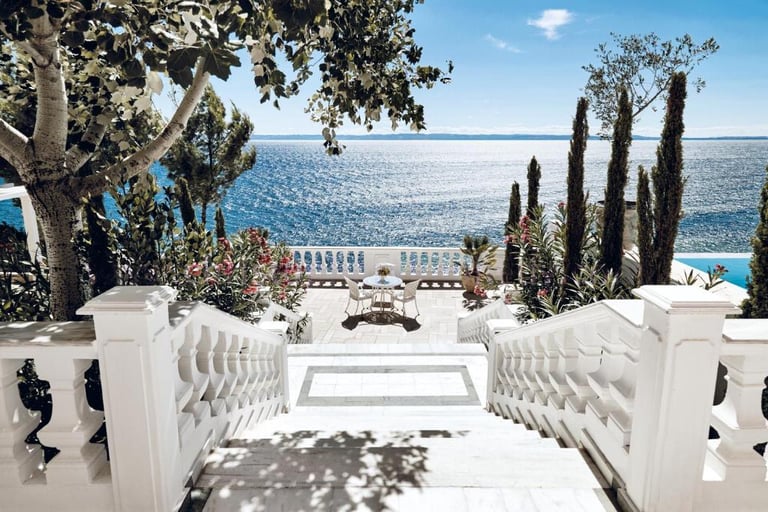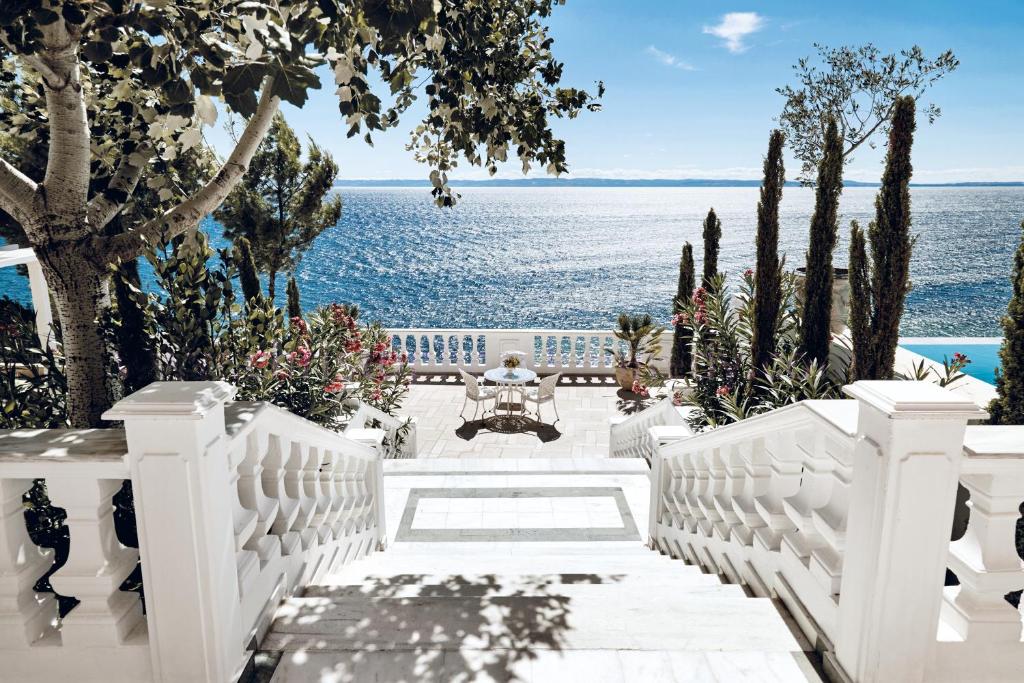 Location: Nikiti, Greece
Contact: +30 2375 020400
Unique Amenity: US$100 property credit to be used during your stay
This blissful seaside haven in Nikiti is not just for soaking in one of the best perspectives of the Aegean Sea imaginable. Danai Beach Resorts & Villas is also a very active, adventure-packed stay with a variety of on-site activities for guests like windsurfing, tennis, hiking and paddleboarding. With 62 suites and villas, there's plenty of downtime to be had after a day packed with adrenaline, best served by the property's massive wine bar and four of the area's best restaurants.
---
18. Schloss Elmau Luxury Spa & Retreat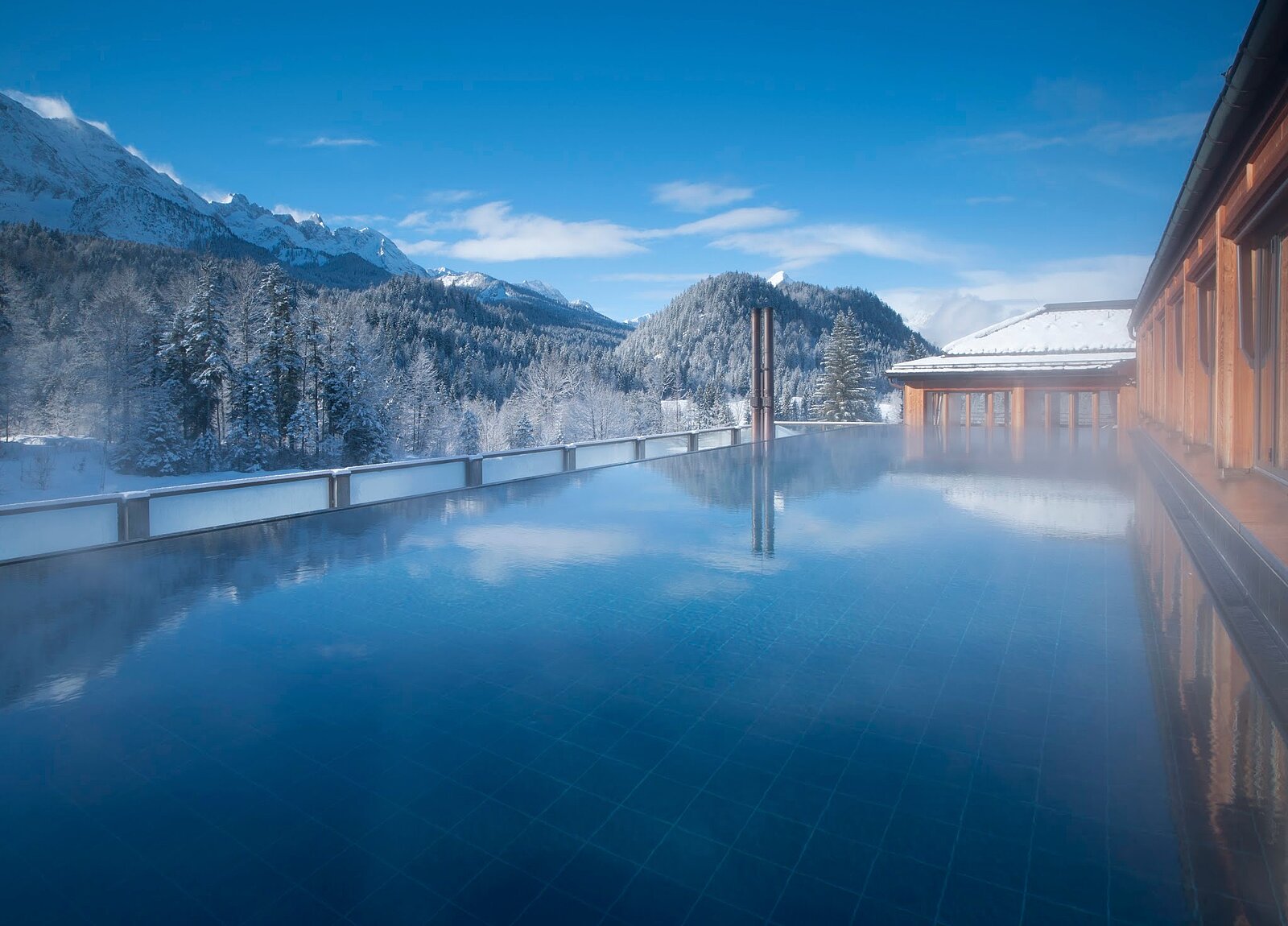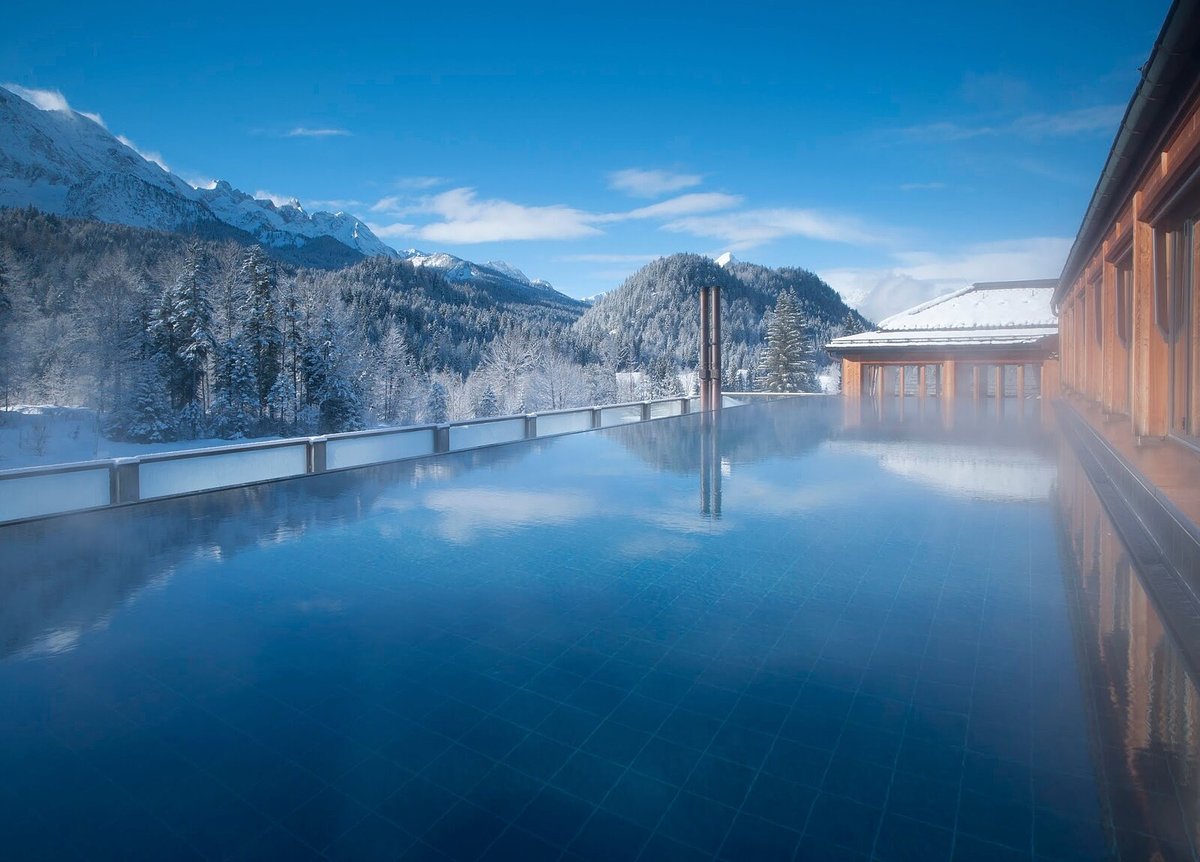 Location: Elmau, Germany
Contact: +49 8823 180
Unique Amenity: US$125 property credit to be used during your stay
With enough scope for six spas, multiple restaurants, a bookstore and even a concert hall, Schloss Elmau is the cultural focal point of the Bavarian Alps. The expansive luxury spa and retreat draws guests and locals in with regular live jazz, music concerts and author readings. And while locals have long admired the property, its guests get the whole experience with 162 rooms and suites split across two luxury hotels, unified by amenities like the Japanese onsen and award-winning French-Japanese restaurant Luce d'Oro.
---
19. De L'Europe Amsterdam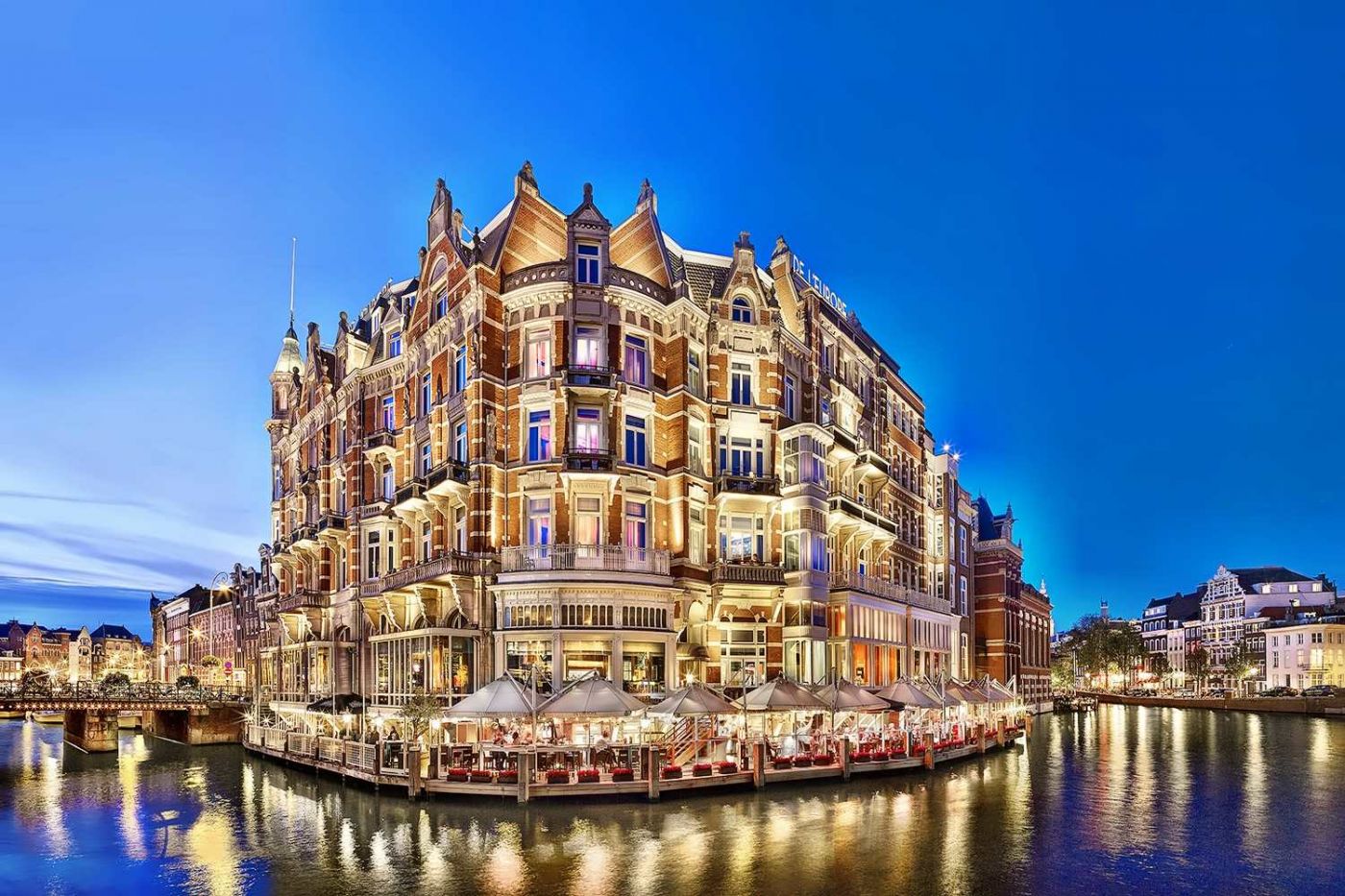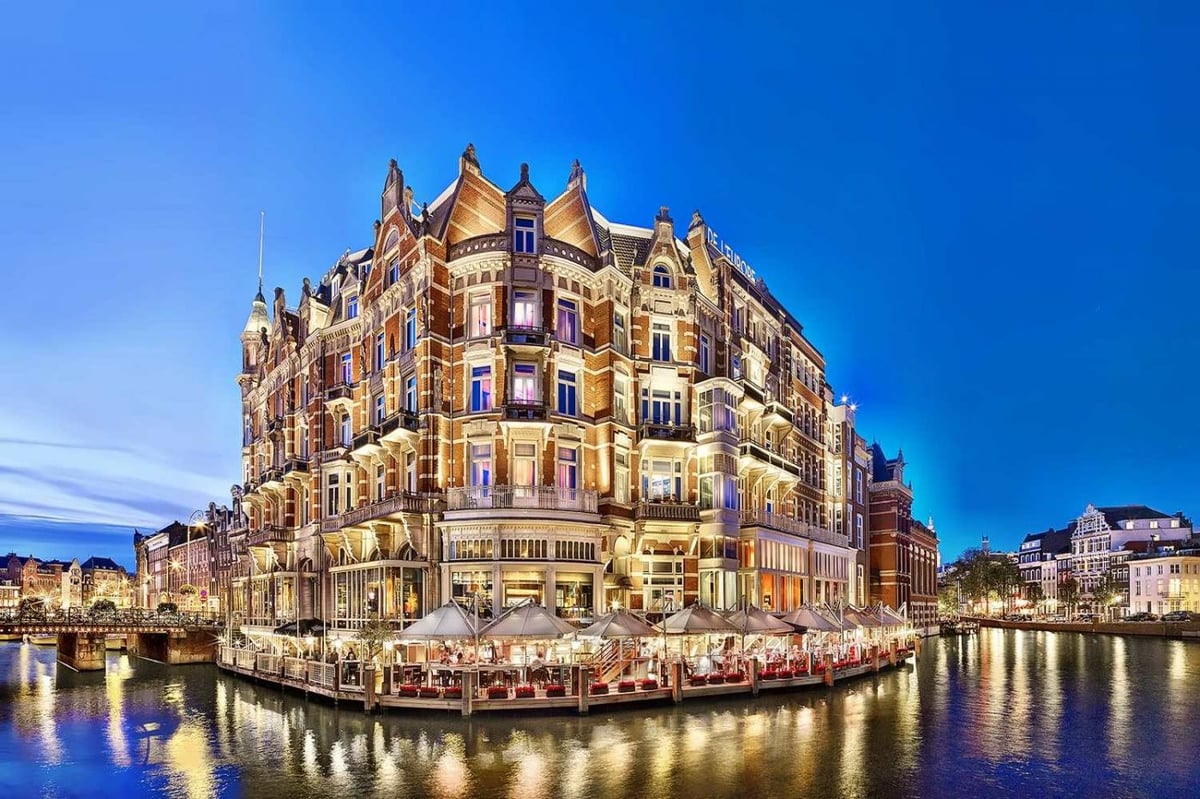 Location: Amsterdam, Netherlands
Contact: +31 20 531 1777
Unique Amenity: US$100 food & beverage credit to be used during your stay
Dating back to 1896, De L'Europe is the most iconic hotel in Amsterdam and is widely considered a grand dame for Europe. Built on the city walls' foundation, no other building offers such a palpable sense of Amsterdam's long and complicated history. Despite its size, the hotel only has 97 appointed room – 48 of which are suites – and a high staff-to-guest ratio, ensuring unparalleled service so all you have to do is relax and admire the elegant design, enjoy some dinner at Flore, the in-house Michelin-starred restaurant, and treat yourself to some time at Le Spa by Skins.
---
20. Hotel Splendide Royale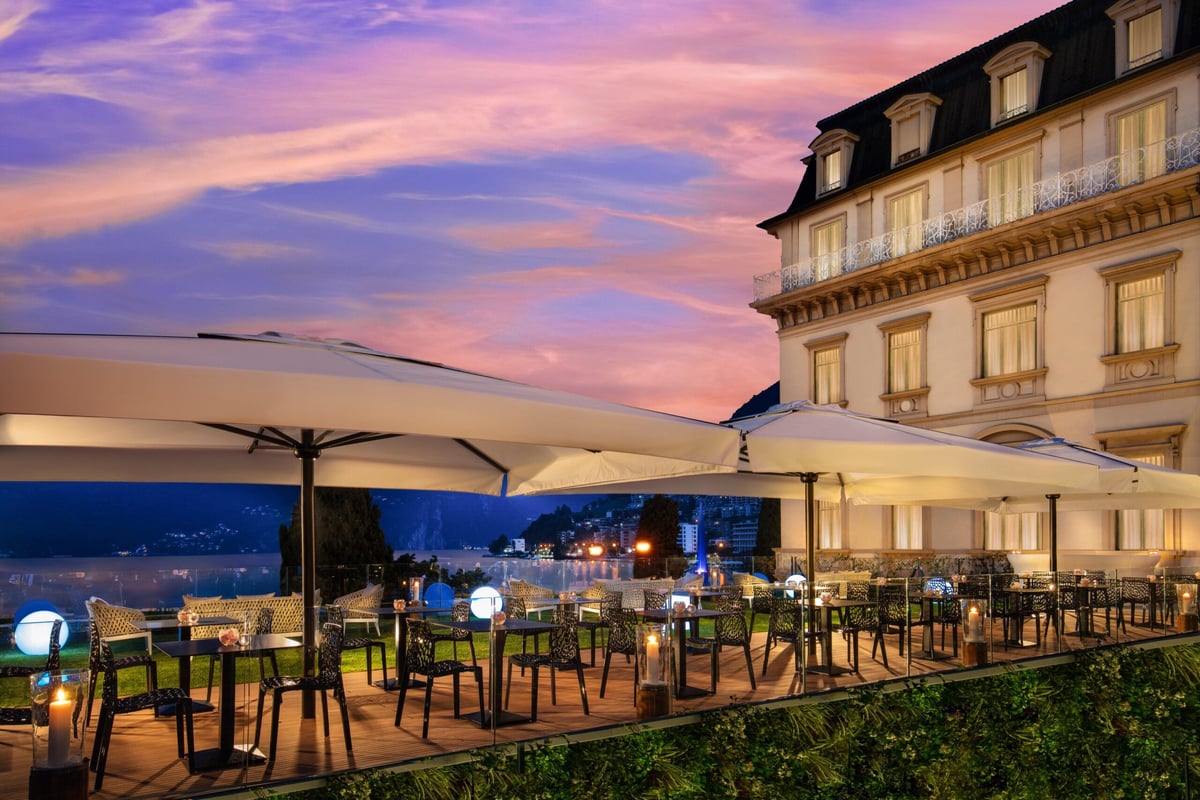 Location: Lugano, Switzerland
Contact: +39 06 421689
Unique Amenity: US$100 food & beverage credit to spend during your stay
You'll find this historic Belle Epoque palace on the pristine shores of Lake Lugano. With a cinematic view of the Alps, this sensitive restoration of a 19th-century monastery captures the brilliance of Switzerland's splendid luxury scene. If you're set on making the most of your stay, make sure to charter a boat and take a romantic cruise across the lake or, instead, think bigger and ride the funicular to the top of Monte San Salvatore for life-changing views.
---
21. Alpina Dolomites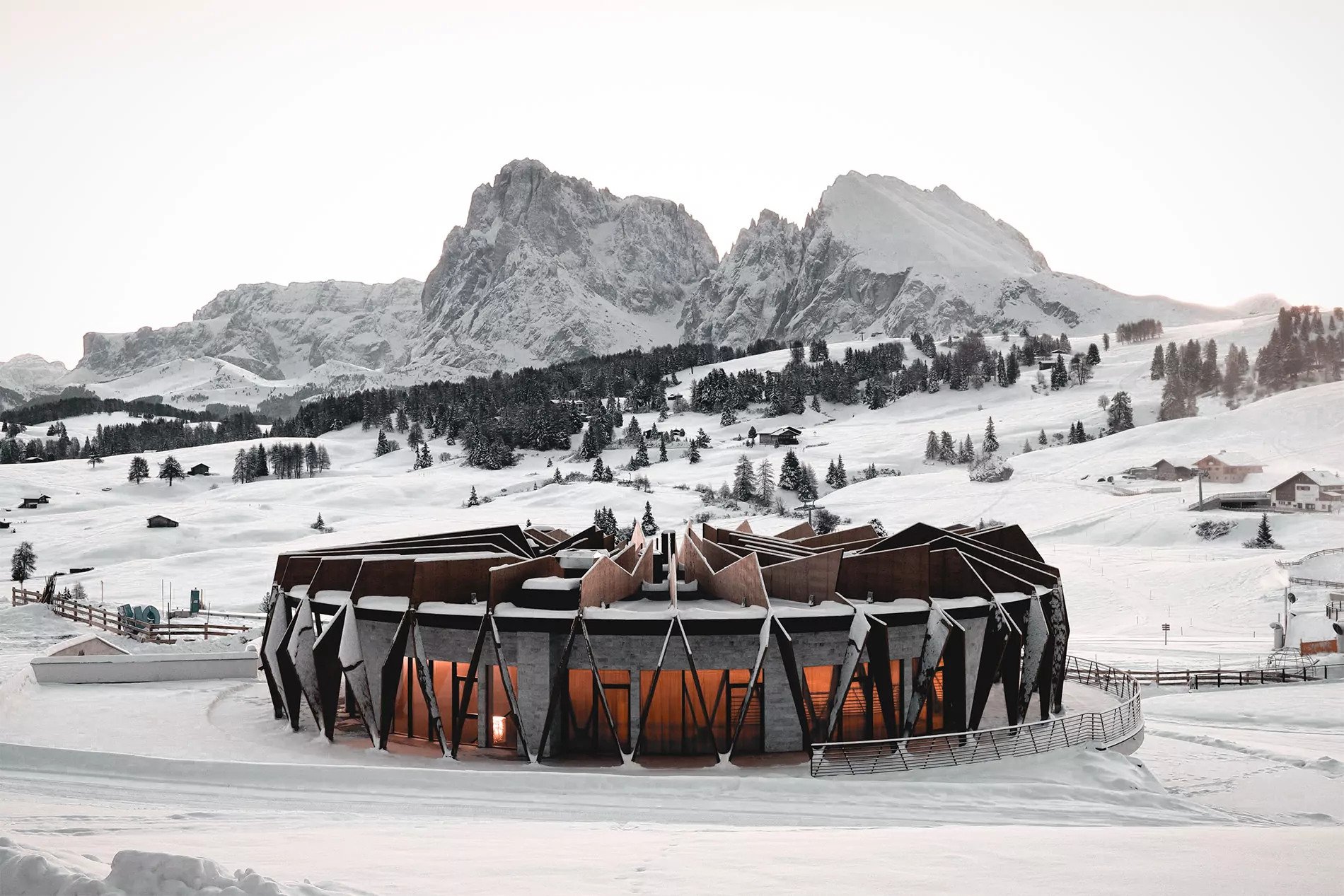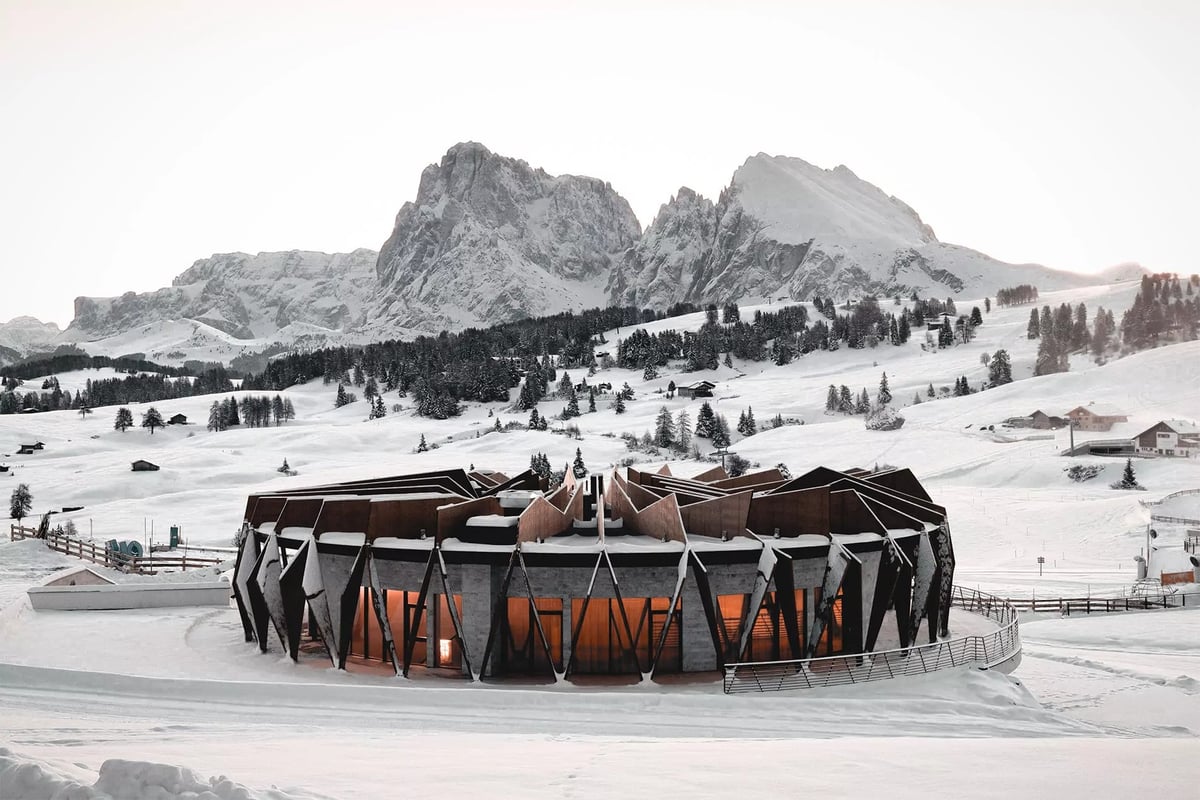 Location: Alpe di Siusi, Italy
Contact: +39 0471 796004
Unique Amenity: US$100 spa services credit to be used during your stay
Alpina is an ultramodern boutique chalet with ski-in, ski-out access in one of the world's most majestic destinations. Powered by jaw-dropping views of the toothy Dolomites, this high-altitude property is built of wood, stone and glass on Alpe di Suisu, sporting a unique design that's richly detailed with a strong wellness offering. The Dolomites is known far and wide for life-affirming stays like this so it pays dividends to take advantage of all the many treatments on offer from The Alpina Spa. That, or you can just venture on out to the meadow during summer to enjoy a spot of golf at the nearby 18-hole course.
---
22. Rosewood Vienna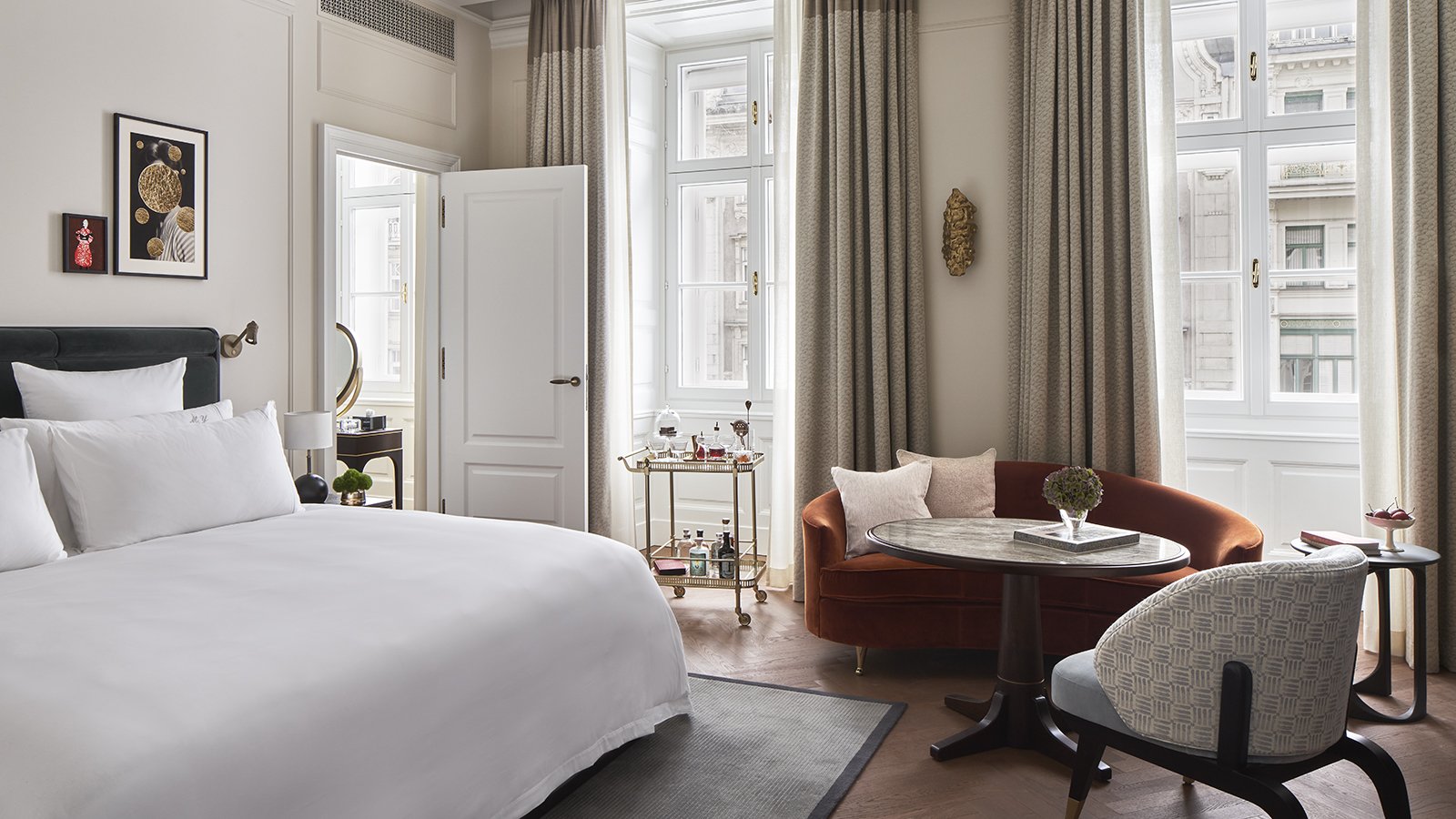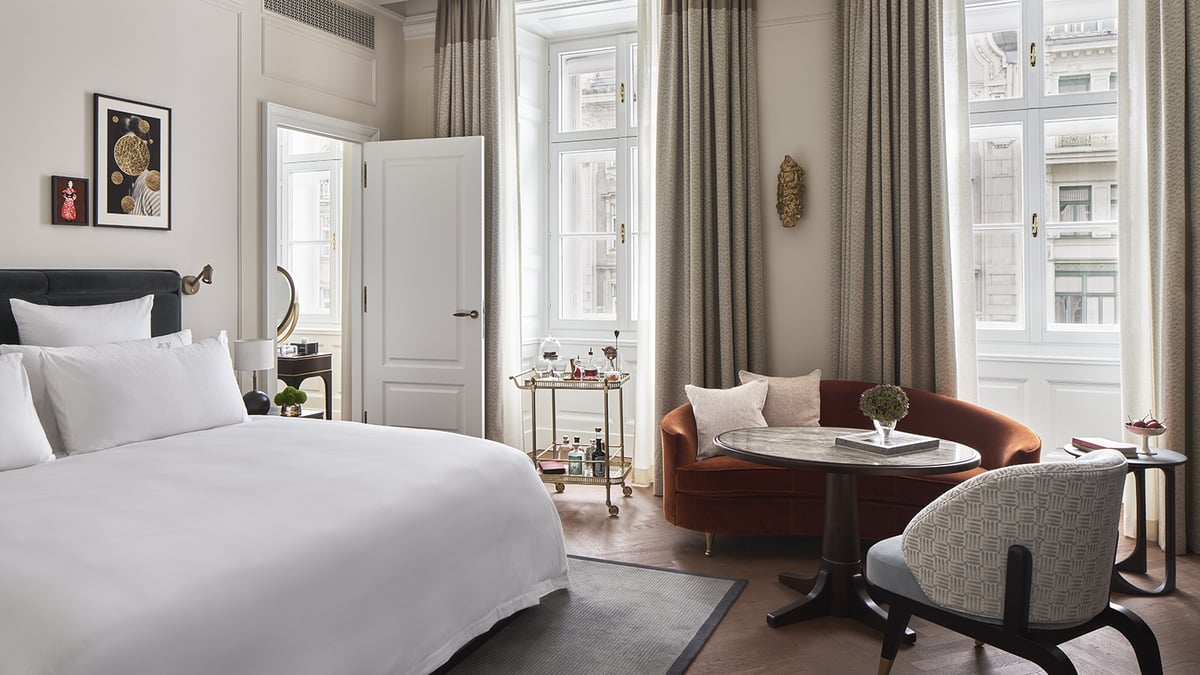 Location: Vienna, Australia
Contact: +43 1 7999888
Unique Amenity: US$100 food & beverage credit to be used during your stay
With only 99 rooms generously spread across this palatial 19th-century building in the heart of Vienna, this beautiful expression of the Rosewood brand is nothing short of spectacular. Viennese elegance is threaded throughout the entire property, from the parquet flooring and locally handcrafted furniture to the lavish marble bathrooms. You're only steps away from Vienna's storied Old Town, best viewed from above at the hotel's ritzy Neue Hoheit Brasserie, a seventh-floor rooftop bar with sweeping views of the city.
---
23. Burg Vital Resort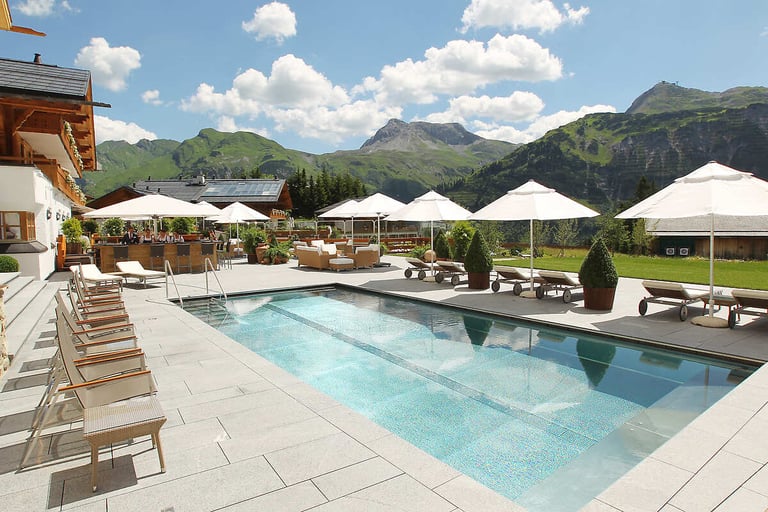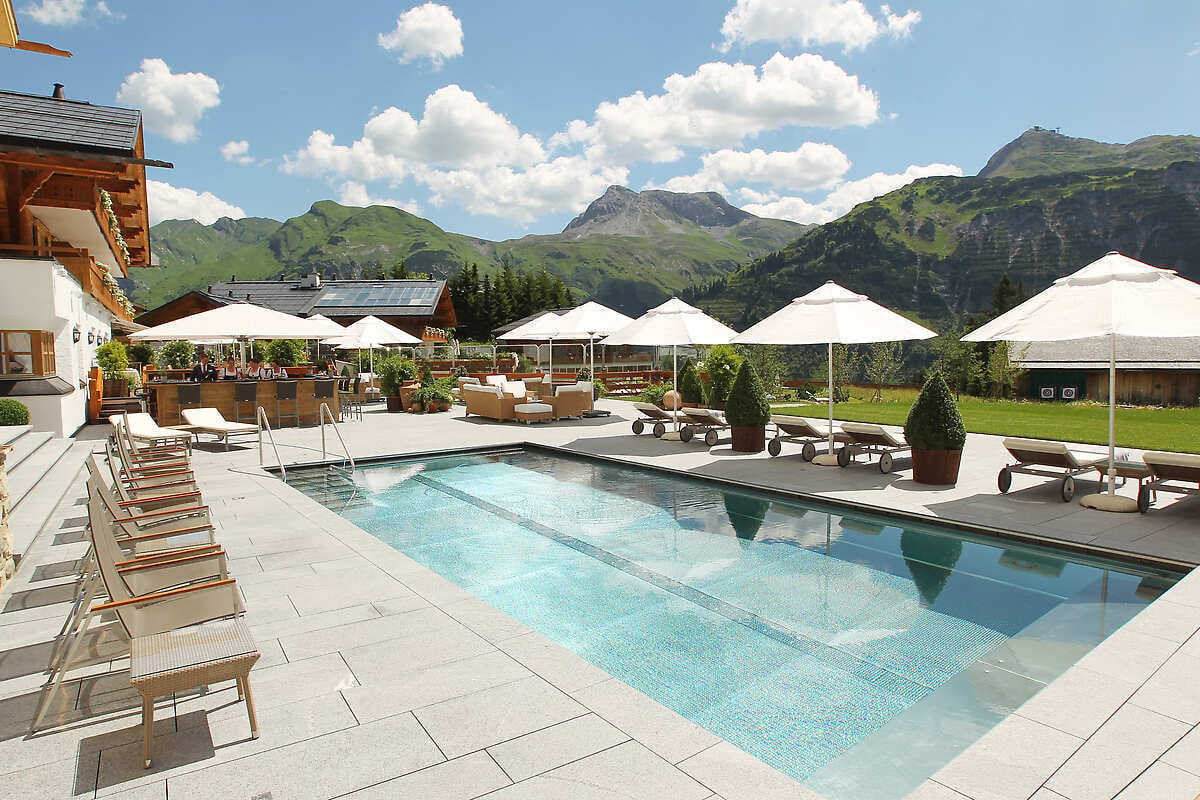 Location: Lech, Austria
Contact: +43 5583 3140
Unique Amenity: US$100 spa services credit to be used during your stay
This scenic alpine escape is buried deep in the heart of Western Austria, sitting atop the awe-inspiring Alberg range. With an intimate 62 guestrooms and suites, privacy is not hard to find, whether you're sipping on a fireside cocktail at the Chimney Bar & Lounge or hiding away in the low-intensity tepidarium at vitalSPA. Don't miss dinner at Griggler Stuba, with the kitchen working up a seasonal menu elevated by locally grown herbs.
---
24. d'Angleterre Copenhagen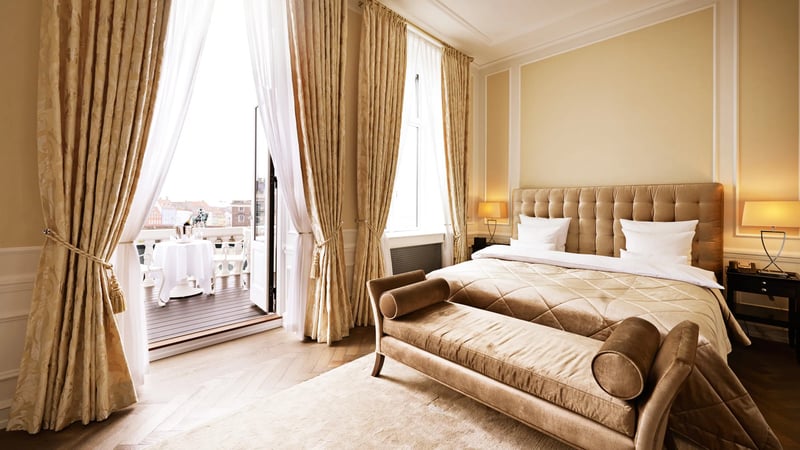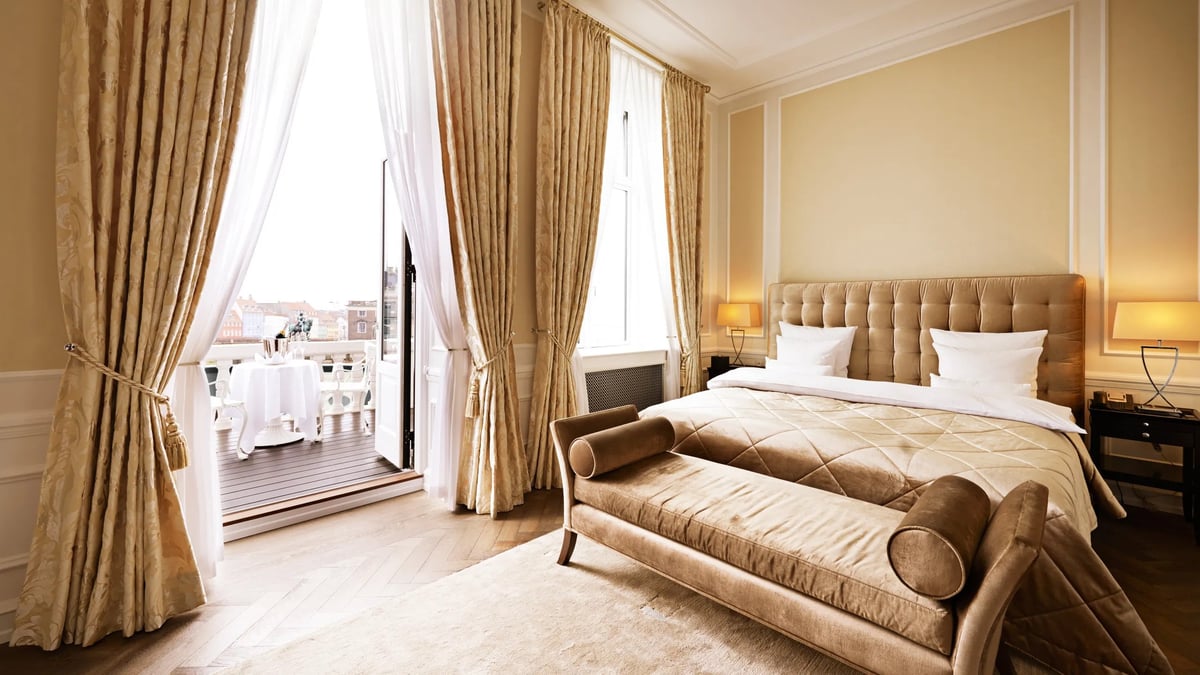 Location: Copenhagen, Denmark
Contact: +45 33 12 00 95
Unique Amenity: US$100 food & beverage credit to be used during your stay
From the magnificent grand staircase spanning six floors to the grand ballroom with its opulent if-these-walls-could-talk atmosphere, d'Angleterre is Copenhagen's ultimate destination. Bang in the heart of the city, the 92-room hotel operates with a keen sense of history with a heritage dating back to 1755. A nightcap in Copenhagen's first Champagne bar, the ritzy Balthazar, is essential for all guests, as is dinner at the award-winning Marchal where modern French is given a Nordic twist.
---
25. The EDITION Reykjavik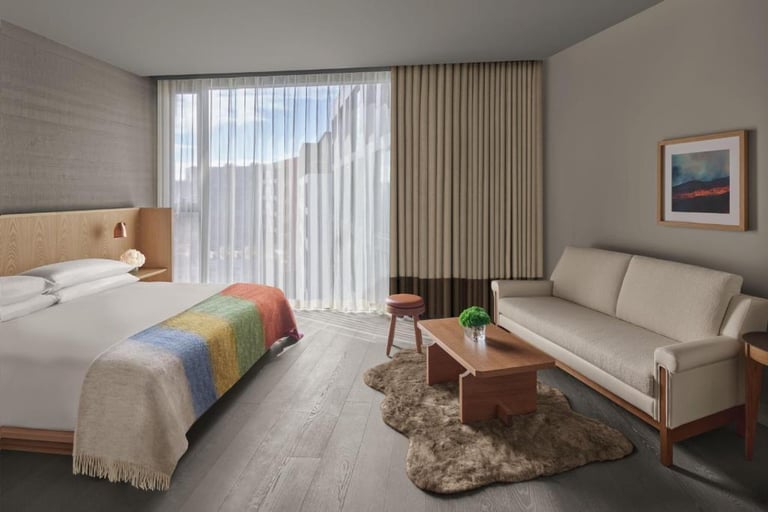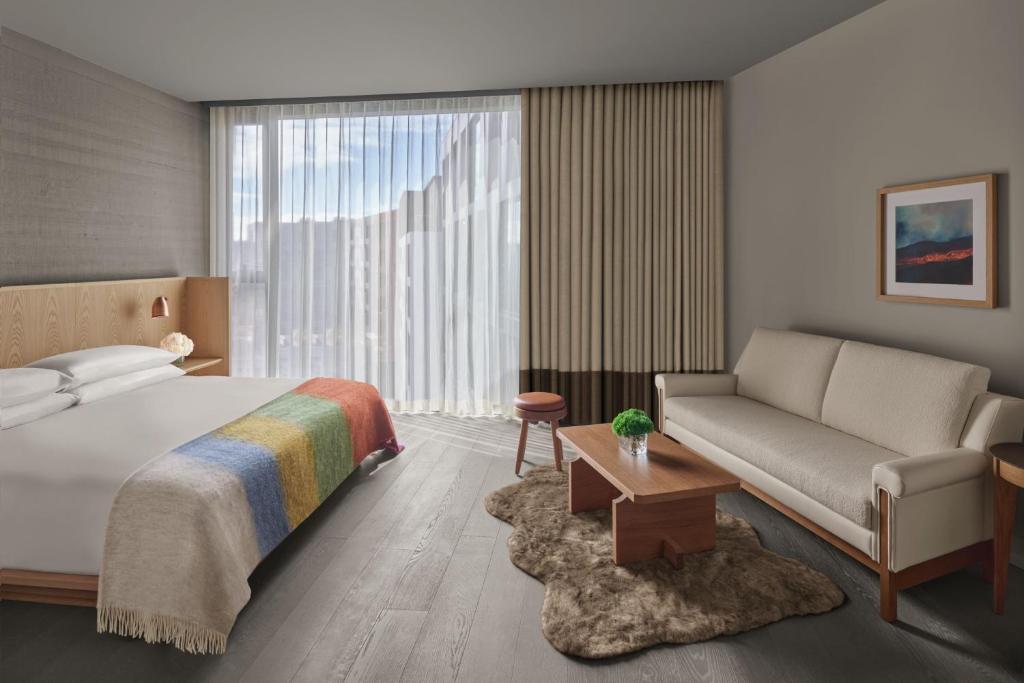 Location: Reykjavik, Iceland
Contact: +354 582 0000
Unique Amenity: US$100 food & beverage credit to be used during your stay
Grounded by spectacular glacial views scanning the Icelandic capital's reposeful harbour, the EDITION Reykjavik is the city's five five-star hotel and, much like the rest of the country, feels like a dream. Set alongside the Old Harbor port, the 253-room hotel feels like a cosy getaway from Iceland's mercurial weather, which makes the ambitious EDITION Spa all the more tempting with its thermal plunge pool and land-inspired treatments. Guests aren't far from the iconic Harpa Concert Hall so it's always worth seeing what's on during your visit.
---
26. Four Seasons Istanbul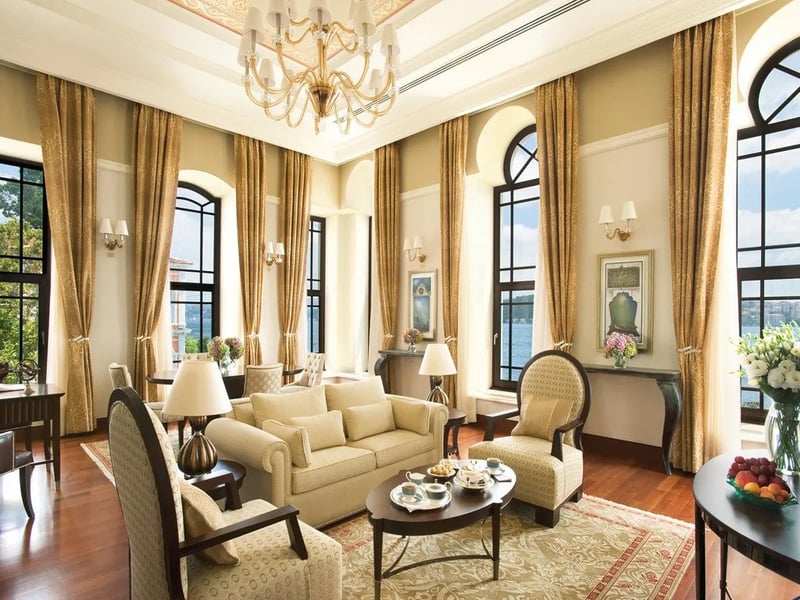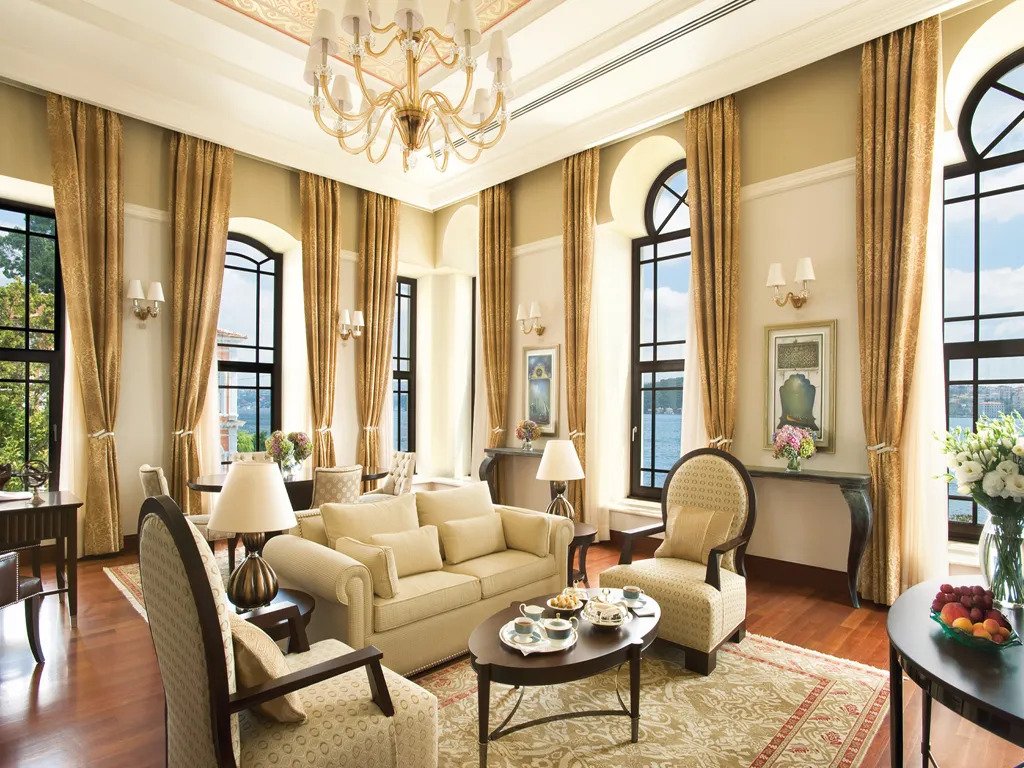 Location: Istanbul, Turkey
Contact: +90 212 381 40 00
Unique Amenity: US$100 property credit to be used during your stay
Perfectly postured along the European bank of the Bosphorus, Four Seasons Istanbul is one of the Turkish city's true Neoclassical icons. This renovated 19th-century Ottoman palace and former prison runs deep alongside the city's history. Between the grand marble pillars, pinched arches and dramatic domes, you'll find the perfect blend of character and contemporary luxury throughout this exclusive 65-room hotel.
---
27. Argos Cappadocia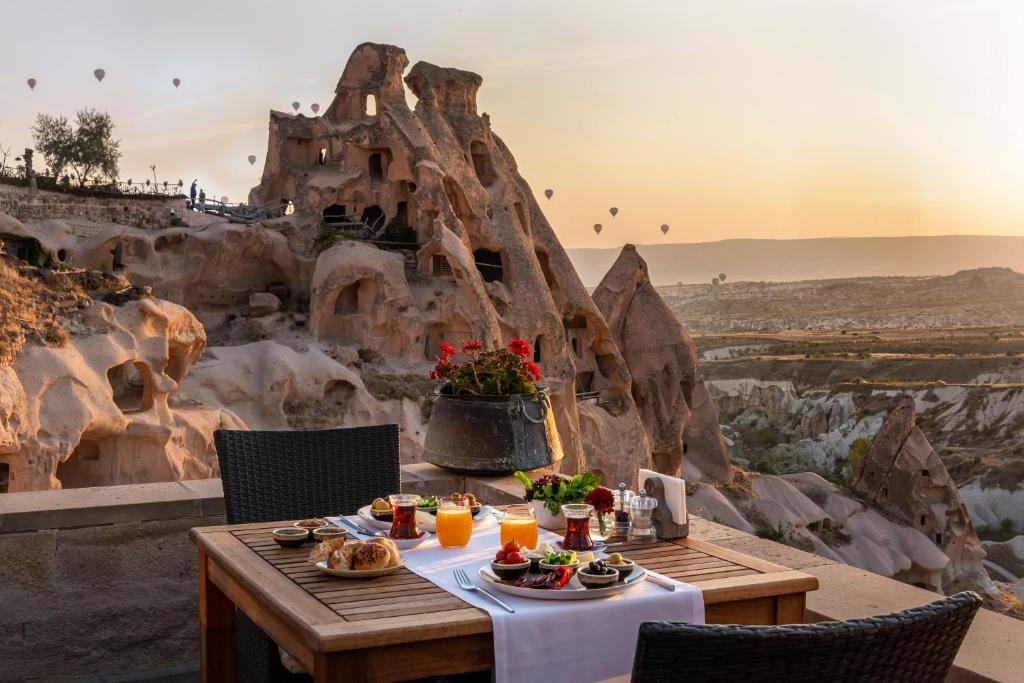 Location: Uchisar, Turkey
Contact: +90 384 219 31 30
Unique Amenity: A complimentary lunch or dinner, for two people per room excluding alcoholic beverages, taxes and gratuities, once during your stay
Located high above the ancient village of Uchisar, Argos offers the very best of luxury living in Cappadocia. The massive site is a former thousand-year-old monastery, built into a complex system of historic dwellings, underground tunnels and caves, all of which have been completely transformed into a unique 51-room hotel. From cocktails at Seki Lounge to iconic hot air balloon rides over the city, a stay here is the ultimate way to experience one of Europe's most fascinating and visually stunning destinations.
---
28. Iniala Harbour Hotel & Residences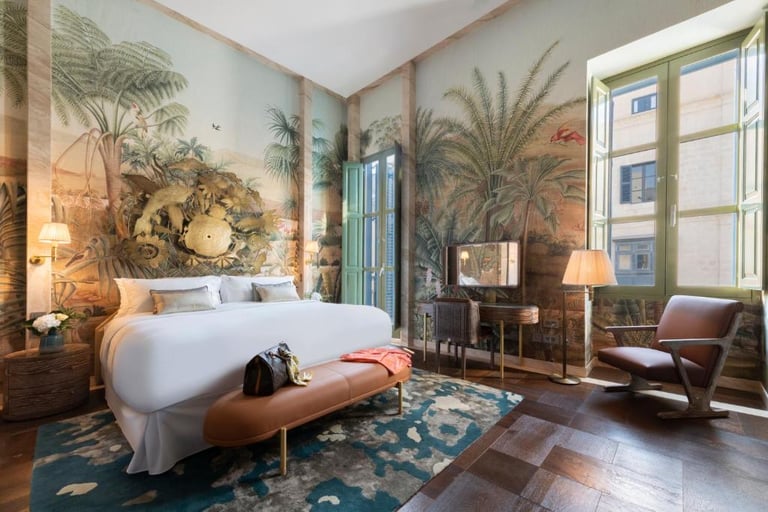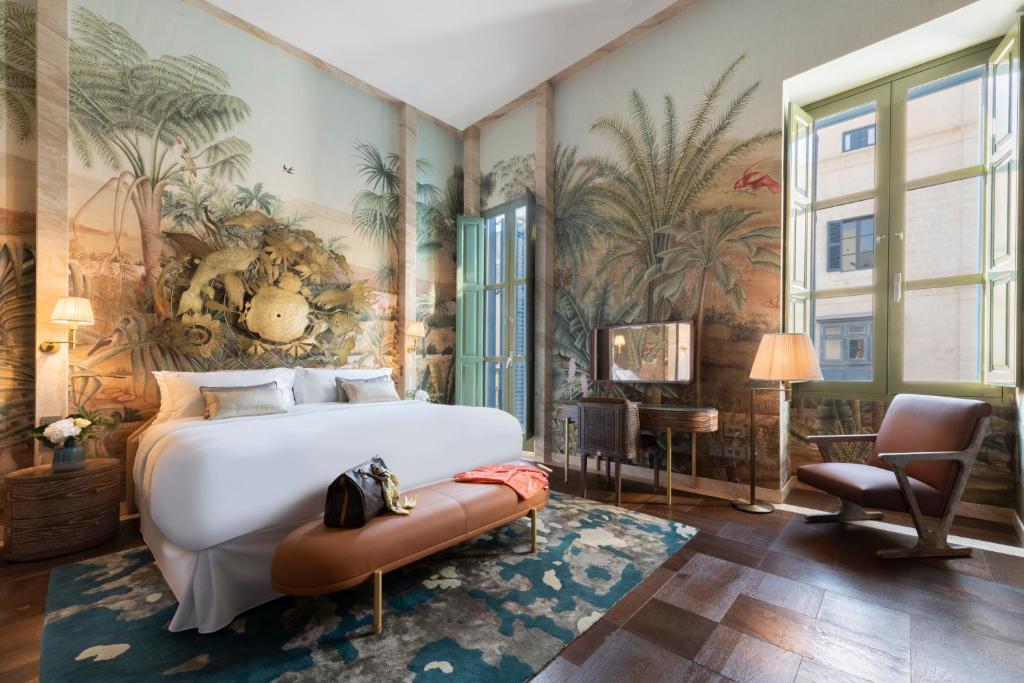 Location: Valletta, Malta
Contact: +356 2166 1111
Unique Amenity: A complimentary 50-minute massage, for two people per room, once during your stay
Four 17th-century townhouses in Malta have been tastefully transformed into a stylish 23-suite property offering an ideal lifestyle just a stone's throw from Quarry Wharf. That gentle, minimal touch you'll find throughout Iniala reflects the calm of this underrated island, flecked with history with original features like ancient stone vaults and a sightly painted staircase. Layer on a grand sense of luxury and you've got Malta's best hotel, which also owns a private 44-foot yacht that guests can use to explore their surrounds.
---
29. One&Only Portonovi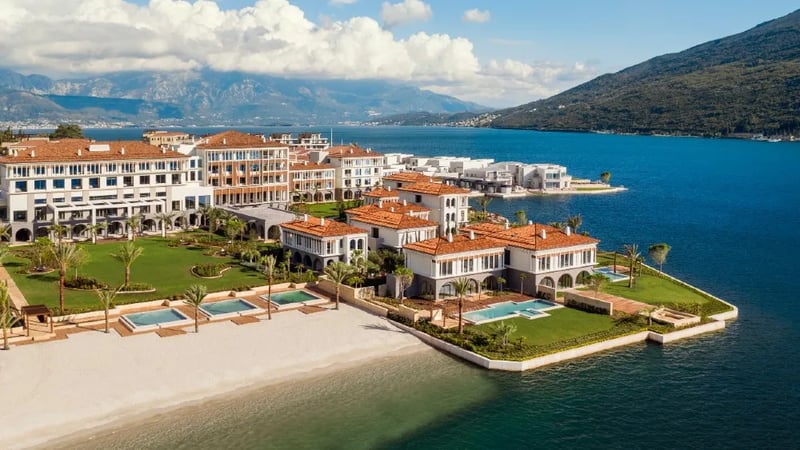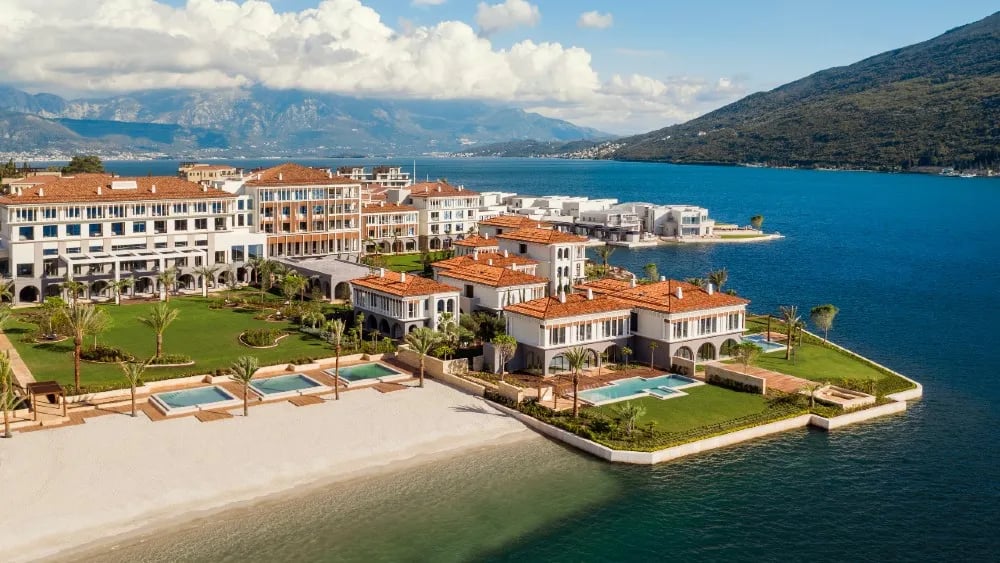 Location: Herceg Novi, Montenegro
Contact: +382 31 691 001
Unique Amenity: US$100 property credit to be used during your stay
Positioned at the entrance of Boka Bay, One&Only Portonovi is surrounded by dramatic forest views and historic villages. It's about as high-end as you can get in beautiful Montenegro, channelling One&Only's strong reputation for wellness-focused luxury accommodation into an inspired resort that's nothing short of life-changing. The workhorse of the entire resort is the Chenot Espace wellness centre, where detox programs are customised for guests along with massages, aromatherapy, mud treatments and other research-based ways to give guests a genuinely transformative stay.
---
30. Grand Hotel Timeo, Taormina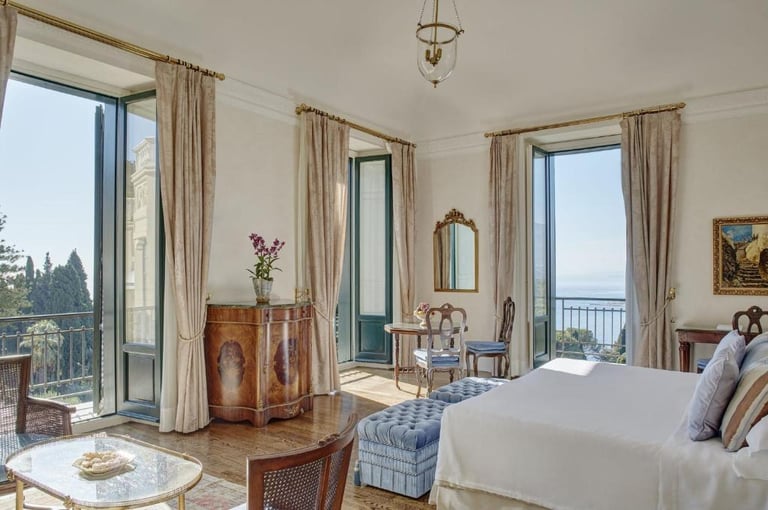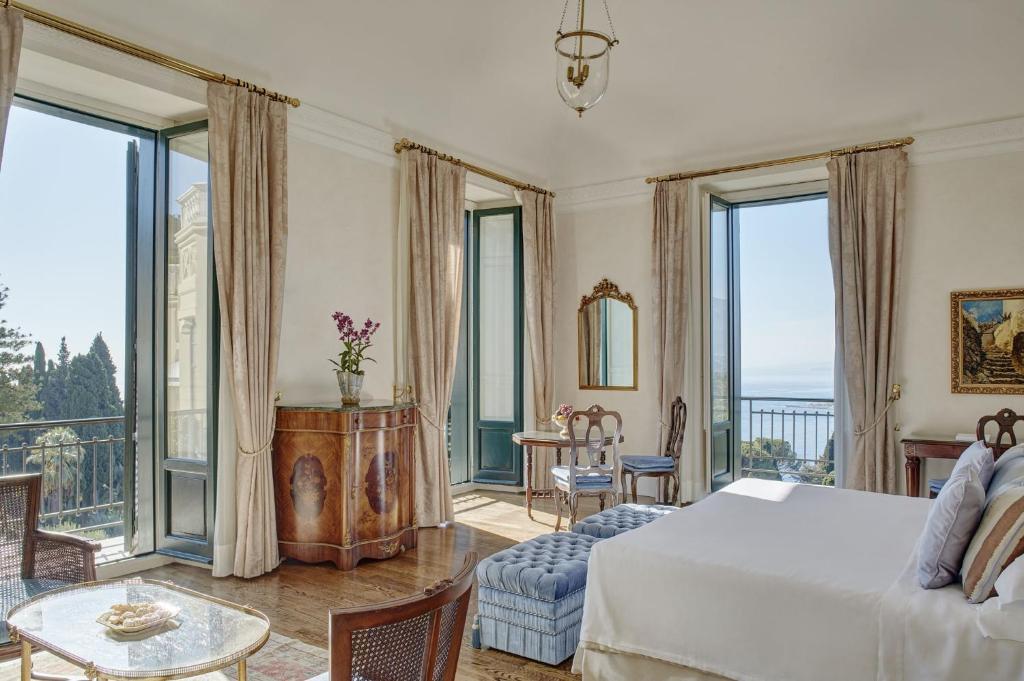 Location: Taormina, Italy
Contact: +39 0942 627 0200
Unique Amenity: US$100 food and beverage credit to be used during your stay
The serene clifftop gardens of Grand Hotel Timeo has been inspired luxury travellers for over 150 years. Elevated by dramatic views of Mount Etna and Naxos Bay, the hotel boasts 70 Italian Baroque-styled rooms and suites, twisting classic Sicilian styling with gentle flourishes of contemporary luxury. This Belmond hotel is one of the country's finest, from the marble bathrooms to the award-winning 16-seat restaurant Otto Geleng.
---
31. Anantara Palazzo Naiadi Rome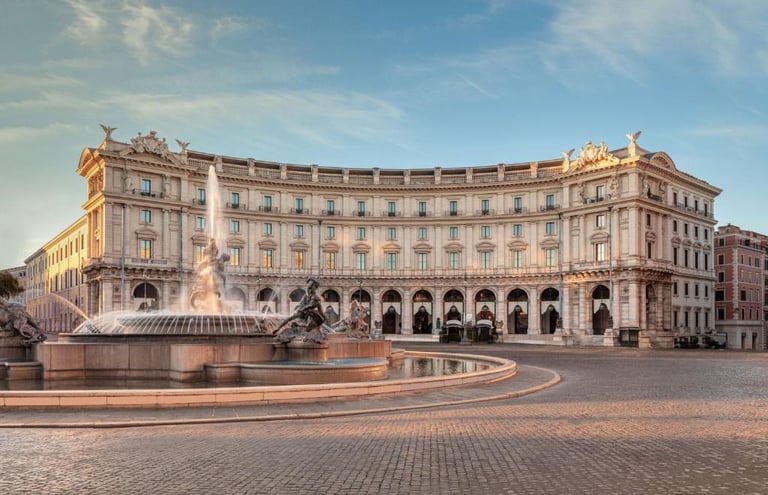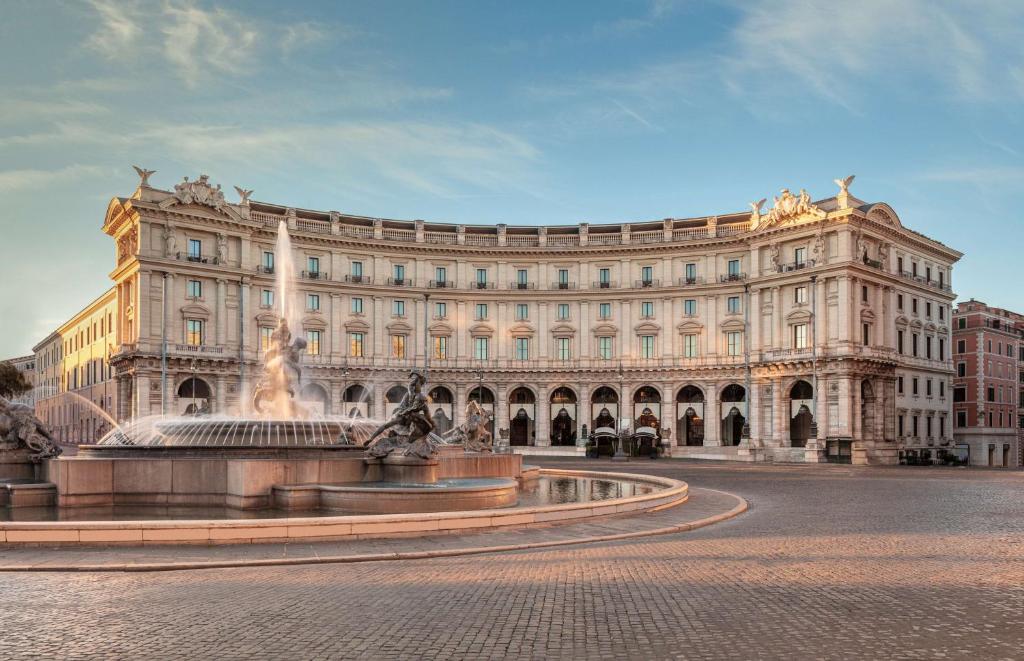 Location: Rome, Italy
Contact: +39 06 489381
Unique Amenity: US$100 food & beverage credit to be used during your stay
Located in the Piazza della Repubblica, one of the most impressive Anantara properties in the world is now shaped into this historic 19th-century marble palace. With easy access to the Diocletian Thermal Baths, the location couldn't be more ideal for visitors to the Eternal City. Inside, you'll find a highly ornate two-story lobby, a rooftop plunge pool and the worldly INEO, drawing on cuisines from around the world. Those reaching for the higher-end experience should book one of the Neoclassical Presidential apartments, which are tastefully designed with shades of green and gold.
---
What Is The Hotel Collection?
The Hotel Collection3 is a premium selection of some of the world's finest hotels. While you've seen our selection from Amex's Fine Hotels + Resorts collection above, you should also be paying attention to this additional series which typically features hotels that are still premium yet more accessible and generally boutique in scale.
Perks available at participating properties in The Hotel Collection vary, but similar game-changing perks such as 'experience credits' as well as room upgrades (for a minimum consecutive two-night stay) are possible if strategically found and booked by the savvy American Express Card Member.
What Can You Book On Amex Travel?
Just because a property isn't listed as part of the Fine Hotels + Resorts or The Hotel Collection programs, doesn't mean you can't book it on Amex Travel. American Express' booking platform is wide-reaching and well-curated when it comes to thousands and thousands of the world's hotels and experiences. It's wise to keep your trip planning in the same ecosystem by using Amex Travel to build your next adventure, giving you access to benefits that you wouldn't otherwise have if you booked elsewhere.
---
Discover all the perks and benefits of the American Express Platinum Card below.
For the full breakdown of the Terms & Conditions, click here.