Tom Brady has made a career out of doubling down his efforts for the best possible results. The New England Patriots quarterback, five-time Super Bowl champion, four-time Super Bowl MVP, and three-time NFL MVP remains winning to this day, despite being at the tender old age of forty. Not exactly ripe for retirement as with us regular folk, but put it into the terms of a pro athlete and it's practically dog years. So how exactly has he done it? What makes the sixth round draft pick tick? What fires up old mate Brady's engines?
The secret, much like all our mothers insisted when we were younger, is a rigorous bit of exercise and a healthy plate of something every single day. Healthy living down to the capital T.
Here's everything Tom Brady eats and drinks on an average day to remain a champion player, and one of the most valuable quarterbacks in NFL history.
Breakfast…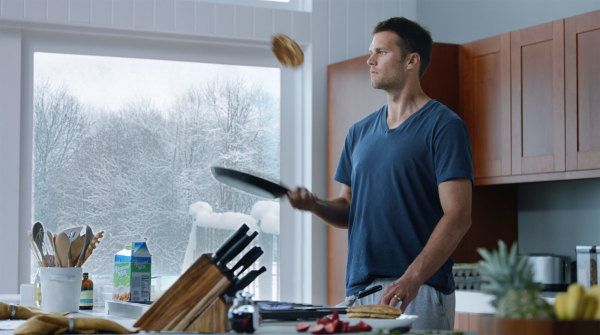 "Immediate" twenty ounce hit of water with electrolytes when he wakes up at 6AM
Hydration is extremely important to Brady, claiming to sink twelve to twenty-five glasses of water a day with TB12 electrolyte concentrate ("I add electrolytes to virtually everything I drink.")
Smoothies, typically containing blueberries, bananas, seeds, and nuts ("Nutrient dense, high in fat, high in protein, and high in calories.")
No coffee or Red Bulls here, obviously
More water with more electrolytes during his morning workout
Protein shakes made with one scoop of his self-branded protein powder, almond milk, and yes, more electrolytes after his morning workout
$50 packs of his own TB12 snacks at 11AM before lunch with a lot of the same nutrients of what he has already consumed– got to put your money/brand where your mouth is
Lunch…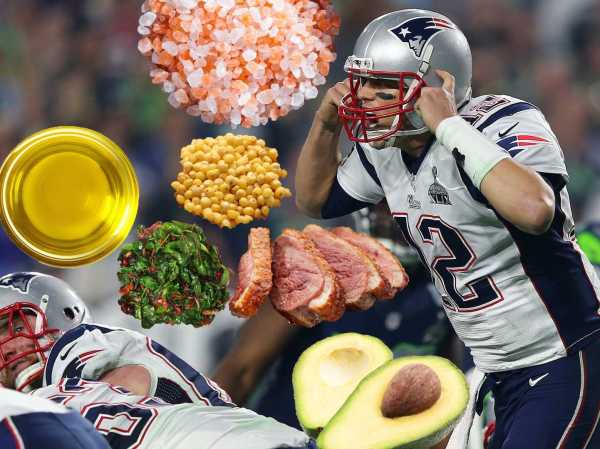 "… A piece of fish, but always with lots of vegetables."
Unromantic, but beats the hell out of a fish and a rice cake…
Brady follows some general principles when mixing and matching with food:
I. Never eat proteins with carbs eg. bread and potatoes,
II. Mixing proteins and carbs with vegetables is "ideal" for digestion ("I make sure most of what I eat is alkalising.)
Brady's "alkaline diet" supposedly minimises muscle inflammation with 80% of his diet being alkalising eg. dandelion greens, Brussels sprouts, sweet potatoes
Some vegetables he avoids for fear of inflammation includes mushrooms, eggplants, tomatoes, and peppers
He tries to limit "acidifying" foods eg. white rice and bread, cold cuts, pineapples, yogurt, etc.
Between 2PM to 5PM, he snack attacks again with more protein shakes, protein bars, or fruits likes apples, bananas, and grapes
Brady's other principle of food combination is to never eat fruit with other food, which he claims to be bad for digestion ("Eat fruits alone… They digest quickly. Other foods don't.")
His principle regarding not drinking much water with meals stands because of a similar reasons ("Drinking water with your meals can interfere with good digestion… Drink water half an hour before a meal, and then wait an hour before you have your next glass.")
Other Brady approved snacks include chips and guac, hummus, raw vegetables, or another protein shake
Dinner…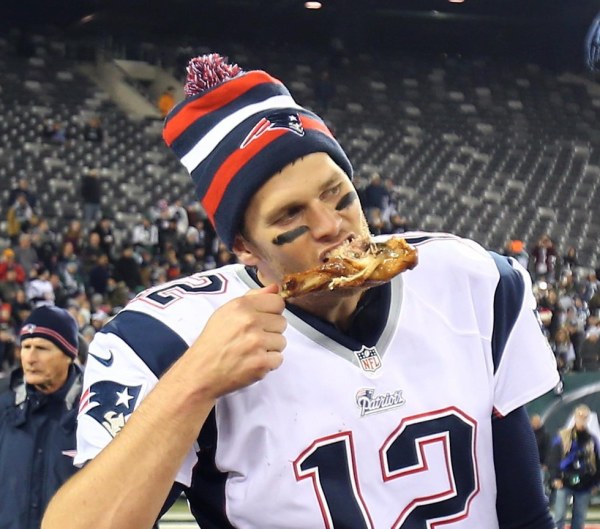 Dinner occurs at 6PM in the Brady household
"… Nutrient-dense [meals]…" with lots of vegetables is the go
Brady doesn't really drink tea or grog, but a cup of bone broth never goes amiss
There's plenty of chicken, duck, grass-fed steak, and wild salmon at the centrepiece of an evening meal here
Some other examples of a T-Bone dinner includes chicken or salmon burgers with a variety of salads with avocados and greens, the rare hit of carbs with creamy brown rice flour pasta, and the rare indulgence of avocado ice cream for dessert (even his desserts are healthy, unbelievable…)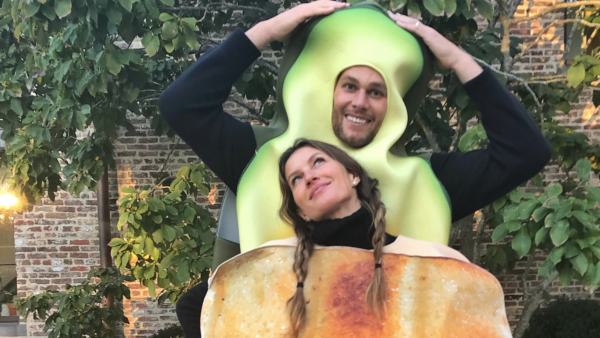 "It's always about balance," says the man himself
Well, it's not the most exciting daily feeds, so surely Brady must get bored… right? Apparently not:
And there you have it.