Sydney's nightlife might be going down the drain as housing prices continue to rise, but one thing you can count on in the Harbour City is the abundance of places to cop a trendy trim. There's no doubt Sydneysiders are all about looking good, especially those who spend their weekends in Bondi, so it's no surprise there are a plethora of high-end barber shops where you can have a beer and a chat while getting a fresh fade. Here's our list of the best barber shops in Sydney.
The Barber Shop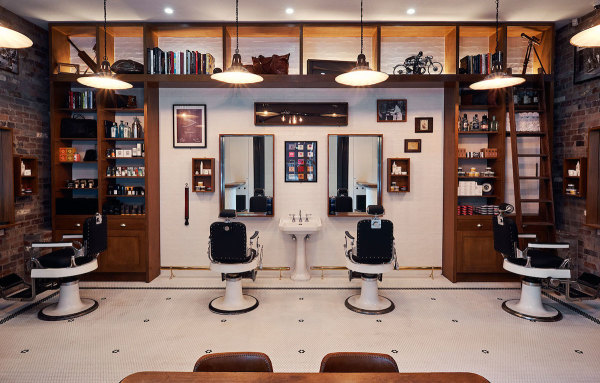 Entering The Barber Shop feels like you've stepped back in time, but there's nothing ancient about the cuts on offer. The team are well versed in what's hot and what's not when it comes to new styles, and also offer a wide range of grooming services. There's an award-winning cocktail bar that's part of the shop front where you can enjoy a variety of alcoholic drinks while snacking on shared plates of spiced chicken or cheese boards.
Location: Shop 3, Barangaroo Ave, Barangaroo
Hours: Mon-Thurs & Sat (4pm-midnight), Fri (3pm-midnight)
Book: thisisthebarbershop.com
Barber Supreme
Nestled into the historic Rocks precinct, Barber Supreme helped establish the foundations for Sydney's bustling barbering scene back in 2012. If you're after a truly personal service, with the most affable chap in the game, Matt is your man. A wash and cut will set you back $70 and be sure to book ahead.  
Location: 31 George St, The Rocks NSW 2000
Hours: Tuesday-Friday (10am-6pm), Sat (10am-3pm)
Book: (02) 8068 0772
The Emporium Barber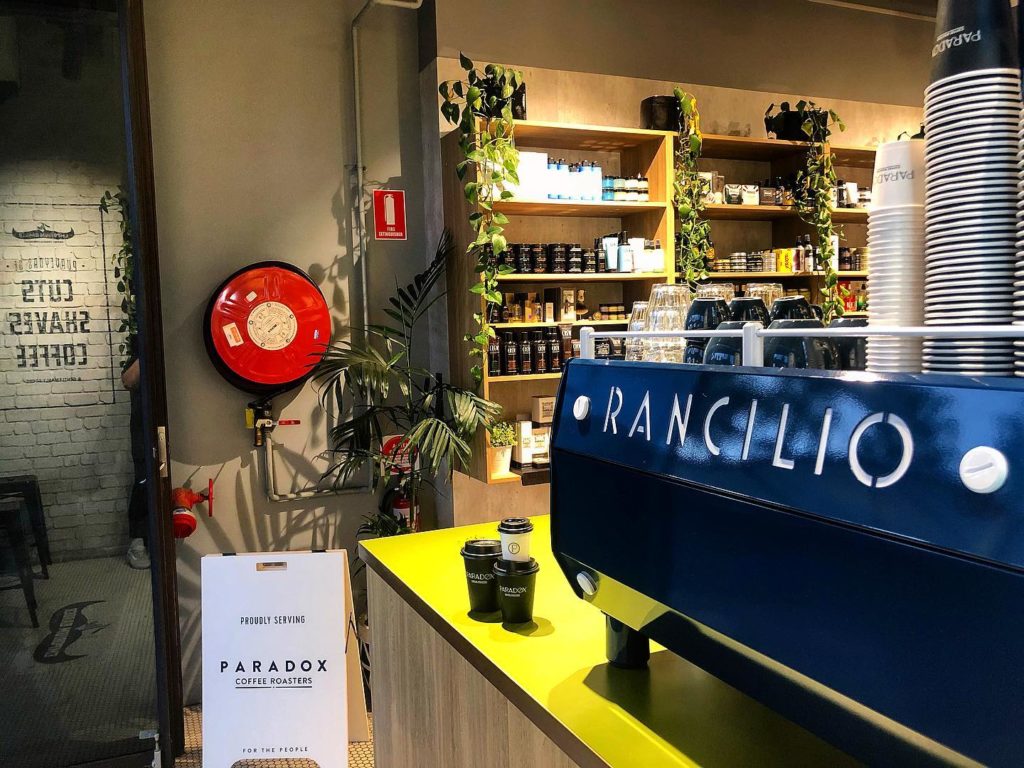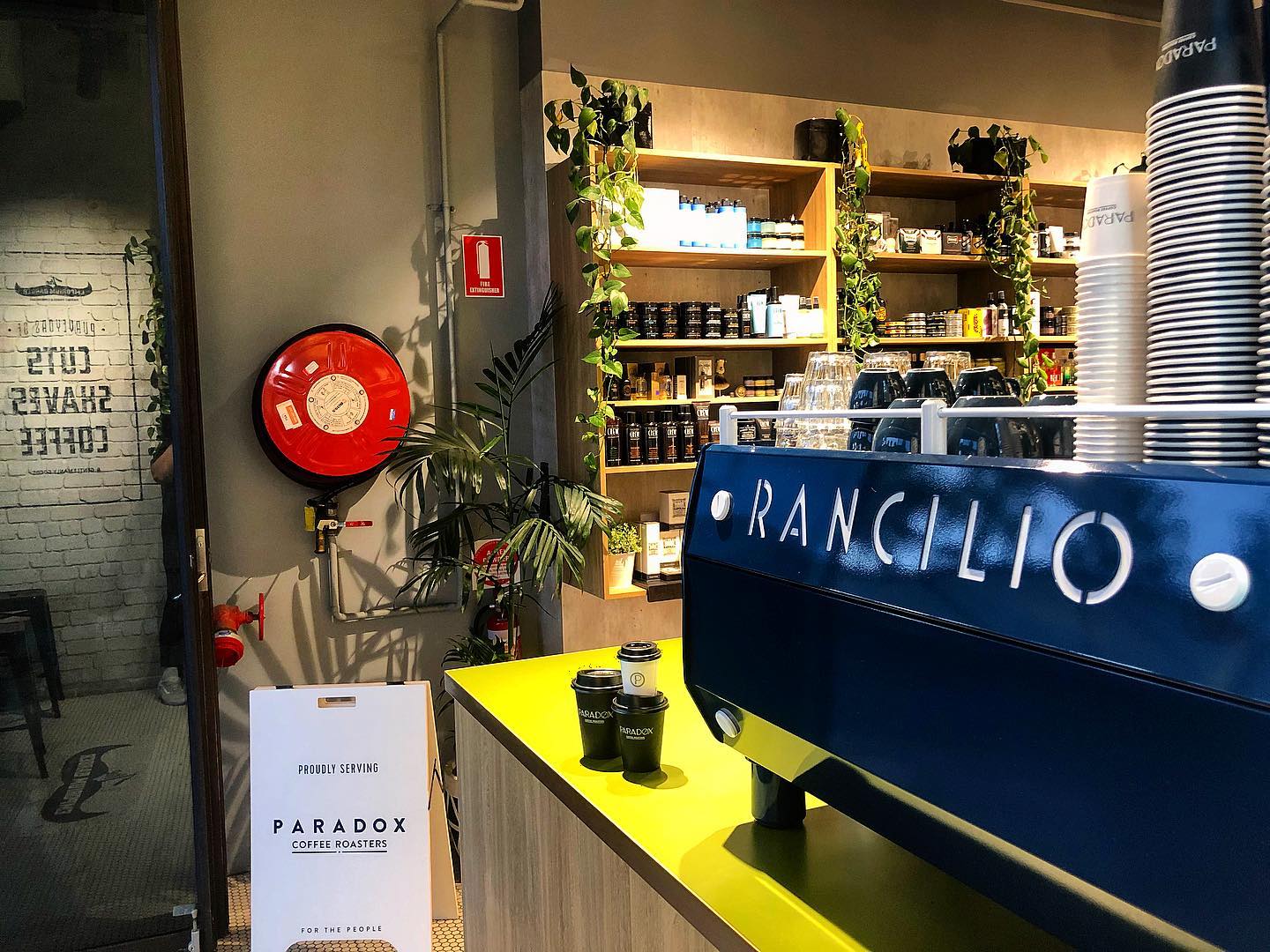 The Bondi promenade wouldn't be complete without a trendy boutique barber shop. Now, it's got one. Serving Toby's Estate freshly roasted coffee to customers in a prime location, The Emporium Barber is equally about the modern gentleman's lifestyle as it is the grooming. In fact, they protrude a vibe that essentially regards both as synonymous with each other. Great news for customers, as it means they're aim is to refine the modern man around your requests and expectations.
You can't look past the Emporium Barber Experience, an hour and a half long combination of cuts, shaves and skin rejuvenation. A perfect gift at a reasonable price of $95 dollars. Don't stress, all other packages are well below this price.
Location: Shop G10, 180 Campbell Pde, Bondi
Hours: Mon-Sat (7am-6pm), Sun (8am-4pm)
Book: emporiumbarber.com.au
Men's Biz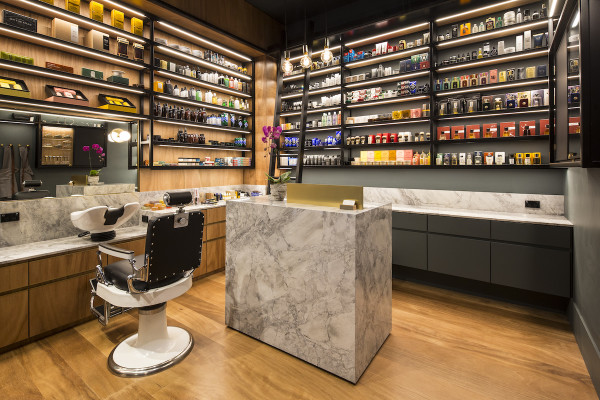 A colourful and appointed space greets you upon entry to Men's Biz in The Strand Arcade. Only two chairs means you're getting the attention your hair deserves, with the store also stocking a huge range of hair products to help maintain your look once you've left the store. Even better is the price, with a standard cut only setting you back between $30 – $50.
Location: The Strand Arcade, 412-414 George Street, CBD
Hours: Mon-Wed (9am-5:30pm), Thur (9am-8pm), Fri (9am-5:30pm), Sat (9am-5pm) and Sun (11am-4pm)
Book: mensbiz.com.au
The Barberhood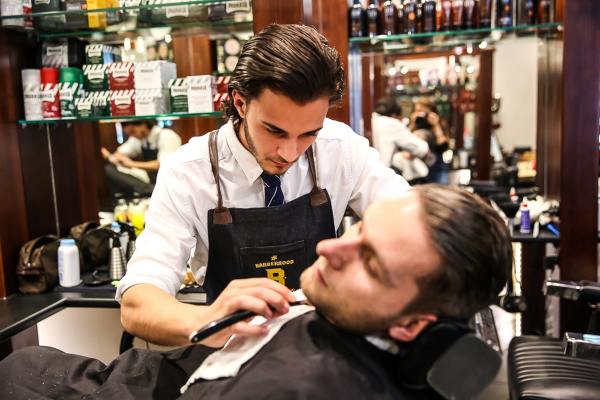 Men's barbershops are more than just a place to get the old noggin trimmed. The Barberhood is the go-to spot for all your style needs, with a large selection of hair, beard and skin care products available to keep you looking great. You can come in for a no-fuss short back and sides or treat yourself to the 'Executive Face Shave & Style Cut', which comprises of a style, cut and wet face shave using hot towels & luxury products. They also run various certified courses for anyone looking to get into the barber trade that are both affordable and well run.
Location: 1 O'Connell Street, Sydney
Hours: Mon-Fri (8am-6pm)
Book: barberhood.com.au
The Groomsmen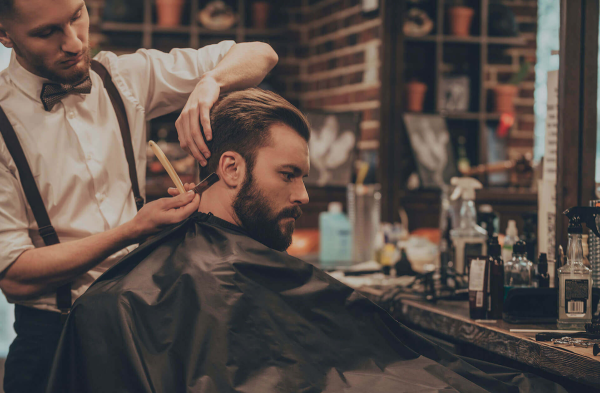 North Sydney is home to some of the state's best-kept secrets when it comes to barber shops. Case in point, The Groomsmen. Now counting three stores, the prices are the winner here, with a standard haircut just $30 and a full service and classic shave just $60.
Location: 100 Miller Street, North Sydney
Hours: Mon-Fri (8am-6pm), closed Sat & Sun
Book: thegroomsmenbarbershop.com.au
Off Chops Barbers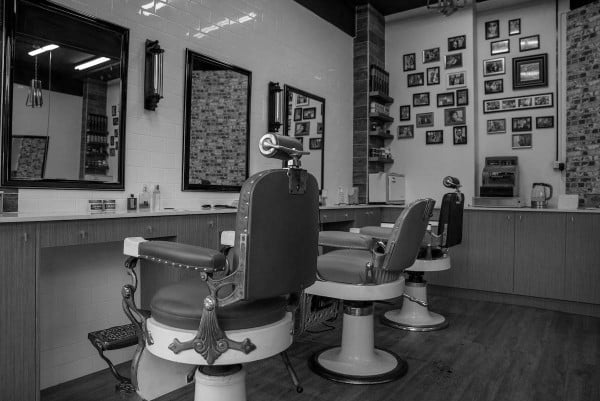 Widely regarded as one of the best barber shops in Sydney, Off Chops Barbers is a laid-back establishment where traditional barber vibes gel with modern techniques. The staff excel at simple yet effective cuts and offer a great number of beard grooming services, from a simple $20 beard trim to a cut-throat razor shave for 50 dollaridoos.
Location: 2/6 Stanley St, Darlinghurst
Hours: Mon-Fri (11am-7pm)
Book: offchopsbarbers.com.au
The Happy Sailor's Barbershop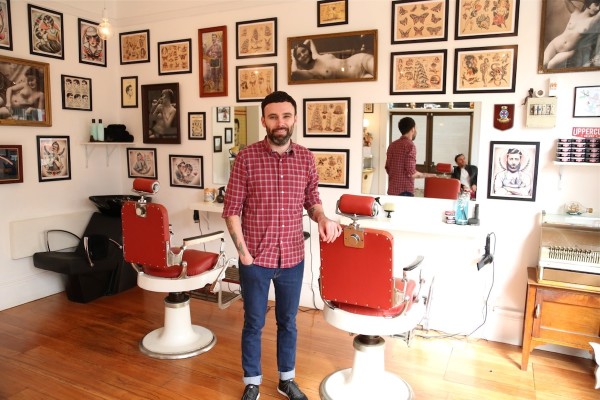 It's not just the CBD where you can find a decent cut, with Redfern's The Happy Sailor's Barbershop a local gem. Head barber and owner Nathan has over 18 years experience cutting hair in both Sydney and London and knows what it means to provide a great service for a reasonable price. There's a really relaxed atmosphere here with the old-time decor inspiring feelings of nostalgia when you walk through the door.
Location: 748 Bourke Street, Redfern
Hours: Tues-Sat (9am-5:30pm)
Book: happysailorsbarbershop.com.au
Grand Royal Barbers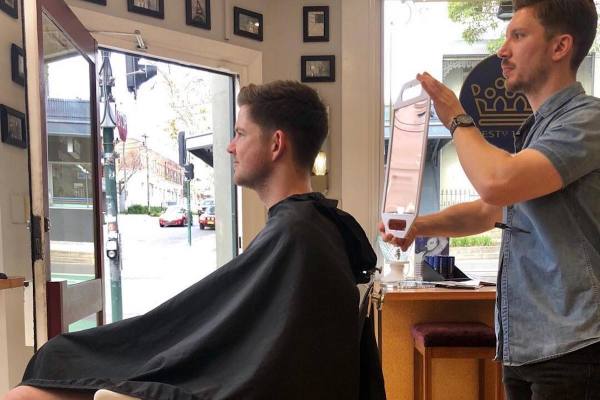 Celebrating 20 years in business, Grand Royal Barbers knows how to treat its customers. Not only will you be greeted by the friendly and knowledgable staff, but their expertise is second to none meaning you'll never leave disappointed. It's their Darlinghurst locale that gets the two thumbs up, with the cool vintage feel matched by the attention to detail when it comes to giving you the ideal haircut.
Location: 397 Liverpool Street, Darlinghurst
Hours: Mon (10am-6pm), Tues-Fri (10am-7pm), Sat (9am-5pm)
Book: grandroyalbarbers.com.au
Hawleywoods
Hawleywoods came under fire a few years ago for their "no women allowed" policy, but that shouldn't deter you from visiting this highly regarded establishment. Another vintage barber shop, what sets Hawleywoods apart from the usual hipster barbers found in Newtown is the service. The lads will spend as much time as needed to deliver a world-class cut or beard trim. They provide customers a hot towel at the end of every visit so you walk away feeling fresh.
Location: 432 King Street, Newtown
Hours: Mon-Wed (10am-7pm), Thur (10am-8pm), Fri (10am-7pm), Sat (10am-6pm)
Book: hawleywoods.com.au
Adilla Barbers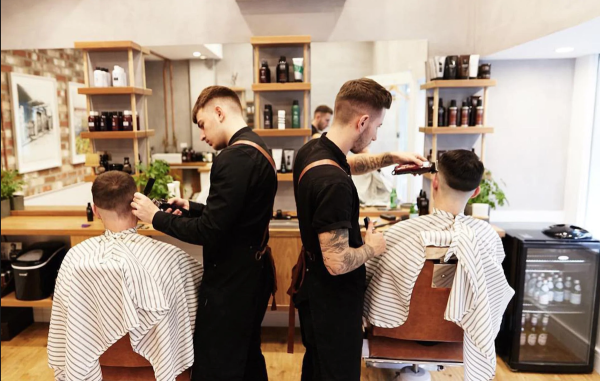 Sometimes you want more than just a haircut and that's what Adilla Barbers offer. Directors Frankie and Rhiannon created the store from scratch and have established one of Sydney's premium hair care spots. Part-salon, part-barber shop, there's a wide range of services available, with Adilla well known for their customisable Grooms Packages which include haircuts, facials, alcoholic refreshments and breakfast. The perfect way to kick off your bucks weekend.
Location: Shop 3 Cross Street, Double Bay
Hours: Mon, Fri (9am-7pm), Tue (9am-8pm), Wed (10am-8pm), Thur (9am-9pm), Sat (8am-6pm)
Book: adillabarbers.com
SpaQ Barber Shop Sydney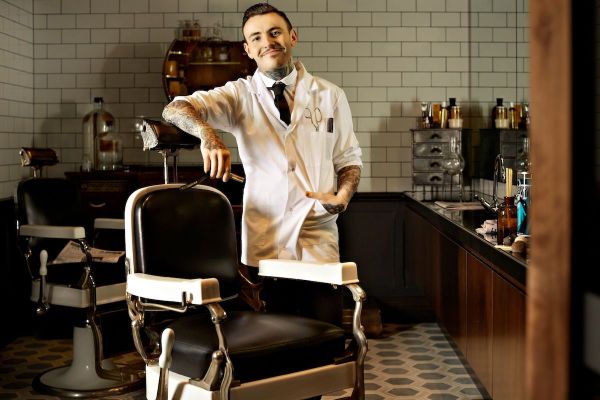 Located in the esteemed QT Hotel overlooking George Street, SpaQ is the place to go for a quick lunchtime cut and one of the best barber shops in the Sydney CBD. If you've got more time enjoy a massage or a glass or three of Chivas Regal. It's a little pricey, with a standard cut in the region of 100 bucks, but the end result will leave you feeling pretty good about yourself.
Location: 49 Market Street, CBD
Hours: Mon-Wed, Fri-Sat (10am-7pm), Thur (10am-8pm), Sun (10am-5pm)
Book: qthotelsandresorts.com
RELATED: The Best Barber Shops In Melbourne