Is Sydney ready for a $100 million property on the market? Perhaps, and its appetite for four, just-sold $40 million apartments in the new Crown One Barangaroo development might incline one to think so.
$100 million is rumoured to be the price tag of the penthouse atop the Barangaroo project by Crown Resorts, though Knight Frank broker Erin Van Tuil declined to confirm if this was the case. If true, the pad will easily surpass the $66 million penthouse in Sydney's ANZ tower as the harbour city's most expensive sky-high real estate.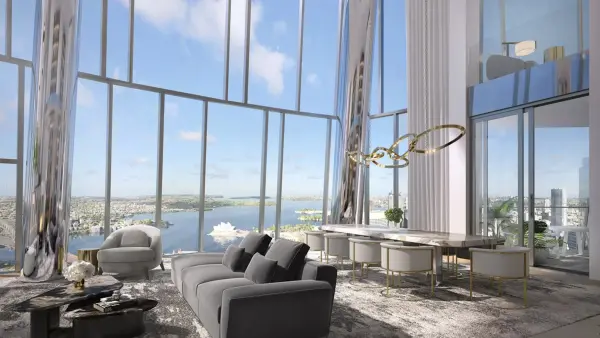 Roughly 16 months into construction, the $2.2 billion project by James Packer's Crown Resorts will soar 71-storeys into the city skyline. The four $40 million sales at One Barangaroo complement Packer's bespoke $60 million two-storey apartment purchase in the tower already.
Apartments reportedly start at $9.5 million, with the building also set include a casino and what will be the world's first "6-star rated" hotel, according to the Sydney Morning Herald.
RELATED: The Secret $66 Million Penthouse Atop Sydney's ANZ Tower