The best Japanese restaurants in Brisbane may not play within a wider frame than say Melbourne or Sydney, but several of these consistently excellent venues in the Queensland capital are amongst the most innovative in the country. Though the city may lack when it comes to high-end omakase dining – the pinnacle of Japanese food – there's a penchant towards either all-encompassing traditional menus or conceptual modern twists on age-old techniques.
Below, you'll find the 8 best Japanese restaurants in Brisbane, trimming a bit of the fat to focus in on consistency, quality and innovation, whether that means perfected minimal intervention Japanese classics and using the freshest seafood available for mind-blowing sushi, or creating something new and riffing off classics to bring new perspectives to distinctly Japanese flavours.
RELATED: The 15 Best Japanese Restaurants in Sydney
---
---
---
Sono
For more than a decade now, Sono has been one of the higher-end Japanese dining experiences in Brisbane, constantly coated with acclaim across the venue's multiple spaces. A peaceful dining experience behind traditional shōji doors highlights the city's best sushi and indulgences like full-blood MBS 9+ wagyu with garlic soy jus, but most regulars flock straight to the playful teppanyaki bar where studious chefs put together feasts of king prawns, lobsters, salmon and wagyu.
Address: 39 Hercules St, Hamilton
Contact: (07) 3268 6655
---
Honto
A white chocolate and yuzu curd lamington isn't quite something you'd expect at one of Brisbane's best Japanese restaurants, and yet the cultish worship that surrounds Honto isn't for nothing. The fiercely modern Japanese restaurant, unapologetically dark on entrance with walls charred black using a traditional wood-burning technique, serves up inventive – sometimes even aggressive – twists on the standards.
Head chef Jamie Kang is obviously adventurous when it comes to Japanese cuisine, and his experiments have kept this relatively new restaurant from falling behind the older, more established venues during the tumultuous pandemic landscape. That's no surprise, with highlights including a lobster katsu sando with salted cabbage and dill slaw, tofu and spinach dumplings with kombu dashi and shiso, and slow-cooked beef short rib with a soy and ginger glaze. It may be the best of all the Japanese restaurants in Brisbane.
Address: Alden St, Fortitude Valley
Contact: (07) 3193 7392
---
Yoko
This two-storey izakaya-style restaurant, claiming an enviable position on Howard Smith Wharves, is as notable for its design as it is for the food and drink. Owner Jonathan Barthelmess, who is behind Sydney restaurants The Apollo and Cho Cho San, as well as next-door greek haven Greca, has obviously poured a lot of love into Yoko's riverside fit-out.
Clever red lighting catches the eye indoors, but it's outside by the water where most want to sit, tucking into a modern, produce-driven menu that's best experience through the $80 "Yoko feast", pulling on every section of the menu, from the nigiri and sashimi selections to mains like sansho chicken with rice vinegar, and teriyaki kingfish collar.
---
---
Address: Howard Smith Wharves 2, 5 Boundary St,
Contact: (07) 3236 6582
---
RELATED: The 10 Best Japanese Restaurants in Melbourne
Bird's Nest Yakitori
Very few of the best Japanese restaurants in Brisbane focus so keenly on yakitori, but the two-venue – one in Fortitude Valley, one in the West End – Bird's Nest fills that void in a big way. The vibrant, slightly obscured venue in FV is the most frequented, but both share the same strong commitment to skewered delicacies prepared to absolute perfection.
Vegetarians are well-catered for with the likes of king oyster mushroom and okura yakitori, but the best experience here is had with the likes of bocconcini cheese skewers with tomato and basil wrapped in thinly sliced pork belly, or chicken thighs, wings and meatballs alongside street food favourites like yakisoba and Japanese chicken rice.
Address: Shop 5, 220 Melbourne St, South Brisbane
Contact: (07) 3844 4306

Address: Shop 4, 702 Ann St, Fortitude Valley
Contact: (07) 3257 2305
---
Sake Restaurant & Bar
Making the most of its Eagle Street Pier location, Sake Restaurant & Bar is a breezy iteration of Rockpool Dining Group's popular contemporary Japanese concept. It's also one of the best expressions of the long-established Sake chain, best experienced through the $110 "omakase", which is more like a set-menu that's loaded with the menu's greatest hits like popcorn shrimp with yuzu mayo, a chef's selection of sashimi, miso 'Glacier 51' toothfish, and Tajima wagyu strip loin.
Address: Level 1/45 Eagle St Pier, Brisbane City
Contact: (07) 3015 0557
---
Shunsai
Shunsai isn't concerned with being anything but Brisbane's most unassuming and traditional Japanese restaurant. With several regularly changing menus, the focus is mainly on highlighting the historic culinary tradition of the kaiseki, which is basically a multi-course Japanese dinner set based on seasonality and availability of produce.
---
---
As such, no two dinners here (unless visits are close together) are ever going to be the same, but it's often safe to expect the likes of kingfish carpaccio, deep-fried kushi katsu, and a dish using only the finest wagyu in Australia.
Address: t5/45 Wellington Rd, East Brisbane
Contact: (07) 3391 1449
---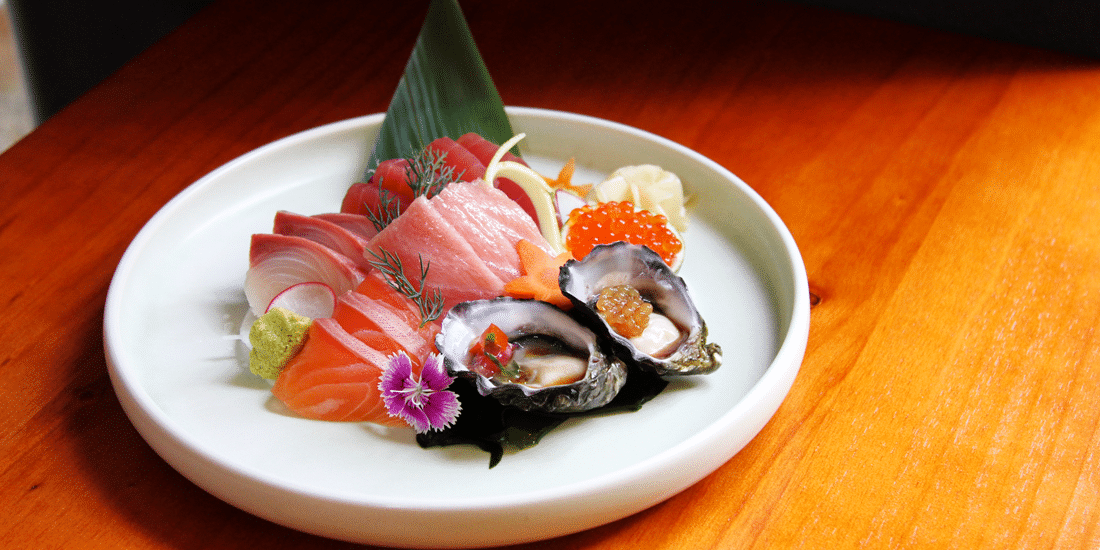 Hikari
Located in the airy suburb of Teneriffe, Hikari is the humble Brisbane Japanese eatery that manages to strike perfection despite its rather busy and overstuffed menu. Japanese comfort food is the focus here, so anyone who has wandered the streets of Osaka's Dotonbori or the historic city of Hiroshima should find plenty of flavours to tease out nostalgia.
Consistent winners include the pork buta belly bento box, the soy drizzled wagyu short rib, and a signature Hiroshima style okonomi pancake with yakisoba, cabbage, fried egg and your choice of meat. It's an ode to the izakaya menus of Japan, and one of the most potent on Australia's east coast, definitely positioning it as one of the best Japanese restaurants in Brisbane.
Address: 55a Florence St, Teneriffe
Contact: (07) 3257 0381
---
Mizu
Carving a tranquil space alongside Brisbane River, Mizu is admirably dedicated to Japanese culture, in general. Aside from the consistent food options, the venue offers origami crafting and sushi folding lessons for local school groups, as well as a bento-box delivery service so younger diners can get a much better fix than their regular canteen fare. In the actual restaurant, there's a wide-ranging selection of mostly sashimi and sushi, seafood and meats, and a few salads, all bringing diners closer to everyday Japanese food like tonkatsu, takoyaki, and grilled miso marinated black cod.
Address: 2 Macquarie St, Teneriffe
Contact: 0412 521 380