Towards the end of his lifetime, Colonel Harland David Sanders loathed what his beloved Kentucky Fried Chicken had become. The fast-food icon took a page directly out of Dr Frankenstein's book and publicly stated the following (via The Louisville Courier-Journal):
My God, that gravy is horrible. They buy tap water for 15 to 20 cents a thousand gallons and then they mix it with flour and starch and end up with pure wallpaper paste. And I know wallpaper paste, by God, because I've seen my mother make it. There's no nutrition and they ought not to be allowed to sell it… The crispy recipe is nothing in the world but a damn fried doughball stuck on some chicken.
Decades later, the Colonel's scorned spirit from beyond the grave can finally rest. For redemption has been found at the hands of uncrowned degustation king, Nelly Robinson of nel. fame, and his triumphant 11-course KFC degustation subject to this very review.
---
---
Jumping the queue of 24,000 eager punters, Boss Hunting recently had the distinct pleasure of experiencing a culinary fare like no other during a media preview. Hosted at a discreet warehouse location, tucked away in a hidden corner of Alexandria – here's what went down.
RELATED: Hold Up, There's A Real KFC Movie Currently In Development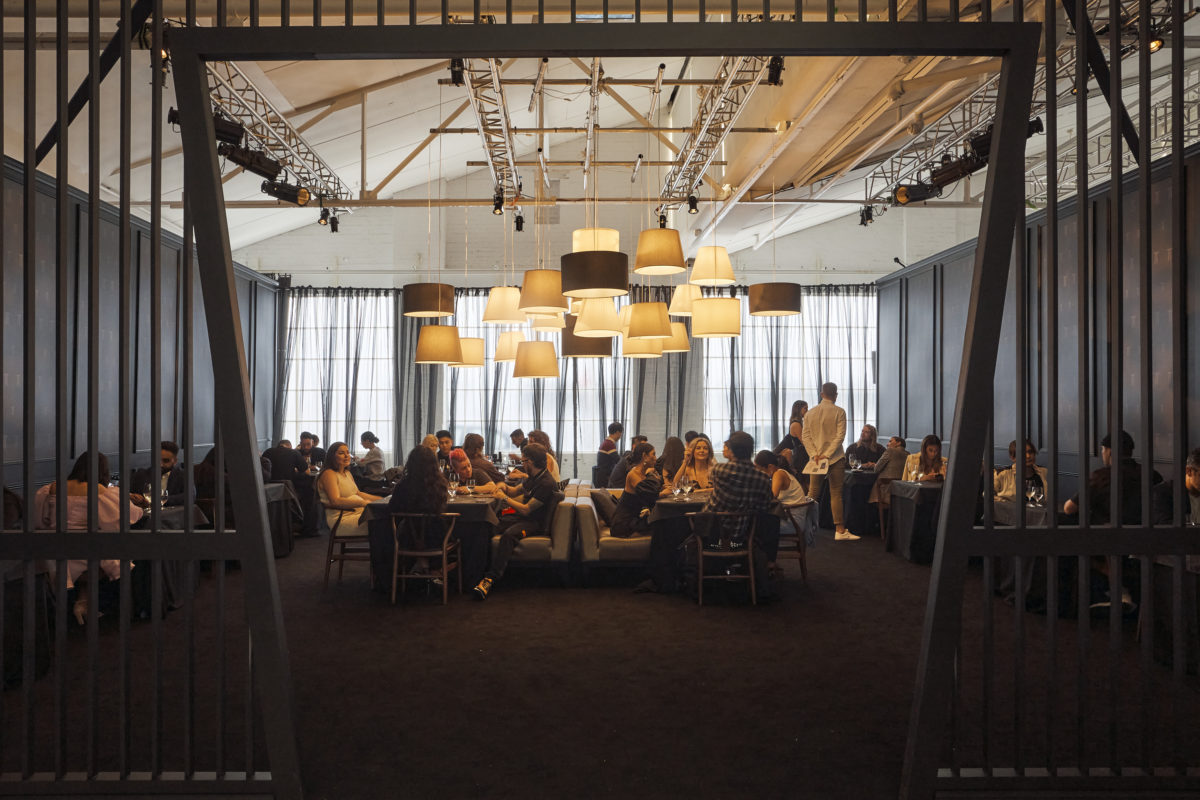 KFC Degustation Review: A Play-By-Play Of All 11 Courses
Course I – You Call That A Burger?
The first cab off the proverbial rank was a tongue-in-cheek interpretation of nel.'s savoury marshmallow, designed to replicate that unmistakable bite of a burger. An uncanny approximation right down to the strong hints of tomato and cheese that elegantly set the tone for our next ten courses.
Course II – Zinger Katsu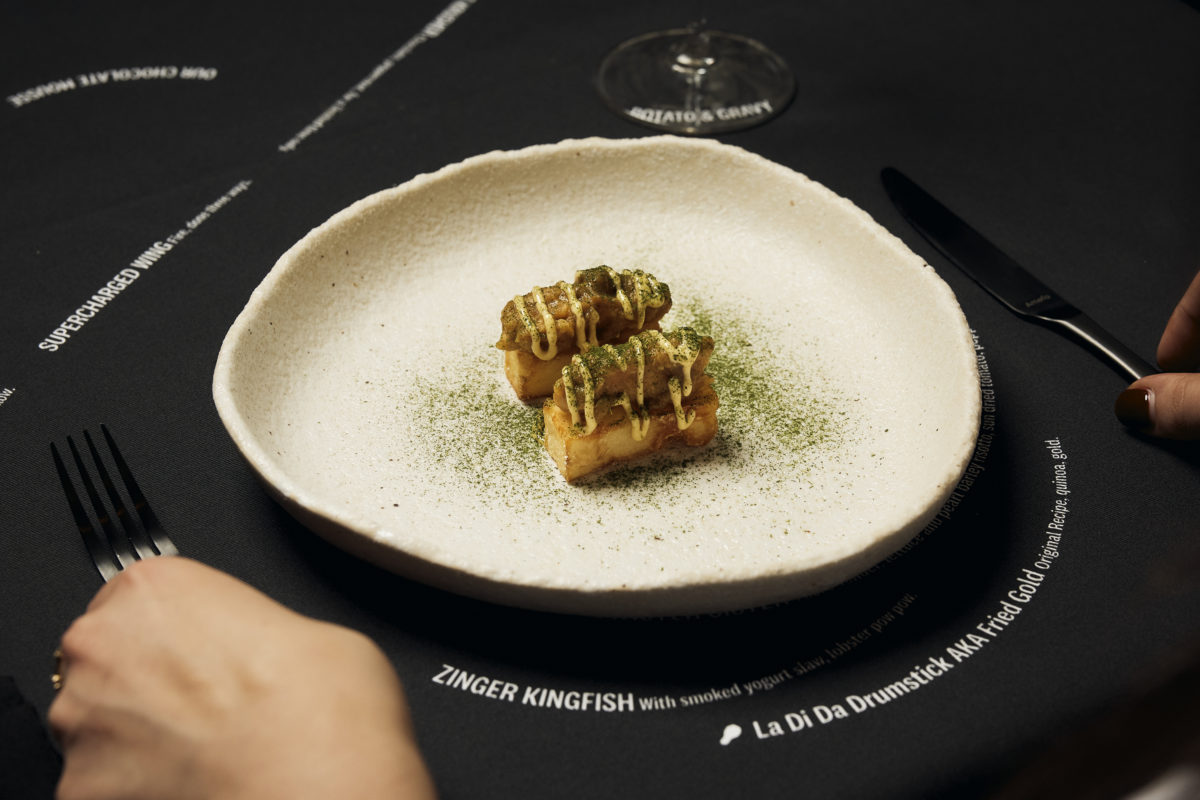 Where 'You Call That A Burger' was our introduction to the menu's overall style, 'Zinger Katsu' was a lesson in the menu's substance – despite the amuse-bouche portion. A bite of Zinger fillet was paired with a deep-fried potato pillow, finished in katsu jus, drizzled with curry mayo, and dusted with dill. Close your eyes and you could almost mistake it for a straight-laced offered elsewhere from Sydney's fine-dining scene. Tantalising.
Course III – Supercharged Wings
---
---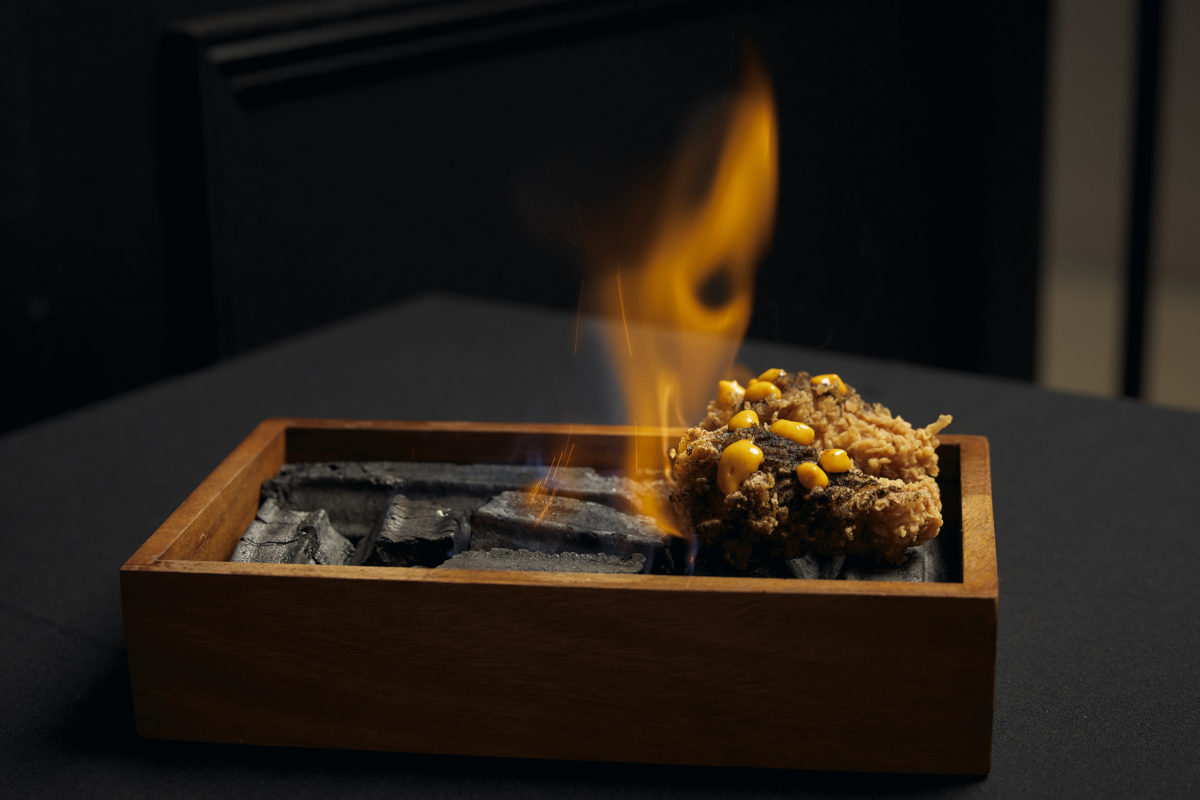 As it would become very apparent as the evening progressed, there wasn't exactly a shortage of dinner table theatrics or pageantry. Case in point: 'Supercharged Wings.' One ponders whether the added elements of flames and a bed of charcoal truly enhanced the Wicked Wings' flavour profile. All I know for sure is that after a few glasses of bubbly, that shit was delightful on all fronts.
Course IV – Potato & Gravy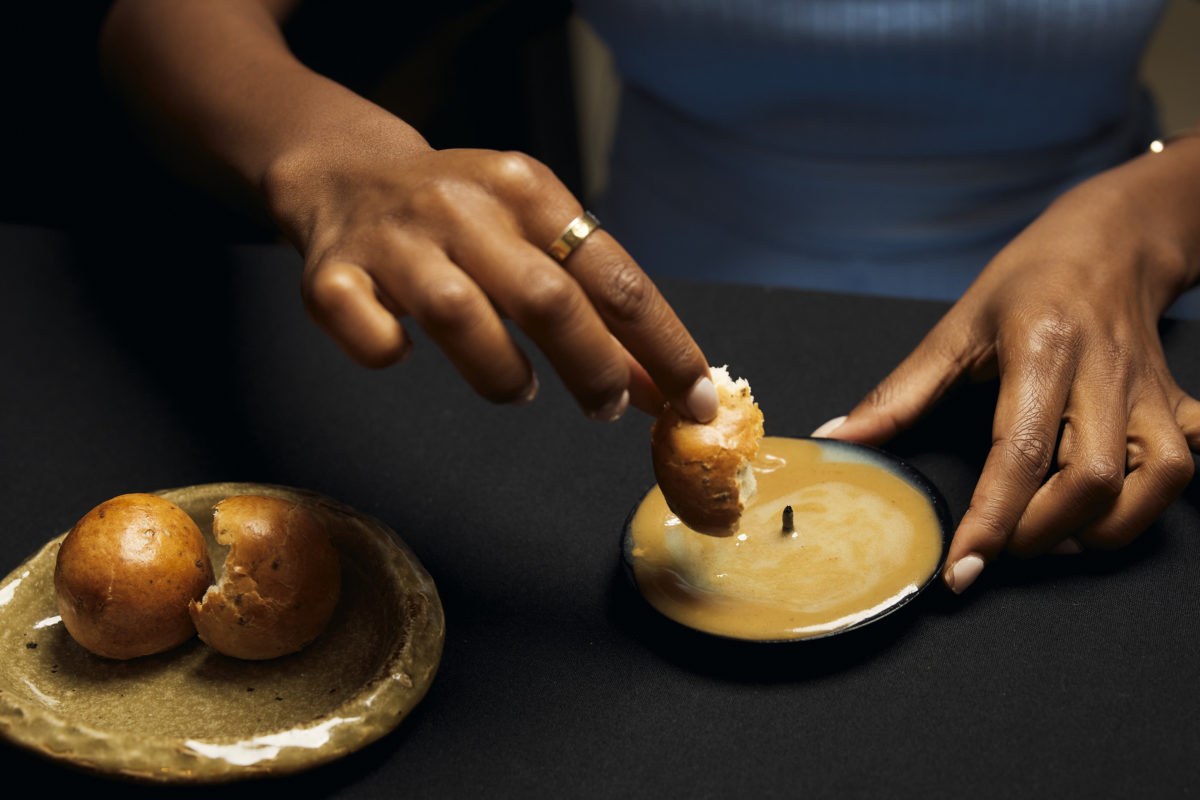 The adorably minuscule candle lit when we sat down had now been rendered to a warm, greasy puddle of chicken fat. A waiter materialised out of thin air to drizzle some classic KFC gravy atop said puddle to present a rather flavoursome accompaniment for our bread; as to ensure the momentum behind our appetites would not be lost as we approached the mains.
Course V – Zinger Kingfish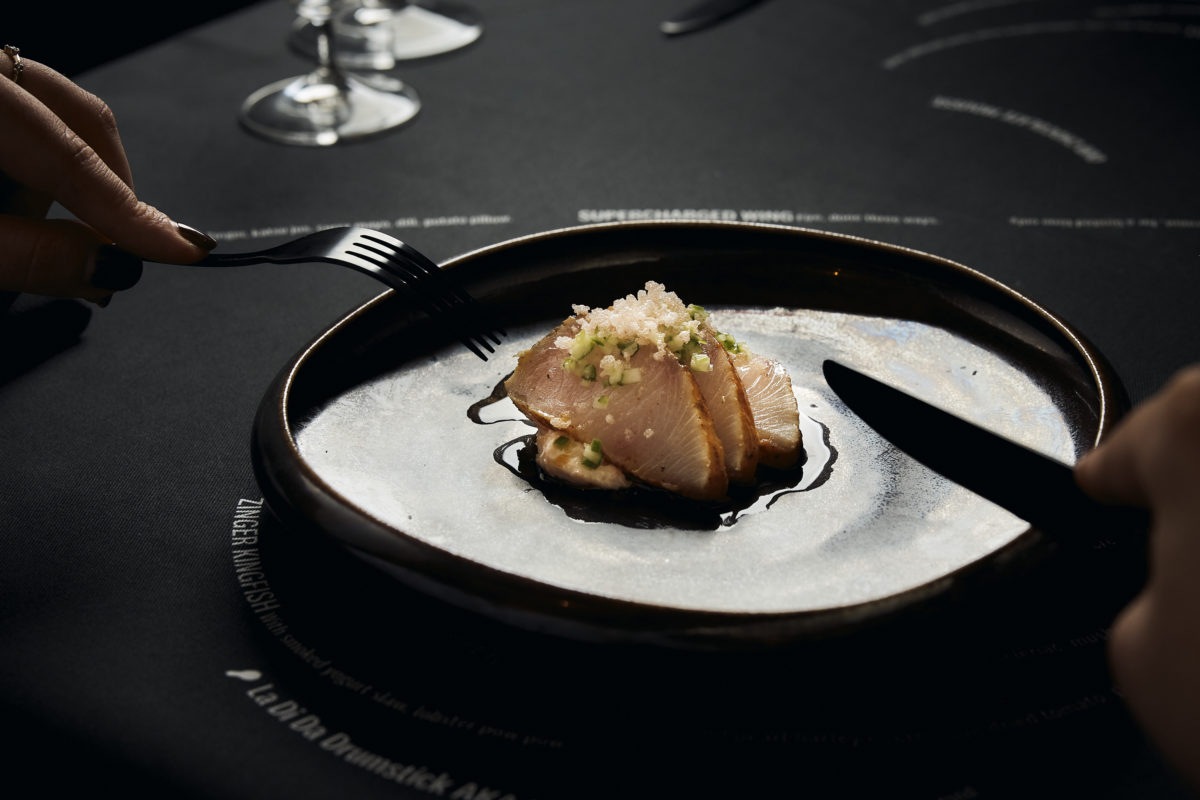 There's no question about it. The lightly torched kingfish coated in the signature 11 herbs and spices with yoghurt slaw was, without a doubt, the black sheep of the family. So much so Nelly Robinson apparently had to fight tooth and nail to keep it within the curation given, you know… he opted for seafood instead of a chook. But we were grateful for his artistic conviction. As were our tastebuds.
Course VI – Tongue Twister/Twister Sister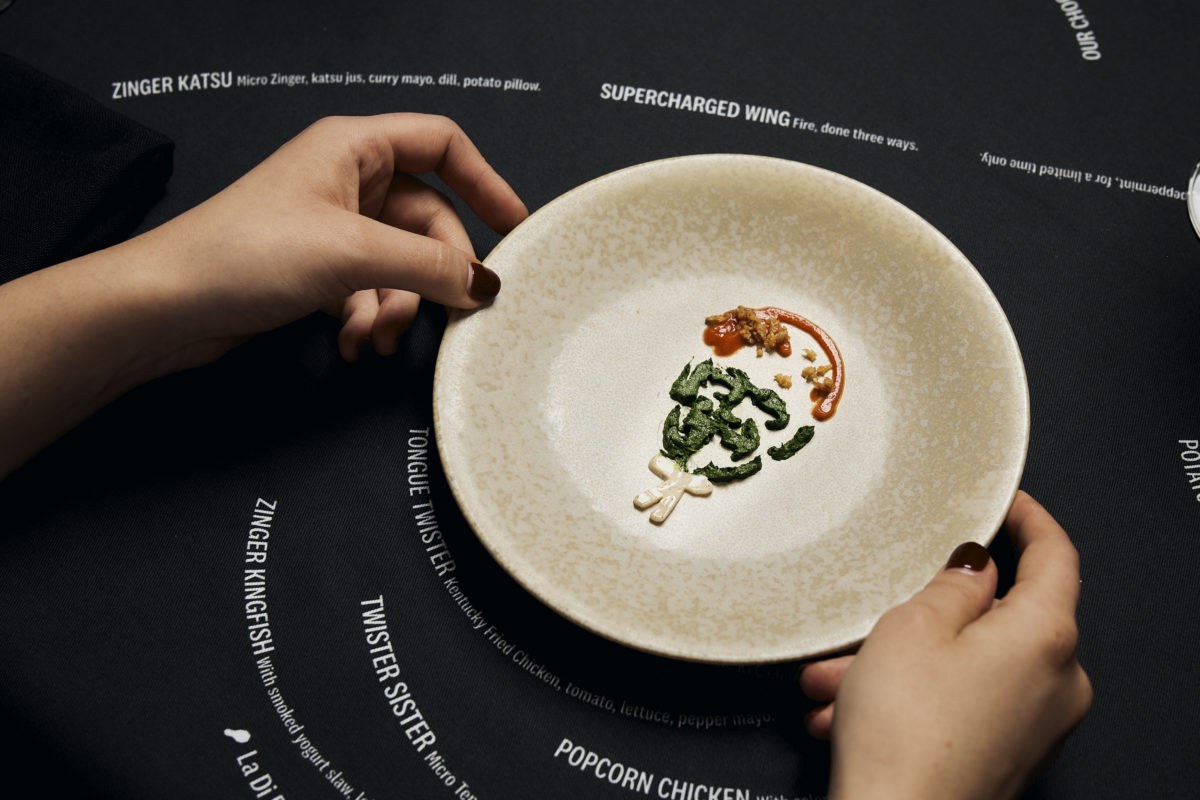 Enjoyable as these two dishes were, upon review, they proved to be the weakest component of the KFC degustation. Not due to any glaring shortcomings, but simply by default. Look… I like licking a liquified Twister bearing a resemblance to the Chicken Don himself straight from the plate as much as the next bloke (yes, that was the designated means of consumption). The same can also be said about chowing down on an elevated version of a Twister with pearl barley risotto, sundried tomato, and edible flowers, wrapped up in a soft spinach tortilla. Given the option to run it from the top again, however, I could take it or leave it.
Course VII – Popcorn Chicken
---
---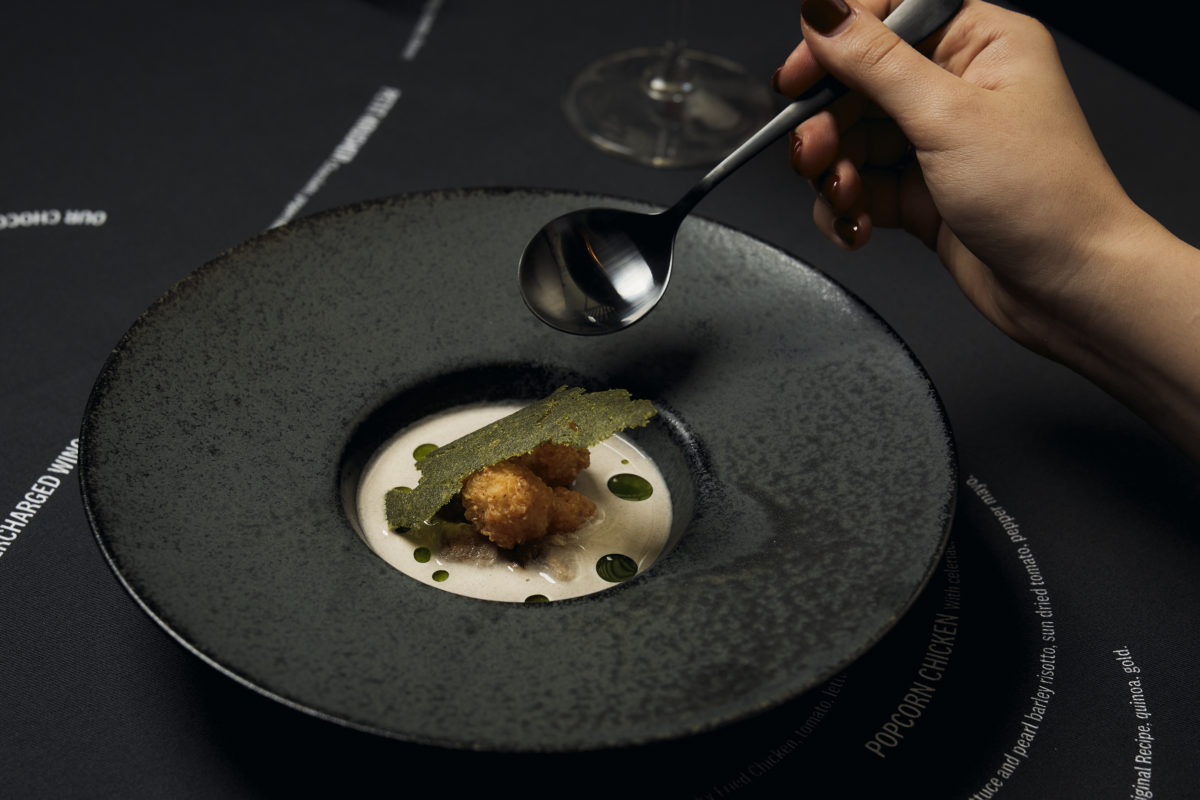 While the intention was (ostensibly) to position the course following 'Popcorn Chicken' as the star attraction – which you'll soon discover why – from a personal perspective, the degustation peaked right here. Creamy celeriac and mushroom soup served with fresh gnocchi and fragrant basil oil alone is already a seductive ménage à trois. Introduce the element of popcorn chicken and it's Orgasm City. Population: you.
Course VIII – La Di Da Drumstick AKA "Fried Gold"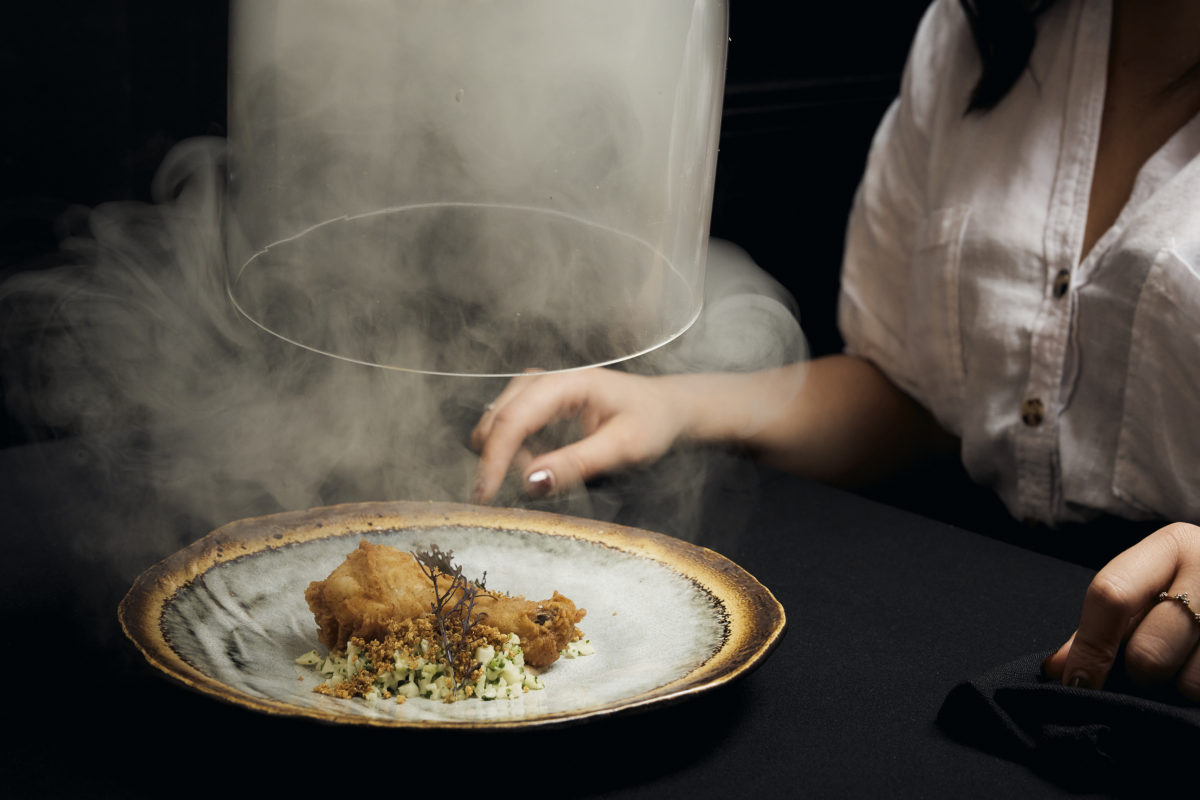 Smoke-infused original recipe. Cauliflower puree. Quinoa. Black garlic. Edible gold. And a goddamn cloche. Sometimes you don't need to reinvent the wheel. In the immortal words of Don Draper, sometimes all you need is to turn it on its side and call it a carousel.
Course IX – Chips for Dessert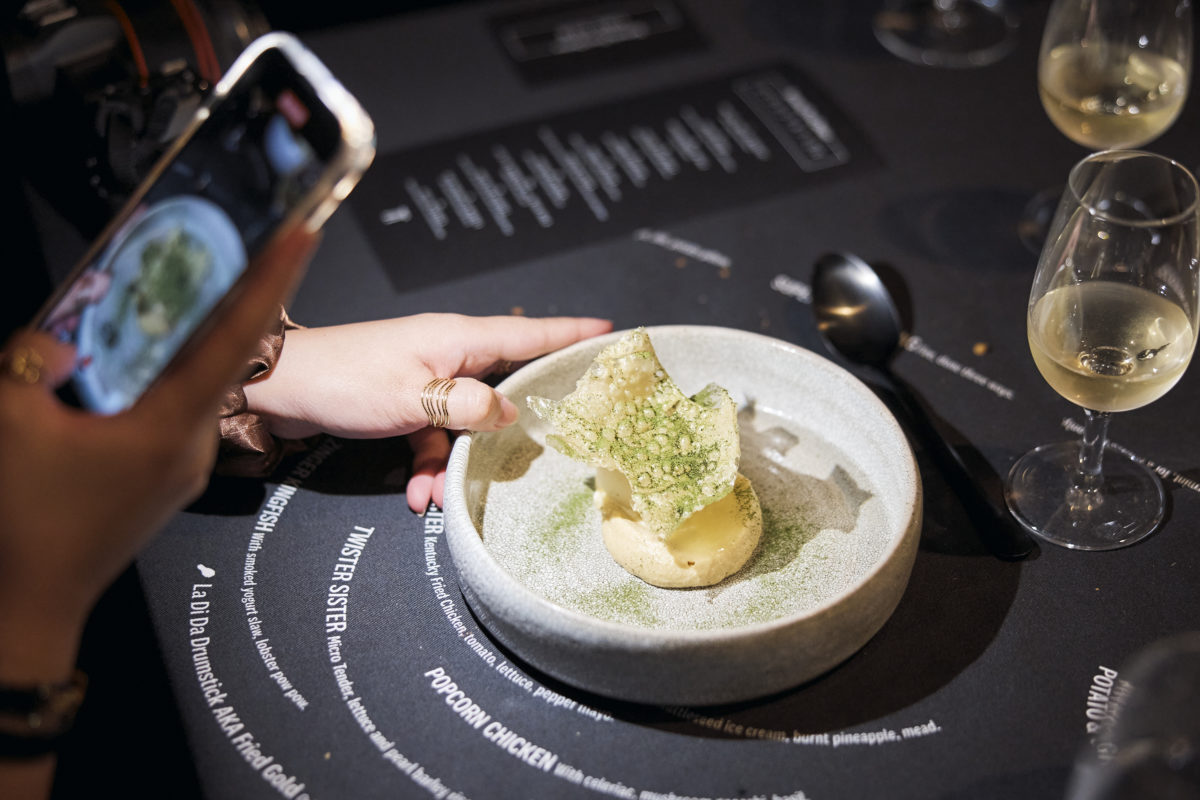 At this stage, we've discovered there is such a thing as a saturation point for pleasure. Still, it doesn't prevent us from demolishing the dehydrated + de-starched potato chip served with wattleseed ice cream, burnt pineapple, and mead puree in precisely three and a half heartbeats.
Course X – Our Chocolate Mousse
A nugget of the good stuff frozen with liquid nitrogen and topped with popping candy. Even for someone averse to all things cacao, it was something to marvel.
Course XI – Petit Krusher
---
---
Open playfully, end playfully. Nelly Robinson's interpretation of the time-honoured petit four packed a liquid explosion of mint-flavoured KFC Krusher to punctuate the 11-course degustation in elegant fashion. "Elegant" being the opposite of how many patrons appeared when they let the final morsel bust in their mouths.
RELATED: Inside The World's First KFC Hotel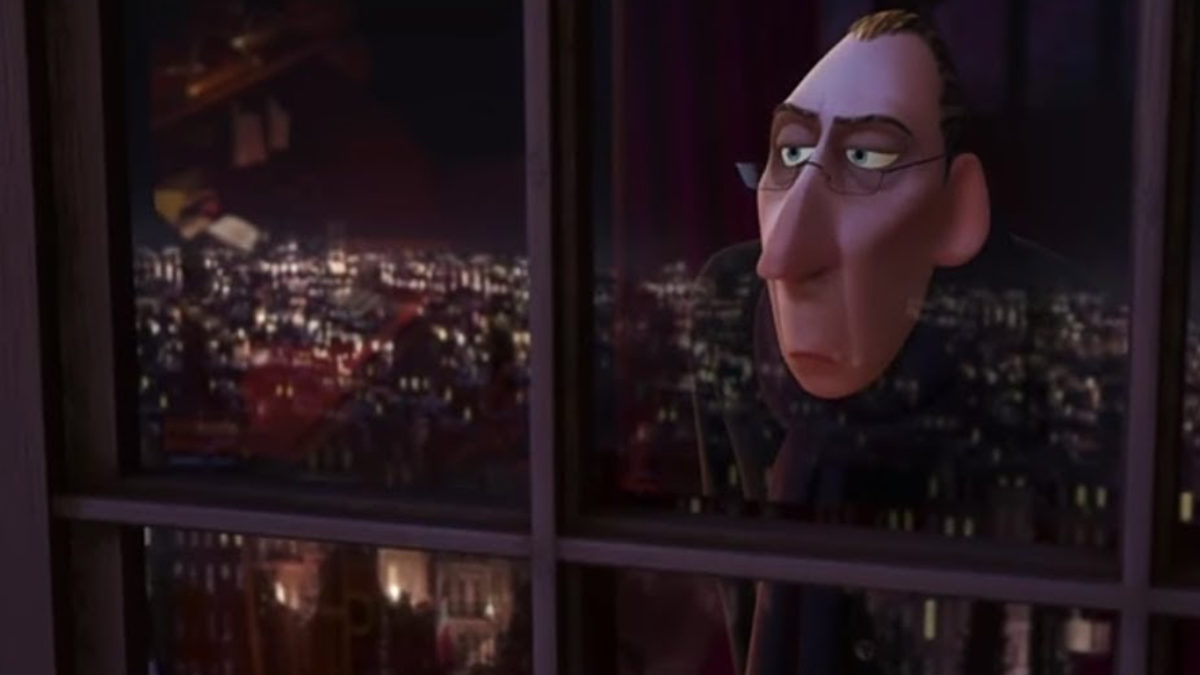 To paraphrase an Academy Award-winning Pixar film about vermin cooking in Paris (rats, not French people): In many ways, the work of a critic is easy. We risk very little yet enjoy a position over those who offer up their work and their selves to our judgment. We thrive on negative criticism, which is fun to write and to read. But the bitter truth we critics must face is that in the grand scheme of things, the average marketing stunt is probably more meaningful than our criticism designating it so.
But there are times when a critic truly risks something, and that is in the discovery and defence of the novel. The world is often unkind to novel talent, novel creations, and the novel needs friends. That night, I experienced something novel, an extraordinary meal made from a singularly unexpected source of ingredients. To say that both the meal and its core ingredients have challenged my preconceptions about fine cooking is a gross understatement. They have rocked me to my core.
In the past, I have made no secret of my disdain for KFC Australia's famous motto: "Did someone say KFC?" But only now do I truly understand what it means. Nobody ever sincerely suggests KFC as a viable dining option; although whatever the need – be it when you're fuck-eyed on some street corner at 3 AM, dustier than Sahara later that day at 3 PM, or perhaps even to dazzle with an inspired 11-course degustation – KFC is always there. Waiting in the wings like a faithful companion. A watchful guardian. The patron saint of poultry and crispy batter.
I will be returning to my local House of Dirty Bird soon enough, hungry for more (and disappointed it won't ever be the same again because this limited promotion is officially over).