Marketing is everything. And when Salt Bae – real name: Nusret Gökçe – achieved international stardom as a celebrity chef / internet personality back in 2017, his Nusr-Et restaurant franchise was suddenly handed a golden ticket to justify charging exorbitant prices for golden tomahawk steaks, almost entirely on the basis of meme novelty alone.
Thanks to an itemised receipt from his Nusr-Et restaurant in Miami circulating on Twitter, Salt Bae has once again achieved viral status, albeit for a far less charming reason. For six guests, the total came to an eyebrow-raising US$$6,228.05 (AU$8,412). That's roughly US$1,038 (AU$1,402) a head.

Here's what the damage looked like after dessert was served (converted to USD):
2 x Meat Sushi – $60 ($30 each)
2 x Burrata – $60 ($30 each)
4 x #SaltBae Passion – $120 ($30 each)
2 x Voss Still – $20 ($10 each)
6 x Johnnie Walker Blue – $552 ($92 each)
1 x Sprite – $10
2 x Spaghetti – $160 ($80 each)
2 x French Fries – $30 ($15 each)
2 x Mashed Potatoes – $38 ($19 each)
2 x Spinach – $38 ($19 each)
2 x Sweet Corns – $38 ($19 each)
2 x 1 Lokum – $160 ($80 each)
2 x Istanbul Sirloin – $200 ($100 each)
1 x Tomahawk – $275
1 x Golden Tomahawk – $1,000
1 x Sirt for 3 – $220
2 x Golden Baklava – $130 ($65 each)
1 x Espresso – $5.95
1 x Tropical Green – $5.95
1 x Vin Dore 24K Gold de Brut – $1,500


Subtotal: $4,942.90
Tax: $395.43
Service Charge (18%): $889.72
RELATED: How Much Money Has Conor McGregor Made From Proper 12 Whiskey?
---
---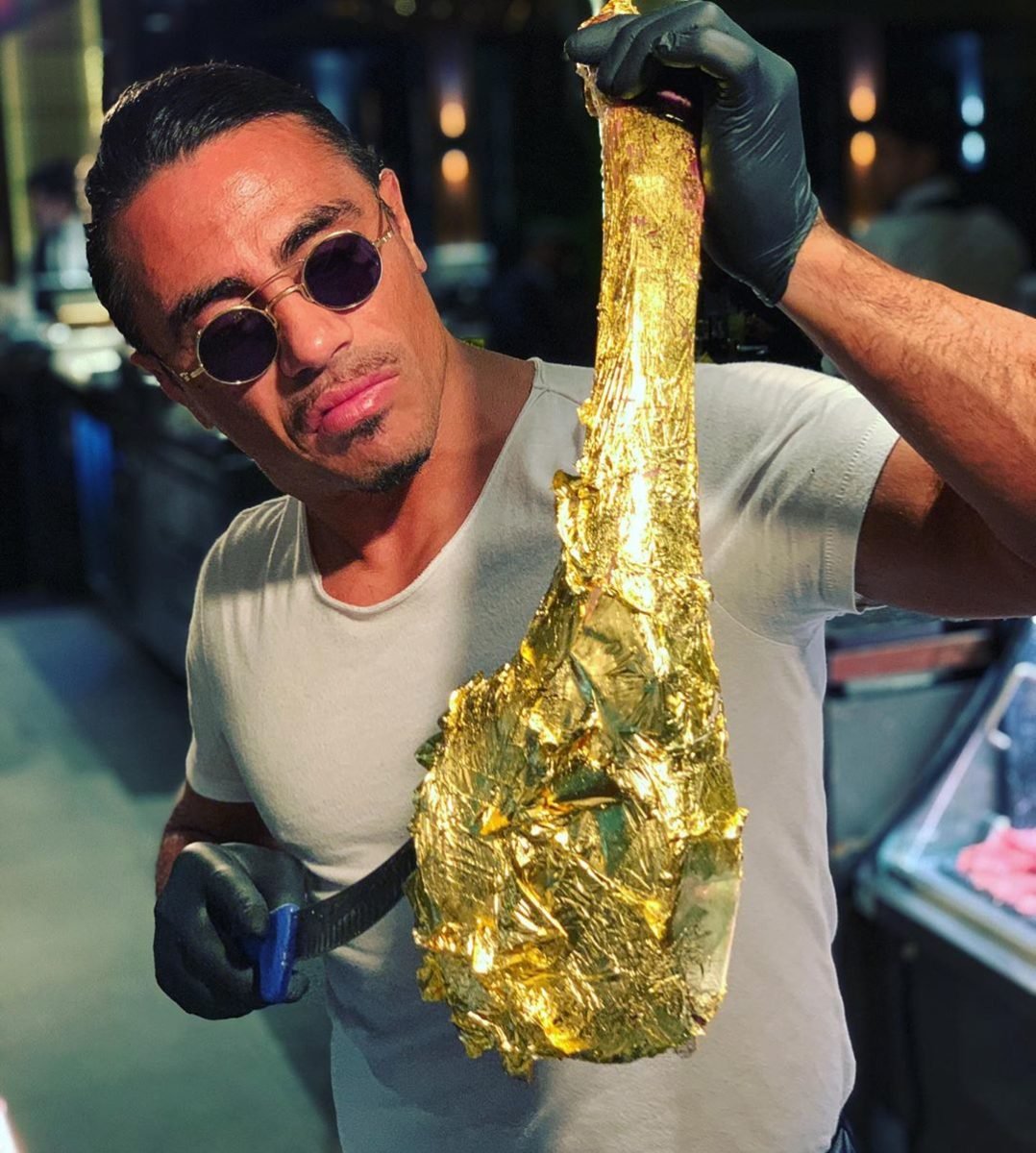 Naturally, the internet had a few opinions to share about these controversial Salt Bae Nusr-Et restaurant prices.
"A $900 service charge!? And you think I'm not [going to] have my man feed me [because] of socials? Salt Bae better just slide that meat down my throat."
"Man, [I don't care] how much money I have… I got food at home."
"All that overcharging, then hitting [them] with the mandatory $890 tip. Oof."
"I mind the $10 Sprite and $15 fries more than I even mind the $1,000 steak."
"What if '#SaltBae Passion' is when you let him put the meat in your mouth."
As some were quick to point out, despite how ridiculous the pricing, it's obvious whoever shared their Saturday evening bill can clearly afford it; and let's be honest… if you're ordering Johnnie Walker Blue with golden steaks in addition to perfectly regular steaks, you high-key deserve to be rinsed.
---
---
Nusret Gökçe himself has come a long way from being a 6th-grade dropout turned butcher's apprentice due to financial hardship. Opening the doors to his first restaurant in Istanbul, Turkey in 2010 before establishing a second venue in Dubai circa 2014, in present-day, Salt Bae is the proud owner of 18 Nusr-Et locations around the world – with an estimated net worth of US$50 million (AU$65 million).