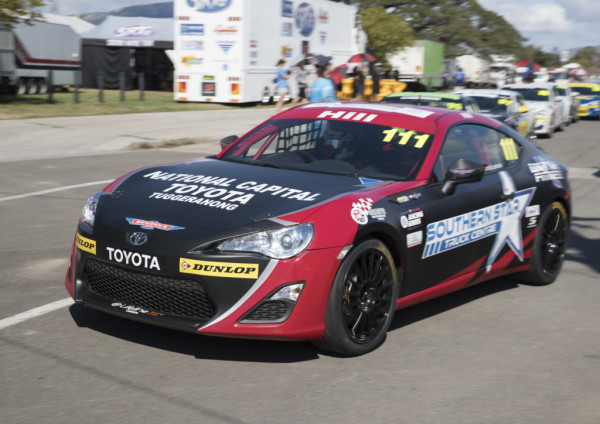 The Toyota 86 Racing Series would make for an enthralling movie script.
Picture this: The future superstars of motorsport – many of whom are barely out of high school – are competing in a professional racing series that includes three professional drivers, with a 125k prize pool and potential contract on the line.
Throw in a few childhood rivalries, a son of a former legend and some classic, motorsport theatrics, and you've got yourself a movie.
---
---
The Toyota 86 series is not a movie though, it's a very real, grass-roots orientated racing series that kicked off in 2016. If you are not familiar with the series, here's a more detailed rundown of what it entails:
The T86 series sees up to three professional drivers mentor and compete against a potential field of more than 35 passionate drivers. Like similar one-make series races, the Toyota 86 Racing Series demands competitors adhere to a strict car setup, ensuring that driver talent, rather than team budget, is key to winning.
Historically, money has been a necessity when it comes to getting a start in motorsport, but the Toyota 86 series provides any aspiring drivers with a platform from which they can launch their careers. In this regard the T86 has already had some success, with last years winner Will Brown being picked up to race in Dunlop Super2 series, a feeder class for the V8 Supercars.
My first introduction to the T86 series was via a hot lap on Townsville's Reid Park circuit, where I rode shotgun with a young driver named Harry Bates. Harry is the son of former Australian rally champion Neal – Neal also happens to be the man responsible for designing the racing components behind the Toyota 86. Harry, like his father, is a rally driver, but he was kind enough to take me for a spin in the 86 before racing kicked off last weekend.
Harry is a very polite, well-spoken and unassuming character. He's also an absolute animal on the track.
As we pulled into the pits following just over a minute of me squealing like a child, Harry laughed, before then offering an insight into how different our mentalities were towards that sort of danger.
"That last corner was pretty close huh? I'm used to tight corners, but that was close," Harry said. My response to Harry's fearlessness was to laugh nervously.
---
---
Townsville was stop two in the 2017 88 series. Round one took place back in April at the famous Phillip Island Circuit in Victoria. Following Phillip Island, and in the build-up to Townsville, in terms of favourites, there were three names that kept popping up around Reid Park:
Cameron Hill, Jimmy Vernon and Aaron Seton: These blokes were the men to beat.
After winning round one, 20-year-old Jimmy Vernon from Sydney was the series leader heading in to Townsville. The series new comer had the dream debut, winning his first race of the series and followed this up with a 1st and a 2nd in the opening round to lead the championship after three races.
20-year-old Canberra driver Cameron Hill took out five races and had two round wins in the 2016 series, but some mid-season incidents saw him finish third overall. He has unfinished business in 2017.
The third name on everyone's lips was Aaron Seton. Seton is a racing thoroughbred; his grandfather won at Bathurst and his father won two Australian V8 series championships. Now the 19-year-old is looking to carry on the family tradition.
ROUND 1
Race one at Phillip Island was a heated affair. Upon resumption of the race following an earlier crash, with four laps to run, a fierce three-way battle began at the head of the field between Cameron Hill, Aaron Seton and Jimmy Vernon.
While Hill controlled affairs, it was Seton who pressured for an opening to pass, providing bumper to bumper action over the closing stages of the race. On the penultimate lap Seton made contact that resulted in a puncture for Hill, dropping the pole-sitter all the way down the field. While Seton crossed the line first, he was hit with a 30-second post-race penalty, handing the win to sixth place starter Vernon.
---
---
You couldn't have written a better opening scene if you tried.
Vernon continued his hot form in race two, fending off invited driver pro-driver Warren Luff in a thrilling race. Meanwhile race one protagonists Hill and Seton were big movers, improving from their race one inflicted starting positions of 35th and 29th to finish 15th and 12th respectively. Warren Luff took out race three after a multi car incident triggered the safety car and effectively ended the race. This saw Vernon atop of the series leader board, leaving Hill and Seton with a lot of work to do after the events of race one derailed what looked to be a promising weekend for the duo.
Following the drama of round one, round two in Townsville was poised to be a thriller.
TOWNSVILLE: RACE 1
Perhaps Hill realised the magnitude of the occasion, or perhaps a fire was burning in his belly following the incident with Seton in race one, or perhaps he could see another season slipping away from him due to just one or two bad results. Whatever it was, Hill found something special for race one in Townsville.
Hill obliterated the field in a lights-to-flag victory, 13.2 seconds ahead of second place-getter and series leader Jimmy Vernon, and Aaron Seton in third. Hill's efforts were good enough to see him advance to 9th pace on the series leader board, with Vernon shooting even further ahead of the rest of the field.
RACE 2
A massive pile-up saw race two cancelled before a lap had even been completed. Seton was again involved, squeezing out Tim Brook with a manoeuvre that would set off a series of crashes. Nobody was injured, but damage to some cars did mean that a number of drivers would not be able to compete in race three – including the man at the core of the incident and series contender, Seton.
---
---
Following the cancellation of race two, I headed over to the garages to assess the damage as the cars returned. Some were driven, others required assistance. One particular car appeared more banged up than the rest. It looked as if it had either cannoned into either the barrier, or the back of another car, leaving the front bumper hanging off and a lot of the chassis bent. I was told the vehicle belonged to 16-year-old Declan Frasier, who I knew to be the youngest competitor on the grid. I looked around for Declan but I couldn't see anyone who appeared to be a driver. I asked a fellow onlooker if they had seen Declan and they instantly pointed at a boy standing no more than five metres away from us.
The boy was watching on as mechanics frantically worked on what was looking increasingly like a lost hope. I had seen the boy earlier, but from how young he looked I had assumed he was a son of one of the mechanics just lending a hand. Of course, I knew Declan was young, but due to the intensity of the racing I had expected more of a man child – the sort of 16-year-old who already has a beard and plays in the senior's footy side because he is already bigger than most men. But Declan didn't look any older than he was, if anything he looked younger; which made his abilities behind the wheel all the more impressive. I wandered over to the young driver to ask him about the incidnent he had just been involved in.
"It happened that quickly, going through turn two I was right up someone's ahh…rear bumper…and yeh, something happened in front of them and they just slammed on the brakes and just couldn't stop the car in time."
I chatted with the well-spoken teenager for some time as we watched his crew work. Declan was quick to praise the invited drivers who had been bestowing on him their wisdom:
"We've had Steve Owen, Dean Canto and Alex Davison helping us out and yeh they've been helping us out majorly, the amount of support and help they've given us is incredible, especially Steve Owen, every race he's been coming over and seeing how I'm going and he's great for the sport."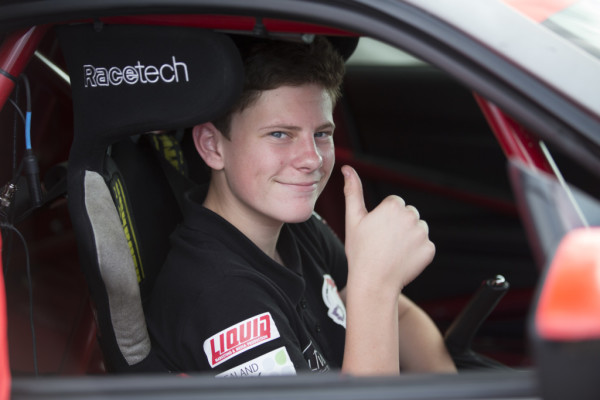 Although Declan would be more skilled on the road than most adult drivers, being sixteen, he is still only on his learner plates. I asked him whether he pays the same sort of attention to his mother when she is teaching him to drive, as he does the likes of Steve Owen? Or was he more inclined to tell her that he has everything under control? Declan flashed me a mischievous grin before he answered::
"Oh na, I know what my mums like, I sort of keep my mouth shut."
I left Declan to help his crew who were still working at the same hurried pace. It dawned on me then, to enable Declan to race again that weekend, these men would have to be working at this same pace, in the heat, for the full three hours between races. Astonishingly, they would in fact go on to have the car – which I had thought to be a lost cause – ready for race three. The comradery amongst and between these teams was something that stood out over the course of the weekend. It wasn't uncommon to see crews lending tools, hands and parts to those impacted by the crash.
---
---
Whilst at the garages I also managed to catch up with series leader Jimmy Vernon to ask him about the crash and also what the Toyota 86 series means to him. Jimmy's starting position meant he was out of harms way, although he sympathised with those involved.
"It's never something you want to see (a crash). We're all mates and I've got a lot of good memories with all these boys and when cars get damaged that violently it's never a good thing."
In terms of what the T86 series means to him, Vernon says a win would be everything to him – but he is trying not to think too far ahead.
"Well at the moment I'm leading the championship, but we're not getting ahead of ourselves, there's a long way to go and anything can happen – as you saw this morning a whole car can be turned into a crumpled can in a blink of an eye."
"But look, I would like to win the championships this year and if we did, it would be the best thing that could ever happen to us and then moving forward from here, I know in this category you get a lot of exposure. To win the championship the exposure I would get out of that is ten folds so it would definitely help me with securing sponsorships and drives in the future."
On the rivalry with Hill and Seton, Vernon says it pushes him to be better.
"The rivalries pretty good, we're still all best mates when we come back in off the track, but when we get out there it's on."
Hill has been really, really fast this weekend, and so everyone's chasing him down. It does make you push a little bit harder but at the same time you always find your limit. But definitely with the close field and the close times it definitely means you step up when someone else finds something out on the track."
---
---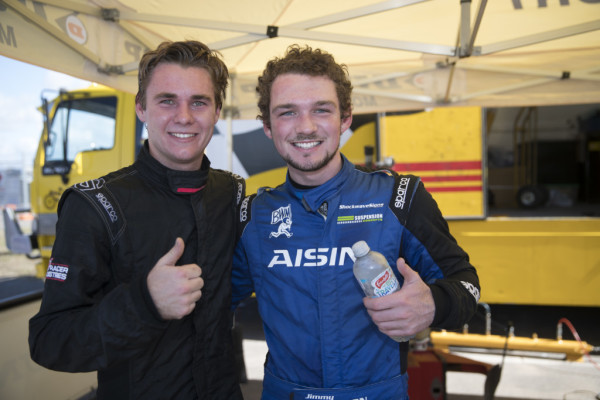 I questioned Vernon on whether he thought Hill, Seton and himself could one day be racing each other in the V8's.
"I'd like to think so. It's actually funny, we've faced each other in different categories as we've grown up and developed as racing car drivers and I think it would be awesome for a lot of these guys to make it into V8's. That way maybe we can one day all turn around and go "can you remember the days in the 86 series when we were fresh off high school".
"I think that would make for some good stories."
I agree with Vernon that it would make for some good stories. It would also make for a fitting sequel to the T86 series.
RACE 3
When the lights went out in race three, Hill, Vernon, Brook, and Grice began to extend a lead over the chasing pack, before a spectacular incident on lap four at the hairpin corner saw 17-year-old driver Callum Jones' car turnover before sliding around forty metres into the tyre barrier.
Attention shifted immediately to the wellbeing of Jones, but the young-driver emerged unscathed – much to the relief of the thousands of onlookers at the Reid Park circuit. The baby faced blonde appeared more annoyed with the state of his car than he did shaken.
When the safety car eventually pulled in with five laps remaining, Hill was back out in front with Jimmy Vernon hot on his tail. Unable to close the gap, Hill took his final win for the weekend, just 1.185 seconds ahead of second-placed Vernon – another instalment in this still very young rivalry.
I spoke to Hill just after he received his second trophy for the weekend. A budding professional, Hill was full of praise for the work his team do behind the scenes, something which he likes to be involved with. I had seen a post on social media the night before, which showed the driver still at the garage until well after dark, working on his car. The caption read: "Always last to leave". I asked Hill if work ethic is something he prides himself on.
"Yeh that's a testament to my Dad who's the team manager and engineer. He just has an amazing attention to detail. No details too small, we like to think any marginal gain counts. We completely went over the car last night."
Although Hill had an extremely successful weekend coming away with two wins, judging by his form over the weekend, the crash in race two more than likely cost him a third. Hill recognised that it was probably a missed opportunity.
"Yeh it was a bit disappointing to miss out on race two, especially as we're trying to claw our way back up in the championship. But my thoughts go out to all the drivers that were involved in the accident and I'm glad everyone was able to walk away alright."
Hill speaks well, much like his counterpart Vernon. I asked him about their rivalry.
"Yeh Jimmy and I sorted started racing at the same time, then we sort of went our separate ways but now we've sort of met back here in the 86 series and he's doing really well this season so it looks like he's going to be the man to be chasing all year."
Like Vernon, Hill would "like to think" he and Jimmy may one day be racing each other in the V8's.
It is true that the T86 series plays an important role in providing a platform from which aspiring drivers can progress from, Toyota certainly deserves recognition for the work it does in this area. At the same time though, the T86 series is also a spectacle in its own right. This years series has already more than proven this and its only just getting started.
Hill's form in Townsville sent an ominous warning to the rest of the field. Having now moved up into 9th place on the series standing, Vernon will have to maintain his consistency if he wants to follow in the path of last year's winner Will Brown. Something tells me though that Cameron Hill will make him work for it until the very end.
It looks as if the T86 series is already shaping up for a thrilling finale.
The next Toyota 86 Series Race will be held at Sydney Motorsport Park, August 18-20.