We've just completed the first round of pool matches and the World Cup has already provided no shortage of special moments. Ronaldo putting a hat-trick past Spain, a country with a population of 330,000 forcing a draw with Argentina, a handful of extra-time winners and even Messi having a penalty saved by a part time film director.
Results on the field mean everything at the sport's pinnacle tournament, but another aspect of the quadrennial spectacle plays a close second—kits. To the average football fan, the shirt is sacrosanct. It boldly declares your allegiances and proudly separates the disciples of each team.
Russia has without a doubt had the most heavily scrutinised kit offerings of any World Cup in memory. A fashion-conscious audience driving a convergence of football and streetwear to become so culturally interwoven demands as much. Gone are the days of announcing new kits via a team photo, arms crossed and players awkwardly smiling. These days, the football shirt's transition into athleisure icon dictates a fashion forward approach, with kit launches feeling more like a high-fashion event than the modest days of the group shot printed as a collectable in the local papers.
---
---
Because they're such a big deal, we've compiled the 10 best shirts you'll see in Russia—the sartorial winners on and off the pitch.
10. Iceland (Home) – Erreà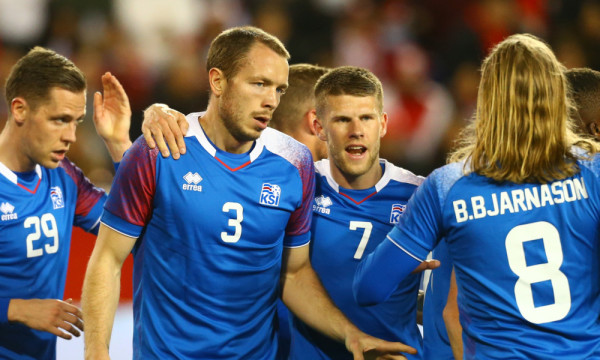 After a stellar Euros in 2016 where they comfortably assumed the role of undisputed giant-killers, Iceland make their World Cup debut wearing Italian sports brand Erreà. Said to draw inspiration from the natural features of the volcanic North Atlantic island (blue for water, red for lava and white for ice), the shirt has a distinct 90's flavour via the fading on the sleeves and would feel right at home on any World Cup pitch back in '90 or '94. While it might appear slightly plain upon first glance, we're fans of its stylish simplicity—a great first attempt for the tournament debutants.
Another classy yet unseen touch is the "FYRIR ISLAND" ("For Iceland") motto printed on the inside of the shirt, a bit of added patriotism for fans that have one of the coolest celebrations in world sport—the Viking Clap.
9. Peru (Home) – Umbro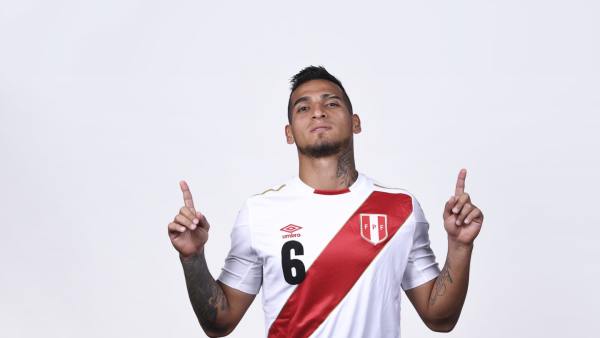 One of the most recognisable shirt designs in world sport, Peru's home kit for Russia is again stylishly simple and is already turning heads. Not having featured in a World Cup since 1982, Umbro hasn't let the hiatus change much, keeping the South Americans' offering traditional—white with red sash and an inverted red with white sash away kit. What's not to love?
8. Spain (Home) – adidas
---
---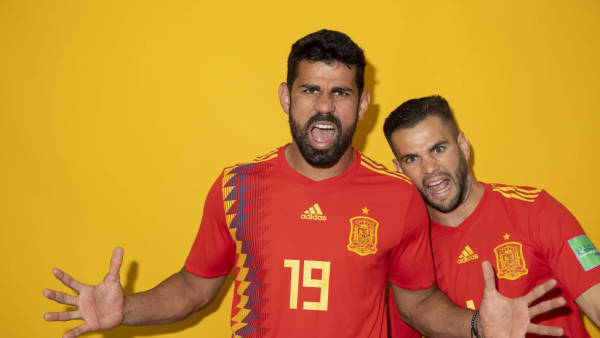 This World Cup has seen a more archival approach in design, with many teams opting for a distinct retro influence, some clearly channeling the success of previous tournaments. Spain's return to the diamond checkerboard effect is precisely half that—inspired by their jersey worn at the USA '94 World Cup where they looked great but couldn't make it past the quarter finals. Still, it's retro flair is unmistakable and the folks at adidas can rest assured that they've nailed the 2010 Champions' iteration 8 years later (albeit after bombing La Furia's jersey four years ago in Brazil).
7. Brazil (Home) – Nike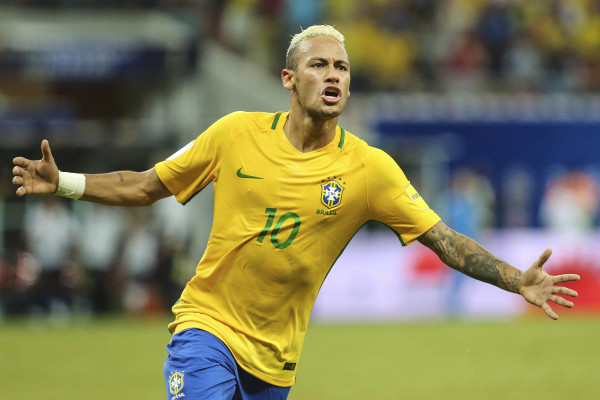 If it ain't broke, don't fix it. The age old aphorism often rings true with football kits, and Brazil's home shirt for Russia is no exception. One could argue that also makes it kind of boring, but Nike has gone the extra mile to add a few touches that push it firmly into our top 10.
The Canarinha, or "Little Canary" in Portuguese, are known for their canary yellow home shirts as ubiquitously as they are for their flamboyant style of play, so Nike's designers travelled to the Football Museum in São Paulo to create a yellow jersey which exactly matches the canary yellow worn at the 1970 World Cup in Mexico. As we mentioned earlier, many teams seem to be channeling past success through retro throwback designs, and considering Brazil's 1970 squad won the tournament with a team often rated as one of the greatest ever, there might be more than a little bit of pressure on Neymar's shoulders.
Throw in some pretty cool sublimation printing on the body of this shirt and you've got yourself a winner—at least in the fashion stakes.
6. South Korea (Away) – Nike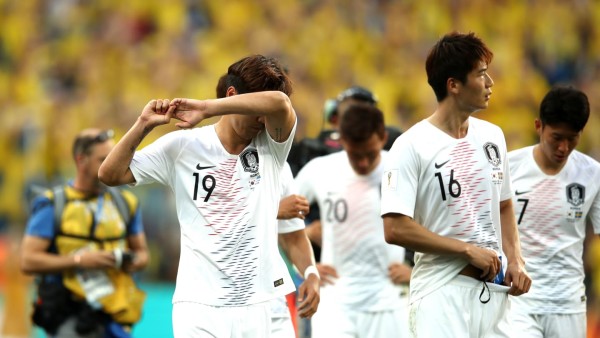 South Korea is a powerhouse market for Nike, so it's no surprise the Swoosh has gone above and beyond for the Taegeuk Jeonsa ("Taegeuk Warriors" in Korean) kit. Nike describe the offering as "inspired by the fresh-thinking, modern Korean attitude," and the away shirt oozes that design direction. Utilising a stylised red and blue national flag motif backed onto a traditional white background, the away shirt is arguably the best white kit at a tournament full of them.
The question now is, can the Koreans bounce back after a disappointing opening loss to Sweden?
---
---
5. Belgium (Home) – adidas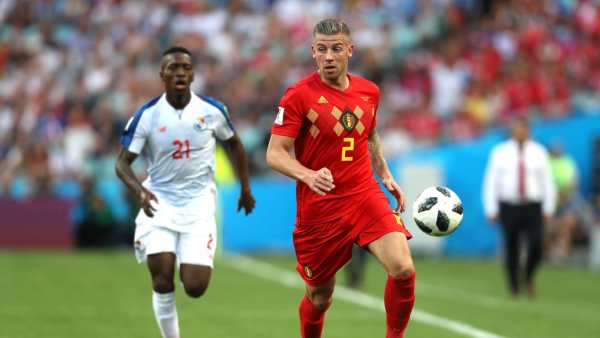 Another throwback-inspired jersey—this time a nod to the 1984 World Cup kit—is on the menu for the Belgians in 2018. After a switch from the less-than-impressive effort by Swiss sportswear minnow Burrda four years ago, the Red Devils are running with an adidas-engineered jersey for Russia. Like Spain's home shirt, more diamond checkerboard designs run across the chest here, with a centrally-positioned national crest harking back to the 90's with an archival blend that wouldn't look out of place on Christmas day.
One of our tips to win the tournament, let's hope the likes of Hazard, de Bruyne and Lukaku can live up to the lofty heights of the kit their team will walk out of the tunnel in.
4. France (Away) – Nike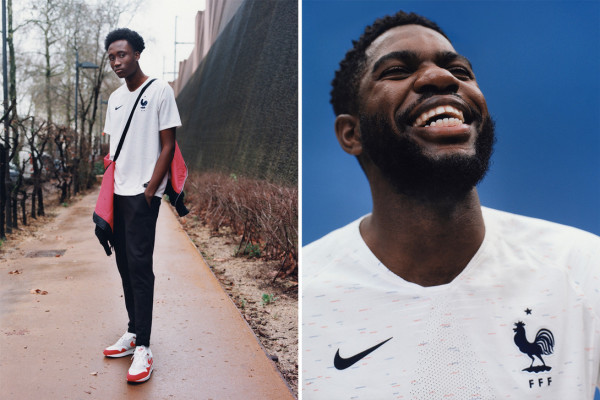 Les Bleus ("The Blues") are of course known as such because of the navy blue home shirts French teams play in, but it's their away shirt that's the real eye-catcher in Russia. Similarly-themed but divergently executed to South Korea's away shirt, Les Bleus' offering appears plain white from a distance but displays subtle flecks of red and blue when up close, and features a navy crest and Swoosh motif in honour of the ubiquitous French moniker.
Nike has also added the national motto "Liberte, Egalite, Fraternite," embossed on the collar button, while printed on the inside is "Nos Differences Nous Unissent" ("our differences unite us"), a nod to the diverse ethnic makeup of both Les Bleus and France itself.
Australia's biggest threat in the group, the French were lucky to be handed a dubious penalty via VAR in the opening pool match, allowing them to snatch a 2-1 victory. Still, they're another of our favourites to take out the tournament.
3. Germany (Away) – adidas
---
---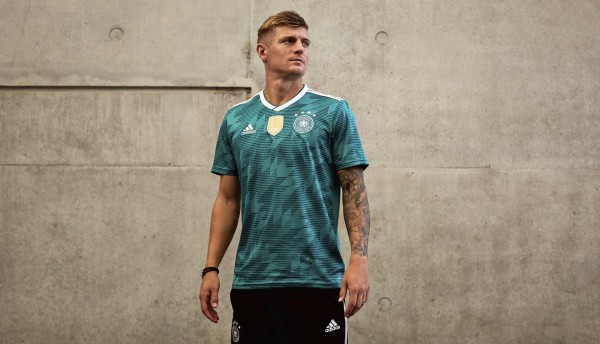 The reigning champs have nailed both jerseys they'll be defending their 2014 triumph in. Die Mannschaft have opted for more retro design inspiration, with the away shirt a direct scion of the jersey West Germany wore while famously dumping England out of the 1990 World Cup in Italy (on penalties of all things). Clearly the best of all the away strips seen on the pitch in Russia, some say it was forged in a mixture of Paul Gascoigne's tears after that famous England loss (or at least we hope so).
Other features include "Die Mannschaft," or "The Team" on the reverse of the nick, plus the famous gold World Cup winner's badge on the centre front.
2. Japan (Home) – adidas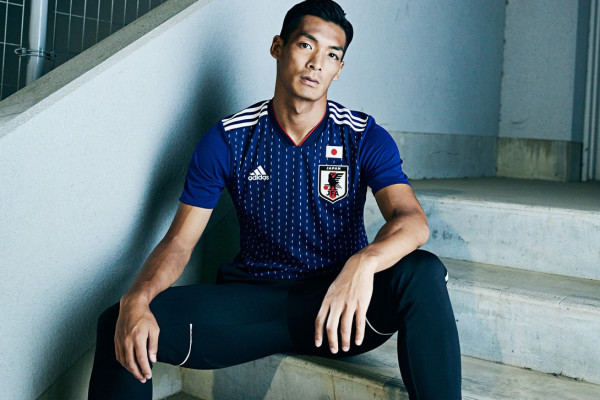 The Blue Samurai consistently have one of the best shirts in world football, so we're stoked adidas hasn't let us down in Russia. The home shirt is emblazoned with a traditional Japanese Sashiko embroidery pattern inspired by Samurai armour, which is imprinted specifically onto the body section (and not the arms/sleeves) of the famous deep blue the Japanese are known for. Another feature we love is the boldly-sized national crest sitting below a separate-but-totally-suitable Japanese flag. It's not the first time the Blue Samurai have opted for this setup and we hope it's not the last.
1. Nigeria (Home) – Nike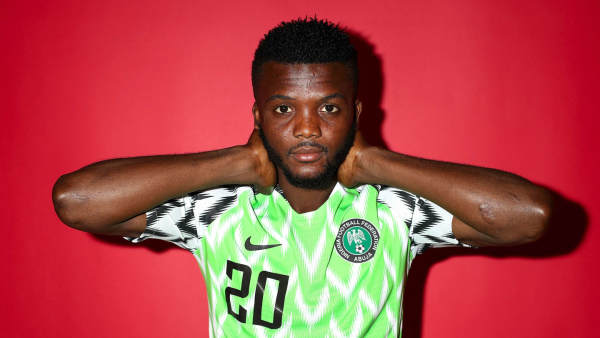 Did you really expect anything else? The Super Eagles' home kit for 2018 has made waves everywhere. If you're reading this yet don't follow football, there's still every chance you've been witness to the hype surrounding this shirt. A modern take on a retro classic, the design draws inspiration from Nigeria's 1994 kit—the first time the team progressed past the pool stages—with eagle-wing inspired black and white sleeves offsetting retro green and white chevrons on the body. It's bold, it's brash, it's an instant classic.
The jersey managed to hit pre-orders of 3 million units prior to its release back in May and sold out in minutes online when it eventually dropped, such is the level of demand for it from the athleisure-loving youth. Granted, it didn't help the Super Eagles in the opening loss against Croatia in the group of death, but this shirt would comfortably make its way onto our 'Top 10 World Cup Jerseys Ever' list. Bravo, Nike.
BONUS POINTS: Check out Nigeria's full range of off-field kit for this tournament. It's the stuff of streetwear dreams and will be discussed at many a future tournament.
---
---
Honourable mention:
Australia (Training) – Nike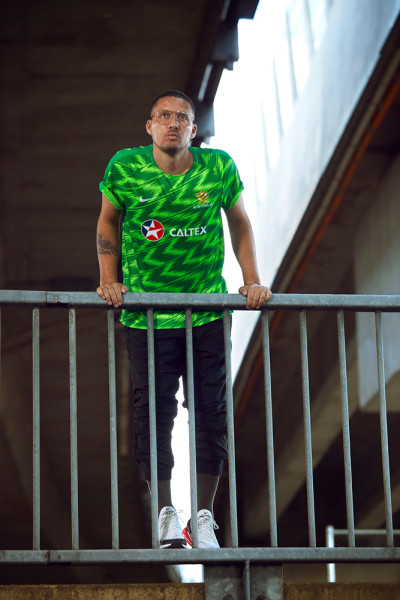 Being Aussie, we thought it would be rude not to mention a very honourable effort by our national team—especially after listing two of Australia's group D rivals in our top 10. While the Socceroos' home jersey didn't wow us (albeit better than many previous attempts), it's the training shirt that caught our attention. Bright green retro chevrons running diagonally across the body, it has genuine athleisure credentials and should've rated more of a mention as a potential away shirt (hell, let's just throw the rest out the window and make it our home shirt..!). Props to Nike on delivering one of the better Australian football shirts in recent memory.