With the recent explosion of direct to consumer sunglasses brands – most focused on margin rather than quality – there are a plethora of brands to consider when shopping for a new pair of sunglasses. However, if you're in the market for the best men's sunglasses, you've arrived at the right place. From luxury brands like Tom Ford to bespoke craftsmen like Nacky Made, you must navigate all manner of materials, construction, shapes, sizes, and levels of protection before you can safely decide on the best sunglasses for you. Ultimately, a decision to settle on the best sunglasses for you is likely going to come down to your personal taste, so ahead of summer we've rounded up the best sunglasses brands so you're at least across all the essentials before you make the investment.
And it is an investment. When it comes to sunglasses, there's never been a saying more fitting than 'you get what you pay for'. Your days of losing cheap pairs of 7-11 sunnies at Splendour in the Grass are (most likely) behind you. If you're buying sunglasses, it doesn't pay to be stingy. Quality parts and construction don't come cheap, nor does a reliable retailer network – critical to the success of all brand's we've featured on this list. Remember, cost-per-wear offsets any price tag, and a product from a brand that places as much emphasis on build, as it does on style, is going to last you infinitely longer than your entry-level brands.
For those graduating to a serious pair of shades, the choices are considerable. Below you'll find 20 brands that each nail the pillar points of superior craftsmanship, components, style and attention to detail. You'll know the tried-and-true favourites like Oliver Peoples, Tom Ford, Matsuda, Ray-Ban, and Garrett Leight, but there's a few – both historic and largely independent – which may have flown under your radar.
---
---
Sporting frames from any of the below brands will not only position you as a connoisseur, but will have you standing atop the Warby Parker/Bailey Nelson masses this summer.
---
Our Favourite Sunglasses For Men
AHLEM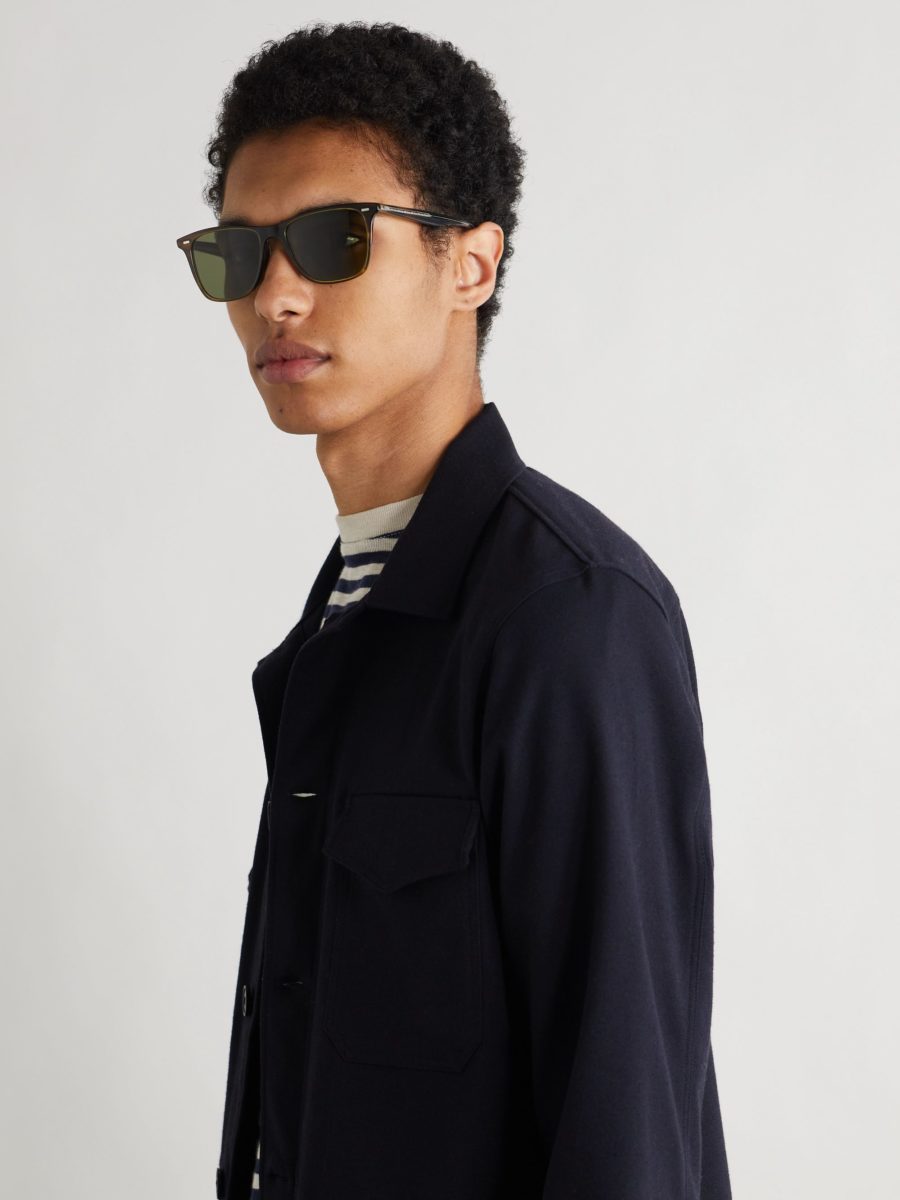 Parisian-born, L.A.-based designer Ahlem Manai-Platt launched her eponymous label in 2014, balanced on the ideas of using exceptional materials with sustainable methods to produce an ever-evolving collection of trend-agnostic frames. Now with almost a decade under the label's belt, Manai-Platt's vision is still considered unique, in a market that is constantly chasing trending fashions.
All AHLEM's sunglasses are handcrafted in France from the finest raw cuts of Italian Mazzucchelli acetate, which gives the brand plenty of imperfections and irregularities to work with. Across several different artisans who work individually on each stage of the production process, AHLEM is able to pump out distinctive, nuanced styles that distinguish the brand from competitors.
When it comes to men's sunglasses, AHLEM's most aesthetically pleasing expression is the Champ de Mars, chic and adaptable with subtle details like bevelled temples worked to catch the light and a front channel that lends a bit of sculptural depth to make it more appropriate for a wider range of face shapes. It's the best example of Manai-Platt's obvious love of early avant-garde 20th century Bauhaus design principles and has become a must-have accessory in the fashion industry, alongside other popular styles like the big, bold Ollis.
---
Persol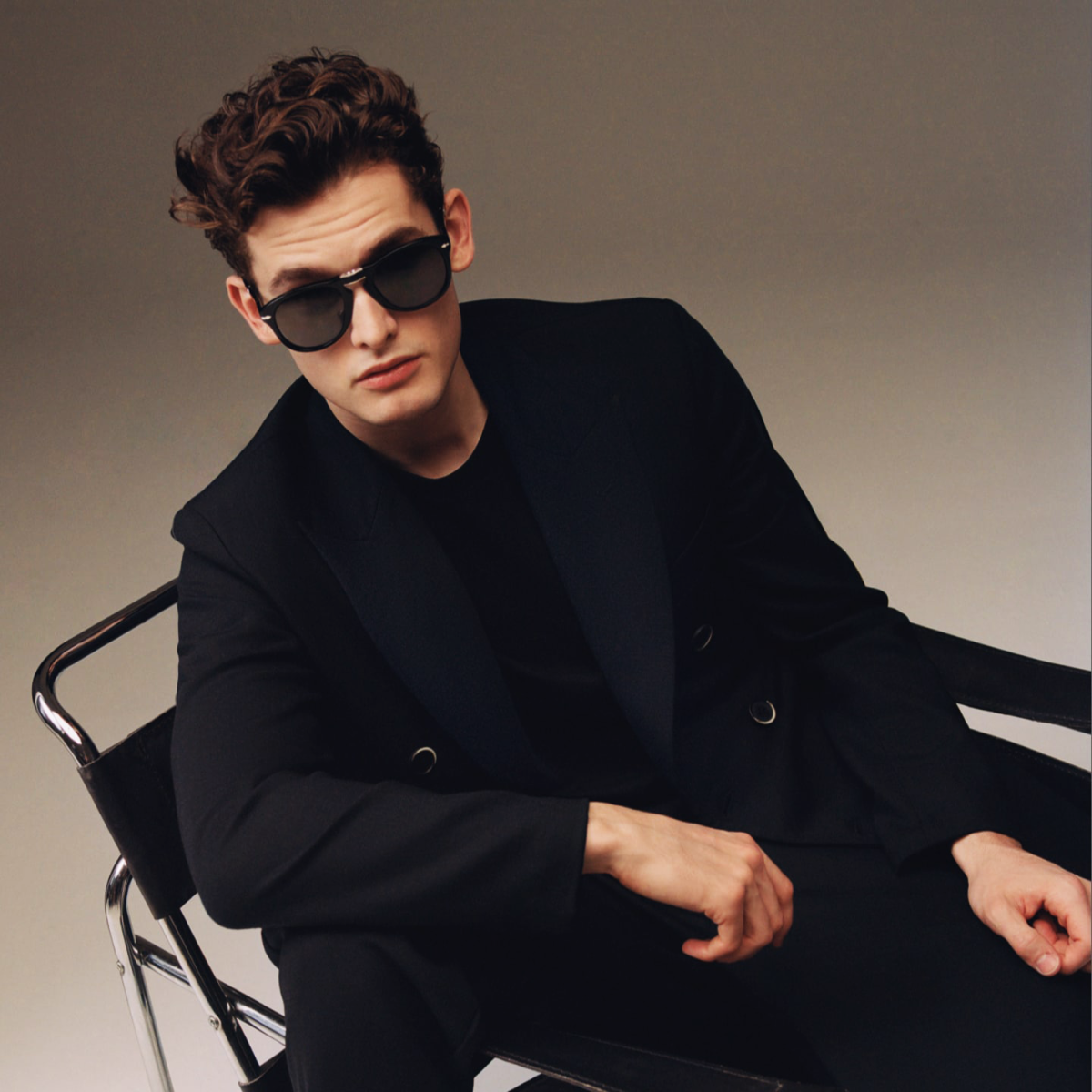 From Pierce Brosnan in Die Another Day, and Arnold Schwarzenegger in Terminator 2, to Jack Nicholson in Something's Gotta Give, luxury sunglasses brand Persol has long had a presence in Hollywood. Even today the brand is a constant in film and remains a firm favourite for F1 drivers like Lewis Hamilton. Though it's a lot more than star power driving the widespread love of this Italian brand, which was founded by Guiseppe Ratti back in 1917.
Uniquely, Persol introduced the Malfecto flexible stem system in the 1930s, a substantial leap in design that constructed the temples in such a way that they would remain flexible and easy to adjust while relieving pressure on the head. Rigidity went out the window and comfort climbed in, which explains why Persol is held in such high esteem amongst competitors.
As one of the oldest sunglasses manufacturers in the world, the Luxottica-owned brand is recognised for the kind of panache that defines old-school Italian elegance, so the styles that play most closely to European fashion are always going to be the top picks of the collection. The brand's iconic Steve McQueen Persol 714 is still a powerhouse of style as far as we're concerned, and absolutely one of the first pieces you should be looking at when browsing Persol's considerable stock.
---
---
Given Steve McQueen sporting a pair of Persol's in The Thomas Crown Affair is what first drew attention to the brand, it makes sense that they'd reignite their most iconic pair as a homage to the King of Cool. The first-ever folding sunglasses model nailed the vintage style when it first debuted in the 1960s, and now there are numerous colourways – the best of them being the earthy Terra di Siena and the plain black-on-black versions.
---
Oliver Peoples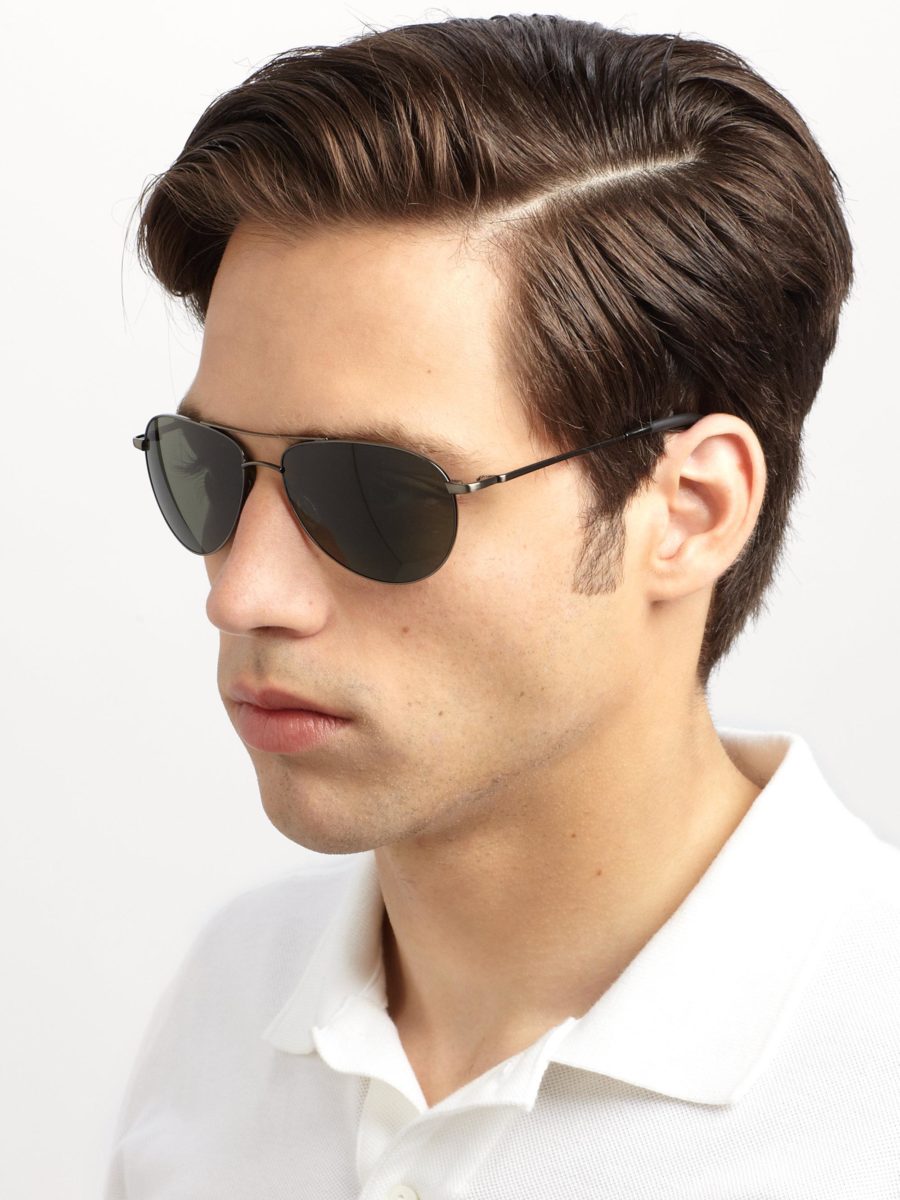 Based in L.A, Oliver Peoples, much like Persols, has been a firm favourite sunglasses brand on the red carpet for many years. Most blokes would recognise Oliver Peoples from its presence on Entourage. The stylish sunglasses brand has also appeared in Fight Club (Brad Pitt wore a pair of Oliver Peoples 523) and American Psycho (Christian Bale name drops the eyewear brand in the 2000 film).
RELATED: The Workout You'll Need To Get Brad Pitt's Fight Club Rig
Celebrity obsession fueled the ostensibly Hollywood brand to the point where Luxottica purchased the company in 2006. Now with Ray-Ban and Persol as labelmates, Oliver Peoples is firmly established as a symbol of Sunset Boulevard and the showy, attention-grabbing swagger of West Hollywood.
That isn't to say that Oliver Peoples is obnoxious. Far from it. The designer sunglasses brand has a knack for working the world's best materials into vintage American-made eyewear with a consistently sophisticated aesthetic framed by geometric shapes, designer frames, and the kind of loud, brazen colours which defined the late 1980s, anchored by high-quality lens technology.
Like all superior sunglasses, a pair of Oliver Peoples sunglasses comes with 100 per cent UVA and UVB protection, as well as solid construction that usually relies on a 5 or 7-barrel hinge. Although they look and feel like lifestyle sunnies, it's perfectly fine to put them through some amount of pain without issue. A love of using the highest quality materials available means you get a pair of sunglasses that are just as suitable for an active lifestyle and outdoor sports, as they are for cruising the harbour on a Sunday sesh in Sydney.
The Gregory Peck and Cary Grant expressions are the brand's most popular, but the Oliver Peoples Benedict is tough to overlook. The chic aviator sunglasses feature a double bridge and straight brow bar for a hit of perfect symmetry, with comfort coming from silicone nose pads and a classic teardrop lens shape that sits well on any face.
---
Matsuda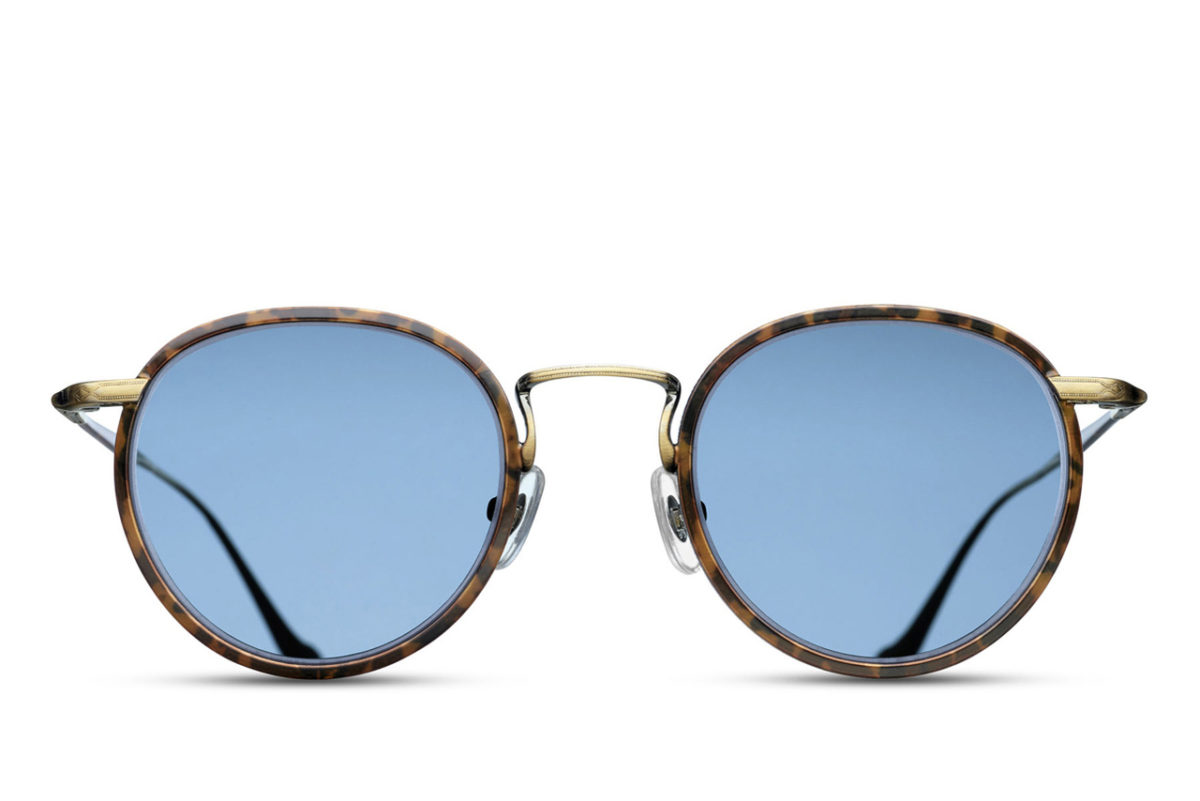 Matsuda is a splurge, punching well above the price of most of the other brands on this list, but offering a lot in return. Entirely made in Japan, Matsuda sunglasses come with a meticulous dedication to craft, typical of the country's worship of artisanal products. Even though you're paying a premium, a pair of these exceptionally durable sunglasses represents good cost-per-wear and have been consistently revered for more than 5 decades.
---
---
The company was founded by Mitsuhiro Matsuda, who was one of Japan's premier fashion designers, under his label, Nicole Co. after it was founded in 1967. It took two decades for Mitushiro to release his first eyewear collection, and since then Matsuda has been firmly positioned as a prestige luxury sunglasses brand both for Hollywood and for the general public.
While Arnie wore Persol in Terminator 2, Matsuda was instantly associated with Linda Hamilton, with Sarah Conner famously donning a pair of Matsuda's distinctive circular lenses and oval frames. As such, the Terminator VS2 sunglasses are considered a signature for Matsuda, but they can run you up closer to $3,000. A better option for blokes would be the impeccable M3058 model – forward-thinking titanium sunglasses with a classic P3 shape featuring a wide rim with Matsuda's signature M+N engraving. Nobody is going to look bad in these, especially the antique sun frame with blue lenses.
---
Mykita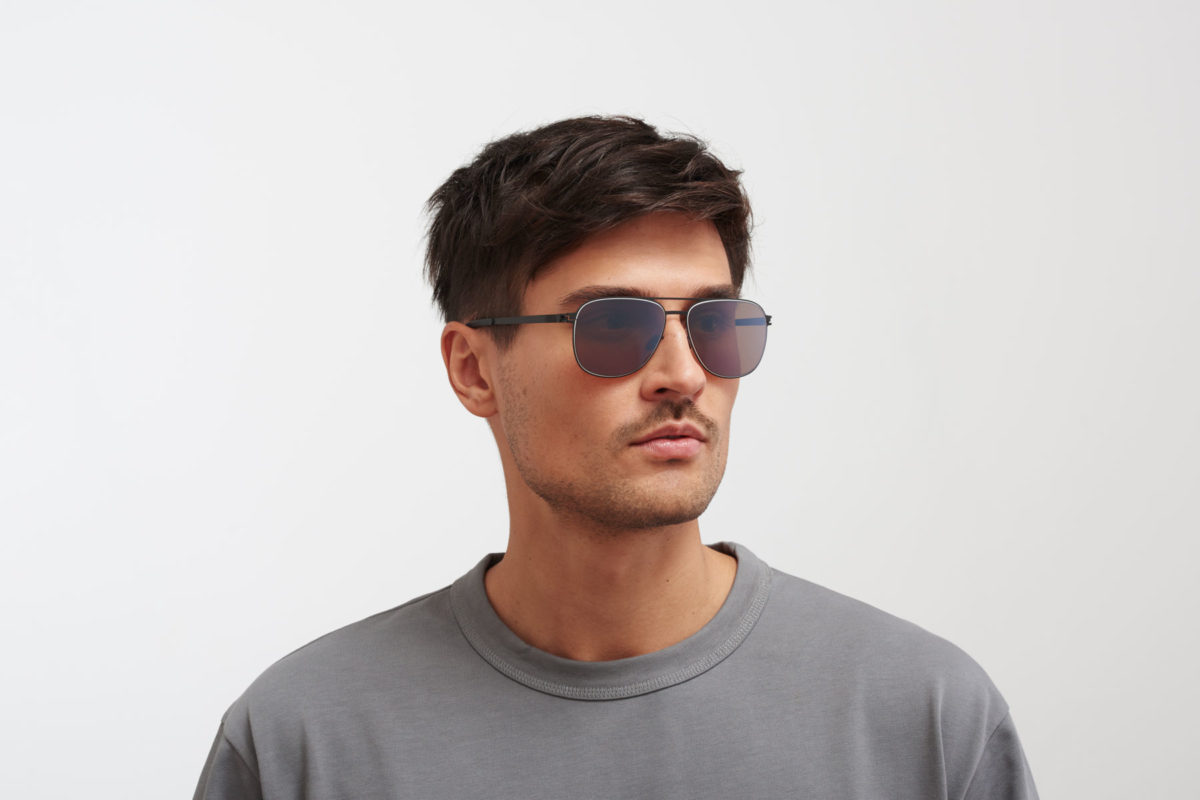 Numerous product design awards over the years have drawn attention over to German brand Mykita, which is now synonymous with design-forward quality and innovation. Founded in Berlin, the company first started manufacturing sunglasses in 2003, building up such a reputation that constant collaborations with other eyewear brands, such as Maison Margiela and Moncler, is no longer a surprise.
Not that Mykita really needs any external input to their bold designs, which are both surprisingly rugged and full of personality. The more idiosyncratic designs reiterate the progressive approach to form, but Mykita is at its best when keeping things simple and symmetrical. The clean lines of the Ian Mykita sunglasses are popular for good reason, as are the Joshua and Perry styles. Although we're rocking harder with the Caleb – a classic aviator shape made from lightweight stainless steel with Polarised Pro Hi-Con Brown Silver Flash lenses.
---
Rimowa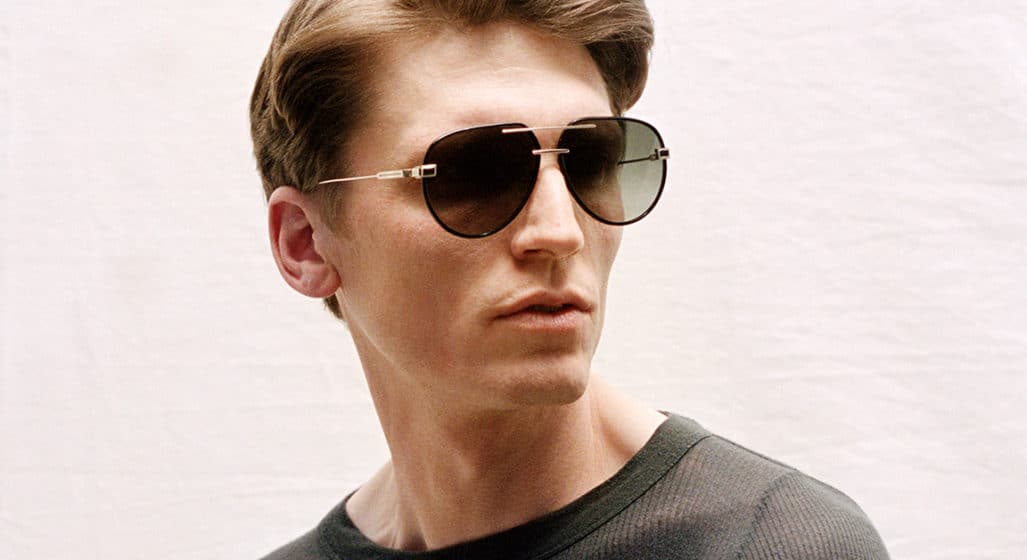 A lot of people still aren't aware that Rimowa has started making sunglasses. The iconic luggage manufacturer revealed their first collection last year, and it's clear they've been paying attention to the deeper layers of the scene, not just chasing trends but focusing heavily on weight and construction. That is, after all, their identity.
Rimowa's proven construction techniques are used to express classic sunglass styles, resulting in refined, durable pieces that balance comfort and style. Clever nods in the design set the brand apart, with the few pieces making up the Rimowa Bridge collection crafted from two pieces of mask overlaid and assembled by pins. This, of course, echoes the trademark engineering details credited to the brand, like Rimowa's industrial rivets and seal. If you want a pair that's built to last as long as your Rimowa luggage, pay close attention to these fashionable shapes.
---
Mr Leight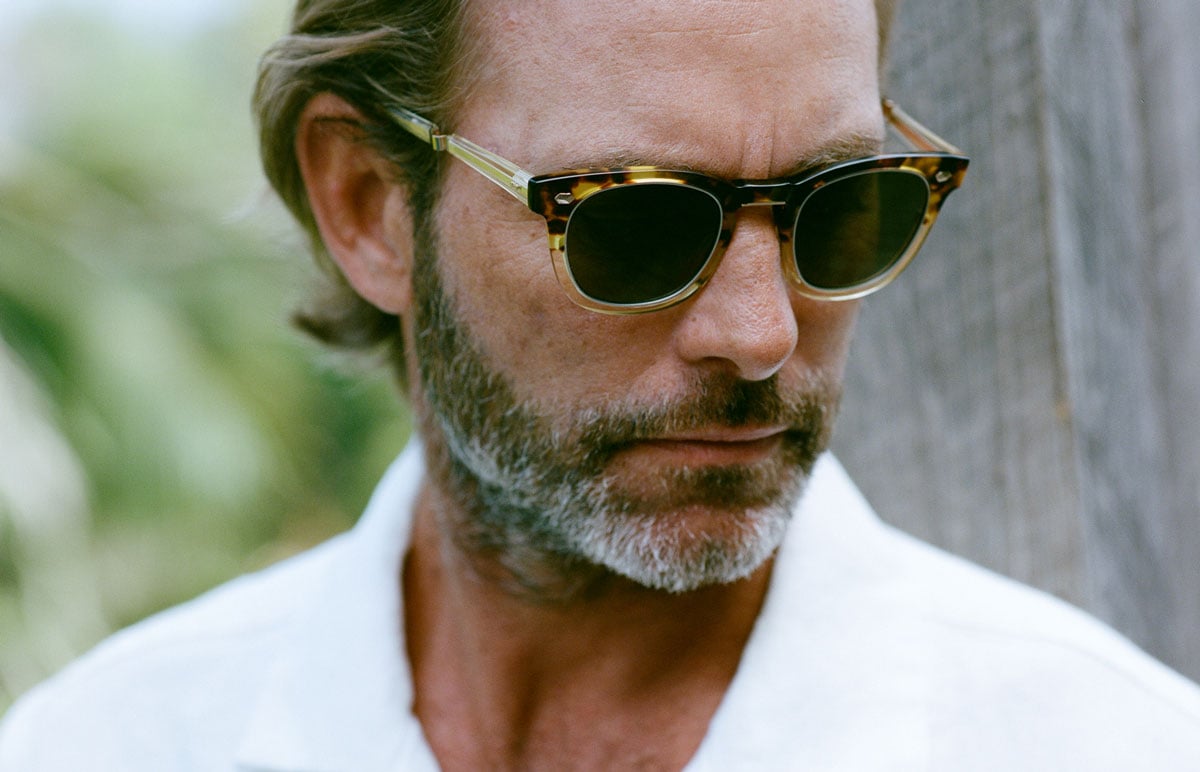 Larry Leight is as influential as they come in the world of sunglasses. He founded Oliver Peoples back in 1987 and eventually sold the iconic vintage brand to Luxottica in 2009. Just a few years ago, he and his son Garret launched Mr Leight with a single focus on modernising the industry and introducing innovative designs. Mr Leight sunglasses are all handmade in Japan with very specific design briefs that distinguish them from the rest of the noise, ideal for men looking to craft their own signature style.
The frames are made with hex hinges, removable top bars, discreet titanium, pearl nose pads, and exposed adjustable coil temples, taking a progressive approach to comfort while still maintaining an undeniably luxurious look. It's tough to pick standouts from their well-curated collection, made up mostly of classic shapes named after local boulevards and landmarks in America.
---
---
The loud, dramatic look of the Hanalei S frame shouldn't be overlooked. It's a masterclass of finesse and a swift demonstration of how to remain unique in a trend-based industry. Inspired by the iconic 60s mod optical shape and crafted from Japanese acetate, titanium accents, and 3-barrel custom hinges, it's as good as it gets if you're looking for the best sunglasses for men.
---
Ray-Ban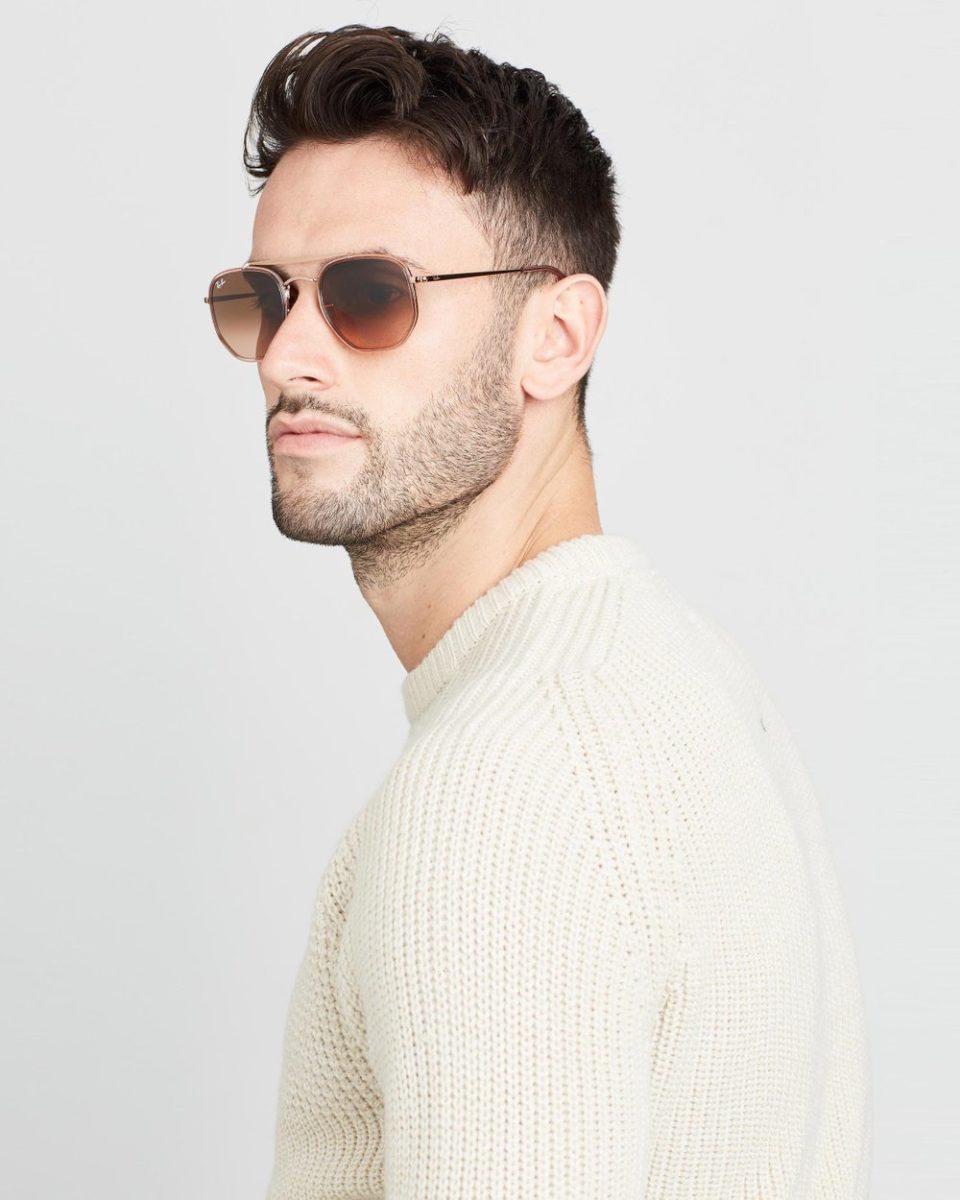 You knew we were going to get to this one eventually. Luxottica owned Ray-Ban is the best-known household brand in sunglasses, and for good reason. The consistency is unparalleled, crafting classic frames from the highest quality materials and offering up definitive styles like the Ray-Ban Wayfarer, Ray-Ban Clubmaster, and Ray-Ban Aviator. Started in the 1930s to produce revolutionary anti-glare eyewear for US Air Force pilots, Ray-Ban quickly spread to the public from there and became largely known as the go-to brand for any outdoor situation.
Two decades later, Hollywood adopted the brand to give it a bit more flair, sparking global recognition which was taken even further by some high-profile film placements in the 90s. Denzel Washington wore them in Malcolm X; Tim Roth rocked a pair in Reservoir Dogs; Johnny Depp lived in them in Fear and Loathing in Las Vegas. Compared to the other sunglasses brands on this list, Ray-Ban has benefited the most from optics, and they've constantly backed it up with consistency, quality, and a penchant for setting trends.
It's then a question of what you should get. Authentic Ray Ban shades don't come cheap, especially if you want to do a bit of mixing and matching with other brands on this list. For men, the classic Wayfarer and Aviator styles will never go wrong, especially if you're going for the more showy colourways like gold and green.
If you want to stand out, step outside the box for something a bit different like the Ray-Ban Marshal II. This masculine style is a new player in Ray-Ban's classic rim game, presented in a hexagonal-shaped metallic frame that'll make a statement no matter your face shape.
---
Maison Bonnet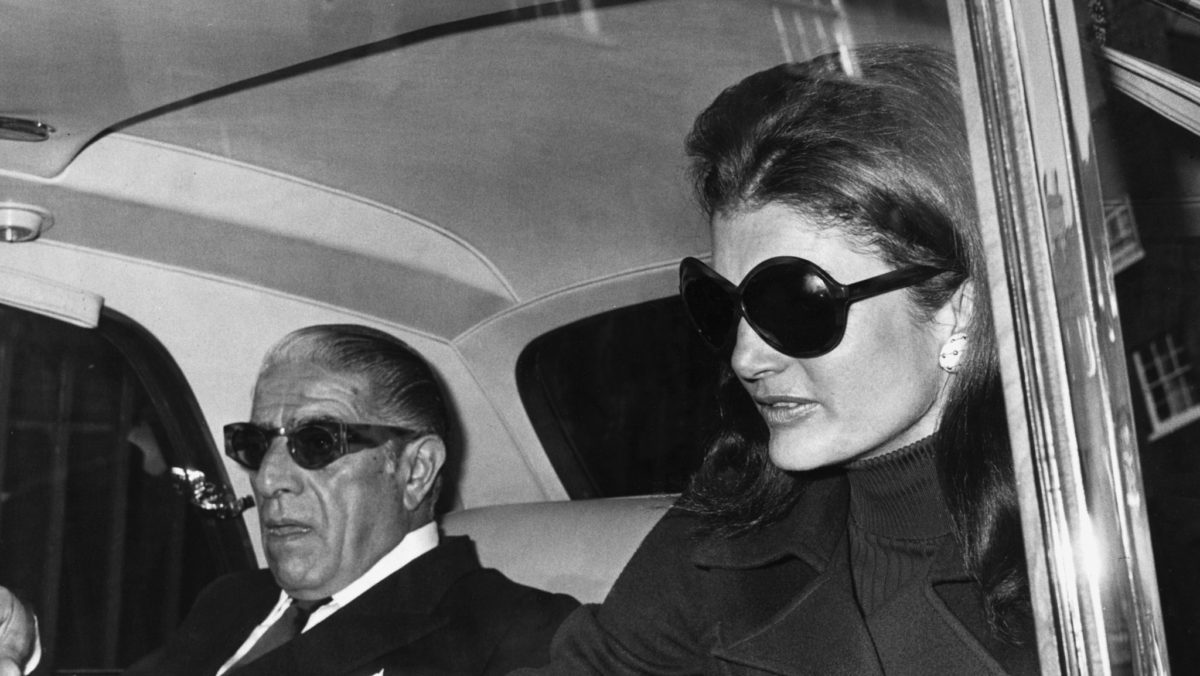 Maison Bonnet makes the world's most exclusive glasses. That much cannot be denied. If money is no issue, discerning men look straight to this family-owned French company to produce stunning made-to-measure and bespoke fittings of styles that they helped make iconic. The likes of Aristotle and Jackie Kennedy Onassis are just some of the famous names which have given the power of fame to Maison Bonnet, which now boasts ateliers in both Paris and London.
The intricate design process that sits behind Maison Bonnett's individual glasses is mostly kept secret, but we do know the customisation process is so in-depth that the designers go so far as to consider someone's overall looks, facial features, personal tastes, and even profession before they cobble together luxury eyewear. As with made-to-measure clothing, there's something incredibly special about knowing an accessory was made just for you, and obviously, people are willing to pay far beyond reason for it.
The company describes itself as the "Everest of exclusivity," and while that may sound a bit too wanky, there's no lie to be found. A pair of Maison Bonnet sunglasses will go a long way, right after they've taken measurements of your temporal lobe, pupil distance, angle of the nose, and just about every other angle that's completely unique to you.
---
---
The frames they have available are all blank slates, from the Reza to the Lowell. If you're keen on making the hefty investment – starting from €1300 – it's worth getting their advice first before choosing your style.
---
Jacques Marie Mage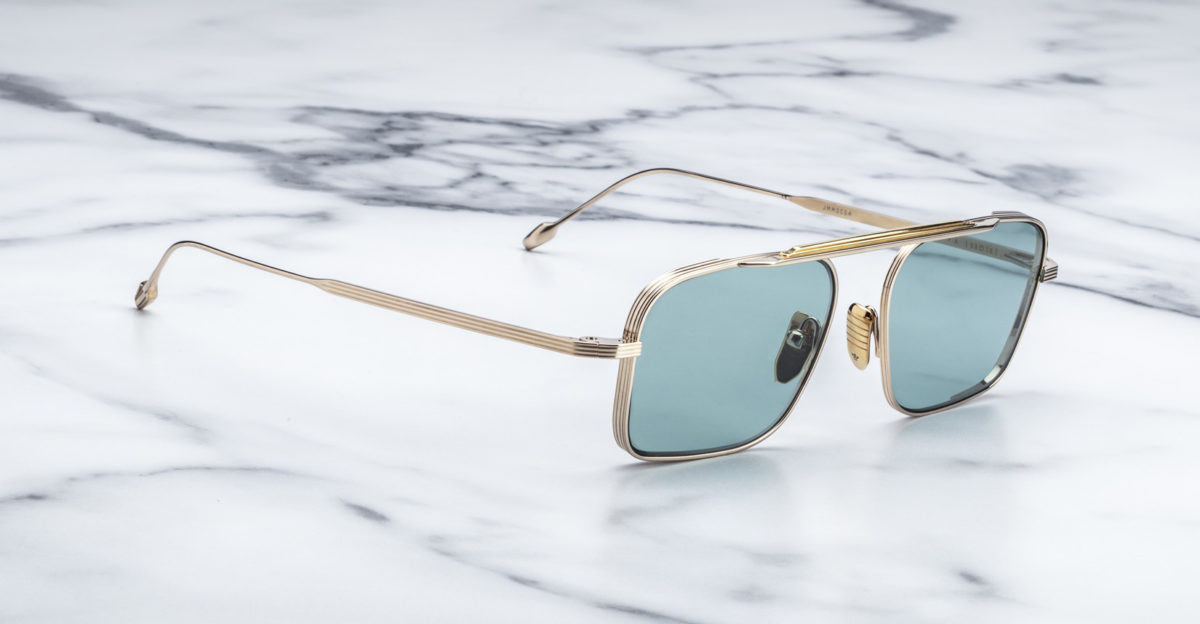 Now here's a brand that understands the value of scarcity. Eschewing the usual route of trying to get your sunglasses on to as many faces as possible, Jacques Marie Mage relishes in rarefied frames. Jerome Mage founded the luxury brand in 2015, with a clear goal to shift eyewear away from expected designs and bring more of an artful approach to form.
Based out of L.A, Jacques Marie Mage only produces very few pairs per year, and they're usually lapped up by celebrities like Jeff Goldblum and LeBron James before the general public even gets a chance to get across their classic designs. Because of this, Jacques Marie Mage is one of the most obscure sunglass brands out there, but it's worth the effort scouring the scene for a pair.
The designs are exaggerated with various aesthetic flourishes, but Mage clearly resists going too over-the-top. And that's a sentiment thrown about every time their latest eyewear collection drops, touting high fashion and micro-production but clearly proving tough to resist as these are sunglasses worn by fashion critics around the world.
Unlike the other best sunglasses brands on this list, Mage and his crack-pot team of Japanese craftsmen clearly place value on surrounding each pair with smaller details like a hand-numbered card and even scent. Reportedly, if you open up one of the red stain boxes these sunglasses ship in, you'll pick up a strong hit of oud wafting from inside. Pretentious as it might be, the sense of theatre and occasion adds greatly to the charm.
In terms of style, the slick and smokey Yves and the slightly rounded Zephirin 47 are top picks, but it's the casual, spacey charm of the Scarpa that's one of the toughest to look past if we're talking about building a timeless appeal for men's sunglasses. The handsome titanium frames are limited to just 500 pieces.
---
Tom Ford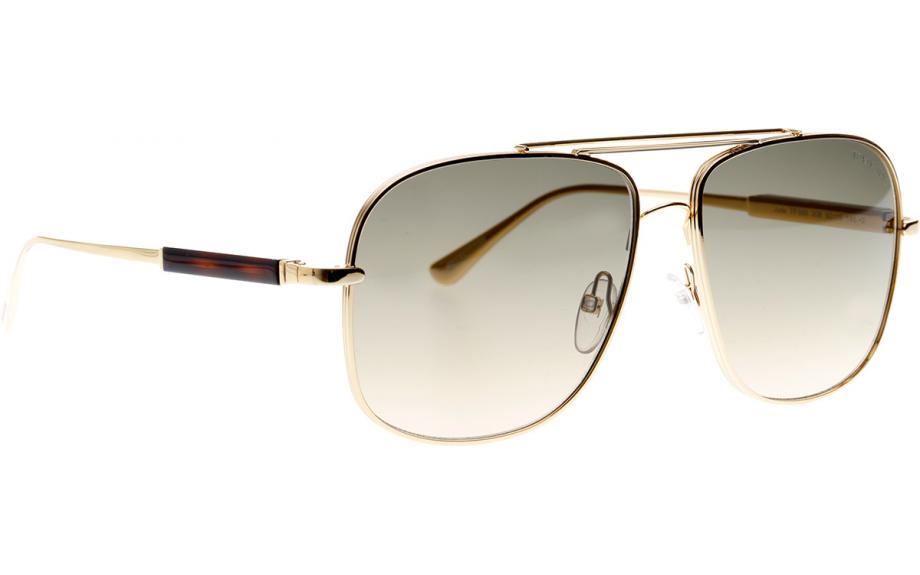 Tom Ford sunglasses fetch a fairly high price but are still fairly reasonable considering the reputation that sits behind them. Tom Ford started getting into the eyewear game shortly after his eponymous brand was launched in 2005, since dominating eyewear both on and off the big screen. Snowden, Marko, and Henry glasses have all been worn across various James Bond films, and that's only a smidgen of the brand's undying presence in Hollywood.
Not that you need movies to be taken by a pair of Tom Ford sunglasses anyway. The sheer range of shapes and styles make Tom Ford an easy pick over a pair of, say, Prada sunglasses, or other eyewear attempts from similar high fashion brands.
---
---
If you're looking for a pair of Tom Fords, ostentatious is always going to work the best. It's usually recommended that guys go for most conservative colours like silver, grey, and black frames, but there's something about the glimmer of those Tom Ford Jude frames that speak beautifully to the big, bold charisma that has made the man such a household name in the world of 21st-century fashion.
---
Maui Jim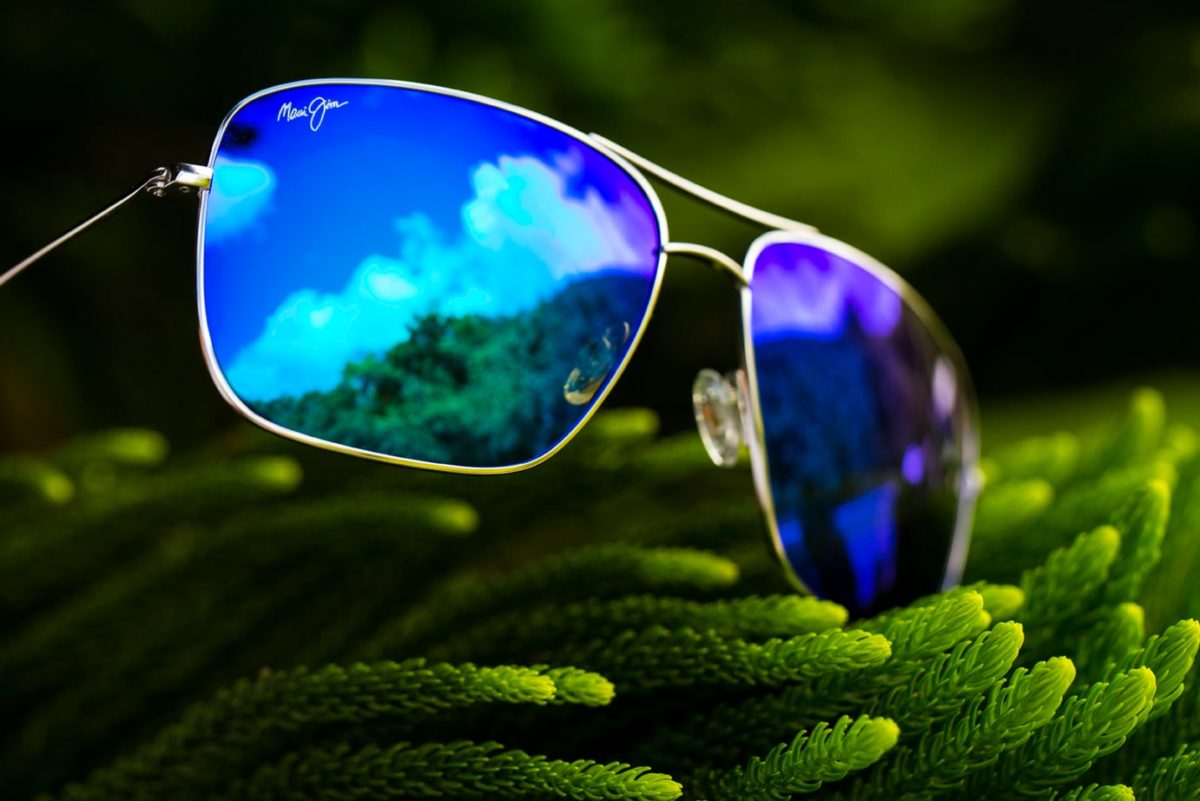 Maui Jim sunglasses have a supreme reputation for excellent clarity and contrast, producing some of the best high-performance polarised sunglasses for men who can't help but mistreat their accessories. The Hawaiian brand started out as a lowly fisherman selling sunnies on the beaches of Maui in 1980, slowly growing into one of the archipelago's best-known exports.
Being a brand predominantly born outdoors in the sun, Maui Jim places emphasis on a high degree of protection and visibility in brighter conditions. Colour matters a great deal here, and industry-leading technology defines every piece in the eyewear giants collection. Specifically, that's the patented PolrizedPlus2 technology which Maui Jim has formulated over the years, included in the non prescription lenses to block 100% of UV rays and eliminate glare, while also enhancing colour, definition, and depth perception.
While most sunglasses brands on this list are picked up for their aesthetic, consider Maui Jim more in the same league as those sturdy Oakley shades you've put through the wringer each and every ski season. Except there's an admirable balance of style, eschewing the thickness and chunk that's usually associated with sports-oriented sunnies and offering enough range to quality as designer sunglasses.
---
Carerra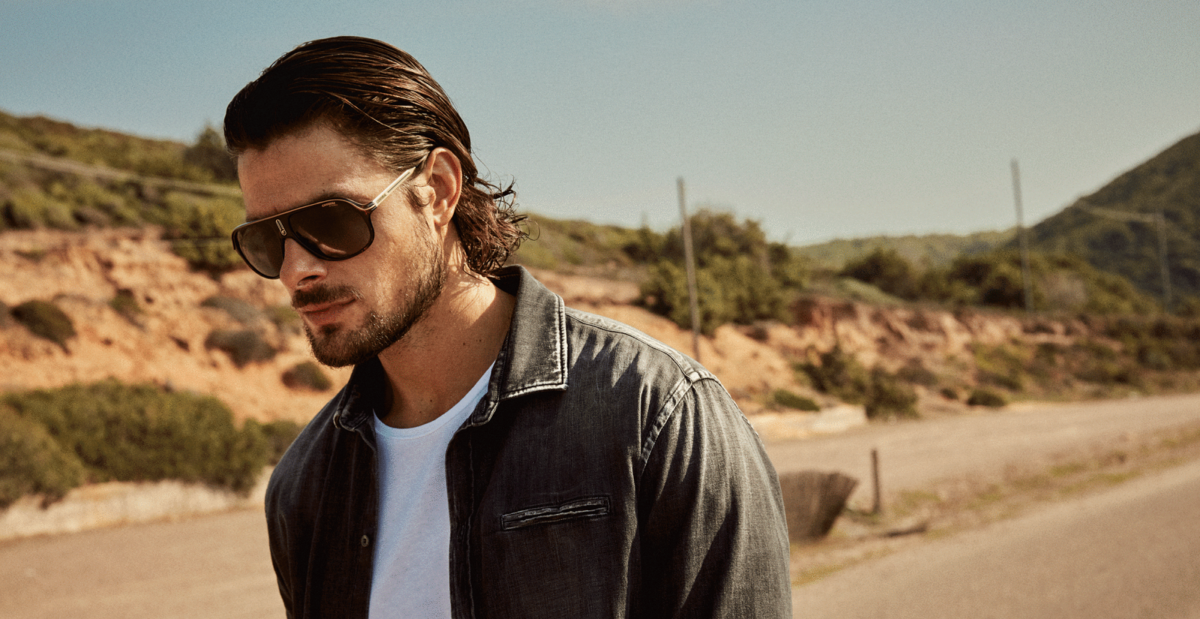 Carerra sunglasses clearly have a more athletic pedigree than most of the other brands on this list. The pioneering company was founded in the '50s by Wilhelm Anger, an Austrian man who made the leap from working for a small plastics company to producing sports-oriented sunglasses initially inspired by the legendary Carrera Pan-American sports car race.
Highly regarded for using plastic frames, Carerra patented a new form of resin that was 20 per cent lighter than all other forms of plastic used in the sunglasses industry. Going by the name of Optyl, it acts in a similar way to memory foam, in that the resin adapts to the wearer's face with a permanent elasticity and dimensional stability. Nowadays that's less unique – most high-end sunglasses use Optyl – but since Carerra discovered it, the company became known for manufacturing frames for other big fashion brands, like Christian Dior.
---
Dita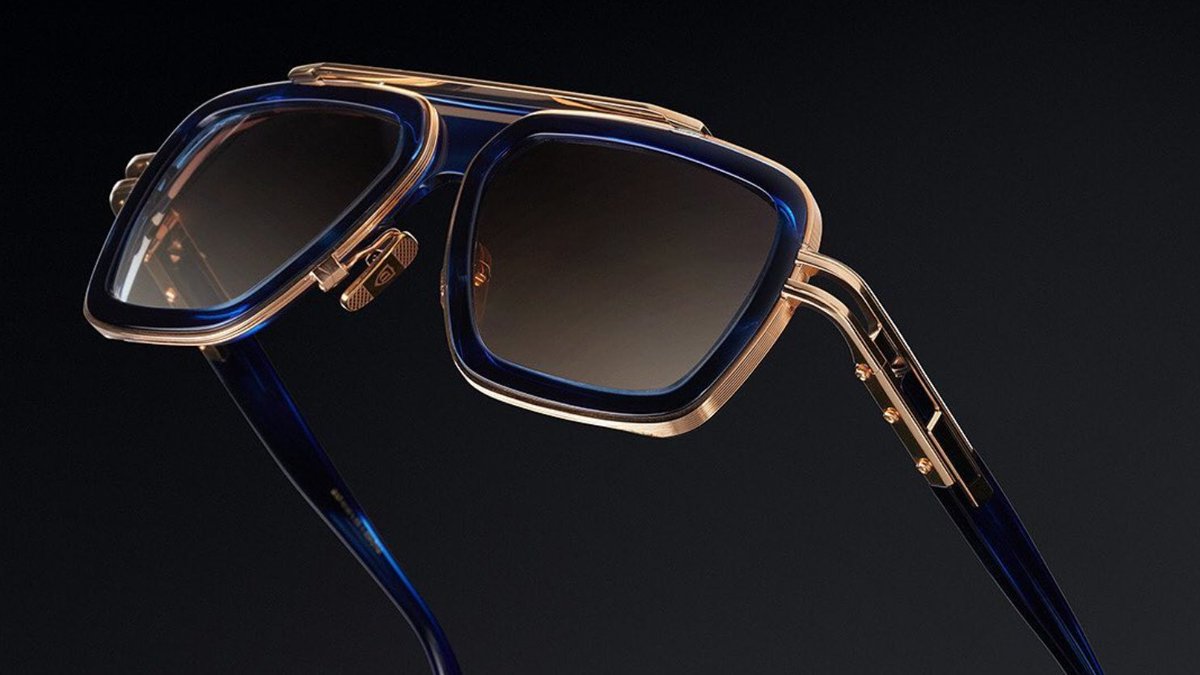 Moody black is the aesthetic of choice if you're going for a pair of DITA frames. It's another Hollywood go-to brand that's constantly spotted on the red carpet, with just about every level of celebrity frequently spotted draped in the minimalistic cool that defines the brand.
It was founded in 1995 by Jeff Solorio and John Juniper, who gave DITA the goal of becoming the "it" brand for innovative, high-quality crafted eyewear that's both unique and exceptionally comfortable. And yeah, that's just about every other brand on this list, but DITA have managed to stand out thanks to a strong sense of identity and a refusal to chase the more colourful trends that have been popping up lately.
That's not to say a bit of colour doesn't go a long way. That charming yellow gold streak that slaps across the excellent DITA LXN-EVO is irresistable. And while you are looking at around $1,300 for a pair of these thick frames, the attention-grabbing accessory will look boss on just about any bloke.
---
E.B. Meyrowitz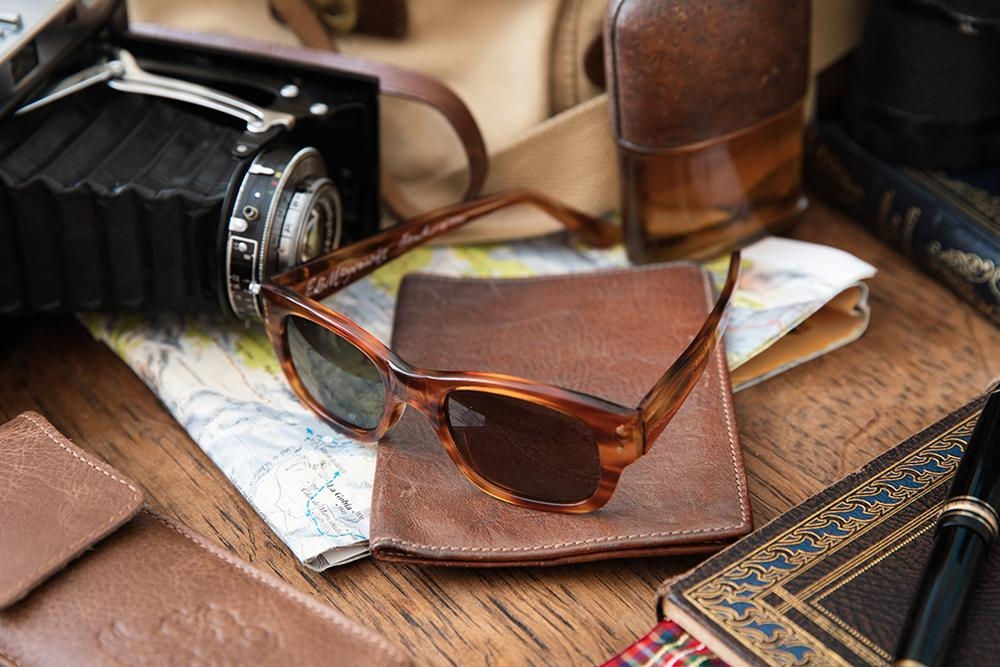 E.B. Meyrowitz has had a tumultuous history since the company was first founded in 1875 by Prussian-born Emil Bruno Meyrowitz. Things were looking dim towards the end of the century until Sheel Davison-Lungley purchased the company in the early 90s, restoring it to glory through high-quality materials such as buffalo horn, used for the frames, with acetate and natural tortoiseshell.
Expect to pay a high price as a result of superior craftsmanship. E.B. Meyrowitz frames will easily run you over $1,000, but the price is understandable considering just how much has gone into each pair. The Bloomsbury No. 6 would be one of the better-known expressions, defined by the pair's perfect rounded rims and elegant aesthetic worked up by either brown British walnut or blue maple wood that's been fused with black buffalo horn. Do note that these are particularly rare though, so you'll be lucky to find yourself a pair online.
Easier to come across is The Argyll, a swift showstopper of a piece that really doubles down on the company's reputation for bold contours and lilting curves.
---
Garrett Leight California Optical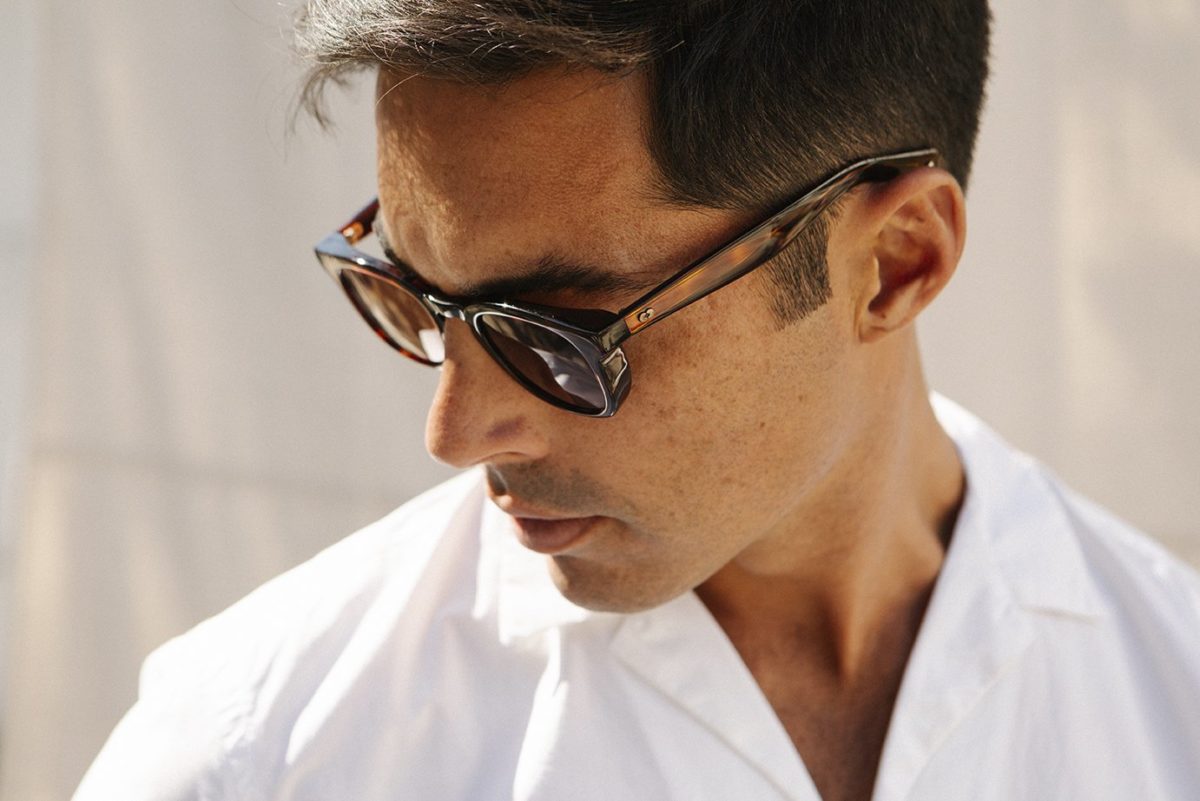 Along with Mr Leight along with his father, Garrett Leight stamped his own name on a millennial-focused luxury eyewear brand, typically referred to as GLCO, with the aim of marketing timeless design to a younger crowd.
Like many of the best sunglasses brands, recognition came mostly in the form of celebrity endorsement at first. Everyone from Lady Gaga and Brad Pitt to Jeff Bezos has been spotted donning a pair of GLCO spectacles, which aren't too distinctive from Mr Leight but clearly skew towards modern-day standards. You'll spot just as many social media influencers running around with a pair of these as you could actual celebrities, but it's hard to look past styles like the ridiculously sexy Kinney, which you can grab in Australia for just over $600.
---
L.G.R.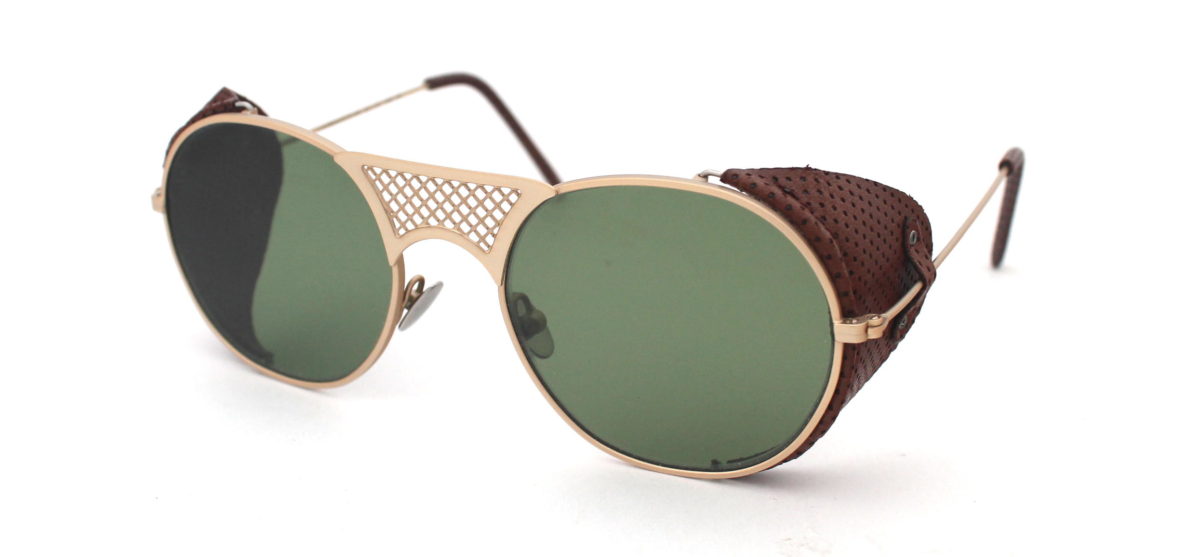 L.G.R., named for the initials of founder Luca Gnecchi Ruscone, may be handmade in Italy, but the key inspiration behind these sunglasses are the landscapes of Africa. In particular, Ruscone looks to the Italian colonial period in Africa to try and capture a hybrid sense of dolce vita. The range varies greatly as a result but always seems to pinpoint the design brief with a fusion of vintage aesthetics set against a decidedly modern perspective.
That idea, of marrying the old with the new, is nothing unique of course, but the adventurous way L.G.R. does it owes its cult-following to how rare a blend of African and Western European fashion can be. The brand counts F1 champ Lewis Hamilton as a loyal fan, amongst plenty of other high-profile figures who are frequently spotted rocking the label.
The more elegant and conservative styles, like the Asmara, are the most popular hand-polished acetate frames, but if you want something a bit younger and more unique go for the Lawrence Flap with its ballsy metal alloy netting and cotton cloth flaps.
---
Moscot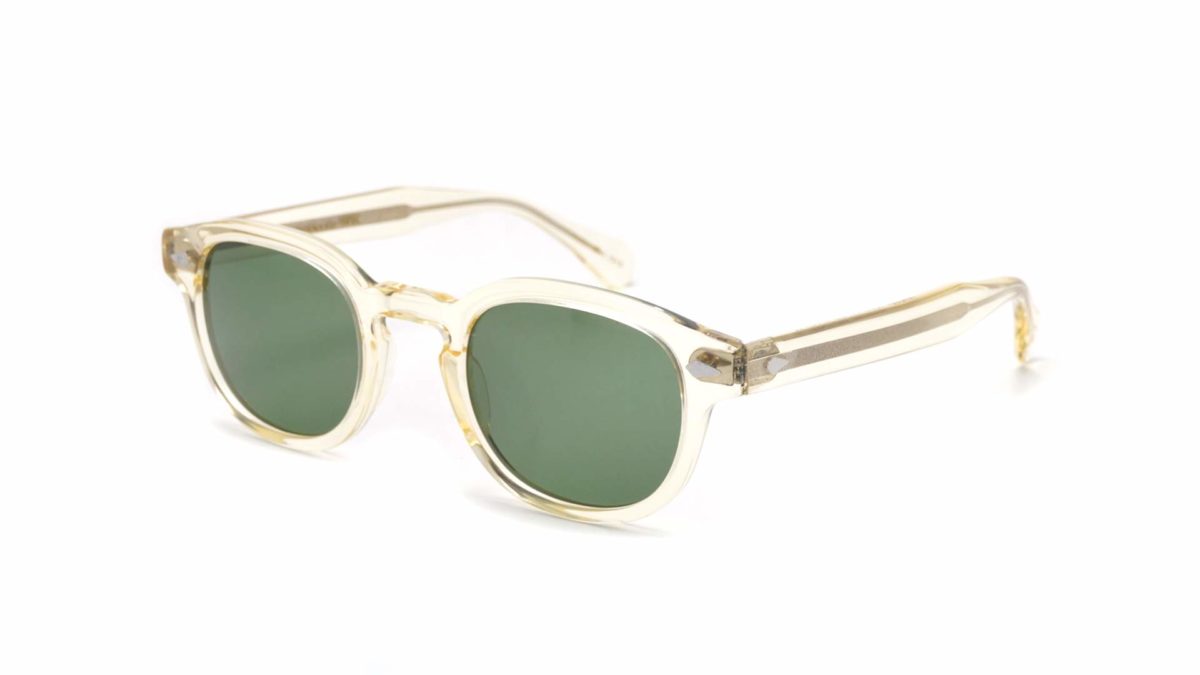 This fifth-generation, family-owned American brand has 100 years of history sitting behind it, and Moscot don't take the tradition lightly with their vintage frames that take most of their cues from the 30s through to the 80s.
Legacy is obviously paramount for this company based out of New York City, so the highest quality materials are employed to ensure nothing but the best is offered to customers. Each pair is designed and hand made in New York City and put through a rigorous inspection process mostly focused on ensuring authentic hardware and sturdy hinges. Durability comes at a premium here, but Moscot's design know-how is just as storied.
If you want really tap into the brand's history, get yourself a pair of the LEMTOSH. The style has graced the face of everyone from Buddy Holly and Johnny Depp, to the legendary Truman Capote, curved with a familiar rounded shape but adventurous enough to stand on apart from the other styles on this list of the best sunglasses brands for men.
---
Nackymade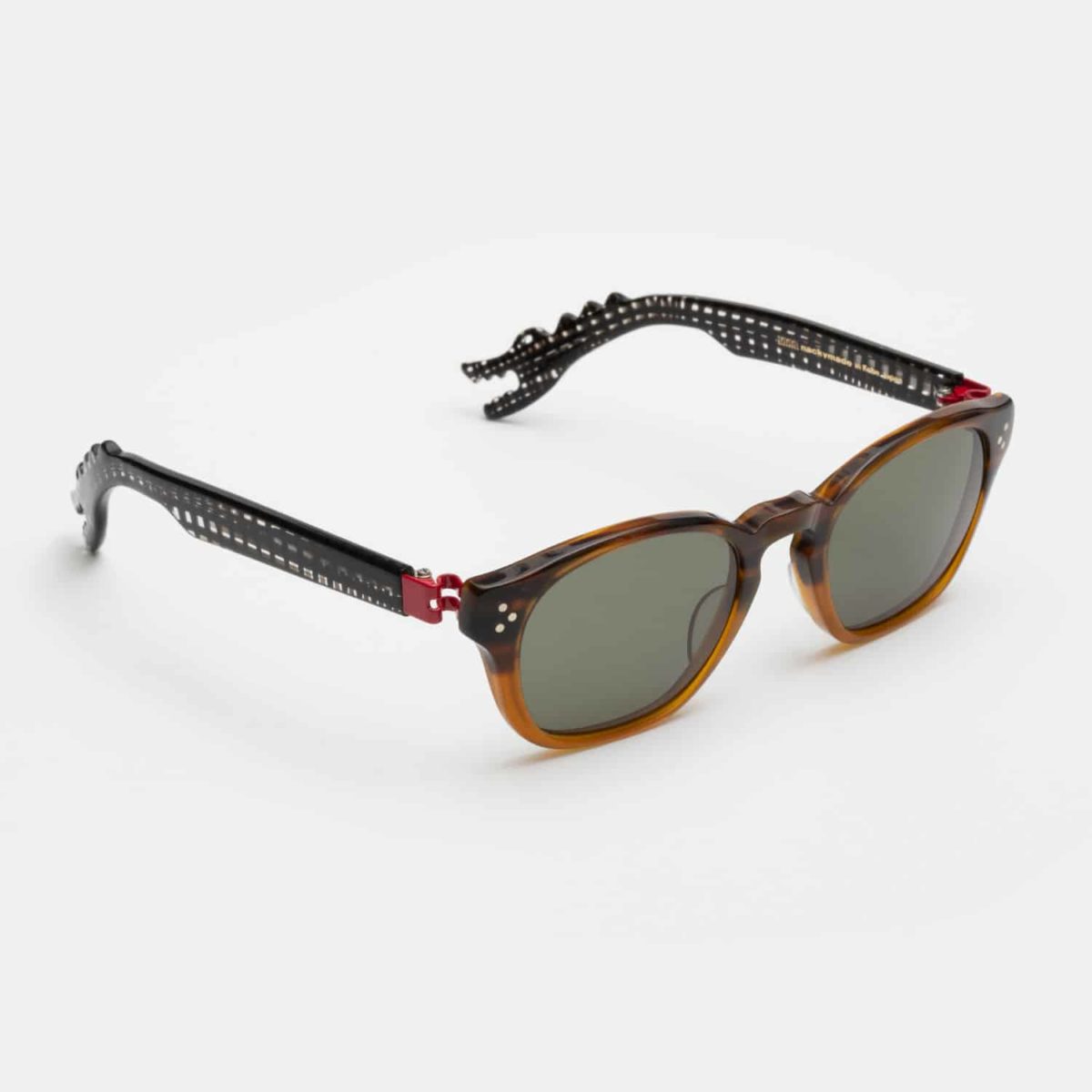 Based out of Kobe, Japan, Nackymade is a small, bespoke brand focusing on made-to-order eyewear designed by Nakagawa and his wife Mocky. It's a Japanese brand, so a strict sense of craftmanship is expected (and delivered), but there's a great deal of quirk thrown in there too. Specifically, that'd be the styles with signature dinosaur-shaped temples, biting at the end of the elongated arms with a wavy triple-hump and teeth.
Some may find it a bit too much of a novelty – Nackymade has plenty of more conservative styles – but it's hard to overlook something like the Michael Dino sunglasses in a black-red which, like all the other Nackymade pieces, uses 3D measurements to customise pairs to the shape of the nose bridge individual to each wearer.
---
Thom Browne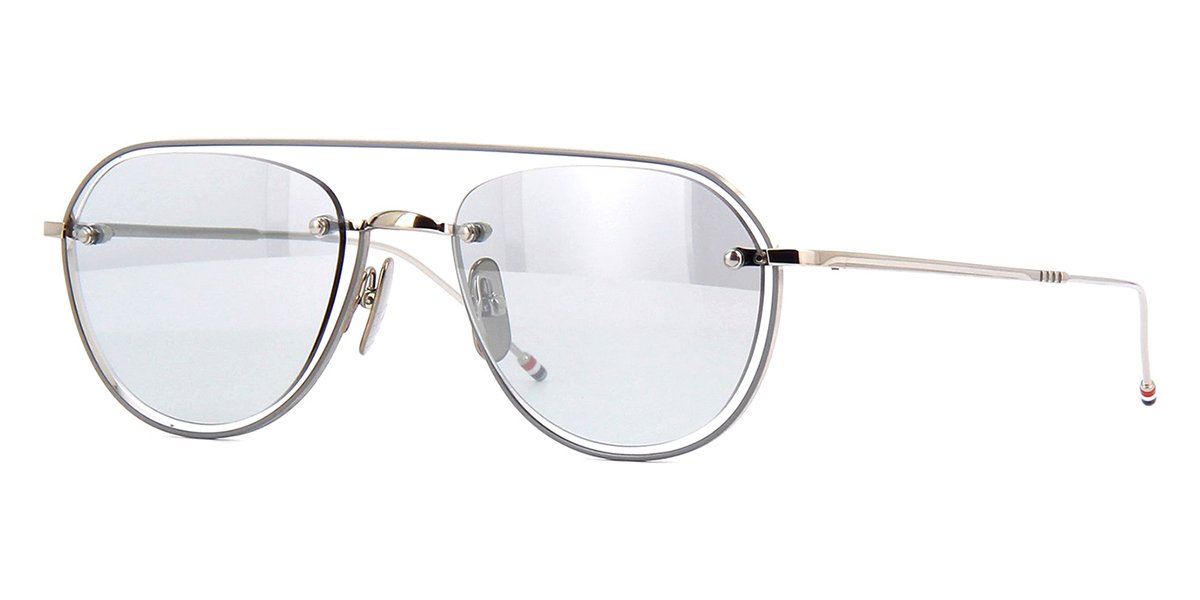 Although not as historic as Moscot, Thom Browne is another defining eyewear brand for New York from its namesake designer who has done extensive work with Ralph Lauren and Moncler in the past. The standards, like 100% UV protection and anti-glare protection, are all there with a pair of these distinct frames, which are recognised instantly by their signature tri-coloured tips.
While most of the collection favours aviators and retro round sunglasses, it's the more adventurous styles that you should be looking like the Thom Browne TBS 112, a more idiosyncratic and sculptural take on aviators.
---
Been paying particular attention to the face lately? Check out the top men's skincare brands to build an age-defying routine.