No matter how you feel about Conor McGregor, it's hard to argue that he doesn't represent a true modern-day rags-to-riches story. At the beginning of 2013, he was surviving on food stamps before his UFC debut, but today, the controversial mixed martial artist is worth an estimated $290 million. With that kind of money comes a lot of the finer things in life, including the impressive Conor McGregor watch collection that boasts some of the finest timepieces ever made.
Now, when you've come from virtually nothing, it only makes sense to be attracted to what you couldn't previously access. Excellent restaurants, boats, cars, houses, and watches — all of which McGregor has surrounded himself with as his success grew.
He's not afraid to show off a little. Not just because he isn't ashamed of liking nice stuff, but also because it's a core part of his personal brand and a large part of his showmanship. McGregor famously wore a suit from the renowned tailor David August, which featured the words "fuck you" repeated through the pinstripe fabric, which just goes to show how far he's willing to go to keep the spotlight on himself.
---
---
RELATED: Inside Tom Holland's World-Class Watch Collection Of Patek, Rolex, & Cartier
As you'd expect from a showman worth $290 million, McGregor's collection of watches is genuinely world-class, not just in the number of pieces that he owns, but also in the range of different watches he's bought over the years. He owns dozens and dozens of six or seven-figure timepieces, including from the likes of Patek Philippe, Jacob & Co., and of course Rolex.
The Fightin' Irishman simply owns too many expensive watches to list them all here, so we'll be picking out our favourites that demonstrate not just his elevated level of taste, but also the most impressive pieces you might spot on McGregor's wrist.
Without further ado, let's get into the Conor McGregor watch collection.
The Best Of The Conor McGregor Watch Collection
Rolex Day-Date 40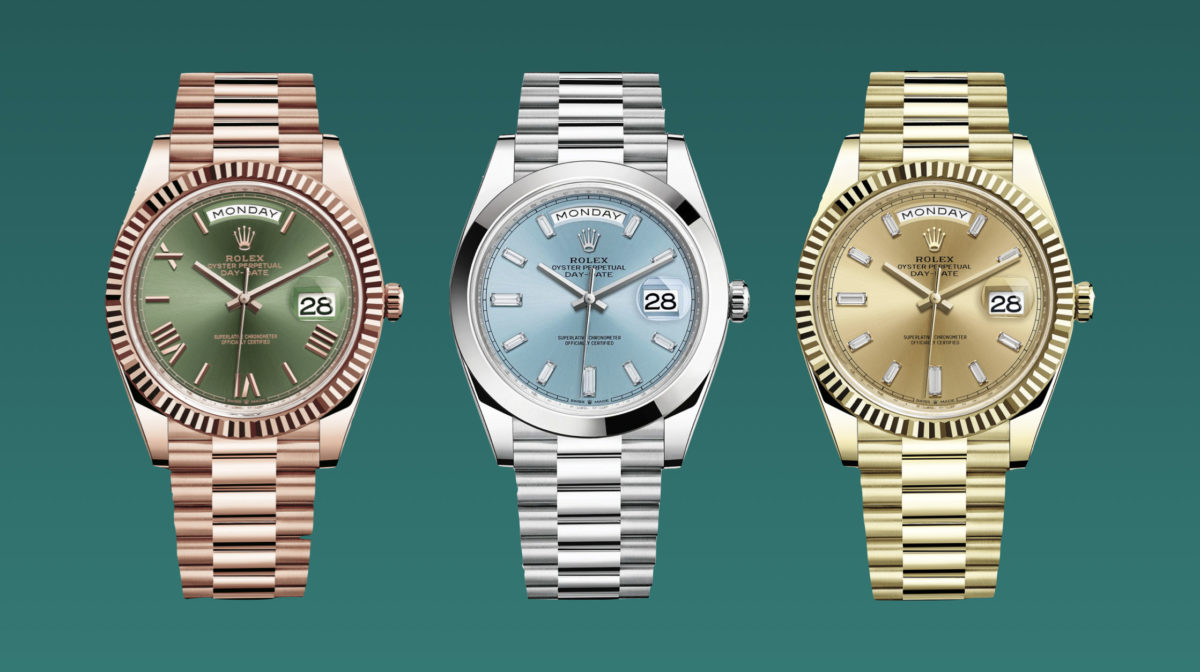 The Rolex Day-Date 40 is a classic timepiece from the Big Crown, as the modern expression of the Presidential watch that was first introduced in the larger 40mm case size in 2015. Now, Rolex produces a wide range of different configurations of the Day-Date 40, in different precious metal materials such as yellow, rose and white gold, platinum, dials with or without diamonds, fluted or smooth bezels and more.
Conor's collection contains at least three Rolex Day-Date 40 references, including the olive green dial in rose gold (ref. 228235) that was released to mark the 60th anniversary of the first Day-Date in 1956, the previous generation platinum version with baguette-cut diamonds on the dial (ref. 228206) and a full yellow gold version also with baguette diamonds (ref. 228238). It's the Tony Soprano watch – the "I've made it" watch – and it only makes sense that McGregor would own a couple of versions.
Prices:
Rose gold ref. 228235 – $56,850
Yellow gold ref. 228238 – $59,200
Platinum with diamond dial ref. 228206 – $89,350
---
---
---
Patek Philippe Nautilus ref. 5980/1AR-001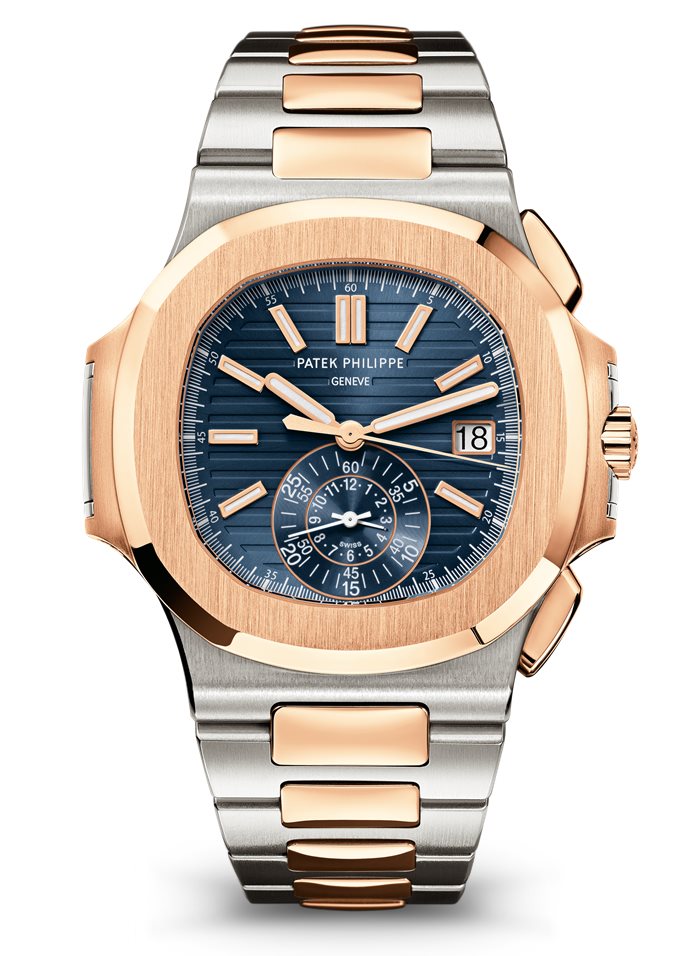 No modern celebrity athlete is complete without a couple of Patek Philippe Nautilus references in their watch collection, and McGregor's collection is no different. This Patek Philippe Nautilus ref. 5980/1AR-001 is the two-tone member of the catalogue, delivering a flyback chronograph mechanism and date complication.
---
Patek Philippe Annual Calendar Chronograph ref. 5905P-014 Limited Edition of 25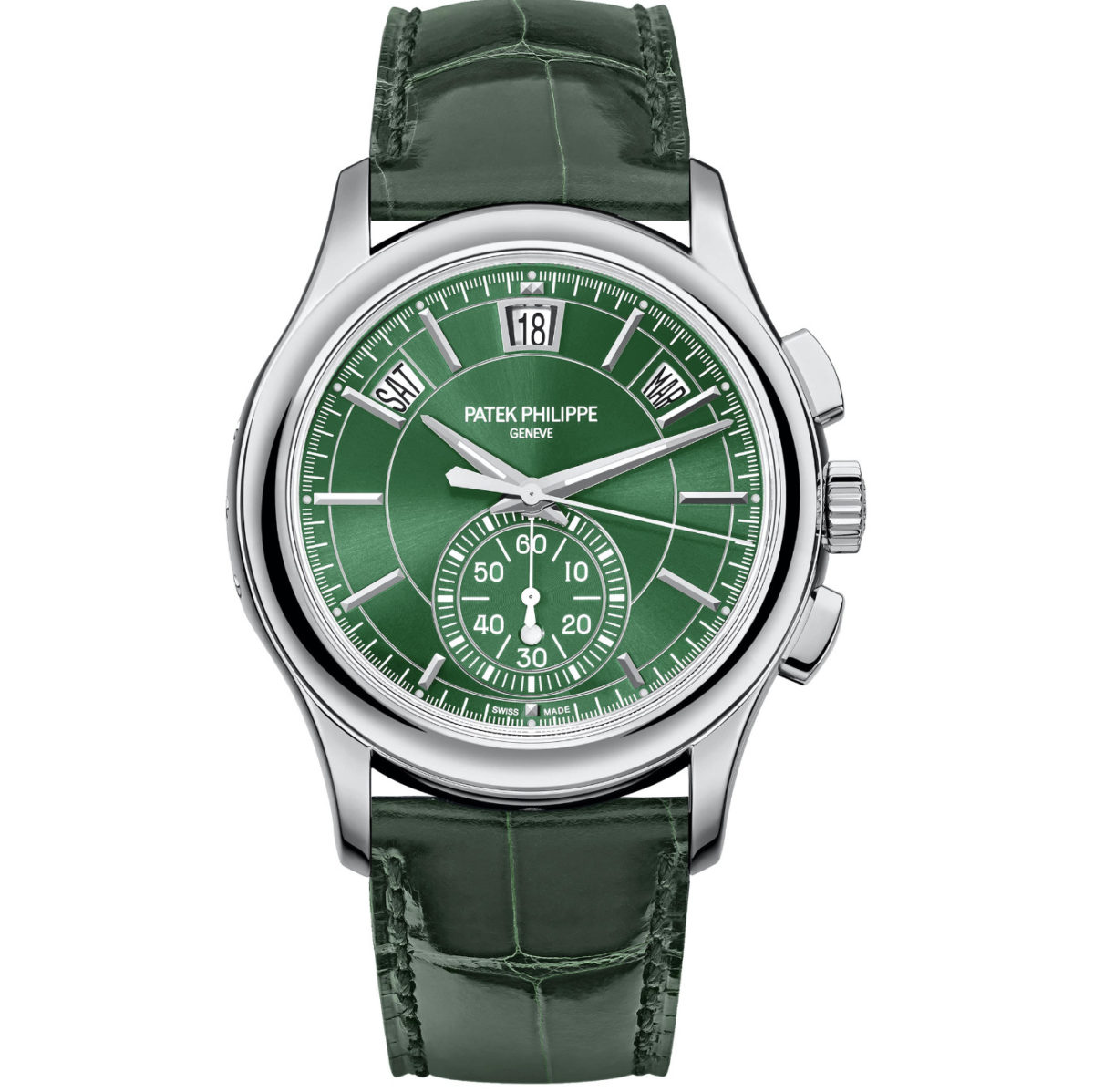 If I had to pick my favourite timepiece out of McGregor's watch collection, this would have to be it, not just because it's very rare, but also because it perfectly represents the passionate Irish pride that McGregor embodies. If you go to the Patek site you'll be able to find the ref. 5905P is listed in the catalogue, however, this example was produced to celebrate the 150th anniversary of Irish watch retailer Weir & Sons.
Executed in 42mm of platinum and featuring a green dial to represent Ireland, this ref. 5905P-014 was a limited edition of 25 pieces that sold out immediately. The RRP of this special watch is understood to have been €90,500 (AU$138,100), however, today is selling pre-owned for more than AU$1 million.
---
Rolex Day-Date 36 Green Dial With diamonds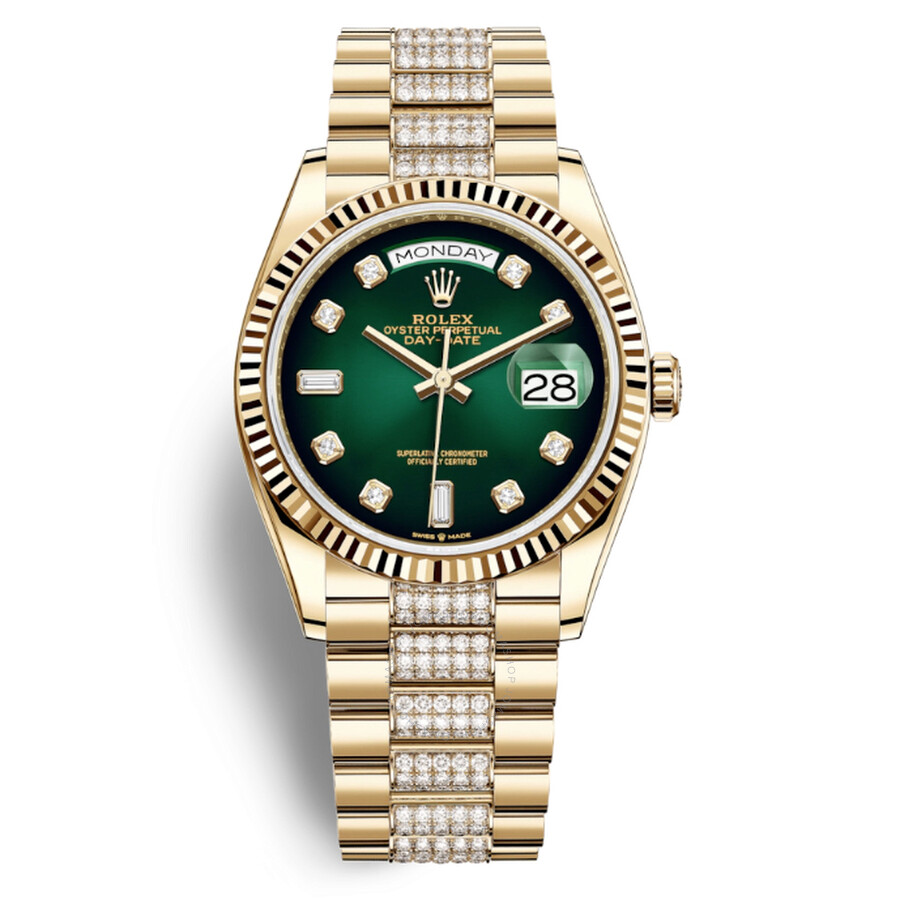 The 40mm version isn't the only Day-Date that Conor McGregor owns.
---
---
McGregor also owns the Rolex Day-Date ref. 128348RBR, which aside from being an attractive yellow gold number with a green watch dial, and diamond-set bezel and bracelet, it's the closest modern Rolex to the own Tupac owned. It might only be 36mm, but it packs some serious heat.
---
Patek Philippe Ellipse ref. 3738/118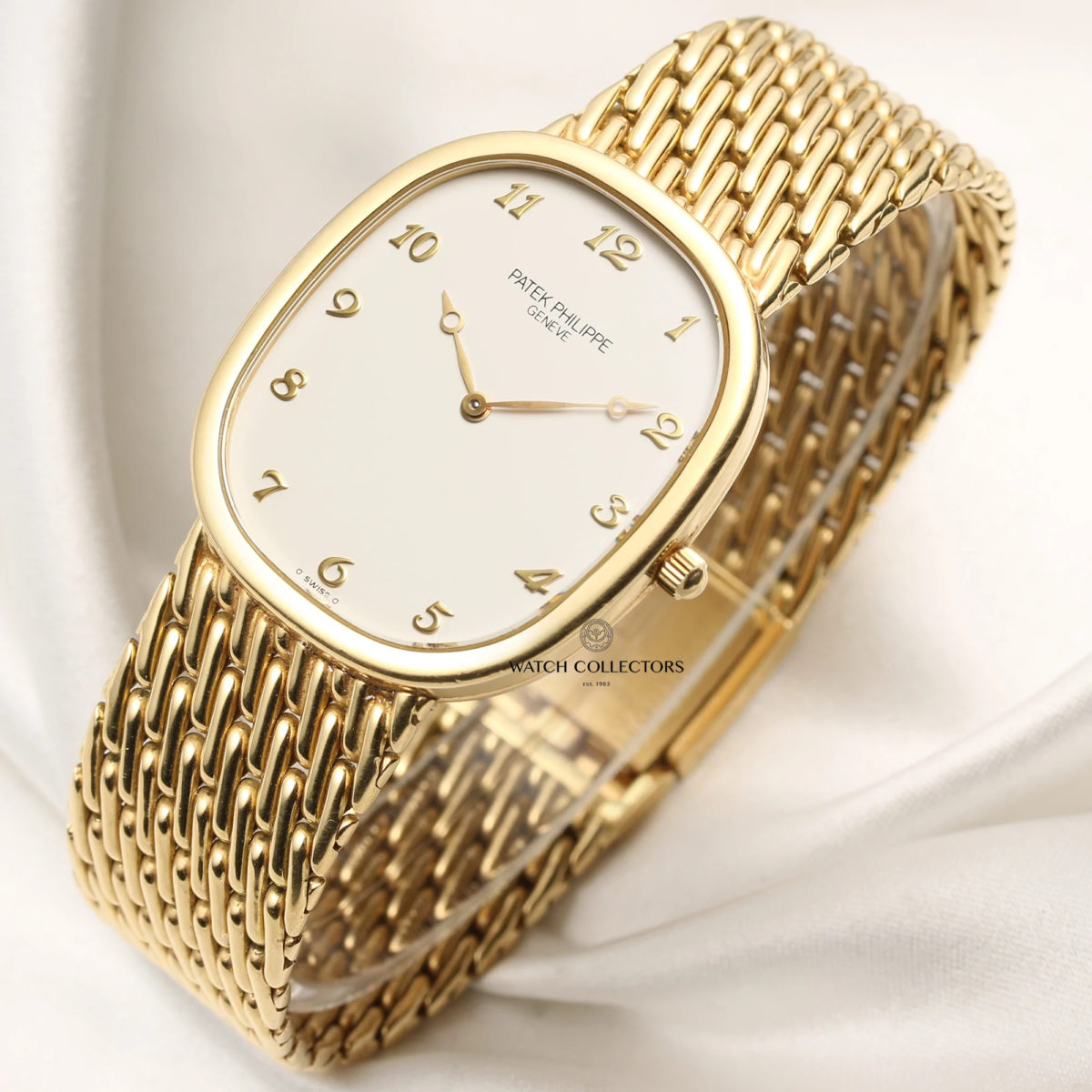 Conor McGregor owns a lot of timepieces that could be considered "basic rich guy watches," as a lot of his collection is made up of large precious metal or gem-set watches that normal people can't access, even if they could afford them. This Patek Philippe Ellipse ref. 3738/118 is almost the exact opposite of the rest of his collection, showing his breadth of taste, as well as demonstrating his slightly less gaudy side.
The oval watch features a yellow gold bracelet and case that measures 31mm wide by 35.5mm in length and was likely produced around 1986. Though it's quite difficult to tell exactly which version of the ref. 3738/118 this is, it appears to feature a white dial with Breguet numerals and hands, completing the classy look.
---
Jacob & Co. Astronomia 'Casino'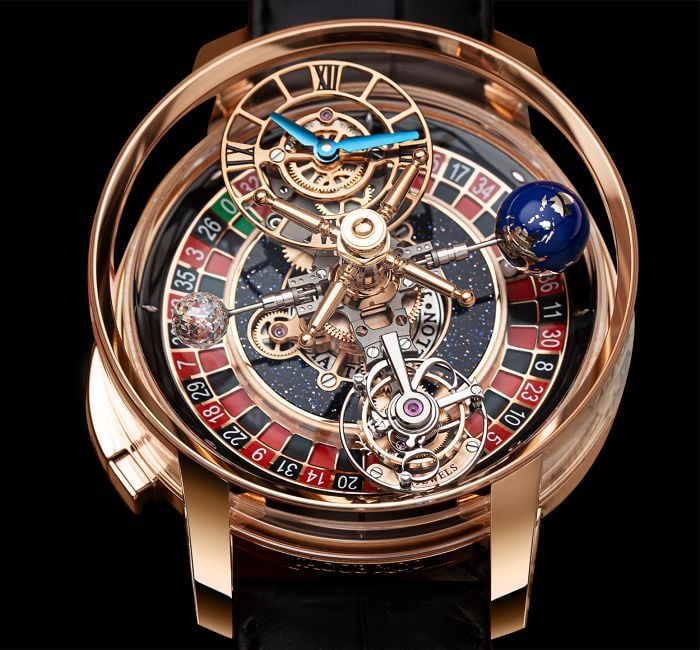 In the world of high-end watches, Jacob & Co. occupies a special place as a jewellery-focused brand that makes remarkably complicated timepieces.
---
---
It's absolutely enormous (27.9mm thick!) and features a four-arm movement construction and a fully mechanical roulette complication, cementing it as one of the most bonkers watches ever made.
---
Rolex Cosmograph Daytona ref. 116588TBR "Eye of the Tiger"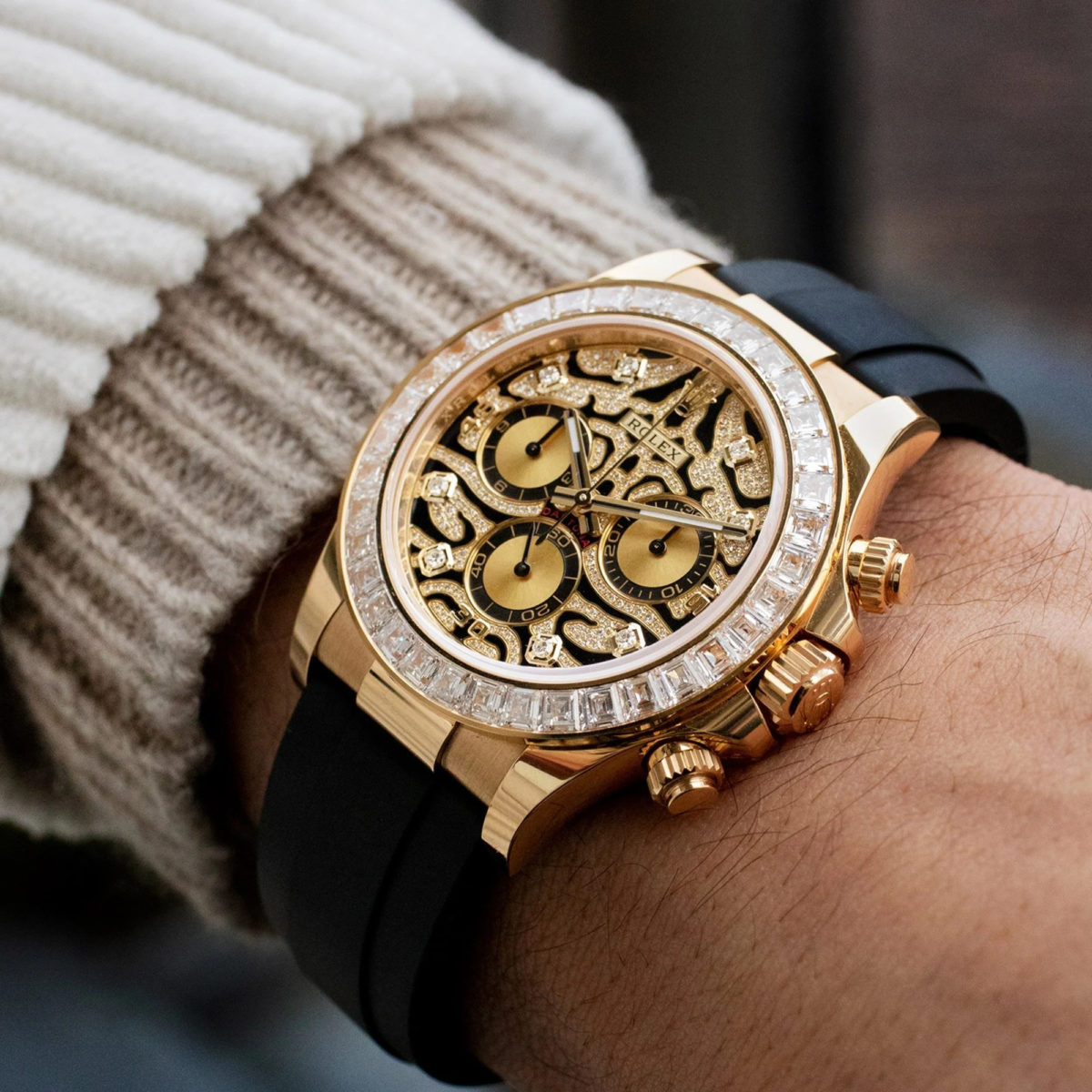 This is a polarising chronograph from Rolex, featuring an entirely diamond-set bezel and an unusual dial pattern that has also been set with diamonds.
Thanks to the black and yellow tones of the dial, collectors have given this extremely rare watch the nickname "Eye of the Tiger," with its market price of around $500,000 showing just how desirable it is. It's so rare, that it isn't shown on the Rolex website.
---
Patek Philippe Nautilus ref. 5980/1R-001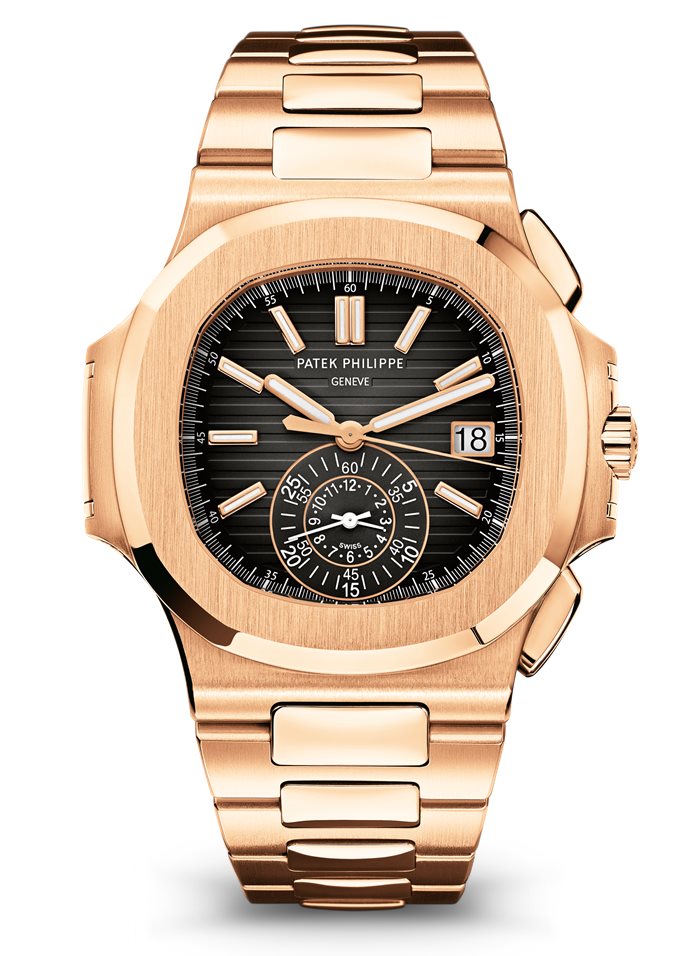 The Nautilus ref. 5980/1R-001 is exactly the same as the previously mentioned ref. 5980/1AR-001, except instead of being two-tone in steel and rose gold with a blue dial, this one is fully in rose gold with a black dial.
---
Jacob & Co. Astronomia Tourbillon Baguette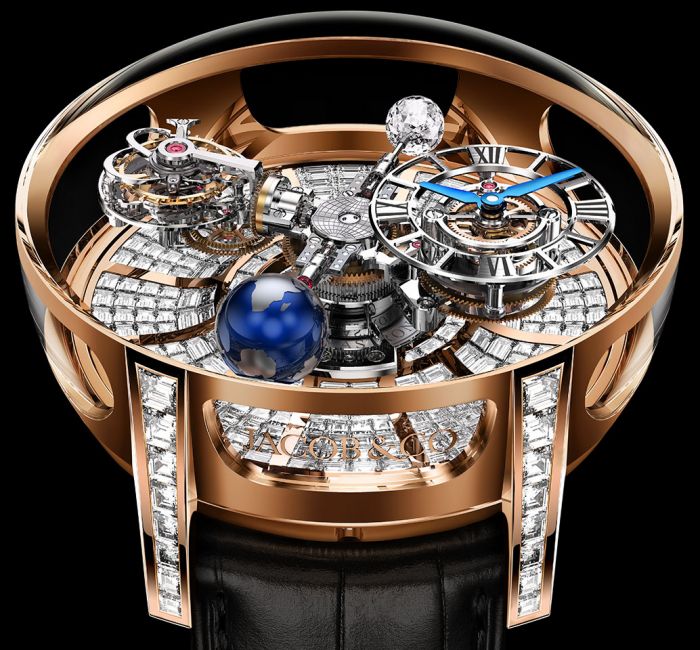 Another absolutely gargantuan watch owned by McGregor, this Jacob & Co. Astronomia Tourbillon Baguette features a rose gold case and a diamond-encrusted dial with 342 invisibly set baguette-cut diamonds.
Regulated by a triple-axis tourbillon inside the diamond-bound space, the Astronomia Tourbillon Baguette also features a Planet Earth model, as well as a 1-carat Jacob-Cut spherical diamond with 288 facets. The rose gold Astronomia Tourbillon Baguette diamonds is a watch that requires a decent bank account balance.
---
Patek Philippe Calatrava ref. 5180/1R-001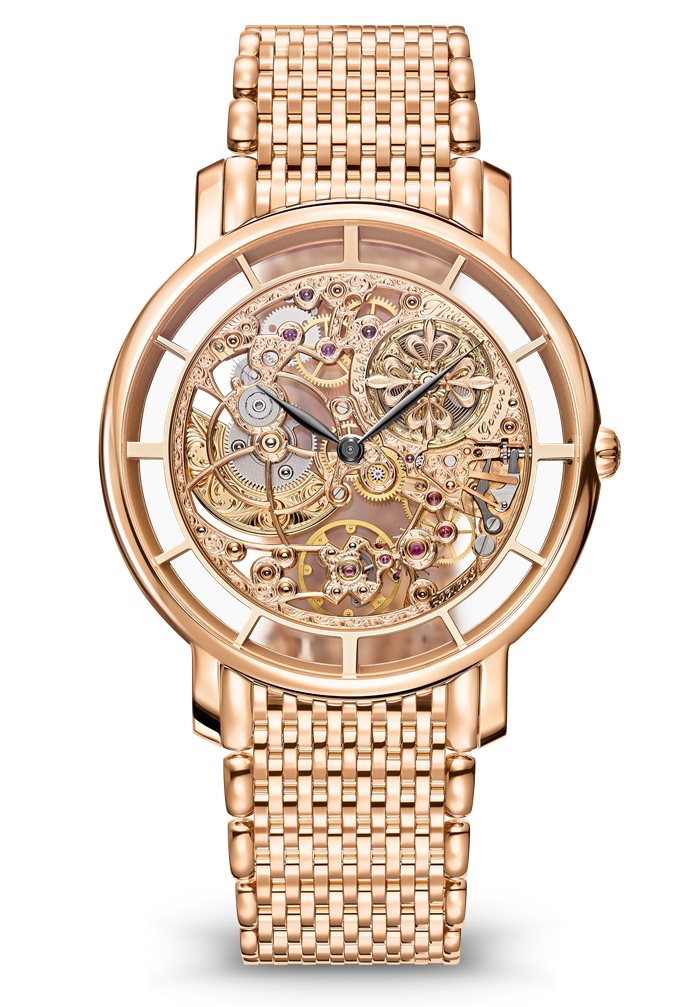 Conor McGregor first posted this watch on his Instagram at the beginning of 2018 and based on the frequency with which he's spotted wearing it, this Calatrava might be his favourite timepiece.
It's another one that isn't simply a "basic rich guy watch," as an entirely skeletonised timepiece in rose gold, complete with movement decoration that is entirely hand engraved. Classy stuff.
---
Patek Philippe World Time ref. 5231J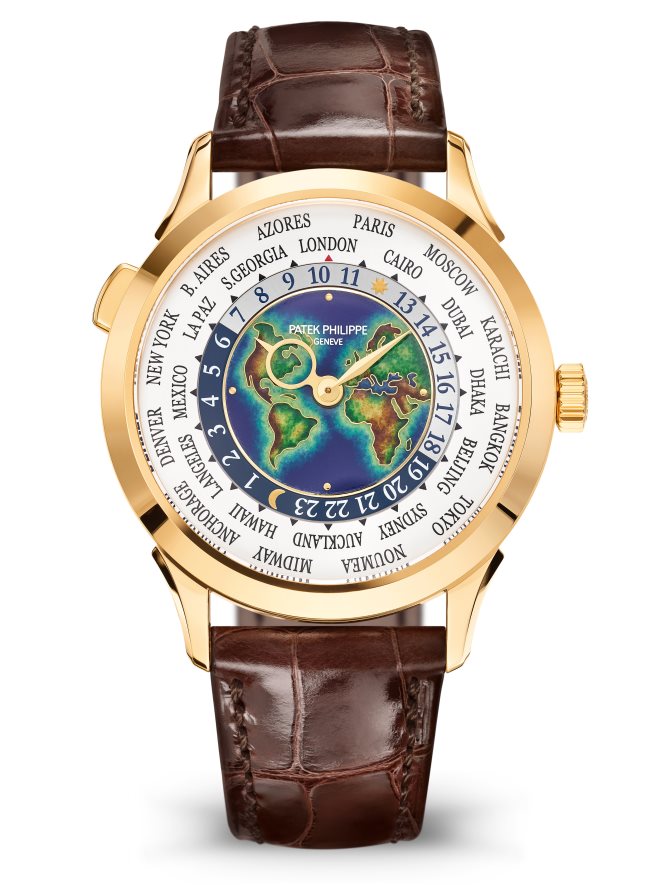 This is another classy timepiece in the McGregor collection, representing one hell of a complication that Patek Philippe's well-known for. Featuring a 38.5mm gold case, this timepiece can tell you the time in 24 time zones, making it better than a simple dual time zone display and is powered by a self-winding mechanism.
It also features a blue and green dial made from enamel. We don't see this watch at Conor's press conferences or on a press tour, but it's a serious bit of kit.
---
Jacob & Co. Rasputin Tourbillon White Gold Erotic watch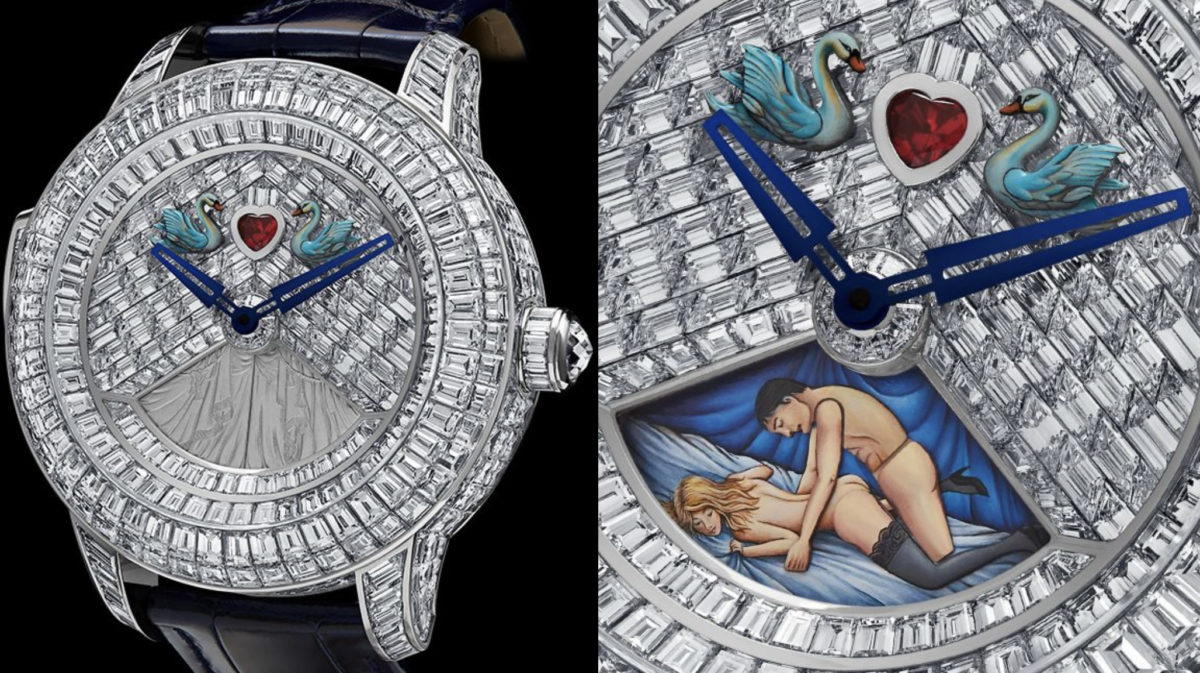 As a final bonus watch, this Jacob & Co. Rasputin Tourbillon White Gold Erotic watch isn't one in Conor McGregor's collection yet, but he was seen trying it on ahead of his fight press conference with Dustin Poirier. Featuring hundreds of set baguette-cut diamonds, this timepiece features a complication showing an explicit sexual act, which is revealed once the theatre curtain opens on the diamond-encrusted dial.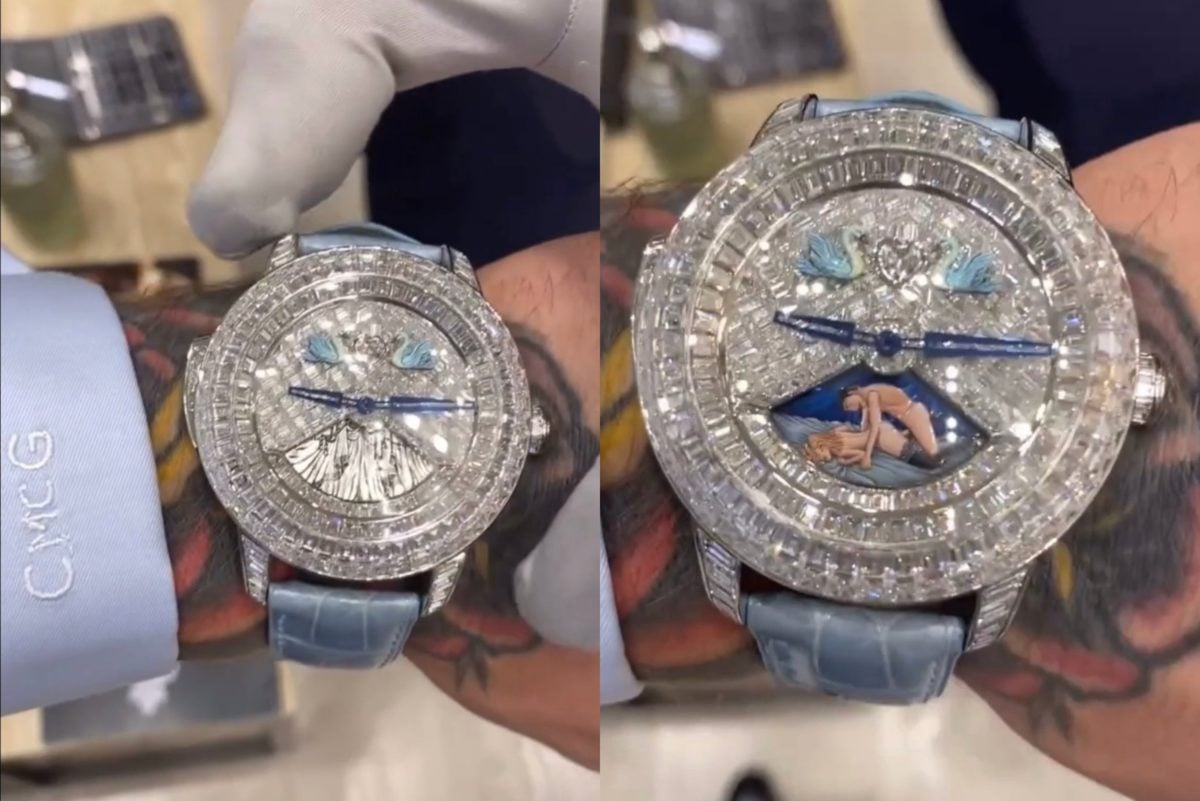 To activate the mechanism, the wearer presses a lever on the left side case lightly, which reveals three baguette-set rubies amongst the diamond-encrusted case. While Conor McGregor didn't add this piece to his collection of new watches ahead of the Dustin Poirier fight, it's certainly an eye-catching piece.