So you've been named Best Man. What are you going to do to deserve it? He chose you for a reason, and part of that is he trusts you enough to organise his once in a lifetime (we're optimists), ultimate bucks party. That's love right there, and having what should be the best night of his life (and all the lads too, of course) in your hands is a responsibility you can't afford to cock-up. As such, you'll need to be across the best bucks party ideas in Australia, so you can organise with ease.
Sure, you could do something low-key that's (kind of) fun for an hour or two, before the night simmers down to a semi-enthusiastic, loosely planned pub crawl leading to the requisite strip club with the random party game thrown in for good measure.
But this isn't a long weekend; you're more creative than that. You need to think bigger if you want to be known as the bloke who gifted his mate an epic bucks party, as opposed to the flop who couldn't think of anything more than a party bus to Holey Moley followed by some bevvies in Collingwood.
---
---
RELATED: 10 Flogs You'll Only Meet On A Bucks Weekend
This part of the world is teeming with adventure, but we've picked out some of the standouts for this list of the best bucks party ideas in the country. Read through and we'll let you know exactly what you should be doing, who you should be calling, and where that budget should be flowing. Dig deep, these aren't your usual bucks nights.
Top Ideas For The Ultimate Bucks Party In Australia Or New Zealand
---
Barnbougle Tasmanian Golf Adventure
Let's start big here.
This isn't for you if a typical Melbourne bucks party with a party boat cruise on the Yarra, a couple of days out drinking on the Gold Coast with random visits to a strip club, or even bothering with Byron Bay, constitutes your idea of an awesome bucks weekend.
This is the kind of epic bucks party that'll overshadow any elegant wedding reception venue they may have planned. When you've managed to pull together an awesome weekend that trumps the main event, you know you've just cemented your place as the greatest best man he could have ever asked for.
Barnbougle, located just 90 minutes from Launceston airport, is home to the kind of majestic, immersive golfing experience you and all the lads will never forget.
Blanketed by larger-than-life views of Tasmania's pristine North East Coast, Barnbougle's The Dunes golf course is so extraordinary that it's considered amongst the best in the world (rated #2 in Australia and #11 in the world by US Golf Digest).
---
---
The links golf course is the elder of three, with a total of 18 holes and fairways much wider than those of traditional courses.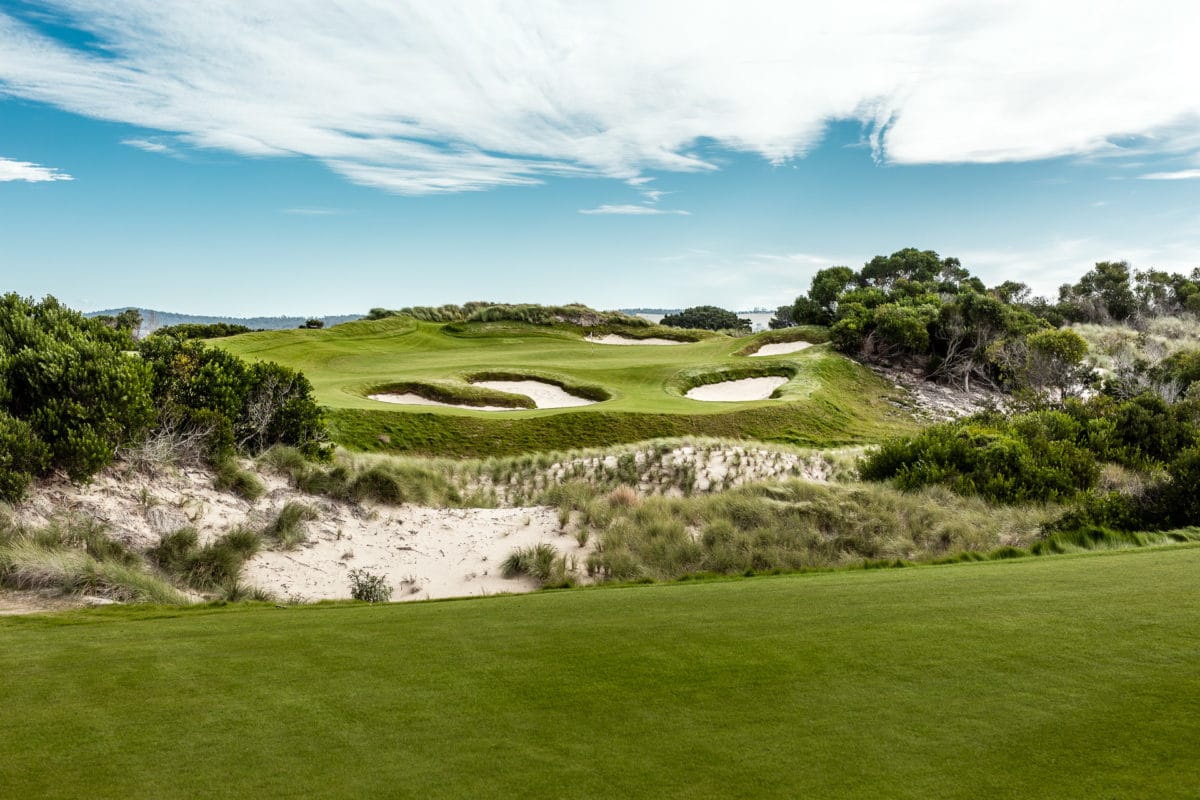 Perfectly planned and organised, The Dunes at Barnbougle features some beautifully designed and unique holes, with seamless play lines and plenty of interesting angles. The structure can easily lead to some of the most fascinating rounds of golf you, the buck, and anyone else in the party has ever played.
Centre a trip to Launceston around a visit to Barnbougle to make it a fun filled weekend. They've got super premium on-site accommodation, a boss club house which – like many of Tasmania's best restaurants – makes full use of local produce, and a new 14-hole short course called the Bougle Run, plus an equally stunning 20-hole course called Lost Farm.
Barnbougle also offers great personal service, so don't worry so much about the passive bloke being reduced to becoming a glorified caddy for everyone else. Stuff like that happens, but when you've got others to take care of all the on-site logistics, everyone's on equal footing.
There are plenty of ways to play around and put together an epic bucks weekend, and it's exactly the kind of flexible, diverse destination that the most memorable bachelor party could always use. Trust us, you guys will love it.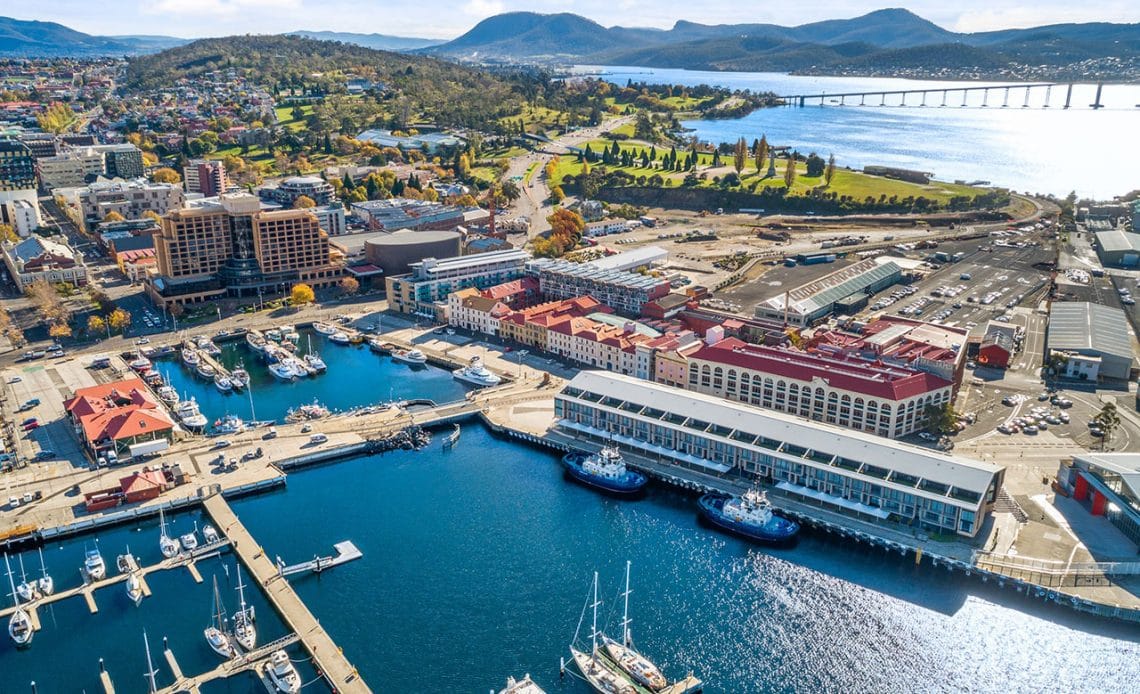 You might even want to hop on over to Hobart afterwards and take full advantage of the capital city's impressive spread of top quality restaurants and bars. You can use our best Hobarts restaurants guide to help you plan that bucks night.
Organise a brewery tour while you're there, and you'll definitely want to pop at least one whiskey tasting on the itinerary for the final night to wrap up an awesome weekend. After all, Tasmania is known for producing some of the best whiskies in Australia, so much so that Tasmanian whiskey should be a category unto itself.
If more blokes viewed Tasmania in general as a primo bucks party destination, and forgot any notions of axe throwing in Melbourne CBD or the standard Gold Coast casino night, we wouldn't need to put together a guide like this.
---
---
Note that there aren't any particular bucks party packages offered at Barnbougle, so you'll want to start planning early to pull everything together. Barnbougle is incredibly popular so make sure you organise a day on the course first, and then plan any other party games and bucks night ideas around that.
Budget: $$$
Ideal Crew Number: 6-12
Best Time of Year: Autumn or Spring
---
Charter A Private Jet… To Anywhere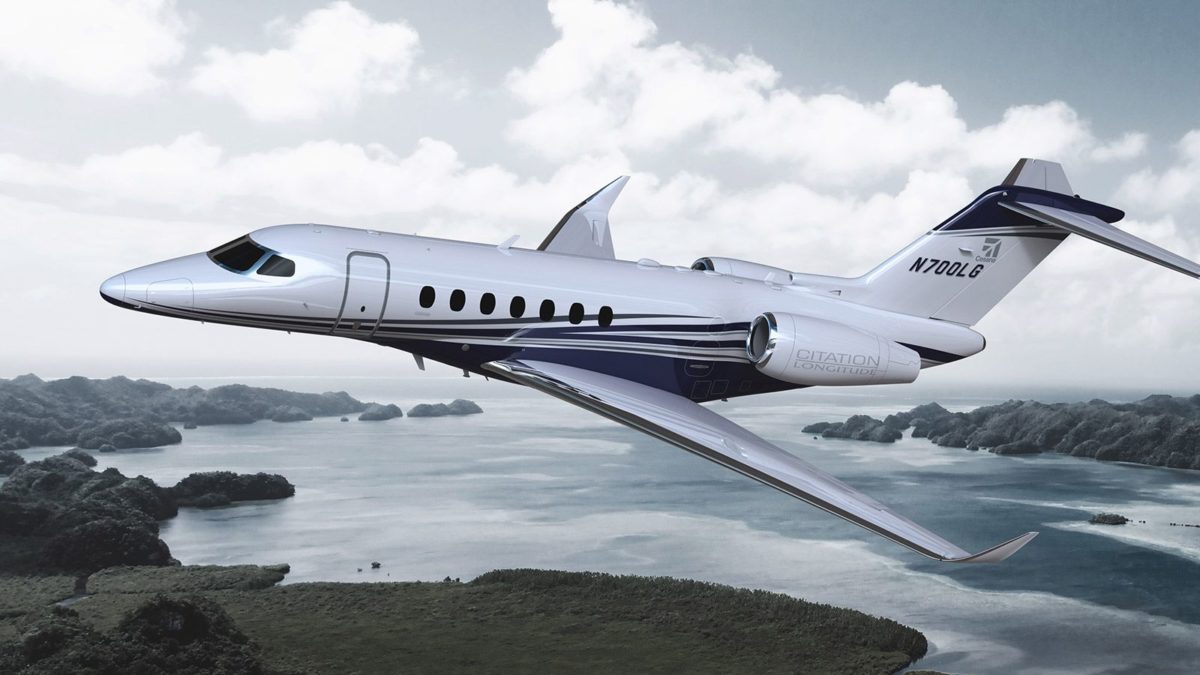 If you've rounded up all the lads and have around 12 people in the crew, putting in for a private jet should be easy money.
The biggest benefit here is that you aren't limited to just one destination, so you've got plenty of room to play around when deciding where you guys are going to go, and what you guys are going to do.
Want a typical Melbourne bucks party on the first night before jetting to the Gold Coast the day after and spending all day on a jet ski? Go for it.
It'll be sick. And even if you've gone old school and planned a great bucks party for the night before the wedding, you can use your slick private jet to get back to that epic Yarra Valley wedding reception in no time. Maybe don't plan it for the night before the wedding though – that approach is outdated for a reason.
Given you have a private jet at your personal whim, the bucks party starts as soon as you step on board. And there aren't any rules. You can wherever the hell you want, so make sure to string together a few ideas bucks parties are typically structured on.
Archery attack sesh and a brewery tour in Melbourne CBD, followed by a fishing trip on the Gold Coast, backed up with a wild night in Sydney before bringing it back home so the groom has time to make it to the wedding venue. Sounds like a winning self-made party package to us.
---
---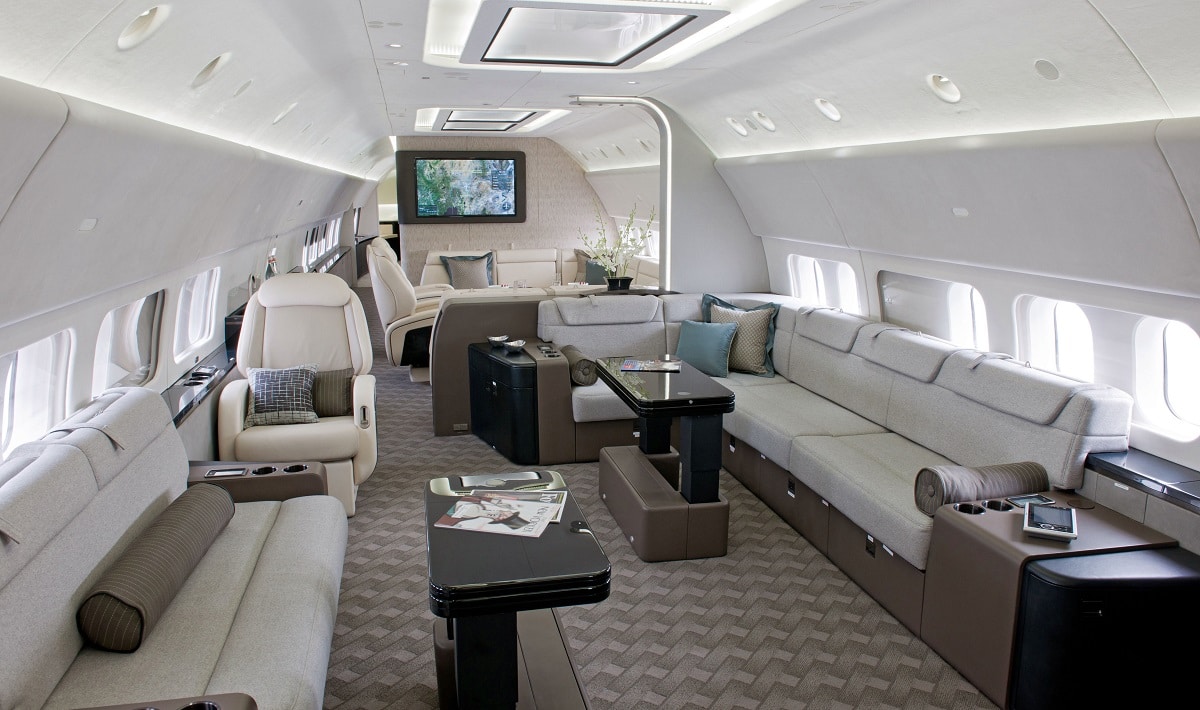 Play this one smart though. Chartering a private jet ain't cheap, so you're going to want to go with a company that has plenty of options in its fleet.
Blak is a good choice seeing as they have everything from an 8-passenger Cessna Citation Sovereign to a 16-passenger Bombardier Global Express XRS. Or you can just use a service like Flight Charter, which is an online broker for chartering private services and should be able to help you land on your feet.
Then, and only then, is something so standard as bubble soccer or axe throwing acceptable. You got him a jet, so he can't complain about any bucks day activity you throw at him. Just make sure to end the night with a private function room and set up a bar tab with some delicious finger food, assuming you don't want to just fly around all night.
And if you need ideas for that, have a read of our round-ups of the best pubs in Melbourne, the best cocktail bars in Melbourne, and the best whisky bars in Sydney. He'll have an awesome bucks night knowing his own jet is waiting for him the next day.
Budget: $$$$
Ideal Crew Number: 6-12
Best Time of Year: Year-round
---
Sports Fishing In The Far North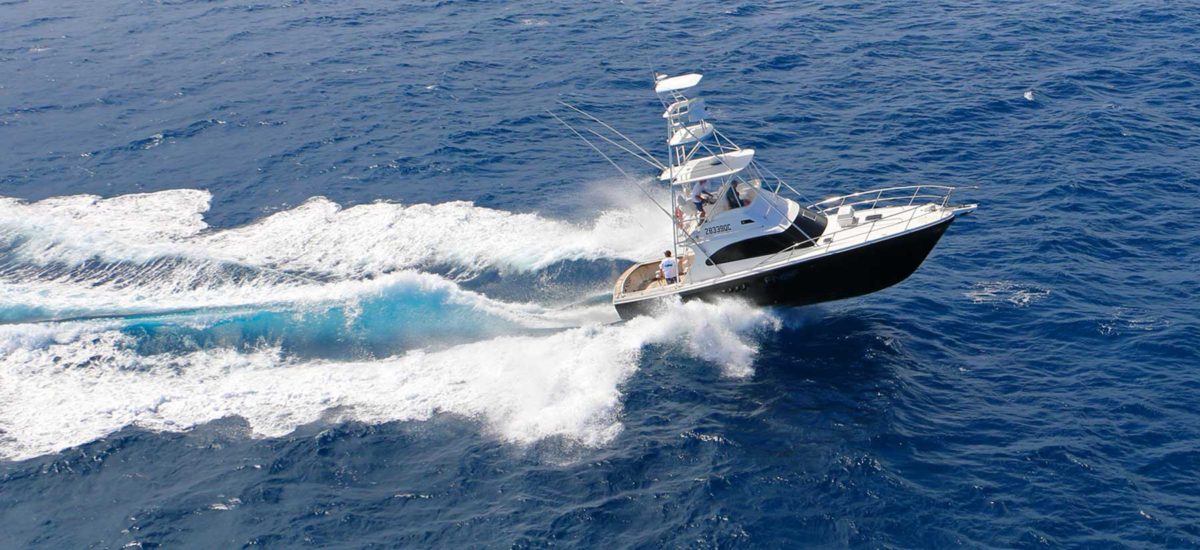 A bachelor party is one of the very few times you and your mates can co-ordinate some time off for the greater good of sending the buck off in style. Take advantage of that, and plan that epic fishing trip you guys have been talking about for years.
Sure, dot a few other bucks party ideas or bucks party packages around that, but you'll want to anchor the entire weekend on this epic fishing adventure in Far North Queensland.
First you'll want to hit up the boys over at Far North Sports Fishing, who can put together something that'll easily trump any bucks weekends or bucks night you've been to before. We're talking luxury liveaboard charters, helicopter transfers, the world's best fishing gear, and some great personal service to tie it all together.
---
---
Go for their flagship fishing charter, the 70-inch Blue Martini, and you and the boys will get a luxurious three levels and multiple dining areas to break up all that productive fishing, which typically takes place along the Cape York Peninsula.
The boat sleeps 8 in total – across two en suite Queen cabins and two twin share cabins – and they'll give you an on board personal chef with a hostess and a vintage wine list to boot.
Full daily housekeeping is also included, and the team will sort you all types of water sport equipment should you want to down that rod and get amongst it.
It ain't the party boats most bucks party ideas are filled with, but you and the crew are a bit more sophisticated than that, right? Leave the typical bucks night on the Gold Coast to the flogs, this is one that's going to stick in his memory forever.
Budget: $$
Ideal Crew Number: 6-8
Best Time of Year: Spring & Summer
---
Go Camping With Land Rover Defenders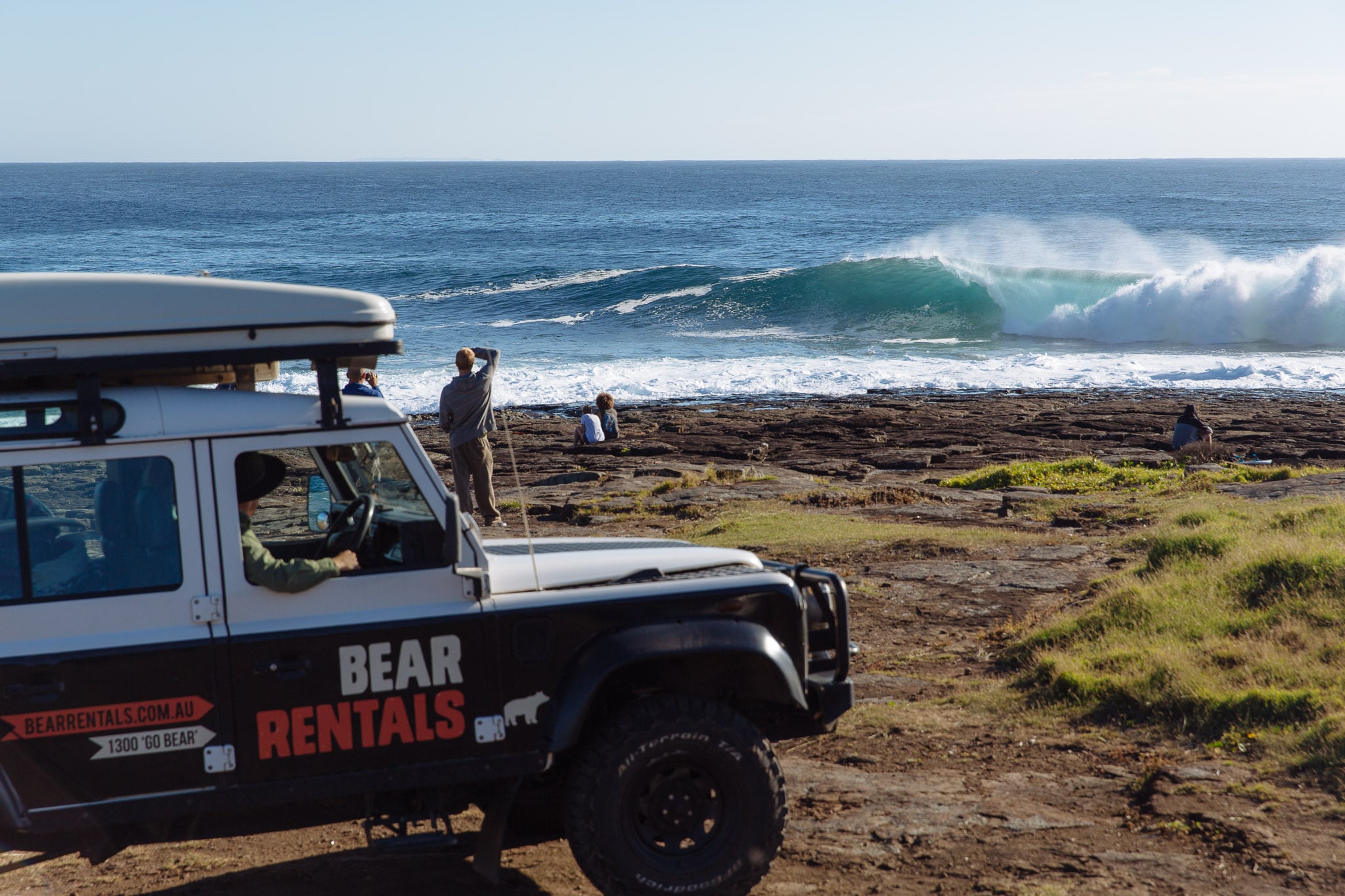 Few bucks party ideas could compete with grabbing the lads for something a bit more extraordinary than your usual road trip or spot of weekend camping.
We're talking teeth-gnashing, ball-dropping, terrain-conquering adventure, anywhere you guys want, in a fleet of Land Rover Defenders.
If you haven't got the sea legs for a fishing charter, go four-wheels instead and hit up Bear Rentals. They're an internationally renowned company that has a fleet of fully kitted out 4×4's to hire so you can get some off-road shredding in before you and the boys bunker up for old fashioned camping.
---
---
It might be more remote than your usual bucks nights in the city, with no party goers in sight but you and the lads, but as long as the crew is right and the company is right, the buck will easily have the time of his unmarried life, thanks to you.
Bear Rentals make it fairly simple to get your hands on some keys. They offer airport transfers and hotel pick ups for anyone arriving from interstate, but you'll need to be in either Sydney or Perth where their depots are based. Sometimes that includes Darwin as well, but that's seasonal.
It's one of the least expensive options on this list, so if you're planning to a tight budget, this one'll be the way to go.
However, if you did want to team it up with a more lavish bucks party idea you could always string it with a bunch of other activities.
If Perth is your play, take those Land Rover Defenders up The Kimberley and get amongst one of the most awe-inspiring places in the country. Or head down south instead to Ningaloo Reef and pair this up with some whale shark swimming and other on-water activities.
If Sydney's more your style, you could take these up to the Blue Mountains, or better head on out to Thredbo and zip The Alpine Way with stops at Kosciuszko National Park and Jindabyne.
After all, the best ideas bucks party memories are built on are almost always decidedly off-grid and away from any trace of city pubs or the cliché boat cruise.
And if the timing is right, you could use the Land Rover Defenders to explore more of the Northern Territory, starting from Darwin and spreading out any which way. Some of the best 4WD tracks outside of Darwin can be found in Kakadu National Park, along Tablelands Highway, Chambers Pillar, Gregory National Park, or along the Old Andado Track, so you've got plenty of options.
Plus, you can use the fact that you've got a Land Rover Defender to visit some of the spots in Kakadu National Park that wouldn't otherwise be accessible to regular vehicles. Not many people get to visit Jim and Twin Falls in their lifetime, or reach unique places like Gunlom and Maguk, so those should definitely be on your radar.
Budget: $ (or $$ depending on what you tack on)
Ideal Crew Number: 4-5
Best Time of Year: Autumn or Spring
---
Cross The Ditch To Kauri Bay Boomrock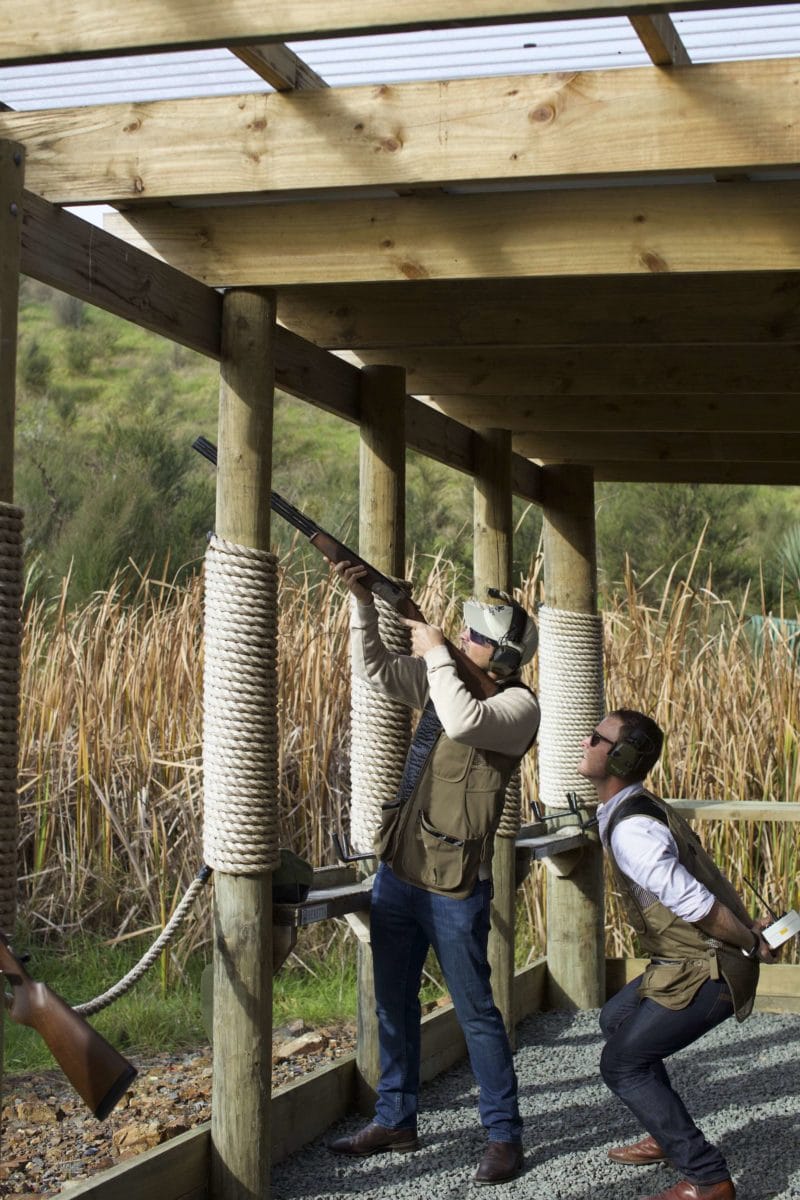 You're heading across the ditch for this one, setting your sights on a unique spot just outside of Auckland called Kauri Bay Boomrock.
You could even try and get in incredibly early and convince the bride and groom to get hitched here. Featured on this immaculate 500-acre property, which is surrounded by dramatic views of the Hauraki Gulf, is an elegant wedding venue that Australian wedding suppliers could only dream up.
It'll certainly be convenient for the bucks party, since the property can also be described as "man heaven".
Why? Well Boomrock isn't just a custom built event facility ideal for an unforgettable wedding reception; it also has space for enough activities to keep you guys occupied for weeks on end.
We're talking clay shooting, helicopter flying lessons, Land Rover off-roading, golfing, whiskey tastings, archery, axe throwing, digger driving, and more.
That covers all the quintessential party ideas in what's easily a one-stop-shop, where the perfect bucks party awaits.
That way you guys can squash the bucks night into the day before, since having the ceremony location on site means the groom can just wake up and get on with it.
That beats any Yarra Valley wedding reception by a mile. And yeah, stunning Yarra Valley weddings are popular for a reason, but the famed Victorian wine region can't offer something as unique, epic, and comprehensive as Kauri Bay Boomrock.
Budget: $$
Ideal Crew Number: 6-12
Best Time of Year: Year-round
---
Heli-Pub Tour In The Northern Territory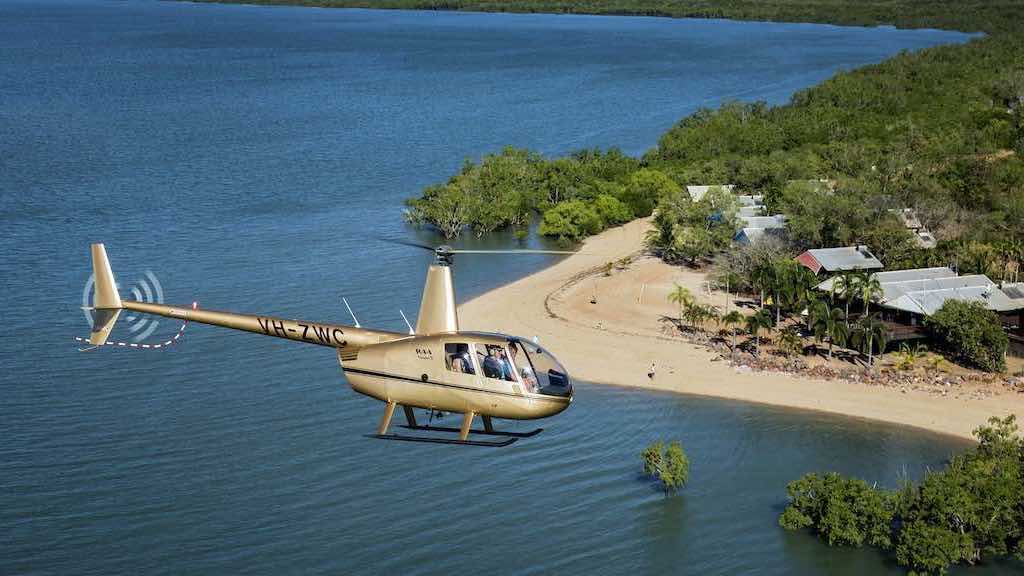 There's a reason Darwin gets another lick on this list of bucks party ideas.
The Northern Territory might just be Australia's best kept secret when it comes to epic bucks parties and bucks party ideas that skew a bit different than what you'd find in any other state.
Two of the boys in the Boss Hunting office have been up to Darwin this year to take part in the Northern Territory's famed Heli Pub Tour with Airborne Solutions, and it doesn't disappoint. That's whether you're opting for the less expensive half-day, or going full-throttle with a full day across 5 different pubs.
And these pubs are something special. You're landing in a thicket on Goat Island, watching the belligerent Dutch owner of Casey's Bar feed the resident crocodiles some Barramundi before serving you some Buffalo burgers and a few cold ones.
You're having a pub feast at a backwaters pub in the middle of nowhere. Then backing that up with a visit to Crab Claw Island – another pub set on a beach that feels like a remote paradise in South-East Asia (except with crocodiles patrolling the waters).
Most importantly, you and the crew are split between a procession of choppers flying in between all these venues while you fuel up on as many frothies as you want (though keep in mind you'll be in a helicopter flying over croc infested waters for much of the time). You're cruising low above some of the most fascinating terrain in Australia, so close that you can spot wild brumbies and buffalo as they stomp across the plains.
It's one of the best bucks ideas in Australia, honestly. And then you've got Darwin at your disposal. You could even pair this up with the Land Rover Defenders listed above, assuming you've picked the right season.
Although if some bucks party ideas around Darwin city aren't too appealing for you guys, take him out to Matt Wright's Top End Safari Camp and spend the night there, right after you airboat, cruise, and helicopter your way down Finniss River and visit all the resident crocodiles.
Just remember, this ain't no party boat cruise so don't get too loose too fast or one of the lads is almost guaranteed to lose a hand.
They've even got the Territory's only wild crocodile diving cage, so you guys can chop it up in the water with some of those prehistoric beasts.
Crocs, helicopters, and beers – sounds like the ultimate bucks to us.
Budget: $$
Ideal Crew Number: 4-8
Best Time of Year: Dry season (May – October)
---
Go Big & Hire A Superyacht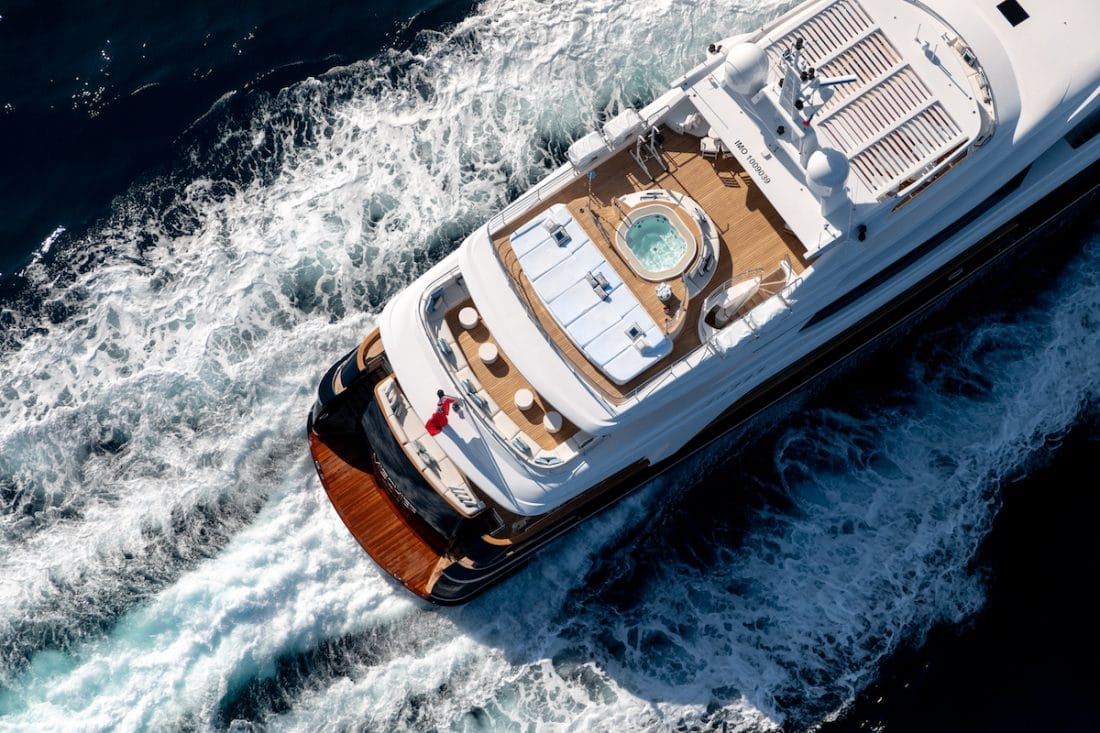 If you've ever read Boss Hunting, you knew this one was coming. Yachts are a popular choice for any bucks party ideas for good reason, and luckily for you it's fairly easy to charter one in either Sydney Harbour, The Whitsundays, Fraser Island, Great Barrier Reef, Melbourne or The Kimberley.
Hit up Ahoy Club and book any one of their yacht day charters. The worldwide company boasts over 4,000-day boats, superyachts, and sailing yachts so there's little doubt you'll be able to find exactly what you need to bring those bucks party ideas to life.
Ahoy Club even has a 54-metre superyacht in its fleet, so if the buck is one of the most well-connected and well-liked men in Sydney, and the bucks party is going to be absolutely teeming with blokes, ask for the seven-star MISCHIEF when you make your enquiry.
The company also offer multi-day itineraries across these awesome Australian destinations, but that all depends on how much time you and crew have.
Likely you'll just need a day charter, and then it's on you to dream up some party games best suited to bucks parties.
You can of course make as many stops as you want along the way, so as with most of the suggestions above, it's best you anchor down and string up some other bucks party ideas to keep it all flowing.
Budget: $$
Ideal Crew Number: 6-12
Best Time of Year: Summer
---
Shred First Tracks At Soho Basin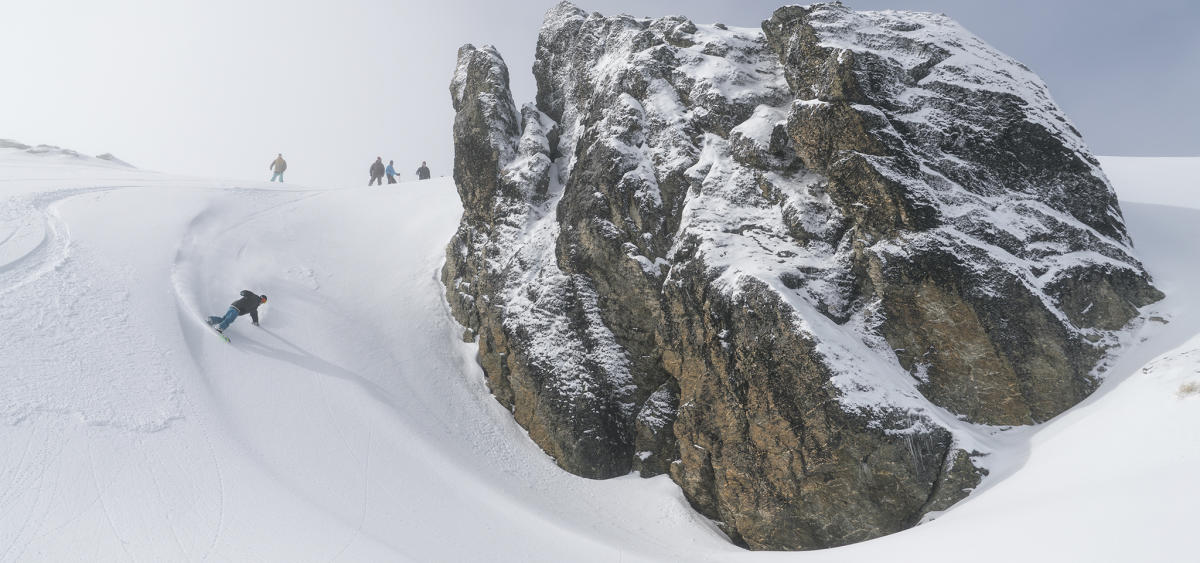 You're crossing the Tasman again for this one, this time landing on the South Island and heading straight for the adventure capital of New Zealand, Queenstown. Though it's different from the hundreds of times you and the lads have been up here to plough the renowned snowfields before; you want something a bit more exclusive for the ultimate bucks weekend away.
That's Soho Basin, an exclusive, private ski resort in the Southern Alps off the back of Cardrona Valley with over 1,400 acres of pristine skiable terrain. It's a cat skiing operating here, so switch out the chairlift queue for a more immersive, state-of-the-art snowcat, which will take you and the crew up the remote mountain and open you up to the wild playground of mostly ungroomed, off-piste terrain for advanced intermediate and expert skiers and snowboarders.
Hook into their Exclusive Mountain Experience Package, which is $10,000 for 10 people and works out much cheaper than your typical heli-skiiing experience. It's a day experience, which starts in Central Otago at the famous Amisfield restaurant, bringing you up to the basin by coach and flinging you straight into some morning cat-skiing. A gourmet 3-course lunch with matching wines by Amisfield follows, before another cat-skiing experience wraps up the afternoon and a high-end après ski sesh wraps up the evening.
A 1K a pop that's easily one of the better bucks party ideas for a groom that loves his snow sports. Although if you've got a larger group, still check in and see if Soho Basin can tweak the package a bit.
Kick on the next day in Queenstown, and use our best restaurants in Queenstown guide to help your planning.
---
Bucks Party Ideas – Frequently Asked Questions
How much should we spend on a bucks night?
Dig deep, it's his last big night out as an unmarried man. If you've got a good size group together, thinking big and expensive is always going to be the way to go. Don't get bogged down by a lack of ambition, especially if you want to prove your worth as a Best Man.
What is a bucks night?
A bucks night, or a bachelor party, is simply a gathering of typically male friends to celebrate a mate's final night, or weekend, as an unmarried man.
What are the best drinking games for a bucks night?
The best drinking game is always going to be "how much expensive Champagne can I consume before I pass out", given you're likely not in your 20's anymore. But for a bit of fun, you can't go past King's Cup, Beer Pong, or Flip Cup.