As global scrutiny of Russian oligarchs intensifies, the enduring mystery surrounding President Vladimir Putin and his net worth has recently provoked a renewed sense of curiosity.
The question was once again raised during a recent interview with Tesla "Technoking" and self-styled nemesis to Putin, Elon Musk. Despite having a net worth of US$260 billion – which officially grants him the title of world's richest person – when asked how he felt about being the richest person on Earth, Elon Musk simply replied:
"I do think that [Vladimiri Putin] is significantly richer than me."

---

---
RELATED: Elon Musk Challenges Vladimir Putin To A Fight Over Ukraine
While this could easily be interpreted as yet another occasion where the C-suite memelord opted to talk shit instead of providing a serious answer, his statement lends itself to the ongoing debate regarding Vladimir Putin's net worth; a shadow fortune that nobody has been able to quantify with an exact or approximate figure, nor trace its precise whereabouts.
According to the Kremlin, as president of Russia, Vladimir Putin earns an annual salary of ₽8.6 million – currently valued at about AU$117,000, previously worth a little more prior to the rouble tanking post-Ukraine invasion. As for his publicly disclosed assets, the retired KGB intelligence officer is the proud owner of a humble 800-square foot apartment in Saint Petersberg, another 1,600-square foot apartment in Moscow, a towable camper tent trailer, and three cars. But the mounting evidence suggests this isn't even the tip of the iceberg.
Here's what we know about President Vladimir Putin and his actual net worth.
Vladimir Putin Net Worth: A Palace, 700 Cars, & $200 Billion In The Bank
The Money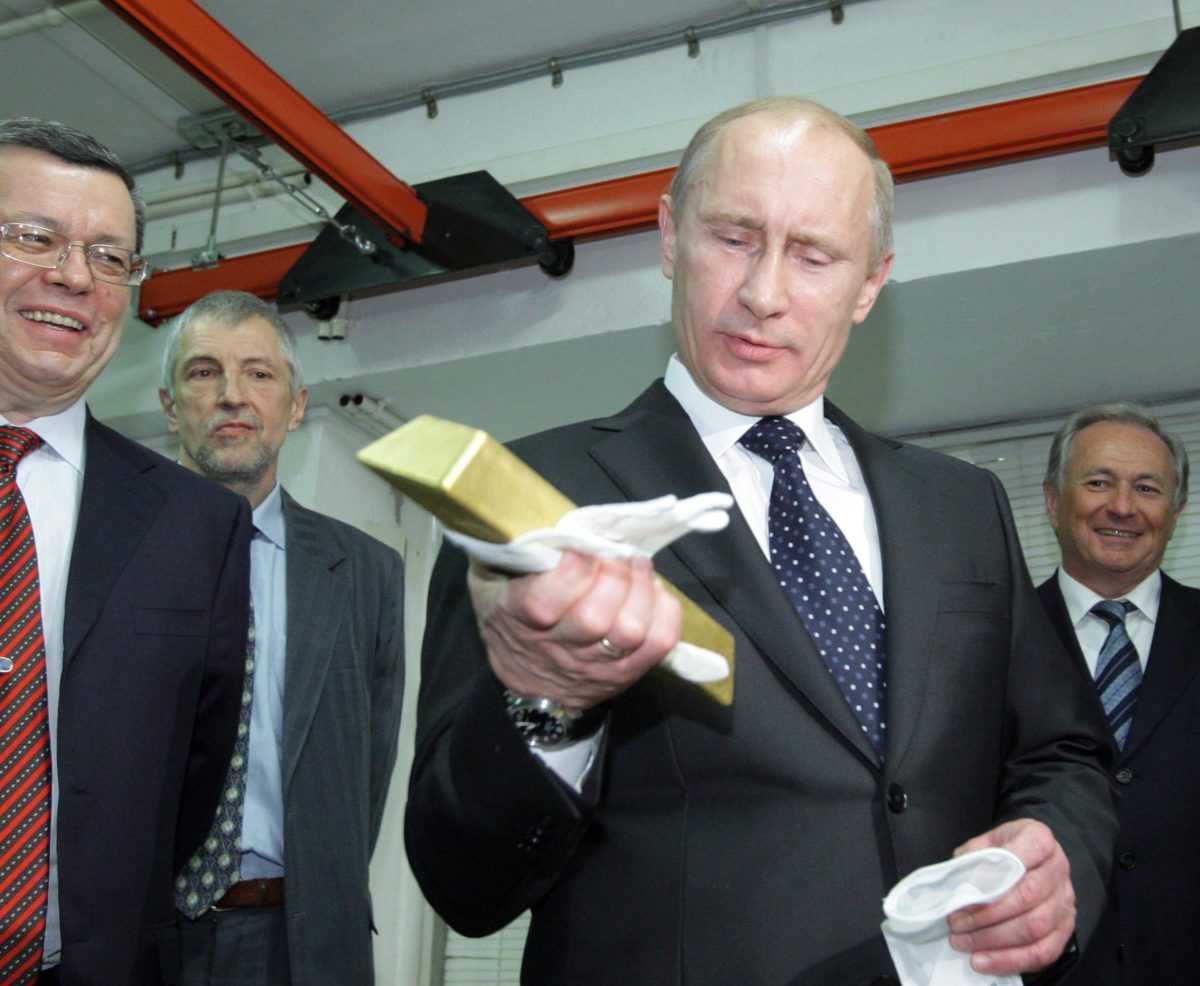 The prevailing theory is that Vladimir Putin amassed the majority of his net worth shortly after jailing Russian oligarch and formerly the country's richest man, Mikhail Khodorkovsky, back in 2003. Months after criticising Putin over state corruption during a meeting, Khodorkovsky was imprisoned on charges of fraud and tax evasion – accusations he denies to this day. Khodorkovsky's fortune, on the other hand, was immediately frozen, and his immensely successful company was broken up.
In his 2017 testimony to the US Senate Judiciary Committee, Founder & CEO of Hermitage Capital Management Bill Browder – the very individual behind the US$200 billion estimate placed upon Putin's net worth – outlined the following:
"After Khodorkovsky's conviction, the other oligarchs went to Putin and asked him what they needed to do to avoid sitting in the same cage as Khodorkovsky. From what followed, it appeared that Putin's answer was "50%." He wasn't saying 50% for the Russian government or the presidential administration of Russia, but 50% for Vladimir Putin personally."
More recently, ex-Russian government adviser Stanislav Belkovsky estimated the total was a little closer to US$70 billion. Whatever the case, thanks to the Panama Papers, we know there was a US$2 billion trail of under-the-table offshore deals and loans which pointed directly to Vladimir Putin circa 2016.
---
---
The Watches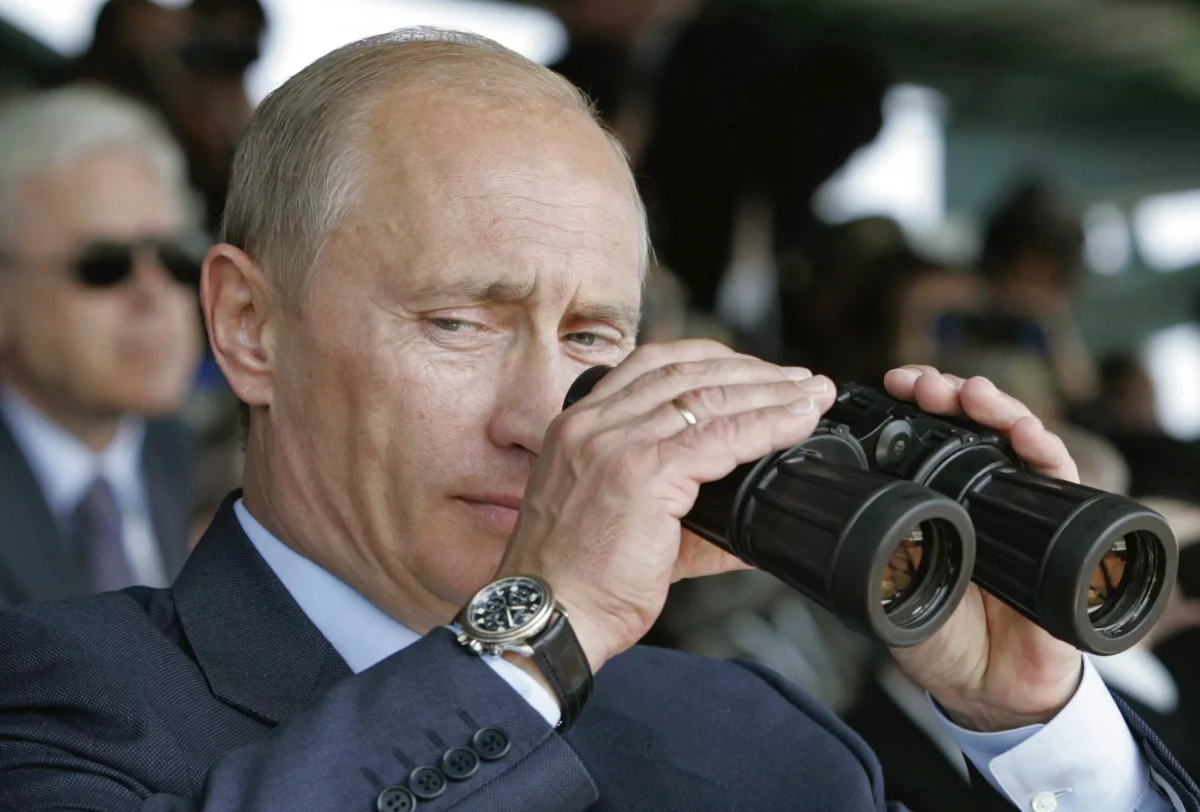 Fortune reports Vladimir Putin has been snapped wearing a Patek Philippe Perpetual Calendar worth US$60,000, as well as allegedly owning a US$500,000 A. Lange & Sohne Toubograph, and other exceedingly luxurious timepieces. Perhaps they're replicas. But it's unlikely. Though not as unlikely as the bloke only raking in $117,000 annually and simultaneously rocking wrist candy of this calibre.
The Toys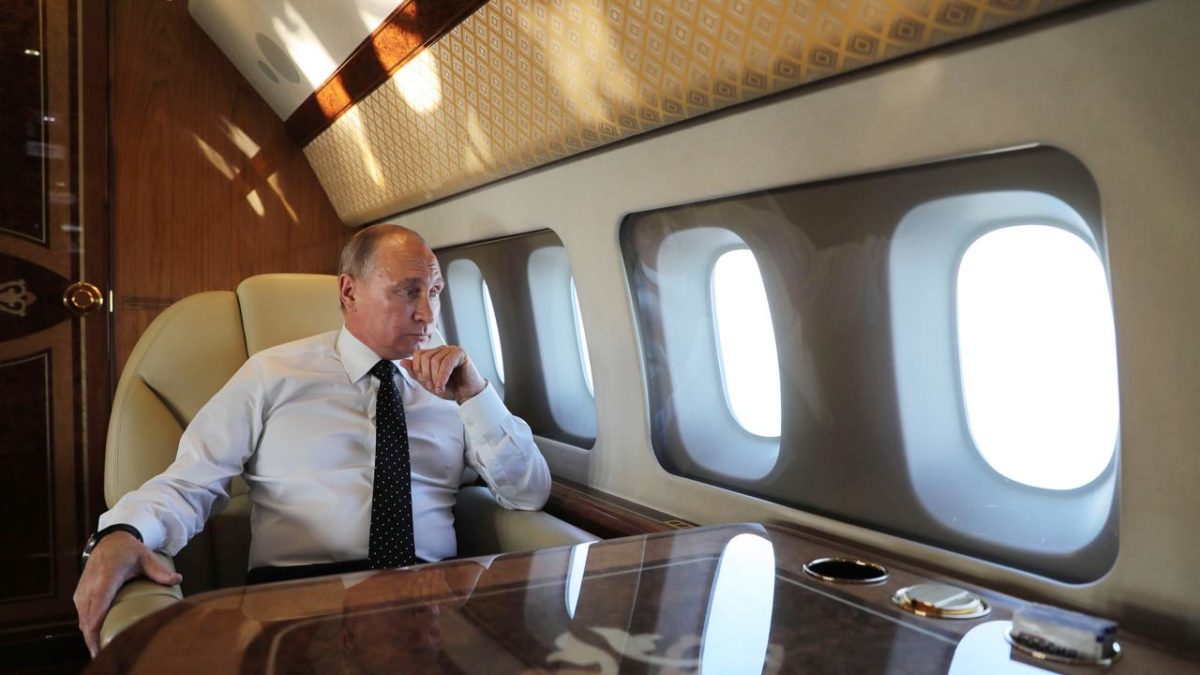 In addition to his staggering net worth and watch collection, Vladimir Putin supposedly has 700 cars, 58 aircraft and helicopters, a US$100 million megayacht designed by the Russian navy's nuclear submarine designer, and most notably, a US$716 million private jet dubbed "The Flying Kremlin"… which features a toilet made from solid gold. This modified Ilyushin Il-96-300PU also comes with a fully-equipped gym and king-sized bed.
The Black Sea Mansion (AKA "Putin's Palace")
As you will have gathered by now based on the everything, Vladimir Putin doesn't just own apartments in Saint Petersburg and Moscow. Sources have revealed his real estate portfolio includes 20 undisclosed houses. The most impressive by far is a stunning 190,000 square-foot mansion located atop a cliff overlooking the Black Sea – Russia's largest private residence, often referred to as "Putin's Country Cottage" and "Putin's Palace."
What does this sprawling, next-level residence resemble? As per Fortune (all $$$ = USD):
The Black Sea Mansion was designed by Italian architect Lanfranco Cirillo and cost $1.4 billion to construct.

The estate is Putin's playland, boasting frescoed ceilings, a marble swimming pool lined with statues of Greek gods, a 27,000 square-foot guest house, spas with traditional hammams, a musical parlour, dressing rooms for all his staff, an amphitheatre, a state-of-the-art ice hockey rink, a Vegas-style casino, a nightclub equipped with stripper poles, a barroom showcasing more than $100,000 of wine and spirits, an underground tasting room overlooking the water, and much more.

Most of the mansion is reportedly decorated by an exclusive luxury Italian brand called Citterio Atena including Louis XIV style sofas, $500,000 in dining room furniture, and a $54,000 bar table. It even has decked-out bathrooms with fancy $850 Italian toilet brushes and $1,250 toilet paper holders.

On top of all the extravagant furnishings, an annual $2 million is spent just to maintain the property's landscaping by a 40-person staff.  
An investigation conducted by Reuters indicates the funds for Putin's Palace was laundered directly from Russia's ₽1.3 trillion "health project," which purchased medical equipment like high-tech scanners at two-three times higher than the market price. The seller? A company owned by a friend of Vladimir Putin.
---
How has Putin himself responded to all the allegations? Aside from (probably) ordering the disappearance of a few nosey journalists who are now (also probably) kicking around some icebox in Siberia, he famously offered the mother of all non-answers…
"I am the wealthiest man, not just in Europe but in the whole world: I collect emotions. I am wealthy in that the people of Russia have twice entrusted me with the leadership of a great nation such as Russia. I believe that is my greatest wealth."
Apparently, you can quite literally spend despair and human suffering.
---
---