With the sheer number of well maintained beards roaming the city, it's no surprise Melbourne's boutique barber shops have been on the rise over the past few years. Getting a trim isn't just about dropping in for a 15-minute cut and dash anymore, with modern barber shops offering a multitude of experiences like never before. Relax with a coffee, cold beer or whiskey while getting a bit off the top, or opt for a hot towel shave as you chat with the staff in a relaxing environment. There's a real community feel to many modern barber shops who offer a luxurious service like no other. Check out the list below for our picks of the best barber shops in Melbourne.
The Bearded Man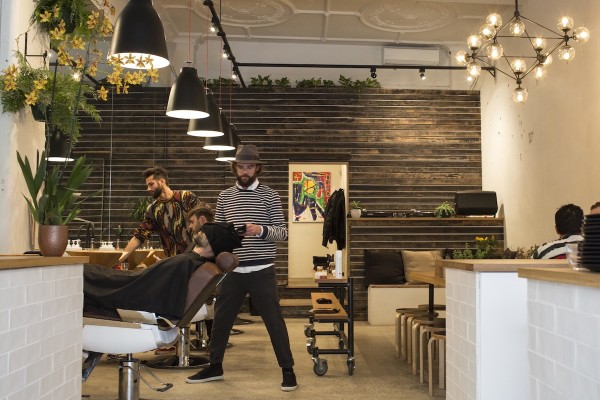 Found on Chapel Street, this men's barber shop has the honour of being awarded Australian Men's Hairdresser of the Year in 2018, so you know you're in good hands. There's also a full DJ setup so the tunes are always pumping during those peak times and an in-house barista serving delicious coffee. With every barber having a minimum of five years experience, The Bearded Man has a great vibe with top-notch staff and is a great spot for anyone living south of the river.
Location: 203 Chapel Street, Prahran
Hours: Mon-Thurs (8am-7pm), Fri (9:30am-7pm), Sat (8am-6pm)
Website: thebeardedman.com.au
Kings Domain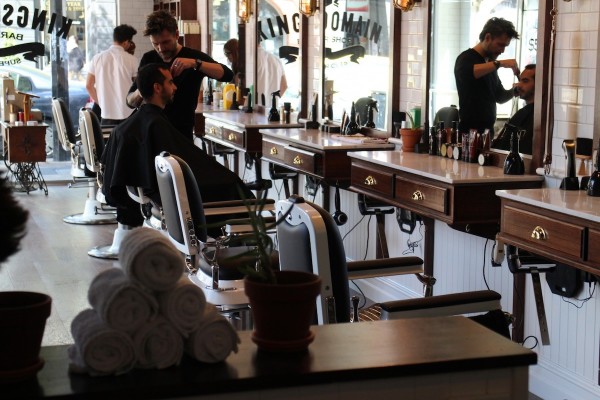 With five Melbourne locations and one Sydney store, Kings Domain is slowly taking over the country as a premier barber. The brainchild of celebrity stylist Joey Scandizzo, expect to see any number of Tigers players at the Swan St store, with Dustin Martin known to get his famed mohawk cut there. The store layout is simple and clutter-free so you can kick back with a simple back and sides, or get a tailored cut with one of the uber-skilled staff.
Location: 128 Swan Street, Cremorne
Hours: Mon-Fri (10am-7pm), Sat (9am-5pm)
Website: kingsdomain.com.au
Barbers Of Brunswick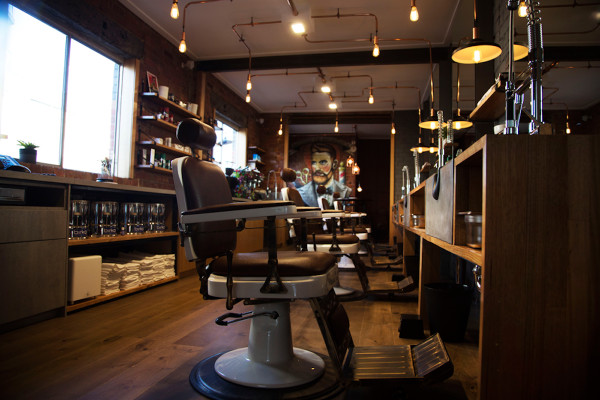 With a slogan that proudly proclaims 'Where men can be men', Barbers Of Brunswick feels more like a bar than a barber shop. The wooden floorboards and concrete wash basins give it a vintage vibe while each member of staff is highly knowledgable and dedicated to their job. Free beer, whiskey and coffee is available while you wait to be seated and there are a number of services available, from a simple cut and wash to a vintage hot towel shave and cut that will leave you feeling like a king.
Location: 406a Lygon Street, Brunswick East
Hours: Tues-Thurs (10am-7pm), Sat (8am-5pm)
Website: barbersofbrunswick.com
Uncle Rocco's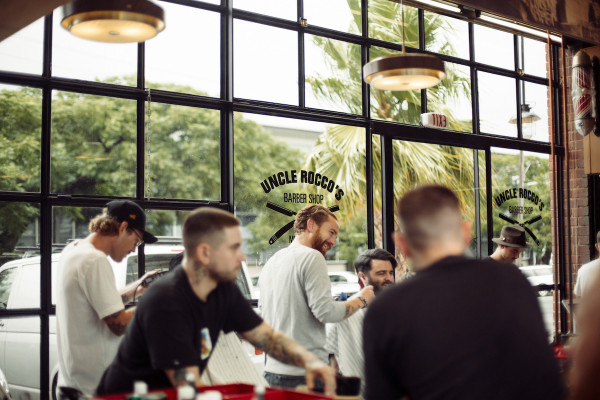 With over 25 years of experience, you know you're in safe hands when visiting Uncle Rocco's. Owner Fabian Sfameni is a third generation barber who has opened three different barber shops since 1996, but it's Uncle Rocco's in Port Melbourne that gets the nod. All the barbers are passionate about their craft and this shines through with their awesome cuts and quality banter. Uncle Rocco's also sell a variety of grooming products and run training courses for those looking to get into the barber game.
Location: 1 Fennell Street Port Melbourne
Hours: Mon-Fri (7:30am-4:30pm), Sat (7:30am-3:30pm)
Website: uncleroccos.com.au
Brother Wolf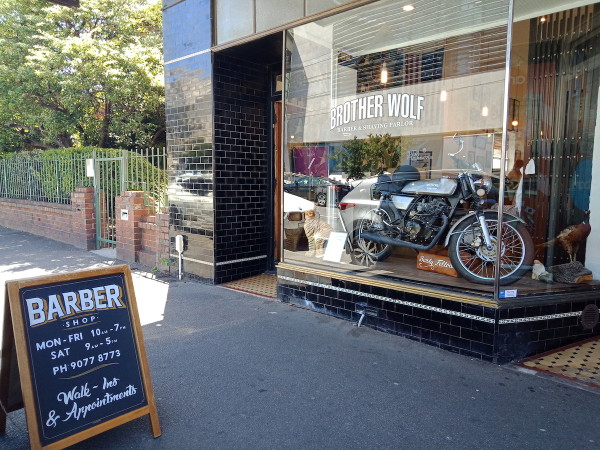 The south of Melbourne is home to some tremendous barber shops but few leave an impression like Brother Wolf. The Prahran store has been open for three years now and the crew recently opened a new store in St Kilda, with both hosting talented barbers in vintage styled stores, St Kilda's shop even has an old-school motorbike in the front window. It's like the barber shops of yesteryear where you can indulge in a beer or a dram of whiskey while having a trim, or just head in for a chat with other like-minded fellas.
Location: 113 Grenville Street, Parhran & 162 Carlisle Street, St Kilda
Hours: Prahran Mon-Wed (9am-7pm), Thurs-Fri (9am-8pm), Sat (9am-5pm), St Kilda Mon-Wed (10am-7pm), Thurs-Fri (10am-8pm), Sat (9am-5pm)
Website: brotherwolf.com.au
Men+Co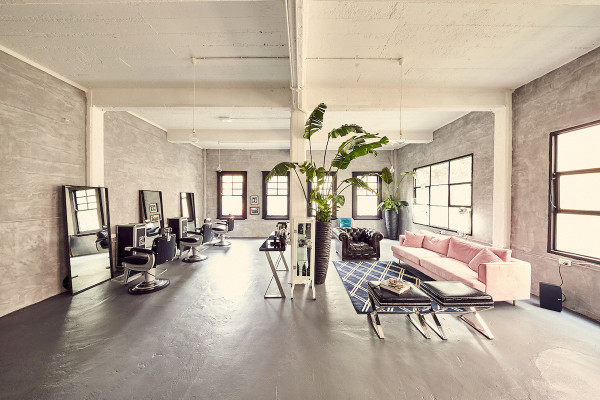 In the heart of the CBD a dedicated and well-trained team of barbers offer their services at Men+Co. Don't be fooled by the simple and spacious layout, with Men+Co offering everything from a standard shave to a detailed haircut and even an eye-watering ear, eyebrow and nose wax. The membership program is great for those who like to treat themselves regularly and includes added bonuses for regulars such as discounts and complementary products and gift vouchers.
Location: Studio 2, Level 1, 377 Little Bourke Street
Hours: Mon (10am-5pm), Tues (9am-6pm), Wed-Fri (9am-7pm), Sat (9am-3pm)
Website: menandco.com.au
Fleet Street Barbers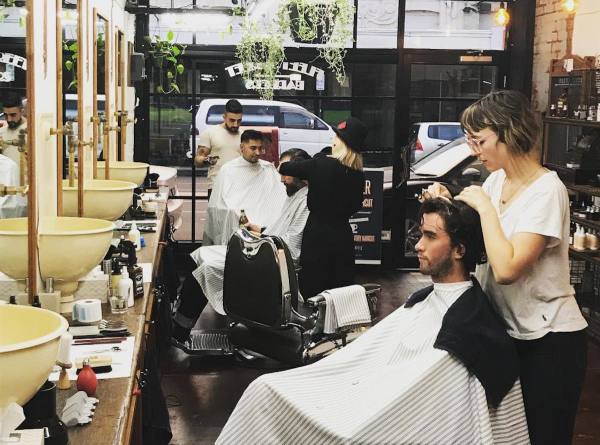 First opening in St Kilda, there are now four Fleet Street Barbers locations scattered across Melbourne, with our pick being the Northcote store which opened in 2017. It's in a great location and offers punters the chance to have some great banter while having their hair styled. Although it's a walk in service only, the prices are cheaper than most – so it's well worth the wait.
Location: 278 High Street, Northcote
Hours: Mon-Fri (10am-7pm), Sat (9am-5pm), Sun (11am-3pm)
Website: fleetstbarbers.com.au
Drunken Barber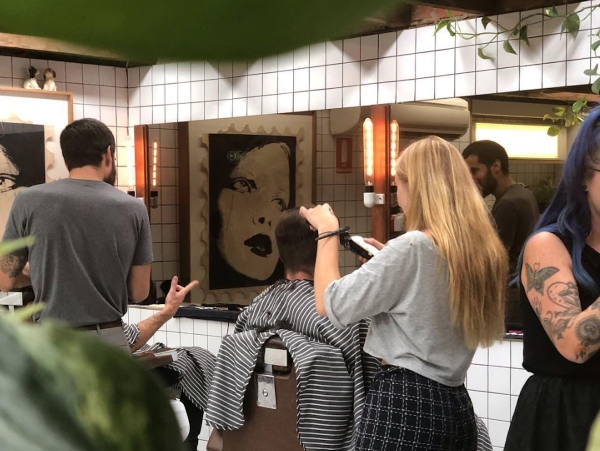 The name might catch you off guard but there's nothing to fear when booking an appointment at the Drunken Barber. Gaining a large following through word of mouth, Drunken Barber has become a favourite amongst the Fitzroy hipster set. Located on the mezzanine level of Prophecy Hair, the staff do everything from haircuts and fades to beard trims and wet shaves in a bright and welcoming space. Knock back a beer while you wait or have a chat with the friendly staff.
Location: 119 Smith Street, Fitzroy
Hours: Tues (10am-6pm), Wed-Thur (10am-9pm), Fri (10am-7pm), Sat (9am-5pm)
Website: prophecyhair.com.au
Pickings & Parry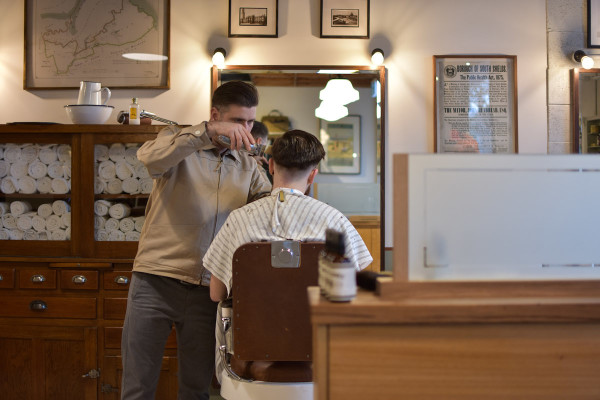 It might look like a standard retail store from the outside, but Pickings & Parry is also home to a four-chair barber shop where you'll never be let down with a fresh fade. Customers receive a complimentary beverage on arrival and are treated to great service at an agreeable price in a shop that wouldn't be out of place in Peaky Blinders. Once you've had a cut or a shave, why not have a look around the vintage store packed with well-known brands for the modern gent.
Location: 3/166 Gertrude Street, Fitzroy
Hours: Mon-Wed (10am-6pm), Thur (10am-7pm), Sat (10am-6pm), Sun (12pm-5pm)
Website: pickingsandparry.com
The Melbourne Barber Shop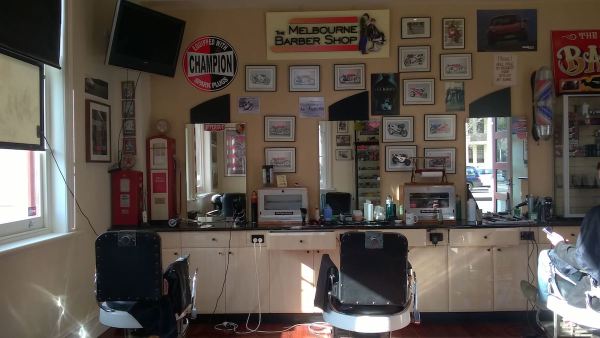 First opened in 1994, The Melbourne Barber Shop is an auto-themed barber shop that's become somewhat of an institution. There's a loyal following amongst customers whilst new patrons are welcomed with open arms. Enjoy the automobile paraphernalia covering the walls as you treat yourself to a fabulous new cut from the experienced staff who are more than happy to offer advice on styling and product use.
Location: 394 Russell Street, Melbourne
Hours: Mon-Fri (7:30am-6pm), Sat (8am-12pm)
Website: melbournebarbershop.com