The Apple TV+ series Home has recently returned for a second season, following its successful debut that was well-received for its human approach to architecture's most interesting stories. For the first time in season two of Home, Apple TV+ has come to Australia, turning the spotlight on the remarkable Longhouse project that seeks not just to create an interesting building, but to build a community and philosophy around it.
Daylesford isn't the first place that comes to mind when you think of Australian architecture, with tourists from Melbourne drawn to the area for its natural mineral springs and its eclectic and tight-knit community. However, it was in this town just before the Great Dividing Range that Longhouse owners Trace Streeter and Ronnen Goren decided to build their project, thanks to the enthusiasm of the welcoming local community toward sustainable farming and the natural beauty of the region.
The Longhouse is essentially an entire farm that exists under a single roof, with livestock, fruit and vegetables and more all grown, harvested and preserved within the same building. But it's so much more than that, as the Longhouse also contains the living quarters of Trace and Ronnen, an AirBnB for guests to experience the property and a commercial kitchen for cooking classes, cementing the building's place as a hub of community and self-sufficiency.
---
---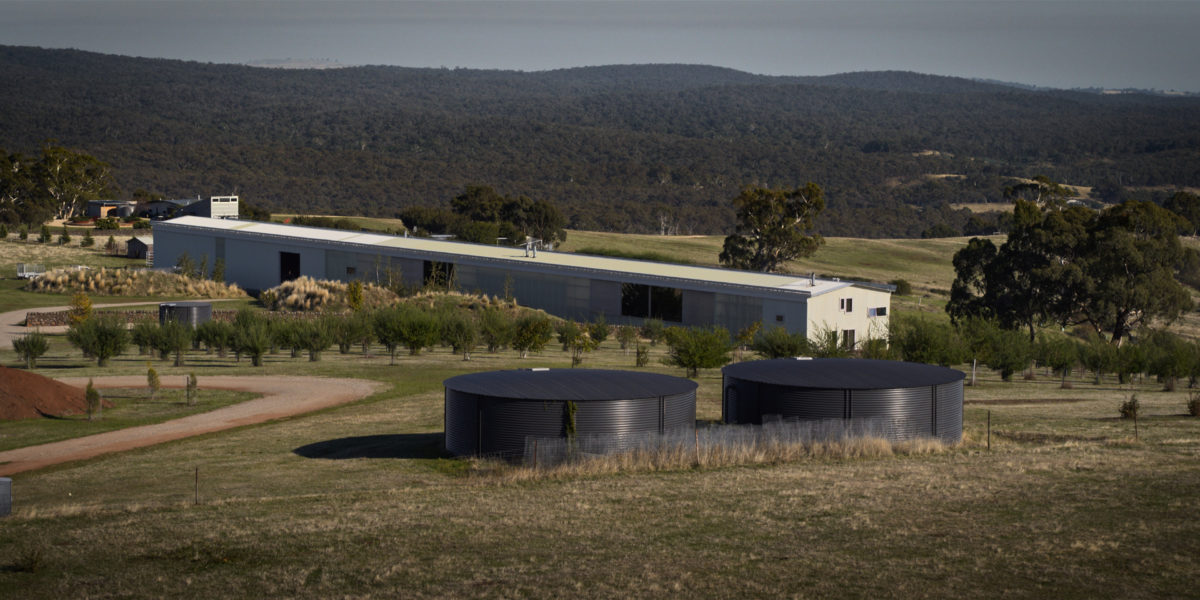 RELATED: Iconic Slim Aarons 'Poolside Gossip' House Sells For Record-Breaking Price
As well as being loved by the community in which it exists, the Longhouse has also been recognised for a number of awards, including being the first Victorian property to win Australian House of the Year. It was also the recipient of the Robin Boyd Award for Residential Architecture at the National Architecture Awards.
To celebrate the Longhouse being featured on the latest season of Home, Boss Hunting was fortunate enough to speak with Ronnen about the history of the building, what it was like being approached by Apple TV+ and what makes the Longhouse so distinct.
Boss Hunting: When did you first have the idea for the Longhouse, and how long was it between that idea and getting started?
Ronnen Goren: Too much foresight can be a curse, so I think if we'd known that it would take 10 years to realize this vision, we may have stopped then and there. Trace and I had been dating long-distance for four years, and we got to a point in our relationship where we had to make some decisions about how or if we would make a life together. Obviously, the house would really be about integrating our passions, that being agriculture and sustainability from Trace's perspective, and my love of hospitality.
It wasn't just incumbent on if or not could we live sustainably, or if we could farm on a very small scale in a way to sustain our own lives and our needs. But also, we wanted to create something more. So the underpinning was longer life learning. How do we continue to push ourselves to do things that we ordinarily wouldn't?
It was about how we could create family as a same-sex couple, that in the longer term would mean that we had met new people, as well as that we had a network of people that shared similar endeavours. So because of our Workaway program, where backpackers can come and live with us in exchange for work, and the cooking classes too, we're able to meet great people from a myriad of places. We've been very fortunate.
---
---
I guess the construct was also, not just about making a life in a literal sense of sustainability, but one that had a broader definition by looking at the many different levels of Maslow's hierarchy of needs. Things like belonging, family, friendship, love, sustenance, and obviously harmony with nature are at the core.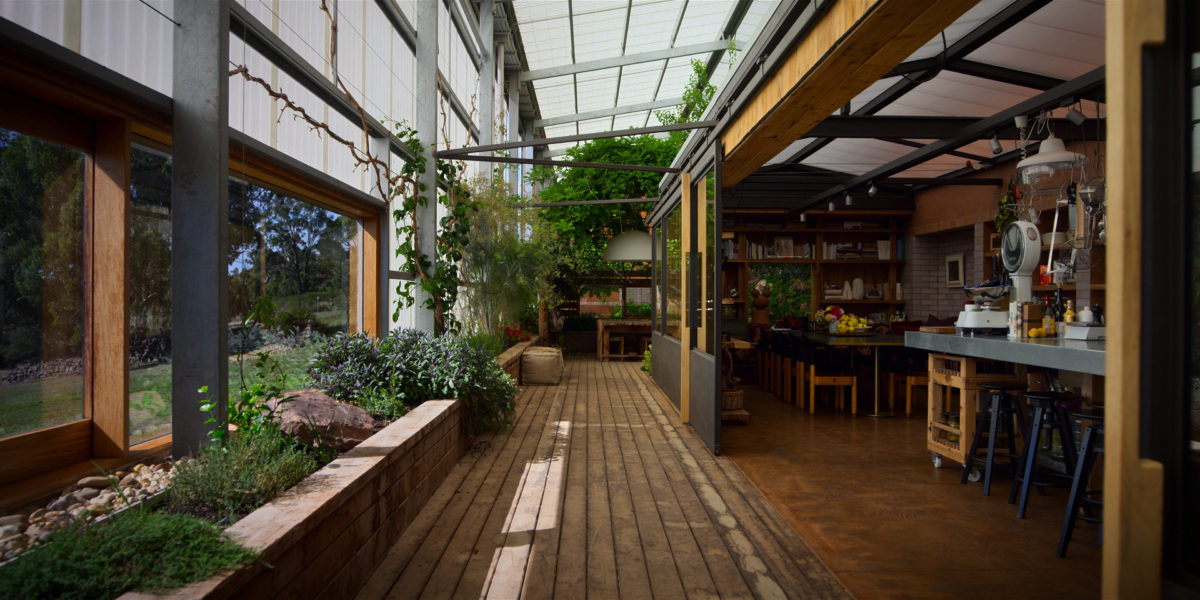 BH: When did you first start building and how long did it take you to move into Longhouse?
RG: It's been a project of iterative stages. It took us 18 months of consistently going back to Daylesford to work out that's where we wanted to be. We knew we wanted to live in Daylesford because of its community and eclecticism, its really strong orientation around food and culture, but we needed to work out exactly where. Then more technically, we were looking at somewhere we knew we weren't in a rain shadow, and we were going to get really good soil.
The hill came with a view, which we were dazzled by, but when you live on the crest of the hill, you're also buffered by the wind. So the house, as well as making a village, we thought about its environmental approach to being able to harness water, having animals all under one roof and growing everything indoors in a cold climate. So it's a very strong mechanism for protection, which ensures that the trees and everything inside is extremely fecund and grows like the clappers.
What was it about the style of your architect and friend, Timothy Hill from Partners Hill, that you both liked? What was it specifically about the way that he went about his process that you wanted?
RG: I think it helped that I met Trace as a result of being only two streets away in Brisbane, in another house that was a recipient of Timothy's first Robin Boyd Medal of Architecture for residential architecture, which is a national award.
To be perfectly honest, the style wasn't the compelling reason why. The key thing that's so telling about his approach to architecture is his mastery, not only of detail and scale, but the sheer brilliance about being able to create the dynamic we wanted.
For a house that we knew would have a complexity of programs, it was about solving how we could have people staying without feeling like they're just in the room next door? How do you have other people live and work on the farm all under one roof? What is the function of a kitchen as the heart of the home? How do you put animals under one roof? How do we create two-day events, such as cooking classes, symposiums and talks?
---
---
So first and foremost, he got the programming dynamic and the complexity of the brief to a point that it worked incredibly well. Then we got the added advantage of his skill in managing extremes, creating something so big in the landscape yet so deft that when you come inside, it just unfolds in terms of its detail. It is in itself a 110-meter-long journey from one end to the other.
That said it was a real experience and delight to work with someone with such a rich vocabulary. So I jokingly say, our luxury was not one of tapware or marble, but the luxury of incredible detail and the real skill to put together the texture and atmosphere, the colour and emotion, into a space.
Spaces like the little living room in the Airbnb area, which is a completely upholstered room with all of the lounges built into the periphery of the space, with a fireplace that makes for a really comfortable conversation or chill-out area. Everywhere you turn, there's another texture, another surprise, another thing to discover.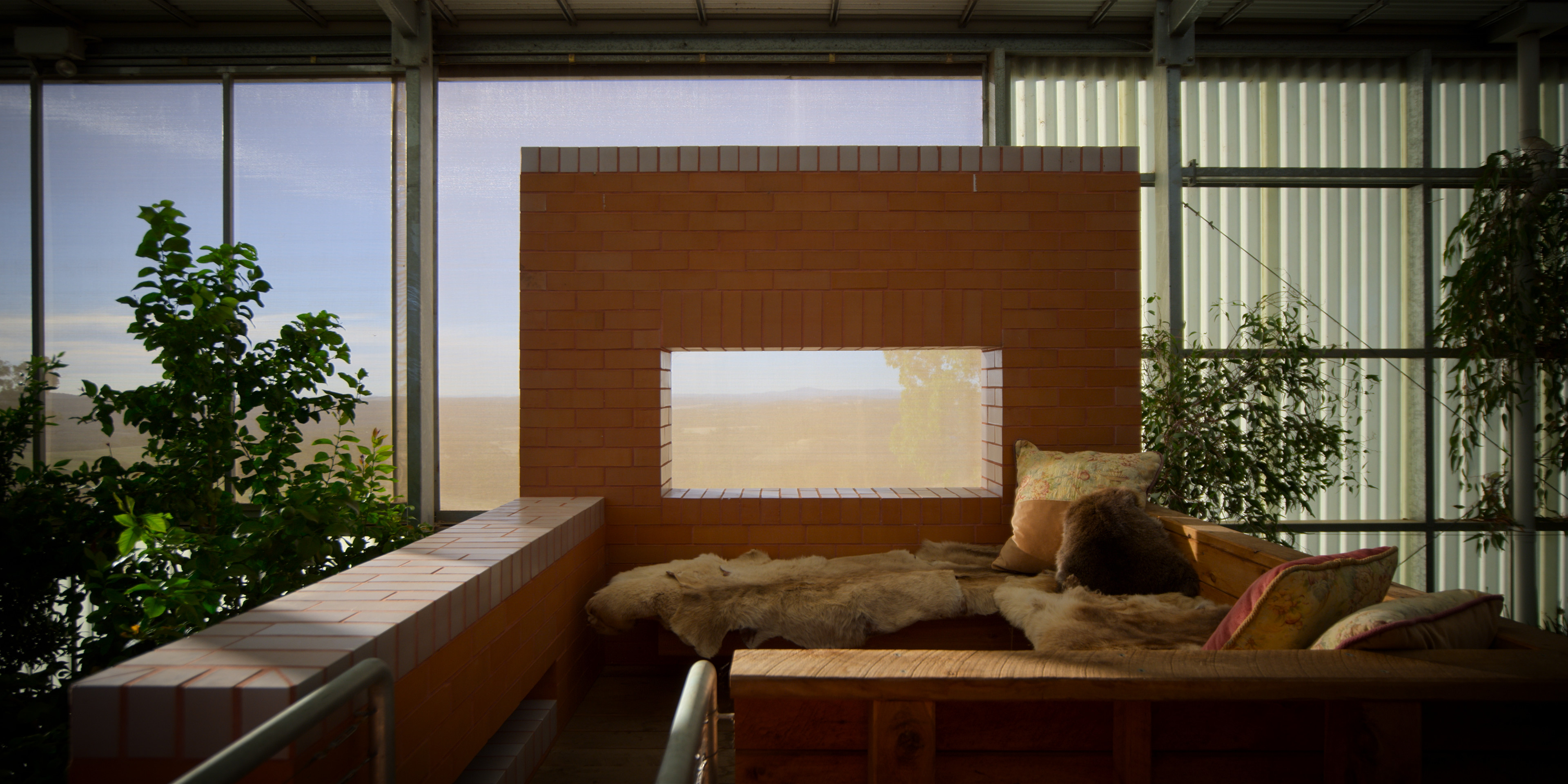 BH: How did you decide on the shed shape? Was there something specifically important about having an elongated building as opposed to something else?
RG: So the first thing we had dialogue around was what the concept would be. So with the significant number of different programmatic intents, the first thing was what is the model? How do we create a village? In the end, the singular structure was a way of looking toward efficiency.
The house actually has been extremely cost-effective and efficient to build for the amount of effort. We only had to make one roof and one set of gutters, which collects that at one water point. Often on farms, one of the observations that we made is there's a tendency to keep needing to build more sheds and more structures.
So I think we landed on the idea of consolidation and one very strong gesture that would cut through the landscape. Again, it plays the tensions of extremes.
BH: How did you fund the build? Did you always have a business model in mind that you'd recoup costs through later on?
---
---
RG: In the process of realizing a dream or a vision, there's often a conversation about where you go with trade-offs. Time, quality and expense. We were very fortunate to have a builder that's been with us for the 10-year journey.
The robustness and the concept of the house allowed us to start at the ends and progressively through four or five building stages over 10 years, continuing to layer things up. We had a master plan, but it didn't really evolve until at least halfway through.
This process also gave us time to really perfect everything without having to get it right. It allowed us to live in the space and really see it and respond to it. It's taken every bit of 10 years to get to a really good equilibrium, which I think finally, we feel like we're at.
The last endeavour has been to build a solar farm of 60 solar panels, to take us completely off-grid. If we'd done that at the beginning of our efforts, I don't think we would've known how much we needed, so time has probably been our friend.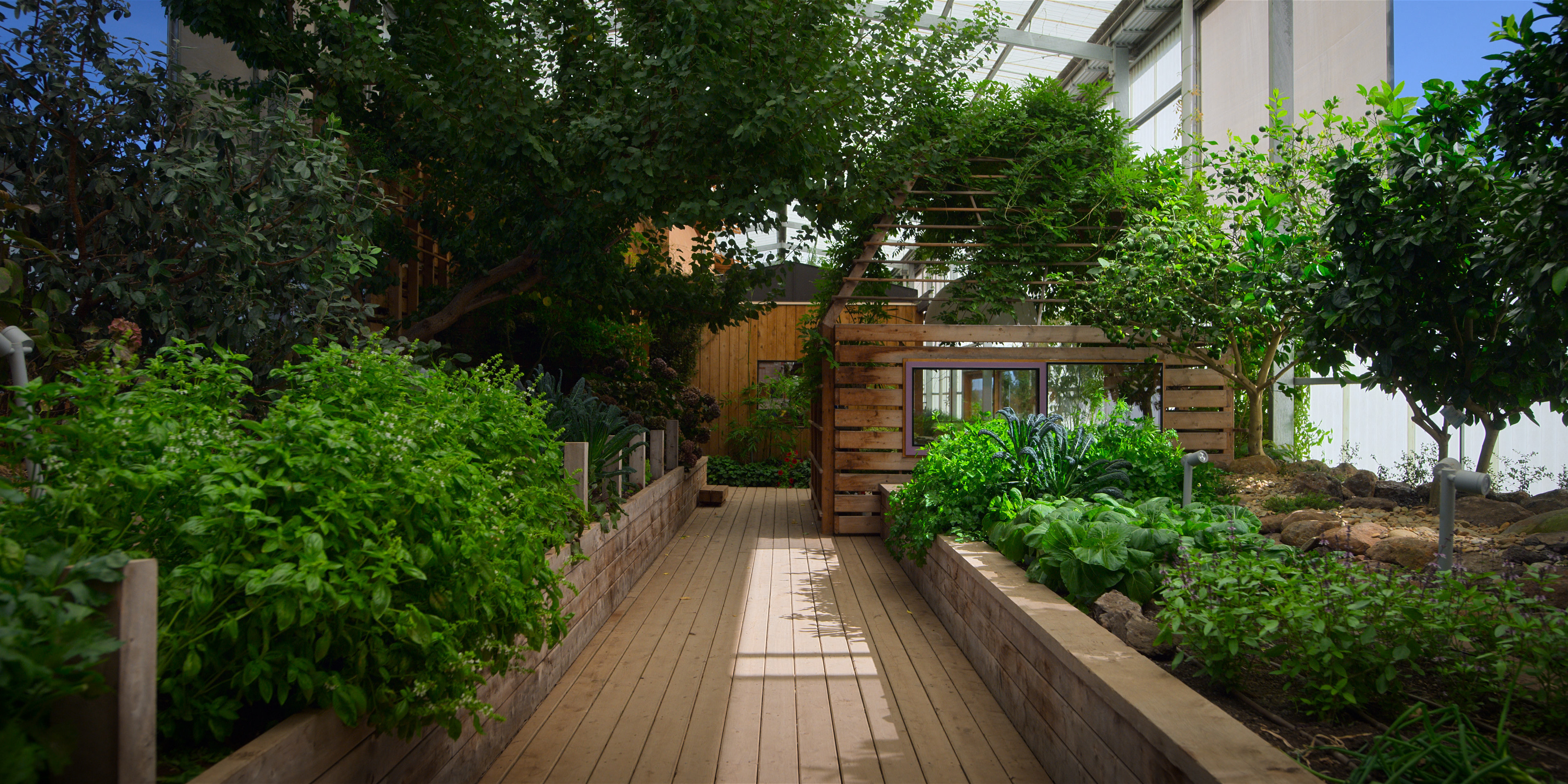 BH: How does the house make you kind of feel when you walk into it?
RG: As an inhabitant, I'm often consistently reminded about how blessed we are, so I don't think we take it for granted. There are always lots of moments of reward, which could be feeding the fish, which have got their own little ecosystem down at one end of the building or the axolotls.
Whether it be sitting and hanging with the goats, or the dogs of which we've got four, or having the opportunity to cook on the wood stove throughout winter, which is probably my favourite apparatus.
BH: What is a detail of the house that you've loved most recently?
---
---
RG: I'm not going to nail it one, but it's the texture in a lot of the materiality and the finishes. So it might be the fact that we've used zinc instead of stainless steel, which has a softness about it and a patina. It could be a tile texture on a wall that picks up light.
Often a lot of these things haven't been super expensive, but it's been the deployment and the layering of a multitude of textures. For example, the stair is this amazing jigsaw puzzle of treads intermeshed with sort of rising boards, which is an incredible detail.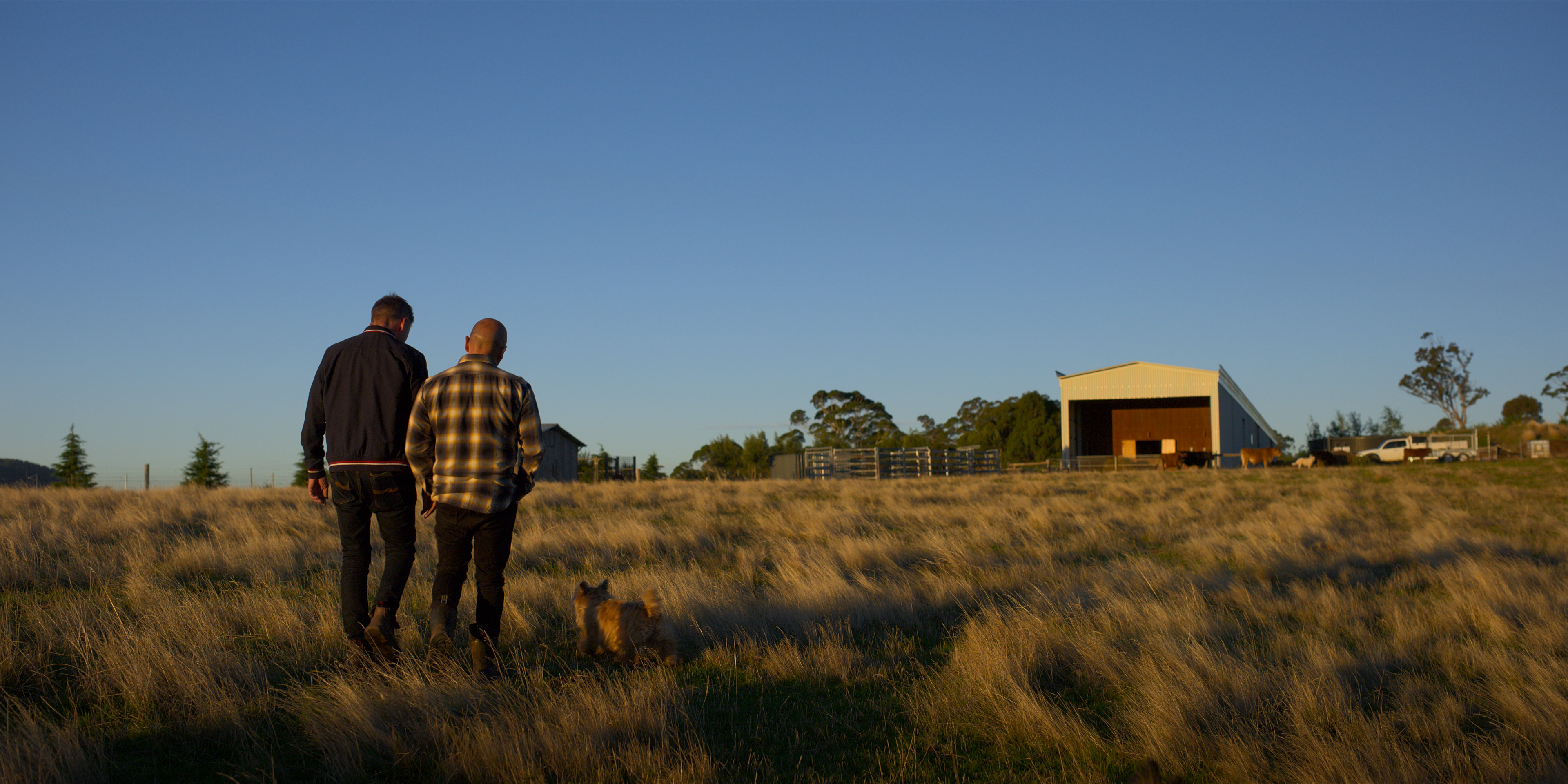 BH: How did you get involved with Apple TV+ and 'Home'?
RG: We got an email on Apple's behalf, but we were very surprised that out of all the extraordinary houses in Australia, we had been found and chosen. So in many respects, it's a real honour.
I think being an architect, as well as working in communications in my professional career, we've always been fairly measured about the narrative of Longhouse. One of the things that were really compelling about this series was it was first described to us as the Chef's Table of architecture. So being someone that's watched every single series, probably at least twice over, I was very compelled by that idea.
Having participated in Grand Designs, I was a bit reticent because I thought, " is this a story about the challenge of making architecture? Or why people make a home?" However, to their credit, that's what has continued to touch people [who've seen the show], and we've had a slew of text messages over the last couple of weeks since it's aired.
What it tells is the nature of a home by virtue of inside it, the relationships between the inhabitants, and how people create different relationships and constructs of home from perspectives around the world. So, really it was a no-brainer. Once we truly understood what the endeavour was, we were fully on board.
I have to say, they absolutely slam dunked it. The end result is beyond our expectations and it tells our story in a way that I don't think we would've told it. It makes us very happy to see our life represented in such a way, and it certainly does justice to our endeavour and the motivation as to why we built that home.
---
---