Australia really can't get enough of the flavours of France – an undying love echoed by the best French restaurants in Sydney. Bistros are commonplace in the harbour city, and most are held in such reverence that they are considered defining moments of Sydney hospitality. These are often the first on a list of recommendations for overwhelmed visitors looking to make the right choice.
Many of the restaurants below are seen as most appropriate for dates or special occasions, but truth be told, they are great any time of the week. Entertaining clients? You choose a French restaurant. Long work lunches? You choose a French restaurant. Just want to remind yourself how damn good eating out in Sydney can be? You eat at a French restaurant, no questions.
Take note of the finest French restaurants Sydney has to offer by scrolling through this list, which will take you through timeless favourites like Restaurant Hubert, Bistro Rex and Bistro Moncur, as well as newcomers like the gorgeously quaint L'Heritage and the aggressively modern Bistrot 916. If you end up drooling on your keyboard, apologies in advance.
RELATED: The Best New Restaurants In Sydney
Our Favourite French Restaurants In Sydney
---
Parlour – Sydney CBD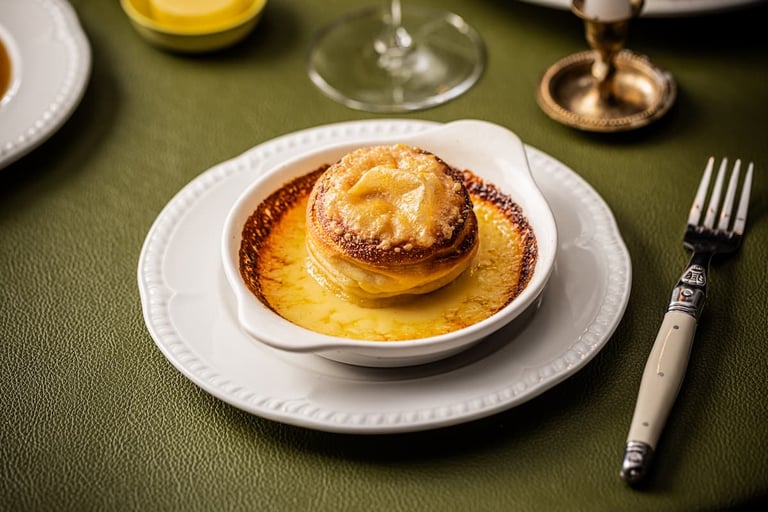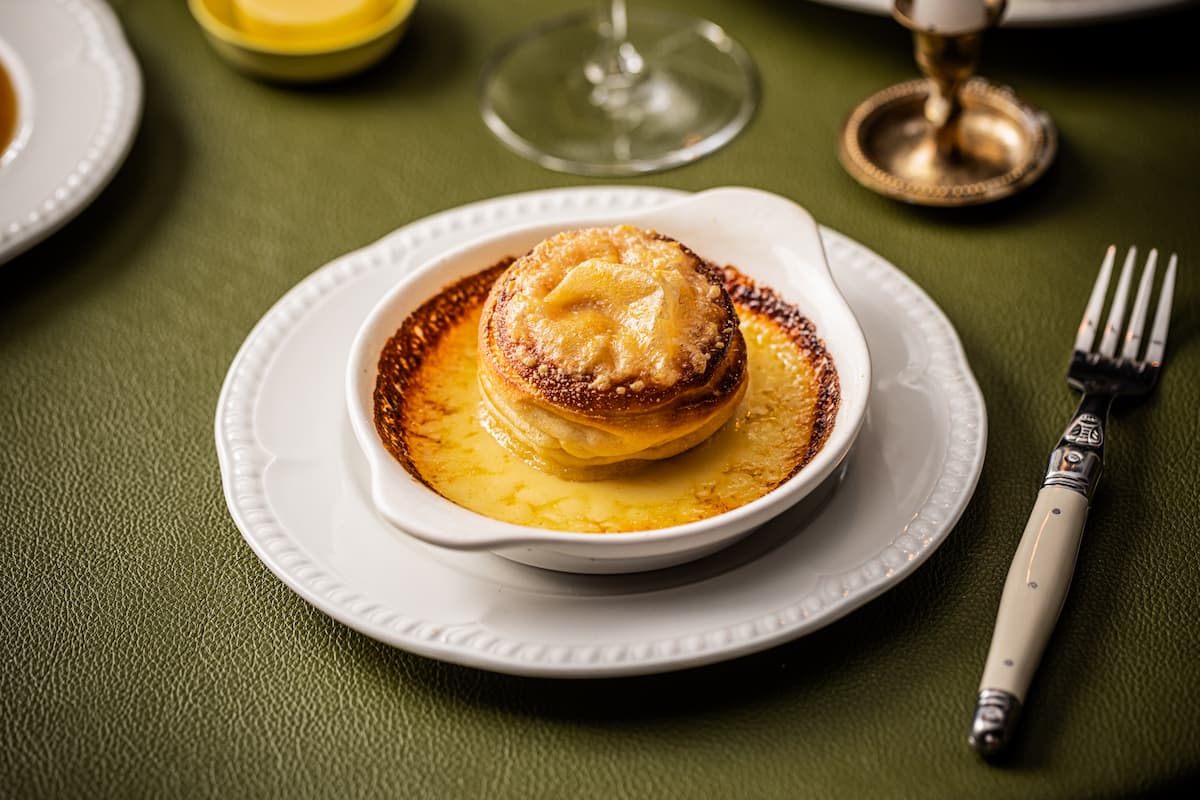 QT Sydney's street-level cafe has been transformed into a charming French restaurant that's big on atmosphere and theatrical tableside cooking. After doing an exceptional job reinvigorating QT's signature restaurant, Gowings, chef Sean Connolly gifts Sydney a fun, inventive experience grounded by refined Parisian classics.
Best of all, there's a supper menu running past midnight so if you're caught out late in the CBD and you feel like a confit duck jaffle with garlic butter jus, or a boozy crepe suzette flambe prepped tableside, this is your only choice.
But dinner is the showstopper at Parlour. Gorgeous chicken liver parfait, a deliciously soft twice-baked souffle, crumbed lambs brains with anchovy mayo, home-style duck confit with cabbage and pomme puree. Connolly has proven that he is just as handy with elevated French cuisine as he is upstairs tinkering away at Italian-leaning grill classics.
Address: 49 Market St, Sydney NSW 2000
Contact: (02) 8262 0000
Opening Hours: Monday – Wednesday (6:30 am – 10 pm); Thursday (6:30 am – 12 am); Friday – Saturday (6:30 am – 2 am); Sunday (6:30 am – 10 pm)
---
Bistro Rex – Potts Point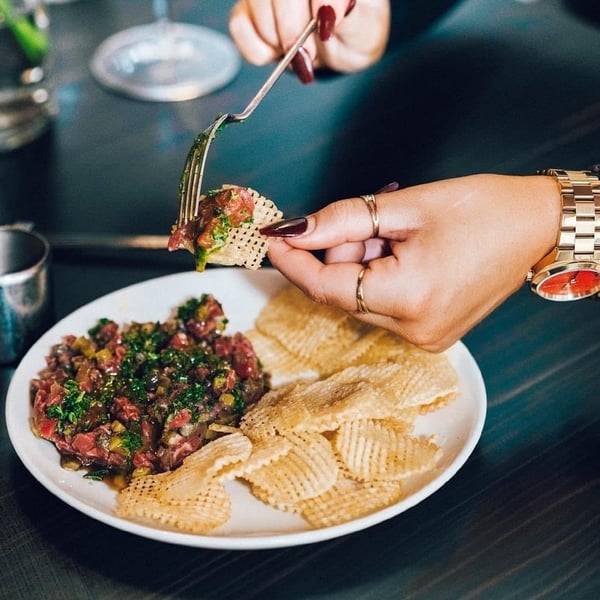 Here's a legend that should be at the top of your list when searching for Sydney's finest French. Bistro Rex is one of the most reliable restaurants in Sydney, constantly and rightfully showered with praise from discerning diners – many who can't bear to stray from the go-to dish, a simple 220g steak frites with Café de Paris butter, best preceded by some French onion soup.
And look, it's perfectly understandable to stick to this one signature at Bistro Rex, but you'd be missing out if you didn't explore more from the kitchen's trim, beautifully executed menu. Some other standouts: a twice-baked cantal cheese soufflé, those highly indulgent lobster mac & cheese spring rolls and the Spanish influenced grilled octopus wisely served with preserved lemon potato crisp and pill pill.
It's all French classics done well at this Potts Point French restaurant, with a bit of a shot at modern French cuisine.
Address: 50 Macleay St, Potts Point NSW 2011
Contact: (02) 9332 2100
Opening Hours: Monday – Wednesday (5:30 pm – 8:30 pm); Thursday (5:30 pm – 9 pm); Friday – Saturday (12 pm – 3 pm, 5:30 pm – 10 pm); Sunday (12 pm – 3 pm, 5:30 pm – 7:30 pm)
---
Restaurant Hubert – Sydney CBD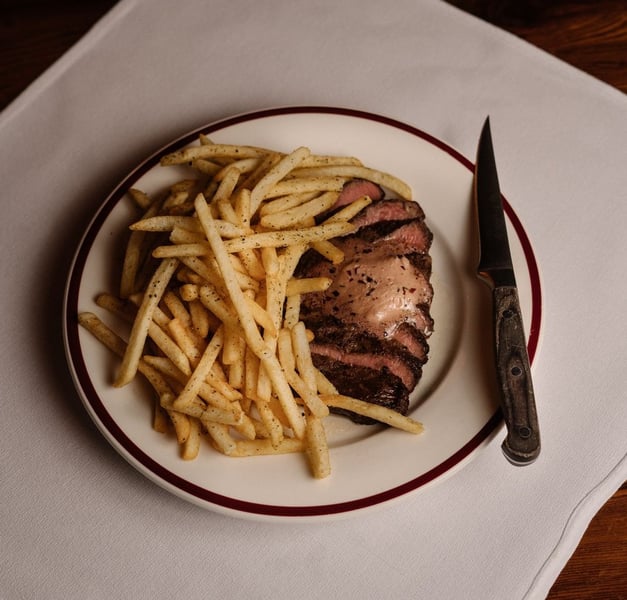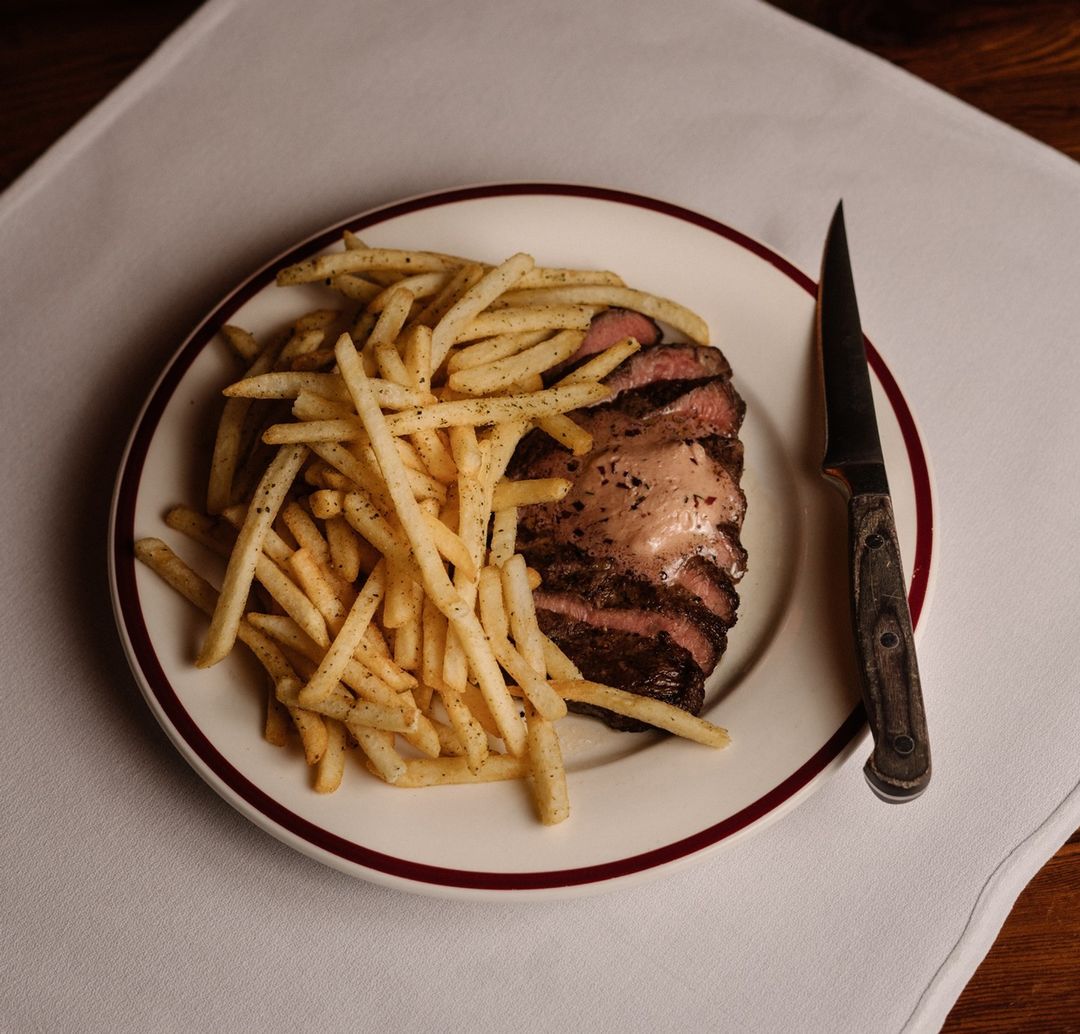 You simply haven't done Sydney dining properly if you've never wandered down that lavish staircase and blanketed yourself in the old-world glitz and glamour of Restaurant Hubert.
Nodding heavily to the post-war French bistros that are dotted all through Paris, Restaurant Hubert stands as a reference point for Sydney hospitality.
The venue is from the same team behind stalwarts like Alberto's and Shady Pines, gleaming with a similar world-renown thanks for its jazzy atmosphere and dishes like classic chicken fricassée served with a rich bread sauce, the dependable steak du Jour, and the unfailing prime beef wagyu tartare.
Bring your appetite and a sense of romance, because all these years later Restaurant Hubert is still unlike anything Sydney's veracious dining scene has ever seen.
A top tip for casual diners would be to skip the dining room altogether and head straight for the adjoining Bar Pincer, where classic cocktails go down well with the signature Normandy burger – a brioche bun with 1 grilled dry aged beef patty, melted gruyere cheese, a house-made tangy sauce, with frites and a pickle on the side. It's one of the best burgers in Sydney.
Address: 15 Bligh St, Sydney
Contact: (02) 9232 0881
Opening Hours: Monday – Wednesday (5 pm – 12 am); Thursday (12 pm – 12 am); Friday – Saturday (12 pm – 12: 30 am)
RELATED: Best Asian Fusion Restaurants In Sydney
---
Bistro Moncur – Woollahra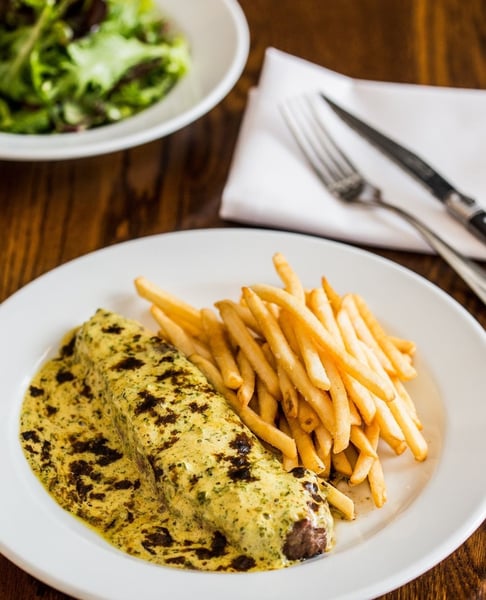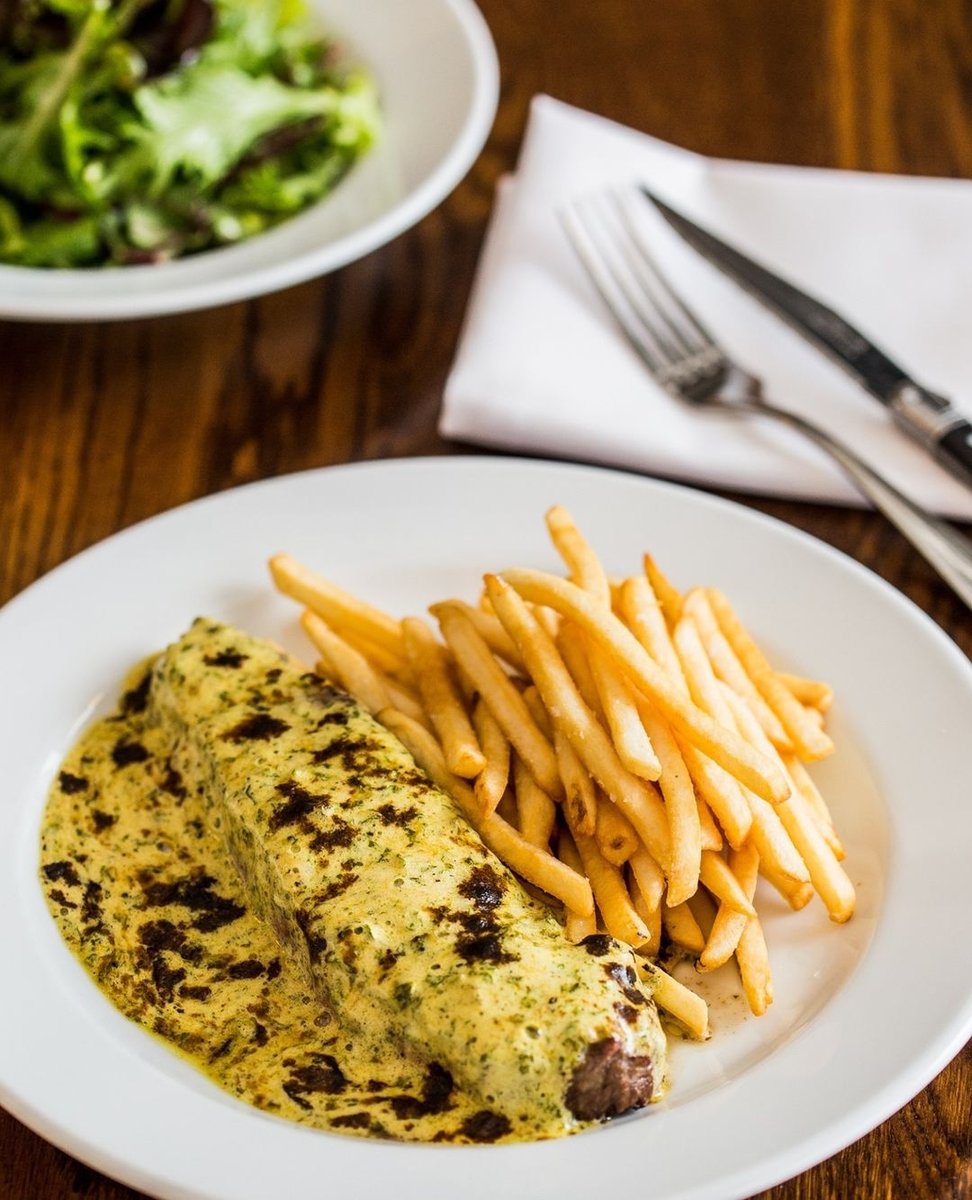 Is there a French restaurant in Sydney as reliable as Bistro Moncur? Bistro Rex comes close, and might even beat the dining institution on occasion, but there's a strong case for this Woollahra staple being the best French restaurant Sydney has to offer, period.
Since opening in 1993, the bright, charismatic dining room has been heaving with heavy, more indulgent French flavours, blended with a wider European influence spanning dishes like potato & ricotta gnocchi, saffron crab omelette, and tuna tartare.
Bistro Moncur is somewhere you'll want to return to so you can try the entire menu, but you'd be forgiven for always ordering the perfect prime fillet steak served with steak béarnaise. Satisfaction guaranteed.
Address: 116A Queen St, Woollahra NSW 2025
Contact: (02) 9327 9713
Opening Hours: Tuesday – Thursday (5:30 pm – 9 pm); Friday – Saturday (12 pm – 3 pm, 5:30 pm – 9 pm); Sunday (12:30 pm – 3 pm, 5:30 pm – 8 pm)
---
L'Heritage – Chowder Bay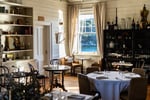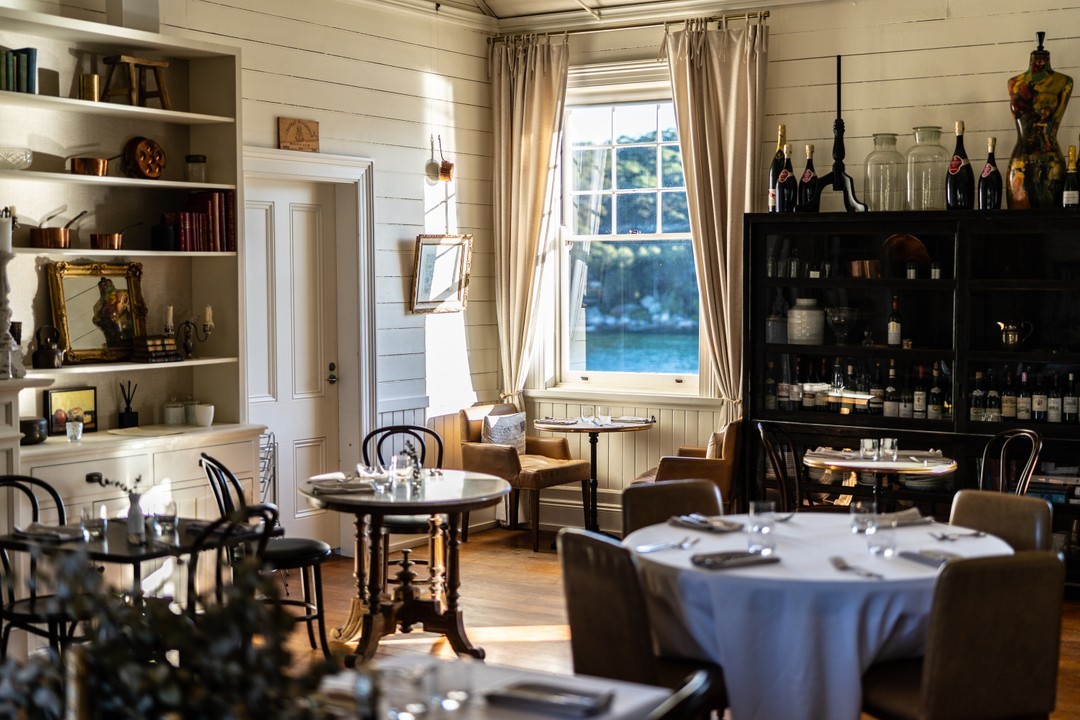 L'Heritage may be relatively new and still largely under the radar, but this cosy harbourside venue is putting up some strong competition for Sydney's favourite French restaurant.
A heritage 1980s Army Drill Hall in Mosman's Chowder Bay has been zhuzhed into an intimate restaurant that couldn't be more perfect for a special occasion or date night. Considering it's the same owners of Mosman's favourite french café – simply named Frenchy's Café – the historic space now feels homely and incredibly welcoming.
That romantic French atmosphere spills over to the classically-minded food on offer, paired with elegant French wines that prioritise structure and dishes like a signature bouillabaisse loaded with mussels, prawns, salmon, pink ling, potatoes, croutons and a very rich saffron aioli.
Address: 7b Chowder Bay Rd, Mosman NSW 2088
Contact: (02) 9968 1658
Opening Hours: Wednesday – Sunday (10 am – 10 pm)
---
Bouillon L'Entrecôte – Circular Quay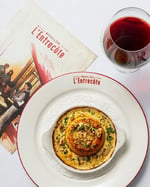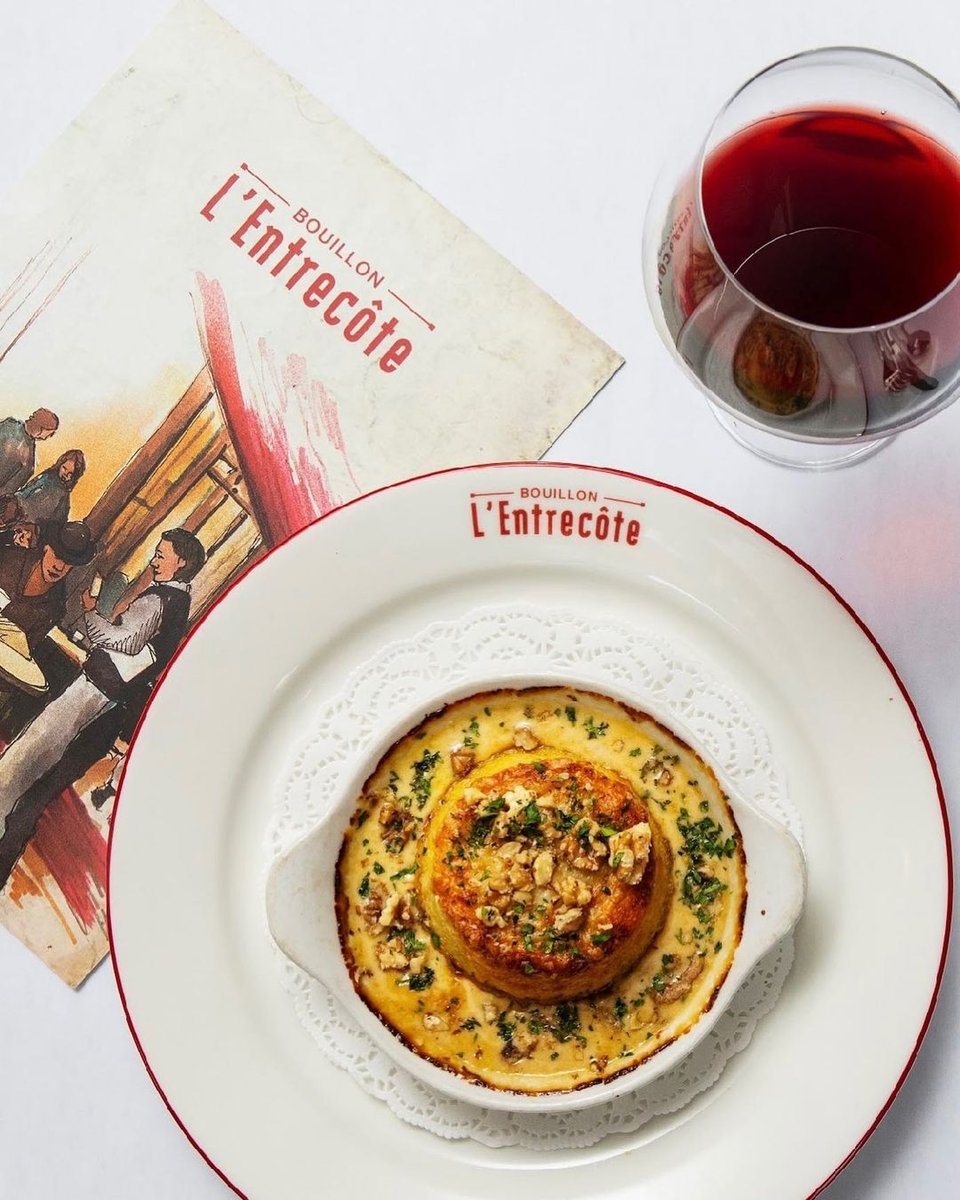 As one of the newer entries for your admirable journey aimed at finding the best French restaurant Sydney has to offer, Bouillon L'Entrecôte has a lot of work to do. Fortunately, the fine-casual restaurant, fast becoming known for its impeccably speedy and personal service coupled with incredible food and wine, is more than up to task.
Located down at the new Quay Quarter Lanes precinct at Circular Quay, Bouillon L'Entrecôte confidently serves up the kind of feast lovers of fine French food can't get enough of – think seared scallops with foie gras mousse and onion jam served on a delicate pastry, warm crab meat with mushroom duxelle and lobster bisque and of course some Burgundy snails served in the shell.
Address: 6 Loftus St, Sydney NSW 2000
Opening Hours: Monday – Saturday (11:30 am – 3 pm, 5:30 pm – 11 pm)
RELATED: Best Mexican Restaurants In Sydney
---
Metisse – Potts Points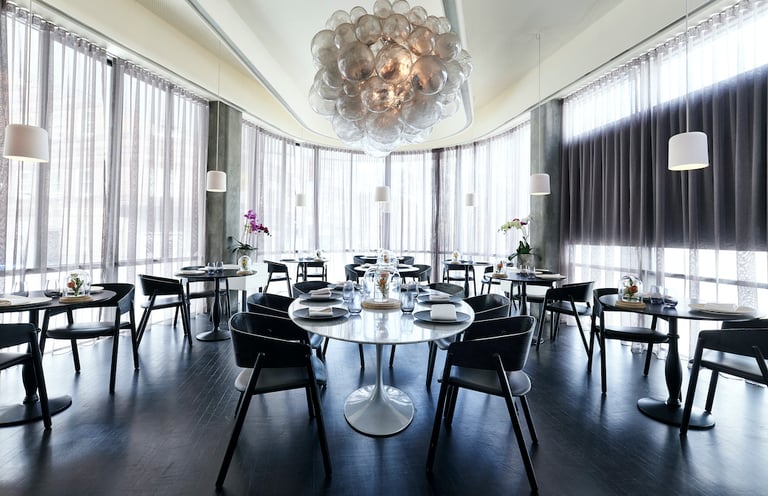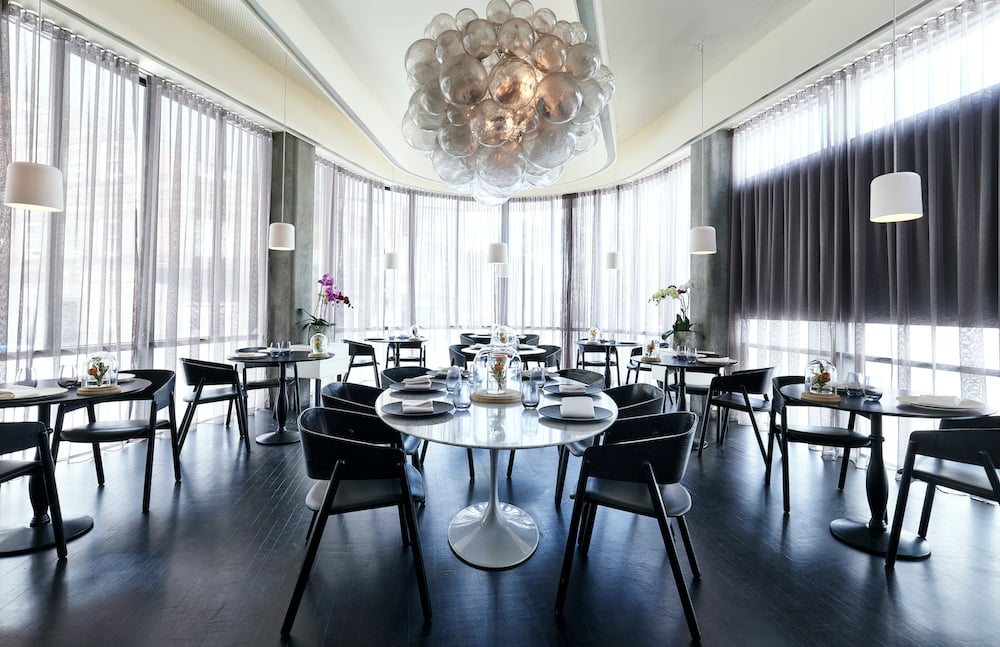 If you're eager to swap the traditional "bistro"-style options out for a bit of pageantry and flair, a decadent degustation-only evening at Metisse is your saving grace in Potts Point. Owner and Chef, Opel Khan, has leant into both classically French Avant-garde gastronomic techniques and his childhood memories of spices & salts to create two menu options that comfortably fit into the fine dining category.
Between the 'Luxury' & 'Petit' menus, the former with matching wines (premium selection, if you're really pushing the boat out) is the only way to go to best appreciate Khan's meticulous and charismatic approach to each dish.
The mosaique, in particular, is both a visual and culinary standout that you'll undoubtedly enjoy as much as we did – an impressively technical plating of bluefin tuna, ocean trout, kingfish, and beurre noisette. You have to see this dish in the flesh (or on the Metisse website's homepage) to truly admire the craft that's gone into it.
And of course, no French restaurant, bistro or not, is complete without a memorable cut of beef that you're still salivating from the thought of the next morning. Hat tip to the 6+ score wagyu accompanied by a salt celeriac tart and fermented daikon. Near-impeccable.
Address: 5-9 Roslyn Street Potts Point, NSW 2011
Contact: (02) 8590 7698
Opening Hours: Tuesday to Sunday (5:30 pm until late)
---
Loulou – Milsons Point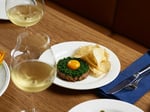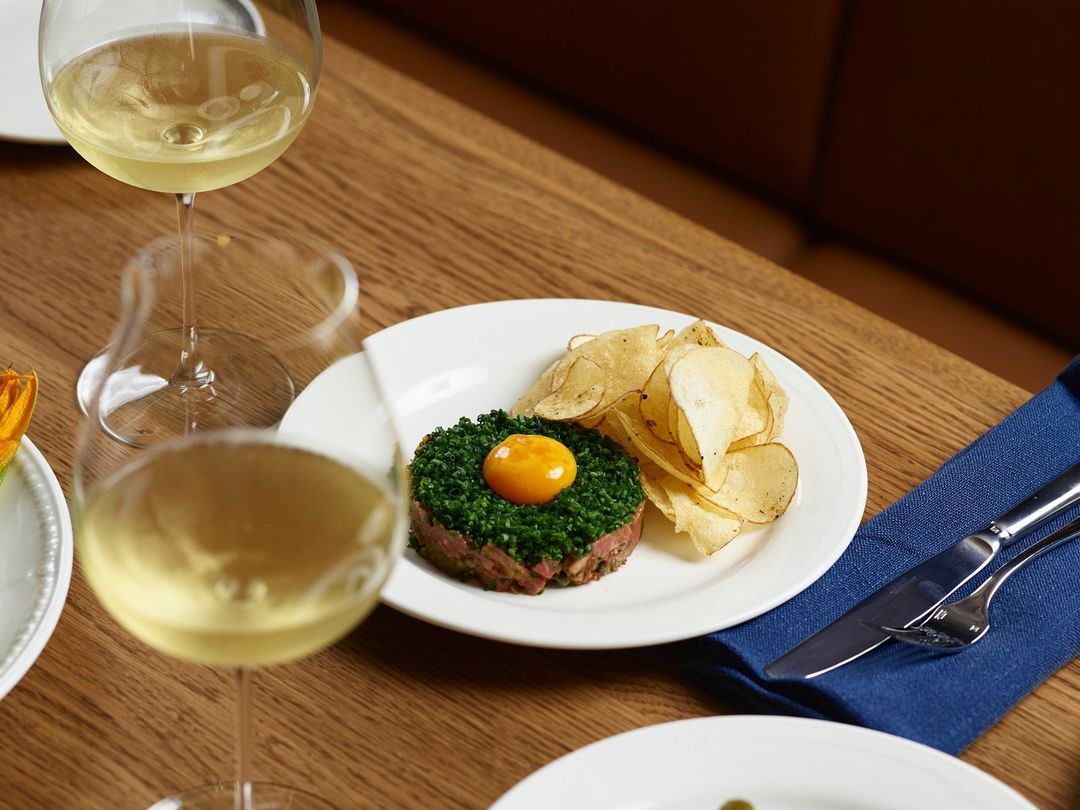 Milson's Point has needed this kind of destination restaurant for a very long time, with the harbourside suburb always fairly lacking when it comes to great dining options in Sydney. Loulou has swopped in and raised the standards immensely, acting as the ultimate bastion of all-day French dining with a Bistro, Boulangerie & Traiteur all-in-one approach.
By day, you've got the boulangerie serving up typical French bakery classics while later in the day the French bistro-inspired menu comes out with instant hits like rotisserie chicken with sauce colbert and octopus a la piperade.
Address: 61 Lavender St, Milsons Point NSW 2061
Contact: (02) 8090 3513
Opening Hours: Monday – Thursday (12 pm – 11 pm); Friday – Saturday (12 pm – 12 am); Sunday (12 pm – 10 pm)
---
Chez Maurice Et Linda – Balgowlah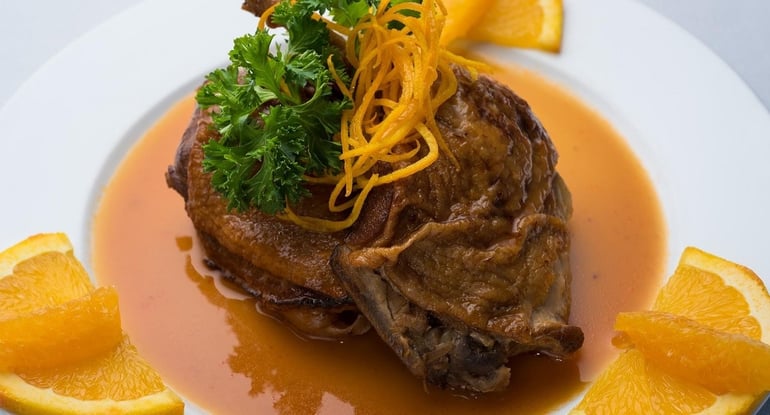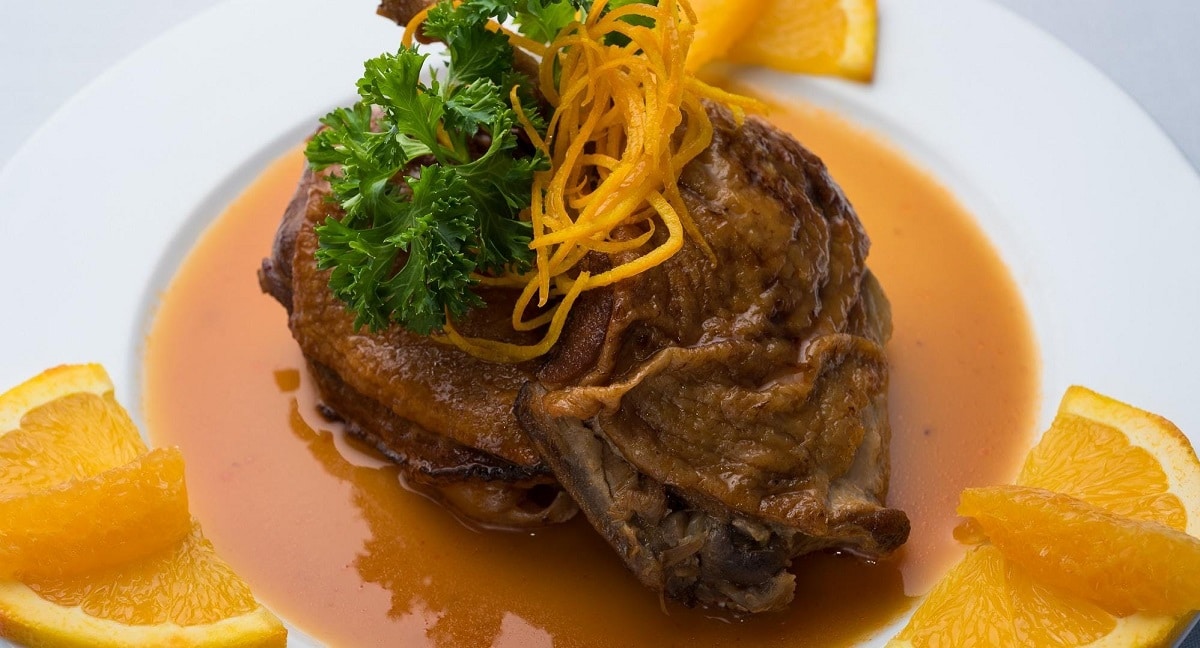 Not too many people seem to know about this Balgowlah icon, so consider Chez Maurice et Linda somewhat of a well-kept secret.
Those who do know it are fiercely loyal to the icon of French traditionalism, which focuses on classics done exceptionally well.
Start a French feast at Chez Maurice with some of that deep-fried camembert served with raspberry sauce, a few of those snails with garlic butter, and the scallops in mornay sauce baked with cheese.
You could almost get away with skipping mains entirely, but be sure to save stomach space for that black pepper steak or the signature braised duck in a rich, deep and addictive orange and Grand Marnier sauce.
Address: 292 Sydney Rd, Balgowlah NSW 2093
Contact: (02) 9949 4155
Opening Hours: Tuesday – Sunday (5:30 pm – 10 pm)
RELATED: Best Steak Restaurants In Sydney
---
Felix – Sydney CBD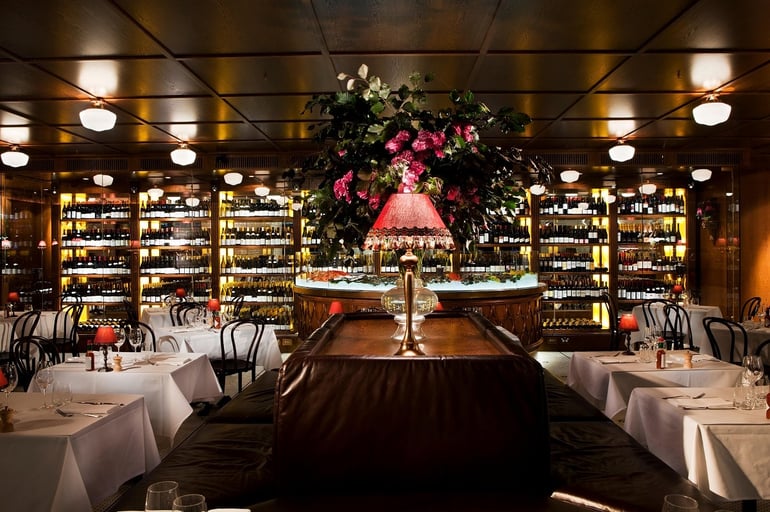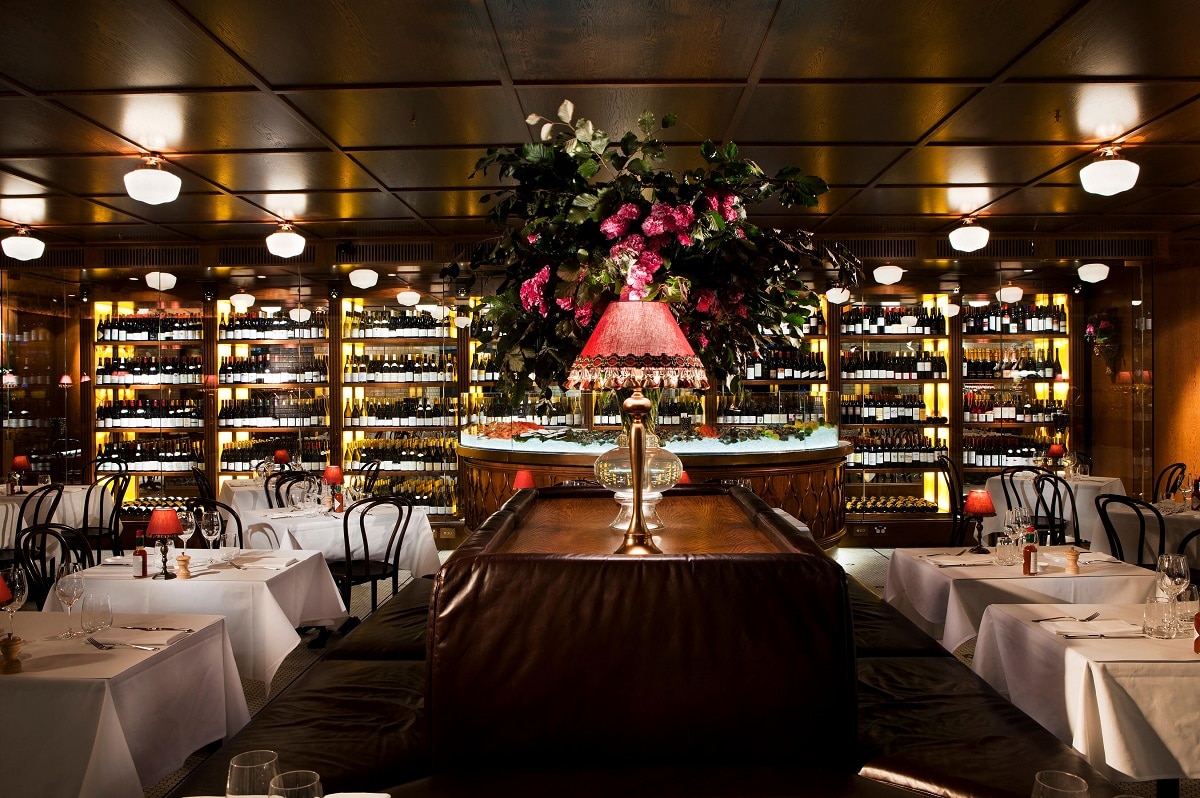 Merivale has hit the nail on the head with Felix, adding a dominant modern French restaurant to their stable of flavours and working it so this ostentatious bistro is regularly referred to as one of the hospitality empire's most valuable players.
From the dedicated fresh seafood bar to the seemingly endless glowing shelves packed with wine bottles, just walking into the venue and basking in its magnifique ambience under impressive French imported chandeliers is an experience.
That much is obvious even before you sit down to a feast, built with côte de boeuf, caviar, twice-baked Gruyère soufflé, and – if you're splashing that night – whole rock lobster.
Follow that up with a visit next door to Felix's sister venue, a Parisian influenced cocktail bar simply named Little Felix. And while the French bistro food at Little Felix can be a bit hit or miss, the bar's bigger brother is most definitely keeping the ivy precinct standards nice and high.
Address: 2 Ash St, Sydney NSW 2000
Contact: (02) 9114 7303
Opening Hours: Monday – Friday (12 pm – 10:30 pm); Saturday (5:30 pm – 10:30 pm)
---
Le Bouchon – Crows Nest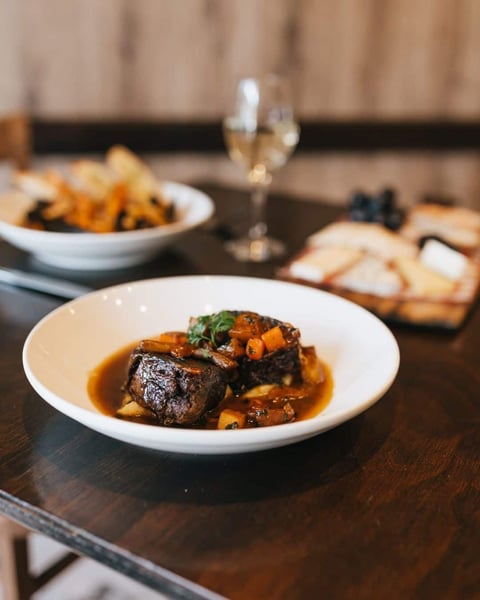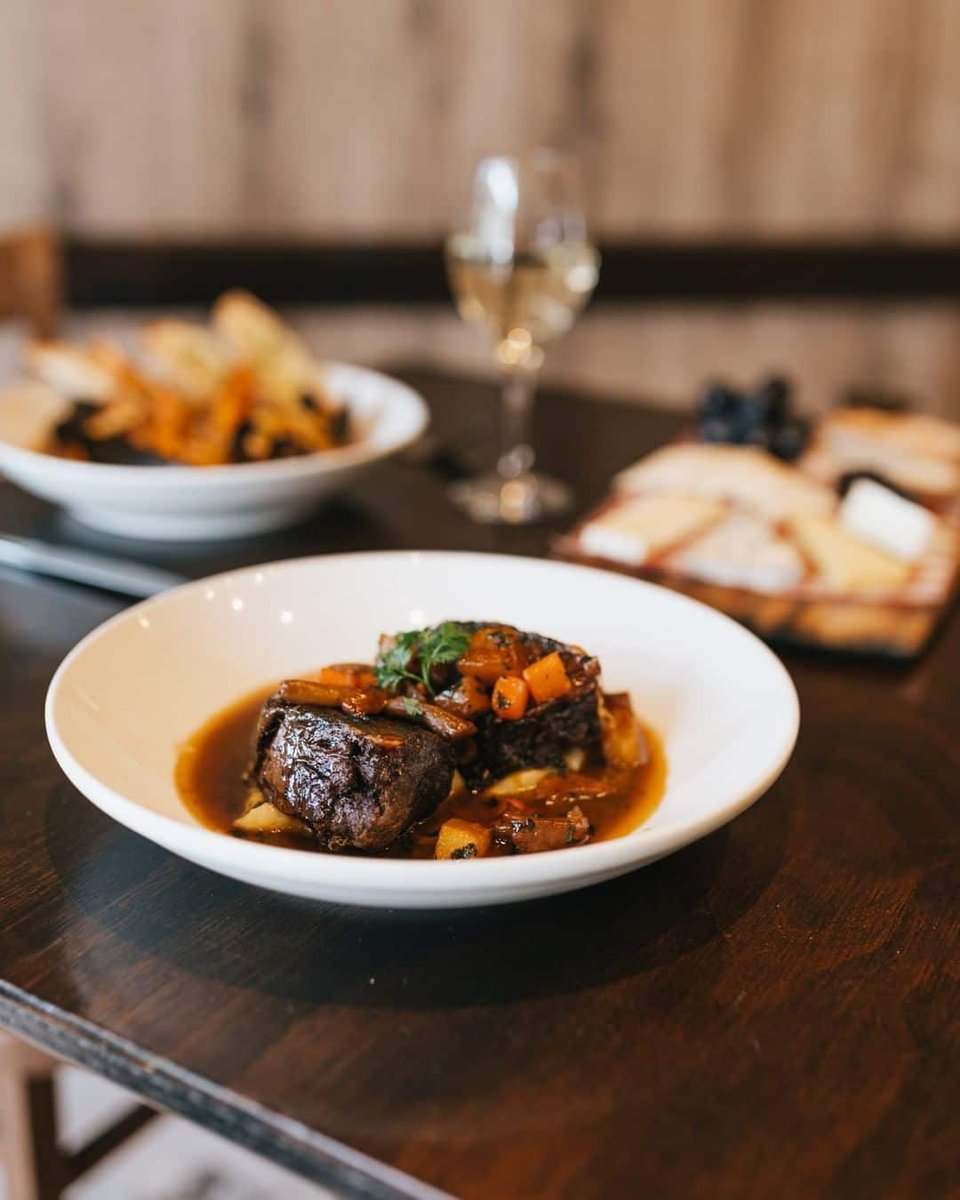 Crows Nest has long been known for its collection of Sydney's best-kept secrets, with the Lower North Shore suburb rich with some of the city's best ramen, Turkish, and Japanese restaurants.
Add classic provincial French to that list, with Le Bouchon (that does BYO Monday to Thursday) easily one of the finest choices for Francophiles craving regional dishes leaning more towards lyonnaise flavours.
The standard French Bouchon classics are perfected here, with standouts including starters like snails with garlic, parsley, and butter, and steak tartare, flowing on through to mains like a casserole of confit duck with Toulouse sausage, pork belly, and beans, as well as slow-cooked pork belly with lentils du puy and pork sauce.
Lyon has never had a better embassy in Sydney than this gorgeous restaurant.
Address: 104 Willoughby Rd, Crows Nest NSW 2065
Contact: (02) 9966 0906
Opening Hours: Tuesday – Wednesday (5:30 pm – 9:30 pm); Thursday – Saturday (11:30 am – 2:30 pm, 5:30 pm – 9:30 pm)
---
Bistrot 916 – Potts Point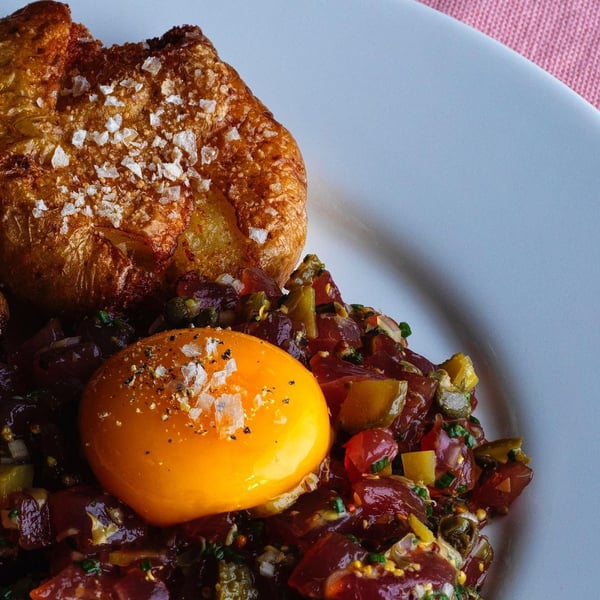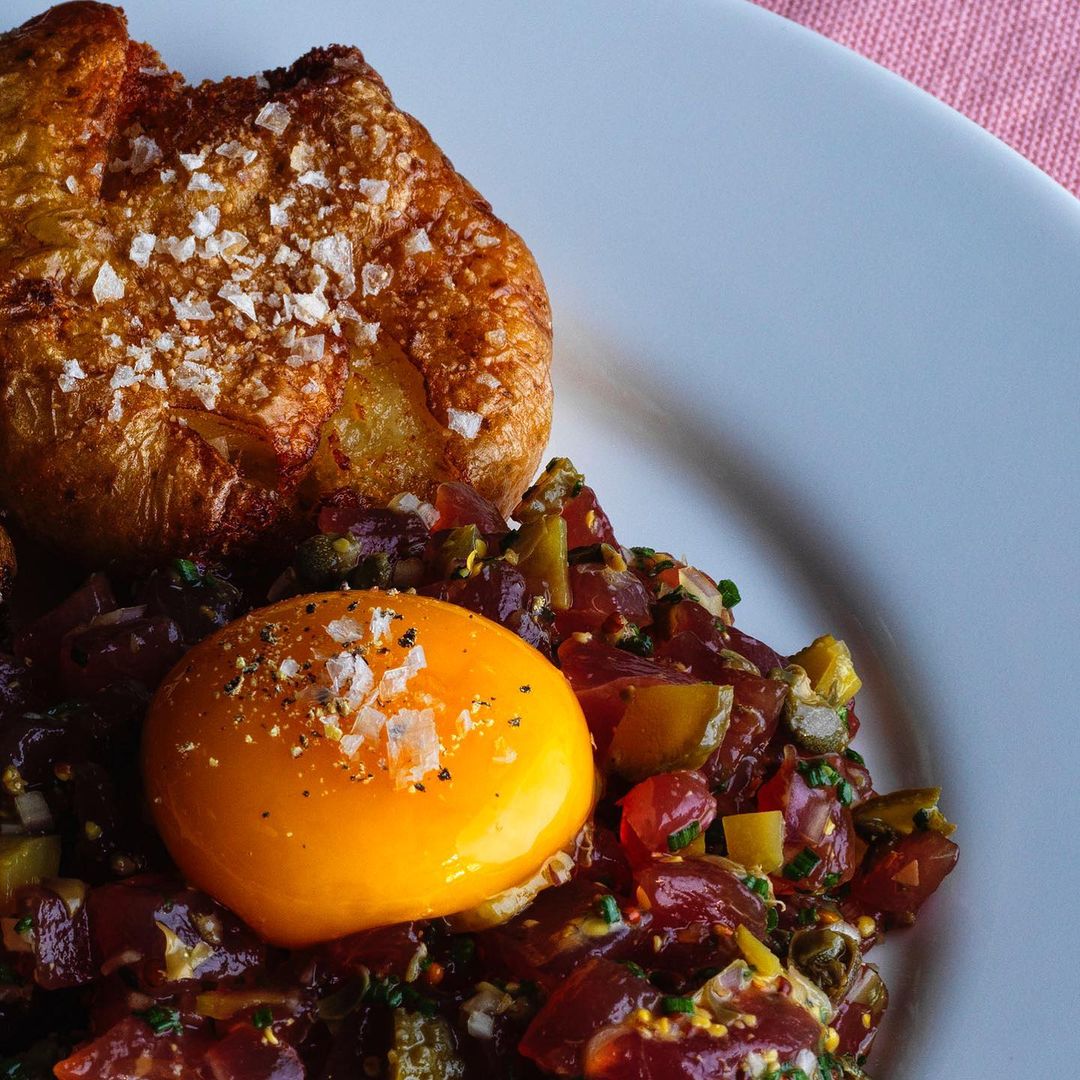 Bistrot 916 was one of the hottest new restaurant openings of 2021 and continues to be one of the hottest tickets in town. That's no surprise considering the superstar team behind it.
Helmed by Head Chef Dan Pepperell, the unfailing culinary mastermind of 10 William Street and Restaurant Hubert fame, Bistrot 916 is a smooth slide over to the more coastal dishes of classic French cooking.
While you'll still get those lamb brains (with smoked eel mayonnaise) and plates of garlicky escargot on the table, what you'll really want to do here is prime your palate for a seafood medley of South American influenced scallop ceviche, tuna tartare with beef fat fried potatoes, and lobster frites, all popping with colour against those candy pink table cloths.
It's not traditional, but much like the team's Pellegrino 2000 – now one of the best Italian restaurants in Surry Hills – the goal here is to take classic French techniques and forge them down a new path while still sticking true to what makes this cuisine so beloved in Australia.
Address: 22 Challis Ave, Potts Point NSW 2011
Contact: (02) 9167 6667
Opening Hours: Monday – Thursday (5 pm – 12 am); Friday – Saturday (12 pm – 3 pm, 5 pm – 12 am); Sunday (12 pm – 3 pm, 5 pm – 12 am)
RELATED: Best Greek Restaurants In Sydney
---
Franca Brasserie – Potts Point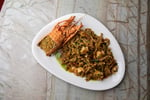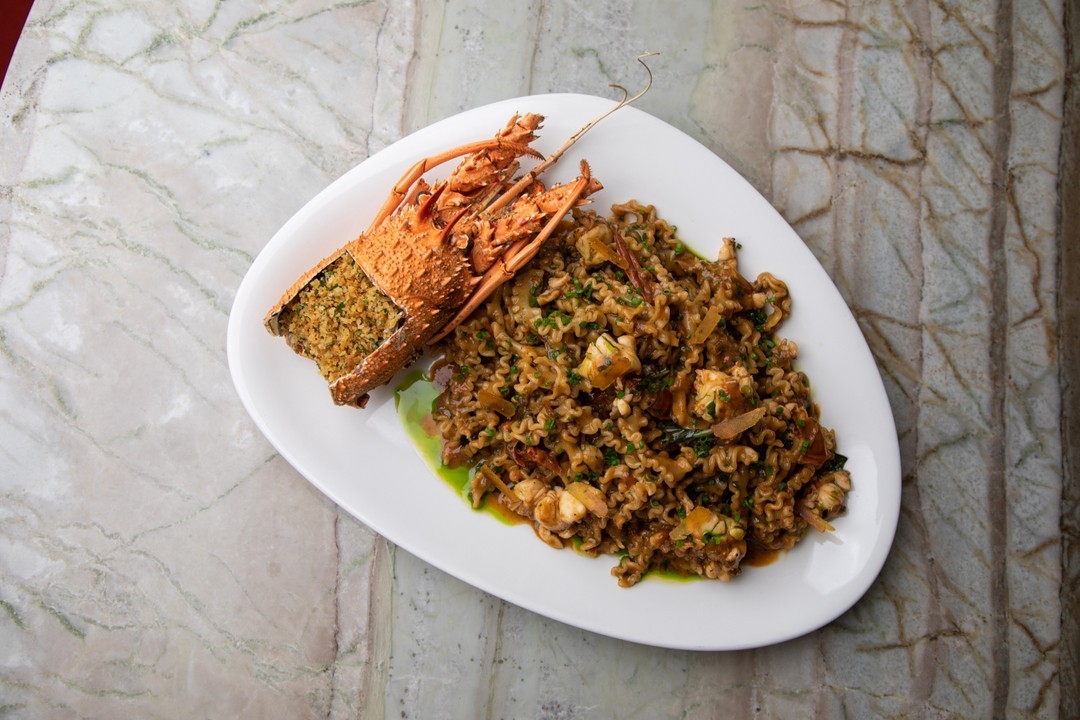 You can't have a best French restaurants in Sydney round-up without giving a nice little nod to the stalwart Franca Brasserie. Although Macleay Street is teeming with some very fine French restaurants like Bistro Rex and Macleay St Bistro, it'd be foolish to overlook Franca which is still fairly fresh having opened in the former Fratelli Fresh spot in 2019.
The contemporary brasserie is all light and breezy when it comes to the vibe and the food is similarly coastal in its approach with highlights like pickled octopus with ajo blanco and whole western rock lobster next to other highlights like the lunch-only Franca Wagyu Burger with gruyere and French fries.
Address: Shop 2/81 Macleay St, Potts Point NSW 2011
Contact: (02) 9167 2921
Opening Hours: Tuesday – Thursday (5:30 pm – 12 am); Friday – Saturday (12 pm – 12 am); Sunday (12 pm – 10 pm)
---
Macleay St Bistro – Potts Point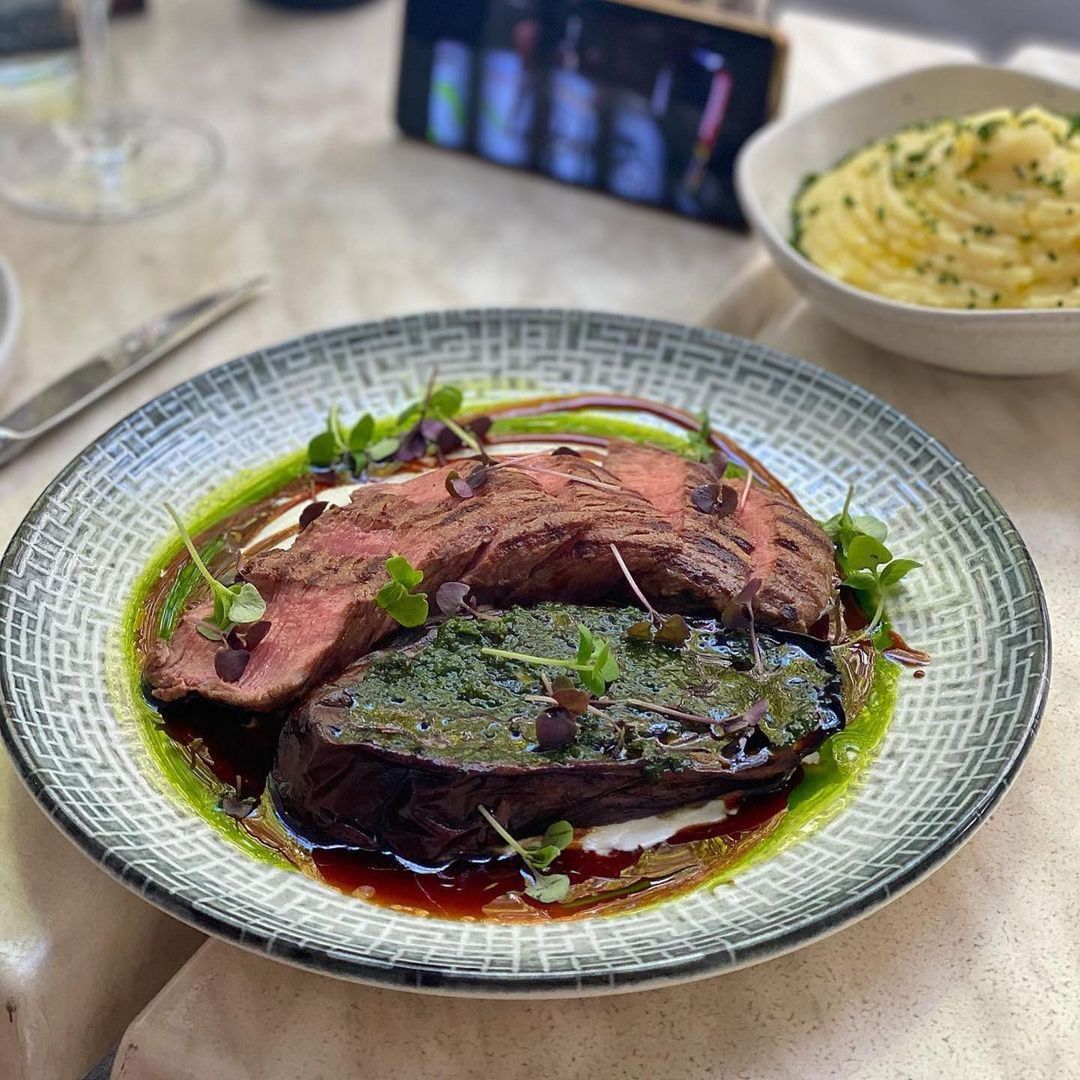 Bistro Rex and Franca aren't the only Potts Pott French restaurants that sit deep in the hearts of Sydney's Francophile diners.
Macleay St Bistro is another eatery with a lot of staying power sitting behind it, serving up some fine French food that runs through some of the country's finest provinces. Start with the twice-baked French onion soufflé and soak up all that truffle butter, before diving into other favourites like the garlic prawns with a chilli bisque, and the show-stopping main of steak frites with baby rocket and green pear salad.
Macleay St Bistro also serves up some of the best French desserts in Sydney, like a signature creme brûlée and a dark chocolate fondant with a white chocolate centre and raspberry sorbet.
Address: 73A Macleay St, Potts Point NSW 2011
Contact: (02) 9258 4891
Opening Hours: Monday – Tuesday (12:30 pm – 3:30 pm, 5:30 pm – 10:30 pm); Wednesday (5:30 pm – 10:30 pm); Thursday – Sunday (12:30 pm – 3:30 pm, 5:30 pm – 10:30 pm)
---
LoLuk Bistro – Surry Hills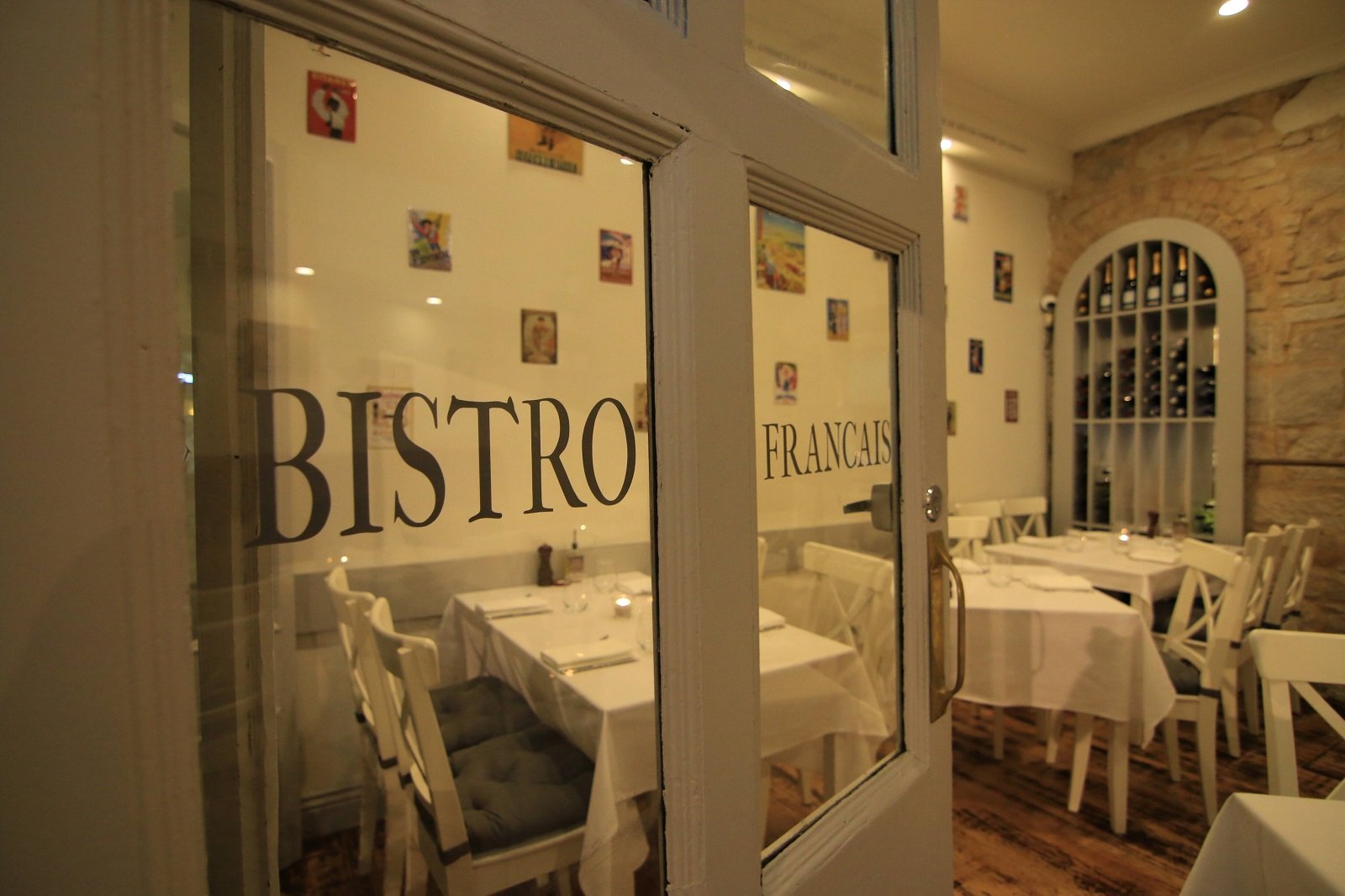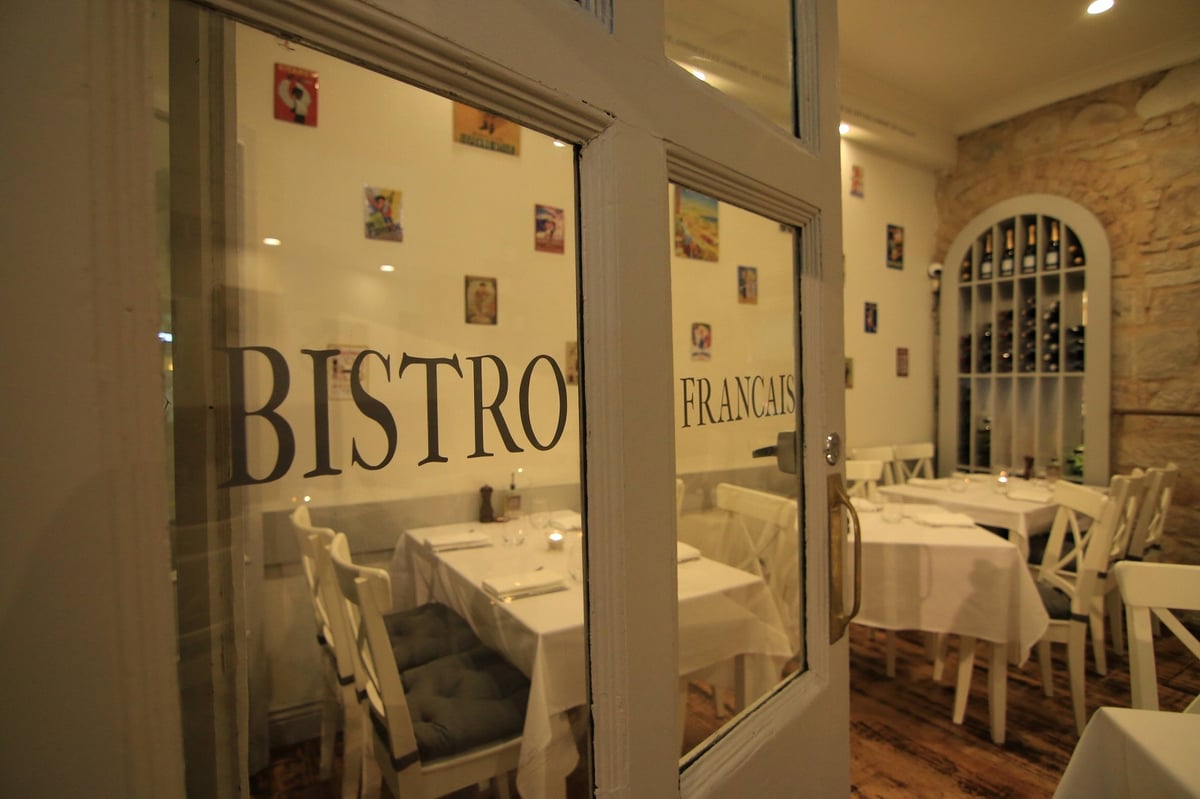 Surry Hills' LoLuk Bistro focuses on the South of France, proudly showcasing just how abundant and diverse that side of the country can be.
As with pretty much all of the best French bistros in Sydney, you should expect classic techniques rather than modern twists, using Australian produce to deliver beautifully conceived dishes like a hand cut beef tartare simply served with rosemary straw chips and the mighty 900g dry-aged T-bone served with triple cooked chips and béarnaise sauce.
The menu features recipes derived from the grandmothers of the owners, two brothers who arrived in Sydney from Provence in 2016 and have worked incredibly hard to turn LouLou Bistro into one of the most well-respected and consistent French restaurants in Sydney.
Address: 2/411 Bourke St, Surry Hills NSW 2010
Contact: (02) 7900 6251
Opening Hours: Tuesday – Thursday (6 pm – 10 pm); Friday – Saturday (10 am – 3 pm, 6 pm – 10 pm)
---
Porcine – Paddington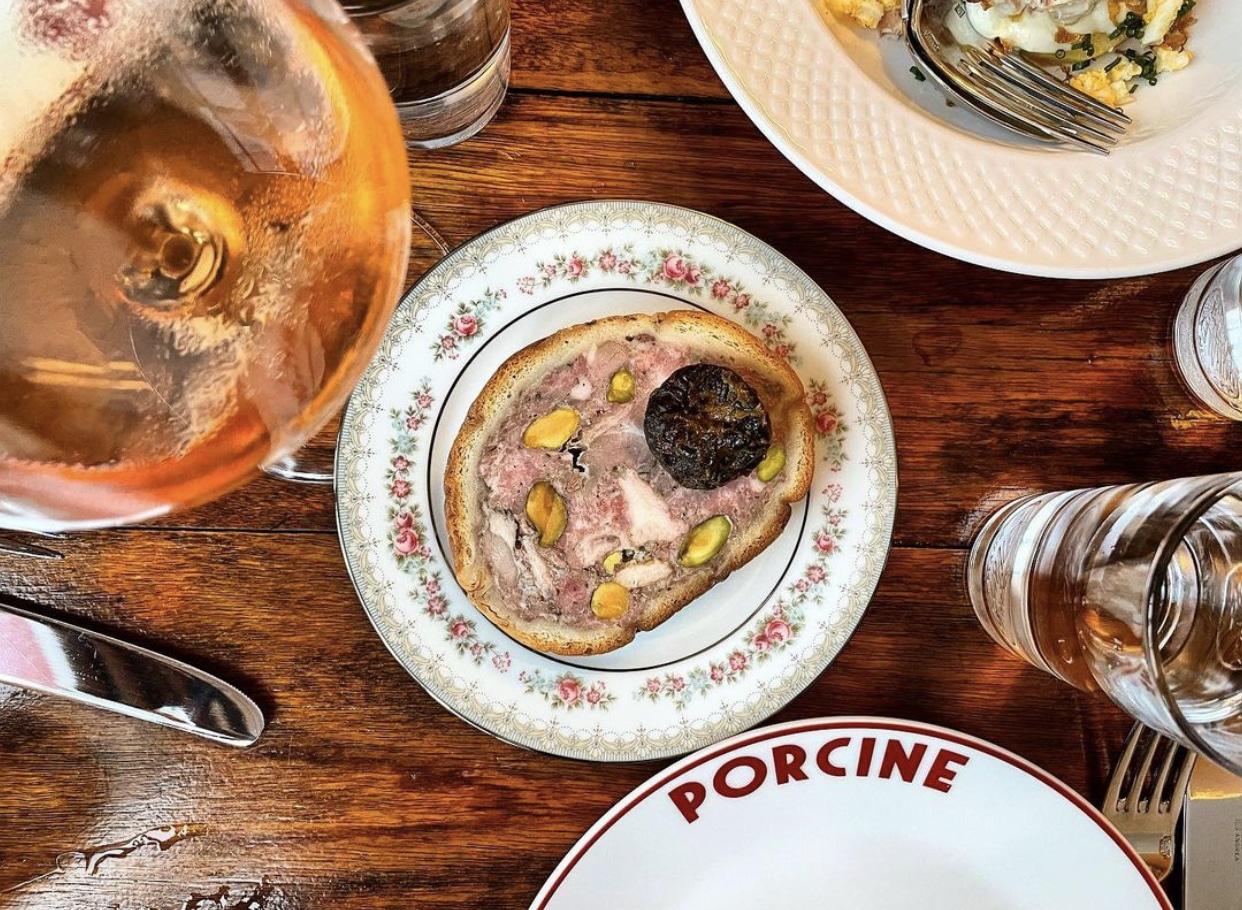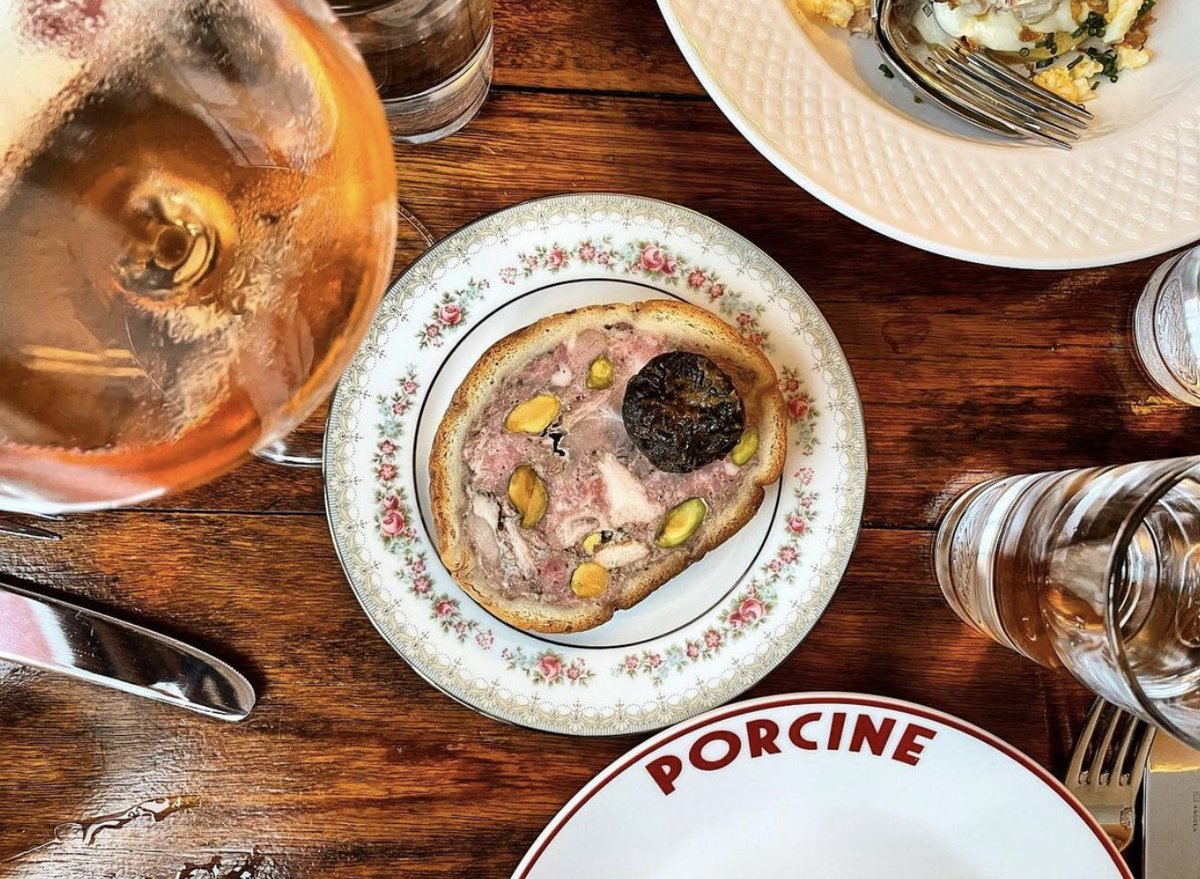 Another new French bistro that's already had a big impact on the dining scene in Sydney. In just a few short months after opening in 2021, Porcine became the talk of Paddington, keeping it very simple with elegant French staples using few ingredients paired up with a notably excellent and extensive wine list.
The faith in produce and technique maintains sharp and distinct flavours such as the octopus served with a "bariguole" aioli, some smoked eel potato salad, and flathead grenobloise, nodding proudly to the southeastern French city of Grenoble, where the breezy French Alps gave birth to this distinctive brown butter sauce.
You'll find Porcine above P&V Paddington, which is wholly appropriate seeing as the selection of wines here is just as deep and adventurous; although you may want to pop down, pick up a bottle of wine and bring it back up for the lads. You're looking at a $25 corkage fee, which isn't bad considering the selection you've got at your fingertips downstairs.
Address: 268 Oxford St, Paddington NSW 2021
Contact: 0423 015 032
Opening Hours: Thursday – Friday (6 pm – 11 pm); Saturday (12 pm – 4 pm, 6 pm – 11 pm); Sunday (12 pm – 4 pm)
---
Gavroche – Chippendale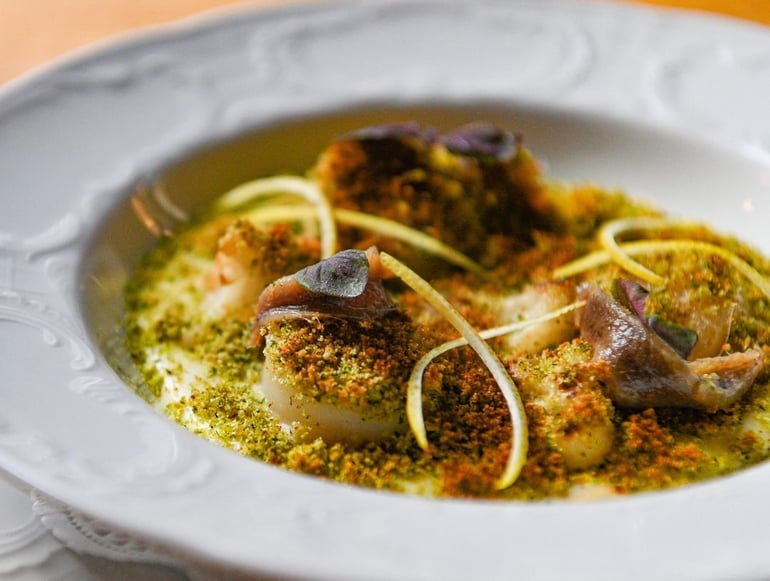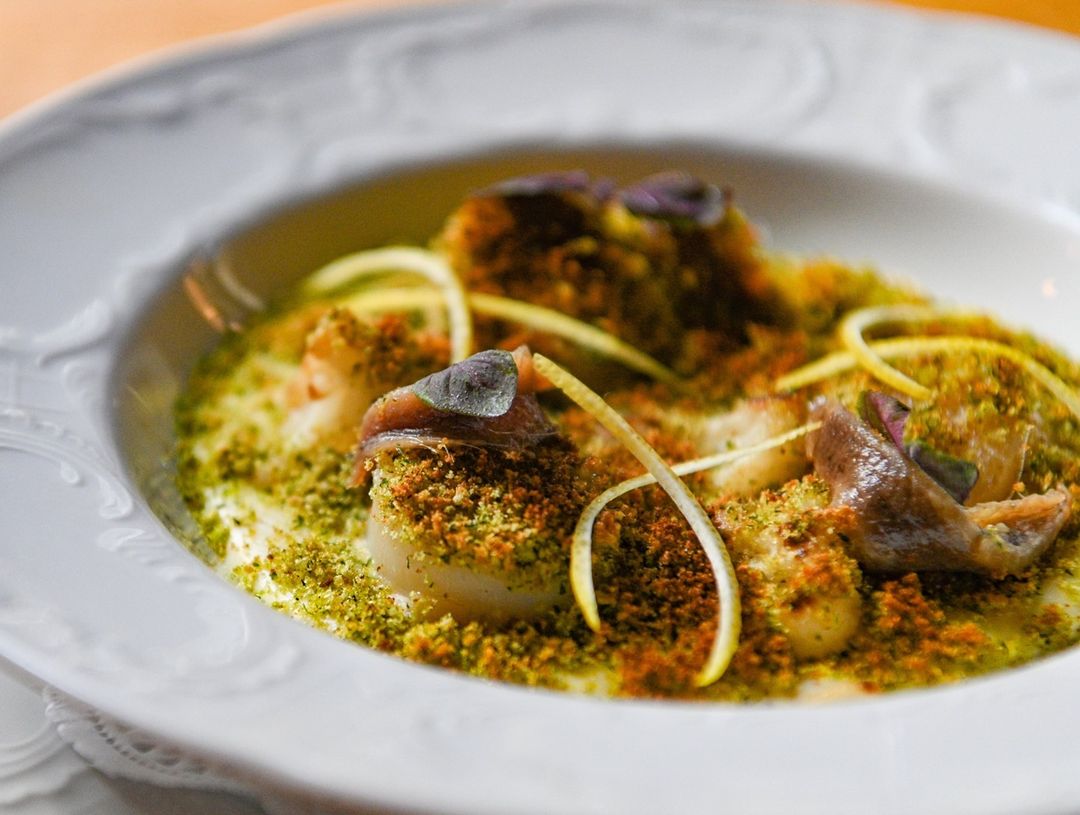 Gavroche is a love letter to the French bistro. Much like some of the more traditional restaurants on this list, it's a romantic perspective on the stubbornness of French food and a statement that the cuisine is best left untouched by modern tastes.
Through that lens, Gavroche is being a bit ambitious, aiming to muscle through more established French restaurants by doing things that are really not that unique. But the normalcy is still incredibly likeable, maintaining the status quo with classic French dishes geared towards comfort food using quality ingredients.
Address: Level 1/2-10 Kensington St, Chippendale NSW 2008
Contact: (02) 9281 6668
Opening Hours: Monday (5 pm – 9 pm); Wednesday – Thursday (5 pm – 9 pm); Friday – Saturday (12 pm – 3 pm, 5 pm – 9:30 pm)
---
Bistro Papillon – Sydney CBD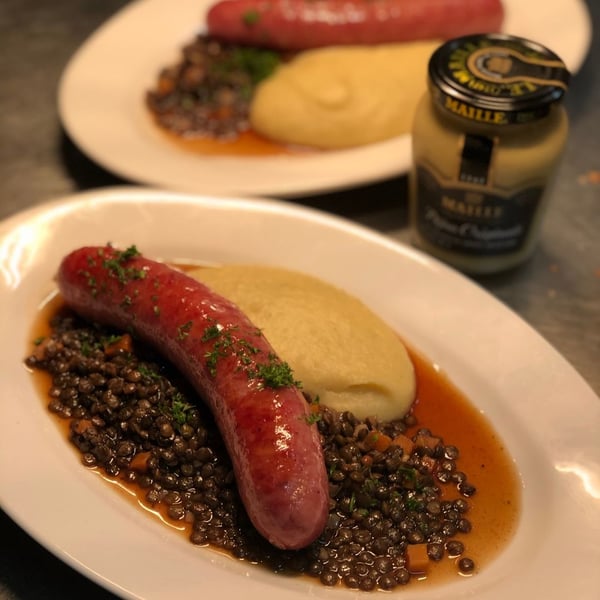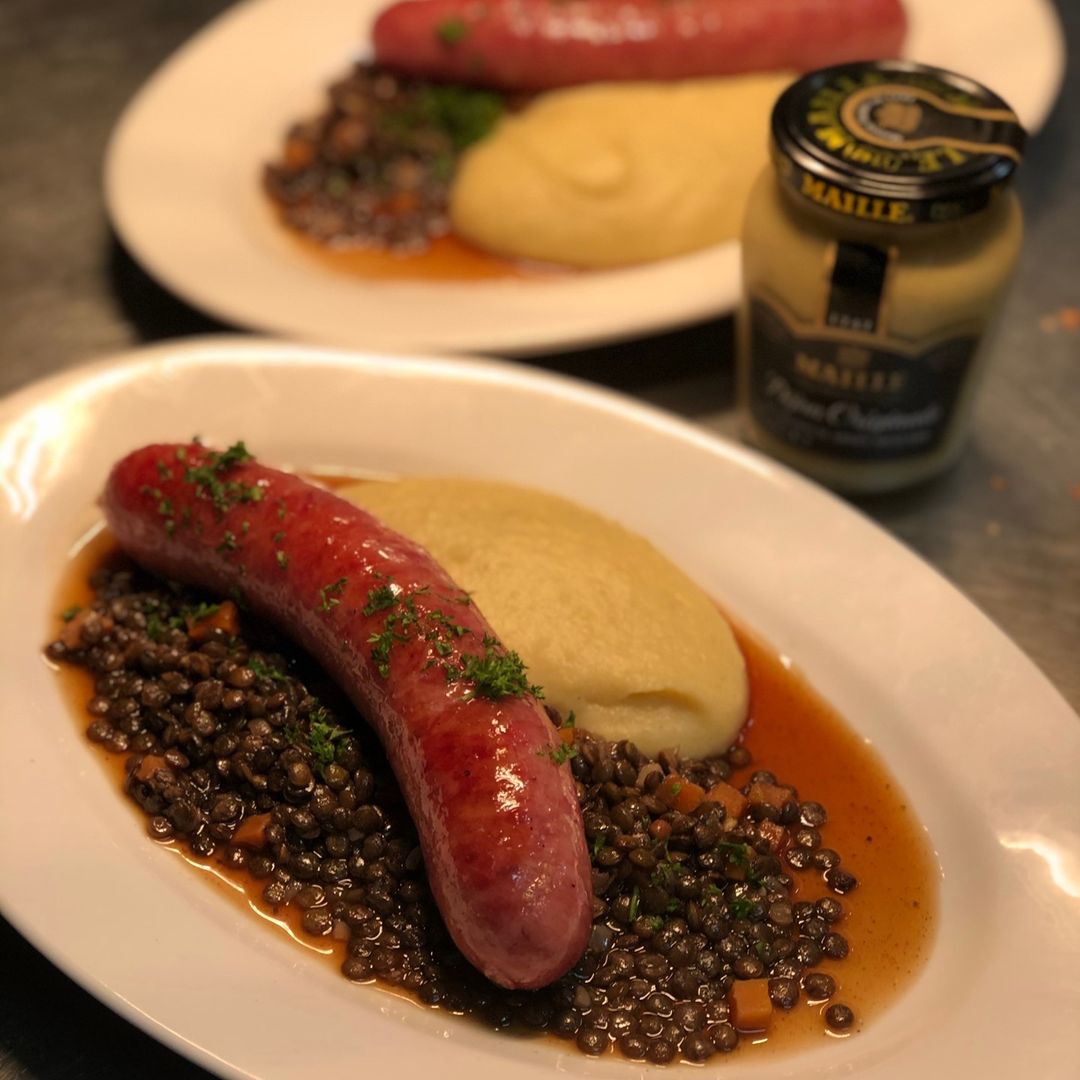 If you want to stick close to the CBD, head on over to Bistro Papillon on Clarence Street. Just make sure you leave any semblance of a diet at the entrance because you'll be loading up on cheese all night.
If you want raclette, this is where you want to be. The famed French cheese is served hot and melted, with potatoes, Paris ham, coppa, bresaola, salami, and pickles. Your stomach may check out at that point, but you'll be doing your palate a disservice if you don't back the indulgence up with a bouillabaisse style seafood stew, flavoured with barramundi, mussels, prawns, fennel, potatoes, and French aioli croutons.
Address: 98 Clarence St, Sydney NSW 2000
Contact: (02) 9262 2402
Opening Hours: Tuesday – Friday (12 pm – 3 pm, 6 pm – 10 pm); Saturday (6 pm – 10 pm)
---
Bistro St Jacques – Redfern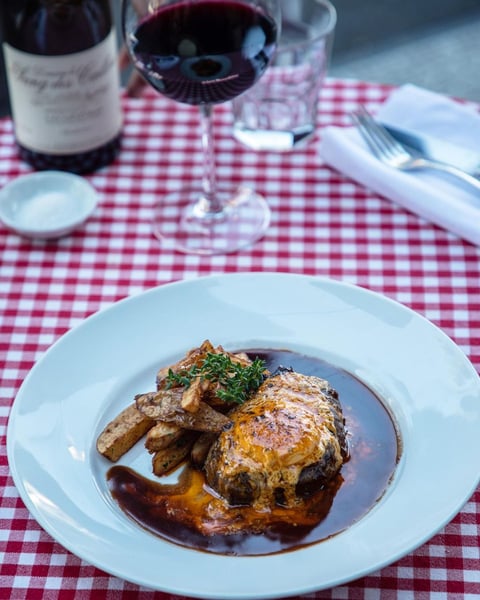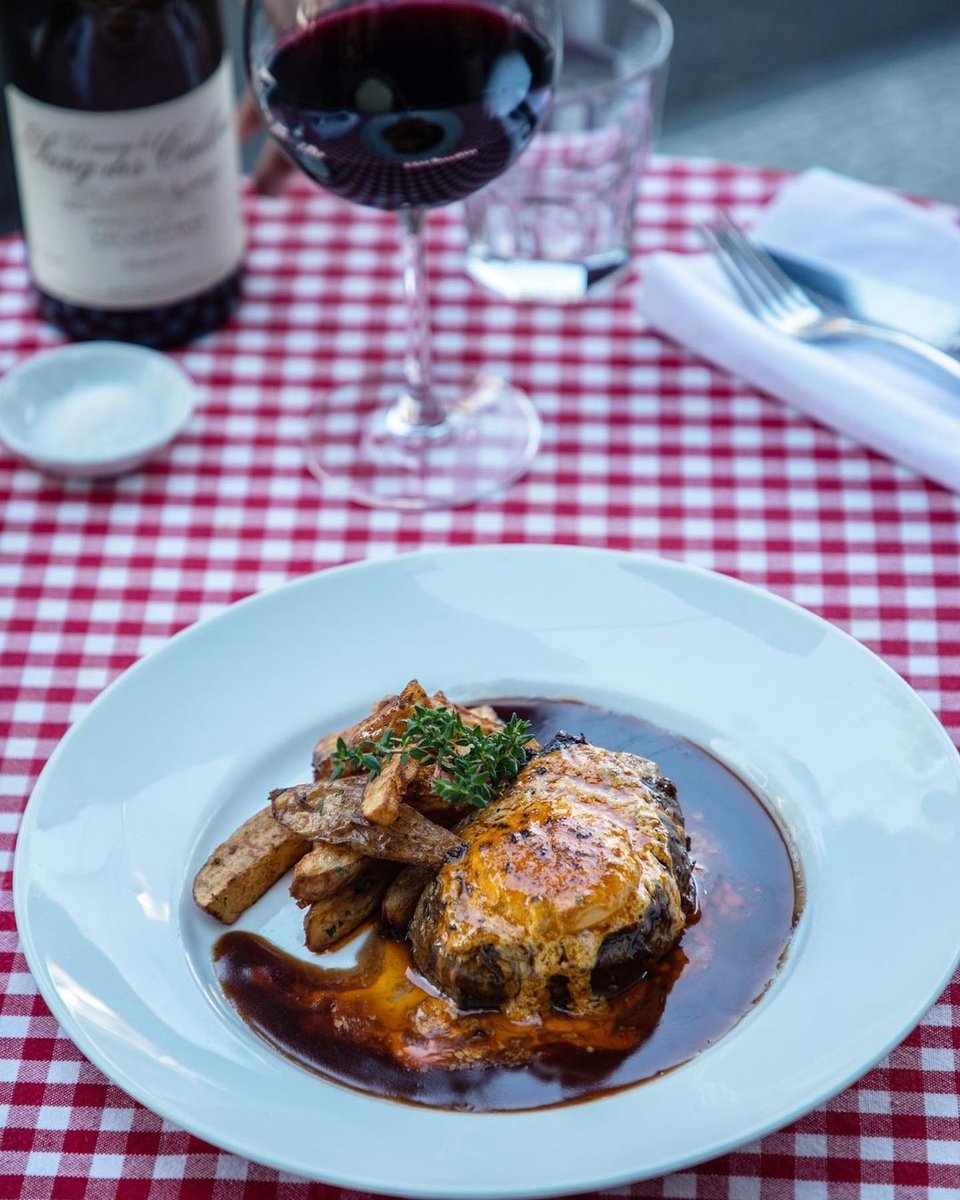 Yet another ode to the neighbourhood French bistro, this Redfern favourite is nothing if not obscenely consistent.
Bistro St Jaques manages to stand apart from its peers by offering a very affordable vegan set menu. Although if your stomach responds more to a carnivorous diet, you'll want to be getting your mouth all around that gorgeous red wine braised duck leg served with prunes and dark chocolate, or the 150g steak frites: a NSW eye fillet with house-made organic potato fries.
Best French restaurant Sydney has ever seen? There's some stiff competition, of course, but Bistro St Jacques is definitely up there.
Address: 96 Pitt St, Redfern NSW 2016
Contact: 0478 705 704
Opening Hours: Monday (5:30 pm – 10 pm); Thursday – Friday (12 pm – 2:30 pm, 5:30 pm – 10 pm); Saturday – Sunday (12 pm – 3 pm, 5:30 pm – 10 pm)
RELATED: 17 Best French Restaurants Melbourne Has To Offer
---
Best French Restaurants Sydney – Frequently Asked Questions
What is the best French restaurant in Sydney?
Bistro Rex should always be at the top of your list when it comes to French restaurants in Sydney. Other top-rated eateries include Bistro Moncur, L'Heritage, Gavroche, Macleay St Bistro and Bistro St Jacques.
What is the best French restaurant for a date in Sydney?
You can't go past the new L'Heritage for a date, which looks over Chowder Bay, building an intimate, romantic atmosphere. The main dining room at Hubert is also ideal for date nights and sports one of the most romantic and impactful atmospheres in Sydney.
What is the difference between a brasserie, a bistro and a bouchon?
The three major types of French restaurants have subtle differences between them. A brasserie is a small and informal French restaurant that focuses on simpler dishes. A French bistro is similarly casual in style, serving accessible French fare. It is the most common type of French restaurant in Sydney. A Bouchon is focused more on Lyon, France, where the food is a bit fattier and protein-heavy with dishes like duck and sausages.
RELATED: Best Seafood Restaurants In Sydney
---