Los Angeles. The City of Angels. Home to Hollywood, the ever-sunny climate of the west coast and possibly the most god awful traffic anywhere on the planet.
If you've ever been there, you'll know that sitting bumper to bumper for hours a day is as commonplace as sighting health & wellbeing bloggers at Whole Foods. That's why when Nike announced they were shutting down the 90 Freeway for a 10km run on Earth Day, 10,000 registrations came thick and fast for an almost unprecedented event.
Not since the 1984 LA Olympics had the 90 been shut down for a running event, and the winner of the women's marathon at those games—Joan Benoit Samuelson—was on hand to chat to us after the race, but more on her later. Celebrating the launch of the Epic React, Nike's biggest tech innovation since the launch of the Free Run back in 2005, the Choose Go LA 10K gave Angelenos an alternative to driving in what is statistically the world's most traffic-congested city, with runners encouraged to take back the streets between Culver City and Marina del Rey.
---
---
You're probably thinking that a 10km run is no stroll in the park, and you'd be absolutely right in wondering how we got into shape for the event. Luckily Nike had us covered, providing the expert coaching of Nike+ Run Club coach Lydia O'Donnell to get us prepped for the event. Lyds has over 10 years experience as a competitive runner and, in unison with the Nike+ Run Club app gave us a four-week training program to ensure we weren't slower than the bumper to bumper traffic LA is so notorious for.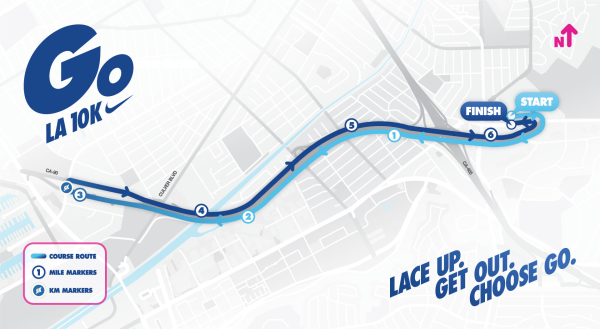 TRAINING
Running is often seen as an easy sport to start. All you need is a pair of shoes a bit of time, right? While that's true, getting out there for the first time and building yourself into a better runner requires a little more than just lacing up and continually putting one foot in front of the other. That's where Nike's guided runs came in handy.
Our four-week training program was tailored by Coach Lyds as we mentioned earlier, but to get off the couch and back into the swing of things we gave the Nike+ Run Coach app's guided runs a bit of a workout. The app has a handful of different guided runs available, each focused on supporting new runners or those rediscovering their fitness — of which we were pretty firmly in the latter category. Each drill comes with complete written instructions for a session plus what we found to be the point of difference when getting back into training; downloadable audio guides. The app's audio guides are essentially a digital coaching service allowing Nike pros to give step-by-step coaching to help you improve your running. From athletes like Mo Farah and Eliud Kipchoge to celebrities like Kevin Hart, we got fully guided workouts from the start to the finish of each session to help stay motivated. Our favourite was the 25-minute guided speed workout with Bucks' utility Giannis Antetokounmpo, his straightforward chat and loveable Greek humour helping to ease the onset of lactic acid.
After getting off the couch and back into it via a handful of guided runs, Coach Lyds' four-week program (and the plane to LA) was beckoning. Our training focus was 2-3 sessions a week plus a strength-focused Saturday session to help build race pace, all facilitated through the My Coach section of the app. Weeks one and two featured heavy legs and no shortage of complaints, but eventually the lactic eased and the combination of Lyds' guidance plus regular stretching gave us hope for LA.
RACE DAY
25 degrees and not a cloud in the sky. We couldn't have picked more typical LA weather if we tried. Despite the glorious sunshine and upbeat mood of the 10,000-strong competitors, the feeling of being on a start/finish line before a race is still a daunting one regardless of yours or the race's level of professionalism.
Nike were kind enough to provide a plethora of race kit, including a pair of the new baby pink Epic Reacts to ensure we were looking better than we were running. Doing our best to block out the nerves, the last 10 minutes leading up to the starting gun was spent listening to Coach Lyds give impart wisdom on easing into a rhythm and finding a comfortable race pace before it was all systems Go.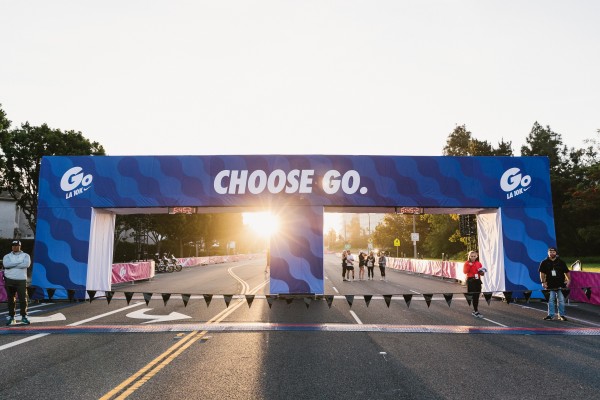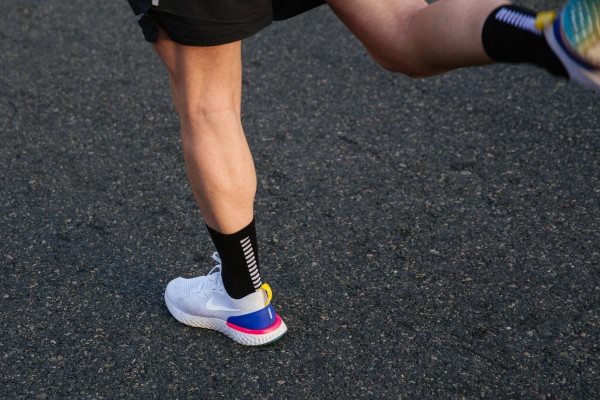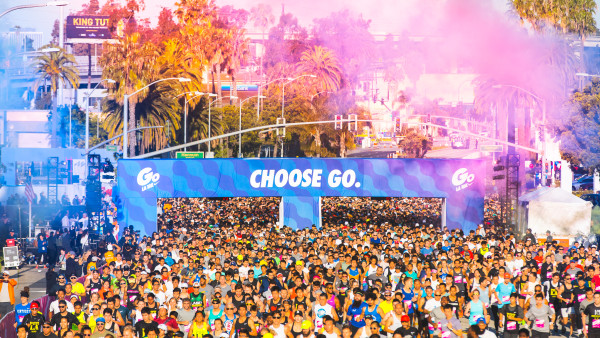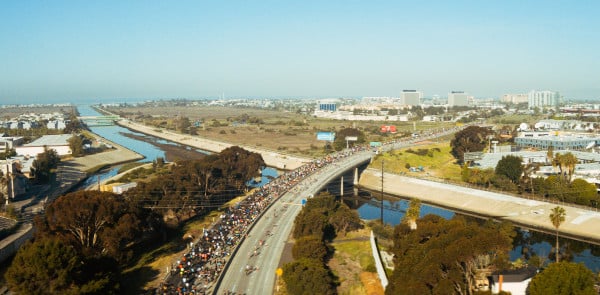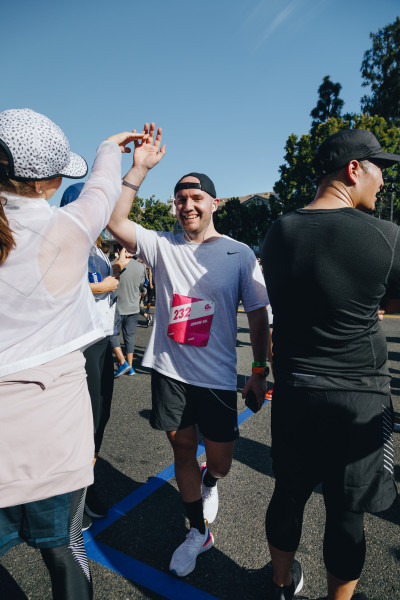 THE POST RACE
Needless to say it was a battle on only four weeks training but we finished in a time just north of an hour, much to the delight of the crowds on the finish line. Faced with the prospect of a 15-hour flight home, the post-race was spent in full recovery mode hydrating and stretching on the the endless sea of foam rollers on hand. Once the jelly legs had subsided (at least partially), it was time to catch up with the star of the show and a legend of US athletics — Nike Go LA 10K ambassador Joan Benoit Samuelson.
---
---
Making a name for herself after winning the 1979 Boston Marathon in a Red Sox cap as a relative unknown, Benoit Samuelson went on to win the inaugural women's marathon event at the 1984 LA Games (that's right, the same Games that shut down the 90 Freeway last time). An inspiring character who lives and breathes distance running, Benoit's enthusiasm for not only the sport itself but the environment that facilitates running typified what the event was all about.
Here's a slightly edited transcript of our chat:
Let's kick things off. Can you tell us a little bit about yourself and your role with Nike?
I've been running with Nike for many miles and many years and it's been a great run. 28 years ago when our son was an infant, Nike asked me to do a campaign entitled "there is no finish line," and I didn't really understand what it was all about back then. Here we are, 30 years later and there still is no fish line. I've had some challenges but because I have so much passion for the sport and because I love to tell stories as a way to set goals for myself, I'm still in search of that finish line and I hope it's a long way down the road.
The women's marathon at the 1984 Olympics right here in LA, the first time the women's event was held at a modern Olympic games. Can you talk me through the emotion of running into the Colosseum to take the gold medal?
Coming into the tunnel you know I really couldn't believe it was the Olympic marathon, let alone the first Olympic marathon for women. I've said time and time again, someday I look forward to telling people I ran down the LA freeway all by myself and today we were able to do it with 10,000 people, so that was special. What's even more special is to be able to do it with our daughter 34 years later on a beautiful April Sunday with Nike. Anyway when I came into the tunnel I said to myself, "if you come through that tunnel into the light and you're still leading across that finish line, are you going to be able to handle what may follow?" And I finally decided without stopping to figure out a way to handle it. What I told my family and friends who surrounded me shortly after the race was, "Don't let this moment in time change the person I am, but make sure I give back to a sport and a community that have given so much to me." I've tried to live my life according to that pact I made myself and my family and friends at the Colosseum that day. I've done it in a myriad of ways but Nike's been there by my side all the time.
They've allowed me to found the Beach to Beacon 10km back in our hometown of Cape Elizabeth, Maine and its a beautiful course. We attract some of the best runners in the world and our motto is 'Shine the light for kids,' because it starts at a state park beach and it finishes at Portland Head Light which was the first lighthouse commissioned by George Washington. We're also the greenest road race in the country – from the Council for Responsible Sport we have "evergreen status" and that's very meaningful to me. Similar to holding this event today on Earth Day and having 10,000 runners leave no carbon footprint on the 90 Freeway here in LA, when you look at what it's daily purpose is.
My charge to runners is to compete against climate change because we're the ones out there everyday.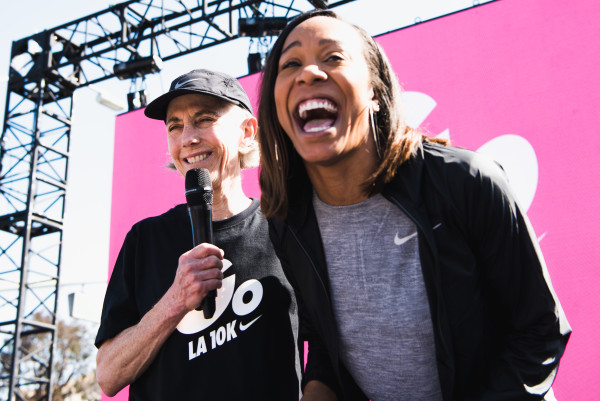 You've had an illustrious career; Olympic gold, two Boston's and a Chicago Marathon to name but a few. Can you pick any one moment as the highlight?
They're all special for different reasons. My fastest time was in Chicago in '85, the year after the Olympics. I was married shortly after those games to my husband Scott and we've had two beautiful children who love to run, so that's been a gift. The race of my life was the Olympic trials in 1984, right after arthroscopic knee surgery (some 17 days after) and the biggest win was here in LA but one of the most poignant and meaningful races came in Boston after the height of my career. Our two children and I ran Boston the year after the bombings and, 30 years after my Olympic win we were able to run within 30 minutes of each other and finish the Boston Marathon. So it's always about about storytelling, that and other runners motivating me. Seeing all the first-time runners today, who are now part of this community — that's also a highlight.
What will it mean bringing the Olympics back to LA in 2028, both for the community here and for you personally?
I certainly want to be here, and it'll mean so much to the athletic community on the west coast. The Olympics really brings the whole country alive, I experienced that firsthand in '84 and then witnessed it again 12 years later in Atlanta. If I'm honest though, Sydney will be a tough act to follow (laughs). I didn't go to Sydney but you guys did a wonderful job and some wonderful stories came out of that games, namely Cathy Freeman. Truly one of the great stories in sports.
---
---
Want to know more about the all-new Epic React? Check out our take on them here.
Editor's note: Boss Hunting was taken to LA at the invitation of Nike.