A cultural concoction of colonial heritage, a growing Chinese influence and a dominance in the world's financial markets has seen Singapore evolve into a South-East Asian enigma. This unique combination has created a destination that attracts anyone and everyone searching for exotic indulgences, a challenge which Singapore's nightlife has taken head-on.
Hot on the heels of New York and London, many don't realise that the affluent island city-state of Singapore can more than hold its own against the best nightlife scenes around the globe. Currently, five of the world's best watering holes are found in Singapore (sorry, Melbourne, but you're going to have to up your game) and you'll be hard-pressed to find a city outside of Europe with better after hours music joints hidden throughout its streets.
We travelled to the island with a mission to sample Singapore's best and deliver a foolproof itinerary that'll stack out any stopover or weekend jaunt in the most enticing and exciting destination in the region right now.
---
---
To wet the whistle
As the long-awaited afternoon showers wash away the city's humidity, you'll want to escape to a cool and covert speakeasy to begin your evening.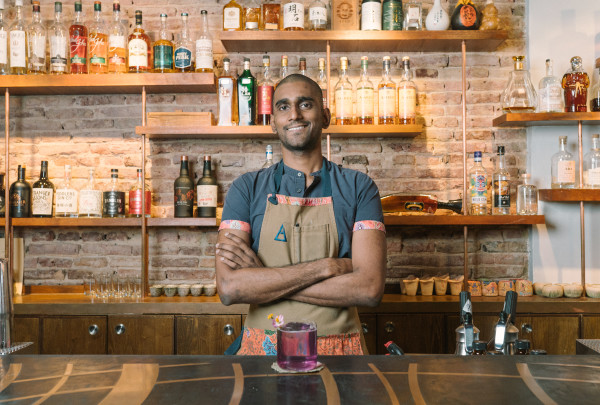 Clocking in at No. 13 on the World's Best Bars list, Native is a Chinatown establishment that prides itself on a menu that samples the best of Singapore's natural twists. With a near-zero waste consumption, Native's quirky and naturally-inspired party tricks aren't just intriguing to the tree-hugging hippy.
Pay attention to the artistry on the wall of the stairwell as you enter, you might notice that the coarse edges are a result of recycled food grains converted into natural paints. The garnishes atop your cocktails are grown in the bar's resident herb garden, and if you ask nicely you might even get a quick peek at Native's on-site fermentation lab upstairs.
If you get overwhelmed with the menu or need to cleanse the palate ahead of your next stop for the evening, Japanese saké varieties in Singapore are plentiful and a refreshing change from champagne.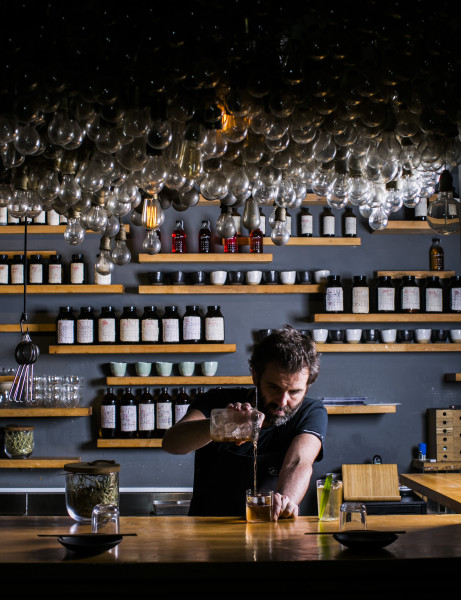 From the creative brainchild of Luke Whearty, originally from Melbourne and closing out 2018 at an admirable No. 23 on the aforementioned list, Operation Dagger is actually my prefered spot to kick off one's Singapore evening.
Behind a very non-descript black door on Ann Siang Hill, a former red light district and organised crime hub, Operation Dagger waits patiently for you below ground down a flight of a few dozen stairs. Sourcing its name from a 20th-century police operation employed to crack down on the area's underworld happenings, Operation Dagger offers a unique cocktail methodology.
The crux of this new theory? None of their cocktails disclose what spirits they're made from. It was explained to us that quite often we subconsciously discount certain options because of our previous prejudices towards a liquor we may not be a huge fan of. I, for example, had no idea my cocktail had tequila in it – a spirit I normally wouldn't opt for if I had the choice – until I was told halfway through scoffing down the delicious combination of tequila, pineapple, lavender and white chocolate. (Inside tip, it's called 'Hot & Cold' on the menu, and it was our group's consensus that my choice was the best of the bunch). The moral of this story, and why I applaud this bar so highly for reminding me, is that you shouldn't knock something until you try it.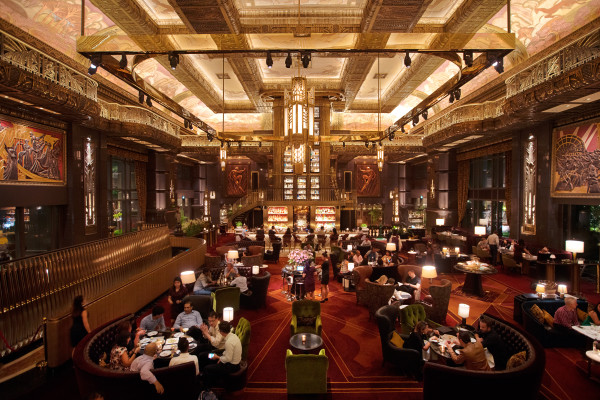 Easily the swankiest place we've ever enjoyed a beverage, Atlas Bar is the grandest and most stately establishment in all of Singapore. The 1920's Gatsby-esque bar is situated in the lobby of the Gotham-like Parkview Square tower, adjacent to the Andaz Hotel. The centrepiece of the bar at the end of the lounge area is a huge, multi-story column that stretches up to some extremely high ceilings and showcases the world's rarest varieties of Gin.
Over a quarter of the world's 5000 plus gins lie dormant at Atlas Bar, including two of Singapore's only home-distilled poisons, Brass Lion & Tanglin Gin. There's also 300 from the U.K., 100 from North America and even 40 from South Africa. After you've enjoyed a classically colonial gin & tonic, I'd recommend the Spectre Martini – a very strong but perfectly balanced concoction of Japanese gin, vodka, white port and absinthe with a splash of mint oil. None of which I'd readily order at a bar on their own, but I can assure you that together they'll knock your taste buds out of the park. Atlas is also No. 8 on that mysterious best bars list I keep banging on about, so there's that.
---
---
To turn it up a notch
We're not sure what you've heard, but the party is always a 24/7 fiasco in Singapore.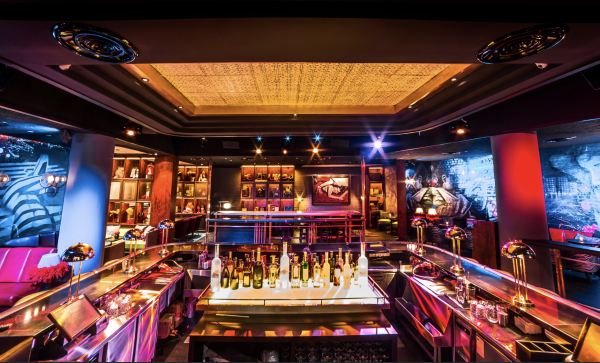 Whatever my earliest preconceptions were of a nightclub in my youth, LuLu's Lounge certifiably ticked every single box. Think quintessential 1960's New York bar crossed with something you've come to expect from Grand Theft Auto.
The noir vibes are quickly confirmed as you spot the Russian booth waitresses, borderline exotic dancers on the bar and the burlesque show to heat things up as the night progresses (if it wasn't saucy enough already). A roaming saxophone player helps take people's minds off the $285 bottle of Grey Goose they stupidly ordered and while the scene is indeed a fun novelty, it's probably not worth your whole evening. You definitely forget you're in Singapore for those few hours of your life, that's for sure.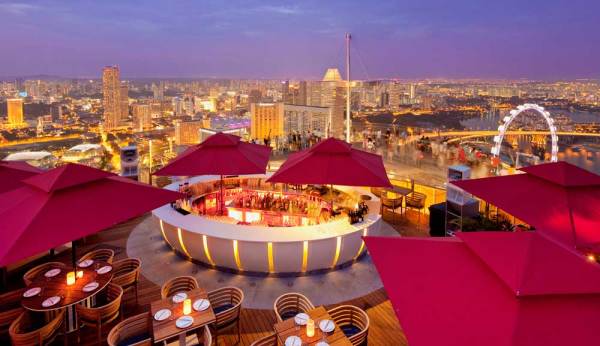 Now one of the world's most iconic rooftop locations, this restaurant, skybar & lounge is perched atop the famous Marina Bay Sands. CÉ LA VI (formally Coup D'état) is the one stop shop for those who want to be seen, as opposed to those who prefer to sink into their surroundings somewhere a bit more low-key, such as LuLu's. Think of it as the Sydney Marquee of Singapore – bouncy EDM and drinks that cost as much as the view. If ostentatious theatrics with a big group of friends is your thing, CÉ LA VI is the place to be.
---
---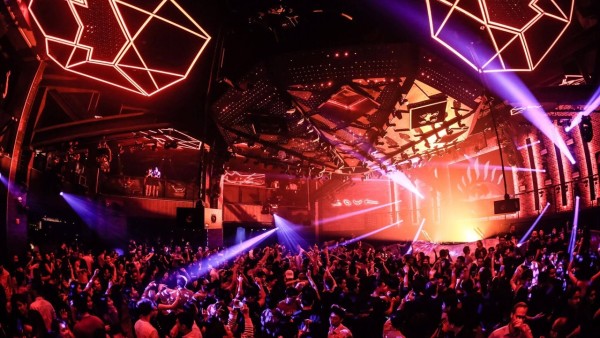 This 27-year-old institution is OG house music's exclusive home in Singapore. With the likes of Marcus Schulz, Paul Okenfeld & Disclosure gracing the decks on the regular, fiends for a good old fashioned house rave will quickly call Zouk home.
Expect classic big club vibes reminiscent of Paris or Barcelona until the early hours of the morning. We'd recommend doing some research prior to your visit, as with the amount of big names rotating through here you're likely to sync up with at least one good international talent passing through.
To back up the next day
If you went out in Singapore, like us, you went bloody big. To sharpen you up the next day, here are our BH prescribed hangover cures.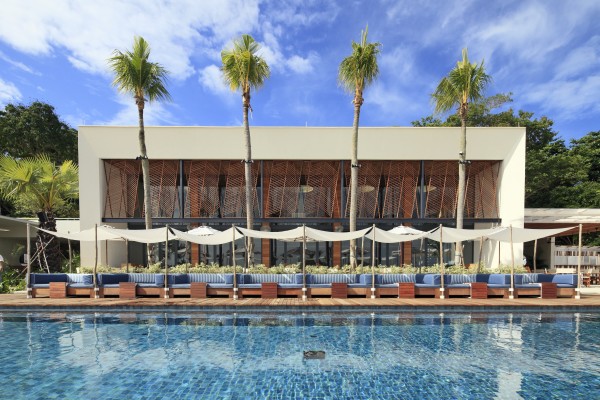 There's almost no better place to be the morning after a big night except on a beach sweating out said hangover with a cheeky cocktail in hand.
Albeit slightly tacky, the very-busy-on-a-Sunday Tanjong Beach Club is what we'd recommend you commission for a squad recovery session. You're better off just booking a daybed for yourself and your mates as the minimum spend on food or drink in return for the extra comfort and shade is just $200.
---
---
House tunes will help drown out your headache, and a dip in your choice of either the pool or the bay will offer you temporary relief from the toasty temperatures.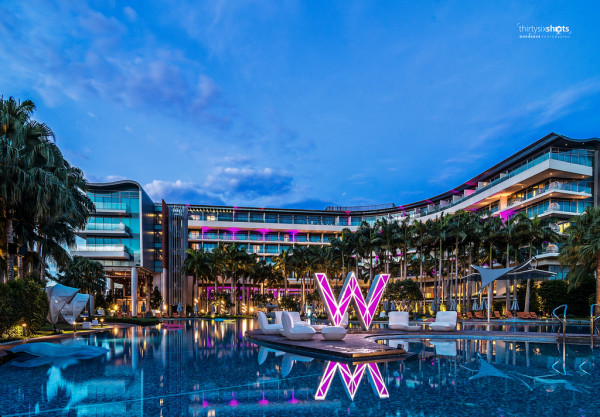 A tad more premium and away from the resident expat families is the WET Pool at W Singapore. Here, guests can relax on a float or a canopied sun lounger with views of the sparkling South China Sea and there's a swim-up bar for those feeling peckish or craving a cocktail.
It's worth keeping in mind that while all in-house guests have access to WET Pool 24/7, outside guests are only welcome Monday-Thursday until 7 pm for an additional fee.
Nobody likes a copy cat, except on this occasion…
You too can experience a taste of Singapore's nightlife this February at The Rooftop Sydney (20th & 21st) and at The Albion Rooftop, South Melbourne (23rd & 24th). Enjoy the best cocktails we sampled from our time in Singapore, including those from Native and Operation Dagger, #13 and #23 on the World's 50 Best Bars List respectively, a bespoke menu created by Masterchef Australia 2018 winner, Sashi Cheliah, and performances by leading Singapore artists, including DJ KoFlow. For more information, hit up Visit Singapore's website.
RELATED: The restaurants with the best views around the globe.
---
---