If there ever was a contentious topic amongst busy food obsessives in Sydney, it's where to find the best ramen. The city boasts some of the best options in the entire country, owing great debt to the Japanese community who have bought one of their culture's most prized dishes, often finessed with a delicate balance between local tastes and hardy tradition.
I was genuinely sad when Ramen Ikkyu (a food court favourite) shuttered years ago, bitter when O-San closed down, and disappointed when Chase Kojima's Sokyo Ramen didn't take off as expected. While the dynamic Japanese noodle scene in the city has certainly been through its bumps, the diversity and technique has never been stronger.
If you're craving some of the best bowls of the good stuff in Sydney, here's where to look.
---
---
---
The Best Ramen Sydney Has To Offer
Gumshara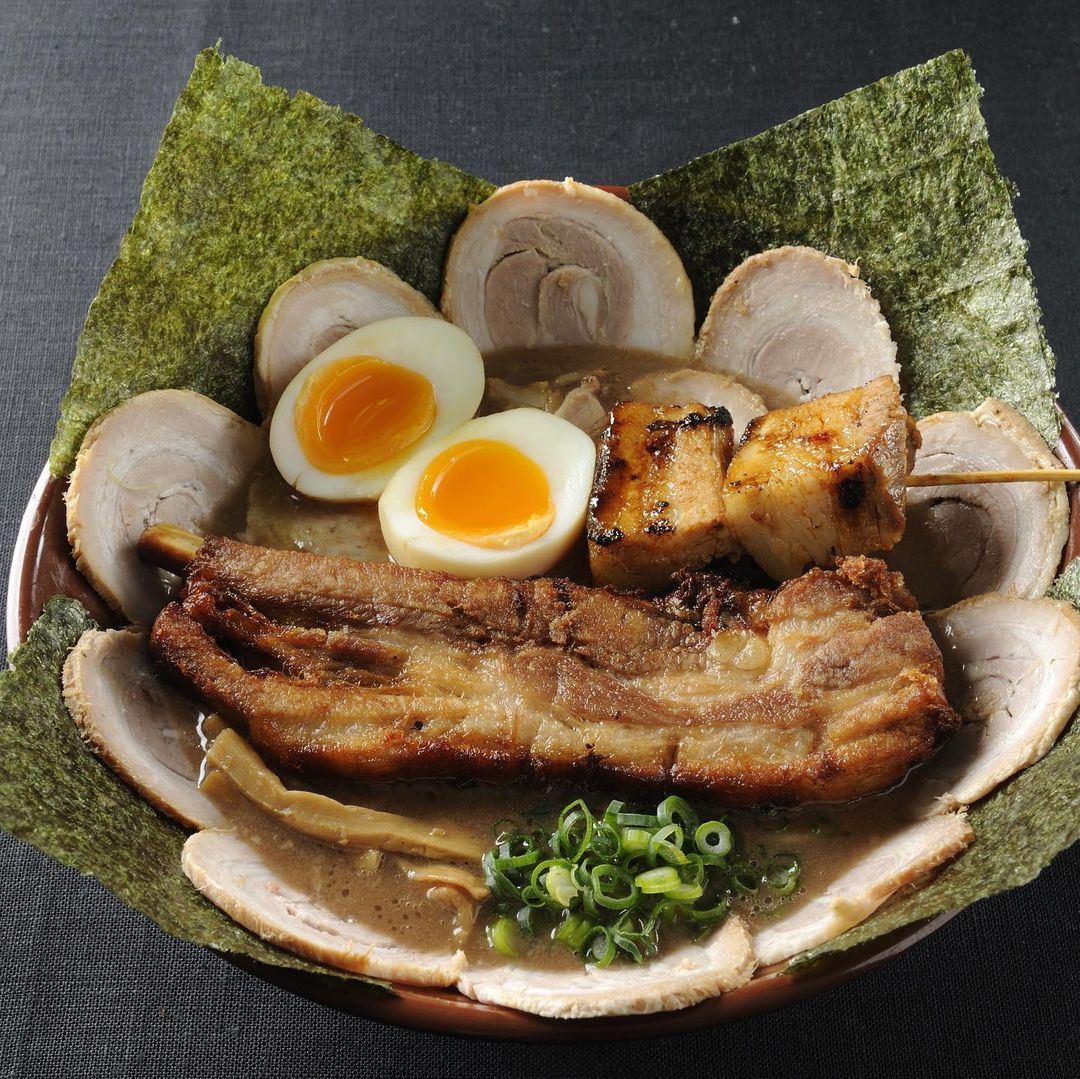 As far as reputation goes, Gumshara is the granddaddy of the scene, and absolutely where you'd find some of the best ramen in Sydney. For many, it's the first place that truly won them over to ramen and revealed just how delicate the balance needs to be to get a perfect serving. Owner-chef Mori Hogashida famously builds upon a base soup each day, boiling daily for 12 hours and tweaking it to be thicker or lighter depending on taste. The result is the big-body, heavyweight tonkotsu ramen that pretty much all of Sydney has slurped down at least ten times throughout their life, so thick that the consistency is almost like gravy, handling the texture while the shoyu tare used still shines through enough to bring that sweet, deep flavour of pork bone broth that have been boiled down to a fine art. Consistency is key at this 29 Dixon Street Haymarket space.
What to order: You can't go wrong with the standard tonkotsu ramen, but if you're feeling particularly insatiable I'd aim for their twice-cooked pork sparerib ramen. If you want something even richer and nuttier, their garlic tonkotsu ramen can't be missed either. Consistency is key here, and Gumshara are nothing if not on the mark each and every time.
Address: Eating World; 211/25-29 Dixon Street Haymarket
Contact: 0410 253 180
---
Ramen Zundo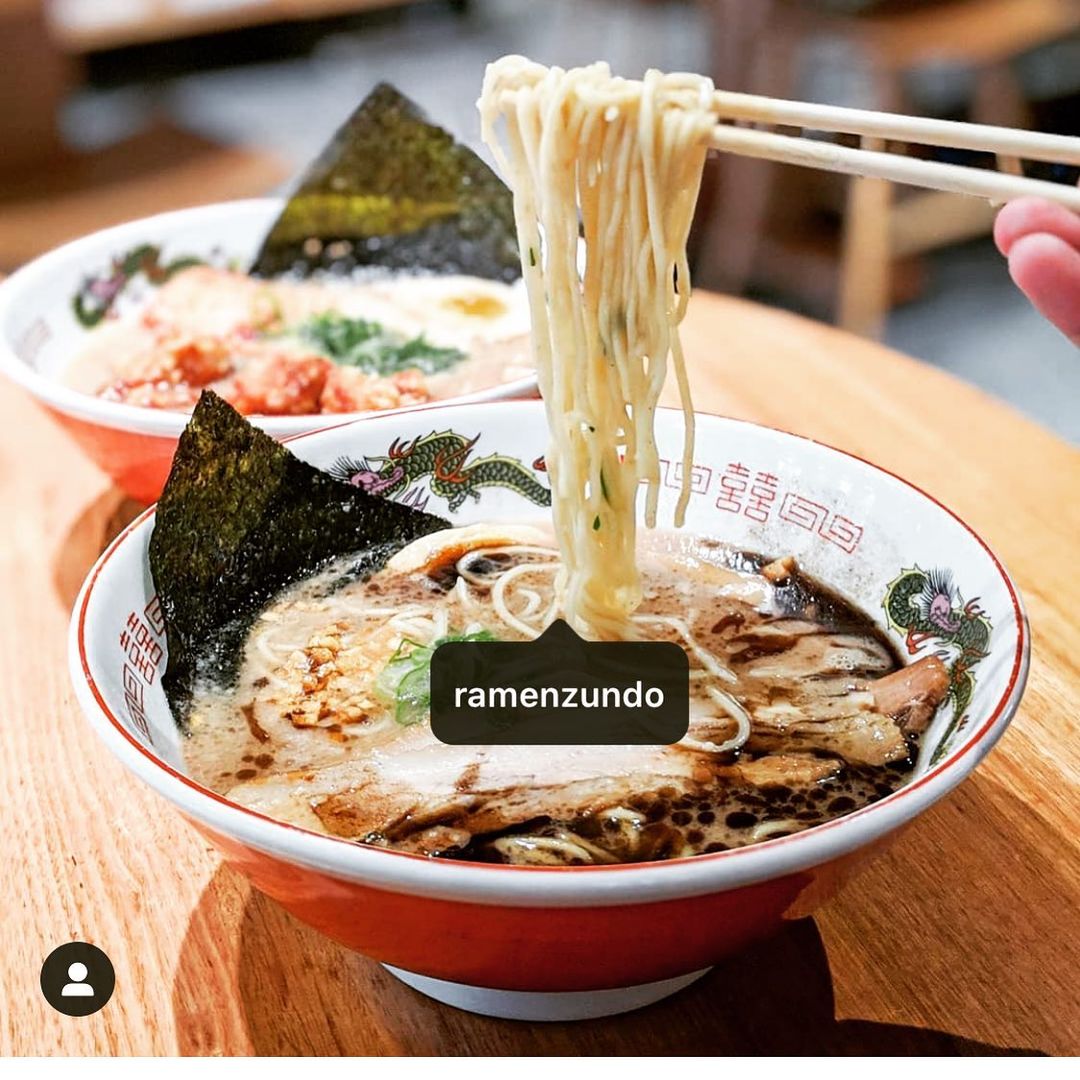 Ramen Zundo always seems to be underrated when people talk about where to find the best ramen in Sydney, but demand doesn't lie. Zundo is one of the most popular ramen-ya in the CBD, located at World Square and, most recently, Chatswood with a new store of equal quality. Here you'll find some of the better tsukemen in Sydney, for those who prefer thick chewy dry noodles served alongside even thicker, caramelised gyokai tonkotsu dipping broth that almost always lets the umami flavours take prominence. With a great hold on balance, their tonkotsu ramen is a go-to order and should easily satisfy the soul on a rainy day, but even if you aren't there to slurp down some soup, it's hard to not like their flavour-rich Japanese karaage curry. Zundo is surely an all-rounder for those who miss Japan's comfort foods.
What to order: Go for their tonkotsu tsukemen if you want something a bit different. There aren't as many places across Sydney serving good tsukemen that's as close as you'd get to the big caramelised dipping broths of Tokyo, so take advantage of the distinction. Although if you just want a big serving of familiar ramen, the tonkotsu is a go-er, and there's also a smaller version available for those who are watching their portions.
World Square Address: 644 George St, Sydney
World Square Contact: (02) 9264 6113
---
---
Chatswood Address: 260 Victoria Ave, Chatswood
Chatswood Contact: (02) 8065 8099
---
RaRa Ramen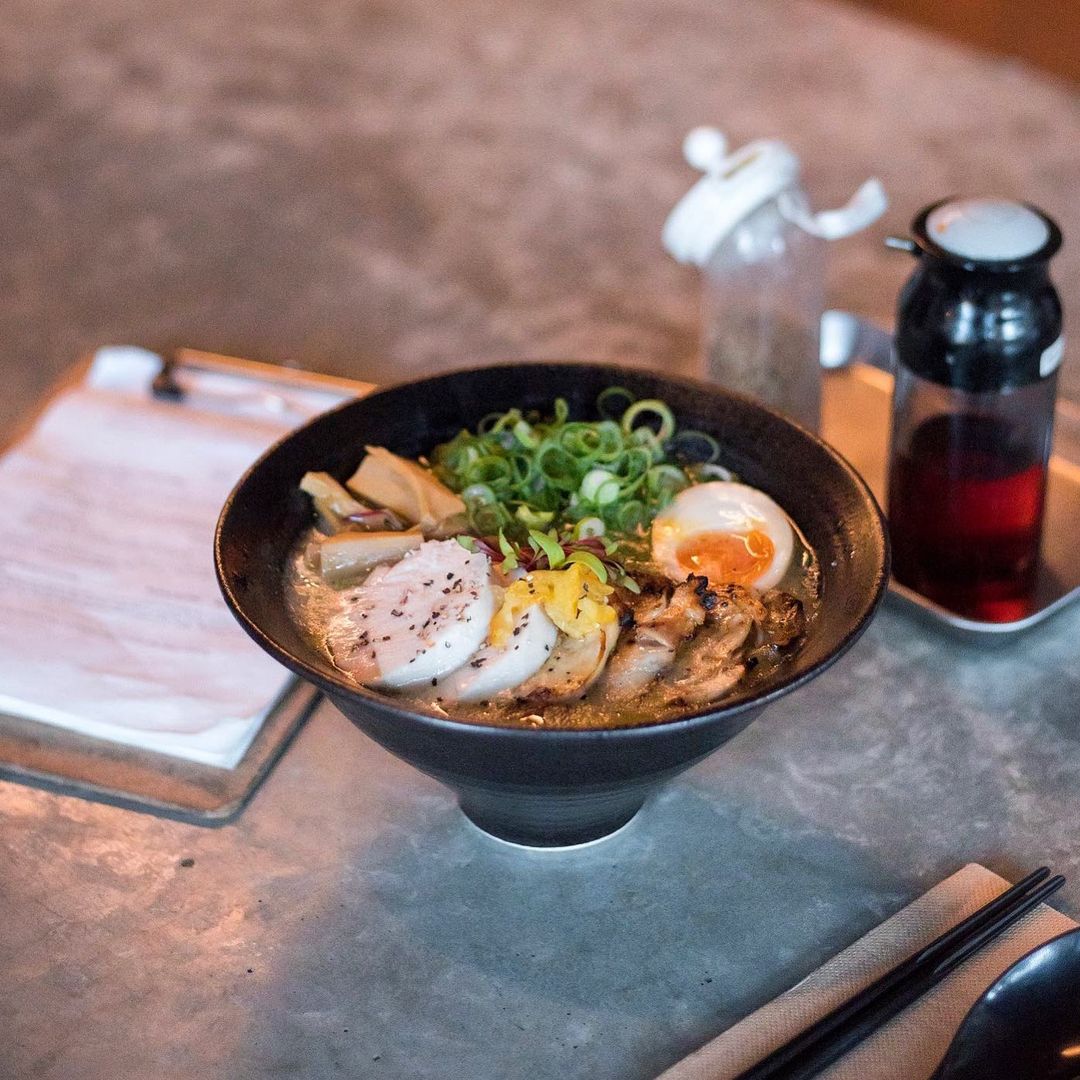 Husband-and-wife owners Scott Gault and Katie Shortland have put in the hard-yards to study everything there is to know about ramen culture from Japan. Just a few years ago, that hard-work paid off with the opening of RaRa Ramen, a cosy neighbourhood ramen-ya in Redfern that has maintained absolute dominance over the hearts and minds of ramen lovers since. Popularity has extended to a Randwick venue as well, both making their long and thin noodles fresh daily, best used when they're soaking up the densely packed flavours of RaRa's standout tonkotsu ramen. The salty shio tare they use proves the perfect base, playing nicely with the rich chasu that's grilled over coals before gently dipping your noodles into that thick broth.
What to order: As with many of the other ramen-ya on this list of where to find the best ramen in Sydney, you want tonkotsu. More specifically, go for the tonkotsu black garlic and chilli ramen if you really want to taste the hype.
Redfern Address: 66b Regent St, Redfern
Redfern Contact: (02) 9698 9994
Randwick Address: Shop1/162- 164 Barker St, Randwick
Randwick Contact: (02) 9310 0932
---
Ryo's Noodles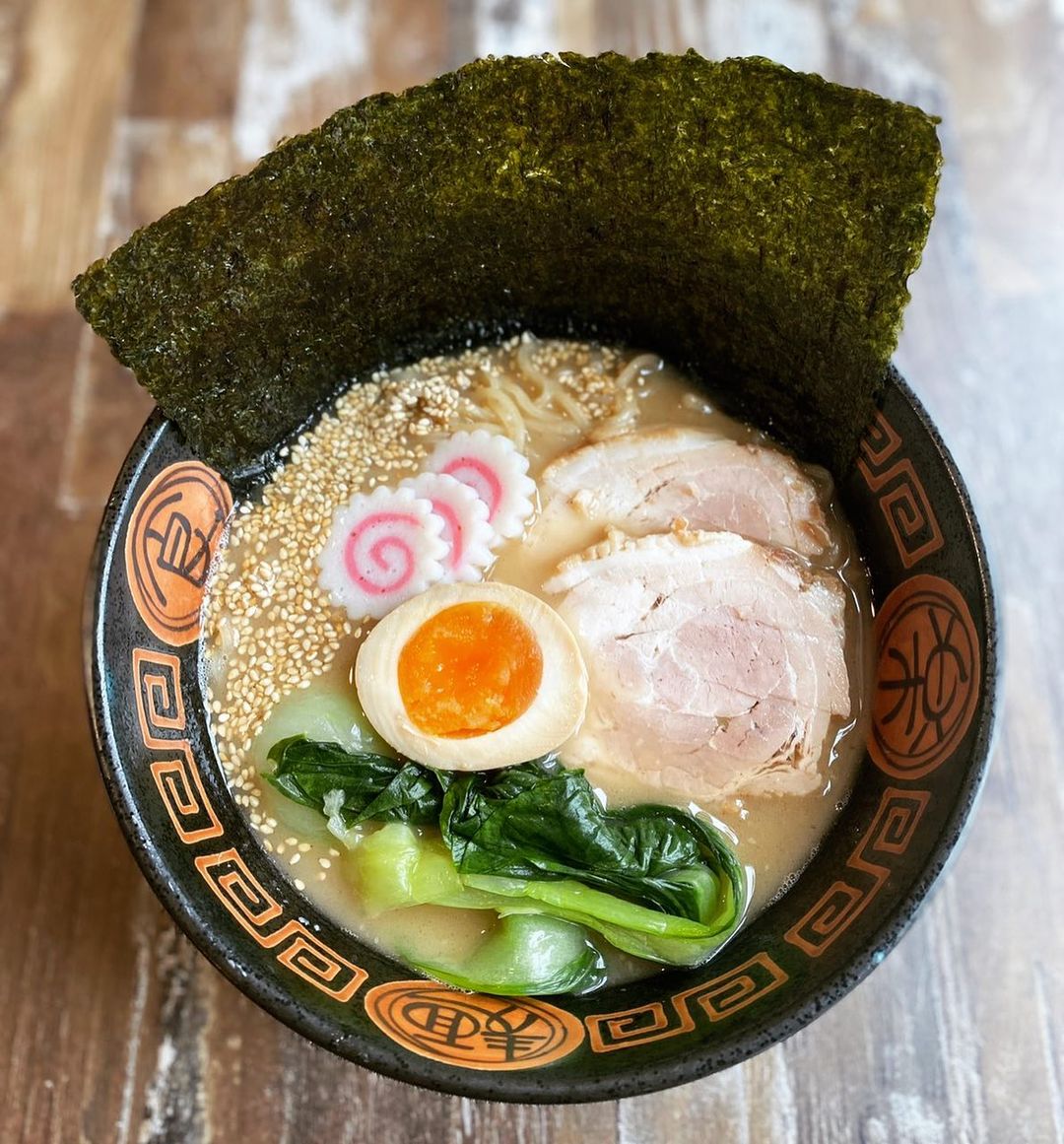 In Japanese culture, queues don't lie. That universal truth sticks for the food of Japan too. The more ridiculously long, and consistent, the queue is, the more you should join. The end of that snaking line brings you to some of the best ramen in Sydney if you've had the good sense to give Ryo's your patience. A spot at the diminutive Crows Nest institution is hard-earned, but always rewarding, especially when you've got a big serving of rich flavour-packed shoyu ramen sitting in front of you, which I suspect is made to a very precise top-secret recipe. It's unlike any other shoyu in the city – with the only exception being the also-on-this-list Chaco Ramen. Most importantly, it's consistent (especially if you opt for extra chilli).
What to order: You're going to want the "soy sauce flavour" tonkotsu. While nothing on Ryo's menu is an afterthought, it's this signature that has captured the collective attention of Sydney's most passionate ramen slurpers, and held it with an iron-tight grip ever since. Crows Nest restaurants can hardly take attention away from this diminutive bar, which is frequented by North Shore locals from nearby areas like Neutral Bay and North Sydney.
Address: 125 Falcon St, Crows Nest
Contact: (02) 9955 0225
---
---
---
Gogyo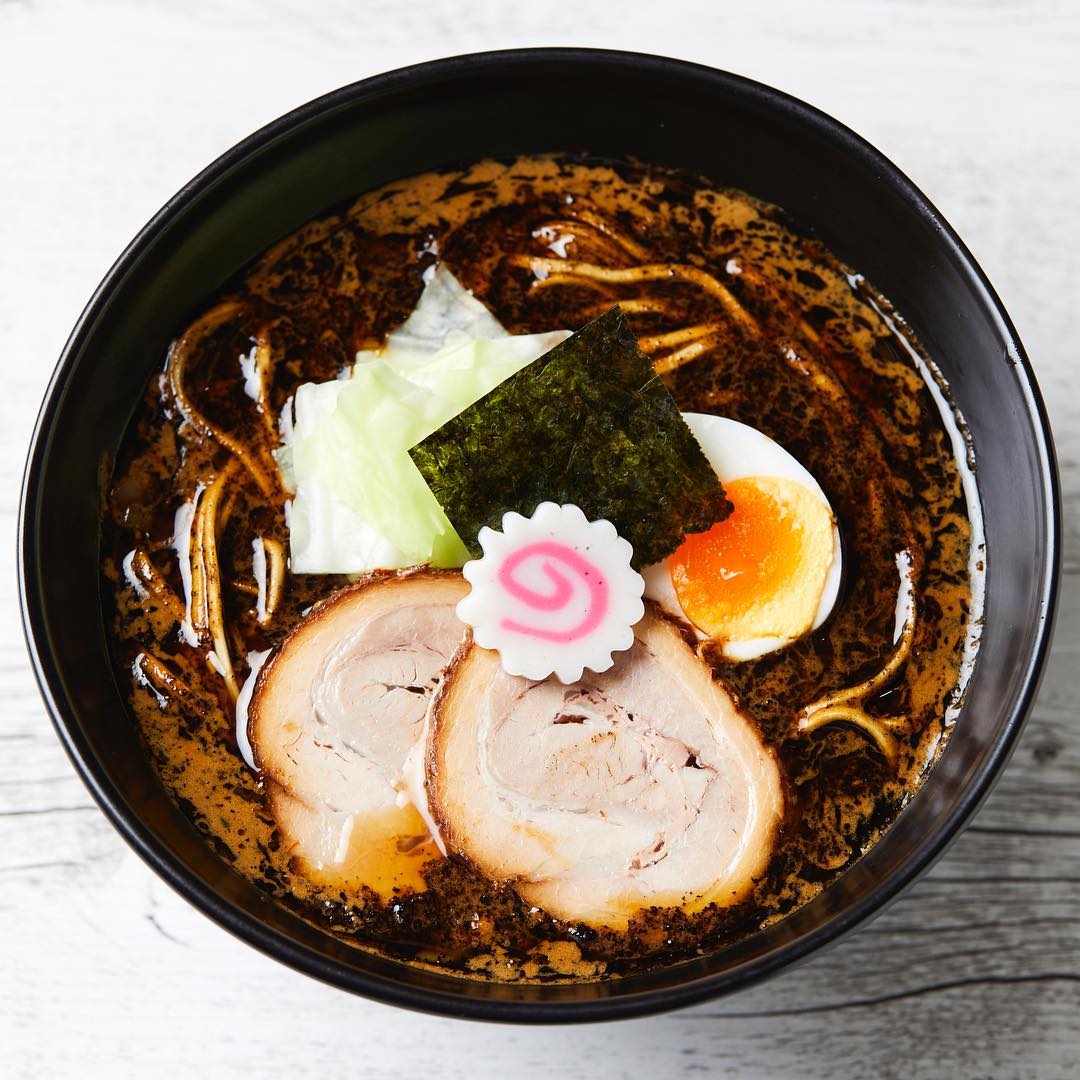 Confession – I think Ippudo is vastly overrated in Sydney (good, but overrated); the quality I've come to expect from this chain after numerous visits in Japan is just not there. On the other hand, the same group that bought that reputable brand to Australia has done a far better job with Gogyo. Replacing Salaryman in Sydney, this brand specialises in burnt miso and shoyu ramens, adding a thick layer of smokiness to the umami bomb you can expect from one of the kitchen's artfully designed bowls. If you're looking for something different, Gogyo at 54 Albion Street Surry Hills is very hard to pass up.
What to order: You're here for the burnt ramen, and don't bothering pretend you've got a taste for anything else on the menu. The Kogashi miso is the top pick here, with medium-thin noodles sloshing around a charred miso base with chicken broth, a half umami egg, and perfectly cooked pork belly chashu. It's a winner every single time you're craving Japanese soul food on 52-54 Albion Street Surry Hills.
Address: 52-54 Albion Street Surry Hills
Contact: (02) 9212 0003
---
Chaco Ramen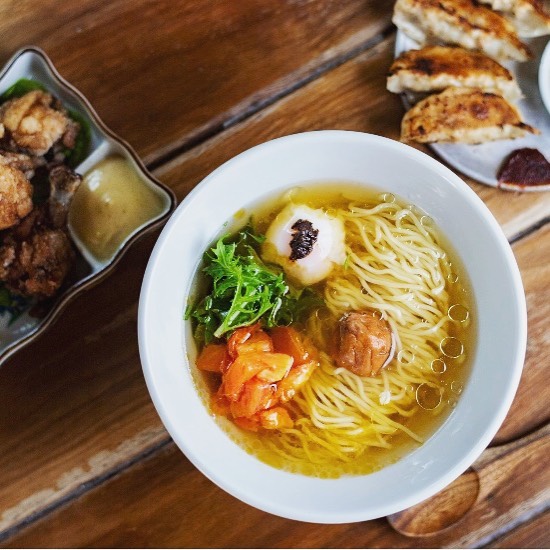 It wouldn't be a list of the best traditional Japanese ramen in Sydney without a special nod to Chaco Bar. This Darlinghurst favourite pumps the best shoyu this side of the bridge with the kitchen's signature Fat Soy ramen. As they always have, Chaco Ramen has the distinction of allowing the prospective slurper to customise the amount of pork fat that goes into a bowl of this unmistakable favourite, offering tight control over the amount of indulgence one can get from this ramen. Order some gyoza and pork belly and maybe an extra add-on egg (with some chilli of course) while you're at and make it a true Chaco Ramen experience. You won't be walking away from 238 Crown Street Darlinghurst hungry, that's for sure.
What to order: As mentioned above, the Fat Soy is the obvious choice here. It's highly customisable, made with absolute perfection, and is one of the single best winter dishes Sydney has to offer. As long as Chaco Ramen exists, Melbourne doesn't even have a chance if it comes down to a fight between the two cities on who offers the best ramen noodles.
Address: 238 Crown Street Darlinghurst
Contact: (02) 9007 8352
---
Lonely Mouth by RaRa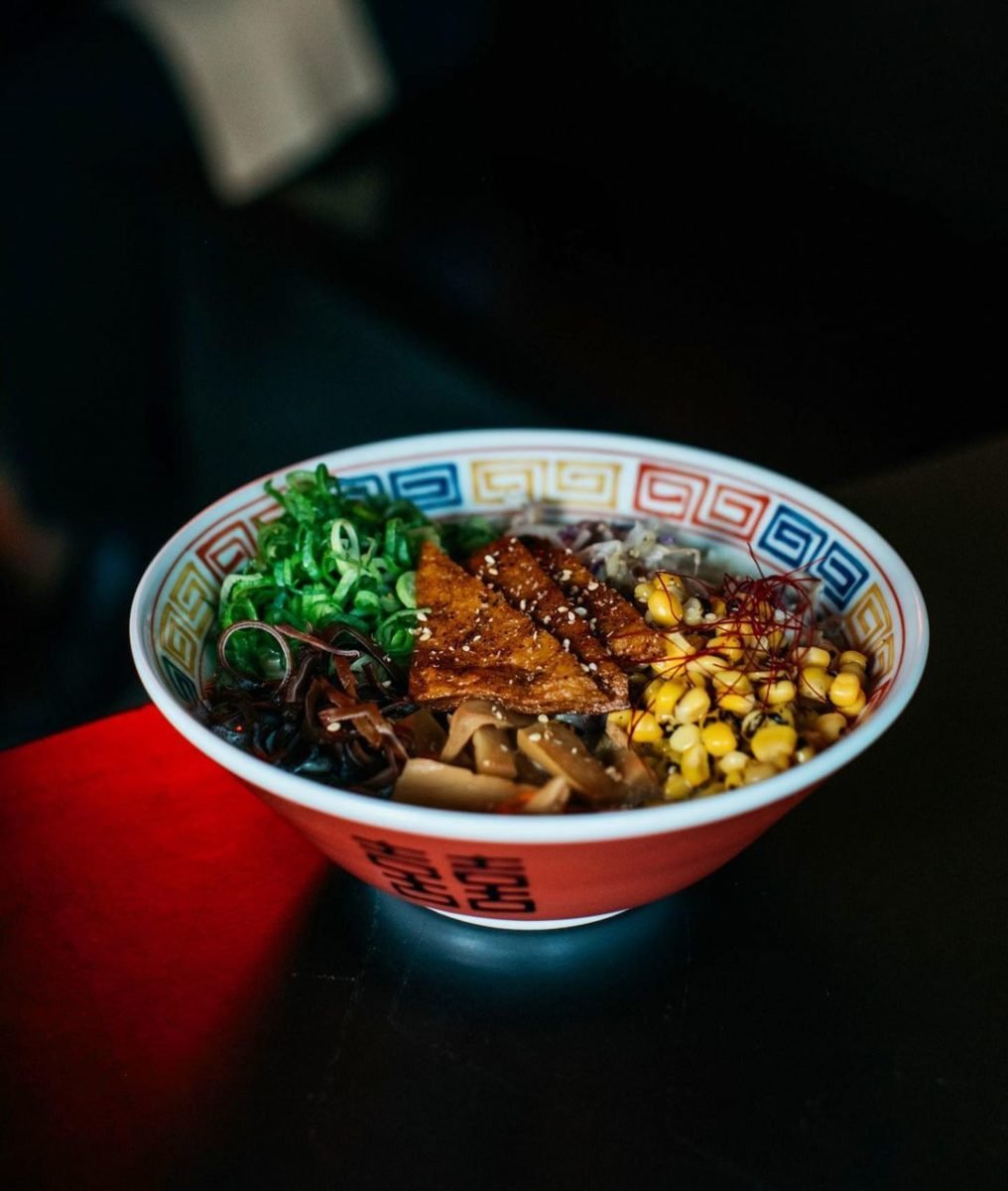 The RaRa team get a bit experimental over at Newtown's Lonely Mouth, headlined by a trio of vegan ramens powered by a special tare and those gorgeously thin and firm Hakata noodles the original RaRa outlets are known for. It's not about the tonkotsu here, it's about the 100% plant-based sunflower and hempseed shoyu, the standout of all three primary options, with nori, shallots, seasoned menma and plant-based seasons chashu. I rarely go for non-traditional ramen, but RaRa has nailed this one and it's worth the trek, whether you're coming from Bondi Junction, Neutral Bay or Penrith.
What to order: The sunflower and hempseed shoya is the winner if it's your first go-round. You will be a repeat customer, so there's plenty of chances for the spicy (as in Sichuan spice) tantanmen and vegan miso ramen to get a shot in for all three signatures.
---
---
Address: 275 Australia Street, Newtown
Contact: (02) 9519 2465
---
Gaku Robata Grill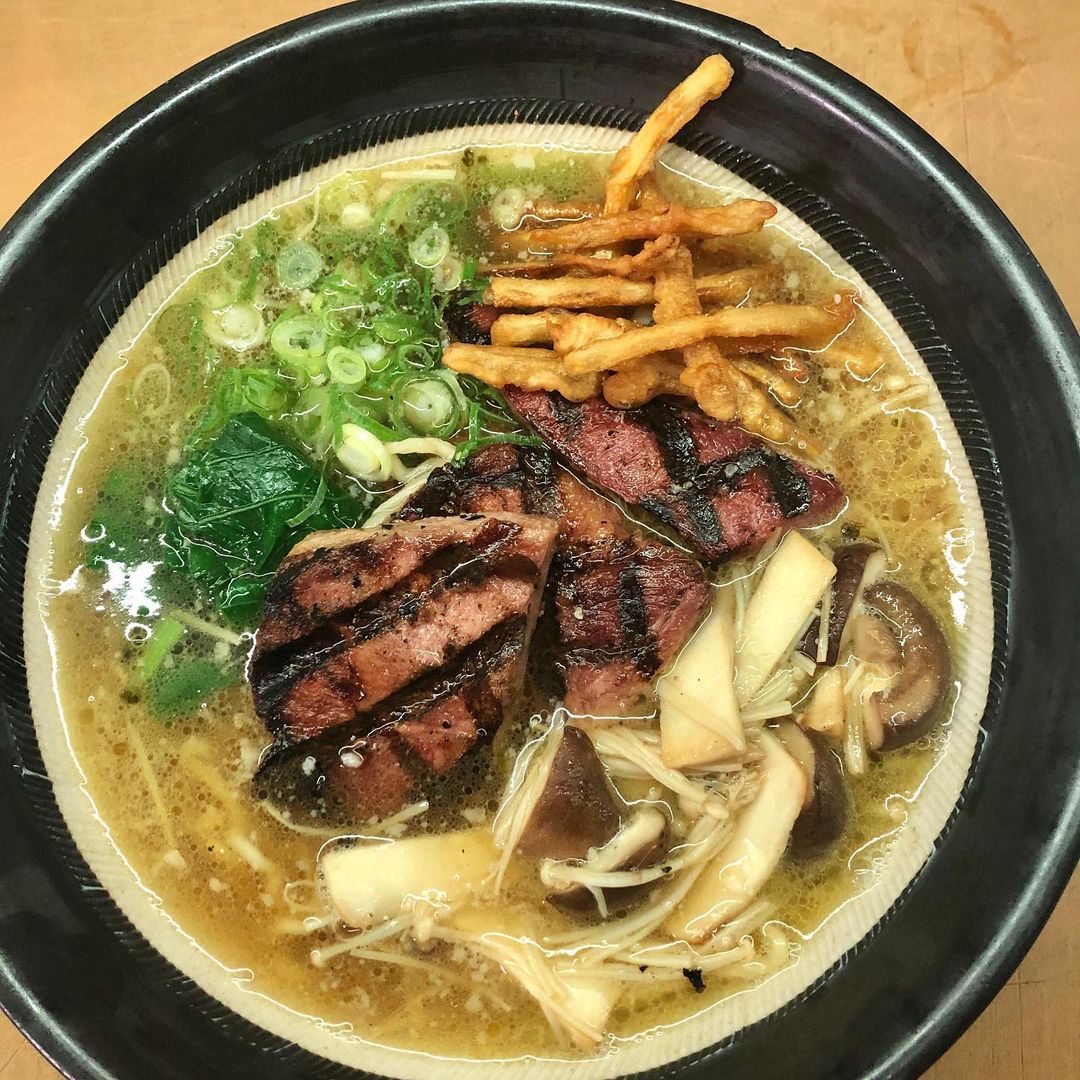 Another Darlinghurst favourite here. As you can tell by the name, it's not just all about ramen here, but loyalists would swear that it's all that matters (it's not). While good ramen is what you're most definitely reading this for, it's worth truly exploring this hole-in-the-wall restaurant and milking all that goodness from the kitchen, like the outstanding Japanese full-blood Wagyu. When it's cold out, grab a bowl of their duck yuzu ramen, with duck consomme broth and smoked duck breast perfectly taking on the yuzu citrus flavours of the jus.
What to order: Duck "Yuzu" isn't your typical ramen dish, but while the other options may be playing it safe with well-built classics, this unconventional offering is clearly the best. You'll get extra points if you look elsewhere on the menu too and land on the likes of popcorn shrimp and burrata yakko.
Address: 2/132 Darlinghurst Road, Darlinghurst
Contact: 0426 229 254
---
Yasaka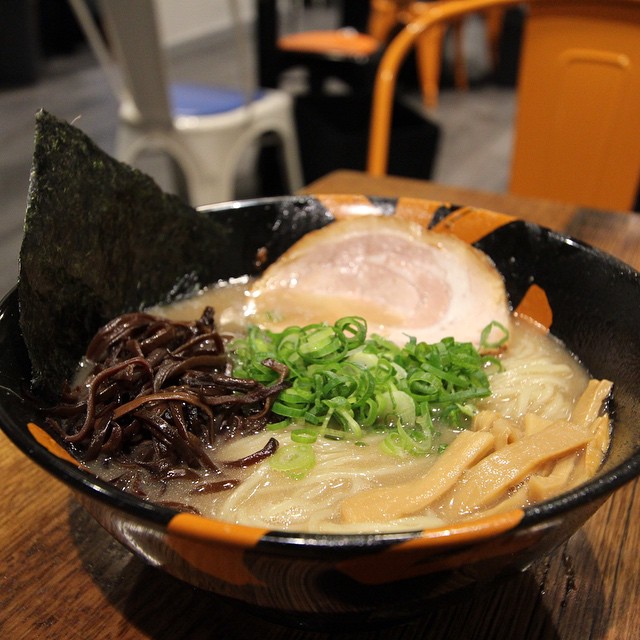 You've got two choices for Yasaka – Sydney CBD, just near Hyde Park (you've passed it, trust me), or Waterloo, where it's a tad quieter and easy to get a table. Takeshi Sekigawa, who made his mark on Sydney's famen scene after several years at Gumshara, is the star of the show here and he has steered Yasaka towards the clear goal of becoming one of the best spots for ramen joint in Sydney.
What to order: You can stick to tradition here, and that's fine. You'll be slurping on classics done incredibly well. But it's Sekigawa's special black garlic ramen that is the true show-stopper here, made by mixing squid ink with tonkotsu, a combination that flows into an unusual hit of tang for some ramen that's much more different to what most would expect.
CBD Address: 126 Liverpool Street Sydney
Waterloo Address: Shop8/33 Amelia St, Waterloo
Waterloo Contact: 0405 092 888
---
Rising Sun Workshop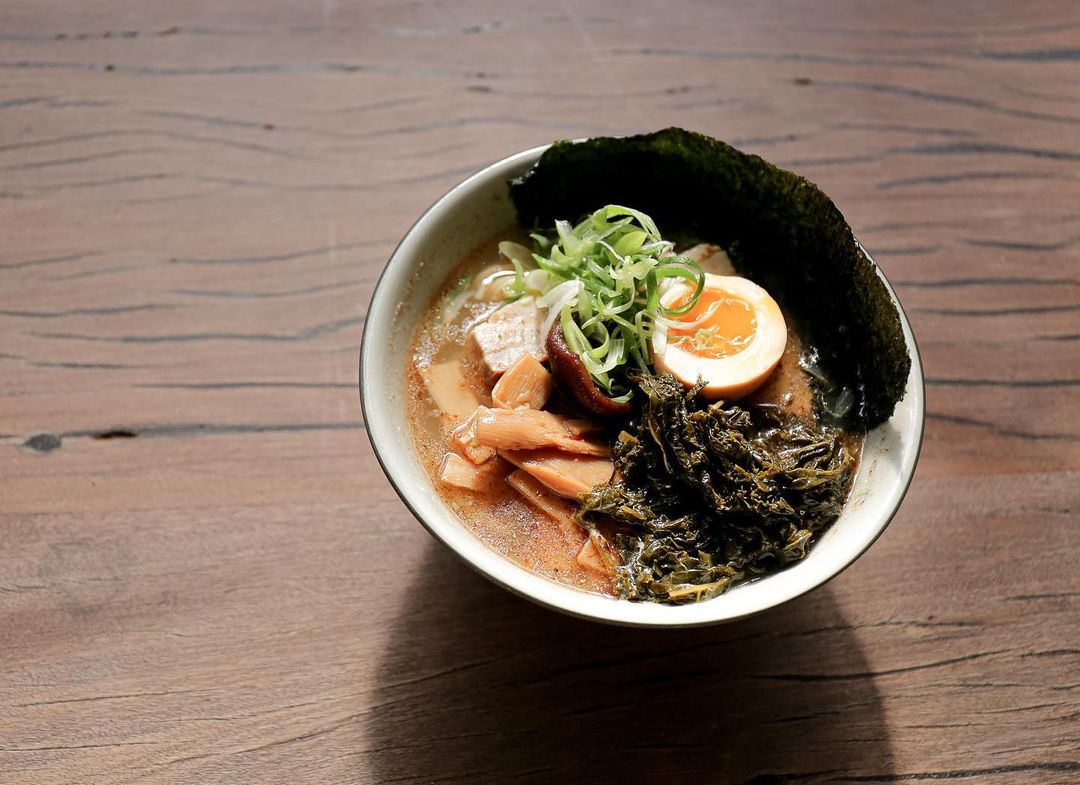 Half motorcycle work shop, half ramen restaurant. Rising Sun Workshop in Newtown has been an inner-west favourite ever since it first opened, bringing city slurpers a simple selection of ramen, widely considered as some of the best in Sydney.
---
---
What to order: Simply titled option 'The Dark' is the way to go for those who like their ramen thick and flavourful. The shoyu ramen has a broth made with chickens, pork bones, shiitake, and smoked hocks, giving it an incredibly complex pork broth flavour that is unlike any other more traditional bowl of ramen you'd find in Sydney.
Address: 1C Whateley St, Newtown
Contact: (02) 9550 3891
---
Hakatu Maru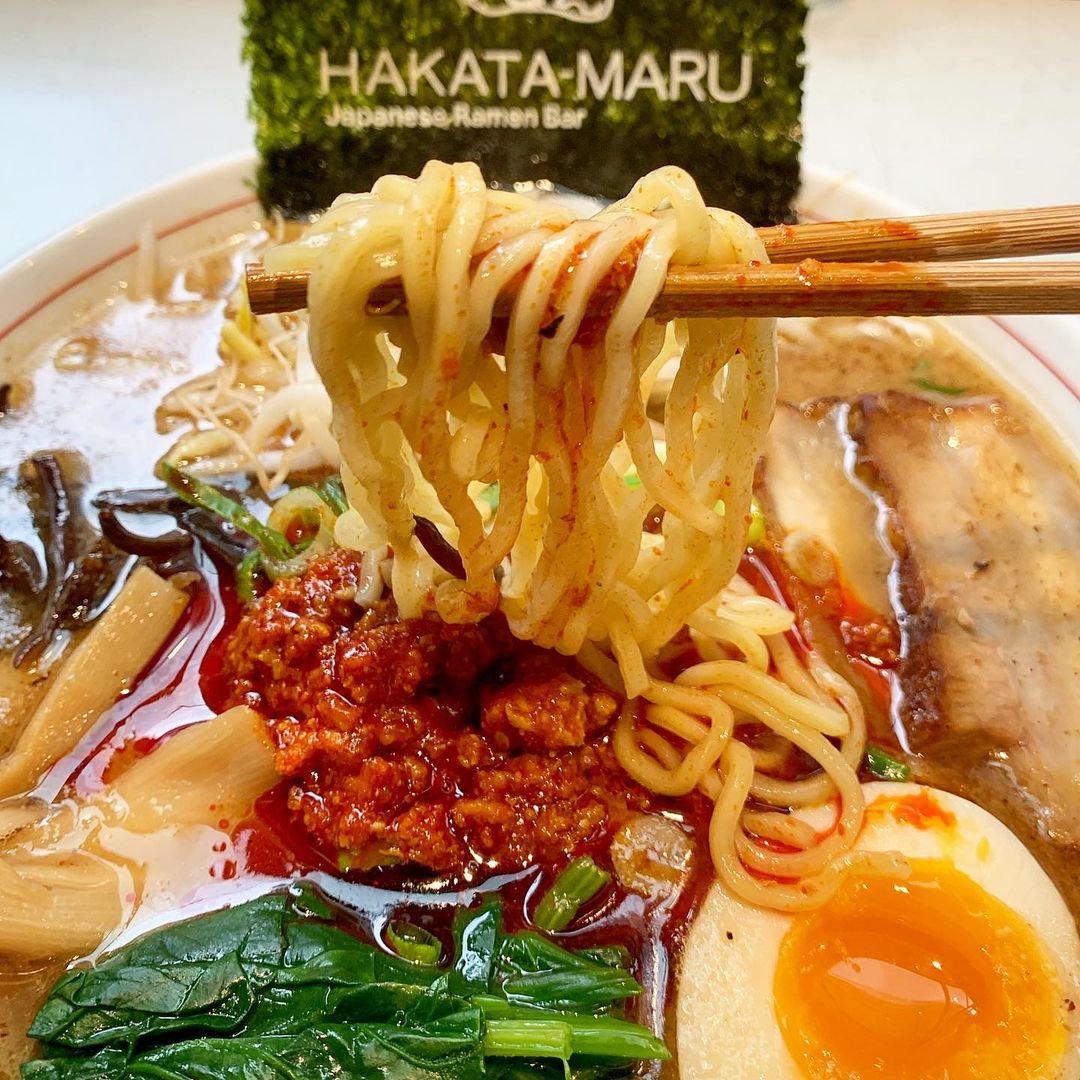 Hakatu Maru is the best ramen restaurant in Chatswood. Of that, there is no doubt. You can expect great depth in the soup here, from the signature spicy chicken miso infused tonkotsu (a great breakfast ramen) to the bonito infused shoyu tonkotsu which is an incredibly rich soup that puts neighbouring restaurants to shame.

What to order: As above, Hakatu Maru is best experienced via their signature, with the spicy chicken miso infused pork tonkotsu making a great bowl that can be had at anytime of the day.

Address: 1/475 Victoria Ave, Chatswood (also in Darling Harbour)
Contact: (02) 9884 8861
---
Not in the mood for ramen? Check out this list of the best new restaurants in Sydney for 2021. Or if you're based a bit further down south, here's the best ramen Melbourne has to offer.