Presented by Breville
Given Australia's admiration for day drinking, it's surprising that brunch isn't the hero format for our social gatherings. Be it an excuse to get back on it after a big night or whet the appetite for a big summer day, the traditionally sophisticated meal can easily go one of many ways.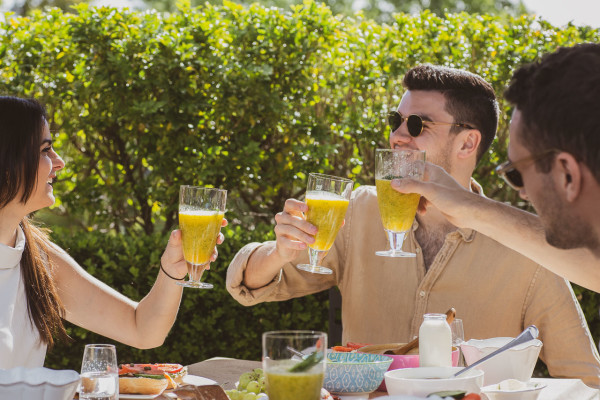 Hosting a successful brunch relies on the flawless execution of five key components, however, it's your refreshments offering that will make or break your event. When it comes to beverages, versatility is the key and Breville's new 3X Bluicer Pro introduces an entirely new beverage category to impress your guests – Bluicing. The devilishly handsome, multitasking appliance, gives you the power to juice, blend or now 'Bluice' – combining fresh blends and juices into the same carafe to take your drinks to the next dimension. Add a carefully planned location, menu and a solid group of mates and you've got a certified corker of a day. Check out our tips and considerations below:
---
---
Location
Expecting your guests to rise prior to 9 am is ludicrous, that includes getting ready – forget about the hungry parents, they've been up since 6 am and have had a pre-breakfast anyhow. Mid to late morning is when your brunch should commence, with the sweet spot being 10.45 am with stragglers arriving by 11 am. Celebrate the time of day with an outdoor table, preferably with a workbench and fridge in close proximity.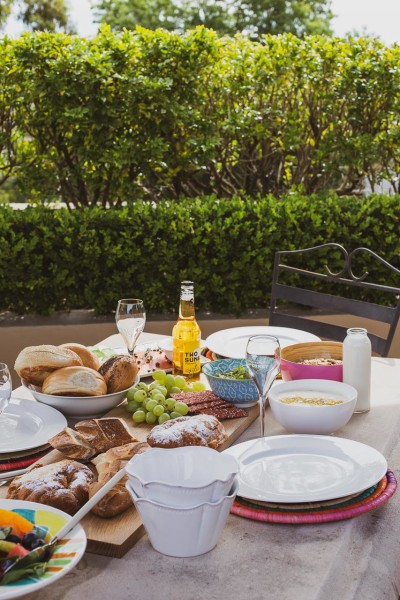 Menu
While the name constitutes a meal that involves both breakfast and lunch, Brunch is 80% breakfast, with the excuse to start drinking making up for the 20% lunch. With this in mind, a myriad of breakfast options must be offered with a traditional focus on eggs but ranging from elaborate fruit salads to continental choices and pastries, all the way to cooked options – savoury and sweet – with a variety of bread to complement. Carbs are king at brunch so roll out the rye, sourdough, baguettes, bagels and muffins.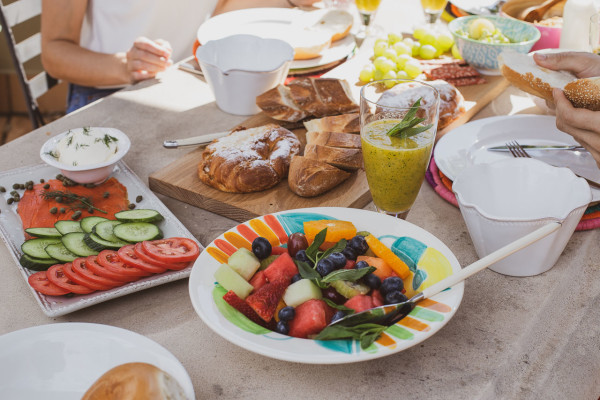 Take the stress out of hosting (or turning up empty-handed) by shopping smart at fancy grocers or delis with pre-cut fruit salads, yoghurts with swirls of passionfruit or mango, artisanal Birchers, smoked fish and bacon, freshly roasted coffee or organic Belgian waffles. Don't get your function mixed up with a BBQ, sirloins and stilton won't set the right tone.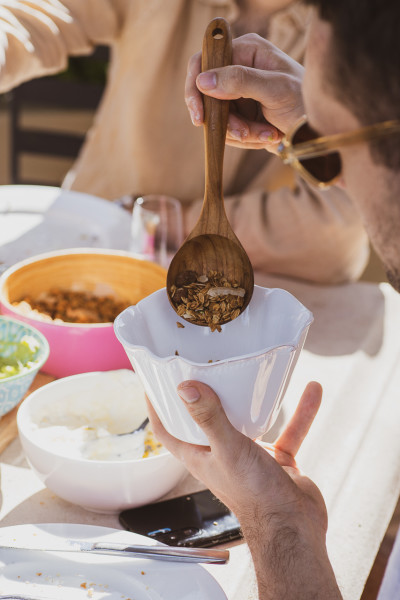 Non Alcoholic Refreshments
With brunch, you must consider all states your guests may arrive in. There needs to a refreshment ready for the person hung AF, the bloke who just did a three-hour cycle and his pregnant wife, the well-rested couple prepping for an afternoon at SASH, the single friend you're trying to set up with the only other single person you've invited.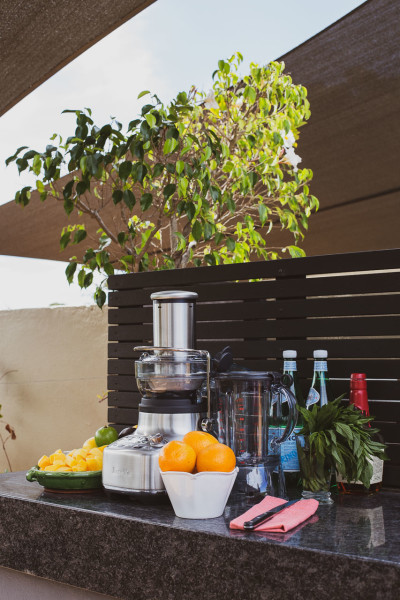 Fresh juice is a universally adored starting point, quelling headaches, tantalising tastebuds and invigorating the senses, better yet, Breville's ice-cold Orange & Mango Slushie will take your juice game to the next level. If you don't have an Espresso or pod machine, a French press or stovetop percolator is a better alternative to instant, while an abundance of chilled mineral water (and a couple of bottles of black doctor) will hold your event in good stead.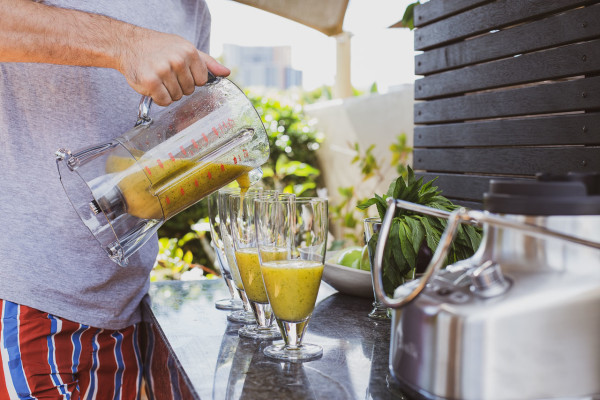 Booze
Freshly juiced oranges won't just make for delicious OJ, they'll also elevate your mimosas or screwdrivers. Use a dry sparkling wine for Mimosas and save the Champagne for those who want to enjoy it as is. A sessionable lager like Two Suns or a quaffable, cloudy white ale like Yeastie Boys White Noise, with hints of orange blossom, coconut, vanilla lends perfectly to a warm summer morning while a chilled Stefano Lubiana Amphora or Clo Rose sets up the wine aficionados for a big day.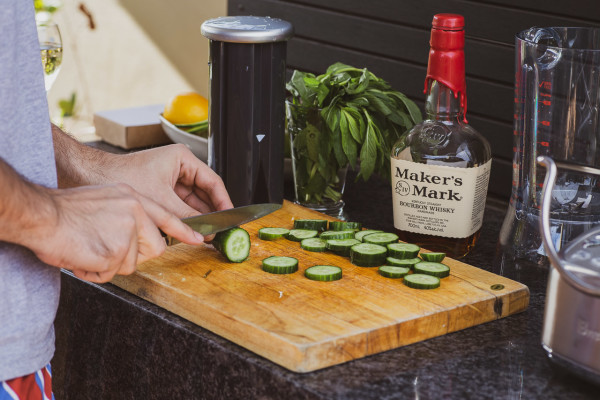 Once everyone has settled in, eaten and relaxed, it's time to enter cocktail mode. Whirl up your guests one of Breville's signature Bluicer cocktails like the Bourbon Orchard, which juices apples and lemons before blending in cucumber, honey and bourbon or get creative with whatever fresh fruit and booze you've got on hand.
---
---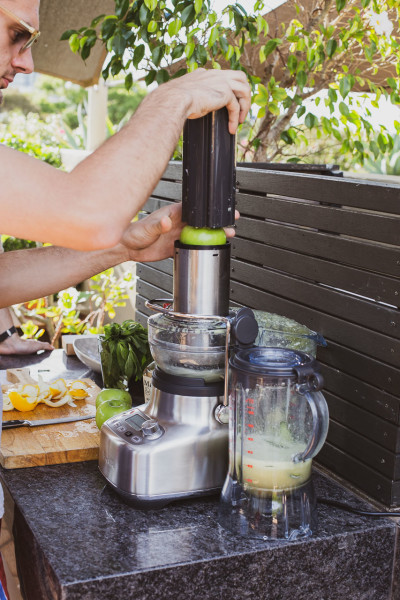 Execution
Unlike lunch or dinner, brunch can be fairly painless, especially if you've chosen the right menu items. It shouldn't take you more than an hour to shop your ingredients and another hour to present them. You're going to need a plethora of serving paraphernalia from bowls, platters, spoons and tongs to an assortment of cutlery, glasses, napkins and more.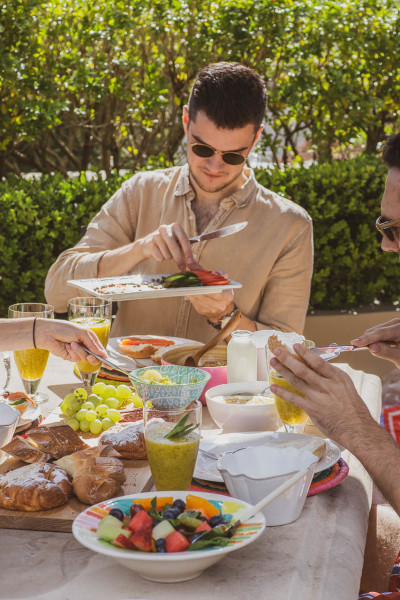 Details and decorations will make your event far more grammable, think linen napkins, ceramic plates, handwritten place cards, Champagne bowls and elegant jugs and glassware. Even if IG isn't a concern, guests will appreciate the additional effort you've gone to – the fairer sex may even be impressed with your level of domestication.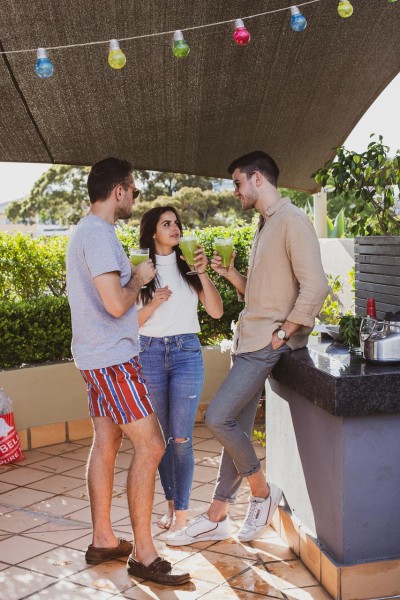 Conclusion
Setting a specific end time is a sure-fire way to dull your brunch's buzz. You already know which guests will retire early and which may extend the morning into night. If you suspect there's more of the latter back up grub is vital – a glazed ham with fresh rolls and assorted mustards is the ultimate solution and something you can easily prepare the day before. Ultimately booze, or lack thereof, will cause your event to drivel to a close, so arm yourself with enough to cater for the type of day you plan on having.
You can check out the Breville 3X Bluicer Pro online at breville.com/au
This article is proudly presented in partnership with Breville. Thank you for supporting the sponsors who help make Boss Hunting possible.