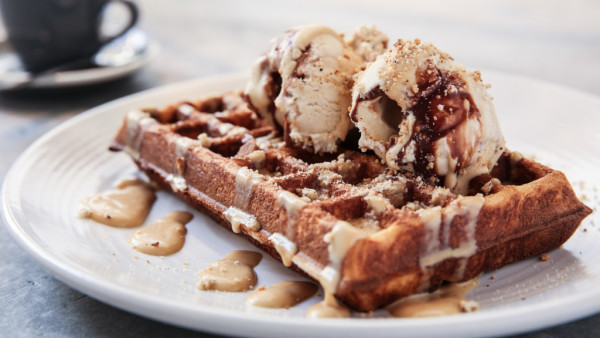 If you're too patient for breakfast, and too impatient for lunch, then it pays to be across the best brunch Sydney has to offer. This doesn't mean just any café serving their morning essentials until 3pm – there's plenty of those. You need to be discerning when it comes to seeking out the perfect Sydney brunch, whether that's searching for the best bottomless brunch on a weekend, or a quick catch-up with mates for some cruisy mid-week banter.
Once the clock hits 11am, and you're craving some smashed avo or could bang a brekkie burger after a few hours at work, hit Sydney's gloriously dense café scene and work your way towards the best brunch you can find. Want help? Here it is.
The Best Brunch In Sydney
---
Nour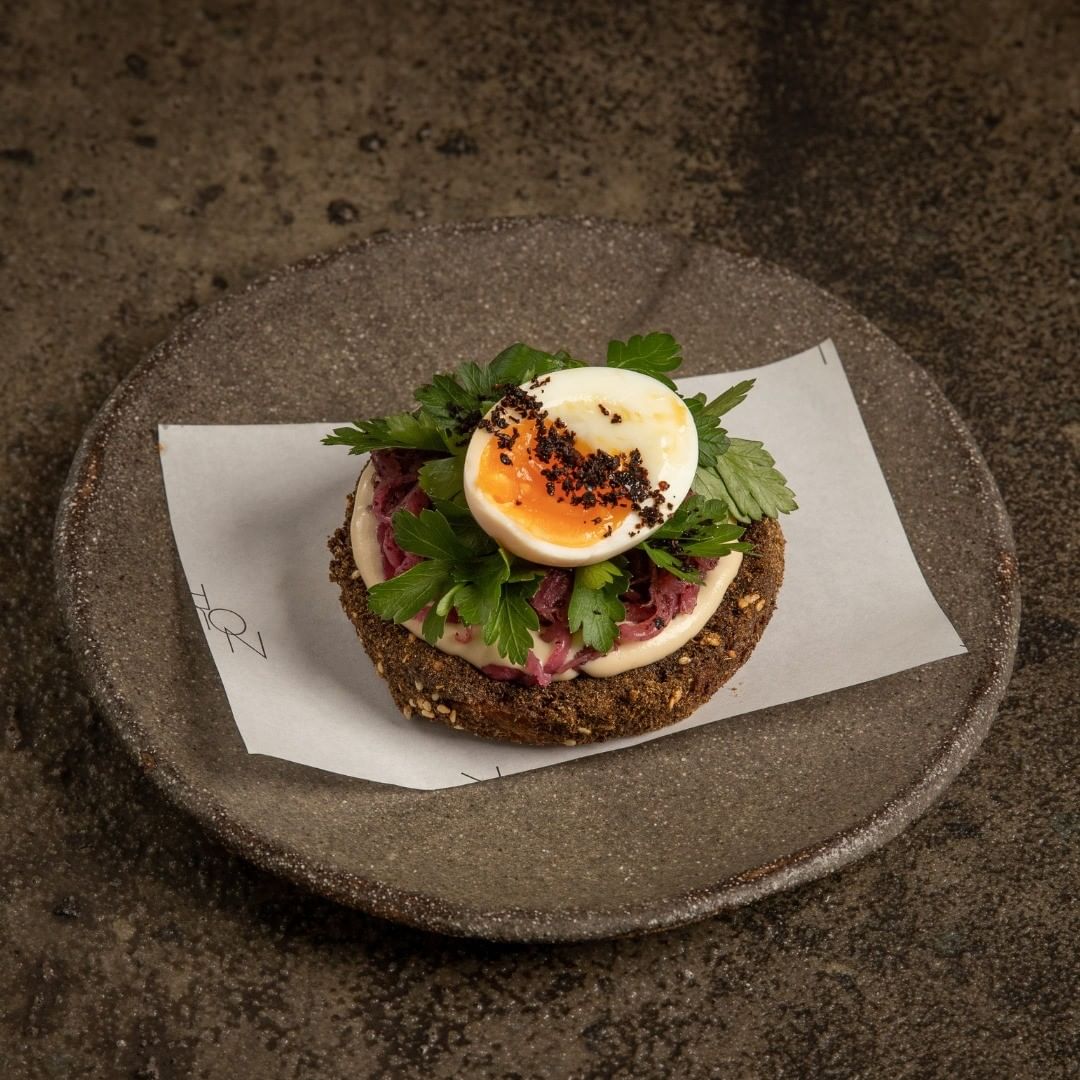 This Middle Eastern palace of peachy pink hues and clinking glasses is now a firm favourite on Surry Hills' legendary Crown Street. And while most would typically head along here for a weeknight dinner, the kitchen at Nour is just as capable when it comes to Sunday brunch.
---
---
Grab a few teapot cocktails (don't worry, they aren't the shitty World Bar-quality ones of yesteryear) before ordering up a feast built on falafel crumpets, breakfast pizzas, and Baalbek fried eggs. Settle down for a set menu if you want to make this a 90-minute bottomless brunch kind of affair, with free-pour rose and espresso martinis.
Address: 3/490 Crown St, Surry Hills NSW 2010
Contact: (02) 9331 3413
Opening Hours: Sunday, 10am – 2:30pm
---
Bills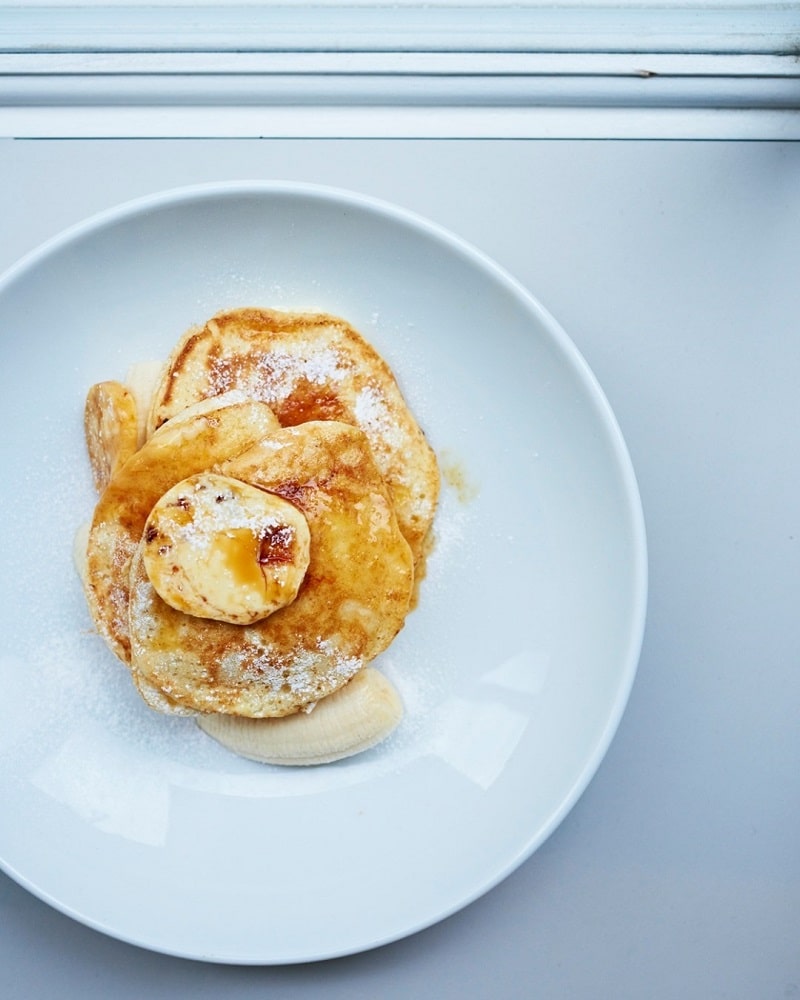 The legend of Bill Granger is well-known across Australia's dining scene, with his institutional Bills café becoming so famous that it's even a staple all the way over in Tokyo (with numerous locations). The franchised nature of this café, which has been around since 1993, hasn't at all diminished the consistency. Which is a feat in itself.
With three locations across the city – Darlinghurst, Surry Hills, Bondi Beach – Bills is the quintessential Sydney brunch. Grab a 10am Bloody Mary and pair that up with some of those famous ricotta hotcakes with banana and honeycomb butter – you'll soon agree.
Address: 359 Crown St, Surry Hills NSW 2010
Contact: (02) 9360 4762
Opening Hours: From 7:30am on weekends; from 7am on weekdays
---
Two Chaps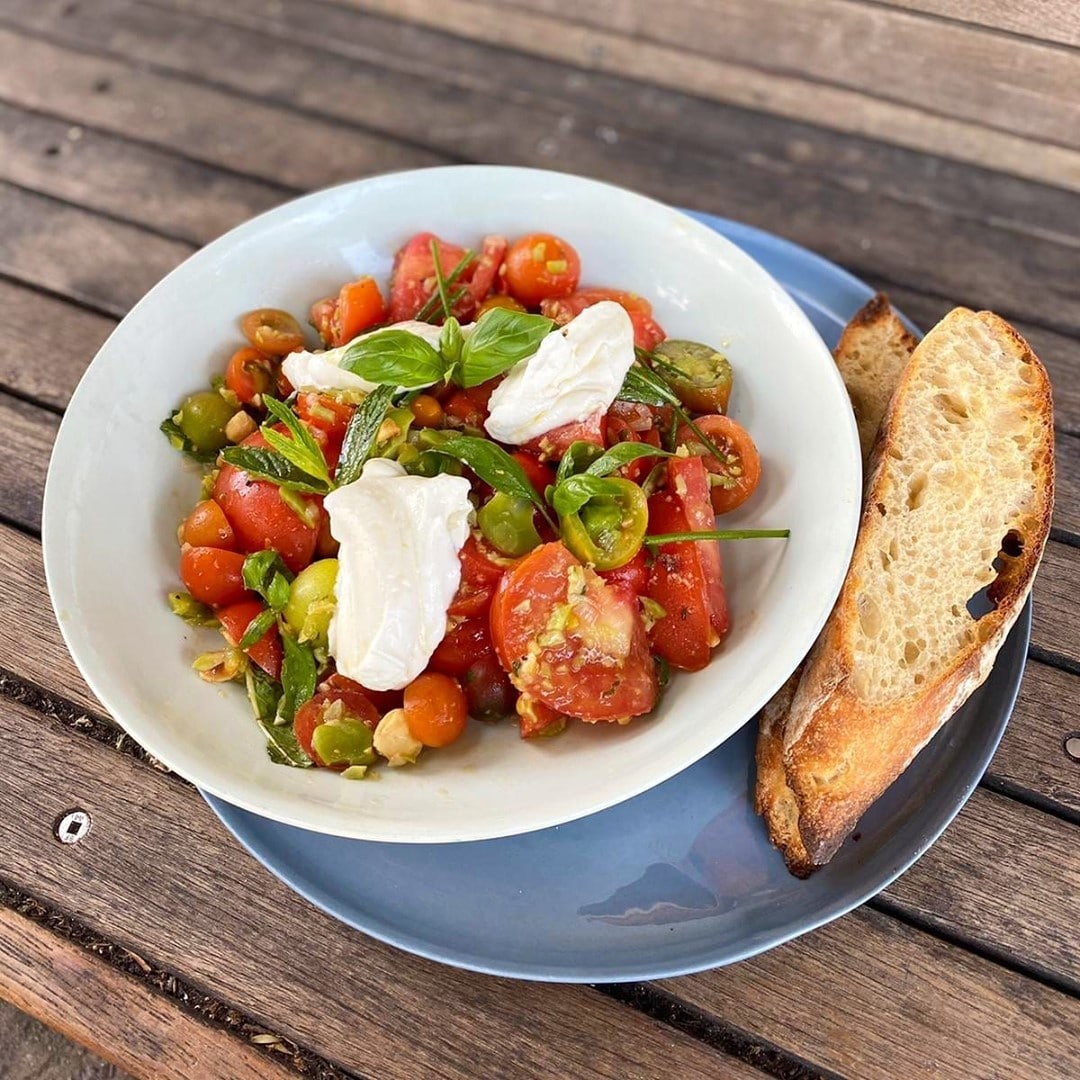 Head on over to Marrickville and have a play around with what's on offer at Two Chaps. The extensive brunch menu at this inner-west café and bakery is often preceded by the scent of freshly baked artisan bread.
There's a strong fresh focus and clean eating approach when heading along for Two Chaps brunch. And its this admirable commitment to house-made, natural ingredients that adds greatly to the flavour on offer each day. Expect dishes like the generously sized eggplant parmigiana served with grilled fresco, grilled leek, chimichurri, caramelised balsamic, and a tomato and chili confit. Note that the kitchen closes at 2:30pm everyday for the day service.
---
---
Address: 122 Chapel St, Marrickville NSW 2204
Contact: (02) 9572 8858
Opening Hours: Daily, 7:30am – 3pm (from 8am on Sundays)
---
Reuben Hills
Surry Hills favourite Reuben Hills is still as reliable as ever when it comes to squashing in late-morning, early-afternoon meal. Known widely for their beautifully roasted coffee beans, a pick-me-up here is a must.
Although you could get away with grabbing a juice and one of the excellent brunch options, like soft baked eggs in ranchero sauce, with kale, New York rye, and some add-ons (go for the LP's chorizo).
Address: 61 Albion St, Surry Hills NSW 2010
Contact: (02) 9211 5556
Opening Hours: Daily, 7am – 4pm (from 7:30am on weekends)
---
Henry Lee's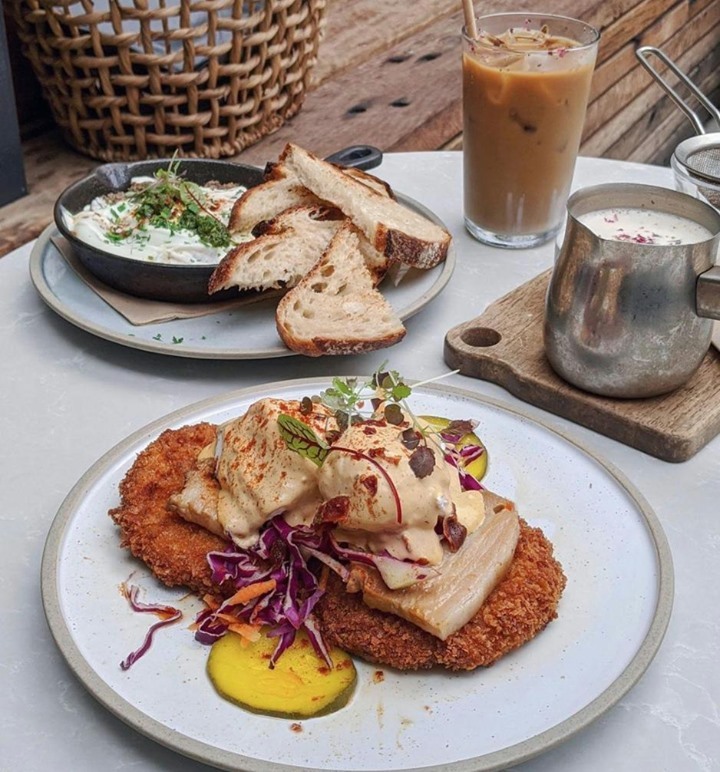 Found on Eveleigh Street, Henry Lee's has quickly risen to become one of the most popular cafes in the inner-city. There's good reason for that, with great looking food that tastes even better served each day for the Sydney brunch crowd.
The venue gets extra points for its easy, breezy courtyard, where the wise ones book ahead so they can soak up the atmosphere while working their way through dishes like forever favourite, 'The Proud Girl' – meatballs on a hunk of sourdough, topped with pesto, scrambled eggs, tomato salsa and whipped ricotta. It's a no-brainer when looking for the best brunch in Sydney.
Address: 16 Eveleigh St, Redfern NSW 2016
Opening Hours: Wednesday – Sunday, 8am – 3pm
---
Paramount Coffee Project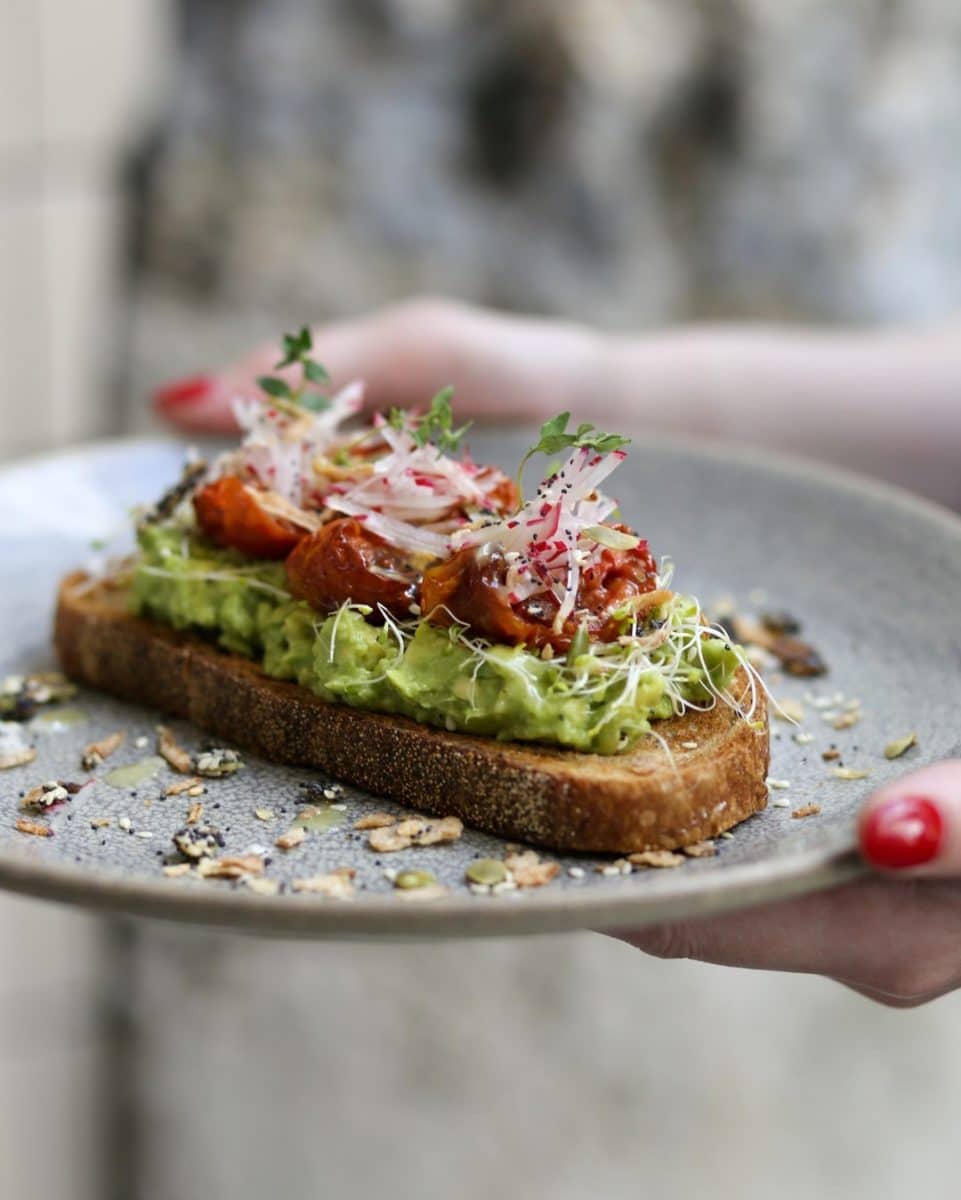 Paramount Coffee Project – or 'PCP' – is not your normal café. It's one of those dramatically designed spaces, defined by high ceilings, exposed brick, and heaps of natural light. The coffee is just as sophisticated. The beans are rotated every four to six weeks, with blends showcased from all over the world.
---
---
And while the coffee takes centre-stage, the food plays strong support. Our favourites: the crumbed egg on toast, or the buttermilk fried chicken waffle. It would be just plain rude not to head there with an empty stomach.
Address: 80 Commonwealth St, Surry Hills NSW 2010
Contact: (02) 9211 1122
Opening Hours: Daily, 7am – 4pm
---
Brewtown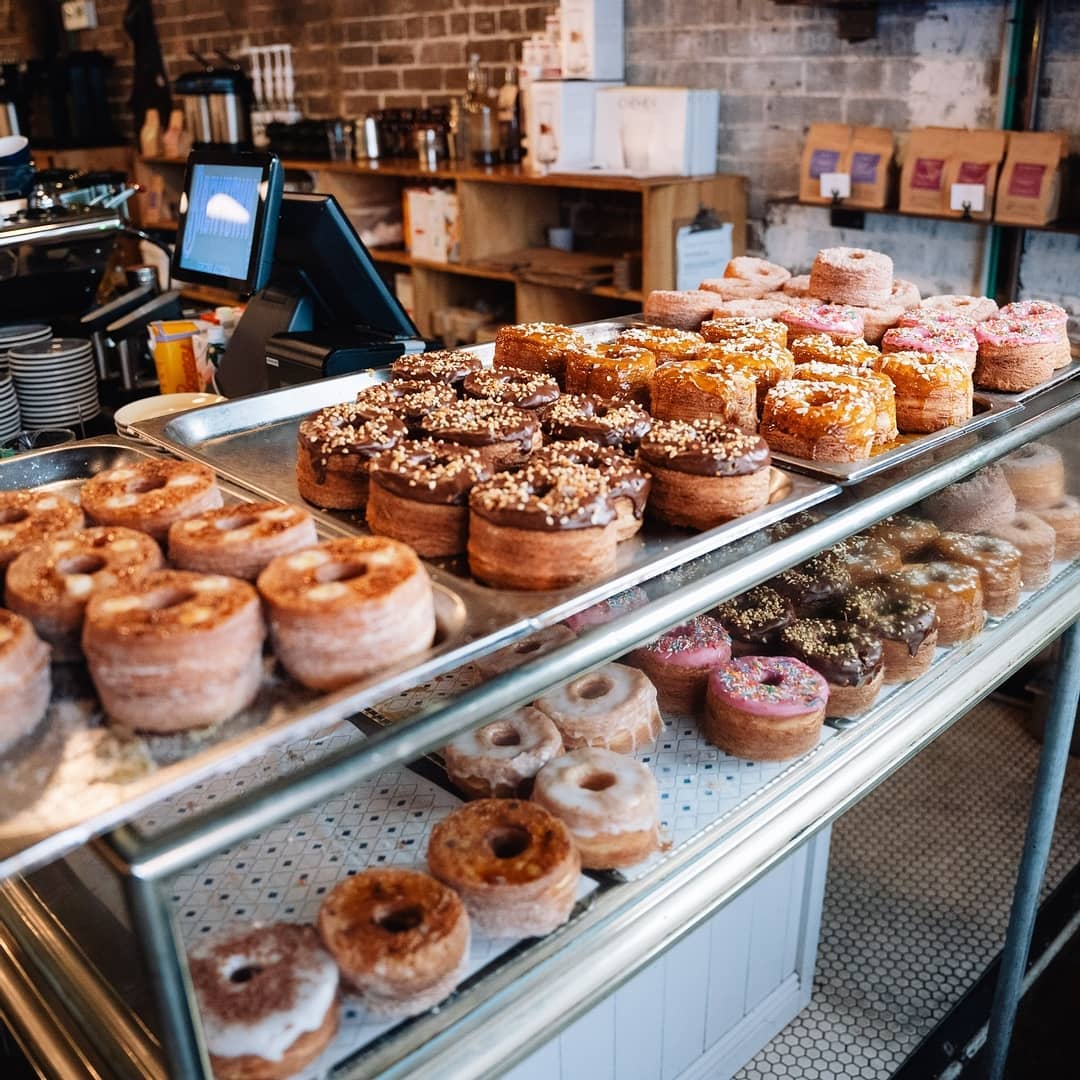 Formerly known as 'Brewtown Newtown', this treasured inner-west café still stands as the spot for some of the best brunch you'd ever find in Sydney.
With specialty coffee on the side, you'll never go astray with a plate of parmesan baked polenta with hummus, pesto, mushroom, a poached egg, and granapadano shaved cheese. Or you can just always pig out on their famous cronuts – some of the best you'll find in Sydney.
Address: 6-8 O'Connell St, Newtown NSW 2042
Contact: (02) 9557 4908
Opening Hours: Daily, 8am – 4pm
---
Rising Sun Workshop
Stick around Newtown and you'll find that the best Sydney brunches don't necessarily mean poached eggs, avo toast, and freakishly large croissants. You can just opt for a big, hearty bowl of ramen and slurp your way well into the afternoon.
That's exactly the appeal of Rising Sun Workshop, which doubles as a motorcycle repair shop so you can watch some choppers get polished while your enjoying that soul-stirring ramen. Although there's more than just ramen here, with dishes like an Hokkaido mushroom bun stacked with egg, cheese, and kimslaw.
Address: 1C Whateley St, Newtown NSW 2042
Contact: (02) 9550 3891
Opening Hours: Sunday – Tuesday, 8am – 4pm; Wednesday – Saturday, 8am – 10pm
---
---
---
Calla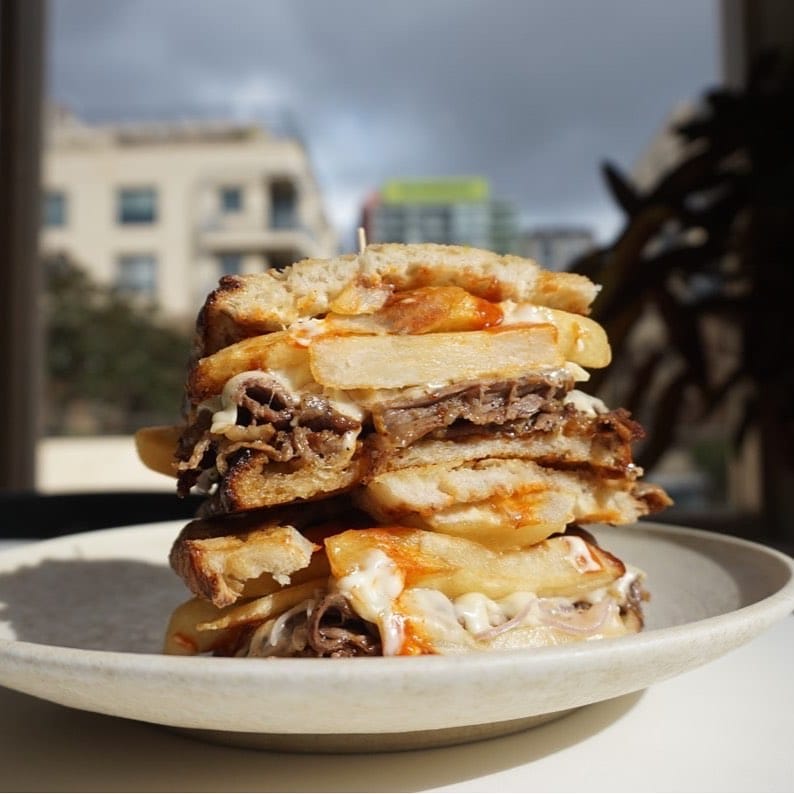 One doesn't often think of Pyrmont when they're looking for the best brunch in Sydney, but Calla is an exception. With a formidable team in the kitchen, this highly creative, consistently delicious café hits hard every time. You wouldn't expect anything else from Max Bean (ex-est, ex-The Bridge Room) and Viki Melitas (ex-Palings, ex-Little Bistro).
Expect dishes like sherry caramel glazed roasted mushrooms with native Australian dukkah, avo, fried egg, chilli jam, and quinoa cracker on toast. It's not what you'd usually find at your usual café, and its often a cut above the rest, and that's even before we get to those deliciously stacked sandwiches.
Address: Shop 14/45-55 Harris St, Pyrmont NSW 2009
Contact: (02) 8592 6408
Opening Hours: Tuesday – Friday, 8am – 3pm; weekends, 8am – 2pm
---
Three Blue Ducks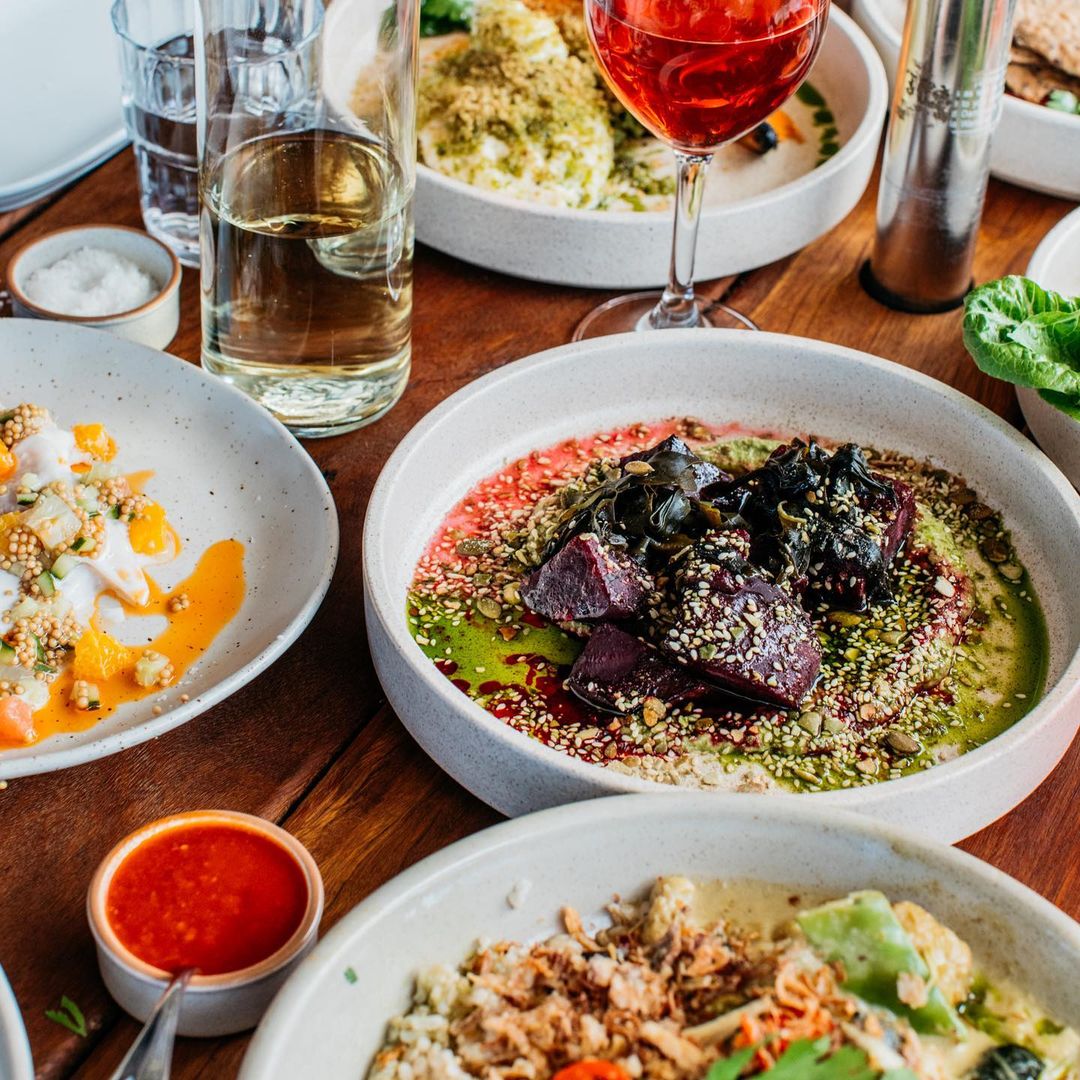 Three Blue Ducks is more like an empire than a humble brunch spot now, but that doesn't change what's on offer here. It's consistent, beautiful produce worked up into equally stunning dishes by a kitchen that prides itself on sustainability.
Whether you're dining in Bronte or Rosebery there's plenty to get your taste buds around. We prefer the beachy OG, with dishes like the black sausage served with scrambled eggs, dill, cucumber yoghurt, red currant jam, and sourdough.
Address: 134 Macpherson Street, Bronte NSW 2024
Contact: (02) 9389 0010
Opening Hours: Daily, 7am – 2:30pm
---
Efendy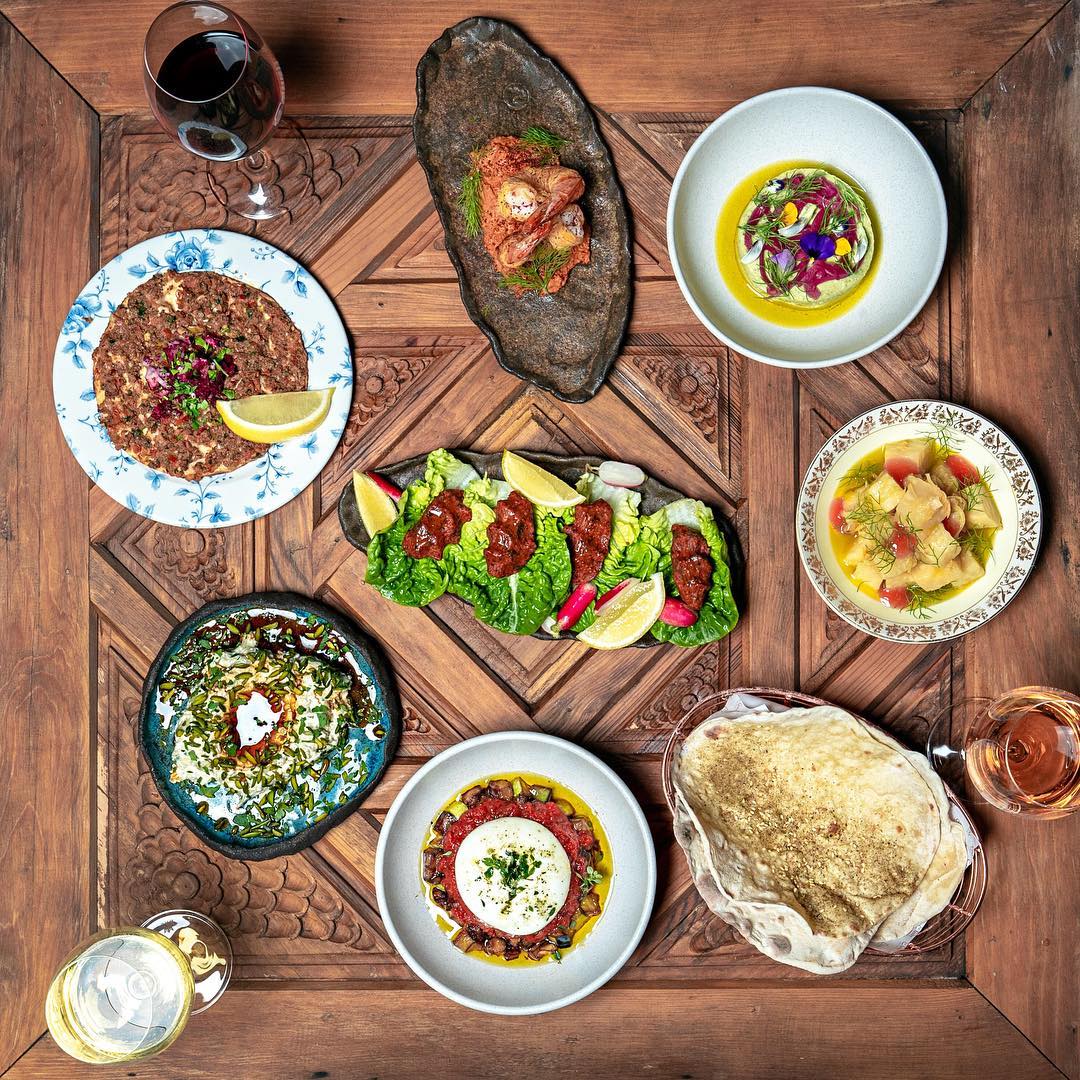 Head on over to Balmain if you want to dine at one of the best Turkish restaurants Sydney has ever seen. Chef Somer Sivrioglu has done plenty to turn this quiet former Victorian mansion into a space of sheer opulence. And we're not talking about gold trimmings. The opulence is on the plate.
The full traditional Turkish breakfast wins every time, offering up a platter of various dips, pide, baklava, cheeses, and meze, served up free-pour Turkish tea.
---
---
Address: 79 Elliott Street, Balmain
Contact: (02) 9810 5466
Opening Hours: Weekends, 12pm – 3pm
---
Shuk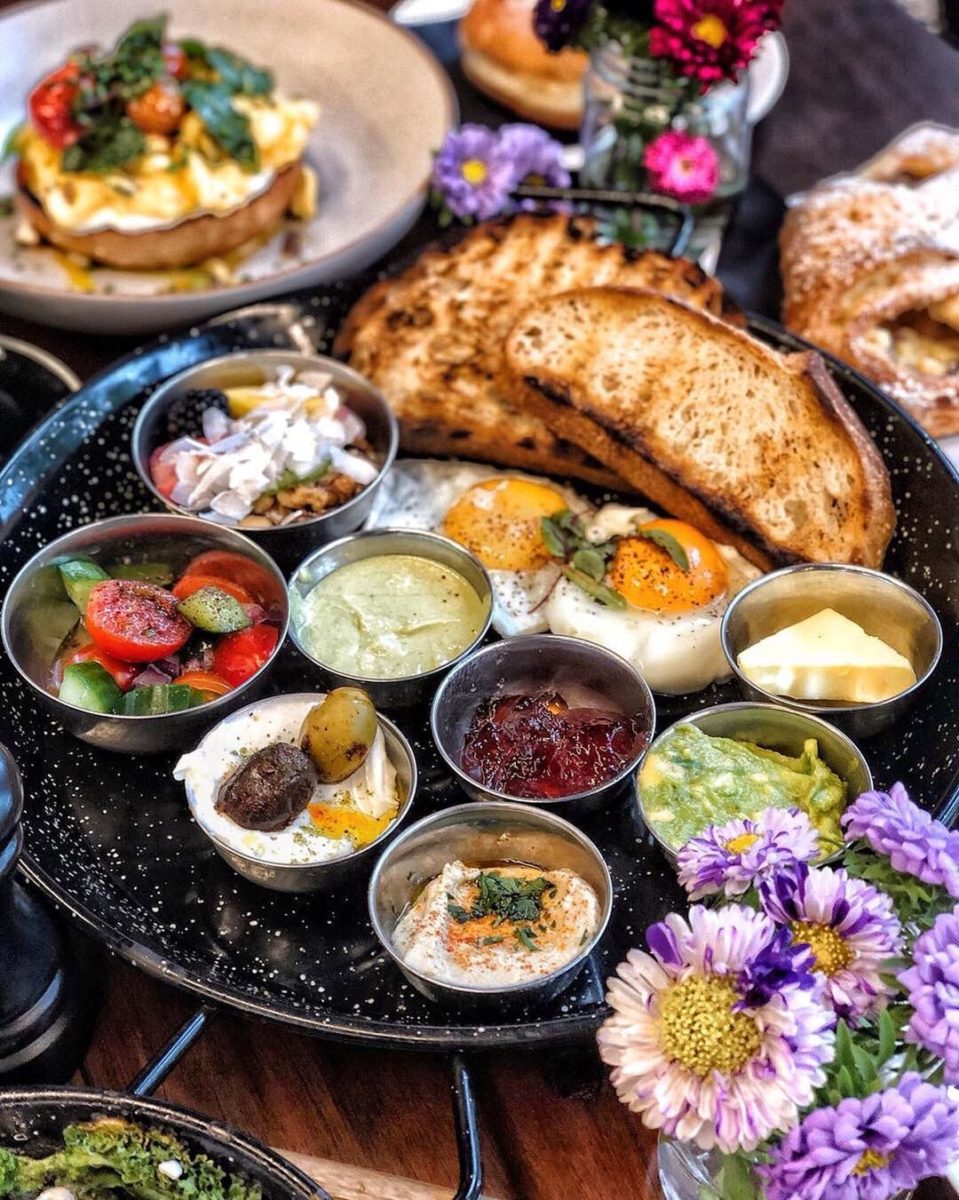 Now with a few neighbourhood-style venues dotted across Sydney, Shuk has grown into one of the most popular places for brunch in the city. The North Bondi original is still a favourite, but the cosy space on the backstreets Elizabeth Bay is special.
The traditional Israeli breakfast will never fail, but it's hard to overlook the classic shakshuka, which for a few extra bucks can include either lamb, smoked eggplant, chorizo, kale, sujuk, and/or a halloumi stack.
Address: 61-69 Roslyn Gardens, Elizabeth Bay NSW 2011
Contact: 0413 236 712
Opening Hours: Daily, 6:30am – 3pm (3:30pm on Friday and Saturday)
---
The Grounds
This listing counts for two venues now; although both offer entirely different menus.