One of the best feelings you can achieve in winter is that warm soup belly. The kind only possible after a hearty, hearty feed which spreads up to your chest, then limbs, as slowly but surely, it lulls you into a a comfortable nap. And for those of you currently in Melbourne right now, there's some very good news vis–à–vis the aforementioned warm soup belly.
Melbourne "… keeper of secrets…" on all things Japanese dining/drinking related, Master Den, has just kicked off a limited culinary pop up (or poppu uppu… yes, really…). As of Wednesday the 20th of June, you will be able to experience authentic Japanese nabemono dining at the site formerly home to Kappo.
Nabemono or hot pot dining, for the uninitiated, is when a pot is filled with simmering broth, allowing a whole range of meats, vegetables, and even noodles to be added throughout the course of the meal and cook. Think of it as an Eastern variety of fondue without the cheese, so it's a touch healthier, and hosts a whole lot more flavour.
---
---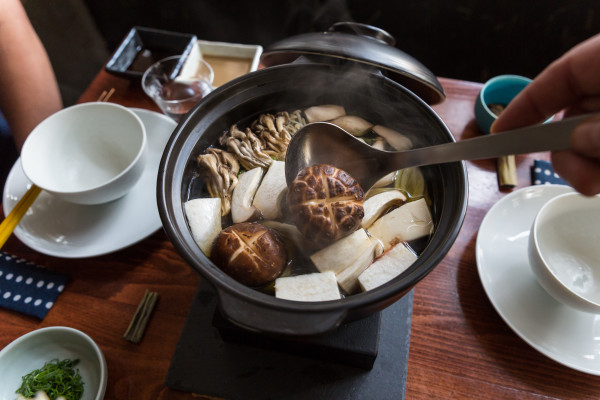 There are dozens of different hot pots available, each with a distinct flavour and style. Master Den has created interpretations of shabu shabu, a Hokkaido-style seafood nabe, and an "… elegant…" Japanese mushroom hot pot.
The Shabu Shabu will be a bit heavy, featuring a konbu flavoured broth, and accompanied with a big ol' plate of wagyu rump, topside, and sirloin six plus. There's also an option to order speciality cuts like rump cap, scotch fillet, and a cultural favourite, Cube roll.
And then there's The Hokkaido-Style Seafood Nabe, which showcases a "… light miso flavoured broth… filled with Tasmanian Salmon fillet, local mussels, and mackerel…". Or, perhaps you'd like to add some "… local flathead fillets, New Zealand pippies, Coffin Bay Oysters, Crystal Bay prawns, and Harvey Bay scallops…". The world is yours.
The Special Mushroom Hot Pot will boast of a konbu, sake, and soy flavoured broth, followed up the ranks by some silken tofu, and a "… selection of Japanese mushrooms…", including shiitake, enoki, shimeji, oyster, and king brown.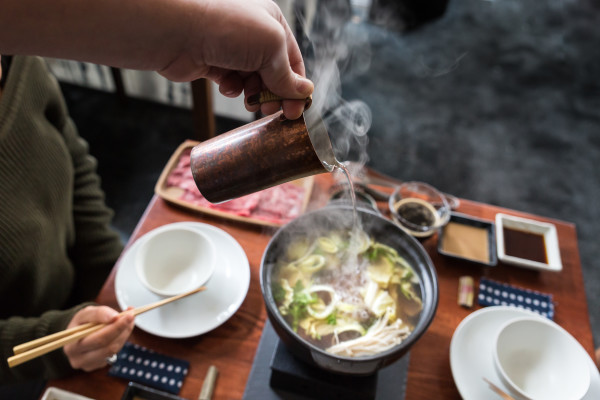 All three hot pot varieties are served with an assortment of vegetables and accompanied by house-made special sauces, before reaching the triumphant finale which entails helpings of Udon noodles– handmade by Udon specialist, Izakaya Den and Nama Nama's original Head Chef, Yosuke Furukawa. And before you ask, yes, there will be a virtually endless selection of Japanese beers, themed cocktails, plus sake to be downed. All preceded by a zealous "Kampai!".
What are you waiting for?
Master Den's Poppu Uppu opens from Wednesday the 20th of June at 1 Flinders Lane, Melbourne. The Poppu Uppu will be trading Mondays to Fridays, 5PM to 10PM… until it doesn't. So hurry on down. Bookings are encouraged, but walk-ins are more than welcome.
---
---