Vibrant, friendly, and home to some of the best restaurants in Melbourne, Collingwood is easily one of the city's most exciting suburbs. No matter if you're after fine dining, a pub meal, or some simple home-style cooking, this eternally trendy enclave steps up to any occasion.
One of the oldest and smallest suburbs in Melbourne, you'll find Collingwood just 3 km from the heart of the CBD and home to "the coolest street in the world" in Smith Street, filled with shopping and dining options aplenty.
Having lived and grown up in Collingwood for much of my life, I have an intimate knowledge of the suburb and its hospitality offering (most of Melbourne's best cocktail bars are in Collingwood and Fitzroy), giving me a solid background to answer the question: what are the very best restaurants in Collingwood? Let's get into it.
Please note this list is not ranked (except for our top pick).
---
---
Boss Hunting's Favourite Restaurant In Collingwood
1. Smith St Bistrot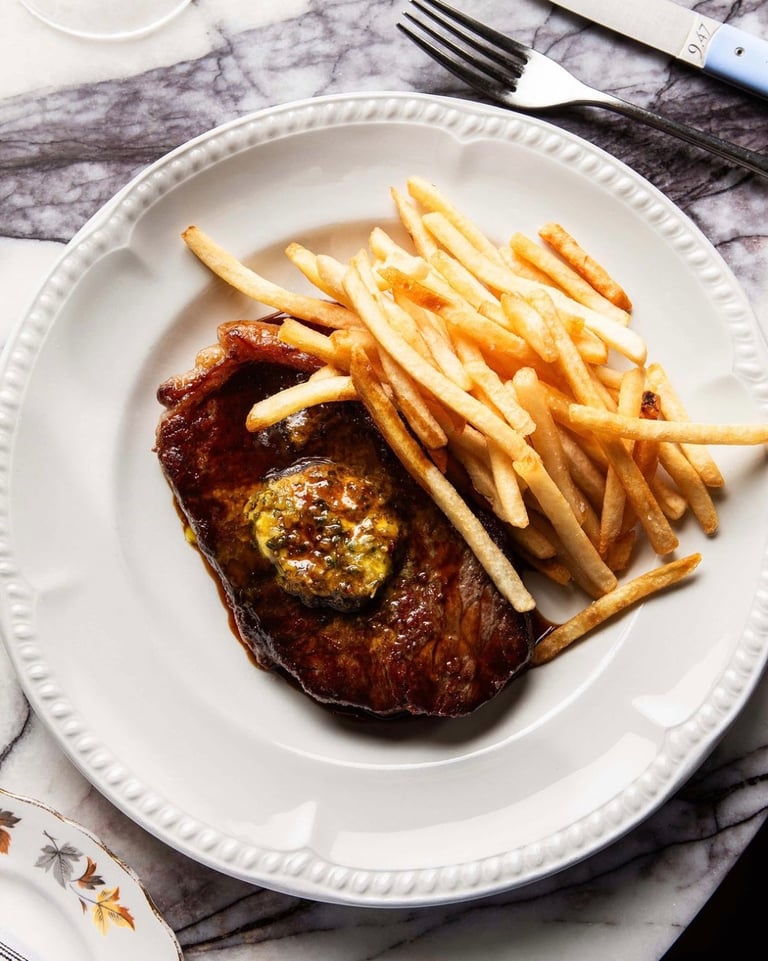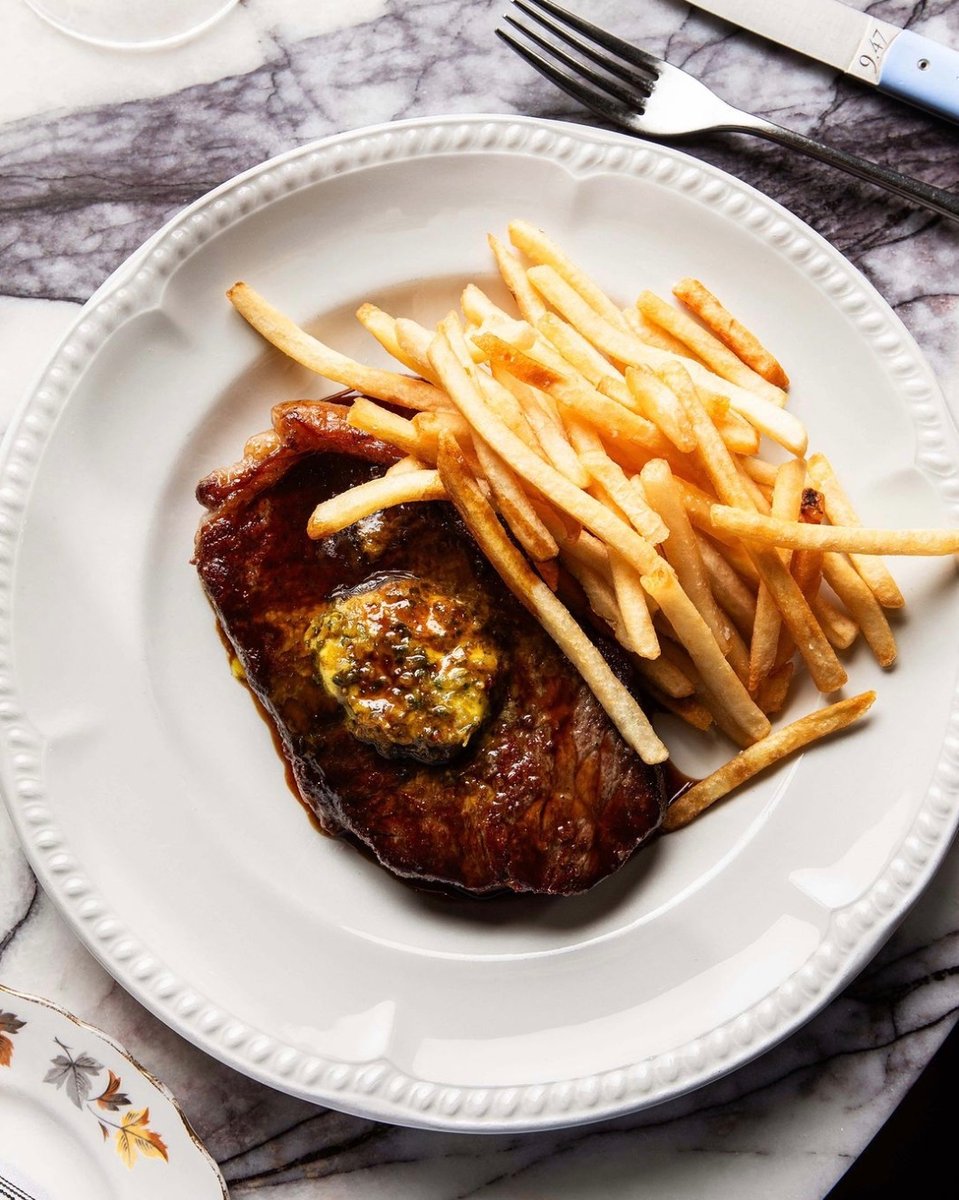 Scott Pickett's French-inspired Smith St Bistrot opened early in 2022 to much fanfare and anticipation and with nearly two years since its launch, I'd say the venue has met and exceeded expectations. The fit-out is fantastic (complete with antique table lamps, rewired with batteries to eliminate cumbersome cords), the upstairs dining room is a grandeur-drenched step back in time, and the menu is excellent.
Favourites from the kitchen include the classic steak frites, yellowfin tuna tartare and the rich, moreish snails served with parsley, garlic and puff pastry. The wine list is equally impressive — as are the cocktails — so if you're after a special date night or birthday venue, you won't regret Smith St Bistrot.
---
The Best Collingwood Restaurants Right Now
2. Jim's Greek Tavern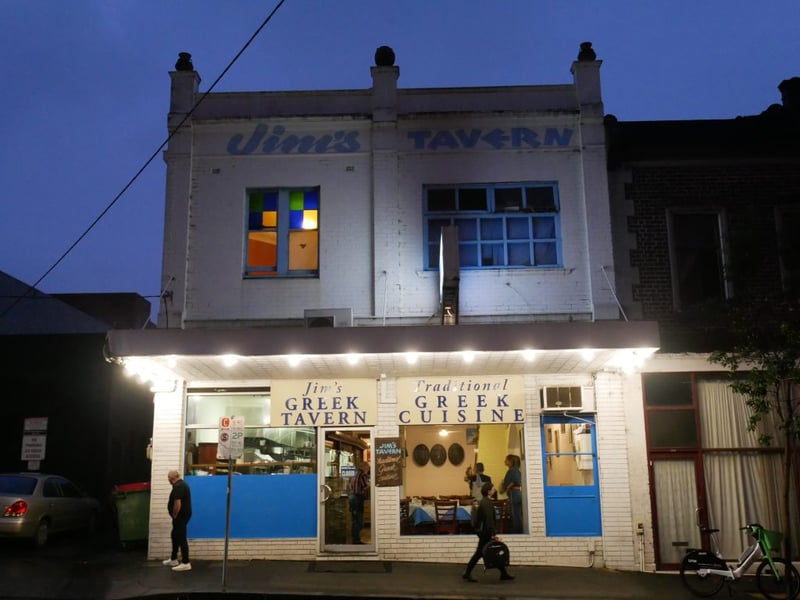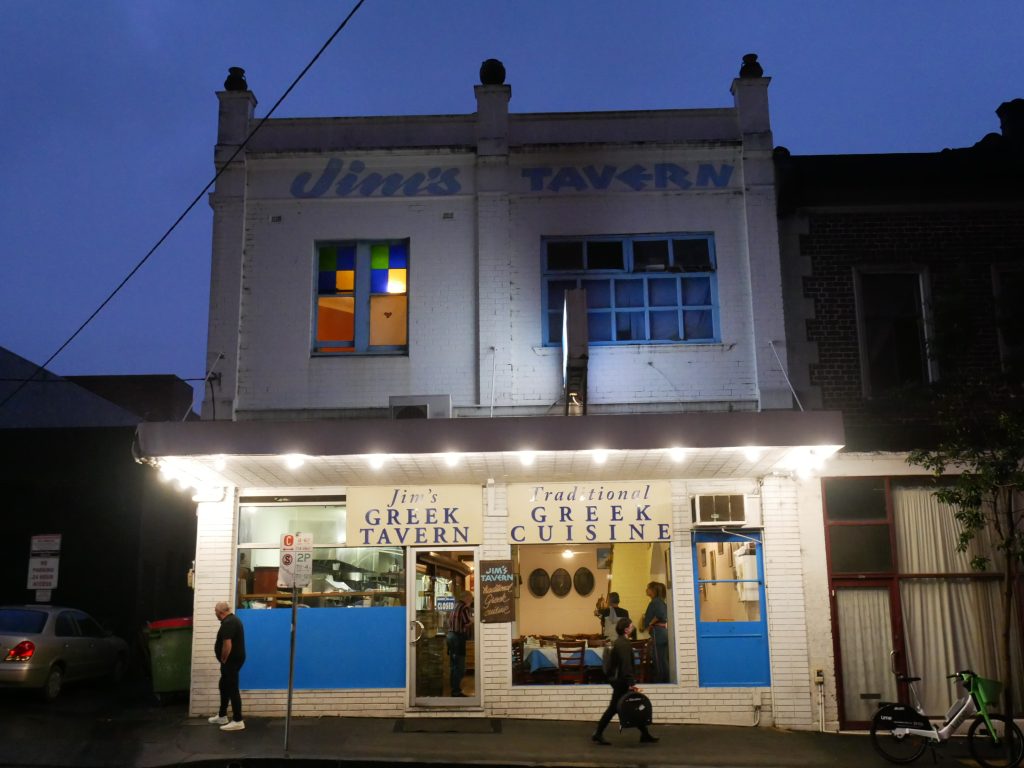 It's noisy, high-paced and a little frantic, but everyone loves Jim's Greek Tavern and it's packed with diners almost every night of the week.
This local favourite is as unpretentious as Melbourne restaurants come (you don't need a website when you've been around for four decades), but the food is as authentic as it is excellent, with dishes like the saganaki, slow-cooked lamb, fried calamari, and charcoal-cooked King George whiting winning hearts and minds for more than a generation. If that wasn't enough, the venue is BYO so you can leave the car and home and settle in for a proper evening with friends.
---
3. Le Bon Ton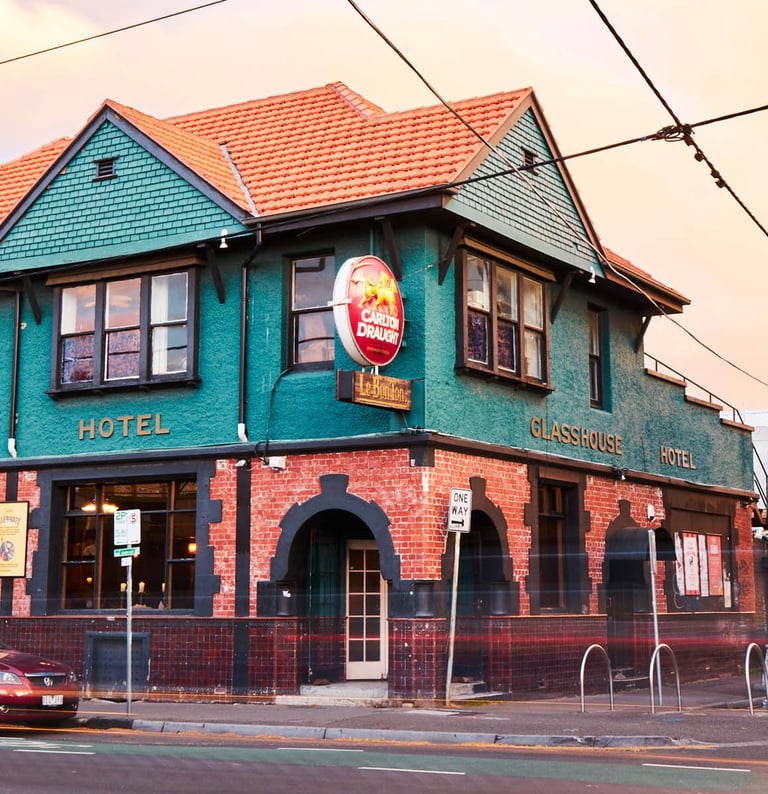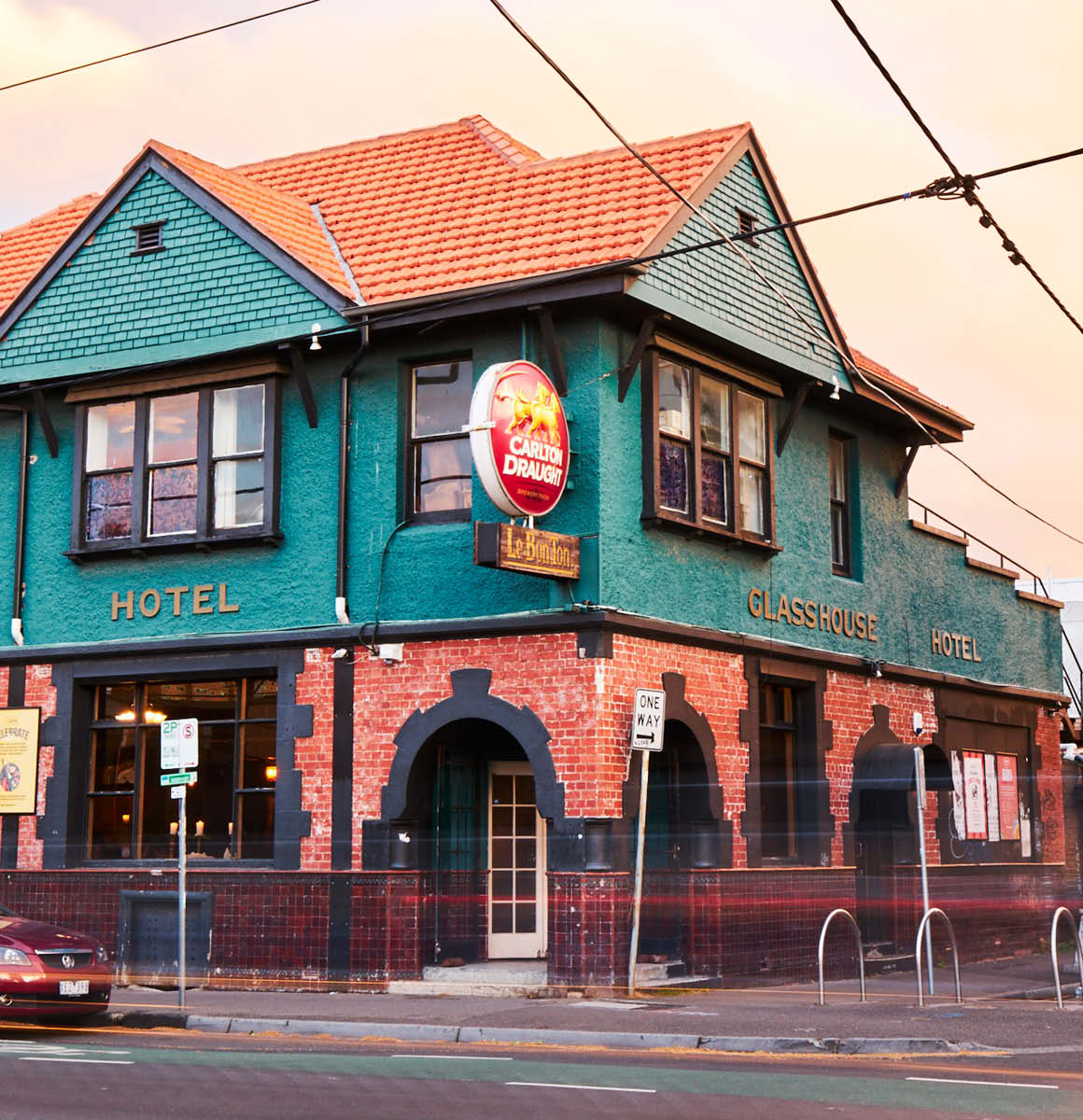 A short walk from Smith Street, Le Bon Ton draws inspiration from the smokehouse and cocktail bars of New Orleans, smoking its wide selection of meats over ironbark and fruit woods for a flavour you'll struggle to find anywhere else in Melbourne.
With beef brisket, pork shoulder, lamb ribs, burgers, and more, folks tend to come for the food and stay for the drinks. The cocktails are stiff but well-mixed, with more than enough in-house interpretations of classics for you to work your way through.
---
4. Chotto Motto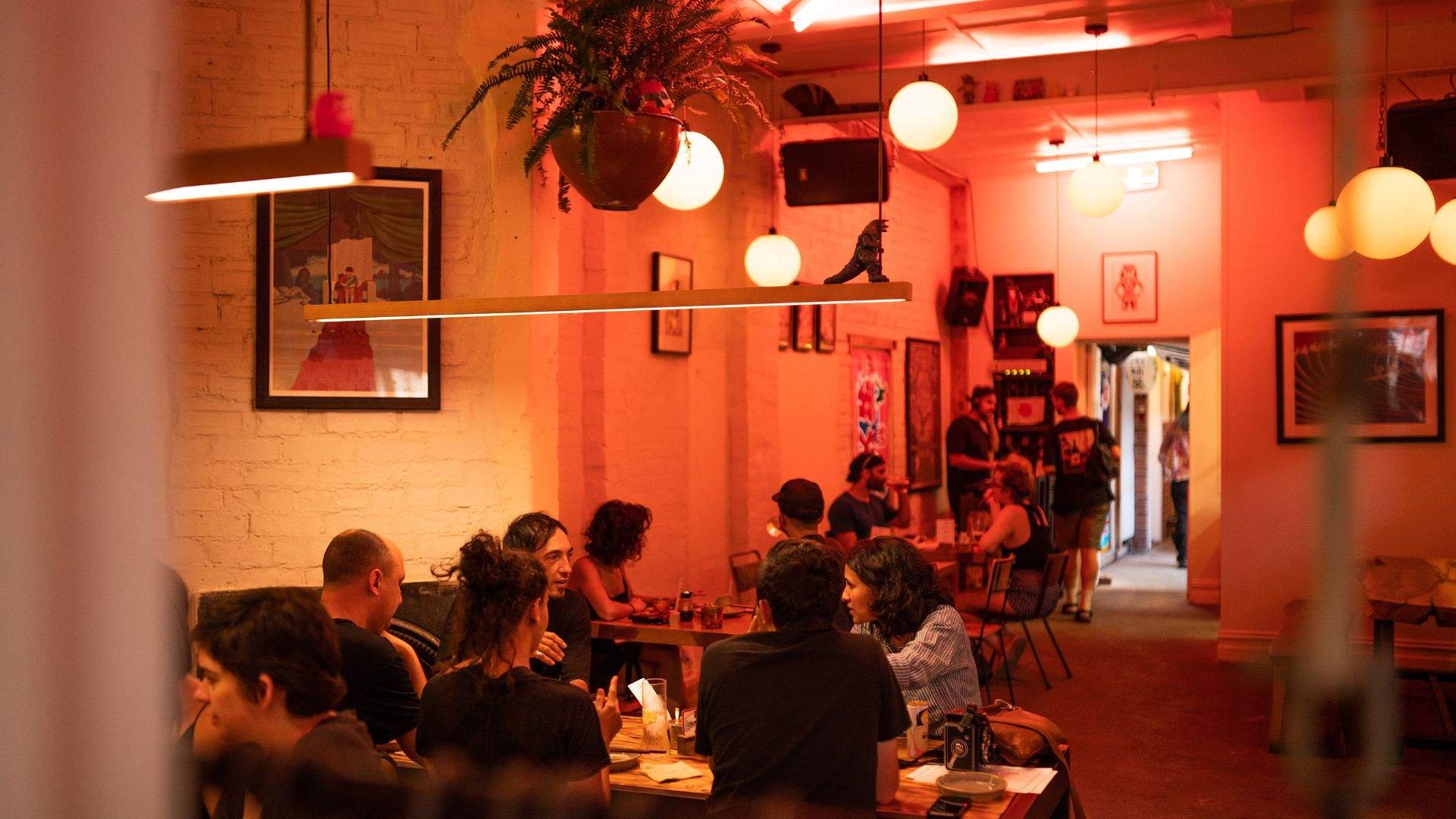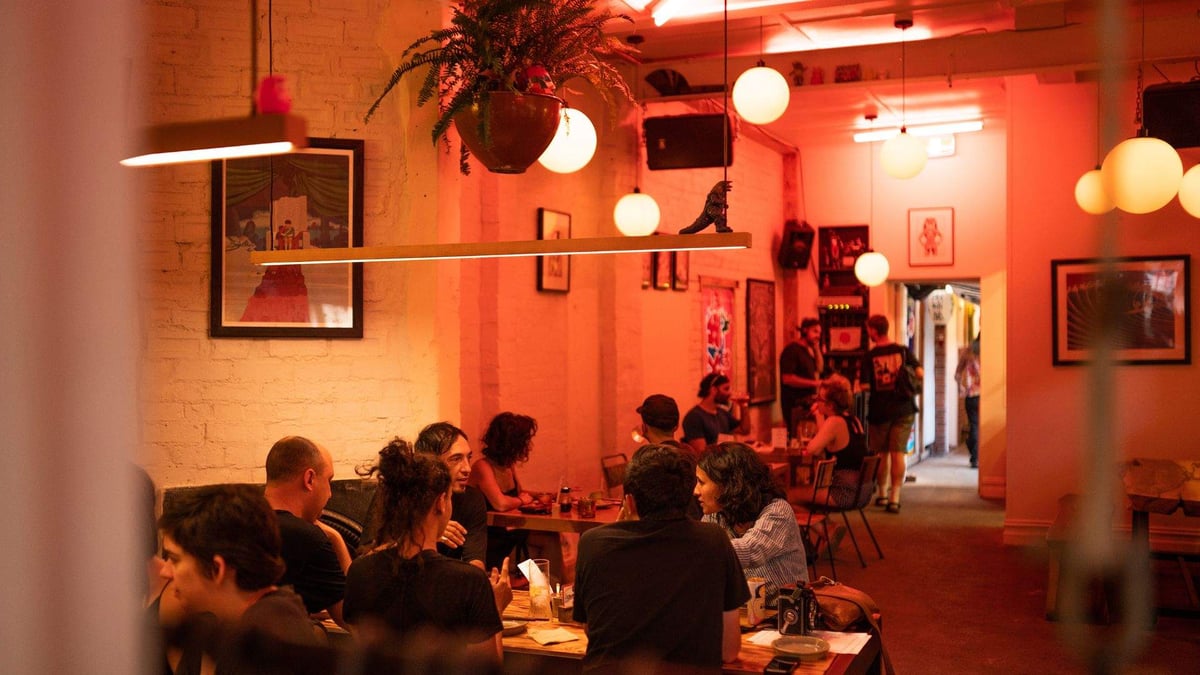 Impossible to miss thanks to its eye-catching black and white mural exterior (the stylised Japanese characters likely a nod to the nearby Keith Haring mural), the inside of Chotto Motto isn't one you'll forget either, thanks to its imported Japanese vending machines and Sega video games.
The menu isn't massive, but it's full of great dishes — some of which you'll recognise, and some that you might not — with the kitchen specialising in Hamamatsu gyoza. It's a fun spot for a bigger group or a no-fuss weeknight meal with a friend, and if you're partial to a beer there's a solid offering of Japanese craft beers.
---
5. Hope St Radio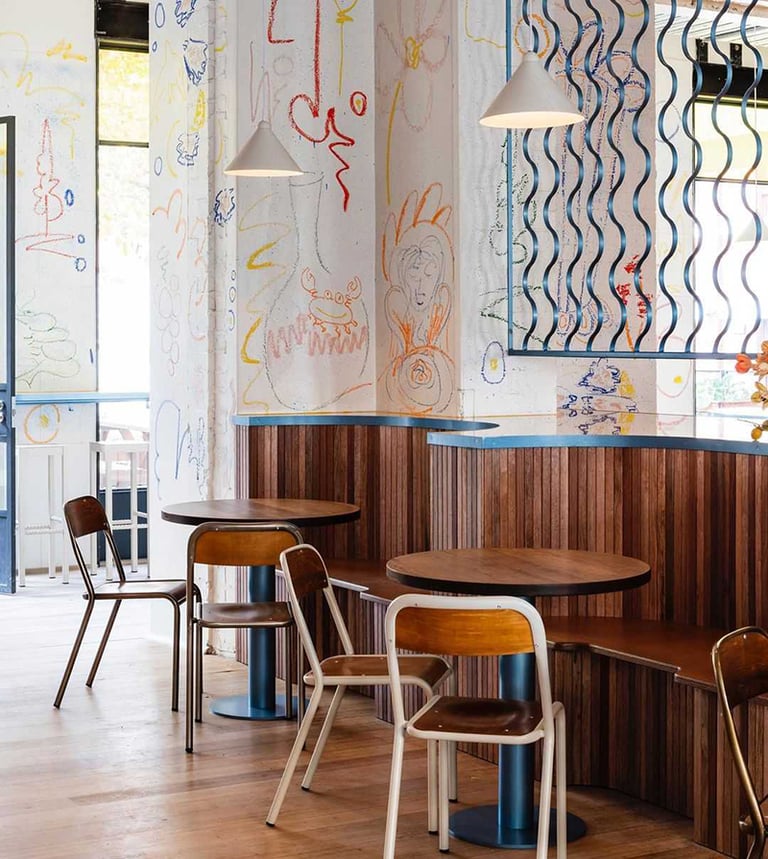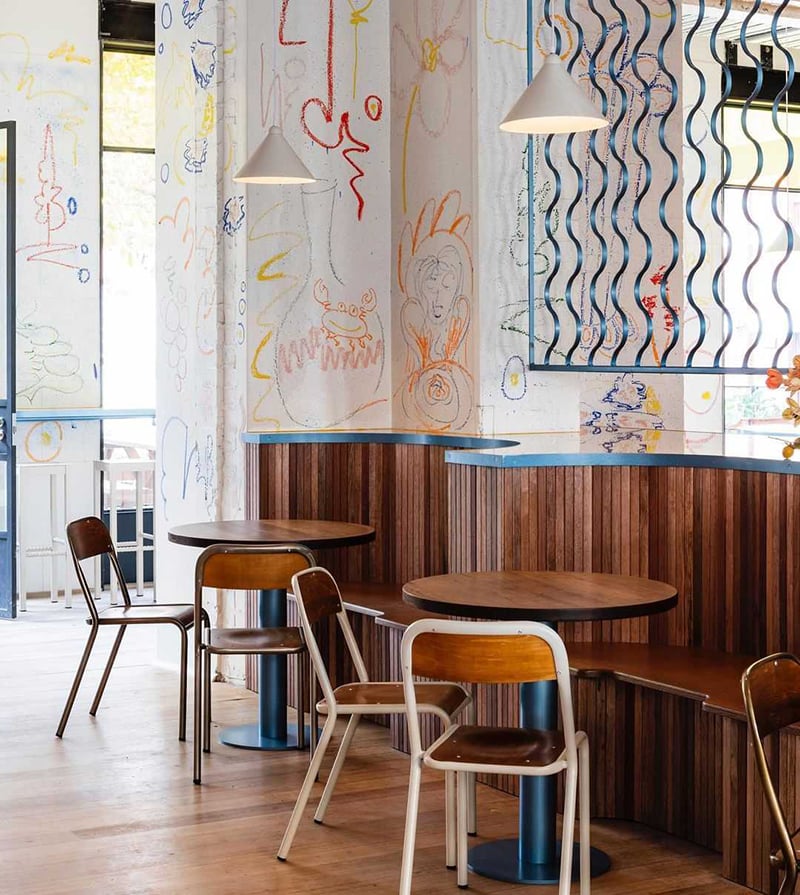 One of the most popular venues in the area, Hope St Radio is a community radio station that opened the doors of its wine bar a couple of years ago, making the most of the campus-like courtyard of Collingwood Yards.
The food is Mediterranean-influenced with a solid selection of pastas, while the wine list focuses on minimal-intervention bottles. A great venue for after-work drinks, with the option of a later night ever-present thanks to a rotating line-up of DJs.
---
6. IDES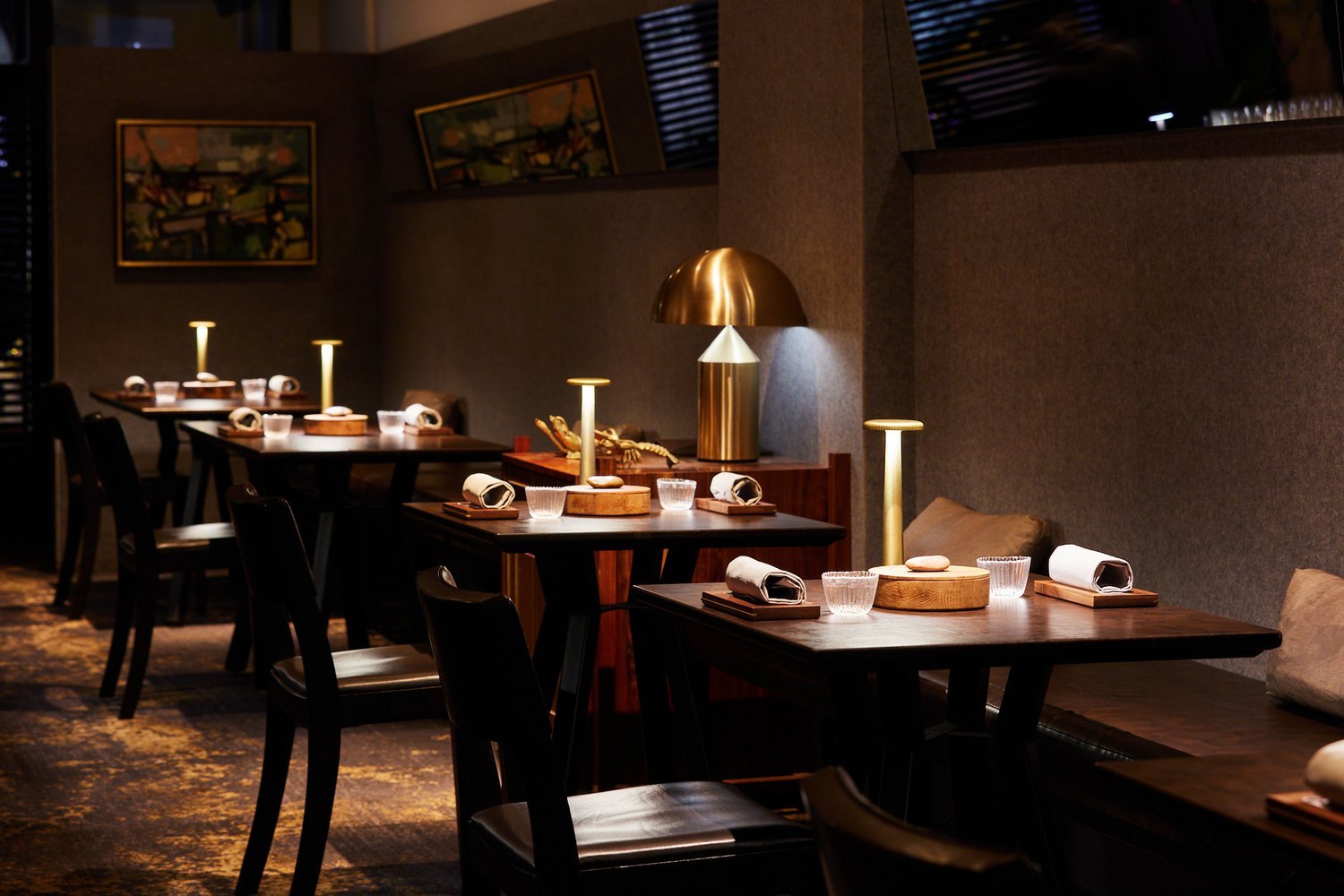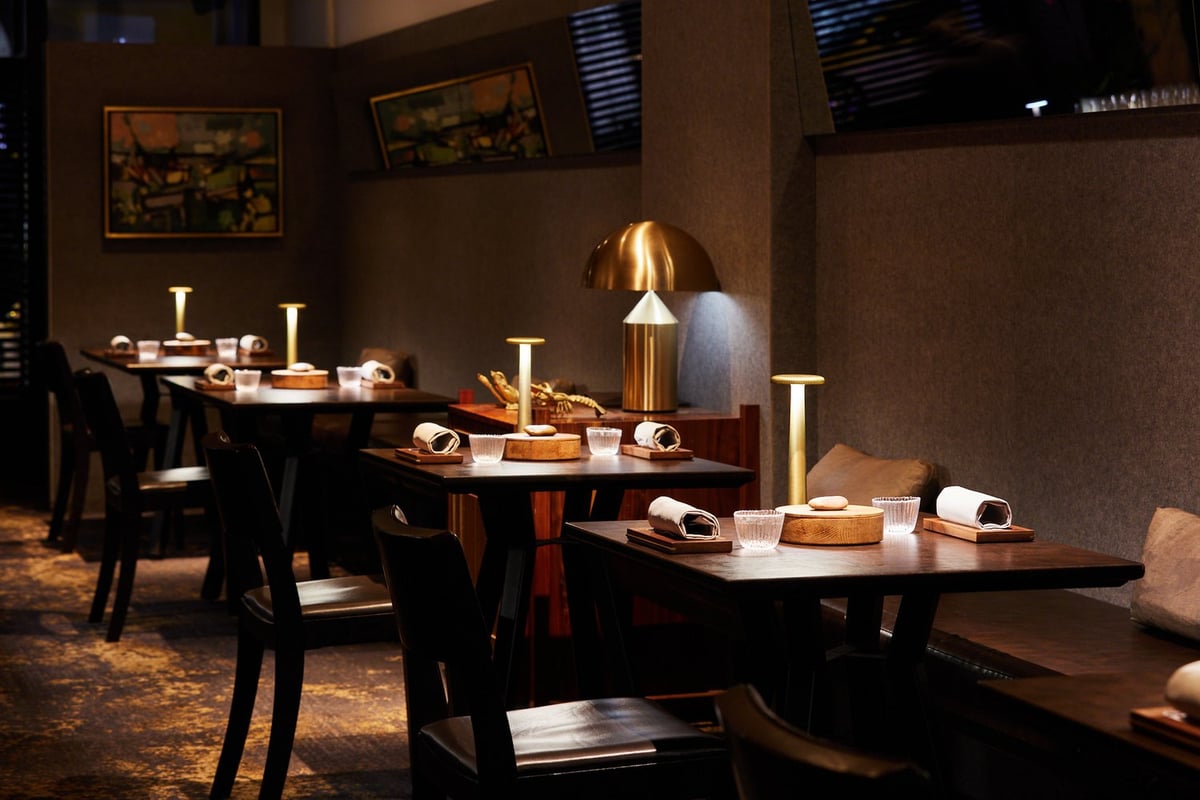 Collingwood's trendy, casual restaurant scene does have a few finer-dining jewels in the crown and IDES is one of the most treasured, opened by former Attica sous chef Peter Gunn.
With a background like that, it's little wonder IDES earned a recommendation from the folks at World's 50 Best thanks to its experimental approach to menu building. You'll have the option of either four or six courses, but exactly what that includes changes regularly.
---
7. Thin Slizzy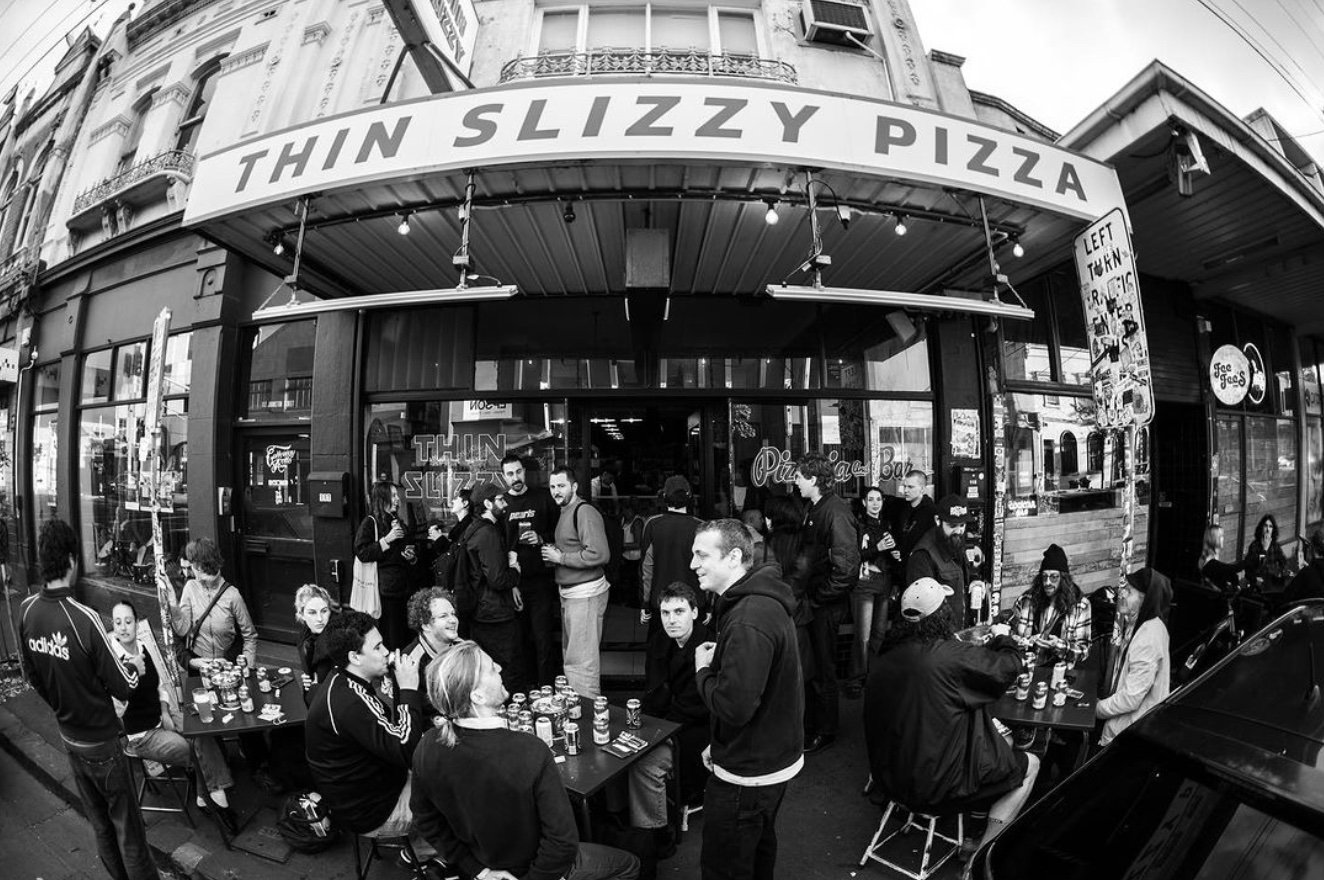 In the quiet stretch of Johnson Street between Hoddle and Wellington, Thin Slizzy has taken up the relaxed, yet high-quality pizzeria mantle that was left in tatters by the once-great Lazer Pig (it's one of the best pizza restaurants in Melbourne).
This isn't a massive venue, so it's more popular as a takeaway spot with folks often walking a few minutes to enjoy their pizza at Victoria Park, but the quality of the slice is as unquestionable as the creativity of their names.
---
8. The Horn African Cafe & Restaurant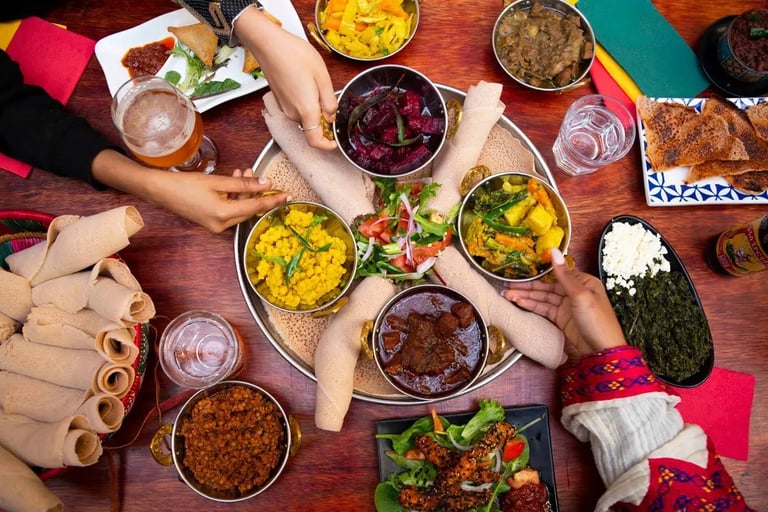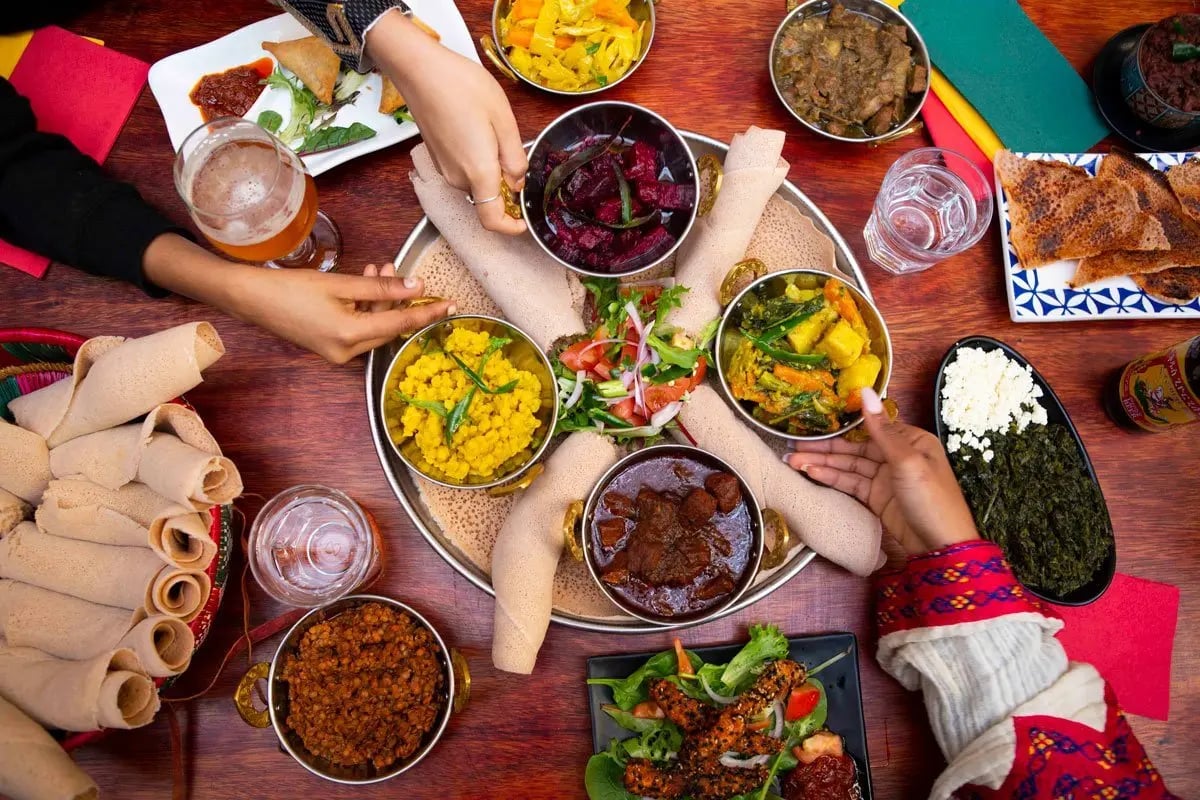 Outside of Footscray, there aren't too many high-quality Ethiopian restaurants in Melbourne, but The Horn African Cafe & Restaurant is a rare treat.
A proper family-run establishment, if you don't arrive expecting Collins Street service you'll love what arrives on the enormous injera plates, loaded with different tibs, shiro wat, and fir fir. If you're thirsty, there is plenty of Ethiopian beer, which nicely compliments the food and live afro jazz performances that take place on a regular basis.
---
9. Wabi Sabi Salon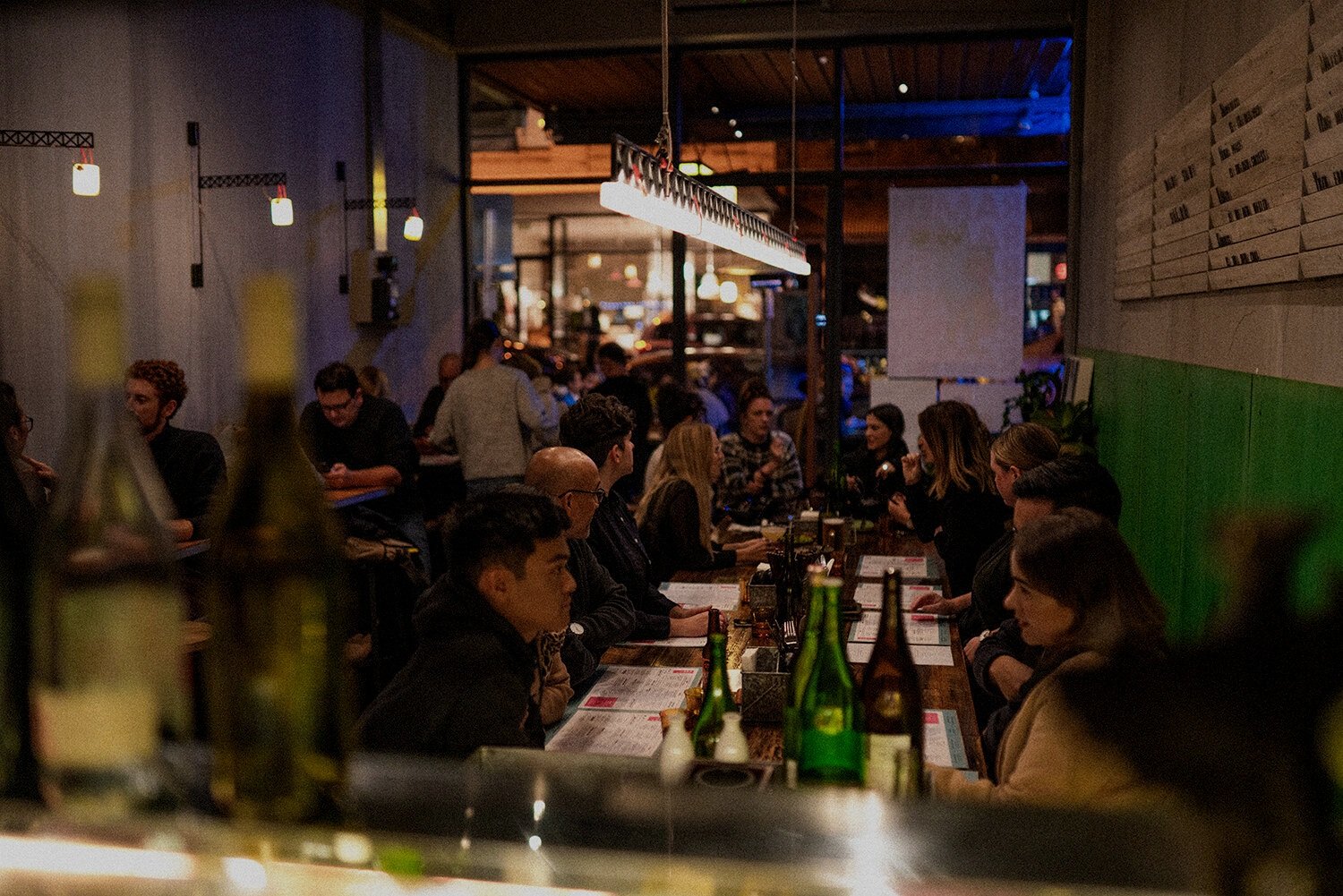 Collingwood is spoilt for choice when it comes to Japanese restaurants, and Wabi Sabi Salon more than earns its place on this list as a cosy spot to tuck into a bowl of ramen. To menu has all the classics you'd hope to see (with some surprises like the octopus carpaccio), while the drinks list offers plenty of sake, plum wine and Japanese beer. More than worth a visit.
---
10. Hotel Jesus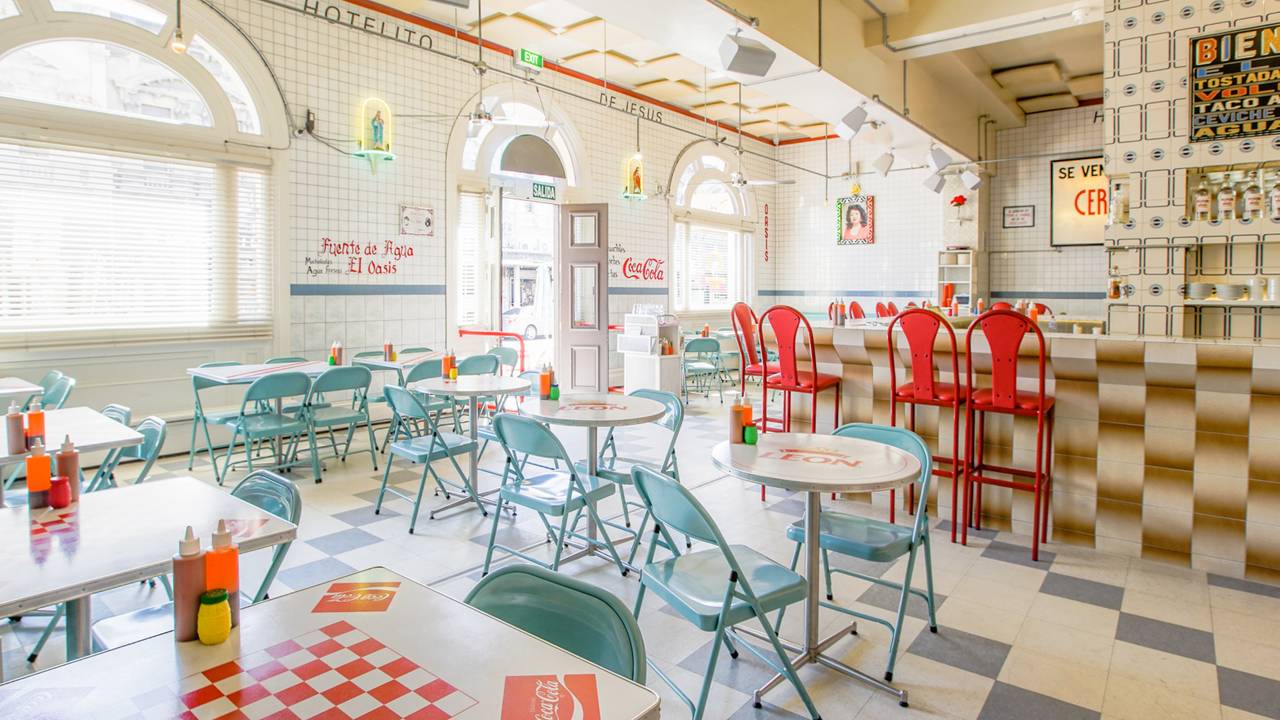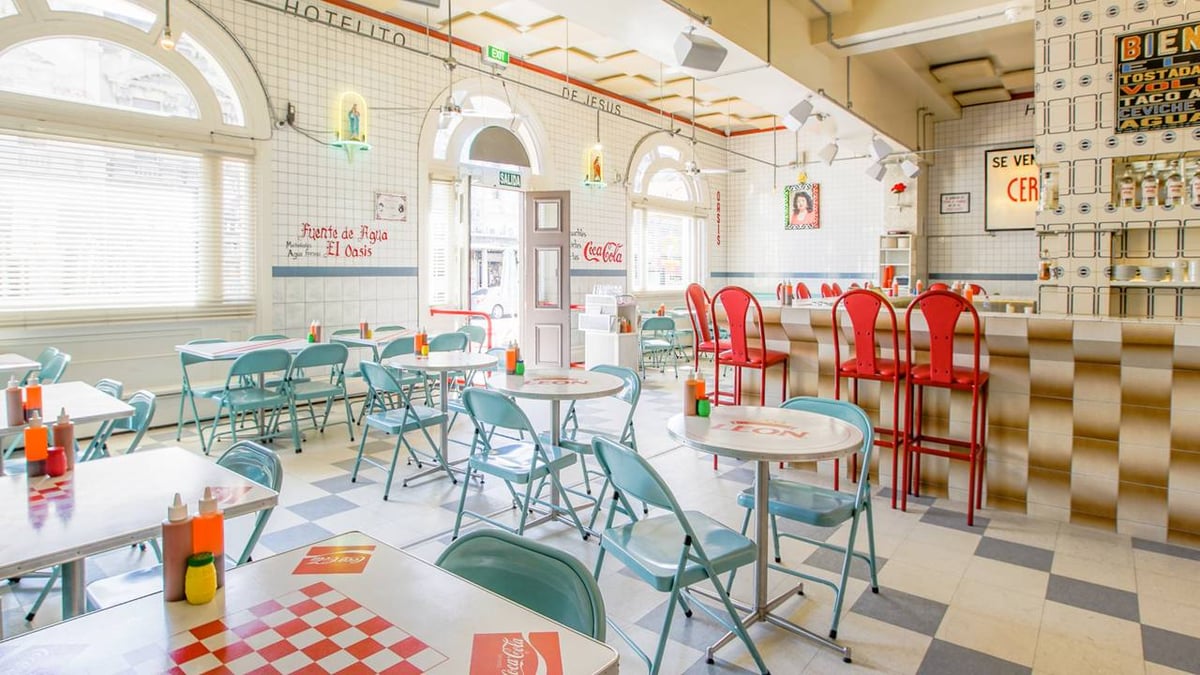 The multicoloured taquerias of the 1970s echo through Melbourne's most formidable Mexican restaurant, Hotel Jesus. The popular venue, from Mamasita owners Nick Peters and Matt Lane, opened in the old Collingwood Post Office back in 2016, transforming the historic building into an eye-catching, light-filled space that's absolutely heaving with top-quality tacos, volcánes and enchiladas.
You'll be hard-pressed to find a discerning Melbourne diner who hasn't already worked their way through Hotel Jesus' manageable list of food options and sank more than a few Oaxaca Old Fashioneds while they were at it.
---
How Boss Hunting Chose Collingwood's Best Restaurants
Growing up in the inner north of Melbourne, Collingwood was where I spent many of my childhood years and have lived there for three of the last four years. It's safe to say I know Smith, Johnson and Langridge Streets like the back of my hand and have dined multiple times at all of the restaurants on this list.
For more on how we put together lists like this please have a read of our editorial policy.
---
Did you find this list helpful? Check out some of our other Melbourne dining content.
---
Frequently Asked Questions
What is the best restaurant in Collingwood?
There are many excellent restaurants in the neighbourhood, but Smith St Bistrot is the best restaurant in Collingwood.
Does Collingwood have good Japanese food?
Collingwood has plenty of great Japanese restaurants, with our favourites being Chotto Motto and Wabi Sabi Salon.
What is the best pizza restaurant in Collingwood?
Currently, the best pizza restaurant in Collingwood is Thin Slizzy on Johnson Street.