It's done. What will likely be the biggest fight in recent history has been tentatively confirmed for a date in late August between Floyd Mayweather and Conor McGregor.
The much-hyped showdown has been coined 'The Billion Dollar Superfight' and has already been approved by the Nevada State Athletic Commission. With the official announcement expected shortly, we've broken down the head-spinning numbers for you to help get you up to speed with how Mayweather and McGregor fair against each other.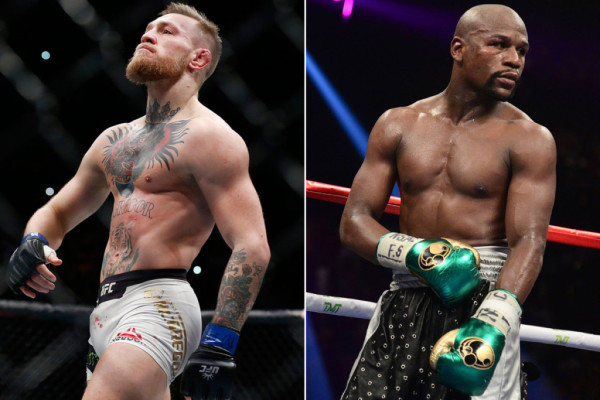 Age:
Mayweather has recently cracked the 40th milestone, coming out of hibernation for his first fight in two years. McGregor is 12 years younger, but despite having youth and agility on his side, can he make a successful switch from UFC over to Mayweather's 12-round boxing code?
---
---
Weight:
As a light-middleweight fight, the category's limit is 154 pounds. McGregor, who fights at 155 pounds in UFC, should adapt comfortably. Both will sport 10-ounce (283 gram) gloves.
Previous Records:
Absolutely dominating his career statistics, Mayweather has an impressive 49 professional wins under his belt, 26 of which being official knock outs. He has won five-division world championships in his respective code. UFC hot-shot Conor McGregor, however, has won only 21 of his 24-fight rap sheet, 18 by way of knock out.
Net Worth:
Earning a whopping $700m USD in career earnings, Mayweather himself boasts a net worth of $340m USD. This is barely comparable with McGregor's net worth of just $34m USD, as confirmed by Forbes.
Payout:
It's not called the 'Billion Dollar Superfight' for nothing, with pay-per-view totals expected to hover around this $1bn USD mark. Dana White, President of the UFC, has estimated that McGregor's pay check will be around $100m, while Mayweather's will likely be much higher.
Ranking:
Mayweather's bout with Manny Pacquiao in 2015 was dubbed the 'fight of the century', earning a world-record $415m USD. As previously mentioned, the superfight is already expected to double this amount. Floyd has also won the second and third biggest fights in history, while Conor has headlined two of the three most purchased pay-per-view UFC fights of all time.
Venue:
Opened in May 2016, the T-Mobile Arena in Las Vegas, Nevada will host the much-anticipated showdown. In a move away from Mayweather's usual stomping ground of the MGM Grand Garden Arena, the new digs will host 20,000 spectators and is co-owned by MGM Resorts International and Anschutz Entertainment Group.
Costs:
Despite only having Mayweather vs. Pacquiao figures to use as a guide, it goes without saying that this next fight will surpass all monetary expectations with ease. Australian viewers were charged a one-off price of $60 AUD for the previous fight, with ringside seats fetching anything up to $7,500 USD each. The most expensive reported ticket sale topped a ridiculous $128,700 USD.
---
---
Date:
It is all expected to go down on August 26th (27th AEST). The date was originally slated to be September 16th, although Gennady Golovkin's fight with Canelo Alvarez was already booked. This means that Floyd Mayweather and Conor McGregor have just 70 days to prepare for the biggest fight of all time.