Watches can be a pretty intimidating game. There are thousands of models, from hundreds of different brands, and that's just the new timepieces that are released every year. For most of us, this makes trying to buy a new watch an absolute minefield, especially if you don't know the good brands from the bad. If you don't have the dozens of hours to do the necessary digging, it can be hard to get a clear picture of what the best watches really are. If that's you, don't worry, because BH has you covered.
If you're looking to buy your first good watch to wear every day, or you love watches and want to know about the best of what the horological universe has to offer this year, then look no further. We've done the heavy lifting for you, summarising some of the very best of watchmaking in 2022, including everything from affordable watches all the way to the very best watches for men. From the impossible to purchase at retail, to the sold-out limited edition that you'll need to hunt down, it's all here, listed from least expensive to most expensive. So sit back, relax and enjoy what the watchmaking industry has to show.
The Best Watches & Watch Brands For Men In 2022
---
$0 – $1,000
---
Swatch Big Bold Bioceramic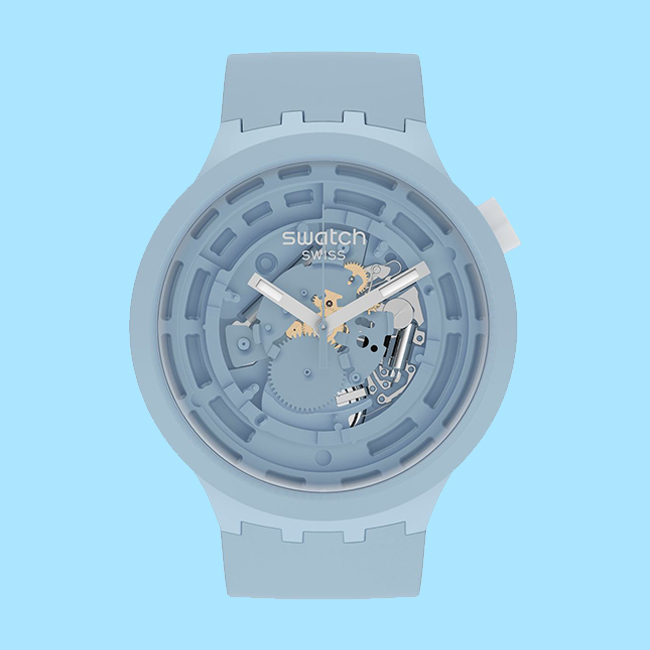 As demand for more sustainability in horology continues to pick up steam, Swatch makes a big play with the Big Bold Bioceramic, a watch of considerable vision, with a mix of ceramic and bio-sourced plastic – made using castor oil in a 2:1 ratio.
---
---
Think of it as an evolution from Swatch's experimentation with bio-plastic in the past, resulting in 5 new Big Bold watches to add to the classic collection, giving plenty of choices if you're looking for a men's watch of great substance from this legendary watch brand.
Each watch comes inside a 47mm case with a see-through dial, elegantly showcasing the material's characteristics, which flow through to matching bracelets made from bio-sourced plastic. It's one of the best watches for men who appreciate the type of dynamism a unique material can bring to a watch.
---
Casio G-Shock – AW-500BB-1E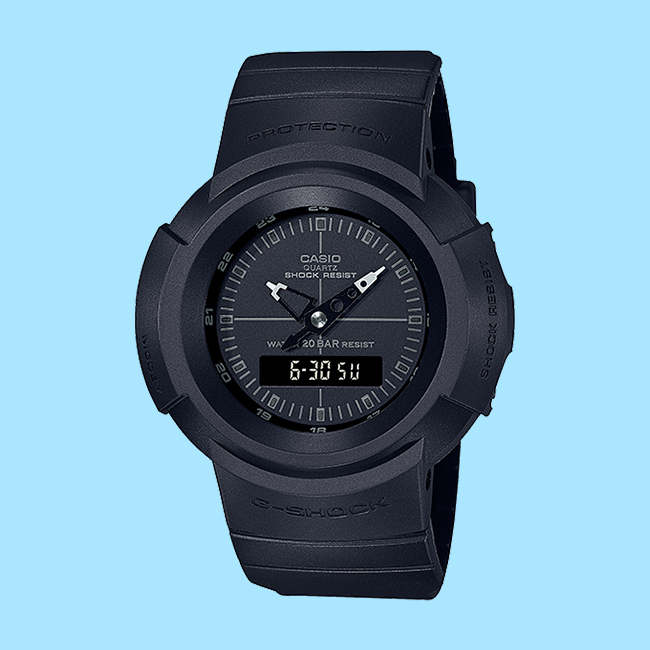 A beautiful, high-performance homage to the original 1989 AW-500 (Casio G-Shock's first ever analog-digital model), ref. AW500BB-1E marries relentless pragmatism with a distinctive style. The watch's simple, minimal design owes much to its resin-molded inner case and slanted bezel.
With its unique form, the new mud black AW-500 model is a definitive showcase of G-Shock signatures – shock resistance and 20 ATM water resistance, an electro-luminescent backlight, a 1/100 second stopwatch, daily alarm, and a battery life that will last roughly 7 years.
Adventurous men in need of a top-performing utility watch with flair would be wise to end their search for a new and reliable watch right here.
---
Orient Mechanical Classic Watch Ref. RA-AC0019L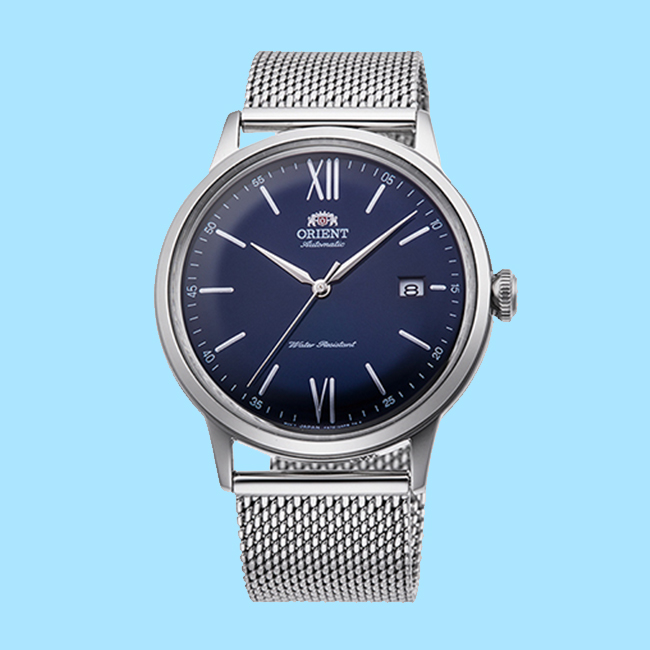 There is immense value in keeping it simple and sophisticated, and Orient has articulated that idea through the stainless steel Orient Mechanical Classic Watch. Avoiding the big, bold, risk-taking regimes so common in horology, this watch is perfectly content for the man who appreciates the power of directness.
Coming in a standard 40.5mm stainless steel case, the Orient Mechanical Classic features domed glass and a curved dial with a lustrous finish. Orient has reimagined the hands with a new silhouette to better connect with the watch's elegance, and no model better represents this than ref. RA-AC0019L, with its attractive blue dial and silver metal strap.
---
---
Under the hood of the stainless steel case is an in-house automatic cal. F6724 movement with a power reserve of 40 hours, perceptible via the see-through case back.
---
Furlan Marri Ref. 1011-A "Tasti Tondi"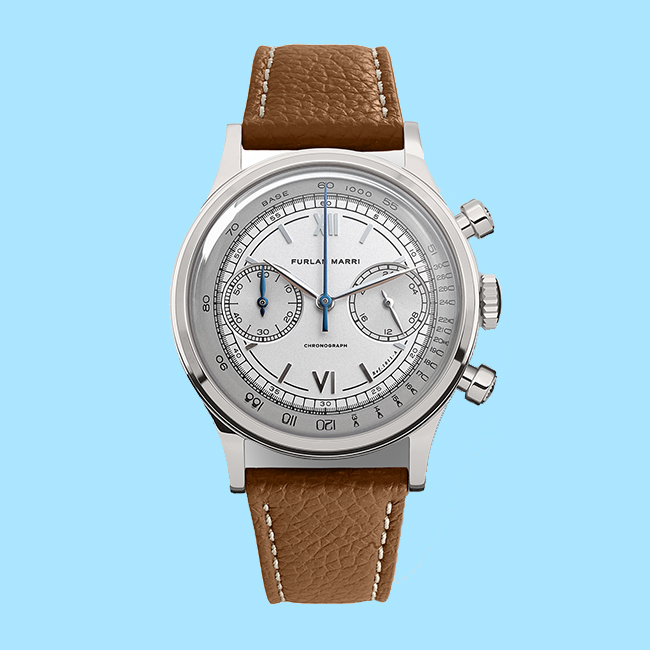 Now here's a stainless steel watch that'll excite men of style.
Furlan Marri is a watch brand that was only launched in early 2021 on Kickstarter, but had one of the most successful funding raises in recent years, receiving more than $1.5M in pledges. Out of their five-reference collection, the Ref. 1011-A "Tasti Tondi" is arguably the cleanest looking watch of the lot, with a modest 38mm stainless steel case and creamy dial.
The name "Tasti Tondi" is in reference to the iconic two-register chronograph that is the Patek Philippe Ref. 1463, which is well recognised as one of the most attractively balanced chronographs ever. Furlan Marri has done a fantastic job translating that design strength into their own watches, offering a clean watch that will look as good in the boardroom as it will at the dog park.
---
Timex Waterbury Traditional Automatic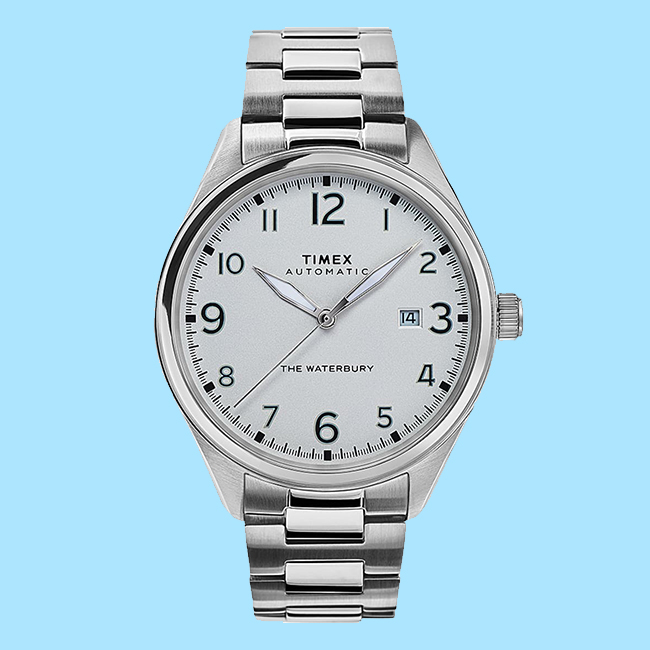 Timex has clearly built nostalgia into their Waterbury Traditional Automatic, which joins other watches in the prestigious Waterbury collection to not only redefine the company's signature watches, but offer one of the best men's watches at this price point.
Under the hood of this fan favourite 42mm watch is a 21-jewel mechanical movement, robust and accurate with a day-date complication expressed on the white dial. The watch is resistant to 50m underwater and comes on a steel bracelet. It's a no-brainer for the man who wants a watch that's simple and affordable, yet something any watch collector would be proud of.
---
Tissot PRX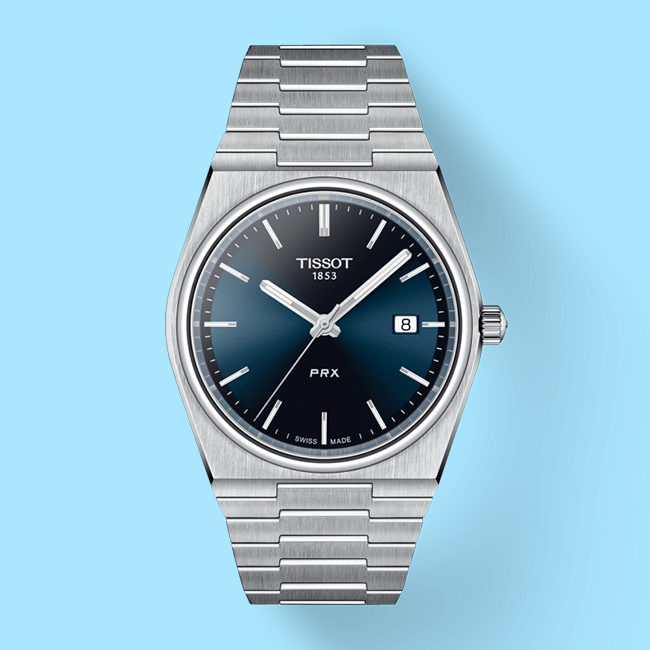 Throwing it back to an archival Tissot watch from 1978, the PRX-20-205 is a slim, quartz watch with an evocative integrated single link steel bracelet, from one of the most reliably accessible watch brands in history.
This 40mm stainless steel case with scratch-resistant sapphire crystal is a confident statement from a watch brand that's already known for their delicate balance between price and exceptional craftsmanship, offering what is easily one of the best watches for men one could find under AU$1,000.
---
---
Set on a blue sunburst dial, the PRX is a slim, self-assured expression of Tissot's T-Classic collection – hard to resist for the discerning gent after a stainless steel watch on a smaller budget.
---
Apple Watch Series 6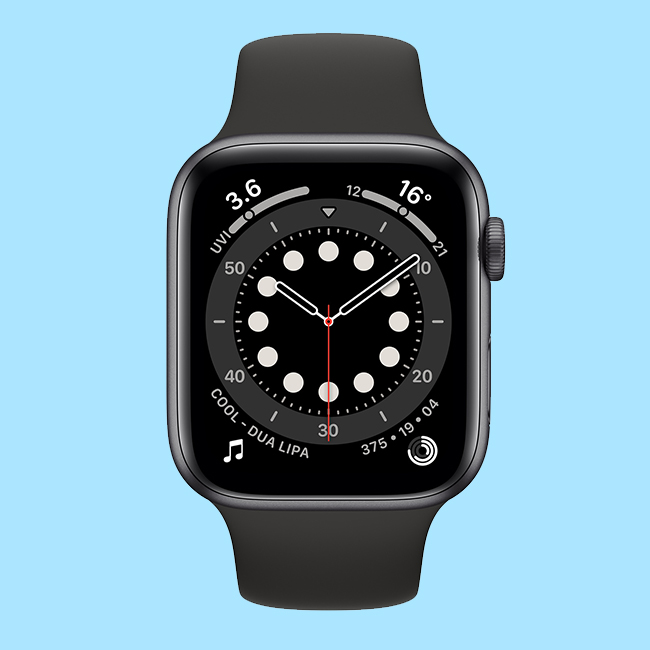 For iOS users, the Apple Watch Series 6 – available in 40mm or 44mm case sizes – is the most refined and performance-driven smartwatch on the market. And it's clearly one that shows Apple has been listening to feedback and adjusting accordingly from previous attempts at smartphone compatible watches.
Along with the ability to take an ECG scan anytime, anywhere, the stylish watch takes an artful approach to health tracking and productivity, so wearers are better able to move through and organise their daily routine in a way that's perfectly aligned with modern society.
With a soft, breathable nylon weave as the strap, the comfortable watch manages to hold onto a classic look while still packing in a tremendous amount of utility. If you're after a smart men's watch that won't.
RELATED: The Best Smartwatches To Buy
---
Samsung Galaxy Watch 3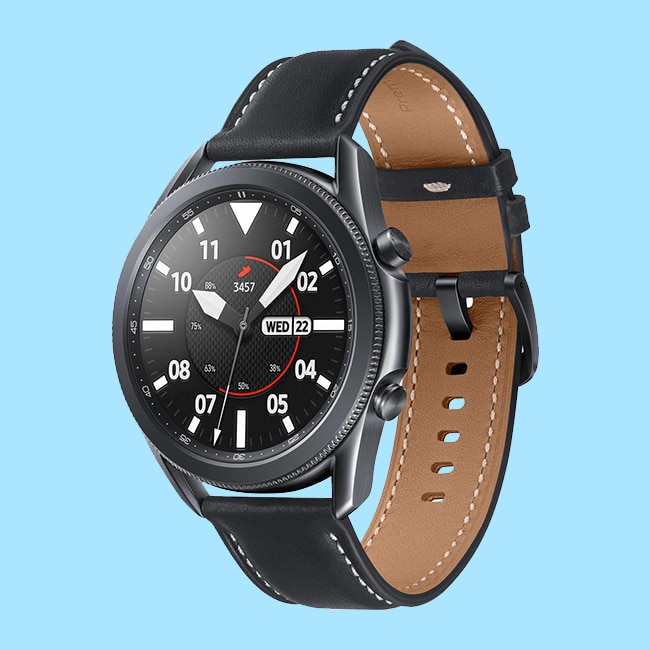 The Samsung Galaxy Watch 3 is one of the best watches on the market for men looking for an intelligent Android smartwatch that also looks incredibly stylish on the wrist. With a seemingly endless amount of watch faces to choose from, the high-end smartwatch manages to fit in numerous features without feeling cluttered and still offering a seamless user experience.
Individual fitness goals are complemented by over 120 programs that can work efficiently with a compatible device, which feature alongside various health and sleep monitoring features. It even includes a digital compass for the explorers out there.
Samsung offers the Galaxy Watch 3 in either a 41mm or 45mm case, both with excellent presence on the wrist, and a design that won't offend watch aficionados who are stuck on the idea that a true men's watch should not lean too heavily into this overly connected world.
---
---
---
Seiko 5 Automatic x Rowing Blazers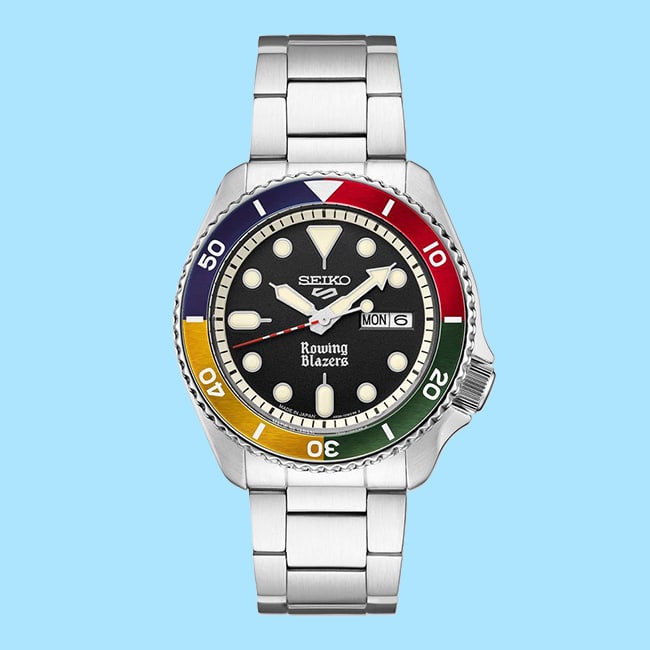 Japanese watchmakers Seiko collaborated with Rowing Blazers for fresh iterations of the Seiko 5 automatic, imagining the flagship watch with three new limited-edition versions. It was a tough call between this and the new Prospex LX line for this list of best watches for men, but the Rowing Blazers stainless steel watches better articulate how on the pulse Seiko is.
Echoing a casually preppy style, each version of this watch – Rally, Zigzag, and Colourblock (with a four colour bezel) – comes in a 42.5mm stainless steel case, dressed in Rowing Blazer's signature zig-zag pattern.
It's a brighter, playful remix to an already vibrant sports watch. Although, you may also want to give the new Prospex LX line a look if these are not to your taste.
---
Baltic Aquascaphe Dual-Crown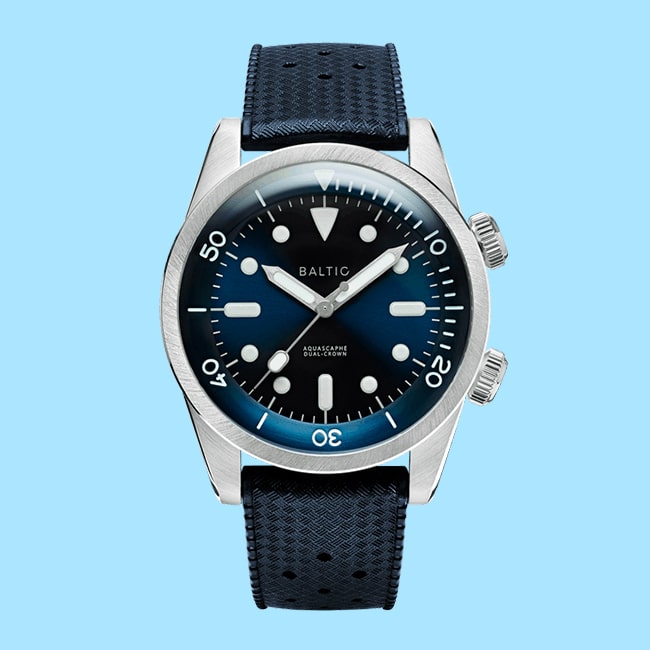 An affordable diver, the Baltic Aquascaphe Dual-Crown is a distinguished offering from Baltic who, sixty years after the invention of their first Compressor case, have channeled their legacy into a unique new Aquascaphe diver's watch.
Offered in Blue, Black, or PVD Black, the highly capable watch is defined by its compressor case with dual crowns. Able to handle underwater pressure of 20 ATM, this charming watch is built on precision and simplicity.
---
$1,001 – $5,000
---
Frederique Constant Classic Quartz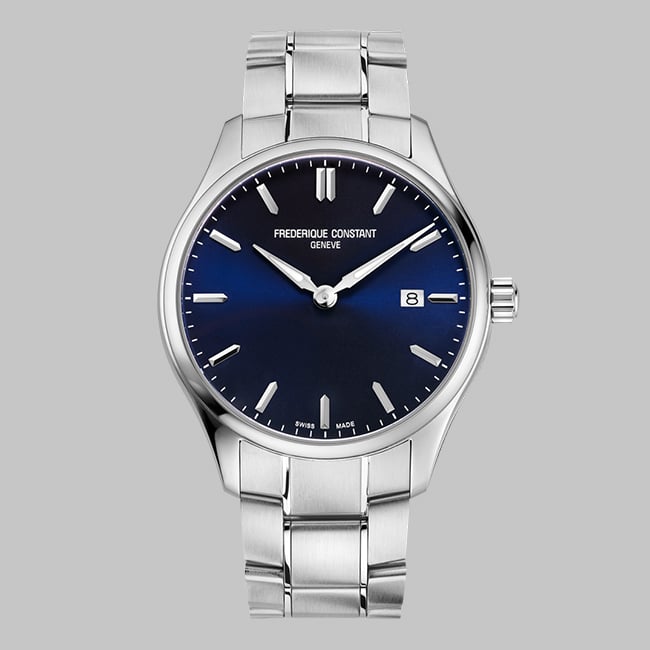 Revisiting their most iconic collection, Frederique Constant has managed a delicate balance between price and quality, articulating the timeless charm of their Classics line with three new versions. The contemporary design of these subtle, sophisticated watches is achieved through soft lines and balanced shapes. Perhaps this is best showcased by the Classic Quartz watch.
The Frederique Constant Classic Quartz is definitive for the Geneva-based manufacturer, enlivened with more than a few tweaks to give this watch a singular quality amongst the series. This includes sword-shaped hands and applied hour markers on the navy blue dial, with sunray decoration and a date window at 3 o'clock.
The 2-part 40mm case, of polished stainless steel, can tolerate 50m of water resistance, with a FC-220 calibre quartz movement underneath, sporting 1 jewel, and a 45 month battery life. A stainless steel bracelet completes the graceful aesthetic, balancing value and style perfectly for those after an exemplary men's watch at this very reasonable price.$1,150 – frederiqueconstant.com
---
---
---
Serica 5303-2 Diver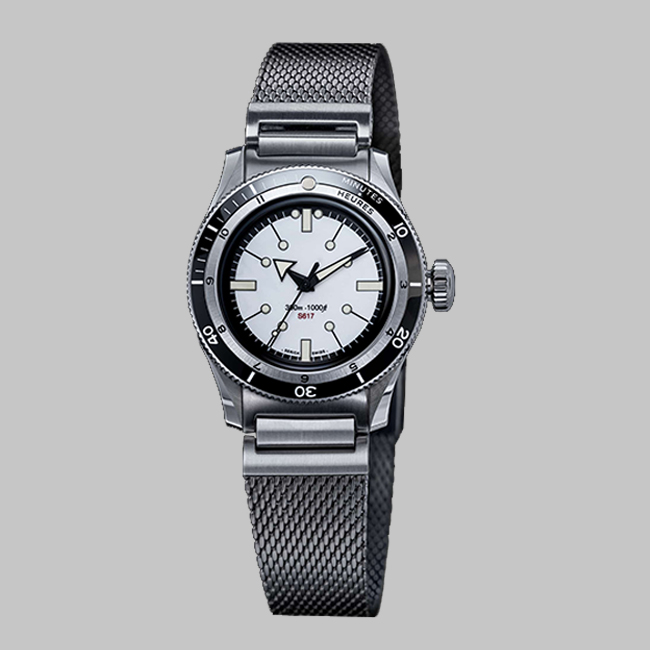 The 5303-2 Diver watch from Serica is a one of those Swiss made watches that's as stylish underwater as it is beyond its primary use. With 300m of water resistance, the reference 5303 is one of the best watches for men after diving watch of impeccable quality.
Easy to read with thick layers of applied Super-LumiNova, the automatic watch also has an oversized winding crown, making it just as easy to operate as it is to read. The rotating bezel that instantly displays time in a second time zone only adds to this intuitive use, making it one of those dive watches that just flows naturally.
Crafted from high-end materials like sapphire and 316L stainless steel, the 39mm case and silver dial sit on top of a robust automatic Swiss Caliber Newton movement with a 44-hour power reserve and a premium shock-proof system. At $1,600, it's a perfect choice for an affordable watch that performs exceptionally well underwater.
---
Unimatic x Rain Ref. U1-NRN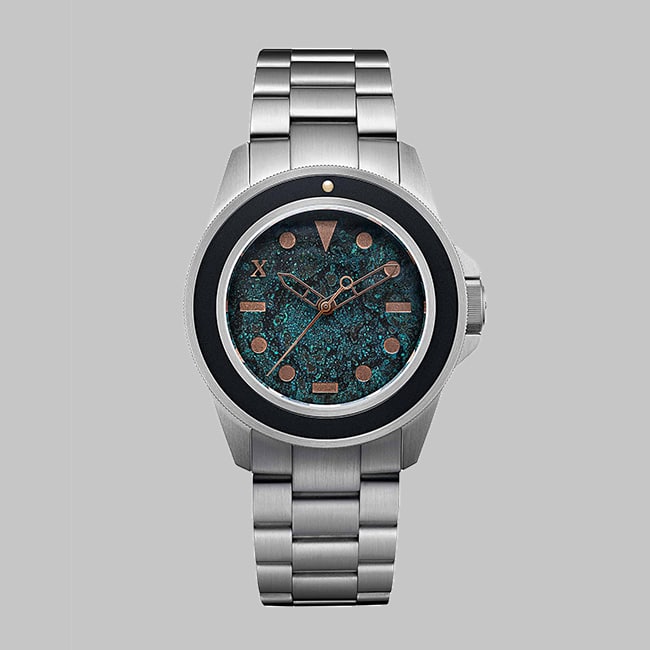 As an understated, classic, and limited edition dive watch from Unimatic and high-performance outerwear brand Norwegian Rain, Ref. U1-NRN expresses the virtues of minimalism in a distinctive, impeccably designed watch. The watch world sees many collaborations each year, but this automatic watch is quite special.
With a minimal black bezel, a unique double layer dial (composed of an individually oxidised solid copper), and skeleton brushed copper ladder hands to match the dial's cutout markers, everything about reference U1-NRN is for the man who values sticking out from the crowd.
The brushed steel 40mm case is resistant to 300 metres of water pressure, protecting an automatic caliber Seiko NH35A movement with a power reserve of 41 hours. That makes it one of the most attractive dive watches you'll be able to find at this price point.
---
Alpina Quartz Chronograph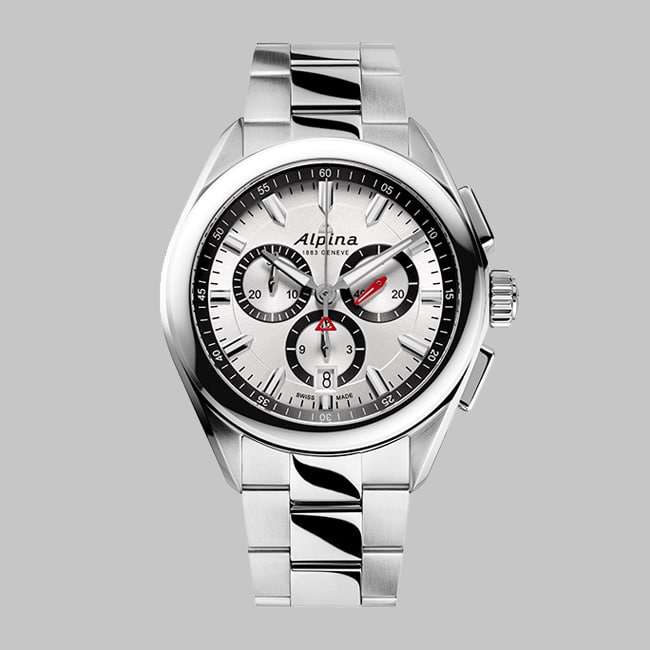 Founded in 1883, Alpina is a Swiss watchmaker that has flown under the radar of many despite its long history. The Alpina Quartz Chronograph is a fine example of their watchmaking expertise with a 42mm case of stainless steel that is just 10.9mm thick, thanks to the AL-373 quartz chronograph movement that powers it. Aside from being slim, the quartz movement also has the benefit of a 4.5 year battery life, meaning you won't need to visit your watchmaker for nearly half a decade.
Complete with a tapered stainless steel bracelet and a closed caseback that guarantees the watch to 100m of water resistance, it's the kind of watch that should be able to easily handle anything you throw at it.
---
---
---
Mido Ocean Star Tribute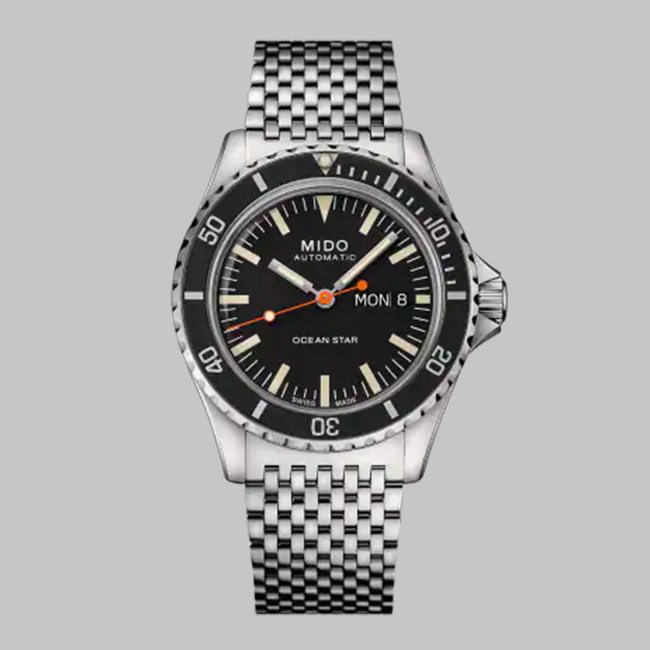 It was three years ago that Mido celebrated their 100th anniversary, putting them on a relatively short list of watch brands who have survived more than a century. It is a watch brand that has become increasingly interesting to collectors, with Mido capitalising on their history to produce a range of attractive vintage-inspired dive watches such as the Mido Ocean Star Tribute watch.
Featuring a case with an approachable 40.5mm diameter, a neutral matte black dial and a comfortable steel bracelet, there's a lot to like here, especially as an everyday dive watch that you won't need to wear kid gloves with.
---
Yema Superman Skin Diver Limited Edition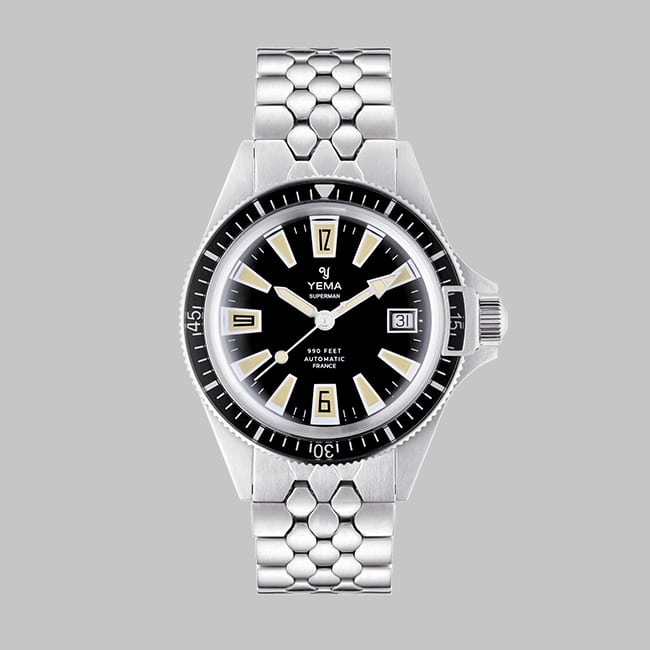 Yema are a French-founded watchmaker that was first established just after the Second World War and are best known for their vintage-inspired dive and pilot tool watches. Newly added to their collection is the Yema Superman Skin Diver Limited Edition watch – a dive watch that pays tribute to the sports watches of the 1960s.
Available in either 39mm or 41mm case sizes, and maintaining a relatively slim profile of around 13mm for both sizes, it's an almost universally wearable dive watch that would look as great in the boardroom as it does at the beach. With a scales bracelet and a bezel locking mechanism that is unique to Yema, it'll also stand out in a crowd of other vintage-inspired divers.
---
Christopher Ward C63 Sealander Elite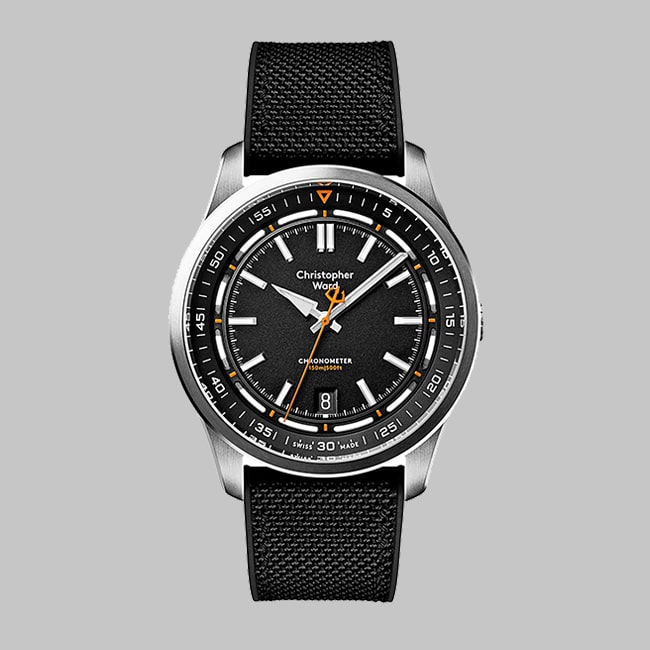 Christopher Ward is another fresh face to the global watchmaking scene. Founded back in 2004 they are designed and sold in the UK, but produced in Switzerland.
New to their stable of watches in 2021 is the Christopher Ward C63 Sealander Elite watch, cased in Grade-2 titanium and powered by a COSC-certified mechanical movement. It's a watch that offers enormous value at its price point, making it a great choice for men after affordable watches that standout from the crowd.
With a blacked out dial and contrasting orange highlights, a pleasingly symmetrical date window at 6 o'clock, and a comfortable textile strap, the watch looks great on the wrist too.
---
NOMOS Club Campus Gray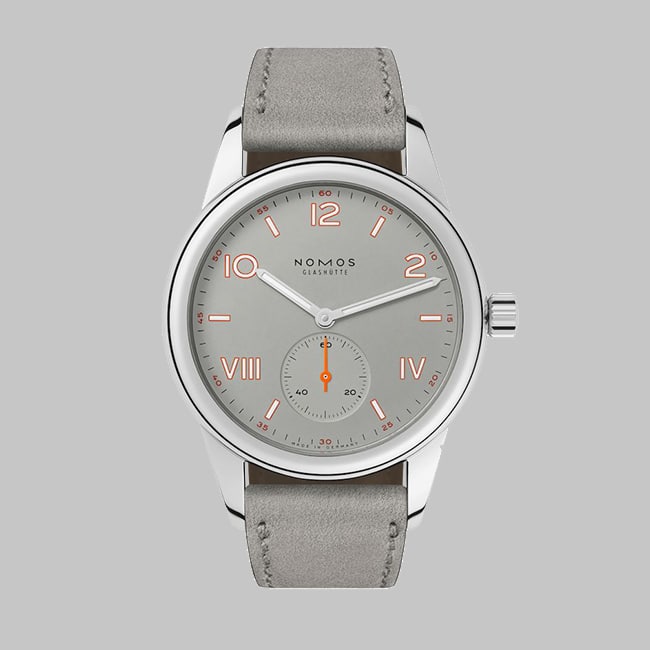 NOMOS is another German watchmaker, based in the town of Glashütte, and typically offering well-made, well-priced watches. They are also well known in design circles for winning awards for the careful thought and consideration that goes into the way their watches look.
While the NOMOS Club Campus Gray watch might not have any trophies to its name yet, you can tell that the monochromatic look is one of cool confidence – enough to make this one of the best watches for men in 2022.
Measuring 36mm in diameter, the polished stainless steel case is beautifully complemented by the slate grey dial, given life by the orange highlights on the hour markers and seconds hand.
---
Kurono Toyko Toki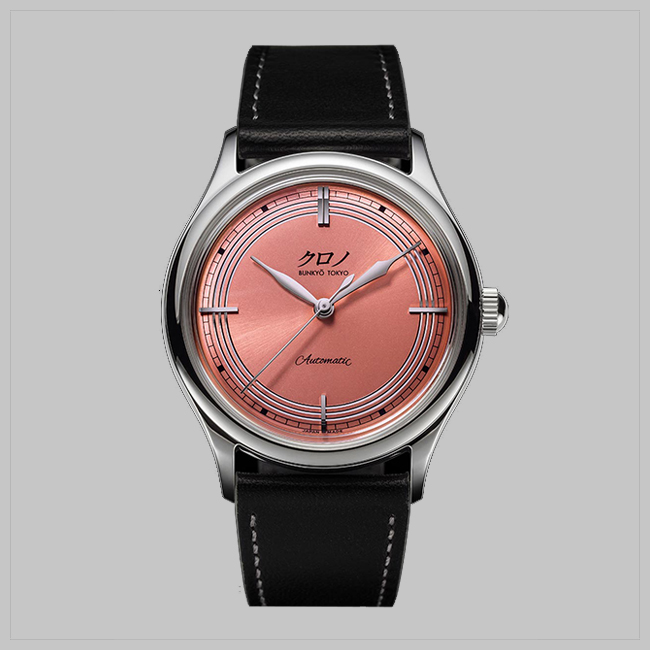 Kurono Tokyo took the watch world by storm in 2021, selling a number of new models that all sold out instantly and saw certain pre-owned prices from the watch brand eclipse the original retail price. If you're into the most elegant and considered affordable watches, however, the Kurono Tokyo Toki watch has to be one of the best watches of 2022.
Featuring a 37mm case made from 316L high-grade steel, the subtly powerful dial tone is inspired by the feathers of the Japanese crested ibis.
---
Junghans Meister Worldtimer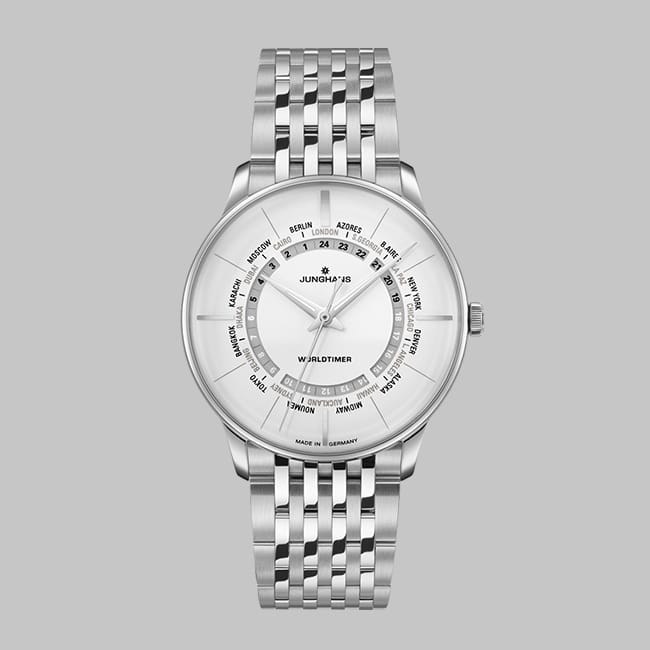 For more than a century and a half, Junghans has been making watches in Germany's Black Forest and is today known as a watchmaker with a particularly minimalist design sensibility. Specifically linked to the Bauhaus era art movement, the Junghans Meister Worldtimer stainless steel watch is a wonderful example of complication made simple.
Available in a steel 40.4mm case with the option of rose gold tone PVD coating, the Junghans Meister Worldtimer watch communicates the time in any time zone around the world that you might need, making it the perfect watch for men in need of a classy travel companion.
---
Farer Carnegie Chronograph Sport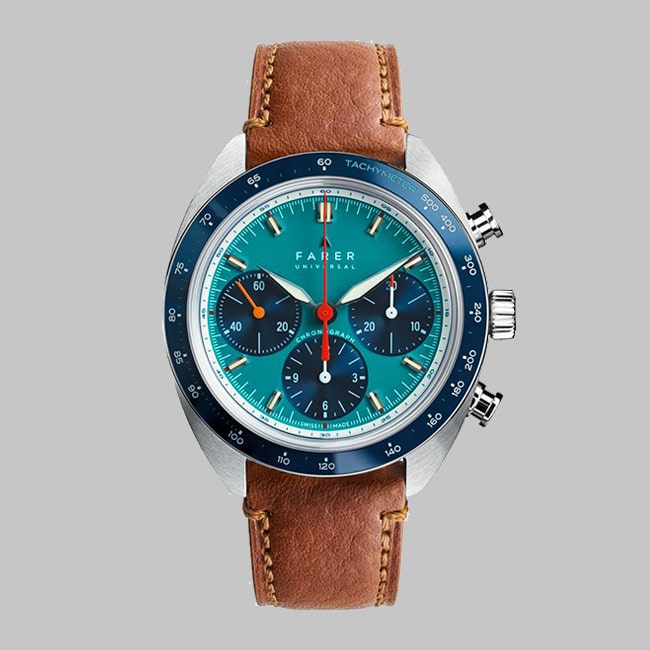 It's always exciting when a new watch brand is born, which for Farer was a little over half a decade ago in 2015 when it launched its first collection. Since then, the British-founded watch brand has made a name for itself by reinterpreting classic watchmaking design cues and revitalising them with a healthy splash of colour.
The Farer Carnegie Chronograph Sport is a perfect example of this, launched in early 2021 the attractive emerald dial contrasts nicely against the deep blue subdials, elevated by the pop of colour on the red and orange hands.
---
MB&F M.A.D. EDITION 1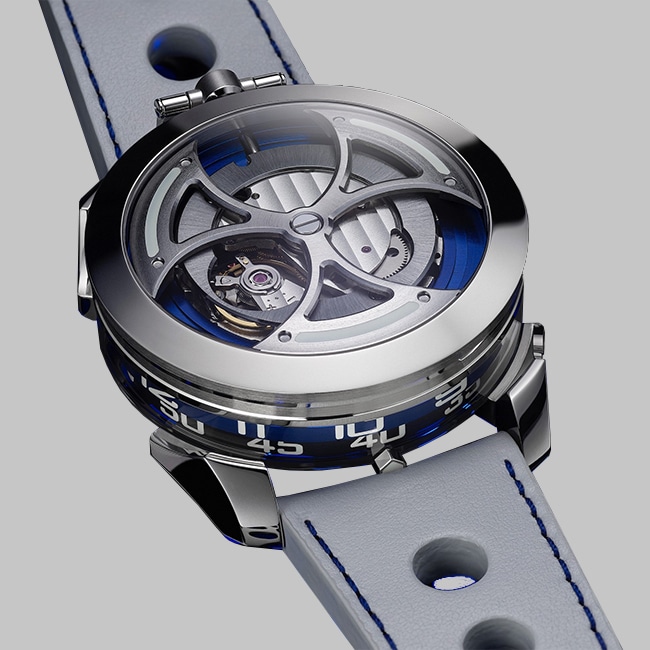 You'll be forgiven if you aren't familiar with MB&F. As one of the most obscure watch brands, even in enthusiast circles, MB&F is the brainchild of Maximillian Büsser (hence, MB & Friends being the eponymous name of the watch brand), a rather creative Swiss businessman and watchmaker.
Typically his watches will have a six-figure price tag attached to them, so while the MB&F M.A.D. EDITION 1 watch remains one of the more futuristic looking watches of the year, it's exciting that there is now a watch for the people. Featuring a 42mm case with a spinning rotor where the dial should be, you actually read the time via two discs between the bottom lugs of the watch.
MING 17.09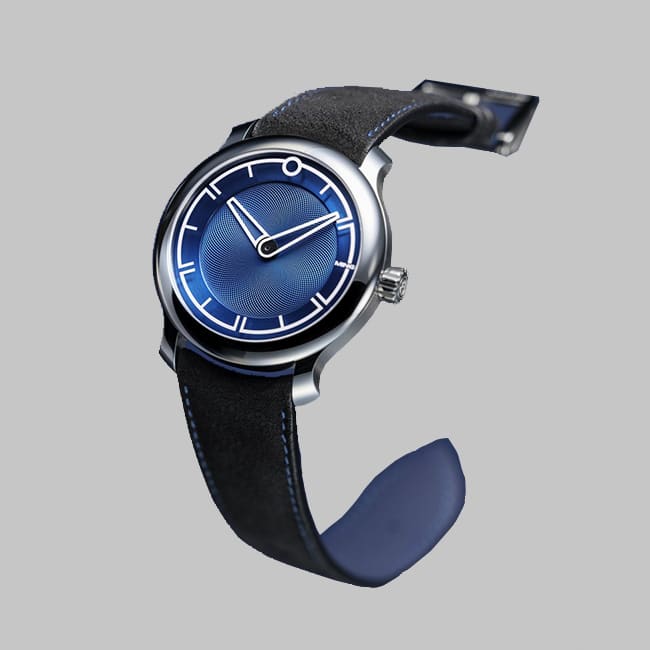 MING is a relatively young watch brand on the scene, started by famous photographer Ming Thien back in 2017. But in four short years, one of the most exciting new watch brands has gained a cult following, winning awards and establishing a clean but distinct design language that has seen their new releases sell out in minutes.
The MING 17.09 watch features a compact 38mm case with its recognisable flared lugs, and a beautifully detailed dial with a Clous-de-Paris pattern. The dial has impressive visual depth thanks to the hour markings being laser etched onto the underside of the crystal over the dial, which is filled with bright luminous material so it's easy to read at night.
---
Hamilton Intra-Matic Chronograph H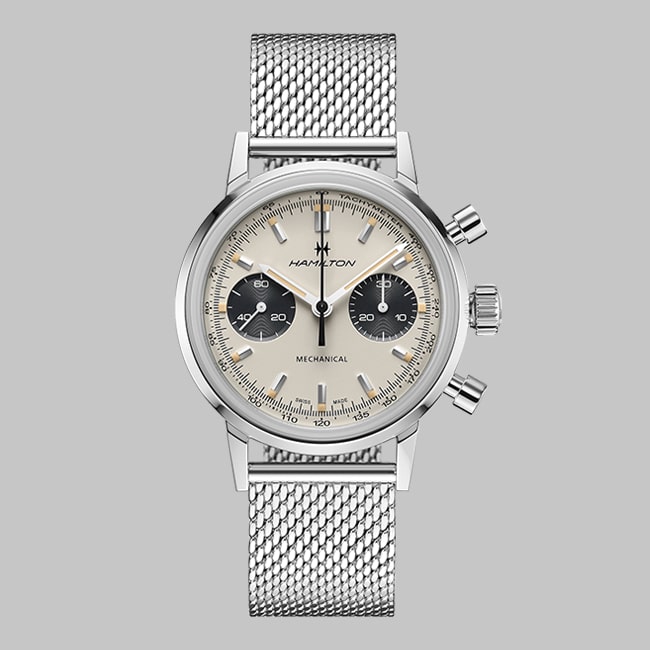 Hamilton are well known for their solidly engineered, Swiss-made watches that often have an element of vintage flair and the Hamilton Intra-Matic Chronograph H watch is one such example. Known in collecting circles as a "panda" dial thanks to the white dial and black subdials, it takes direct reference from Hamilton chronographs of the late 1960s.
An attractively shaped 40mm case that has been finely polished, vintage inspired chronograph buttons known as "pump pushers" and a manually wound movement with 60 hours of power reserve – there's a lot to like here.
---
MeisterSinger Perigraph "Mellow Yellow" Limited Edition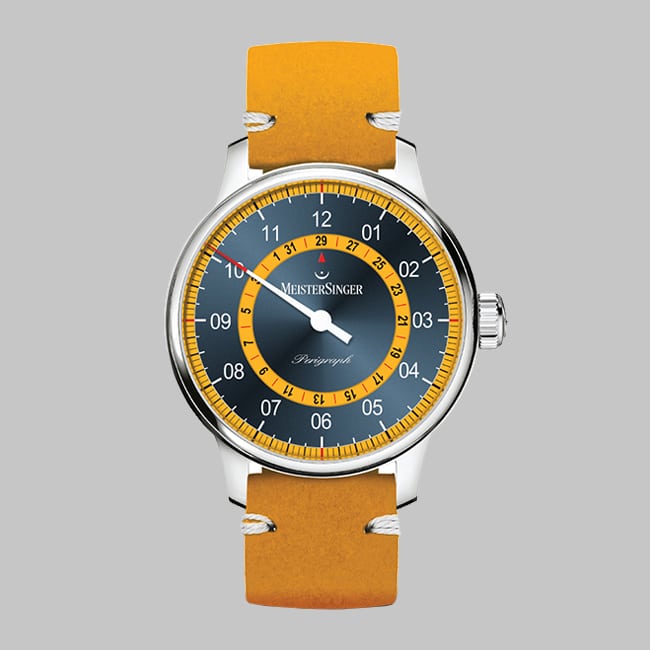 Mellow Yellow might be remembered as a psychedelic-pop album from the mid-60s, but MeisterSinger is rebranding the rhyming phrase as the moniker of their new Perigraph "Mellow Yellow" Limited Edition watch.
Known for their single hand wrist watches that tell the time to the nearest 10 minutes, this vibrant new release features a 43mm case that is just 11mm thick, easily slipping under a cuff. Also offering a date display as a ring in the centre of the dial, the two yellow rings contrast nicely against the shimmering deep blue of the rest of the dial, keeping it more understated than the name might suggest.
---
Ball Engineer II Skindiver Heritage LE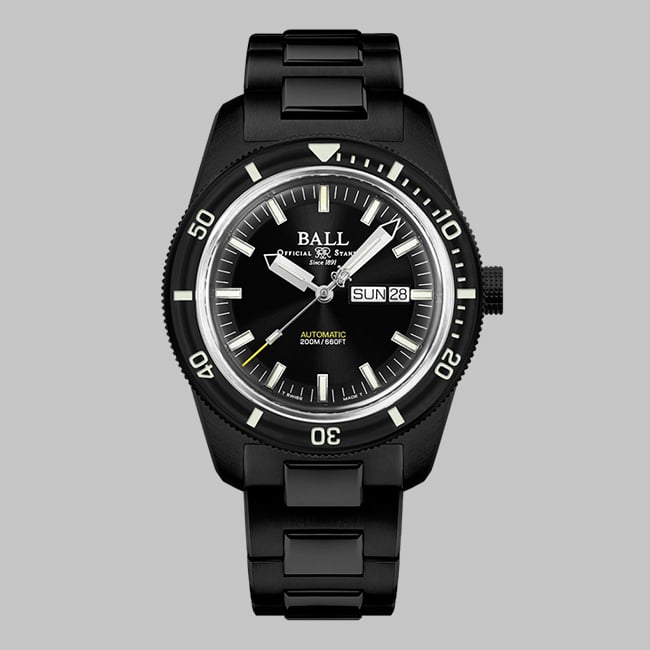 This year, BALL reimagined their purpose built 1960s diver in the form of the Engineer II Skindiver Heritage debuting in a steel 42mm case, but has now been dropped as a 390 piece limited edition with a Black Titanium Carbide (TiC) coated case, with the watch brand's signature micro gas tube luminosity delivering a rainbow effect – a very stark contrast to the all black exterior.
This technology used by BALL Watch involves encapsulating H₃ gas in glass micro tubes. When the H₃ molecules strike the internal-coloured surface of the tubes, they emit light without requiring any form of external light or energy source. With water-resistance to a very strong 200m/660ft, the large screwed-in crown complements a unidirectional bezel to accurately monitor immersion time, as well as decompression stops.
The COSC certified BALL RR1102 caliber delivers 38 hours of power reserve and is anti-magnetic to 4,800A/m and shock resistant to 5,000G, and can be admired through a sapphire case back.
---
Stowa Versus GMT Chronograph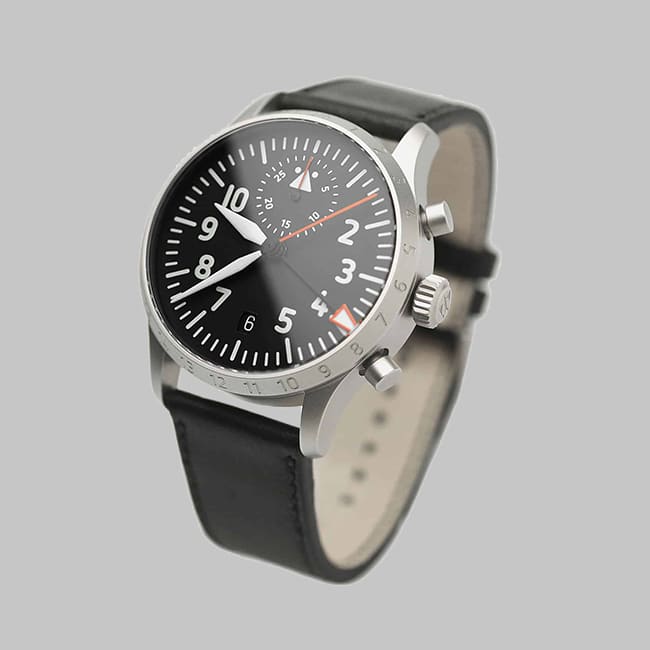 Hailing from Engelsbrand, Germany, Stowa is a watch brand that slips under the radar of most, but are well known in collecting circles for their affordable pilots watches. The Stowa Versus GMT Chronograph is one such watch, winner of the Red Dot Design Award 2021.
Limited to just 100 watches, this 41mm stainless steel watch is a pilots chronograph boasting a GMT function at date display nearly tucked away at 6 o'clock. The chronograph 30 minute counter is put in place of prominence at 12 o'clock, maintaining the attractive visual symmetry of the design.
---
Cartier Tank Must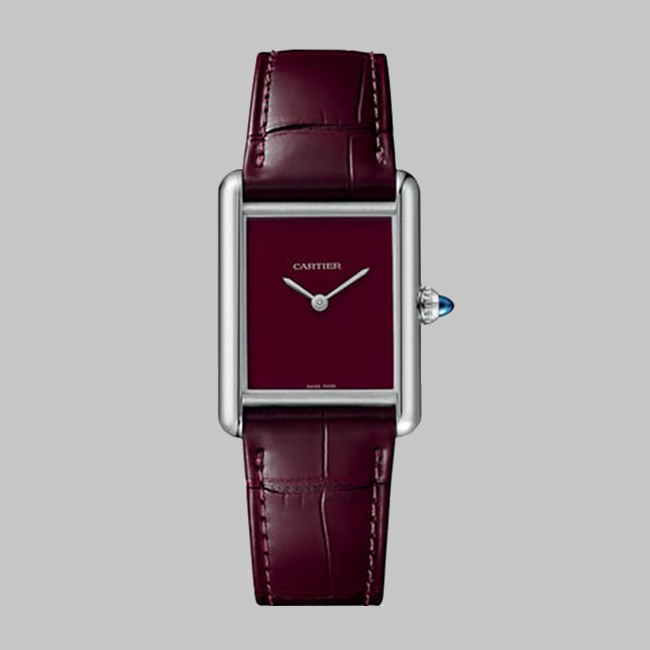 As a bit of background, the Must de Cartier collection was first launched in 1977 as an affordable entry into the French-founded watch and jewellery makers timepieces. In 2021, Cartier relaunched a contemporary expression of the collection with a trio of monochromatic Tanks that reference the richly coloured lacquer dials of the past.
The three models, available in red, blue or green, are powered by High Autonomy Quartz movements that have a battery life of 8 years, housed within the iconic rectangular stainless steel case. As an entry point into the world of Cartier, any of these is a good watch to own.
---
Raymond Weil RW1212 Freelancer Skeleton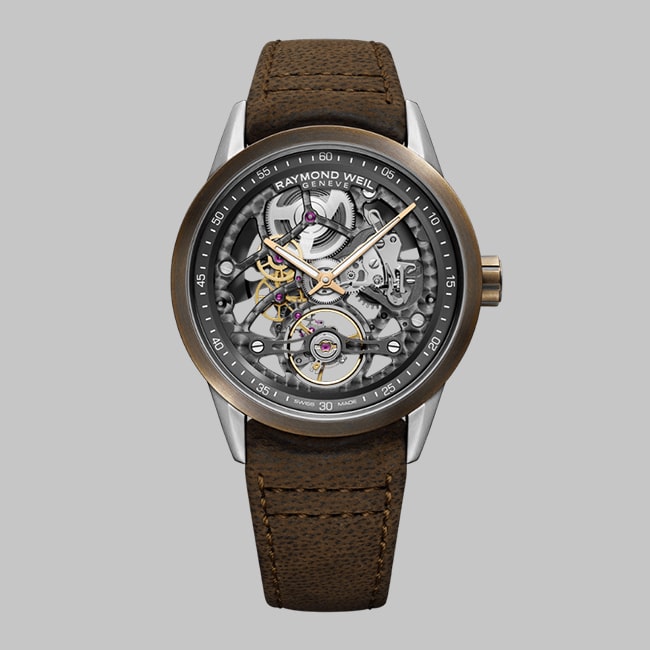 If you're looking for something avant-garde and technical on the wrist, look no further than the Raymond Weil RW1212 Freelancer Skeleton watch. This 42mm two-tone case is an eye-catching blend of bronze and steel that adds a touch of colour to the overall impression, without getting too steampunk.
The real star of the show, however, is the RW1212 in-house movement that is almost entirely visible thanks to the skeleton dial.
---
Oris Aquis Date 400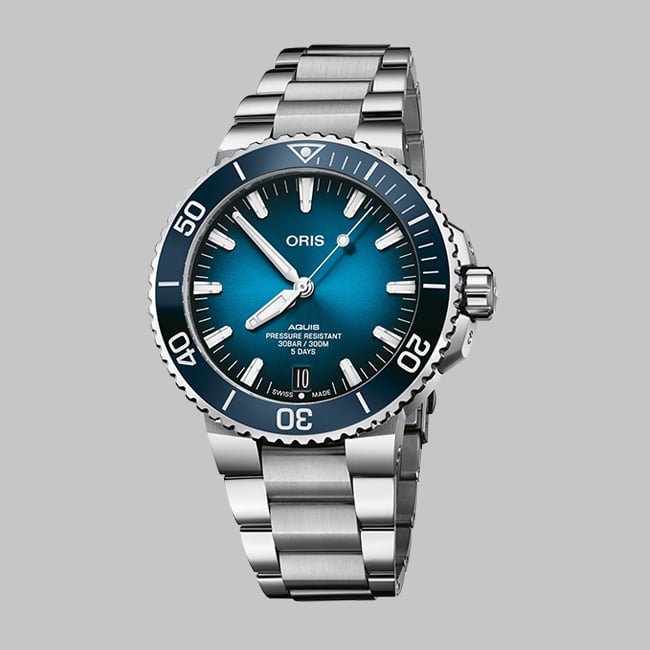 Most discussions of independent watchmakers involve watches that cost tens of thousands, if not hundreds of thousands of dollars, but not Oris. Affordably priced and carefully engineered, Oris is a bit of a sleeper watch brand in the world of independent horology, and a clear champion of affordable watches of meticulous build quality.
As a handsome 41.5mm stainless steel watch, the Oris Aquis Date 400 is a no-brainer for a well-made diver's watch that doesn't have to break the bank. Powered by the Oris automatic caliber 400, it boasts 120 hours of power reserve and can be viewed through a sapphire crystal caseback that guarantees the automatic watch 300m of water resistance.
---
Sinn 358 Sa Pilot B E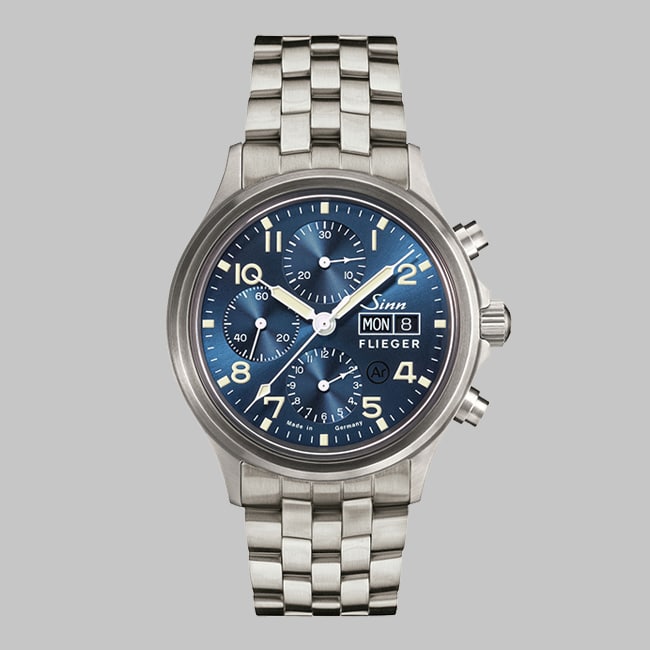 While Switzerland might be the heart of European watchmaking, Germany is sometimes overlooked as an important part of the horological landscape. Sinn is a perfect example of the German approach, with a heavy emphasis on high-end technical materials (such as submarine steel found in some of their watches) and no-nonsense legibility.
The Sinn 358 Sa Pilot B E is one such watch, with a highly legible dial that tells you everything you need and nothing you don't. Against a beautiful blue sunburst dial with attractively creamy luminous material on the hour markers and hands, this 42mm stainless steel watch is a truly versatile watch. Made by a watch brand that knows precisely how to produce pilot watches, you'll be happy in the air as you will be down on the ground.
---
$5,001 – $10,000
---
Longines Avigation Big Eye Titanium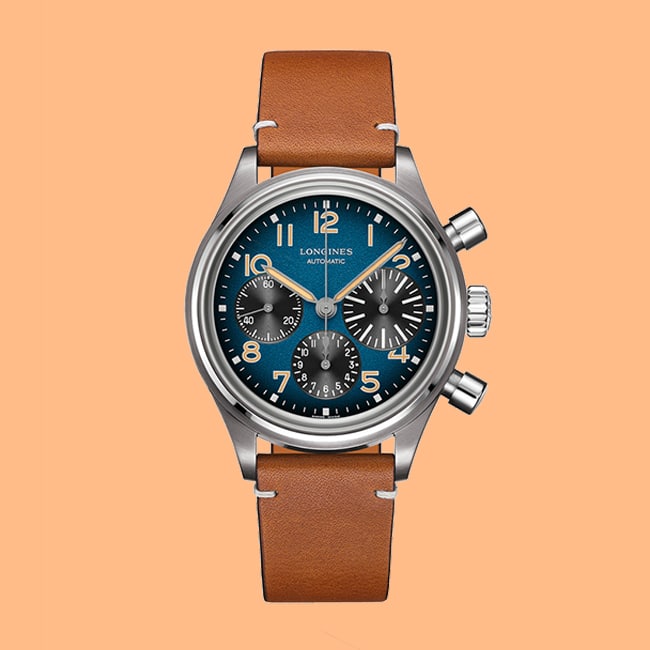 For Longines, the Avigation Big Eye collection has been a strong fan favourite since it was first released back in 2018. In fact, Longines played a very strong part in the popularity of modern vintage inspired watches, with the Longines Avigation Big Eye Titanium watch being a recent example.
Executed in a lightweight 41mm case, the name Big Eye is thanks to the chronograph register at 3 o'clock being larger than the rest. The dial is an attractive gradient petrol blue with creamy luminous paint filling the hands and hour markers, just like a vintage watch might look.
---
TAG Heuer Aquaracer Professional 300 Limited Edition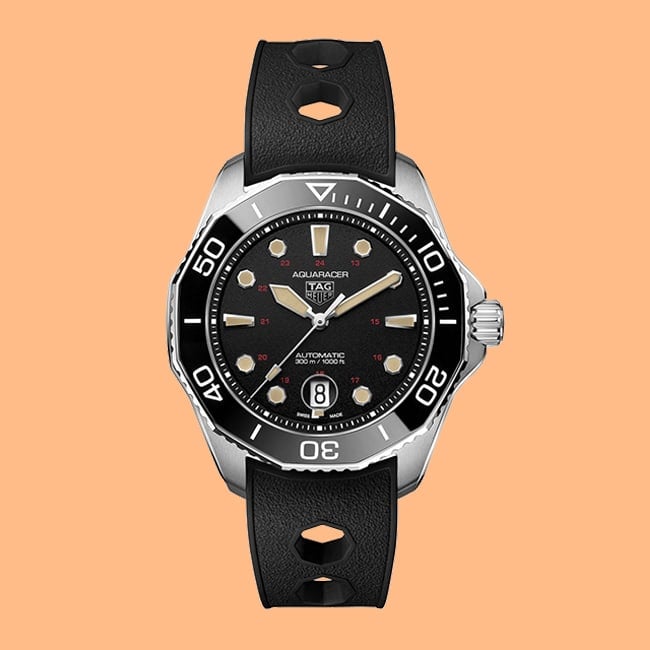 2021 was all about the Aquaracer collection at TAG Heuer, and what better way to do it than a tribute to the original watch that the collection is based on? That's right, the new TAG Heuer Aquaracer Professional 300 Ref. 844 Limited Edition watch is based on the original Heuer Ref. 844 dive watch, right down to the creamy hands and matte black dial.
The brushed and polished 43mm stainless steel watch is powered by the workhorse Calibre 5 automatic – a TAG Heuer classic – with 38 hours of power reserve. The solid caseback features the motif of a diver from the pages of history and guarantees the automatic watch 300m of water resistance, rounding out a tremendous performance from TAG Heuer.
---
Baume et Mercier Riviera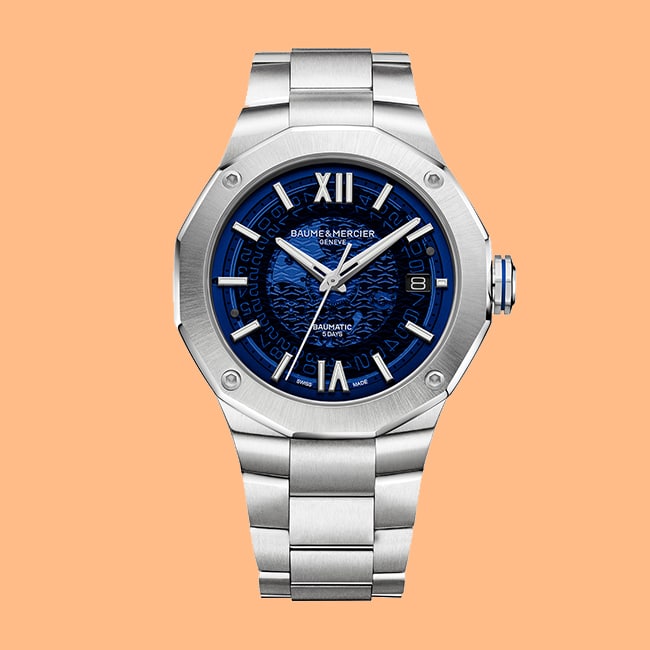 The Baume et Mercier Riviera 10616 watch is another historical throwback launched early 2021, inspired by a collection from back in 1973 when steel watches with integrated bracelets were just being born. Featuring a steel 42mm case with a matching steel bracelet, it has a decagonal bezel around the dial, which is an alluring semi-transparent blue.
While you can see the movement through the dial, you can also see the in-house caliber Baumatic BM13-1975A through the sapphire crystal caseback. With 100m of water resistance, it's a versatile stainless steel watch that will look the part anywhere you're likely to find yourself.
---
Tudor Black Bay Fifty-Eight 925
The Black Bay Fifty-Eight watch has become a mainstay in the current Tudor catalogue, offering equal parts vintage vibe and modern reliability. In an unusual move across the watch industry, Tudor has released a model in 925 silver (alongside their gold and recently released bronze models), that has collectors queuing up for the precious metal.
With a 39mm case size, a muted taupe bezel and dial colour that Tudor describes as "warm grey" with stark white hands and hour markers, it's certainly a looker on the wrist. It's also powered by the impressive COSC-certified MT5400 caliber, ticking plenty of boxes for men looking for the best watches.
---
Norqain Freedom 60 GMT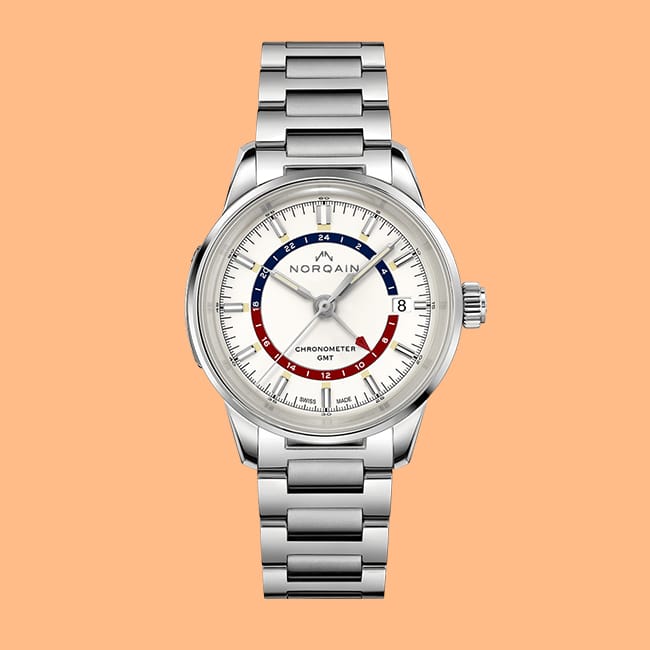 You might not have heard of Norqain, but they are an independent watchmaker based in the heart of Swiss watchmaking country – exactly where you should want your watches to be made. The Norqain Freedom 60 GMT is a cleanly designed classic GMT watch, with an opaline white dial that contrasts strongly with the blue and red GMT ring inside the dial.
The 40mm stainless steel watch offers some serious wrist presence thanks to the 14.5mm thickness of the case. It's a proper travel watch, with 100m of water resistance and 70 hours of power reserve thanks to the Norqain Manufacture Caliber NN20/2. For us to include this beauty on this list of best watches for men – not a tough choice, at all.
---
Hermès H08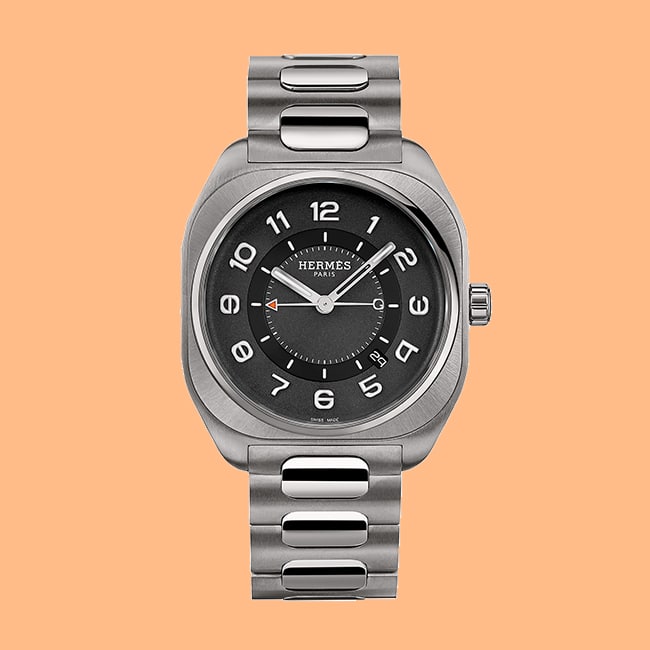 In a first for the French leather goods company, Hermès launched a more casual sports watch in 2021, with a solid offering that should have fans of the watch brand licking their lips. Featuring a cushion case shape that measures 39mm in diameter, Hermès has chosen to make the case in lightweight titanium, finished with a satin brushed effect.
All considered, the Hermès H08 is a sports watch that could easily slip under the radar, with a black nickle-treated dial and a comfortable three-link titanium bracelet. Powering the watch is the Hermes Manufacture movement H1837, which has been the workhorse caliber for the watch brand for close to a decade, offering 50 hours of power reserve.
---
Bell & Ross BR 03-92 DIVER MILITARY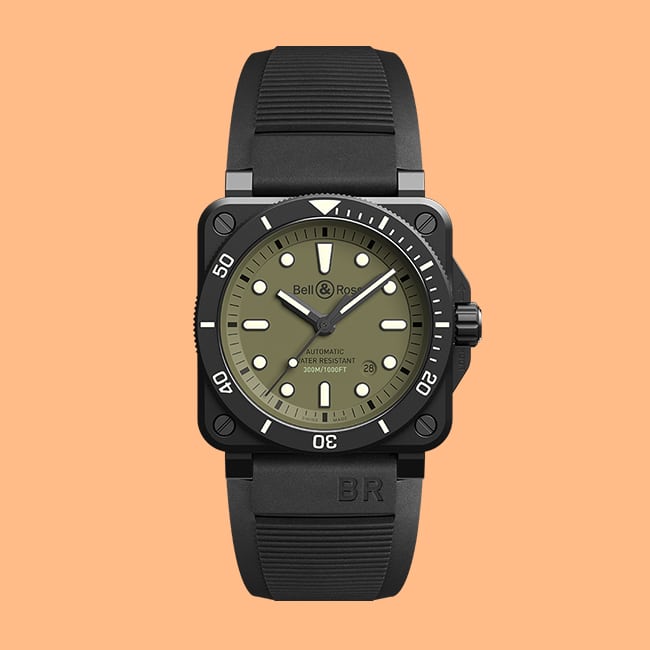 Bell & Ross are a dream for those who love their field watches, with watches that look like they have literally been ripped out of an aircraft display panel. The Bell & Ross BR 03-92 DIVER MILITARY watch is no different, with the iconic square case shape complete and a quartet of screws in each corner.
Executed in a matte black ceramic case with a military khaki dial, the automatic watch is paired with Bell & Ross' signature black rubber strap, or an army green fabric strap. Handling the power is an automatic calibre BR-CAL.302, protected at depth by 300m of water resistance.
---
Rado Captain Cook High-Tech Ceramic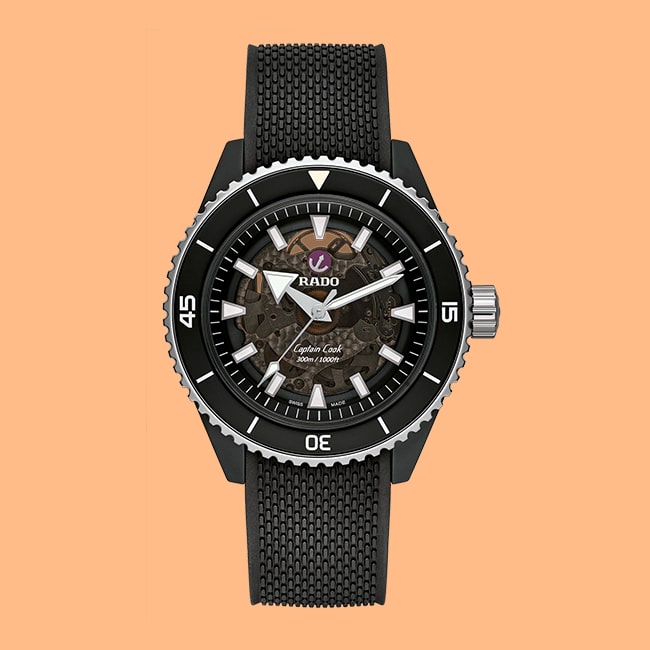 In 2021 the well loved Captain Cook collection from Rado received a futuristic facelift. The result was the Rado Captain Cook High-Tech Ceramic watch, which blended the vintage-inspired dive watch with Rado's expertise in producing ceramic components.
Featuring a 43mm case that offers some serious wrist presence at 14.6mm thick, it is actually relatively light for a watch of its size – 114g. The high-tech ceramic case has an attractive metallic shimmer, which very much brings the '60s inspired dive watch design into the 21st century.
---
Bremont S302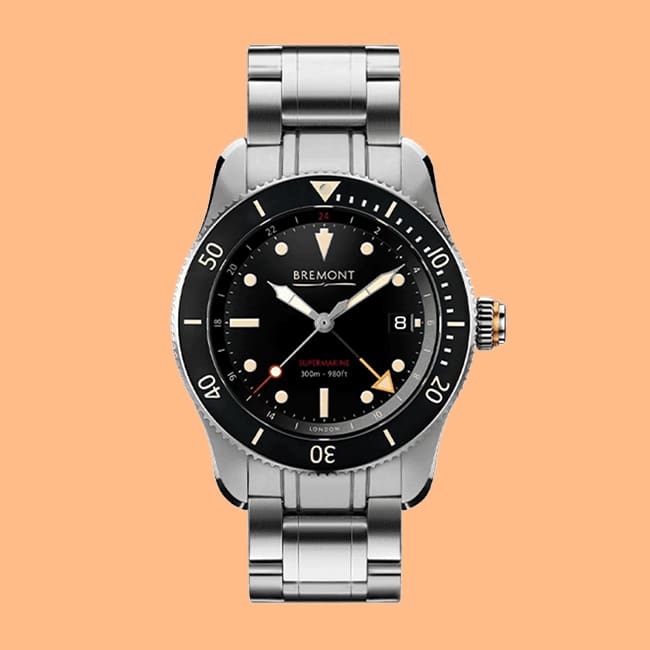 Bremont is a British-born watchmaking firm founded by brothers Nick and Giles English, who made huge strides in 2021. They opened their new manufacturing facility in Henley-on-Thames and have released a number of exciting new watches including the Bremont S302, a watch that will easily survive anything your arm can.
Forming a part of the Supermarine Type 300 watch collection, the Bremont S302 features an easily wearable 40mm proprietary Trip-Tick case. The chronometer rated movement not only offers time and date functionality, but also tracks a second time zone, and is protected by a solid caseback that guarantees the watch to 300m of water resistance.
---
Omega Speedmaster Moonwatch Professional Co-Axial Master Chronometer Chronograph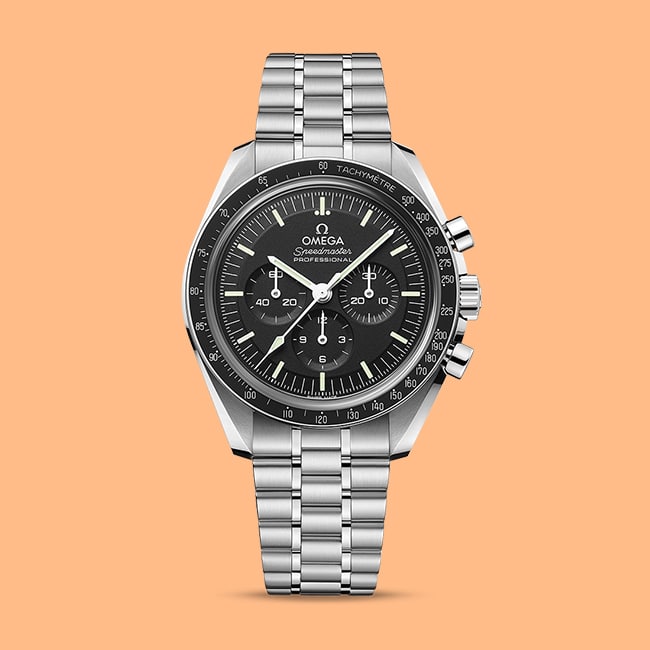 Icon is a word that can be thrown around a little frivolously at times in the world of watches, but without a doubt the Omega Speedmaster Professional is an icon in every sense of the word. For 2021, Omega updated its icon with a new movement in the caliber 3861, which was the first update the Speedmaster has received in over half a century.
This new Omega Speedmaster Professional still has the same stainless steel 42mm case with the beautifully twisted lugs, but the new chronograph movement is a METAS Certified Master Chronometer, making it more accurate and robust. The bracelet has also been updated, tapering at the clasp for an extremely comfortable fit and a beautiful finish to this stainless steel watch.
---
DOXA Sub 300 Carbon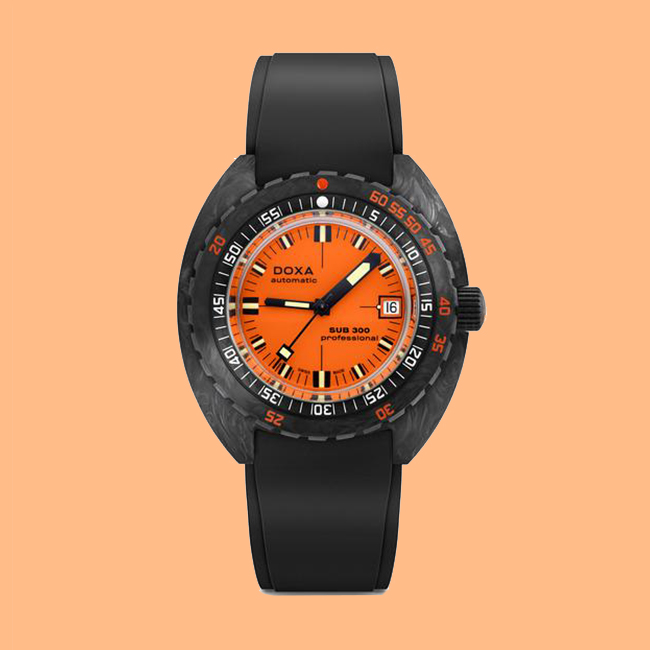 DOXA is a watchmaker who made a name for themselves working with Rolex on early dive watch technology and was a favourite of ocean exploration royalty Jacques Cousteau. Still using the watch brand's famous tonneau case shapes, the DOXA Sub 300 Carbon brings this historical dive watch into the 21st century with high-spec materials.
The forged carbon case measures 42.5mm in diameter and compliments the titanium inner case that protects against the pressure of the ocean. Rated to a depth of 300m, the DOXA Sub 300 Carbon watch contains a Swiss made COSC certified mechanical calibre that offers 38 hours of power reserve.
---
Citizen Calibre 0200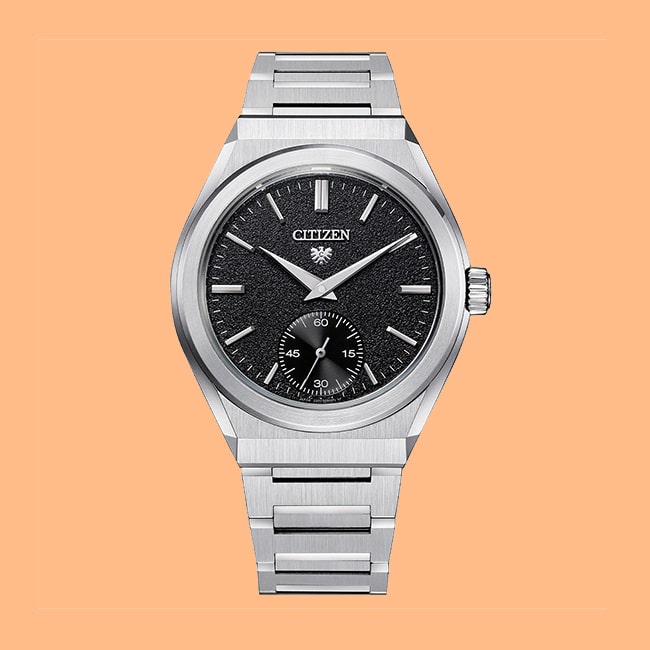 While Citizen are best known for their affordable watches, worn and loved around the world, the watch brand has made serious steps in their manufacturing of higher quality watches in recent years. Produced in collaboration with La Joux-Perret – a Swiss watchmaker that Citizen acquired in 2012 – the Citizen Calibre 0200 is the watch brand's first mechanical luxury sports watch collection.
The steel, angular case and bracelet are both finished with an attractive blend of brushed and polished finishings, with the case measuring 40mm in diameter and remaining relatively slender at 10.9mm thick. The richly textured dial is contrasted with a smaller sub-dial at 6 o'clock, beneath which the impressively accurate caliber 0200 boasts 60 hours of power reserve.
---
Habring2 x Monochrome Montre de Souscription 1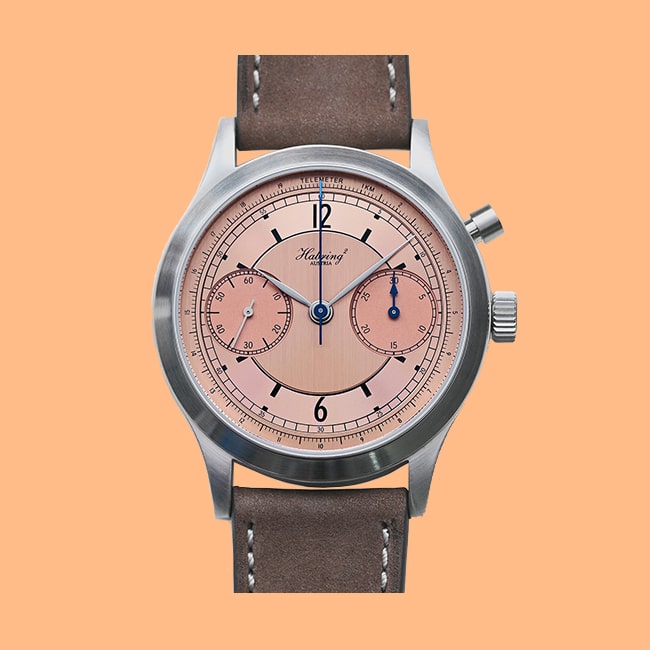 Watchmaker collaborations with media are nothing new in the watch world, but rarely are they so thoughtfully executed and visually impressive. The stainless steel watch in question is a partnership between Austrian watchmaker Habring2 and Dutch watch magazine Monochrome Watches, who have adapted the Chrono-Felix into a stunning chronograph inspired by the best of the golden age of watchmaking.
The steel 38.5mm case is unusual for having just one chronograph button, but the magic is in the perfectly proportioned salmon tone sector dial. Arriving on a leather strap and a lovely steel beads-of-rice bracelet, it's the nicest looking chronographs we've seen in a while and possibly one of the best men's watches of the year.
---
$10,001-$20,000
---
Laine V38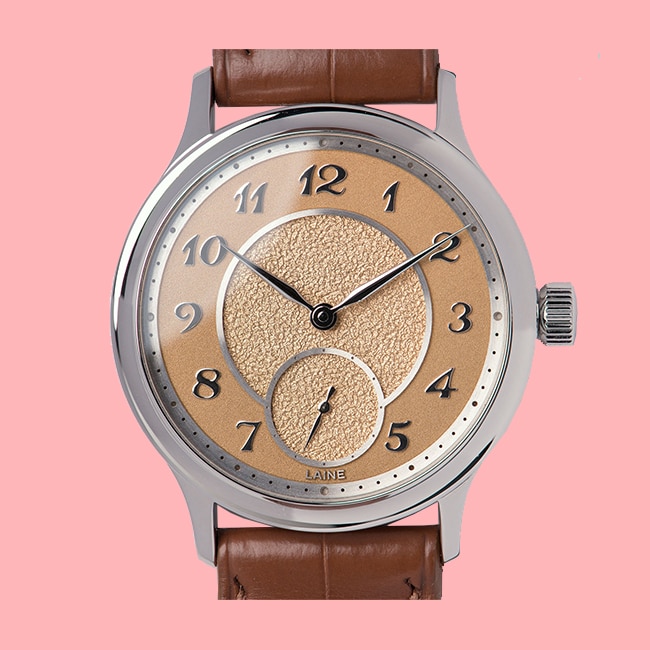 Swiss-based Finnish independent watchmaker Torsti Laine introduced two new watches in 2021, both continuing his reputation for mix-material custom-made dials, and his love of attractive Unitas watch movements.
Launched alongside the Laine G3 watch (a highly decorative watches with relief engraving on the three-quarter plate) was the Laine V38 watch – an entirely new and unique watch for Laine, slimmed down thanks to an beautiful Vaucher VMF 5401 movement.
With various dials available, including the stunning triple guilloche, the Laine G3 is distinguished mostly by this complex yet elegant Vaucher movement. With a house engraved tungsten rotor and a power reserve of 48 hours, the heart of this 38mm stainless steel watch is the type of art we've come to expect from the Finnish watchmaker, offering one of the best watches for those who have a deep admiration for independent watchmaking.
---
Breitling Premier B09 Chronograph 40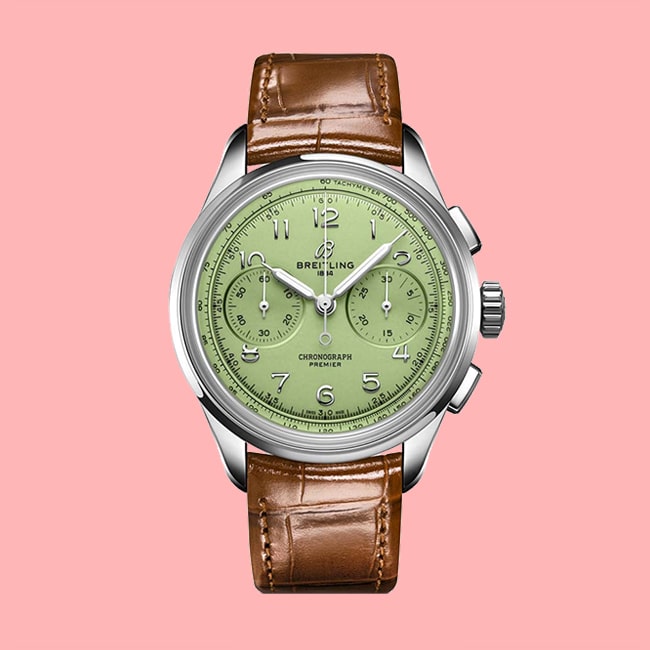 Out of all the Breitling models that could have been picked for this list of the best watches for men, the Breitling Premier B09 Chronograph 40 watch sticks out like a mesmerising sore thumb.
An homage to three generations of Breitling history, this one defines the legendary watchmaker's timeless legacy with rectangular chronograph pushers, Arabic numerals, and a bi-complex chronograph look. The classicism is best modernised through the pistachio green dial variation, contrasted beautifully with a gold brown alligator leather strap for an unparalleled aesthetic.
The 40mm stainless steel watch, with water resistance of 100m, hosts the powerful COSC-certified Breitling Manufacture Caliber B09 chronograph movement, with a power reserve of approximately 70 hours. As precise and dependable as it is decorous.
---
Rolex Explorer Ref. 124273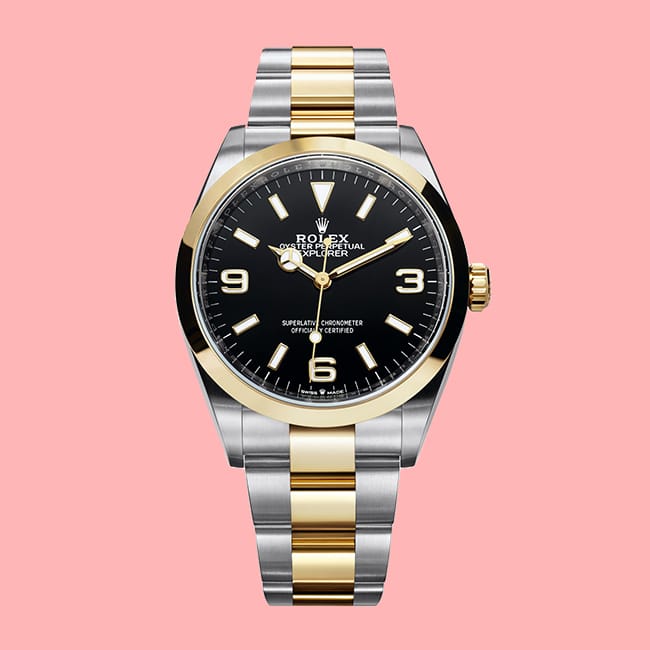 The dazzling two-tone of Oystersteel and 18k yellow gold is a stark departure from the norm for the iconic Rolex Explorer. Yet, as divisive as it has been, the Rolex Explorer watch ref. 124273 feels like a necessary evolution for adventurous single-watch collection, complementing the supple 36mm case with an eyebrow-raising aesthetic.
Rendered in Rolesor, the definitive streaks of silver and gold are complemented by a lacquered dial. Inside: the recently released and highly efficient caliber 3230 featuring Rolex's Chronergy escapement and a blue Parachrom hairspring, capable of a power reserve of 70 hours.
For the man who wants something different from Rolex's typical stoicism, there's nothing currently more appealing than the Rolex Explorer Ref. 124273.
---
IWC Big Pilot's Watch 43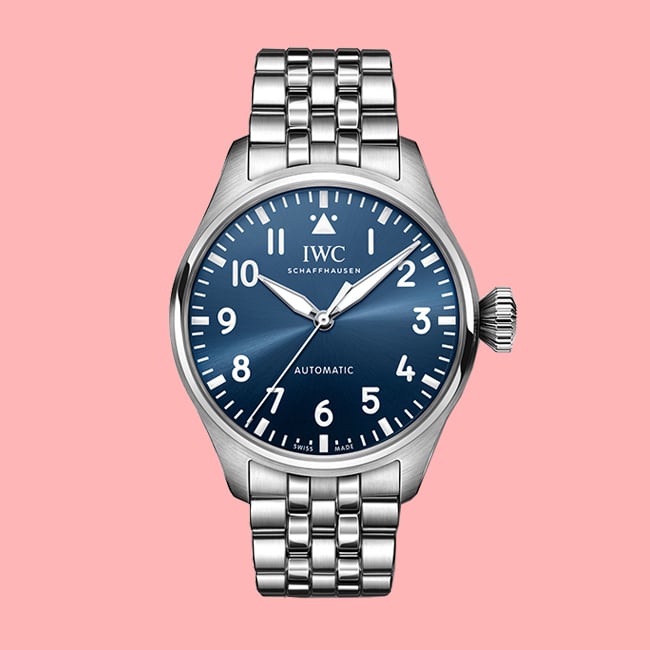 The emblematic Big Pilot's Watch from IWC Schaffhausen was the kind of empire-building silhouette that only the greatest horological tales are made of. Decidedly big, intentionally bold, and swiftly efficient, the watch, first introduced in 2002, is for men valuing presence and legibility.
Reference IW329301 is one of the newer models for this legendary collection, reiterating the strength of functional design and validating IWC's choice to introduce some modern comforts to make the Big Pilot's Watch more accessible and versatile.
The 100m water resistant, 43mm, stainless steel watch has nothing on the size of the original, but the slimmer form is graceful on the wrist and aligns it with modern tastes. Legibility is still at the heart of this IWC flagship, so the black dial with a great deal of luminescence pops considerably against a brown calfskin strap, with added convenience thanks to an intuitive EasX-CHANGE system.
The IWC Big Pilot's Watch has gone beyond the cockpit here, asserting itself as a stylish and timeless companion for any occasion.
---
Chopard L.U.C GMT One Black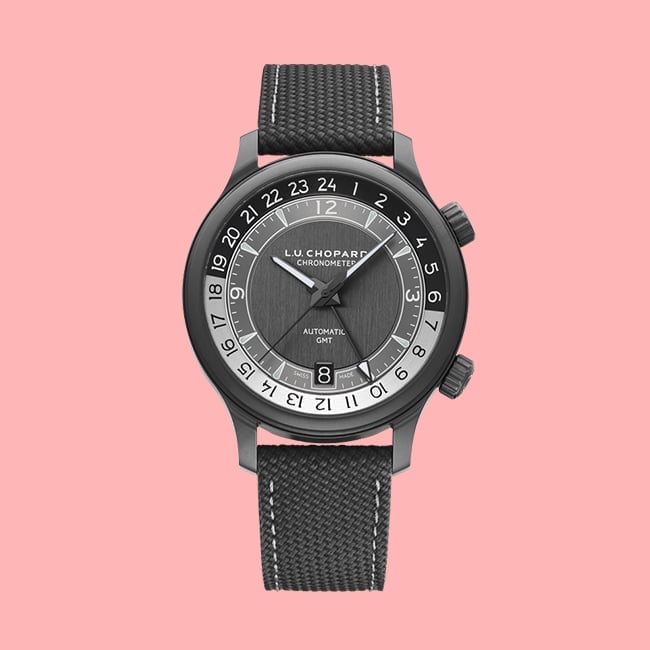 Vibrant and full of personality, the Chopard L.U.C GMT One Black watch is a testament to how much a strikingly modern monochrome scheme can do for a watch. The finely detailed dial and clean lines make the choice of grey, black, and white really stand out on this limited edition 42mm automatic watch.
Reimaging its predecessors in a 42mm slick black ceramic Grade 5 titanium case, the exceptionally tough and corrosion-resistant watch manages to deftly balance an aggressively adventurous approach with something gentle and light.
As the world's first dual-time travel watch to have such a mighty case material, Chopard has ensured a secure house for their COSC-certified L.U.C 01.10-L automatic GMT movement, which like the exterior, is complete in a grey and black monochrome look. The robust power reserve of 60 hours completes the watch's undeniable resilience.
---
Louis Vuitton Tambour Street Diver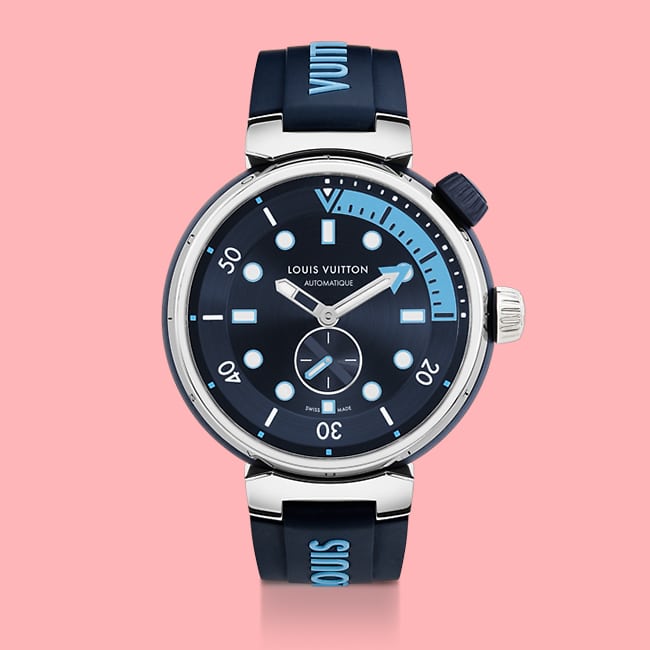 Best known for being the global luxury powerhouse that they are, Louis Vuitton has also been recently taking steps to be a more forceful presence in the watch world too. Their haute horologie arm features the Geneva Seal, one of the finest marks of excellence in the Swiss watchmaking industry, however, Louis Vuitton has also been making more approachable everyday watches too.
One such watch is the Louis Vuitton Tambour Street Diver, which features a 44mm steel case in the classic Tambour (drum, in French) shape. Taking a couple of vintage design cues, such as the double-crown and the small seconds at 6 o'clock on the dial, it is very much a modern sport watch with 100m of water resistance.
---
Arnold & Son Eight Day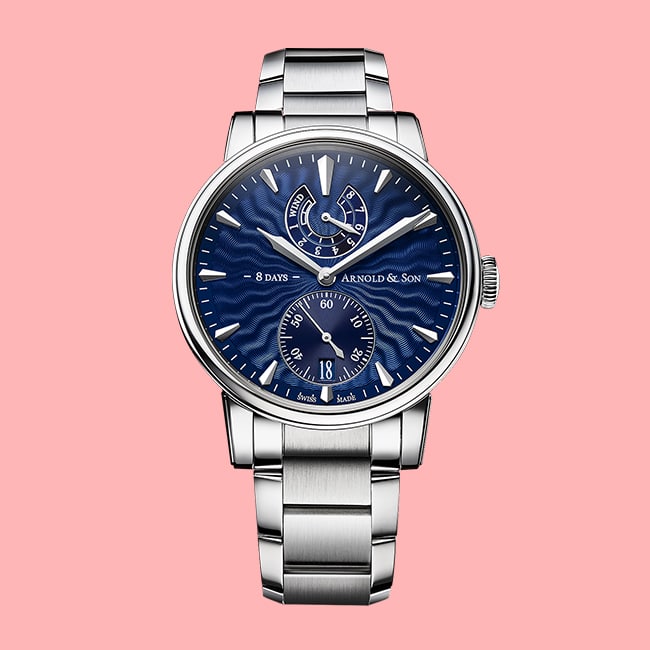 For 2021, Arnold & Son released a new version of their Eight-Day with heavy design cues drawn from the classic marine chronometers birthed during the 18th century, when British watchmaking was at its most inventive and horology was key in nautical navigation. After all, the watch brand was the supplier of choice to the British Royal Navy, and this stainless steel watch channels that legacy into one of admirable design.
Equipped with a high efficiency twin barrel in-house calibre A&S1016 movement, with a lengthy 8-day power reserve, this new iteration of the classic Eight-Day is nothing if not relentlessly reliable. The 30m water resistant, 43mm stainless steel case is the sturdy watchdog for this movement, wrapped around a blue guilloche dial.
---
Jaeger-LeCoultre Reverso Tribute Small Seconds Green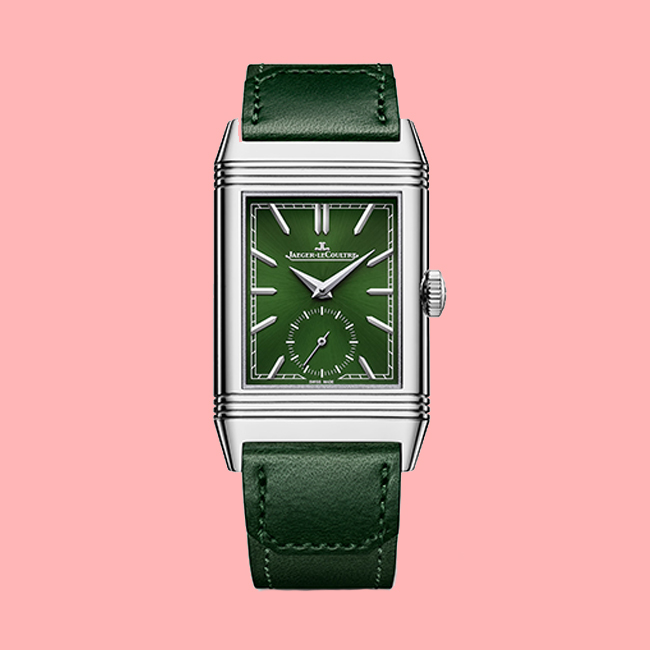 A stunning tribute to the original Jaeger LeCoultre Reverso watch from the 1930s, the Jaeger LeCoultre Reverso Tribute Small Seconds watch (ref. 3978430) is a dreamy, deep green statement of absolute confidence.
Back when it was first introduced, this Jaeger LeCoultre signature watch was one of the few watches that offered coloured dials, in a world full of silver dial pocket watches. Now, with the same characteristics, the watch has been modernised to add visual depth to the dial, accentuating the seamless Dauphine hands and applied indexes. On the flip side, a blank metal space begging for personalisation, so wearers can scribe their own story.
The in-house Jaeger LeCoultre Calibre 822 movement is every bit as stunning as what's on the face, with the small seconds in the aperture at 6 o'clock deeply connected to the dial, so wearers can watch the heart beat.
---
Zenith Chronomaster Sport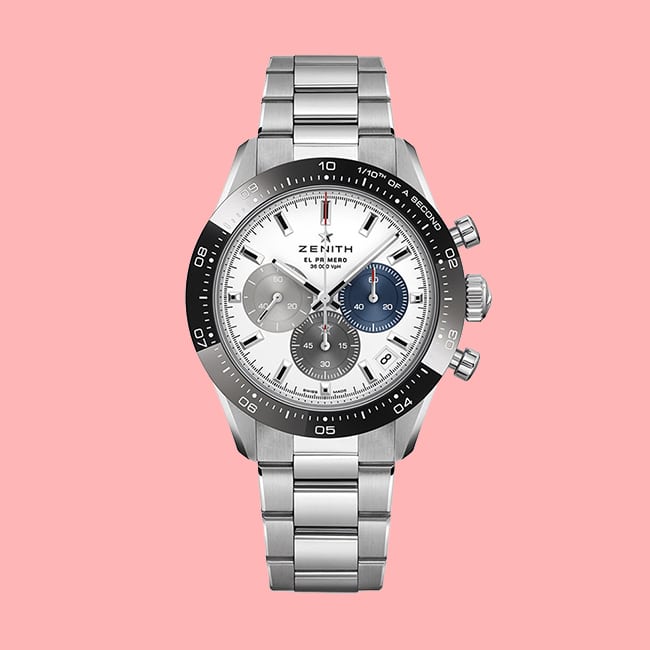 It's safe to say that in 2022, Zenith are on a hot streak. Back in January, the Le Locle based watchmaker dropped the Zenith Chronomaster Sport watch. It's a watch that would be one of their most popular models in years.
The three-register chronograph watch is cased in 41mm of stainless steel, complete with ceramic bezel and featuring Zenith's classic tricolour subdials. What is most exciting about this watch however is the movement inside – the El Primero caliber 3600 chronograph movement. The movement has been adapted so that the chronograph hand makes one revolution every 10 seconds, allowing the watch to time events to within 1/100th of a second. A stunning performance from the stalwart Swiss brand.
---
Grand Seiko SLGH005 "White Birch"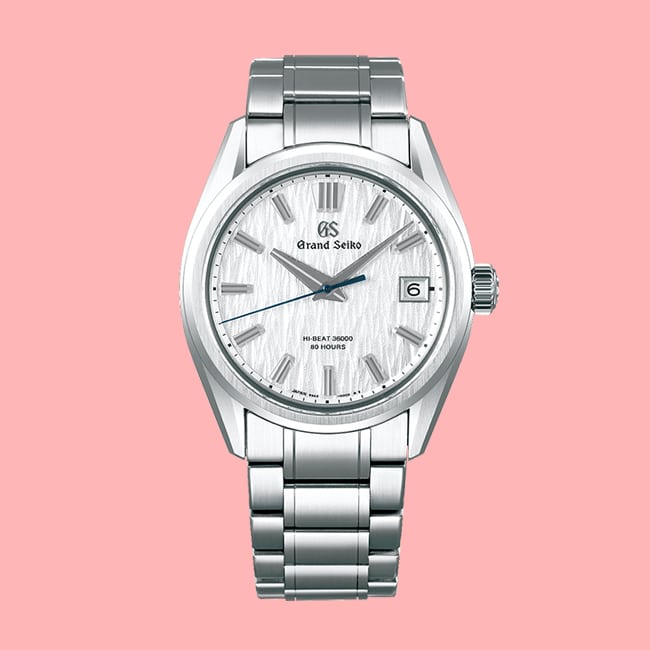 Nearby the Shizukuishi studio where all Grand Seiko mechanical watches are made, a thick white birch tree forest is said to reflect the deep eternal nature of time. When the lauded Japanese brand set out to design the SLGH005 watch, this forest was key to the sketches, with an extraordinary dial intended to mimic the texture of the forest.
In creating a new signature, Grand Seiko has dubbed this a Series 9 Design, and promised that this watch will be an important fixture of the Grand Seiko Heritage Collection moving forward – graceful, mesmerising, and resoundingly handsome.
A hi-beat caliber 9SA5 sits at the heart of the watch, the same of which adorned the inside of reference SLGH002 when it debuted in 2020. Defined primarily by its dual impulse escapement, the movement is a confident build, protected by a 100m water resistant, 40mm case and warmed by the use of box-shaped sapphire crystal.
---
Louis Erard x Alain Silberstein Triptych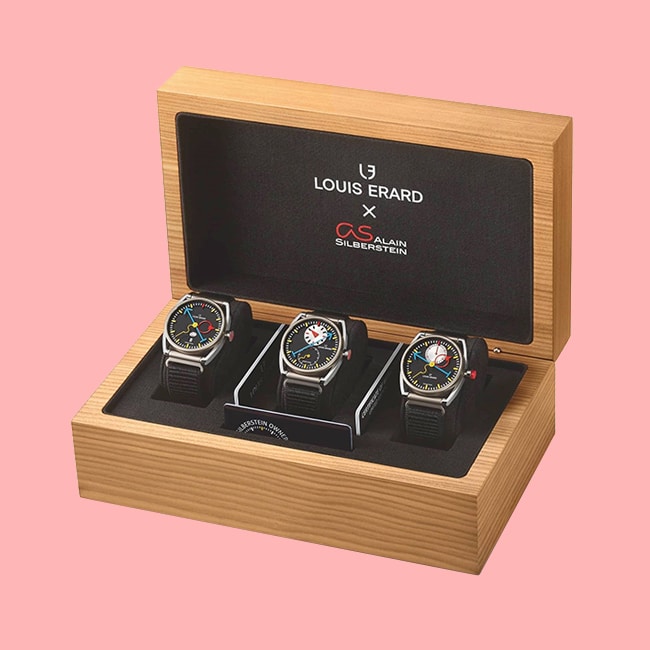 A series of three watches, this small-batch collaboration between Alain Silberstein and Louis Erard is the kind of gallery-worthy work of art we should have expected. With three variations – the La Semaine watch, Le Regulateur II watch, and Le Chrono Monopoussoir watch – the triptych is being offered as a collection, although watch connoisseurs can also purchase each reference separately.
All three watches share a newly designed 40mm case, decorative and unconventionally framed by vertical sidebars and finished with microblasted grade 2 titanium with polished grade 5 titanium.
Alain Silberstein didn't hold back with the playful design here, evoking whimsical flourishes that differ across models. For example, the La Semaine has a matte black dial with a notable smiley face replacing the name of the weekday, dynamically changing from sad to happy as the week progresses.
Clearly giving Alain Silberstein free reign over the design was a smart move from Louis Erard, resulting in some of the more unique watches in 2022.
---
Chronoswiss Open Gear ReSec Black Ice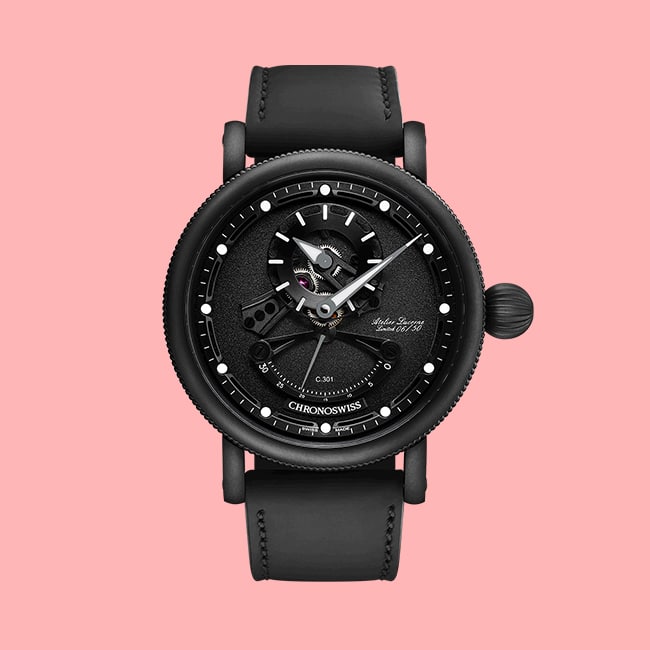 Numerous subtle shades of black make this incredibly unique Open Gear variation one of the finest offerings from Choronoswiss in years. The ReSec Black Ice watch, said to be inspired by the iconic song from rock band AC/DC, abstracts a vision of frozen lakes and heavy metal into a singular design language for ref. CH-6925-BKBK.
With a 100m water resistant, 44m stainless steel watch case treated in black DLC coating running seamlessly around it, the two-level dial is an exquisite 42-part construction. Galvanic black makes up the bottom, while the upper level features screwed-on skeletonised train wheel bridges, and a funnel-like construction for the hour display. The trigono shaped hands feature Super-LumiNova inlays and tips, reaching around to cylinder shape Super-LumiNova indexes.
The meticulous design positions the Chronoswiss Open Gear ReSec Black Ice watch as a masterclass in watch design – a true evolution in style for those looking for men's watches that truly pop.
---
Armin Strom Tribute 1 First Edition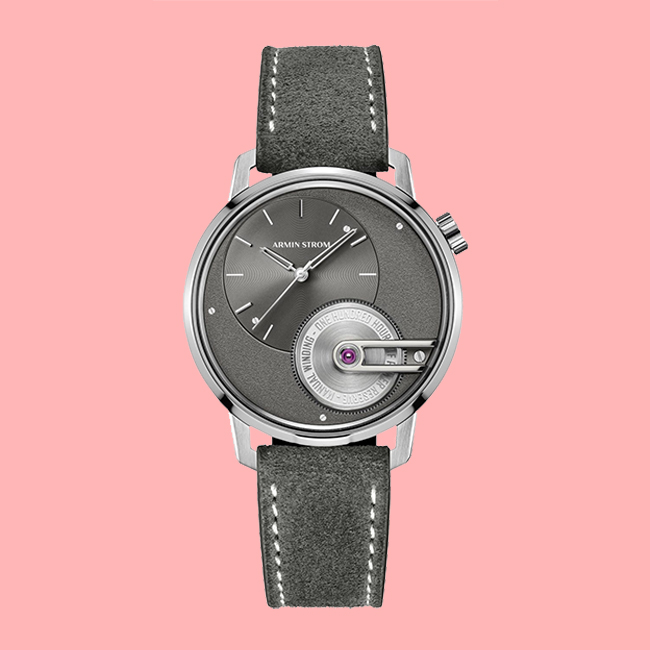 Last year Armin Strom debuted the triumphant Lady Beat in a perfectly proportioned, slimline, 38mm stainless steel case, with integrated lugs and frankly, it left the men wanting. This year the watch brand dropped the Tribute 1 First Edition – from the same System 78 collection as the Lady Beat – sharing the same 38mm diameter. Armin Strom describes it as a modern reinterpretation of the haute horology dress watch that's both technically-innovative and beautifully hand-finished, and they're bang on.
The Tribute 1 watch blends contemporary styling with a level of sophistication usually associated with dress watches, and at 9.38mm high is perfectly sized to accompany all formal attire. Inside the case resides the watch brand's manual winding Caliber AMW21 offering a staggering 100 hours of power reserve, with enhanced efficiency from the innovative motor barrel. It's technical excellence like this that draws a modern buyer who values progressive watchmaking, made even more appealing with the integration of precious metals in the form of the white gold barrel bridge and hand finishing. Limited to 25 watches, the Armin Strom Tribute 1 First Edition is a relatively affordable watch at $19,500.
---
$20,001-$50,000
---
Patek Philippe Nautilus 5711/1A-014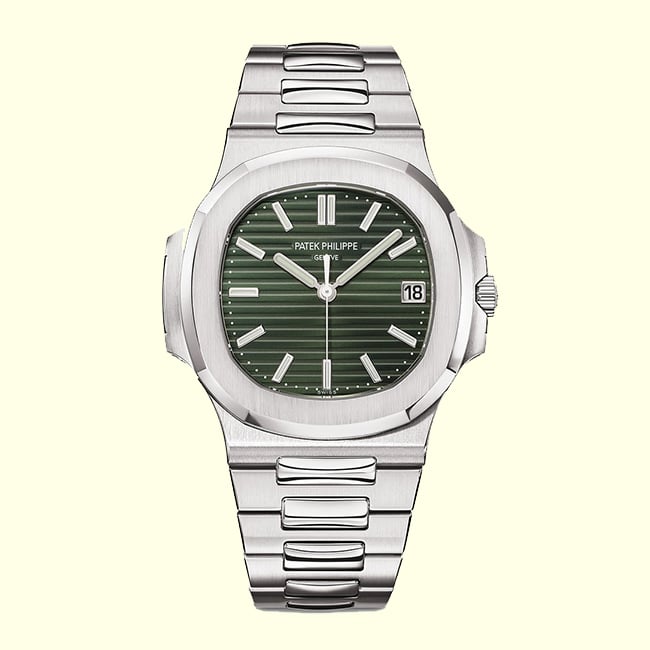 What is there to say that hasn't already been said about the Patek Philippe Nautilus 5711 watch. Perhaps the most in demand automatic watch on the planet, with the longest waitlist and mind-numbingly, ridiculous, aftermarket value, the Olive Green Nautilus 5711/1A-014 marks the reported 'last attempt' at Genta's iconic shape, prior to being shelved for good.
Naturally, grey market prices are insane and there's absolutely no way you'll ever be able to purchase one at retail unless you're Santa Laura and you've spent $10 mill plus at L'Atelier by The Hour Glass. Of course, it's all completely ridiculous but hey, that's the state of the industry right now (and likely will always be for an automatic watch like this).
The 40mm x 8.3mm stainless steel case is offered in steel or white gold with baguette diamonds and houses the watch brand's automatic Caliber 26‑330 S C with 45 hours power reserve, rated to depths of up to 120m. The deep green dial is accompanied by a refined date window with the Nautilus's horizontal striping, but none of this really matters because this watch only exists in your dreams.
---
H. Moser & Cie Pioneer Centre Seconds Mega Cool
A true gift for the man who believes the best watches are a hungry blend of dress watches and sports watches. The H. Moser & Cie Pioneer Centre Seconds MEGA Cool is a seamless marriage of steel and a Blue Lagoon fume dial – one of the nicest the reliable Swiss brand has made for their entry-level Pioneer Centre Seconds.
The iridescent turquoise colour, worked to invoke an island paradise, is wrapped in this luscious stainless steel case, with 120m of water resistance and slightly sports at 42.8mm in diameter. Opting for something rather clean and elegant, the admirable automatic watch is testament to the powers of minimalism, and the casual cool of a Swiss architect unafraid to try something new.
Underneath, an in-house calibre HMC 200 automatic movement with a 3 day power reserve tinkers away with ease, perceived via a sapphire caseback and defined by its large rotor.
---
Glashütte Original PanoMaticLunar Forest Green Red Gold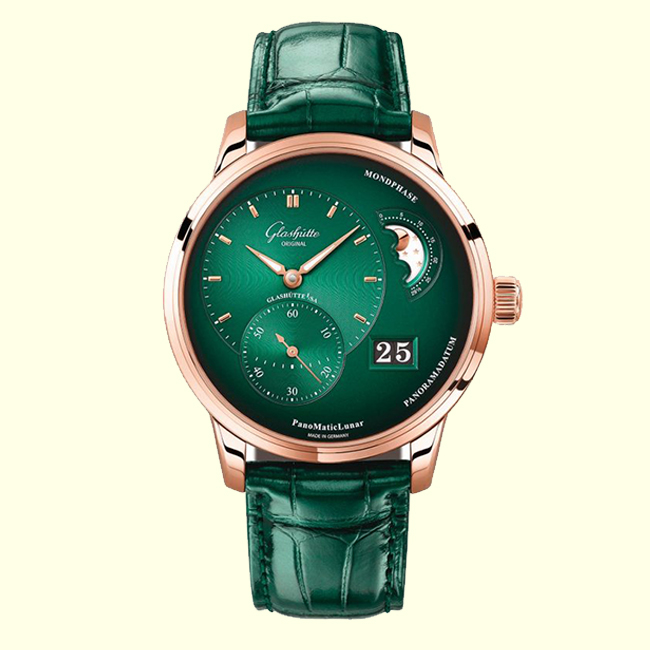 The Glashütte Original PanoMaticLunar watch is still as definitive for the German brand as it was when it was first introduced over 20 years ago. Classic and warm, with an immaculate presence. Over the past few years, the manufacture has been approaching the silhouette with striking iterations, and deeply impactful colour combinations.
The best of these is the Glashütte Original PanoMaticLunar Forest Green Red Gold, mixing the watch up with a deep green dial and an 18k red gold case (though it almost looks like a pink gold case). Much like the previous variations, the specs are the same – 40mm case has water resistance of up to 50m, with sapphire crystals on both sides, a sapphire caseback under which the watch brand's in-house Calibre 90-02 beats away with a power reserve up to 42 hours, a 3/4 plate, an off-centered rotor with 21k gold mass, screw balance, and a duplex swan-neck fine adjustment.
It's refined elegance at its best and one of the best watches you can find in 2022.
---
Blancpain Tribute to Fifty Fathoms No Rad Limited Edition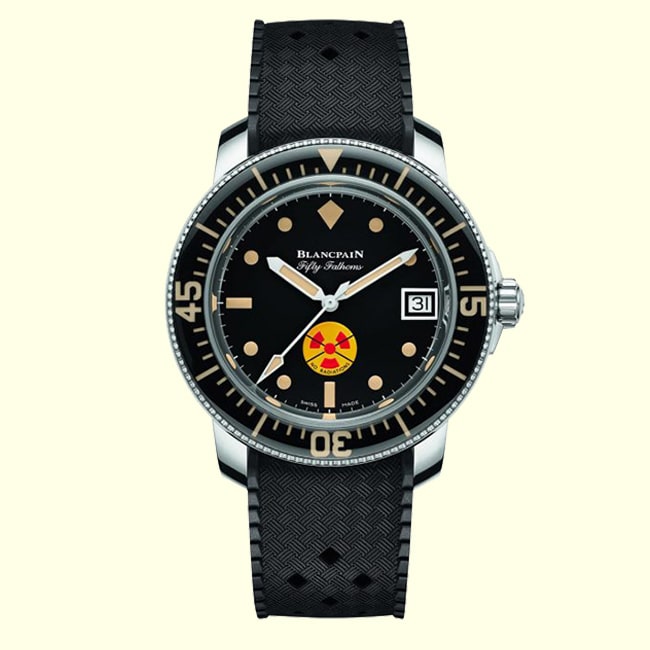 An homage limited to 500 watches, the Blancpain Tribute to Fifty Fathoms No Rad Limited Edition is an almost identical reproduction of one of the most defining field watches in the manufacture's history. That is, the very first "No Radiation" dial variant of the military specified Fifty Fathoms, introduced in acknowledgement of how using radium for luminous applications was risky and seen as a health hazard.
Blancpain's involvement in diving watches has been etched into the history books ever since, and this Tribute to Fifty Fathoms No Rad is a faithful reproduction, with a very comfortable 40.3mm case, and 300m water resistance.
Driving this magnificent achievement in the history of diving watches is the Blancpain Calibre 1151 automatic movement, making its unsurprising return with a silicon balance spring and an impressive 4-day power reserve.
---
Breguet Type XXI 3810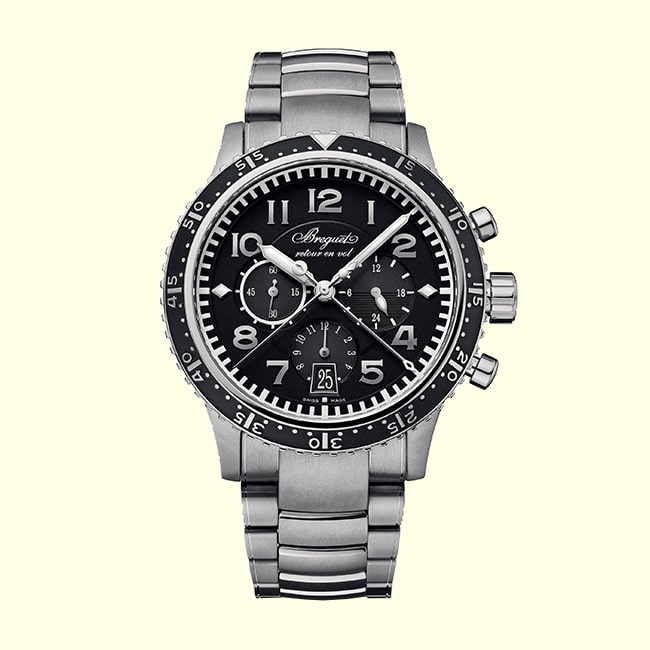 Breguet is known for its technical sophistication, especially around the tourbillon which the genius founder of Breguet personally invented in 1795. But on top of their expertise in the most complex corners of the watchmaking world, Breguet also made military pilots watches for the French Air Force during the Second World War.
The Breguet Type XXI 3810 watch is a direct nod to this armed forces history, featuring a 42mm stainless steel case, bi-directional bezel, and offers 100m of water resistance. Don't worry though, this isn't a simple chronograph, as it is powered by a flyback chronograph 584 Q caliber that is comprised of 319 components and offers 45 hours of power reserve.
---
Ulysse Nardin Diver X Skeleton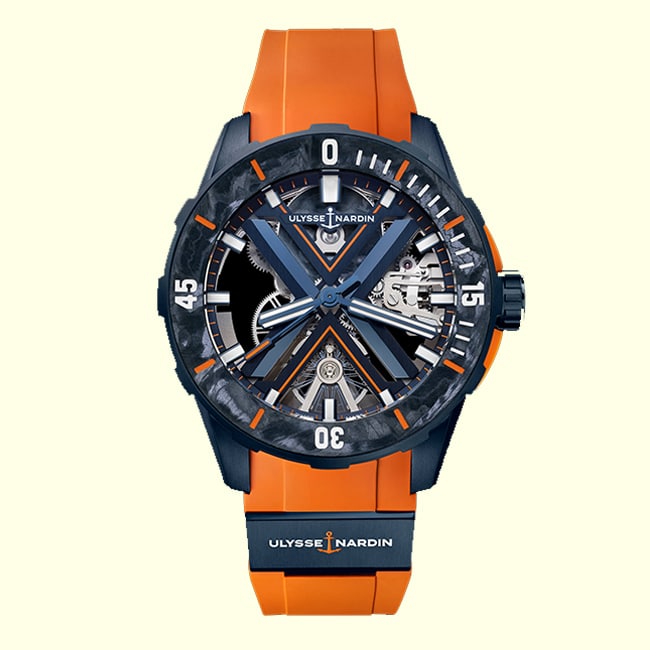 A unique choice for anyone looking for diver's watches that are bold, fun, and avant garde. The Ulysse Nardin Diver X Skeleton is different in just about every way, smashing the uniformity commonly credited to diver's watches and pushing forth into new territory.
Treated in a striking blue PVD-coated steel is the powerful 44m, case able to handle 200m of water resistance and a concave shaped bezel featuring a Carbonium inlay, mirroring the same material used for the in-house calibre UN-317 movement which has a 96 hour power reserve. The X-shaped skeleton construction of said movement is in turn mirrored by the X-shaped centre bridges on the dial, extravagantly fitted across the large semi-floating hour markers that pop against the mechanical backdrop.
Coherence is key here, with both collections sketched onto one another and anchored by Ulysse Nardin's incredibly clever design, making this diver's watch a no-brainer for the man unafraid to take risks.
---
Girard-Perregaux Free Bridge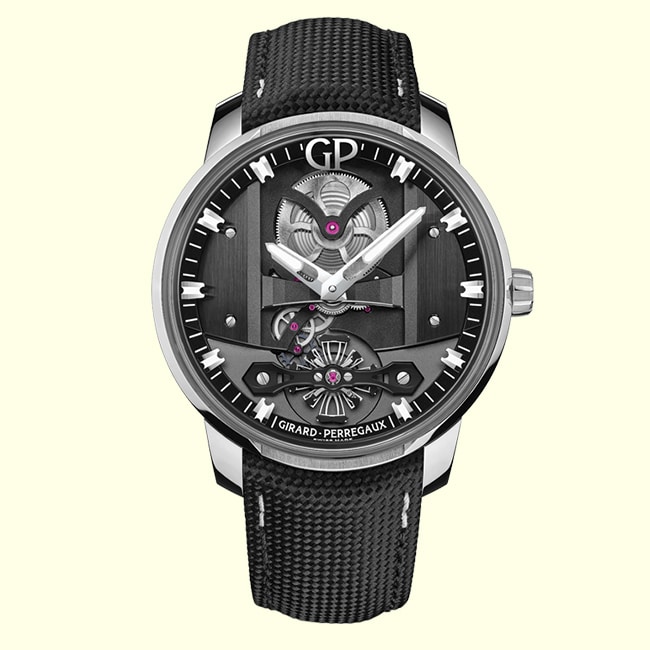 Borrowing some design cues from the legendary Girard-Perregaux Three Bridges watch, debuting in 1867, the Girard-Perregaux Free Bridge watch is a breath of fresh air – both in terms of style and movement innovation.
Contemporary, bold, and visually complex, the Free Bridge is a momentous release for the Bridges family, which was famously built off the back of the Swiss brand's emblematic pocket watch with three arrow-shaped bridges.
In a nod to legacy, the Free Bridge features the same iconic arrow-shaped bridge, albeit in a more contemporary and modern fashion, with an openworked structural shape that's closer to avant-garde. It's now an intricate art piece, housed in a 44m case with a multi-layered black and dark grey dial smartly designed with dauphine hands, and a chapter ring displaying suspended indexes with luminescent material.
The reliable calibre GP1800 runs at the heart, slightly modified from the typical Girard-Perregaux standard, with 54 hours of power reserve. Completing the picture of a watch that's so fascinating in its design that men who appreciate bold, distinctive watches could not possibly resist.
---
Moritz Grossmann Central Seconds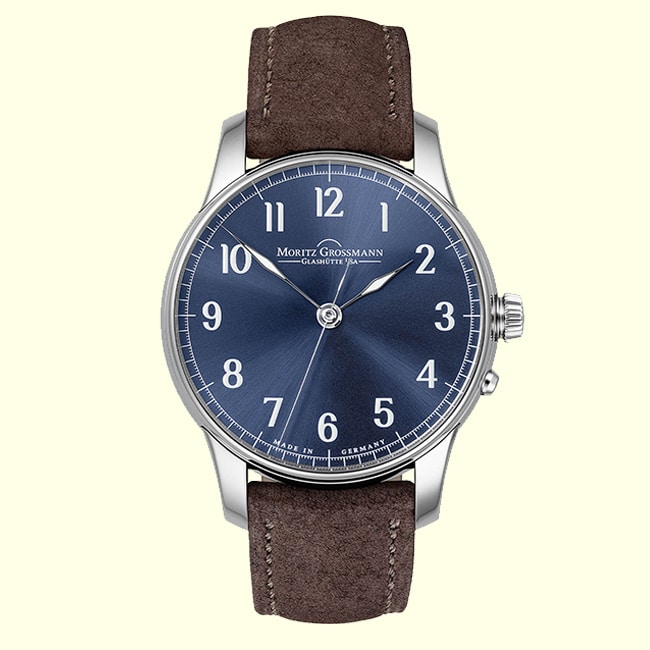 The classic Benu collection from Moritz Grossmann has been given a distinctively modern flavour with the new Central Seconds watch. The stately German manufacture has clearly shown some restraint with this minimalist watch, opting for elegance and offering something perfect for the man looking for lavish dress watches to wear from the Clubhouse to the office.
Inspired by the historical significance of the humber seconds hand, the Moritz Grossman Central Seconds is the very first watch in the Benu line to feature a centrally mounted seconds hand – a simple statement, but a powerful one nonetheless.
No longer confined to an off-centered subdial, the repositioning of the seconds hand necessitates a new Calibre 100.11 movement, slightly reworked to display central hours, minutes, and now seconds. It's a masterclass in how small changes can have a big impact, yet still avoid the risks that can often accompany loud design.
---
Gerald Charles Maestro 2.0 Premier Green Dial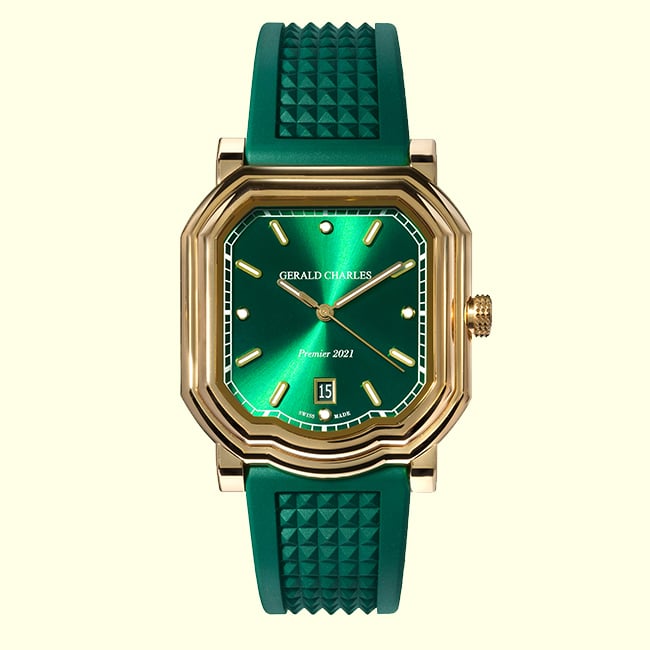 Much like the Glashutte Original PanoMaticLunar Forest Green Red Gold watch, which is also on this list of the best watches for men, the Gerald Charles Maestro 2.0 Premier Limited Edition is a play of similar contrasts. That is, between a strikingly deep, rich sumptuous green dial and a beautifully designed 18k rose gold case (another almost pink gold case).
The Lugano based watch brand, backed by the Italian Ziviani family, offers this thoroughly impressive 39mm watch as a seamless blend between the world of luxury and sport.
Whether you'd prefer the automatic three-hand and date, or the chronograph version, your attention will be firmly on the emerald green dial and the unique rose gold case, worked with a concave depression on the lower half. This surprising design choice is said to have been inspired by the ornate Baroque architecture of Francesco Borromini.
Underneath it all, a high-end calibre GCA 3002 automatic movement with a power reserve of 50 hours, powered by a bi-directional floating rose gold rotor and an anti-shock Incabloc system. It's the perfect balance of power and style.
---
$50,001+
---
Audemars Piguet Royal Oak Green Limited Edition Chronograph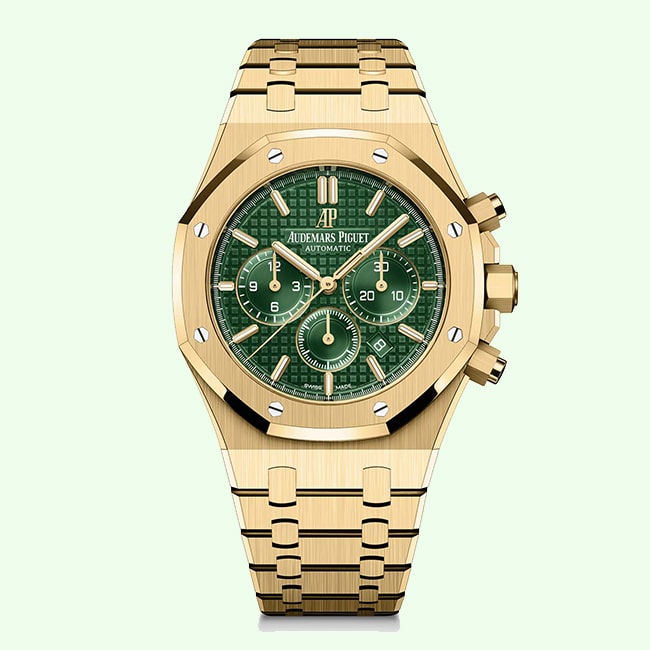 You could have just as easily found the 2019 released Audemars Piguet Code 11:59 on round-up of the best men's watches in 2022. But we're going with the Audemars Piguet Royal Oak Green Limited Edition Chronograph, released in five new editions – all with green dials – with a wide range of case materials.
It's on you whether you prefer the lightweight titanium or the noble platinum, but whatever you choose, it's hard to deny the kind of dynamism and rugged handsomeness this hue of green has brought to the iconic Audemars Piguet Royal Oak.
Not quite a minimalist gold watch, but sharing much of the purity of one, the ref. 26331BA.00.1220BA.02 is one of the collection's high-flying standouts. The Audemars Piguet Royal Oak Selfwinding Chronograph is an incredibly sexy 41mm watch in a yellow gold case, with a yellow gold bracelet to match.
Men who refuse to compromise on luxury and higher-end watches, looking for a gold watch, and a healthy – even superior – alternative to the green and gold Rolex Daytona, will be drawn straight to this instant classic from Audemars Piguet.
---
Vacheron Constantin Overseas Perpetual Calendar Ultra-Thin Openworked Ref. 4300V/120G-B946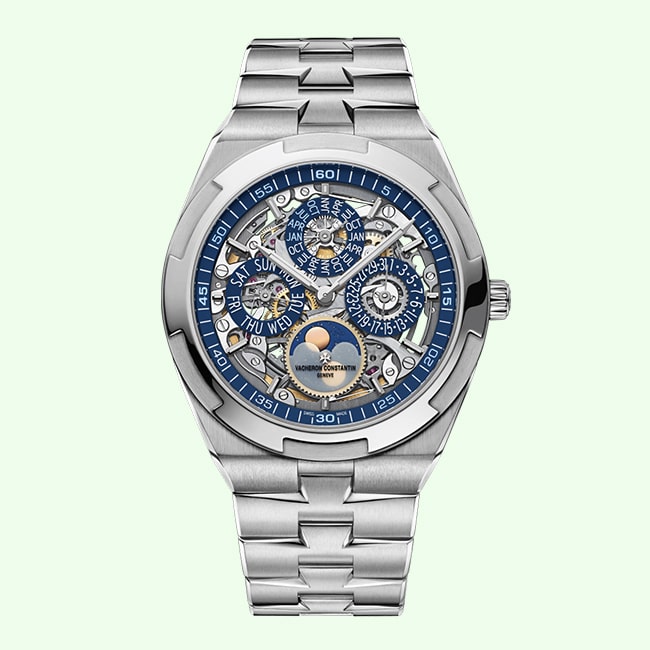 Perhaps the best reference to date in Vacheron Constantin's wide range of calendar watches in their Overseas collection, the ref. 4300V/120G-B946 is a stunning achievement for a Swiss brand universally acclaimed for their luxury watches. No man fascinated by overly complicated automatic watch movements could ever look away from it.
The Overseas Perpetual Calendar Ultra-Thin glistens in a 41.5mm white gold case and matching bracelet, set against a blue dial offered as both skeletonised and standard. The former dial is the best version if you're looking for a men's watch of exceptional build.
On the face, a brilliant, translucent 2-layer moon-phase sub dial is a perfect reflection of the watch brand's complicated, 4.05mm thick 1200 QPSQ/1 automatic caliber, which features no less than 276 parts and a power reserve of 40 hours.
---
A. Lange & Sohne Lange 1 Perpetual Calendar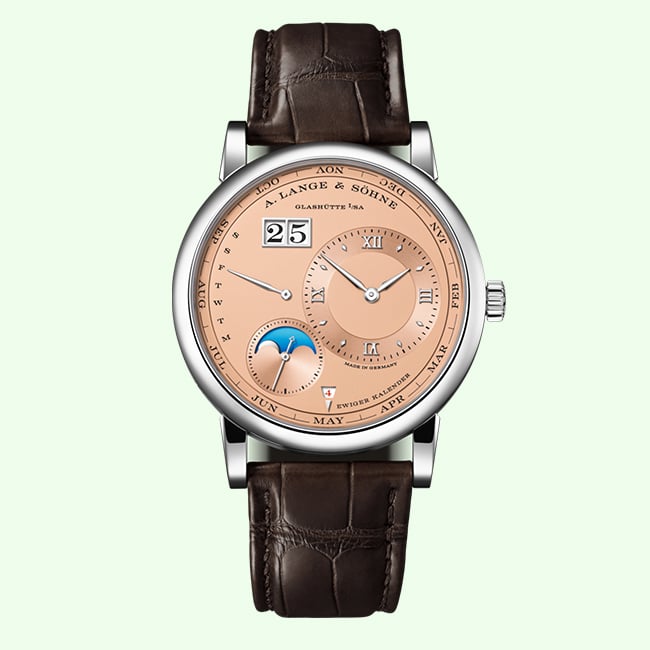 You won't find any tourbillons or chronographs anywhere near this A. Lange & Sohne, with the Lange 1 Perpetual Calendar admirably focused on stripping away complications and keeping things minimal. And while this automatic watch is still highly technical, there's a great deal of poetry applied to keep the aesthetic looking clean, uncluttered, and exceptionally legible.
Lange's signature grey on rose colourway is offered in the more accessible version, but the reverse is also available as a limited edition. Both are as stunning as each other, measuring in at a comfortable 41.9mm on a dark brown leather strap with a pink or white gold pin buckle.
Inside, the automatic movement – a caliber L021.3 with a power reserve of 50 hours, inclusive of the calendar complication with jumping displays for the date, day, month, and leap year, along with a moon phase display with an integrated day and night indicator.
---
Greubel Forsey GMT Sport Integrated Bracelet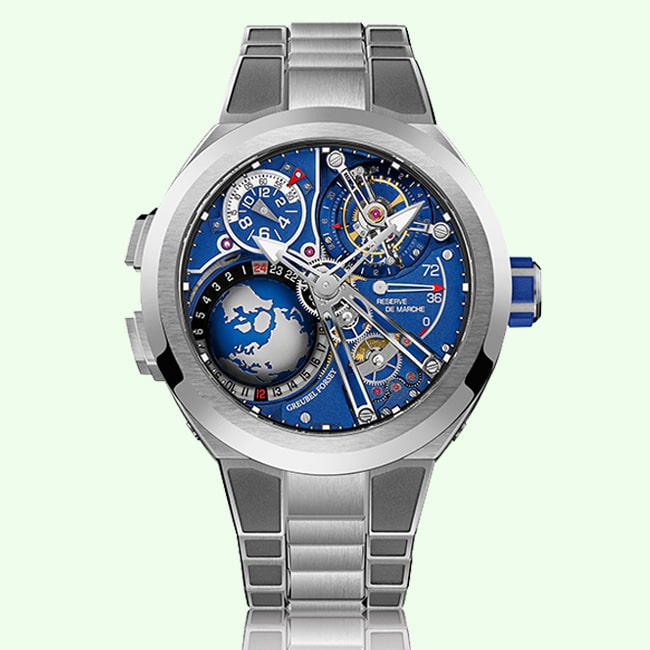 If you're looking for one of the most complicated, impressively designed sports watches on the market, you're looking at the GMT Sport with an integrated bracelet from Greubel Forsey. The Swiss architect is best known for intricate tourbillons, and that's no exception with the GMT Sport.
With a matte blue dial and red accents, the complicated watch has an equal amount of style and looks both muscular and surprisingly approachable. That is, approachable for a sports watch that combines a three-dimensional globe with world time and a day/night indicator, with dual time, and a 25-degree inclined tourbillon.
The GMT Sport is as exotic as you'll get with any of the higher-end sports watches on the market, and is fascinating to observe.
---
Ressence Type 2N Night Blue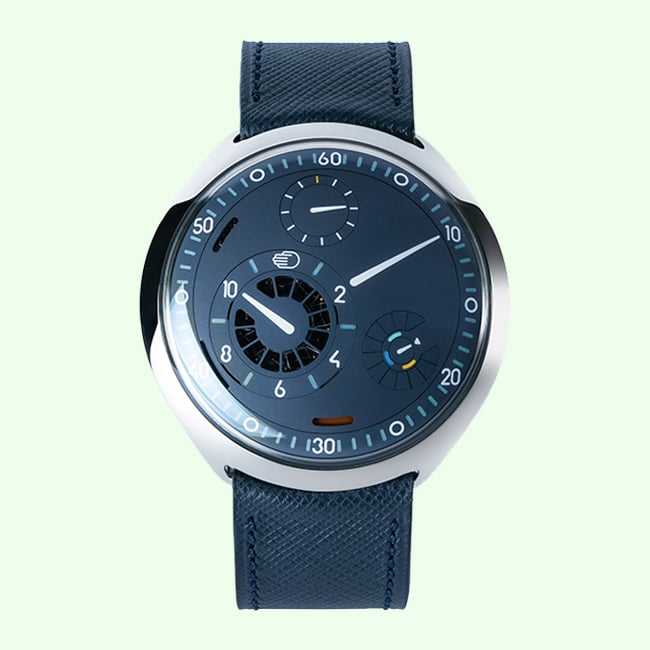 The Ressence Type 2N Night Blue is for the rule breaker; the man who invents his own style and carries himself in absolute confidence. The innovator. You only need one glance at this hybrid electronic and automatic watch for immediate rapture, with the Belgian watch brand moving towards the sophistication of deep blue set against a polished grade 5 titanium case.
Smooth, but not at all subtle in the way it works. The watch features Ressence's custom e-Crown technology, reimagining the traditional crown by setting the time automatically and even allowing the wearer to reset a time zone via a Bluetooth link with the companion smartphone app. Whatever time zone is set is monitored and constantly adjusted to exacting primary and secondary times, using the mechanical timekeeping system.
While true innovation at its heart, the Ressence Type 2N Night Blue is both a shoo-in for men looking or dress watches that'll stand out, as well as those who value always staying a mile ahead of the curve.
---
Piaget Altiplano Ultimate Concept "Tribute to La Côte-aux-Fées"
Known for its supreme greenness in the spring and summer seasons, the La Côte-aux-Fées region of Switzerland is a fitting inspiration for this special edition Piaget Altiplano Ultimate Concept. This region, specifically the Jura village, is where Georges Edouard founded this pioneering watch brand after all, so this particular reference is a profoundly symbolic release for Piaget.
The dramatic, deep forest green that creeps onto the dial and mixes with the exceptionally thin 41mm cobalt alloy case plays with contrast in the most poetic of ways, transposing the hills and fields of the village onto a watch that really couldn't be more eye-catching. For Piaget loyalists, it's a singularly powerful statement, and for the rest, it's more than enough to provoke deep respect.
Rounding out the story, the mainplate is subtly engaged with 1874 – the year the company was founded. And underneath, the Piaget 900P-UC calibre with a power reserve of approximately 45 hours.
---
Panerai Submersible eLAB-ID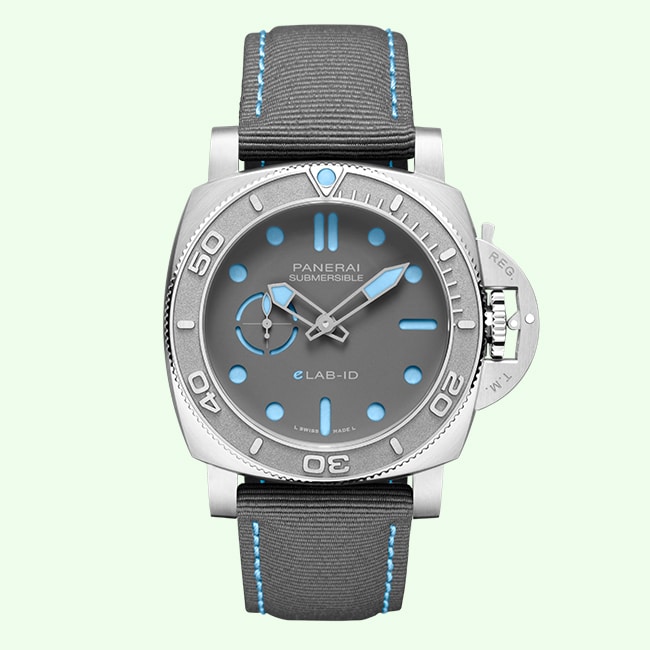 Panerai is best known for producing watches for the Italian Navy, making them naturally extremely comfortable in any underwater landscape. The Panerai Submersible eLAB-ID doesn't disappoint in that regard, with the bold 44mm watch offering 300m of water resistance, however it has another more forward-thinking trick up its sleeve.
The Panerai Submersible eLAB-ID is made with more than 95% recycled materials, from the brushed EcoTitanium case and recycled PET strap, to the recycled jewels in the movement. It's a watch that cares about the future of the planet and the health of our oceans, something that Panerai is looking to protect.
---
Carl F. Bucherer Manero Minute Repeater Symphony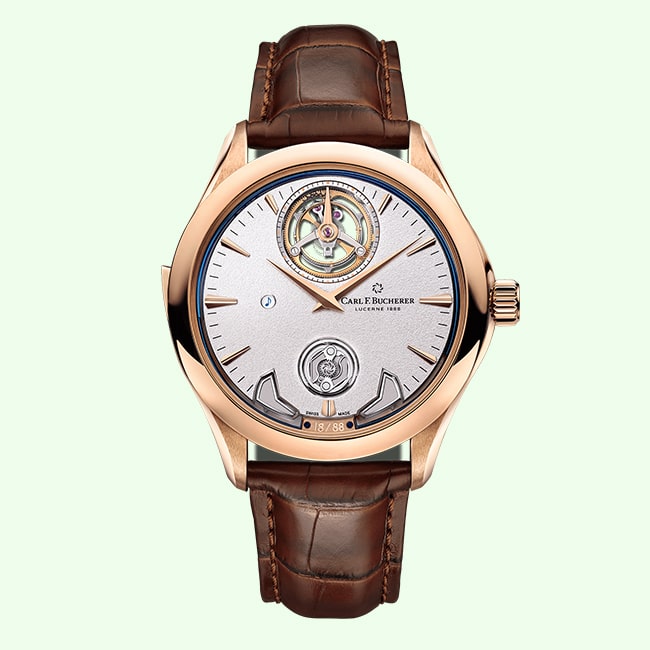 Chiming watches have always played an important history in the story of fine watchmaking, with different watchmakers competing to create the richest and most crisp sounds from their watches. This year the tradition continues with the Carl F. Bucherer Manero Minute Repeater Symphony, a tribute to the best of technical Swiss watchmaking, which not only contains a tourbillon in pride of place at 12 o'clock, but also a twin-gong minute repeater.
Contained within a 43.8mm rose gold case, the gongs will chime the time when the button on the left-hand side of the case is activated. It is the most complicated watch from the watch brand yet, showing Carl F. Bucherer's commitment to pushing technical innovation forward – plus the implementation of rose gold is hard to look away from.
---
Bulgari Octo Finissimo Perpetual Calendar Titanium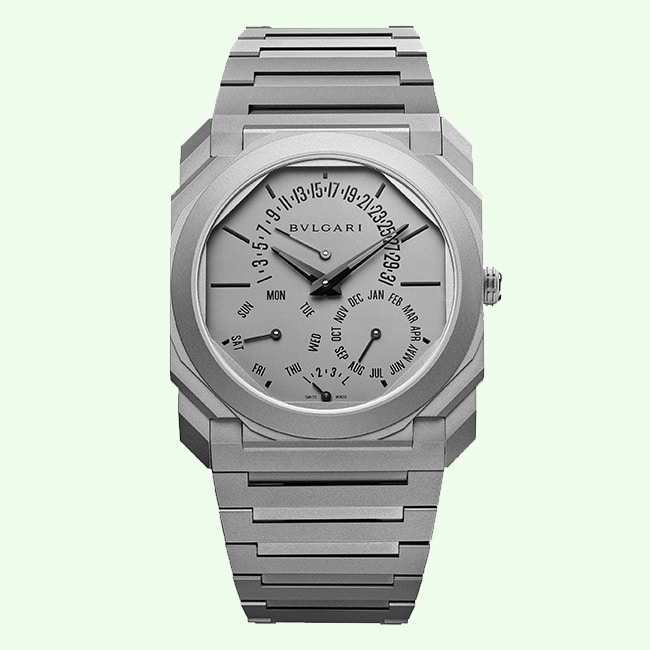 In the seven years since the Bulgari Octo Finissimo was first released, Bulgari has broken seven world records with watches in the collection. That's right, despite Bulgari being considered by many as simply a jewellery brand a decade ago, they are fast proving their horological chops.
The seventh record-breaking watch in the collection is the Bulgari Octo Finissimo Perpetual Calendar titanium, which is the thinnest perpetual calendar in history with a case that measures just 5.8mm thick. This is mostly due to the remarkable caliber BVL 305 which is only 2.75mm thick, an incredible achievement by the Italian-founded firm. $88,500 – bulgari.com
---
F.P. Journe Octa Automatique 20th Anniversary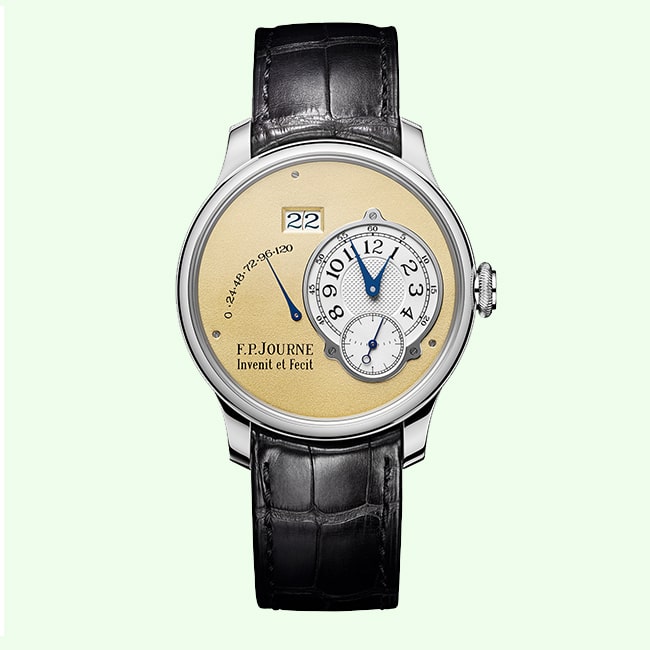 François-Paul Journe first launched his eponymous watch brand in 1999, with the Octa collection coming just two years later in 2001 which was the first automatic watch he released. This year, he is celebrating two decades of the collection with the F.P. Journe Octa Automatique 20th Anniversary, a 99 watch limited edition that has delighted collectors.
The watch features a 40mm platinum case that is a direct homage to the original watch from twenty years ago, with its recognisable asymmetrical dial. The almost champagne dial tells the time via blued steel hands, as well as having a large date window and a power reserve indicator that shows how much of the 120 hours power reserve remains. Powering the watch is the Octa calibre 1300.3, which is made from brass, rather than the typical solid gold movements that Journe produces, a move that is likely to see prices of these watches skyrocket.
---
Hublot Big Bang Tourbillon Automatic Orange Sapphire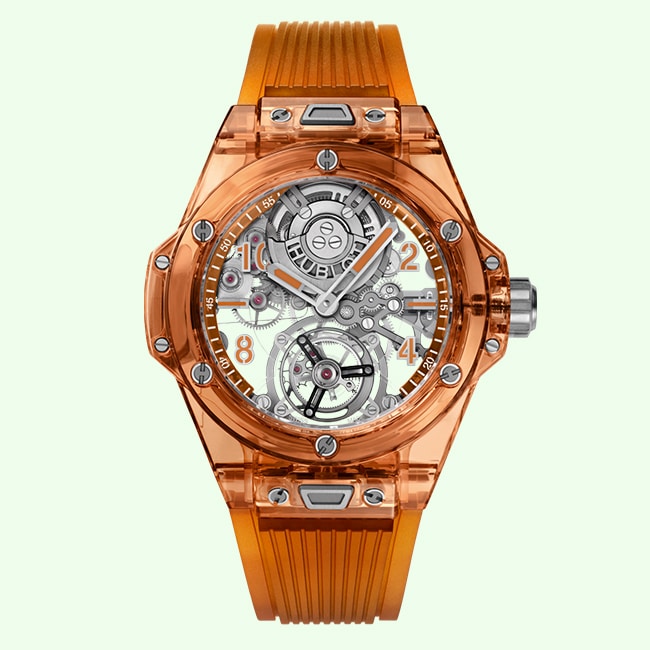 Hublot had a great 2021 making waves with the Big Bang Integral Ceramic and Unico Yellow Magic but if you're going to buy a Hublot, why not go the whole hog with the Big Bang Tourbillon Automatic Orange Sapphire – a world first by Hublot adding a completely new colour to its palette of through-tinted sapphire – further enhancing the already striking tourbillon complication.
Being self-winding, it's no traditional tourbillon either (traditionally they are hand-wound) sporting three sapphire bridges, with its micro-rotor visible on the dial side, ceramic ball bearings and a power reserve of up to 72 hours. Innovation doesn't stop there, with the transparent orange rubber strap affixed via a patented express One-Click interchangeability system. These small details round out the rather unique watch, which is priced in Australia at a not-insignificant $235,000.
---
URWERK UR-105 Tantalum Hull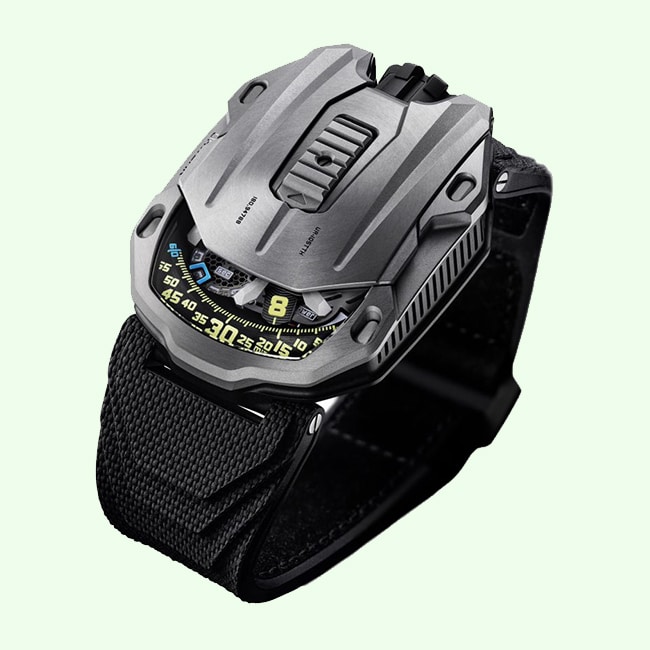 If rarity and individuality are what you desire, it's hard to look past URWERK, offering perhaps the most contemporary creations on the market today – both in terms of aesthetics and mechanical innovation. The URWERK UR-105 Tantalum Hull is the last of the 105 Series, and embodies absolutely everything the watch brand is about, complete in, you guessed it, Tantalum – a rare and fascinating platinum like material with a light blue/grey lustre. The weight of the challenging material is compensated by the use of titanium for added comfort.
The satellite time indication, power reserve indicator and rotating seconds disc are best enjoyed with the Tantalum cover open – operated by URWERK's signature slider. Flipping the watch over, reveals the iconic turbines to regulate the movement's automatic winding system, which can be set to operate as a manual wind movement, boasting a 48 hour power reserve. The UR-105 TTH is a limited edition of 12 watches, priced at CHF 77,000.
---
Angelus U30 Black Titanium Tourbillon Rattrapante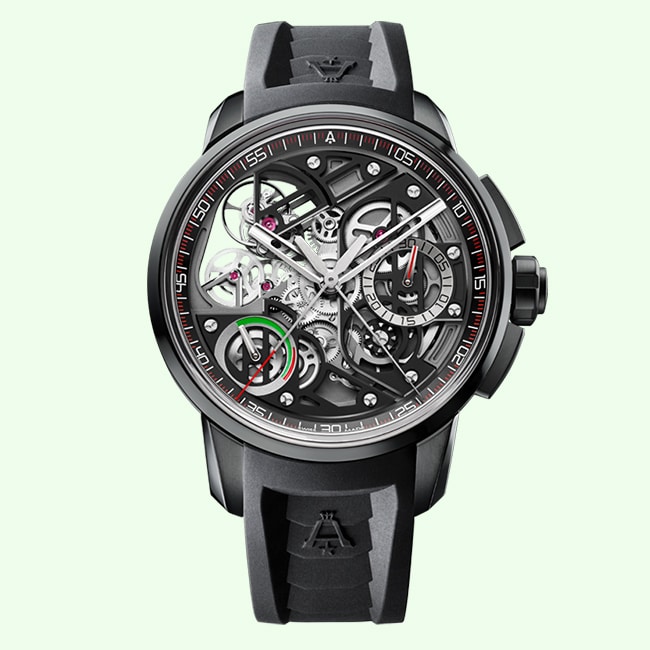 If URWERK is a step too far for your traditionalist tastes but you still desire something sporty, technical and extremely exclusive, Angelus is well worth your consideration. Delivering Richard Mille aesthetics for European family car dollars, rather than waterfront home prices the scarcely produced models add further allure to the watch brand.
Case in point, the Angelus U30 Black Titanium Tourbillon Rattrapante, limited to just 5 watches, marrying a fascinating trio of complications: tourbillon, rattrapante (split-seconds) function and fly-back double column wheel chronograph. Furthermore, it's an automatic movement, providing 45 hours of power reserve – and they've included an indicator for good measure.
While on paper the 47mm case may hint at a large watch, the black DLC coating, and choice of ultra-light titanium and rubber strap, combine for a chic and subtle profile, while offsetting the size.
---
Richard Mille RM 40-01 Automatic Tourbillon McLaren Speedtail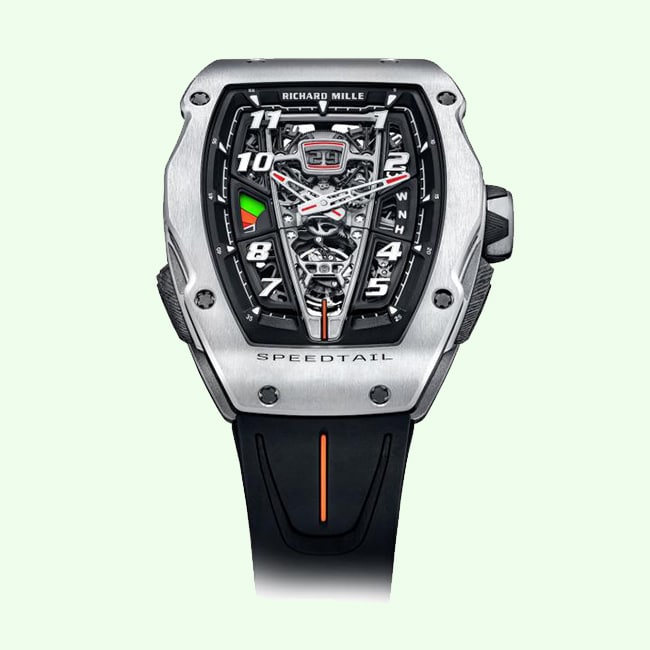 It took Richard Mille's casing department 2,800 hours spread over 18 months to perfect the lines of the RM40-01 Automatic Tourbillon McLaren Speedtail watch, following the car itself and mimicking the form of a water droplet. The titanium bezel indentations were designed to evoke the bonnet openings, and pushers recall the air outlets behind the front wheels. This is a 106 piece limited edition hyper watch made in symbiosis with a very limited hypercar.
The RM 40-01 combines an automatic winding tourbillon movement with hours, minutes, variable-geometry rotor (which can customise the winding to each individual owner's activity), oversize date, power reserve indicator and unique function selector. A pusher at 8 o'clock controls the date display while a pusher at 4 o'clock selects the neutral, winding, and hand-setting functions – similar to a car's gearbox – displayed via an aperture located at 3 o'clock showing the function selected: N (Neutral) – W (Winding) – H (Hand Setting).
With unprecedented levels of finishing and more intricate details on this watch than one has the time to list, you can expect to pay 900,000 CHF to join the club.